3. Bowling Alley Manager
The fat guy eventually came our way. He asked us who was in charge of our group, and someone pointed to Jamie.
As he wobbled toward Jamie, I suddenly questioned whether this person was a guy or not. He had some female features, but there were also some masculine aspects to him - including his voice. He sounded EXACTLY like
Varys
from
Game of Thrones
.
It was suddenly clear to me how this fat person seized control of this bowling alley. Being a master of whispers, he/she/it learned secrets about all of his/her/its superiors. He/she/it then discreetly passed these secrets to others, and they eventually came to light. His superiors had to step down; the big fish ate the little fish, and this fat person eventually became master of this dominion.
Only one question remained: Was this individual a man or a woman? I asked others what they thought...
Me:
Hey, is that a male or a female?
Dani:
That's what I was going to ask but I felt bad!
Me:
Pat, what do you think?
Pat:
I have absolutely no idea.
Me:
Glimmer, you're usually the best with identifying genders. Man or woman?
Glimmer:
It's definitely a woman.
Me:
Are you sure it's not a eunuch? It sounds like Varys from
Game of Thrones
.
Glimmer:
Trust me. I've been to enough gay bars to know. My gaydar is better than anyone's.
Me:
But we're not talking about gaydar, we're talking about gen-dar.
Bowling Alley Manager finally reached Jamie. Huffing and puffing, he/she/it asked for Jamie's information.
Bowling Alley Manager:
What's your name, young lady?
Jamie:
Jamie.
Bowling Alley Manager:
OK Amy, I'm going to reimburse you for this evening. I really apologize for this. This almost never happens.
Bowling Alley Manager handed some stuff to Jamie. He/she/it started wobbling away when he/she/it noticed Dani's box of doughnuts sitting on the bar counter.
"We don't allow outside food here," he/she/it bellowed, staring daggers at Dani.
Everyone approached Jamie, expecting to receive a future discount. However, Jamie had just one slip of paper. Bowling Alley Manager apparently gave Jamie a voucher that said that if all 10 of us were to come back to this particular bowling alley, we'd each receive $5 off.
Can you believe that? Here I was thinking she'd give us a half-off discount at the very least, yet we couldn't receive any sort of markdown unless we just happened to have a group of 10 with us. Because gathering 10 people together and going bowling is so easy.
Most people were about to give up. Nearly everyone walked out. However, I, along with a couple of other people, approached Bowling Alley Manager and demanded a better reimbursement. Bowling Alley Manager, looking particularly annoyed, told us that she'd give us some free passes.
The power suddenly came back on. Someone joked about bowling again AND receiving the free passes, but Bowling Alley Manager stared at this person menacingly. There were no jokes after that.
The free passes eventually found their way into Bowling Alley Manager's hands. He/she/it begrudgingly gave them to us. "These are good for five free games," he/she/it said. "That's $25 worth of bowling games - $5 more than each of you paid to participate in the fun available at this establishment."
Fun? Fun!? I was thrilled my torturous bowling outing was coming to an end. I happily grabbed the free passes out of the Bowling Alley Manager's hands, but only out of principle - I had no intention of coming back anytime soon.
But then again, if this bowling alley allowed us to wear sneakers and installed bumpers on every lane, that could change my mind. Your move, Bowling Alley Manager.
2. Power Outage
No, not the Super Bowl power outage. Just as we finished our second game of bowling - the one where I infamously scored a grand total of 62 points - the power went out. I thanked the gods for ending my misery; otherwise I was stuck bowling for another two hours.
We sat and talked for a while, waiting for the power to come back on. As I was discussing my idea for a Dawson's Creek mafia game with someone (not that there's anything wrong with that), I saw Body Burner kiss our friend Pat on the lips. Yes. Two dudes kissed.
Now, before anyone alerts Chris Culliver, I quickly learned that some people jokingly decided to play spin the bottle while sitting in the dark. Unfortunately for Body Burner, his spin landed on Pat. And thus, the short-lived game of spin the bottle came to a swift conclusion.
People ventured over to the bar. I arrived just in time to hear a guy with glasses recount last night's events to a bartender named Jack...
Guy with Glasses:
You should have been here last night, Jack!
Jack:
Why, what happened?
Guy with Glasses:
There were all these UPenn guys and they were, they were being so stupid!
Jack:
Oh yeah?
Guy with Glasses:
They were being so stupid and I was like aren't you Ivy League, and they were like bleeeeerrrrrr.
Jack didn't respond to this, but someone near the bar shouted, "Cool story, bro!" This random guy standing near me muttered, "Wow, what drugs is that guy on?" This, however, did not deter Guy with Glasses from continuing to tell his cool story to us.
Guy with Glasses:
And then we played, we played laser tag and one of the UPenn guys was there and we were like you're Ivy League but we'll beat you at laser tag and he said, he said "bleeeeerrrr" and I was like we're, "We're going to beat you bad!" And then, and then...
Unfortunately, Guy with Glasses' cool story was interrupted by someone who asked Jack what the problem was. Jack said that the power went out "that way," pointing in the direction toward my house, because of construction. I was instantly pissed because there's a company called Aqua that has been drilling near my house since October. I mentioned it when I went to dinner on
my sister's birthday on Oct. 2
. Well, they're still doing stuff and causing major problems. I think I'm going to mercilessly troll one of the Aqua higher-ups in an ensuing Jerks of the Week entry if they don't wrap up soon.
Upon hearing this, people decided that it was time to quit waiting and go home. I was not a fan of this, given that the power was probably out at my house. Fortunately, my friends still wanted to wait for the bowling alley manager - the aforementioned fat guy - to come around and give us refunds...


Jerks of the Week for Feb. 11, 2013


Jerks of the Week: Jerks of Bowling Night

I hate bowling. I really hate bowling. I think it's the worst night activity to do, save for dancing. If my friends posted a Facebook event about going to the dentist on a Friday night, I'd be happier about that than a night of bowling.

There are tons of reasons I hate bowling, so there's no way I can list them all. Here are some of the primary ones:

1. Bowling shoes are the worst. I feel like I'm a clown wearing them because they look so big and weird. And they never fit right.

I went bowling with my friends the Friday night before the Super Bowl, and when we had to ask for bowling shoes, I paused. I did not know what size to request because I hadn't bought any sort of shoes in at least a decade. Actually, I don't know if I've ever bought a single shoe. I've had my mom and my sister do that for me my entire life, so I never bothered to learn what size my feet are.

I bent over to check my shoes. I figured their size would be listed there, but I couldn't find any sort of number or letter. It was very frustrating. Luckily, two of my friends, Jamie and Marlana noticed this. Once I told them I didn't know my shoe size, they each guessed 9 and 10. I went with 9.5, which ended up being a bit too big.

Still though, I don't understand why this is necessary. Why can't people just wear their normal sneakers while bowling? If anything, sneakers would seem like they're more effective because bowling shoes don't have any traction. It's easier to slip and fall with bowling shoes on, so sneakers should definitely be allowed. I feel so strongly about this that I want to open up my own bowling alley where people can wear sneakers while bowling. I think this would blow everyone's mind, so I'm determined to do this.

2. I'm the worst bowler of all time, and I am not kidding. I bowled a 62 in my second game during the aforementioned outing with my friends. I had the lowest score out of 10 people - and this includes a female friend of mine named Glimmer, who was writhing in pain every time she let go of her bowling ball because of arthritis. She managed a 63.

My friend Body Burner approached me at the game, shaking his head in disappointment.

Body Burner: You do realize that Glimmer just beat you in bowling, right?

Me: I can't... I can't make the ball go straight.

It's true. More than half of my attempts went into the gutter. Here's how my first eight shots went:

Gutter ball
Gutter ball
Three pins
Gutter ball
Gutter ball
Six pins
Five pins
Gutter ball

It was ridiculous. My shots would initially always curve to the left, so I stood on the rightmost side of the lane, but then they went into the right gutter. I moved to the left, and then they went into the left gutter. I then went back to the center, and the balls suddenly started veering into the right gutter.

I was so frustrated that I grabbed the lightest ball and rolled it slowly, solely focusing on having the ball go straight. Did that work? Nope! The ball still went into the gutter half the time. I then overcompensated, seizing the heaviest ball and heaving it recklessly. I somehow tossed a strike doing this, but then followed that up with three consecutive gutter balls. FML.

3. People who run bowling alleys are a**holes. I'm not even talking about the silly shoe policy or the fact that most lanes don't have bumpers set up, which I desperately need. Bowling alley managers just happen to be dicks in general.

We walked into the local bowling alley after having dinner at Applebees, which I'll discuss in a second. A fat man with a mini-afro and a blue button-down shirt told us that it was $20 for three hours, which seemed like a fair deal. However, he wouldn't let my friend Dani into the building because she was carrying a box of doughnuts.

I hate pretentious places that have that policy. It's not like this place sold doughnuts or anything, so why not let her bring them inside? The bowling alley wasn't going to be losing any money on this. It's not like she was going to buy some other food, given that she already spent that allotment of money on doughnuts. Perhaps this fat guy was just upset that Dani didn't offer him any of her doughnuts. Had she done that, I guarantee he would have let her in. As I know very well, all fat people can be bought off with doughnuts. If I had some government secrets, I would happily relinquish them for a baker's dozen.

Dani still managed to sneak the doughnuts into the bowling alley. She offered one to me, but I declined. You might be shocked by this, given that I'm an enormous human being, but there's a reasonable explanation. To tell you about it, I have to go back to the beginning of the night when Body Burner and Jamie told me to meet them at Applebee's for dinner.

1. Applebee's Menu

I usually order one of only three things at restaurants - a cheeseburger, a chicken parm sandwich or chicken parm with spaghetti. I feel like those are the only three things that should be on the menu. They're all awesome, and none of them have weird things like mushrooms or special sauces, or anything of that nature.

Some people might frown upon this and criticize me for not trying new things, but trying new things is stupid. People who try new things are often disappointed by them, and that often ruins their dinner. If, however, they had just stayed in their comfort zone and ordered something familiar, they almost surely wouldn't be dissatisfied.

I was perusing the menu, searching for the cheeseburger section, when Body Burner grabbed my menu and flipped it to the first page.

"Half-price appetizers tonight," he grumbled. OK then.

Appetizers are small by nature, so I ordered two of them. I went with the boneless wings*** and potato twisters, which were defined as, "A mountain of spiral-cut russet potatoes served with our spicy Queso Blanco and freshly-made pico de gallo." Unfortunately, I have no reading comprehension - as I discovered when I scored a 470 on the English section of my SAT - so all that entered my head was "potato skins with cheese and bacon on top."

*** Side note: Am I the only one who thinks wings are overrated? They taste good, but they're too messy. It's annoying. You constantly have to wipe your hands, yet they get sticky anyway. Boneless wings are awesome because you don't have to worry about that.

The waitress brought our food out after what seemed like an hour. The boneless wings seemed like they were tasty, but the potato twisters looked like this: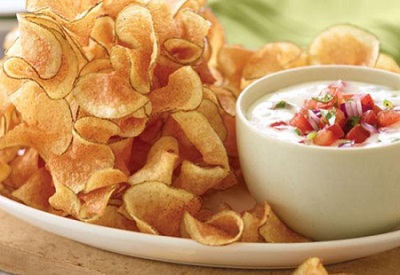 "Where were my f***ing potato skins!" I wanted to yell. But that would have been rude. Still though, what happened to the potato skins? Where was the cheese? What about the bacon? I didn't want potato chips and... what is that? White sauce? Was that Ranch dressing? Onion dip? Milk? See, this is what I get for trying something new!

I wasn't about to send this back without trying it first. I cringed as I dipped one of the potato chips into the white substance. It was... it was AWESOME.

I ate one of the chips with the dip. And another. And another. Then I stuffed a boneless wing into my mouth. Then more chips, more dip, more wings, more chips, more dip, more chips, more dip, more wings, NOM NOM NOM NOM.

Unfortunately, both of these appetizers were massive. I didn't expect them to essentially serve as a full meal. But because I'm like a fish and won't stop eating as long as there's food in front of me, I stuffed everything into my mouth. I could barely move by the time I finished everything. Perhaps this is why a girl with severe arthritis defeated me in bowling about an hour later.