NFL Confidence Pool Picks: Week 5
I've received requests to make selections for Confidence Pools. I'll offer those picks each week. Follow me on Twitter
@walterfootball
for contest updates.
If you're unfamiliar with confidence pools, you select each team to win, straight up, and you assign point values for how confident you are that each team will win. For example, the team you're most confident in will get 16 points (if there are 16 games), then the next team will get 15, and so on.
Here are my confidence picks for Week 5:
15.

Green Bay Packers
14.

Minnesota Vikings
13.

Los Angeles Rams
12.

Chicago Bears
11.

New England Patriots
10.
Cincinnati Bengals
9.

Washington Redskins
8.

Jacksonville Jaguars
7.

New York Jets
6.

Cleveland Browns
5.

Houston Texans
4.
Philadelphia Eagles
3.

Baltimore Ravens
2.

Atlanta Falcons
1.

Seattle Seahawks
Week 5 was a nice one, as only two picks were wrong, the Eagles (11) and Titans (2).
The Packers, Volomgs and Rams are the three obvious picks. You might be wondering about the Patriots and Bengals being so high, but I have them listed for big plays per my
NFL Picks
page.
Update: I've moved up the Bears with Ryan Tannehill out.
Points in Week 1: 72/136
Points in Week 2: 104/136
Points in Week 3: 73/136
Points in Week 4: 105/120
Points in Week 5: 107/120
Follow me on Twitter
@walterfootball
for contest updates.
Comment...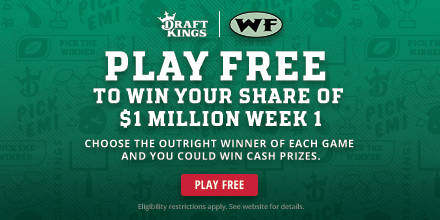 NFL Picks
- Oct. 15
2020 NFL Mock Draft
- Oct. 13
2019 NFL Mock Draft
- Oct. 11
Fantasy Football Rankings
- Sept. 5
2019 NBA Mock Draft
- Aug. 13
NFL Power Rankings
- June 3