2017 NFL Mock Draft
- Feb. 12
2016 NFL Mock Draft
- Feb. 11
NFL Free Agents
NFL Picks
- Feb. 7
2016 NBA Mock Draft
- Feb. 2
Fantasy Football Rankings
- Jan. 15
');
2017 NFL Mock Draft
- Feb. 12
2016 NFL Mock Draft
- Feb. 11
NFL Free Agents
NFL Picks
- Feb. 7
2016 NBA Mock Draft
- Feb. 2
Fantasy Football Rankings
- Jan. 15
Emmitt on the Brink Archive:

Emmitt on the Brink Home Page
Season 1, Week 1 - PATRIOTS WIN 84-0 ON SUNDAY; LOSE ON MONDAY - Sept. 12
Season 1, Week 2 - PATRIOTS WIN 11-4 AMID CONFUSION; VICK ARRESTED - Sept. 19
Season 1, Week 3 - PATRIOTS ESCAPE WITH 7-2 WIN; BENGALS FLEE STADIUM - Sept. 26
Season 1, Week 4 - PATRIOTS-LIONS GAME MOVED TO...? - Oct. 3
Season 1, Week 5 - EMMITT'S PLAN TO NEUTRALIZE CHIEFS, TEBOWS FAILS - Oct. 10
Season 1, Week 6 - EMMITT SUSPENDS TWO COACHES; DEVISES OWN GAMEPLAN - Oct. 17
Season 1, Week 7 - AL DAVIS FINDS PROOF OF SABOTAGE; FILES GRIEVANCE - Oct. 24
Season 1, Week 8 - PATRIOTS PREPARE FOR DECLINING DOLPHINS - Oct. 31
Season 1, Week 9 - STEROID SCANDAL HITS FOXBOROUGH - Nov. 7
Season 1, Week 10 - EMMITT TO APPEAR ON REALITY TV SHOW - Nov. 14
Season 1, Week 11 - MORELLI SUSPENSION PENDING; CBS' PORTER CRITICIZES GOODELL - Nov. 21
Season 1, Week 12 - MANGINI'S BIRTHDAY RUINED - Nov. 28
Season 1, Week 13 - CRENNEL EDGES REID IN CHARITY EVENT - Dec. 5
Season 1, Week 14 - MORE THAN 100 NFL PLAYERS TO BE SUSPENDED - Dec. 12
Season 1, Week 15 - COACH NEARLY MISSES INTERNATIONAL GAME - Dec. 19
Season 1, Week 16 - PATRIOTS FIGURE TO ROLL IN MIAMI - Dec. 26
Season 1, Week 17 - AFC PLAYOFF PREVIEW - Jan. 2
Season 1, Week 18 - PLAYOFF ROUND 1 RESULTS - Jan. 9
Season 1, Week 19 - PLAYOFF ROUND 2 RESULTS - Jan. 16
Season 1, Week 20 - PATRIOTS TO THE SUPER BOWL! - Jan. 23
Season 1, Week 21 - DID THE PATRIOTS WIN IT ALL WITH EMMITT? - Jan. 31

Season 2, Week 1 - PATRIOTS KICK OFF 2014 SEASON AGAINST THE JETS - Sept. 18
Season 2, Week 2 - JERRY JONES MAKES SURPRISING ANNOUNCEMENT AT HIS WEDDING - Sept. 25
Season 2, Week 3 - MICHAEL VICK SAVES THE DAY IN EAGLES LOSS - Oct. 2
Season 2, Week 4 - AL DAVIS UNLEASHES SECRET WEAPON AGAINST PATRIOTS - Oct. 9
Season 2, Week 5 - MAJOR CHANGES PREVALENT THROUGHOUT THE LEAGUE - Oct. 16
Season 2, Week 6 - PATRIOTS WIN ON A CULTURAL NIGHT IN MIAMI - Oct. 23
Season 2, Week 7 - DANIEL SNYDER HIRES NEW COACHES - Oct. 30
Season 2, Week 8 - SEVERAL PATRIOTS TO APPEAR ON GAME SHOWS - Nov. 6
Season 2, Week 9 - FAVRE RUINS PACKER PLANS AGAIN - Nov. 13
Season 2, Week 10 - PATRIOTS COULD BE IN TROUBLE AGAIN - Nov. 20
Season 2, Week 11 - PATRIOTS HIRE FORMER NO. 1 PICK, SPY - Nov. 27
Season 2, Week 12 - MANGINI'S BIRTHDAY PARTY RUINED AGAIN - Dec. 4
Season 2, Week 13 - THANKSGIVING GAME RECAPS - Dec. 11
Season 2, Week 14 - PATS, BILLS TRAVEL TO NORTH KOREA - Dec. 18
Season 2, Week 15 - PATRIOTS PRACTICE CANCELED; LAUGHING GAS RELEASED - Dec. 26
Season 2, Week 16 - PATRIOTS ONE WIN AWAY FROM PERFECTION - Jan. 2
Season 2, Week 17 - PERFECTION AGAIN - Jan. 9
Season 2, Week 18 - PLAYOFF ROUND 1 RESULTS - Jan. 16
Season 2, Week 19 - PLAYOFF ROUND 2 RESULTS - Jan. 23
Season 2, Week 20 - PATRIOTS ADVANCE TO SUPER BOWL; WILL FACE RAMS AGAIN - Jan. 30
Season 2, Week 21 - PATRIOTS CRUISE TO EASY SUPER BOWL VICTORY; BECOME FIRST TEAM TO GO 19-0 - Feb. 14

Season 3, Week 1 - PATRIOTS KICK OFF 2015 SEASON AGAINST THE DOLPHINS - Sept. 11
Season 3, Week 2 - PATRIOTS FACE AN EASY CHALLENGE AGAINST INJURED LIONS - Sept. 18
Season 3, Week 3 - PATRIOTS AWARDED WIN AS JETS STADIUM IS IN RUINS - Sept. 25
Season 3, Week 4 - PATRIOTS FACE COWBOYS' SECRET WEAPON - Oct. 2
Season 3, Week 5 - PATRIOTS LOSE VALUABLE MEMBER OF TEAM - Oct. 9
Season 3, Week 6 - PATRIOTS OFFENSIVE COORDINATOR IN HOT WATER AGAIN - Oct. 16
Season 3, Week 7 - GOODELL AIMS TO IMPROVE PLAYER SAFETY; LEAGUE ANGERED - Oct. 23
Season 3, Week 8 - EMMITT DISTRAUGHT AFTER WAR OF WORDS WITH DENVER COACH - Oct. 30
Season 3, Week 9 - MANGINI'S CELEBRATION RUINED; COACH TO MISS GAME - Nov. 6
Season 3, Week 10 - PATRIOTS QUARTERBACK TO MAKE CAMEO APPEARANCE ON ENCOURAGE - Nov. 13
Season 3, Week 11 - AL DAVIS' DARK MAGIC BACKFIRES; PATRIOTS NOW 10-0 - Nov. 20
Season 3, Week 12 - EMMITT RETURNS TO PATRIOTS AFTER INTERVIEW - Nov. 27
Season 3, Week 13 - FORMER QUARTERBACK HOLDS SYMPOSIUM - Dec. 4
Season 3, Week 14 - PATRIOTS DRAFT SON OF FORMER NFL QUARTERBACK - Dec. 11
Season 3, Week 15 - EAGLES RECEIVER LEADS ALL PLAYERS IN PRO BOWL VOTING - Dec. 18
Season 3, Week 16 - PATRIOTS-VIKINGS GAME TO BE MOVED - Dec. 25
Season 3, Week 17 - WEATHER RUINS PATRIOTS-JETS FINALE - Jan. 1
Season 3, Week 18 - PATRIOTS, RAIDERS AWAIT WINNERS OF WILD CARD ROUND - Jan. 8
Season 3, Week 19 - PATRIOTS-RAIDERS TO MEET IN AFC CHAMPIONSHIP THIRD STRAIGHT YEAR - Jan. 15
Season 3, Week 20 - OLD FOE RETURNS TO HELP PATRIOTS VANQUISH RAIDERS IN AFC CHAMPIONSHIP - Jan. 22
Season 3, Week 21 - PATRIOTS REPEAT AS CHAMPIONS - Feb. 8

Season 4, Week 1 - EMMITT LOOKING FOR WORK - Sept. 11
Season 4, Week 2 - CHRIS JOHNSON WANTS MORE MONEY - Sept. 18
Season 4, Week 3 - ARIAN FOSTER INJURED, ARRESTED AND SUSPENDED - Sept. 25
Season 4, Week 4 - DESEAN JACKSON BANNED FROM NFL - Oct. 2
Season 4, Week 5 - EMMITT REPLACES HANK WILLIAMS ON MONDAY NIGHT FOOTBALL - Oct. 8
Season 4, Week 6 - ANDY REID ON THE HOT SEAT AGAIN - Oct. 15
Season 4, Week 7 - HARBAUGH, SCHWARTZ PREPARE FOR BATTLE - Oct. 22
Season 4, Week 8 - NO TEAMS SHOW UP FOR TERRELL OWENS' WORKOUT AGAIN - Oct. 29
Season 4, Week 9 - JAMARCUS RUSSELL DISCUSSES COACHING STRATEGY - Nov. 5
Season 4, Week 10 - SANDUSKY BLOWS WHISTLE ON VICK - Nov. 12
Season 4, Week 11 - VICK DOG RAPE FALLOUT - Nov. 19
Season 4, Week 12 - SUH ASSIGNED TO ANGER MANAGEMENT - Nov. 26
Season 4, Week 13 - SKITTLE WARRIORS FAIL TO ISSUE VERDICT ON STEVE JOHNSON - Dec. 3
Season 4, Week 14 - EMMITT STOPS EVIL TIM TEBOW - Dec. 10
Season 4, Week 15 - SKITTLE WARRIORS ARREST SAM HURD - Dec. 17
Season 4, Week 16 - THE BEAST IS UNLEASHED; HELL IS UPON US - Dec. 24
Season 4, Week 17 - NEW NFL LOCKOUT HAS EVERYONE MIFFED - Dec. 31

Season 5, Week 1 - ALL SAINTS' GAMES SUSPENDED UNTIL FURTHER NOTICE - Sept. 3
Season 5, Week 2 - BOUNTYGATE II SEXUAL ACTS CONTINUE - Sept. 10
Season 5, Week 3 - REPLACEMENT OFFICIAL TARGETED AS MAJOR SUSPECT IN BOUNTYGATE II - Sept. 17
Season 5, Week 4 - GREG SCHIANO GOES TOO FAR THIS TIME - Sept. 24
Season 5, Week 5 - POLICE STRIKE OVER; EMMITT HAS WARRANT IN HAND - Oct. 1
Season 5, Week 6 - ROGER GOODELL ARRESTED AND RELEASED - Oct. 8
Season 5, Week 7 - A LONG, BUT USEFUL DETOUR FOR EMMITT AND HIS CREW - Oct. 15
Season 5, Week 8 - EMMITT IS ARRESTED! - Oct. 22
Season 5, Week 9 - EMMITT FINDS A FRIEND IN JAIL - Oct. 29
Season 5, Week 10 - NOT ENOUGH EVIDENCE TO CONVICT JONATHAN VILMA - Nov. 7
Season 5, Week 11 - ERIC MANGINI AND ASIAN ERIN ANDREWS' WEDDING - Nov. 14
Season 5, Week 12 - BOUNTYGATE II GOES BEYOND THE NFL - Nov. 21
Season 5, Week 13 - JERRY JONES FINALLY FIRES HIMSELF - Nov. 28
Season 5, Week 14 - EMMITT FINALLY ON RIGHT TRACK TO FINDING BOUNTYGATE II MASTERMIND - Dec. 5
Season 5, Week 15 - EMMITT FINALLY MEETS MASTERMIND OF BOUNTYGATE II - Dec. 12
Season 5, Week 16 - EMMITT'S FRIENDS TO THE RESCUE! - Dec. 19
Season 5, Week 17 - EMMITT AND FRIENDS REWARDED FOR ENDING BOUNTYGATE II - Dec. 26

Season 6, Week 1 - CONTROVERSIAL DIVISIONAL REALIGNMENT IN THE NFL - Sept. 7
Season 6, Week 2 - MORE PUNISHMENT FOR RILEY COOPER - Sept. 14
Season 6, Week 3 - BROWNS SHOCK NFL WITH ANOTHER TRADE - Sept. 21
Season 6, Week 4 - EMMITT FOUND IN THE MOST UNUSUAL PLACE - Sept. 28
Season 6, Week 5 - EMMITT MEETS WITH FBI FOR LLOYD INVESTIGATION - Oct. 5
Season 6, Week 6 - EMMITT QUESTIONS BOB KRAFT - Oct. 12
Season 6, Week 7 - THE WALKING BUCS - Oct. 19
Season 6, Week 8 - NFL ADMITS TO TWO OFFICIATING BLUNDERS - Oct. 26
Season 6, Week 9 - CONTROVERSY OVER OTHER NFL TEAM NAMES - Nov. 2
Season 6, Week 10 - MARTIN AND INCOGNITO SQUARE OFF IN TOURNAMENT - Nov. 9
Season 6, Week 11 - NFL ANNOUNCES RELOCATION OF JAGUARS - Nov. 16
Season 6, Week 12 - JOSH FREEMAN'S SECRET IS EXPOSED - Nov. 23
Season 6, Week 13 - NFL SUSPENDS MERIWEATHER, HITNER INDEFINITELY - Nov. 30
Season 6, Week 14 - DISASTER STRIKES AT LOWE FAMILY TURKEY BOWL - Dec. 7
Season 6, Week 15 - A FATEFUL BARBEQUE AT BELICHICK'S HOUSE - Dec. 14
Season 6, Week 16 - WHAT REALLY HAPPENED TO AARON HERNANDEZ - Dec. 21
Season 6, Week 17 - TROUBLING TIMES AHEAD - Dec. 28

Season 7, Week 1 - EMMITT AND FRIENDS ESCAPE DOWNTOWN ABBOTT - Sept. 5
Season 7, Week 2 - WHAT HAPPENED TO JOSH GORDON - Sept. 12
Season 7, Week 3 - EMMITT AND FRIENDS LOST AT SEA - Sept. 19
Season 7, Week 4 - EMMITT AND FRIENDS EXPLORE MYSTERIOUS ISLAND - Sept. 26
Season 7, Week 5 - MANZIEL REVEALS SECRET TO EMMITT - Oct. 3
Season 7, Week 6 - EMMITT AND FRIENDS FIND THEMSELVES IN MIDDLE OF GANG WAR - Oct. 10
Season 7, Week 7 - EMMITT CONFRONTS LEADER OF THE BLOODS - Oct. 17
Season 7, Week 8 - JIM IRSAY DESTROYS CRIPS' HEADQUARTERS - Oct. 24
Season 7, Week 9 - EMMITT TRAPPED INSIDE THE TOWN - Oct. 31
Season 7, Week 10 - NEW THREAT IN WALKING BUC APOCALYPSE - Nov. 7
Season 7, Week 11 - DESEAN JACKSON SAVES EMMITT FROM ANDY REID - Nov. 14
Season 7, Week 12 - UNDERSTANDING JUSTIN BIEBER�S POWERS - Nov. 21
Season 7, Week 13 - THIEF THROWS WRENCH INTO PLANS - Nov. 28
Season 7, Week 14 - OLD NEMESIS TRIES TO THWART PLANS - Dec. 5
Season 7, Week 15 - ADRIAN PETERSON'S STORY - Dec. 12
Season 7, Week 16 - GATHERING THE WALKING BUCS - Dec. 19
Season 7, Week 17 - ADRIAN PETERSON USES THE SWITCH OF DESTINY; CARL NICKS ATTACKS - Dec. 26

Season 8, Week 1 - OUTRAGE OVER DEFLATEGATE - Sept. 15
Season 8, Week 2 - EMMITT STOPS SEEMINGLY HORRIBLE CRIME - Sept. 22
Season 8, Week 3 - CHIP KELLY ACCUSED OF BEING RACIST AGAIN - Sept. 29
Season 8, Week 4 - EMMITT SAVES JAY CUTLER WITH SOME HELP - Oct. 7
Season 8, Week 5 - MORE EVIDENCE AGAINST TOM BRADY - Oct. 14
Season 8, Week 6 - INSIDE EMMITT'S MEETING WITH KIM JONG-UN - Oct. 21
Season 8, Week 7 - DIANNA MARIE RUSSINI�S PLAN TO STEAL NORTH KOREA�S NUCLEAR KEY - Oct. 28
Season 8, Week 8 - ENTERING THE NORTH KOREA NUCLEAR FACILITY - Nov. 4
Season 8, Week 9 - ESCAPING FROM JARED FOGLE'S DUNGEON - Nov. 11
Season 8, Week 10 - KIM JONG-UN MAKES STARTLING ANNOUNCEMENT - Nov. 18
Season 8, Week 11 - EMMITT AND HIS CREW MEET WITH MICHAEL SAM - Nov. 25
Season 8, Week 12 - OLD NEMESIS ABDUCTS EMMITT AND FRIENDS - Dec. 2
Season 8, Week 13 - EMMITT AND COMPANY INVADE JARED FOGLE'S MANOR - Dec. 9
Season 8, Week 14 - KIM JONG-UN MAKES ULTIMATE THREAT AGAINST AMERICA - Dec. 16
Season 8, Week 15 - THE STARTLING TRUTH ABOUT KIM JONG-UN - Dec. 23
Season 8, Week 16 - ROGER GOODELL AND KIM JONG-UN - Dec. 30

FORMER QUARTERBACK DISPLEASED WITH REID'S COMMENTS
By Alex Rodriguez, Special to the NFL Bible Network
Friday, Oct. 14, 2016
Philadelphia fans were outraged to hear Andy Reid's comments following the fifth team's loss.
"All that fat f***er ever does is say that he needs to put the players in a better position and that he takes full responsibility for that loss," shrieked a random caller on 610 WIP.
Well, the team's supporters weren't the only ones who were furious. Former Eagles quarterback Donovan McNabb expressed his frustration to reporters Thursday.
"I listened to Coach Reid's whole press conference, and he didn't mention me once," McNabb whined with a tear in his eye. "He could at least say the team is doing bad because I'm gone. It's ridinky-dinculous."
McNabb has been under fire himself this season. Struggling as the starting quarterback for the Sacramento Jaguars, McNabb was approached by head coach Jack Del Rio, who told his signal-caller that he could make his throws more accurate by fixing one simple thing in his throwing motion. McNabb, however, was taken aback by Del Rio's suggestion.
"Does Jack Del Rio know who I am?" McNabb asked rhetorically. "I am Donovan McNabb, former quarterback of the Philadelphia Eagles, and Campbell's Chunky Soup spokesperson. I do things my way! My way or the highway!
Coaches keep trying to tell me they want to make me better, but they're just trying to keep me down," McNabb revealed. "Everyone hates me, except Tom Jackson. They're all jealous of me that I have thousands of cans of Chunky Soup in my basement. It's ridinky-dinculous."
McNabb was so butt hurt by Reid's comments that he had to be excused from his own press conference because his butt actually really hurt. He was rushed to the hospital, and is listed as questionable for Sunday's game.
Tom Jackson, meanwhile, addressed McNabb's comments after laughing at a few of Chris Berman's jokes during this week's 63 hours of Sunday NFL Countdown coverage.
"Here we have a young African American athlete, who is being told what to do by old, white football coaches," Jackson said, completely ignoring the fact that Leslie Frazier, a black coach, tried to fix McNabb's mechanics as well. "McNabb deserves no blame for Sacramento's 0-5 start. His completion percentage of 28.6 is completely Coach Del Rio's fault."
When Jackson was finished his 10-minute rant, it was Eric Mangini's turn to speak.
"I tried asking Erin Andrews out because she's my almost girlfriend, but when I called her, she told me to stop calling because I'm a fat, stalker freak." Mangini revealed. "I feel sorry for Erin. Some fat loser keeps calling her, so I guess she thought I was him. Man, I need to find some big guy to beat him up for me so we can finally play laser tag on our romantic date."
Emmitt, on the other hand, disagreed with Jackson.
"Sometime the sky is greener on the side," Emmitt said. "Donovan McNabb butt have explosioned because he very ego mechanic, but if he become a head coach like I have becomed in the past history, he would understand that sometime a head coach need to fix a player's maniac to make him better."
Emmitt then had some sage advice to Jackson.
"Mike, just because a player come from the city of African America do not mean that he cannot be criticizement by his head coaching," Emmitt stated. "Jack Del Johnson just tryin' to make McNabbs a better player, person and athleticism, and McNabbs not very good anyway, so Jack Delo Johnson just makin' lemon out of lemonade."
Making lemons out lemonade, eh? At this point, we have to wonder if Emmitt's kids try to make a few bucks by running a neighborhood lemon stand.
Emmitt on the Brink
.
The premise: Coming off a Super Bowl victory, the Patriots open the 2013 season with a blowout win. Unfortunately, they get into trouble for Spygate II. As punishment, Roger Goodell orders the Patriots to fire Bill Belichick and replace him with Emmitt Smith. Three years later, the Patriots beat the Bears in the Super Bowl, 2-0. After the game, Emmitt announced his retirement.
This is a weekly feature that will take a newspaper reporter's perspective and follow Emmitt through his post-retirement days.
Of course, you can always look at all of Emmitt's quotes in the
Emmitt Smith Anthology
.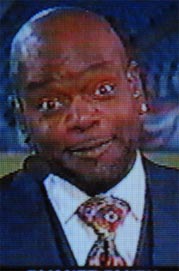 Emmitt Smith announce his unretirement!
ANDY REID ON THE HOT SEAT AGAIN
By Alex Rodriguez, Special to the NFL Bible Network
Monday, Oct. 10, 2016
Andy Reid has some major questions to answer in the wake of his team's miserable start. Expected to contend for the Super Bowl, the Eagles are 0-5 despite shelling out tons of money in the offseason on prized free agents.
Philadelphia nabbed Calvin Johnson, Patrick Peterson, Joe Haden, Nick Mangold, Mario Williams, Darren McFadden, Jimmy Graham and LeBron James this March. How they were able to do this and stay under the salary cap is anyone's guess. Many are speculating that general manager Howie Roseman has a secret pot of gold at the end of the rainbow.
People grew suspicious when upon hearing allegations for the first time, Roseman shouted, "You'll never find me pot of gold!" and then vanished into thin air. No one has seen him since.
Nevertheless, the Eagles are a major disappointment. When all of the talent was assembled, Vince Young, who is currently out of the league, dubbed the squad "The Dream Team II." As he said those words, Philly fans face palmed and shook their heads in disgust.
So, what happened exactly? Why is the Dream Team II a woeful 0-5?
"The Dream Team II isn't so dreamy," explained FOX color analyst John Lynch.
A better reason would be all the asinine moves Andy Reid made to complement Roseman's signings. For one, Reid refused to upgrade the linebacking corps. As a result, Philadelphia is surrendering 10 yards per carry.
Reid's coaching moves have been even worse. He promoted the water boy to be his new offensive coordinator. He then asked the stadium janitor to take over at defensive coordinator.
"I mop floor, and Andy Red come up to me, and ask me to be defensive coordinations, to please," said Yuri Suvarov, a Lincoln Financial Field custodial worker. "I do not even know how American footballs is play, but Andy Red say iz OK, I learn from watch video of other team play defenses, to please."
It doesn't appear as though the Suvarov experiment is working out. Through five games, the Eagles have allowed 325 points. They have no sacks, and teams have scored on 98 percent of their possessions against them.
"I do not understand how you can makes other team to give balls to us," Suvarov admitted. "I ask other coach before game, please to not score to give us chances to win game, but he laugh at me like I have cabbage in my anus - iz happen to me before and iz not good."
Suvarov's struggles to learn football has prompted many to speculate that Reid will hire a defensive consultant like Eric Mangini. The current ESPN analyst declined the offer, claiming that he was planning on asking his "almost girlfriend" Erin Andrews out on a date. Other coaches were mentioned as well, including Monte Kiffin, but Reid put the rumors to rest.
"Uhh... hem, hem... uhh... it's my job... uhh... to put the players in a better position... umm... uhh..." Reid said. "I take full responsibility... uhh... that I didn't put the players in a better position... uhh... hem, hem... uhh... I take full responsibility for that... uhh... put players in a better position... full responsibility... time's yours."
That's not entirely accurate. The time is definitely Andy's. Any other coach would have been fired already for all the nonsense he's put the Eagles through.