');



2017 NFL Mock Draft - Feb. 12


2016 NFL Mock Draft - Feb. 11


NFL Free Agents


NFL Picks - Feb. 7


2016 NBA Mock Draft - Feb. 2


Fantasy Football Rankings - Jan. 15




2017 NFL Mock Draft - Feb. 12


2016 NFL Mock Draft - Feb. 11


NFL Free Agents


NFL Picks - Feb. 7


2016 NBA Mock Draft - Feb. 2


Fantasy Football Rankings - Jan. 15

















Emmitt on the Brink Archive:

Emmitt on the Brink Home Page
Season 1, Week 1 - PATRIOTS WIN 84-0 ON SUNDAY; LOSE ON MONDAY - Sept. 12
Season 1, Week 2 - PATRIOTS WIN 11-4 AMID CONFUSION; VICK ARRESTED - Sept. 19
Season 1, Week 3 - PATRIOTS ESCAPE WITH 7-2 WIN; BENGALS FLEE STADIUM - Sept. 26
Season 1, Week 4 - PATRIOTS-LIONS GAME MOVED TO...? - Oct. 3
Season 1, Week 5 - EMMITT'S PLAN TO NEUTRALIZE CHIEFS, TEBOWS FAILS - Oct. 10
Season 1, Week 6 - EMMITT SUSPENDS TWO COACHES; DEVISES OWN GAMEPLAN - Oct. 17
Season 1, Week 7 - AL DAVIS FINDS PROOF OF SABOTAGE; FILES GRIEVANCE - Oct. 24
Season 1, Week 8 - PATRIOTS PREPARE FOR DECLINING DOLPHINS - Oct. 31
Season 1, Week 9 - STEROID SCANDAL HITS FOXBOROUGH - Nov. 7
Season 1, Week 10 - EMMITT TO APPEAR ON REALITY TV SHOW - Nov. 14
Season 1, Week 11 - MORELLI SUSPENSION PENDING; CBS' PORTER CRITICIZES GOODELL - Nov. 21
Season 1, Week 12 - MANGINI'S BIRTHDAY RUINED - Nov. 28
Season 1, Week 13 - CRENNEL EDGES REID IN CHARITY EVENT - Dec. 5
Season 1, Week 14 - MORE THAN 100 NFL PLAYERS TO BE SUSPENDED - Dec. 12
Season 1, Week 15 - COACH NEARLY MISSES INTERNATIONAL GAME - Dec. 19
Season 1, Week 16 - PATRIOTS FIGURE TO ROLL IN MIAMI - Dec. 26
Season 1, Week 17 - AFC PLAYOFF PREVIEW - Jan. 2
Season 1, Week 18 - PLAYOFF ROUND 1 RESULTS - Jan. 9
Season 1, Week 19 - PLAYOFF ROUND 2 RESULTS - Jan. 16
Season 1, Week 20 - PATRIOTS TO THE SUPER BOWL! - Jan. 23
Season 1, Week 21 - DID THE PATRIOTS WIN IT ALL WITH EMMITT? - Jan. 31

Season 2, Week 1 - PATRIOTS KICK OFF 2014 SEASON AGAINST THE JETS - Sept. 18
Season 2, Week 2 - JERRY JONES MAKES SURPRISING ANNOUNCEMENT AT HIS WEDDING - Sept. 25
Season 2, Week 3 - MICHAEL VICK SAVES THE DAY IN EAGLES LOSS - Oct. 2
Season 2, Week 4 - AL DAVIS UNLEASHES SECRET WEAPON AGAINST PATRIOTS - Oct. 9
Season 2, Week 5 - MAJOR CHANGES PREVALENT THROUGHOUT THE LEAGUE - Oct. 16
Season 2, Week 6 - PATRIOTS WIN ON A CULTURAL NIGHT IN MIAMI - Oct. 23
Season 2, Week 7 - DANIEL SNYDER HIRES NEW COACHES - Oct. 30
Season 2, Week 8 - SEVERAL PATRIOTS TO APPEAR ON GAME SHOWS - Nov. 6
Season 2, Week 9 - FAVRE RUINS PACKER PLANS AGAIN - Nov. 13
Season 2, Week 10 - PATRIOTS COULD BE IN TROUBLE AGAIN - Nov. 20
Season 2, Week 11 - PATRIOTS HIRE FORMER NO. 1 PICK, SPY - Nov. 27
Season 2, Week 12 - MANGINI'S BIRTHDAY PARTY RUINED AGAIN - Dec. 4
Season 2, Week 13 - THANKSGIVING GAME RECAPS - Dec. 11
Season 2, Week 14 - PATS, BILLS TRAVEL TO NORTH KOREA - Dec. 18
Season 2, Week 15 - PATRIOTS PRACTICE CANCELED; LAUGHING GAS RELEASED - Dec. 26
Season 2, Week 16 - PATRIOTS ONE WIN AWAY FROM PERFECTION - Jan. 2
Season 2, Week 17 - PERFECTION AGAIN - Jan. 9
Season 2, Week 18 - PLAYOFF ROUND 1 RESULTS - Jan. 16
Season 2, Week 19 - PLAYOFF ROUND 2 RESULTS - Jan. 23
Season 2, Week 20 - PATRIOTS ADVANCE TO SUPER BOWL; WILL FACE RAMS AGAIN - Jan. 30
Season 2, Week 21 - PATRIOTS CRUISE TO EASY SUPER BOWL VICTORY; BECOME FIRST TEAM TO GO 19-0 - Feb. 14

Season 3, Week 1 - PATRIOTS KICK OFF 2015 SEASON AGAINST THE DOLPHINS - Sept. 11
Season 3, Week 2 - PATRIOTS FACE AN EASY CHALLENGE AGAINST INJURED LIONS - Sept. 18
Season 3, Week 3 - PATRIOTS AWARDED WIN AS JETS STADIUM IS IN RUINS - Sept. 25
Season 3, Week 4 - PATRIOTS FACE COWBOYS' SECRET WEAPON - Oct. 2
Season 3, Week 5 - PATRIOTS LOSE VALUABLE MEMBER OF TEAM - Oct. 9
Season 3, Week 6 - PATRIOTS OFFENSIVE COORDINATOR IN HOT WATER AGAIN - Oct. 16
Season 3, Week 7 - GOODELL AIMS TO IMPROVE PLAYER SAFETY; LEAGUE ANGERED - Oct. 23
Season 3, Week 8 - EMMITT DISTRAUGHT AFTER WAR OF WORDS WITH DENVER COACH - Oct. 30
Season 3, Week 9 - MANGINI'S CELEBRATION RUINED; COACH TO MISS GAME - Nov. 6
Season 3, Week 10 - PATRIOTS QUARTERBACK TO MAKE CAMEO APPEARANCE ON ENCOURAGE - Nov. 13
Season 3, Week 11 - AL DAVIS' DARK MAGIC BACKFIRES; PATRIOTS NOW 10-0 - Nov. 20
Season 3, Week 12 - EMMITT RETURNS TO PATRIOTS AFTER INTERVIEW - Nov. 27
Season 3, Week 13 - FORMER QUARTERBACK HOLDS SYMPOSIUM - Dec. 4
Season 3, Week 14 - PATRIOTS DRAFT SON OF FORMER NFL QUARTERBACK - Dec. 11
Season 3, Week 15 - EAGLES RECEIVER LEADS ALL PLAYERS IN PRO BOWL VOTING - Dec. 18
Season 3, Week 16 - PATRIOTS-VIKINGS GAME TO BE MOVED - Dec. 25
Season 3, Week 17 - WEATHER RUINS PATRIOTS-JETS FINALE - Jan. 1
Season 3, Week 18 - PATRIOTS, RAIDERS AWAIT WINNERS OF WILD CARD ROUND - Jan. 8
Season 3, Week 19 - PATRIOTS-RAIDERS TO MEET IN AFC CHAMPIONSHIP THIRD STRAIGHT YEAR - Jan. 15
Season 3, Week 20 - OLD FOE RETURNS TO HELP PATRIOTS VANQUISH RAIDERS IN AFC CHAMPIONSHIP - Jan. 22
Season 3, Week 21 - PATRIOTS REPEAT AS CHAMPIONS - Feb. 8

Season 4, Week 1 - EMMITT LOOKING FOR WORK - Sept. 11
Season 4, Week 2 - CHRIS JOHNSON WANTS MORE MONEY - Sept. 18
Season 4, Week 3 - ARIAN FOSTER INJURED, ARRESTED AND SUSPENDED - Sept. 25
Season 4, Week 4 - DESEAN JACKSON BANNED FROM NFL - Oct. 2
Season 4, Week 5 - EMMITT REPLACES HANK WILLIAMS ON MONDAY NIGHT FOOTBALL - Oct. 8
Season 4, Week 6 - ANDY REID ON THE HOT SEAT AGAIN - Oct. 15
Season 4, Week 7 - HARBAUGH, SCHWARTZ PREPARE FOR BATTLE - Oct. 22
Season 4, Week 8 - NO TEAMS SHOW UP FOR TERRELL OWENS' WORKOUT AGAIN - Oct. 29
Season 4, Week 9 - JAMARCUS RUSSELL DISCUSSES COACHING STRATEGY - Nov. 5
Season 4, Week 10 - SANDUSKY BLOWS WHISTLE ON VICK - Nov. 12
Season 4, Week 11 - VICK DOG RAPE FALLOUT - Nov. 19
Season 4, Week 12 - SUH ASSIGNED TO ANGER MANAGEMENT - Nov. 26
Season 4, Week 13 - SKITTLE WARRIORS FAIL TO ISSUE VERDICT ON STEVE JOHNSON - Dec. 3
Season 4, Week 14 - EMMITT STOPS EVIL TIM TEBOW - Dec. 10
Season 4, Week 15 - SKITTLE WARRIORS ARREST SAM HURD - Dec. 17
Season 4, Week 16 - THE BEAST IS UNLEASHED; HELL IS UPON US - Dec. 24
Season 4, Week 17 - NEW NFL LOCKOUT HAS EVERYONE MIFFED - Dec. 31

Season 5, Week 1 - ALL SAINTS' GAMES SUSPENDED UNTIL FURTHER NOTICE - Sept. 3
Season 5, Week 2 - BOUNTYGATE II SEXUAL ACTS CONTINUE - Sept. 10
Season 5, Week 3 - REPLACEMENT OFFICIAL TARGETED AS MAJOR SUSPECT IN BOUNTYGATE II - Sept. 17
Season 5, Week 4 - GREG SCHIANO GOES TOO FAR THIS TIME - Sept. 24
Season 5, Week 5 - POLICE STRIKE OVER; EMMITT HAS WARRANT IN HAND - Oct. 1
Season 5, Week 6 - ROGER GOODELL ARRESTED AND RELEASED - Oct. 8
Season 5, Week 7 - A LONG, BUT USEFUL DETOUR FOR EMMITT AND HIS CREW - Oct. 15
Season 5, Week 8 - EMMITT IS ARRESTED! - Oct. 22
Season 5, Week 9 - EMMITT FINDS A FRIEND IN JAIL - Oct. 29
Season 5, Week 10 - NOT ENOUGH EVIDENCE TO CONVICT JONATHAN VILMA - Nov. 7
Season 5, Week 11 - ERIC MANGINI AND ASIAN ERIN ANDREWS' WEDDING - Nov. 14
Season 5, Week 12 - BOUNTYGATE II GOES BEYOND THE NFL - Nov. 21
Season 5, Week 13 - JERRY JONES FINALLY FIRES HIMSELF - Nov. 28
Season 5, Week 14 - EMMITT FINALLY ON RIGHT TRACK TO FINDING BOUNTYGATE II MASTERMIND - Dec. 5
Season 5, Week 15 - EMMITT FINALLY MEETS MASTERMIND OF BOUNTYGATE II - Dec. 12
Season 5, Week 16 - EMMITT'S FRIENDS TO THE RESCUE! - Dec. 19
Season 5, Week 17 - EMMITT AND FRIENDS REWARDED FOR ENDING BOUNTYGATE II - Dec. 26

Season 6, Week 1 - CONTROVERSIAL DIVISIONAL REALIGNMENT IN THE NFL - Sept. 7
Season 6, Week 2 - MORE PUNISHMENT FOR RILEY COOPER - Sept. 14
Season 6, Week 3 - BROWNS SHOCK NFL WITH ANOTHER TRADE - Sept. 21
Season 6, Week 4 - EMMITT FOUND IN THE MOST UNUSUAL PLACE - Sept. 28
Season 6, Week 5 - EMMITT MEETS WITH FBI FOR LLOYD INVESTIGATION - Oct. 5
Season 6, Week 6 - EMMITT QUESTIONS BOB KRAFT - Oct. 12
Season 6, Week 7 - THE WALKING BUCS - Oct. 19
Season 6, Week 8 - NFL ADMITS TO TWO OFFICIATING BLUNDERS - Oct. 26
Season 6, Week 9 - CONTROVERSY OVER OTHER NFL TEAM NAMES - Nov. 2
Season 6, Week 10 - MARTIN AND INCOGNITO SQUARE OFF IN TOURNAMENT - Nov. 9
Season 6, Week 11 - NFL ANNOUNCES RELOCATION OF JAGUARS - Nov. 16
Season 6, Week 12 - JOSH FREEMAN'S SECRET IS EXPOSED - Nov. 23
Season 6, Week 13 - NFL SUSPENDS MERIWEATHER, HITNER INDEFINITELY - Nov. 30
Season 6, Week 14 - DISASTER STRIKES AT LOWE FAMILY TURKEY BOWL - Dec. 7
Season 6, Week 15 - A FATEFUL BARBEQUE AT BELICHICK'S HOUSE - Dec. 14
Season 6, Week 16 - WHAT REALLY HAPPENED TO AARON HERNANDEZ - Dec. 21
Season 6, Week 17 - TROUBLING TIMES AHEAD - Dec. 28

Season 7, Week 1 - EMMITT AND FRIENDS ESCAPE DOWNTOWN ABBOTT - Sept. 5
Season 7, Week 2 - WHAT HAPPENED TO JOSH GORDON - Sept. 12
Season 7, Week 3 - EMMITT AND FRIENDS LOST AT SEA - Sept. 19
Season 7, Week 4 - EMMITT AND FRIENDS EXPLORE MYSTERIOUS ISLAND - Sept. 26
Season 7, Week 5 - MANZIEL REVEALS SECRET TO EMMITT - Oct. 3
Season 7, Week 6 - EMMITT AND FRIENDS FIND THEMSELVES IN MIDDLE OF GANG WAR - Oct. 10
Season 7, Week 7 - EMMITT CONFRONTS LEADER OF THE BLOODS - Oct. 17
Season 7, Week 8 - JIM IRSAY DESTROYS CRIPS' HEADQUARTERS - Oct. 24
Season 7, Week 9 - EMMITT TRAPPED INSIDE THE TOWN - Oct. 31
Season 7, Week 10 - NEW THREAT IN WALKING BUC APOCALYPSE - Nov. 7
Season 7, Week 11 - DESEAN JACKSON SAVES EMMITT FROM ANDY REID - Nov. 14
Season 7, Week 12 - UNDERSTANDING JUSTIN BIEBER�S POWERS - Nov. 21
Season 7, Week 13 - THIEF THROWS WRENCH INTO PLANS - Nov. 28
Season 7, Week 14 - OLD NEMESIS TRIES TO THWART PLANS - Dec. 5
Season 7, Week 15 - ADRIAN PETERSON'S STORY - Dec. 12
Season 7, Week 16 - GATHERING THE WALKING BUCS - Dec. 19
Season 7, Week 17 - ADRIAN PETERSON USES THE SWITCH OF DESTINY; CARL NICKS ATTACKS - Dec. 26

Season 8, Week 1 - OUTRAGE OVER DEFLATEGATE - Sept. 15
Season 8, Week 2 - EMMITT STOPS SEEMINGLY HORRIBLE CRIME - Sept. 22
Season 8, Week 3 - CHIP KELLY ACCUSED OF BEING RACIST AGAIN - Sept. 29
Season 8, Week 4 - EMMITT SAVES JAY CUTLER WITH SOME HELP - Oct. 7
Season 8, Week 5 - MORE EVIDENCE AGAINST TOM BRADY - Oct. 14
Season 8, Week 6 - INSIDE EMMITT'S MEETING WITH KIM JONG-UN - Oct. 21
Season 8, Week 7 - DIANNA MARIE RUSSINI�S PLAN TO STEAL NORTH KOREA�S NUCLEAR KEY - Oct. 28
Season 8, Week 8 - ENTERING THE NORTH KOREA NUCLEAR FACILITY - Nov. 4
Season 8, Week 9 - ESCAPING FROM JARED FOGLE'S DUNGEON - Nov. 11
Season 8, Week 10 - KIM JONG-UN MAKES STARTLING ANNOUNCEMENT - Nov. 18
Season 8, Week 11 - EMMITT AND HIS CREW MEET WITH MICHAEL SAM - Nov. 25
Season 8, Week 12 - OLD NEMESIS ABDUCTS EMMITT AND FRIENDS - Dec. 2
Season 8, Week 13 - EMMITT AND COMPANY INVADE JARED FOGLE'S MANOR - Dec. 9
Season 8, Week 14 - KIM JONG-UN MAKES ULTIMATE THREAT AGAINST AMERICA - Dec. 16
Season 8, Week 15 - THE STARTLING TRUTH ABOUT KIM JONG-UN - Dec. 23
Season 8, Week 16 - ROGER GOODELL AND KIM JONG-UN - Dec. 30






PATRIOTS CRUISE TO EASY SUPER BOWL VICTORY; BECOME FIRST TEAM TO GO 19-0

By Alex Rodriguez, Special to the NFL Bible Network
Monday, Feb. 9, 2015

Super Bowl teams seldom have a quarterback quandary on their hands, but that has been the case for the Rams ever since Jimmy Clausen retired two weeks ago.

Owner and general manager Walter Cherepinsky has been pining all week for Tim Tebow Clone No. 53 to start, while head coach Matt McGuire has been pushing for Andre Woodson. Unfortunately for St. Louis, the two men were still quarreling after kickoff.

"Tim Tebow Clone No. 53 is so awesome; we need him in our lineup," spoke Walt into McGuire's headset.

"No way dude, Tim Tebow Clone No. 53 blows," McGuire countered. "I could read War and Peace by the time Tim Tebow Clone No. 53 attempts a pass - that's how long his wind-up is. Trust me, Andre Woodson is the better option."

"No, no, no, no, no," Walt responded. "Do you know how many tickets Tim Tebow Clone No. 53 will help us sell? I'll be able to make hundreds of dollars! Muhahaha!"

"Yeah, Tim Tebow Clone No. 53 will sell out a game, maybe two, but then all interest will fade and people will realize how crappy he is," McGuire stated. "Tim Tebow Clone No. 53 has awful mechanics. Look at his feet. He can't even stand up without falling flat on his face."

This went on for the next 3-and-a-half hours, stopping only during the Super Bowl halftime show. And that was only because the two men fell asleep along with everyone else watching the game.

NFL Overlord Roger Goodell, worried that yet another music group would have a wardrobe malfunction, dug up Mozart's grave and assembled his skeleton on stage. He then had the stadium play some of Mozart's music in the background, as the former musician's skeleton dangled eerily from a thin support wire.

"We can't have people like Janet Jackson flashing her breast or Sly Stone from Sly and the Family Stone mooning people; it's not appropriate," Goodell said before the game. "I want to make sure that the Super Bowl is a family environment, and Mozart's skeleton was as safe a bet as any."

As the Rams were quarreling, the Patriots scored easily and forced St. Louis into a three-and-out on every drive. The owner was distracting the head coach with his nonsensical arguments regarding Tim Tebow Clone No. 53, so none of the plays were being called in.

"It is like a dream come true," a tearful Emmitt said holding up the Vince Lombardi Trophy after the game. "I won three or maybe four Pro Bowl when I was a player in the National Conference League. But this moment topple any other. When I was on the Cowboys, I was only one player. Now, as head coach of the New Zealand Patriots, I feel like I am... uhh... the number of player we have on our football team. I count, but I forget. It do not even have anything to do with going 19-0. Well, maybe I lie. It have a li-bit to do with 19 win and zero lossed."

Emmitt was then asked if the game would have been a tougher matchup if the Rams had their quarterback situation addressed.

"That is all in the pass, I do not even want to think about it for a second - not even for a minute," Emmitt said. "But the St. Louis Blue should have seened this coming. Like the old guy who make all the Madden video game always say, 'If you has two quarterback, you do not have one quarterback or even two quarterback - you has zero quarterback!' I never understood these saying until today. The Rams lossed their main guy, and then they got jumbled up in their own confusive."

Emmitt then handed the Lombardi Trophy to Super Bowl IL MVP Anthony Morelli. Morelli was asked what the victory meant to him.

"Haha, eh yo... haha, bro how ya doin, haha... uhh... eh yo, I dunno what to say haha, eh yo," Morelli said while swaying back and forth.

Footage was later discovered that a sober Morelli stashed 50 beers under the stands and chugged them all after the game was well in hand. This would explain why Morelli puked on his center when kneeling down in the victory formation as time expired.

Following all of the on-the-field celebration, Emmitt gave a short speech to all of the players in the locker room. Before he finished, he gave the game ball to water boy JaMarcus Russell.

"Jamaal Russell, you deserve this game ball more than any player who play the play, uhh... I mean game and touch the ball today," Emmitt said. "You save my behind twice during the season before the playoff, and then during the playoff, you provide some H-O-2 to the guy who have thirst issue. Not only are you the best water boy in the history of the world, you are the best water boy who been in the New Zealand Patriots locker room. You have showned bravery - very bravery."

Russell, who was enjoying a pouch of Skittles and minding his own business before Emmitt's kind words, was caught off guard.

"Coach... I help... do you tink so?"

Emmitt smiled.

"Do I tink so? Definitely. I definitely tunk so."




Emmitt on the Brink.

The premise: Coming off a Super Bowl victory, the Patriots open the 2013 season with a blowout win. Unfortunately, they get into trouble for Spygate II. As punishment, Roger Goodell orders the Patriots to fire Bill Belichick and replace him with Emmitt Smith.

This is a weekly feature that will take a newspaper reporter's perspective and follow the 2013-14 New England Patriots as they traverse the 2013 and 2014 NFL seasons under Emmitt's guidance. This page will be updated every Friday during the real 2009 NFL season.

Of course, you can always look at all of Emmitt's quotes in the Emmitt Smith Anthology.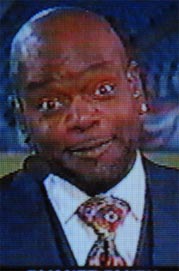 Emmitt Smith name head coach of the New England Patriots on 2014!