---


San Diego Chargers (3-3) at Jacksonville Jaguars (0-6)
Line: Chargers by 7.5. Total: 44.5.
Las Vegas Hilton Advance Point Spread:
Chargers -9.5.
Walt's Calculated Line (After Week 6):
Chargers -6.
Sunday, Oct. 20, 1:00 ET
Discuss Week 7 Games, Talk Trash
The Game. Edge: Chargers.

HATE MAIL:
Another week, another stack of hate mails. These are from the comment boards:
Keep publishing your picks. All I have to do is take the other side. I am winning every week. I don't know how you do it, but you manage to lose every week !
This is the second week I've lost this year, so you're obviously lying. I doubt you're taking the other side. In fact, what really happened is that you've faded me for the first five weeks, and because you've lost four out of those five weeks, you decided to go with me this week. Lo and behold, you lost again. Sorry you're butt hurt enough to post incorrect info.
Hahahhaha u got one pick ryte so far lol that's horrible and the only one u got ryte was the pats an that had to come down to 10 seconds left in the game. U should change ur name to Walter MOOSH !! Put him in da bathroom !!
Umm... why is this man's mental hospital allowing him to access a computer?
Besides the fact that you ARE an ass on the Adrian Peterson tweet and the 'justification" and the comments on the pink flag, you are flat out wrong on your evaluation of GB defense, especially the run D. Did you type 2012 by mistake? The 2013 run D of GB is not 20th in any freaking category, including yards per game, average yards per game, TDs or anything else. HINT: look in top 10 for GB
Most sensible people I've spoken to say there was nothing wrong with the AP tweet. In fact, the people who attacked me for it were much worse. They are hypocrites for attacking me so maliciously and rallying all of their readers to unfollow me on Twitter all while some poor kid was dying.
At any rate, run defense is appropriately measured via yards per carry. The Packers were 20th there at 4.09 YPC. You can download the Excel file for YPC on my
NFL Power Rankings
page.
Walter you are a tool.
Which tool, specifically?
How do you feel now dick?
As much of a dick as always!
I'll have more on the hypocritical a**holes who attacked me for my Adrian Peterson tweet later on.
SAN DIEGO OFFENSE:
There are plenty of reasons why Philip Rivers is playing on a high level again this year. Improved coaching, a bolstered offensive line, a healthy Antonio Gates, Keenan Allen's rapid progression and Danny Woodhead's presence have all been major factors in Rivers' resurgence.
The Chargers will get to showcase exactly what their offense can do versus one of the worst defenses in the NFL. Only the Bears and Giants have fewer sacks than Jacksonville this season, so Rivers will have even more time in the pocket than he did on Monday night to pick apart an atrocious secondary that features the worst safety play in the NFL. Washington and Philadelphia fans may try to argue differently, but they'd agree with me if they watched some of these Jacksonville games.
The Jaguars are also dead last against the run. Ryan Mathews showed some juice Monday night, so perhaps he can carry that over into this matchup.
JACKSONVILLE OFFENSE:
It's a given that the Jaguars will surrender a ton of points, as they always do. The big question is whether they'll be able to score enough to stay within the point spread. Given the issues San Diego has in its secondary, I'd say yes.
Those who just watched the Monday night game may scratch their heads when I say the Chargers have problems covering people, but think back to the five drops the Colts had. Those players were wide open, and had they corralled those receptions, it would've been a completely different game. Justin Blackmon has been a beast since his return, and he'll be able to burn San Diego's defensive backfield. It's worth noting that Blackmon hasn't dropped a single pass since his return.
The one major issue concerning Jacksonville's scoring attack - aside from the obvious hole at the quarterback position - is pass protection in the wake of the Eugene Monroe trade and Luke Joeckel. However, the Chargers don't really have a consistent pass rush to take advantage of this. Only seven teams have fewer sacks than San Diego this season. The Chargers also struggle versus the run, so perhaps Maurice Jones-Drew can get something going.
RECAP:
I know the Jaguars have lost every game by double digits this year, but this spread is way too high considering San Diego is coming off a big Monday night victory and traveling across the country to play an early game. The Chargers won't be as sharp as they were versus Indianapolis, so that could allow the Jaguars to keep things close.
FINAL THOUGHTS:
The Jaguars are going to London next week. Did you know that teams are 4-10 against the spread prior to traveling overseas? I kind of want to change my selection to the Chargers, but I have a bad history of switching picks late in the week.
The Psychology. Edge: Jaguars.

The Chargers won a big game on Monday night and have to travel across the country to play an early contest.
The Vegas. Edge: Jaguars.
A small lean on the team that just won on Monday night.
Percentage of money on San Diego: 61% (32,000 bets)


The Trends. Edge: Chargers.
Jaguars are 17-38 ATS against non-divisional opponents since 2008.
Opening Line: Chargers -7.5.
Opening Total: 44.5.
Weather: .


Week 7 NFL Pick: Chargers 23, Jaguars 17
Jaguars +7.5 (0 Units) -- Incorrect; $0
Under 44.5 (0 Units) -- Correct; $0
Chargers 24, Jaguars 6






---



Cincinnati Bengals (4-2) at Detroit Lions (4-2)
Line: Lions by 2. Total: 47.
Las Vegas Hilton Advance Point Spread: Lions -2.5.
Walt's Calculated Line (After Week 6): Lions -2.5.
Sunday, Oct. 20, 1:00 ET
Discuss Week 7 Games, Talk Trash

The Game. Edge: Lions.

I wouldn't say my weekly random NFL notes cluttered these picks pages, so I'll keep them here. What I'm also going to do is store all of them in a Random NFL Notes section so that you can go back and read previous entries in the future.

Some random NFL notes I can't put anywhere else:

Several people on Twitter - I've come to dub them as Sand in the Vag Mafia - were very pissed at me on Friday. If you missed it, go here to read about the controversy regarding my Adrian Peterson tweet.

I've had an entire weekend to think about what happened, and I've come to the conclusion that this whole ordeal was more insanely stupid than I initially believed it to be. The timing of the tweet probably should've been better - in hindsight, I would've split it into two tweets - but I made that post quickly without giving much thought about how it would be perceived. It's not like I spent hours crafting that tweet. I gave my condolences and wrote relevant information to my job. There's absolutely nothing wrong with that.

Some thoughts concerning AP Tweetgate:

1. You've read what I've had to say about this. Of the sensible people I've talked to, almost everyone didn't think there was anything wrong with what I wrote. Here were some of the most logical, though-out responses (as opposed to the "HURRR DURRR YOUR LIKE SO INSENSITIVE HURRR DURRR" replies from the Sand in the Vag Mafia):

- Kenny S: Nothing you said was wrong man. You explained the situation in a factual manner. This whole fake anger thing people have is stupid. Everyone gets so emotional about stuff like that but they don't really care anyway. If that were the case, they could go help the homeless and do things of that nature.

(More on what Kenny S. said later about individuals not helping out.)

- Derek C: I've been following Walt's site for about 8-10 years now. I've watched Walt constantly insult and berate GM's like Al Davis for their ineptitude and even go as far as to make a fake mock draft where Davis selected an actual monster with the Raiders' pick. But Walt was also the first one to pay his condolences to Al Davis and his family when Davis passed away. I'm pretty sure Walt understands there are more important things to life than football. That being said, he also runs a website where it's his job to analyze professional football, college football, fantasy football, and the NFL Draft. There was nothing malicious about his post about Peterson and his son. He showed his respect about the situation, but also continued doing his job, which is the sole reason any of you even follow him in the first place: you want his opinion. The world doesn't suddenly stop spinning just because something tragic happens. What happened was terrible, but being upset about how Walt reacted to it is moronic. If you were offended by his post, you need to move on and shut up because you're intentionally making something out of nothing.

(I make fun of almost everyone on this Web site, but I only do so in jest. There's no malice behind anything. I just do it for some laughs so I can help make people's days more entertaining.)

- Kyle M: It's crazy how overblown everything about this situation has become. Walt, the only suggestion I would have is posting an apology, but ONLY about the timing/misunderstanding. There was absolutely nothing wrong with what you tweeted.

(I actually thought about issuing an apology Friday afternoon, but that would've been less sincere than QBDK saying he was sorry for killing dogs. I regret not making two tweets, but I don't have to apologize for it.)

- Chris F: Walt, if the game is going forward you had an obligation to comment on the situation and its implications on your business. Good job Walter.

(Chris F. is a lawyer, so, lawyered.)

- Steve V: I would stick with 'vagines'... it's got class and panache. If a hurricane killed 1 million people, people would still have comments on the hurricane... I feel bad for the guy, but when grown men are taking insurance out on fantasy players, this is a business and business doesn't stop. Too PC out there. Salem witch trials are en vogue again.

(People who are too PC piss me off - if you couldn't tell.)

- Craig E: Walt, I'm a big fan of your site. Honestly, anyone who found your tweet to be offensive is clueless. The best part about it is that you prefaced your fantasy advice with an acknowledgement of how horrible of a tragedy it is for AP. I don't understand why people are so sensitive. Obviously you aren't happy his two year old son died, but a fantasy website's job is to provide fantasy insight, not mourning and grief counseling. Anyone who can't put 2 and 2 together is an idiot.

(Yeah, I have no idea what the uproar was about at all. It was so incredibly dumb.)

- Jacqueline C: I think people who are mad just didn't like you to begin with, or were jealous. They just wanted a reason to publicly hate on you. People who are your fans still support you. Also, I don't think what you did was insensitive. It made sense... and for those who say you were, let's point out the Peterson only met his son for the first time when he was in the hospital after the beating. Also Peterson went back to work immediately. Are those people who publicly hated on you, also calling Peterson the same derogatory names? I don't think so.

(I wanted to post this because one of the people criticizing me was someone who applied for a job on this Web site, but got turned down. It's also noteworthy that the majority of the attackers were from Bleacher Report and SBNation, two Web sites with comparable traffic. If these guys went after me to steal my audience - some of them clamored for others to unfollow me on Twitter - then that's absolutely disgusting. A kid was dying, yet they used the situation to their advantage intentionally. I think that's pretty sick.)

- Cory C: Walt, part of your job is taking the backlash of the real life/fantasy football/sports betting divide. Seems like this is just another one of those things. Tragic real life situations have fantasy implications. If LeSean McCoy got hit by a bus tomorrow and went comatose, it would be Walt's responsibility to say as quickly as possible that everyone should pick up Bryce Brown, and he would get ridiculous backlash for it. He still has to say it, though. It's his job.

(That's absolutely right. If any player suffered a life-threatening injury, I'd have to post betting, fantasy and draft implications because it's my job.)

2. In terms of what Kenny S. said, I decided that I'd donate my winnings from my Vikings' pick to Futures Without Violence. Minnesota lost, but I still sent a check out because I didn't want to let some lethargic players get in the way of a good cause. I've mailed a $300 check to them (my editor suggested that I include the vig, but it was too late).

I messaged Bleacher Report Matt Miller on Facebook on this. Miller was one of my main attackers. I told Miller that I didn't understand why he did what he did, but I was willing to bury the hatchet because I'm not one to hold grudges. Life is just too short for that, especially with more significant things going on. I asked Miller if he and his Bleacher Report co-workers wanted to match my donation because it would be cool for us non-major media people to band together for a good cause.

Miller looked at my message - it was viewed Saturday around noon - but he never responded. He also deleted me as a friend on Facebook. You can imagine the agony of losing such a valuable Facebook friend!

In all seriousness, this is so childish. Besides 13-year-old chicks, who deletes people on Facebook? And why ignore a message for a good charity? Why spend energy lashing out on me and then not do anything constructive about it? Whatever. After this post, I'm done with all of the Sand in the Vag Mafia crap (unless someone on the forum makes a real Mafia game out of it.)

3. SB Nation's Brian Floyd took some umbrage with some of my other posts, including the one where I said the 8-year-old who recommended the pink flags was a douche. It makes me very sad that Floyd and others like him don't understand sarcasm. Do I really think this kid is a douche? Of course not. I don't know him. Why would I think he's a douche? The whole thing was a joke, and it went right over Floyd's head.

Speaking of pink flags, a Facebook friend of mine told me that a buddy of his doesn't come on my Web site anymore because I don't support breast cancer awareness.

This guy is worse than Brian Floyd, which shouldn't be possible. I'm all for breast cancer awareness. I just don't think everything should be pink. The pink flags ruined the viewing experience. That just can't be allowed to happen - hence the 8-year-old douche statement.

Oh, and if you think the NFL's cause is so honorable, you may want to consider this: SportsGrid.com reported that only 3.54 percent of the NFL pink merchandise sales go to breast cancer research (thanks to FootballFanSpot.com's Steven L. for sending this to me). Yup, 3.54 percent! The law requires for charities to give 3 percent to the actual cause, so the NFL is doing the bare minimum. If the NFL really cared about this cause, half of the profits would go to breast cancer research.

Anyway, that's it for my rant. Like I said, I won't bother discussing the Sand in the Vag Mafia again because there's no point in dealing with super-sensitive hypocrites. However, if there's a Sand in the Vag Mafia game going on in the forums, I will definitely tweet that out. I suppose I'll get some backlash from that too.

***


Here's what I wrote on Friday in reaction to the Sand in the Vag Mafia's attacks on me:

I never realized how much sand people have in their vages until Friday morning. If you didn't hear, TMZ reported that Adrian Peterson's 2-year-old son was in critical condition after allegedly being beaten by his mother's boyfriend. This was a horrible story, but it obviously had fantasy football implications, so I tweeted the following out (@walterfootball):

Horrible story from @tmz with Adrian Peterson's son. Hope he'll be OK. Fantasy advice for owners of the #Vikings RB

Seemed like a sensible thing to do. What happened with Peterson's son was terrible, but there's nothing anyone can do about the situation except pray that everything would be fine. It did carry fantasy football implications, however, as Peterson's fantasy owners were suddenly in danger of not having their top running back available for Sunday's contest against the Panthers. So, what were they supposed to do? Keep Peterson in the lineup even if he doesn't play, as they idly sit back and watch someone else pick up Toby Gerhart? Shouldn't they be thinking about picking up Gerhart? Again, there was nothing anyone could do at the moment.

I posted relevant information to a tragic situation. There is absolutely nothing wrong with that; in fact, it was necessary. I didn't even think there was any sort of possibility that I did anything in poor judgment until an owner of another NFL Draft site messaged me on GChat:

Draft Site Owner: Holy f*** man, you're taking a lot of heat on Twitter right now. A LOT of heat.

Me: For what?

Draft Site Owner: Your tweet about AP

Me: I don't see what's wrong with it?

Draft Site Owner: You're offering fantasy advice at a bad time he's going through. IDK, people are stupid. Just letting you know.

Me: It's pretty relevant if he misses the game.

Draft Site Owner: People are thinking fantasy football shouldn't matter in a situation like this.

Me: So what are they supposed to do, keep Peterson in their lineup if he doesn't play?

Draft Site Owner: Beats me. Just letting you know you're getting bashed pretty hard on Twitter.

Me: Wow, people need to get the sand out of their vages.

Draft Site Owner: I completely agree man. Hell I got bashed for trying to defend you.

Me: Thanks for having my back. I can't believe how stupid this is.

I still can't believe it either. Mind blown. Again, it's horrible what happened to Peterson, but there is relevant fantasy fallout. My apologies for discussing it. Wow.

I wish Wal-Mart sold something to help people clean sand out of their vages at a time like this, but unfortunately, no such product has been invented yet. For any savvy entrepreneurs out there, I just gave you a fantastic idea.

Anyway, you can discuss this here.

Update: Hearing feedback from people on the forum and those on my Facebook wall, I get the sense that most sensible people agree with me. There was nothing to get up in arms over. I get that people are angry about this situation - and I am too - so some are directing their malice toward me. But it is my job to offer fantasy and betting advice, and the tragic news relating to Peterson's son was relevant in the fantasy world. I'll repeat: I hope everything will be OK. That's what's most important.

Again, you can discuss this in the forum.

Another update: A new member of the forum alerted me of something:

Brian Floyd, managing editor for @sbnation, is all over you on twitter. He is taking pieces and parts of your post and posting them on twitter to make you look even worse. You are the "sand in the vages" guy. According to him you are a terrible person for suggesting to pick up Toby and for calling the 8yr old boy a douche for suggesting pink flags. I guess humor is lost on him. @BrianMFloyd

Well, it appears as though we've uncovered our Sand Vag King. All kneel before the Sand Vag King, who has declared there shall not be any humor in any facet of life!

Some funny comments from the forum about this:

VikingSteve: King in the Sandy Vag castle? I imagine it as a sand castle that looks like a vagina, and he's buried in it, with just his head sticking out, looking up with this nasty, judging look on his face.

Pheltz: How long til this guy finds Emmitt on the Brink and declares Walt a racist?

Kirmie: Should that not be Queen? I believe his man card is stripped by this point.

Sand Vag King does not believe in "man cards," for the term "man card" was coined in a humorous sense, and humor is not allowed in the Sand Vag Kingdom.

DETROIT OFFENSE: There was so much speculation about whether Calvin Johnson would play or not last week. He suited up, but it ultimately didn't matter. He played half the snaps and didn't really do anything. He nearly came up with a touchdown, but he dropped the pass. That was his only highlight of the afternoon. The Lions, however, didn't need him to beat the Browns because Brandon Weeden handed them a victory by imploding. Detroit won't have such a luxury this week.

The good news, however, is that Johnson practiced. It's unusual for him to do so on a Wednesday, so this is a great sign that he'll be more than just a decoy.

Not having to worry about Johnson would've freed up the Cincinnati defenders to focus on Reggie Bush and apply pressure on Matthew Stafford. In terms of the former, the Bengals are just 18th against the run in terms of YPC (4.04), so they need all they help they can get in this regard. Getting to Stafford will be an issue though if Megatron is indeed healthy.

CINCINNATI OFFENSE: Those who just looked at the box score shouldn't be fooled by Andy Dalton's performance at Buffalo. Dalton posted solid numbers - 26-of-40 for 337 yards, three touchdowns and an interception - but a big chunk of his yardage came on long gains from three screen passes. Dalton is a middling quarterback who can beat bad defenses all while struggling versus the better stop units.

I'd say the Lions are closer to the former than the latter. Outside of Ndamukong Suh, no Lion is really applying consistent pressure on the quarterback. That would explain why just six teams have fewer sacks than Detroit this season. This lacking pressure isn't helping a beleaguered group of cornerbacks at all; Chris Houston, Dwight "Bullet Bill" Bentley and Darius Slay have all been torched this year. They don't stand a chance against A.J. Green.

Detroit is better against the run than the pass, but keep in mind that the Packers are just two weeks removed from rushing for 100 yards (on 26 carries) against them. Giovani Bernard is an elusive back who will undoubtedly break a couple of big gains to make things even easier for Dalton in this contest.

RECAP: My whole selection is centered on one player. If Calvin Johnson struggles as much as he did last week, Detroit will have issues winning this game because Dalton is unlikely to throw a backhanded interception like Brandon Weeden. If, however, Megatron's Wednesday practice is a sign that he's healthy, the Lions may win.

I don't really see any sort of edge bigger than that in this matchup. Football is a team game, so I hate basing a selection on just one player, but we all saw what happened to the Lions when they played a competent team without their explosive play-maker. They're just a different team with Megatron in the lineup.

FINAL THOUGHTS: I have no opinion on this game, but it's interesting to note that while the Lions are one of the most popular picks in the LVH Supercontest, most of the leaders are on the Bengals. This spread has dropped a bit in Cincinnati's favor, indicating that the sharps are on the road team.


The Psychology. Edge: None.
No edge found.


The Vegas. Edge: Bengals.
Slight lean on the host.
Percentage of money on Detroit: 61% (34,000 bets)


The Trends. Edge: Bengals.

Bengals are 22-13 ATS as underdogs since 2009.
Marvin Lewis is 12-3 ATS in his second consecutive road game.
Andy Dalton is 5-8 ATS against winning teams.
Opening Line: Lions -2.5.
Opening Total: 46.
Weather: Dome.


Week 7 NFL Pick: Lions 27, Bengals 23
Lions -2.5 (0 Units) -- Incorrect; $0
Over 47 (0 Units) -- Correct; $0
Bengals 27, Lions 24





SUB MENU





Note: For legality purposes, this Web site does not promote or advocate gambling. This is solely for entertainment purposes only.






Last Week's NFL Picks Against The Spread (Week 20, 2015): 1-1 (-$115)
Last Week's 2-3 Unit NFL Picks (Week 20, 2015): 1-1 (-$115)
Last Week's 4-5 Unit NFL Picks (Week 20, 2015): 0-0 ($0)
Last Week Over-Under (Week 20, 2015): 2-0 ($0)
Last Week's Prop/ML/Teaser/Parlay Picks (Week 20, 2015): $0

2015 NFL Picks of the Month: 3-3, 50.0% (-$100)

2015 Season NFL Picks Against The Spread: 133-138-12, 49.1% (-$2,455)
2015 Season 2-3 Unit NFL Picks: 46-44-1, 51.1% (-$1,020)
2015 Season 4-5 Unit NFL Picks: 17-16-2, 51.5% (-$1,120)
2015 Season Over-Under: 142-119-5, 54.4% ($0)
2015 Season Prop/ML/Teaser/Parlay Picks: -$515

1999 Season NFL Picks Against The Spread: 27-41-3 (39.7%)
2000 Season NFL Picks Against The Spread: 128-123-8 (51.0%)
2001 Season NFL Picks Against The Spread: 127-122-7 (51.0%)
2002 Season NFL Picks Against The Spread: 123-136-7 (47.5%)
2003 Season NFL Picks Against The Spread: 146-126-8 (53.7%)
2004 Season NFL Picks Against The Spread: 157-123-8 (56.1%)
2005 Season NFL Picks Against The Spread: 156-126-11 (55.3%)
2006 Season NFL Picks Against The Spread: 151-135-9 (52.8%)
2007 Season NFL Picks Against The Spread: 162-135-10, 54.5% (+$2,550)
2008 Season NFL Picks Against The Spread: 148-140-7, 51.4% (+$2,620)
2009 Season NFL Picks Against The Spread: 151-124-9, 54.9% (+$3,370)
2010 Season NFL Picks Against The Spread: 144-131-8, 52.4% (+$6,080)
2011 Season NFL Picks Against The Spread: 137-133-12, 50.7% (-$1,925)
2012 Season NFL Picks Against The Spread: 130-145-8, 47.3% (-$5,760)
2013 Season NFL Picks Against The Spread: 144-131-8, 52.4% (+$5,580)
2014 Season NFL Picks Against The Spread: 143-133-7, 51.8% (-$1,885)

2002 Season 2-3 Unit NFL Picks: 41-49-2 (45.6%)
2003 Season 2-3 Unit NFL Picks: 52-51-2 (50.5%)
2004 Season 2-3 Unit NFL Picks: 65-44-3 (59.6%)
2005 Season 2-3 Unit NFL Picks: 77-61-1 (55.8%)
2006 Season 2-3 Unit NFL Picks: 65-61-4 (51.6%)
2007 Season 2-3 Unit NFL Picks: 83-59-5, 58.5% (+$4,110)
2008 Season 2-3 Unit NFL Picks: 44-57-3, 43.6% (-$3,510)
2009 Season 2-3 Unit NFL Picks: 49-35-3, 58.3% (+$2,260)
2010 Season 2-3 Unit NFL Picks: 51-38-4, 57.3% (+$3,180)
2011 Season 2-3 Unit NFL Picks: 44-51-3, 46.3% (-$2,715)
2012 Season 2-3 Unit NFL Picks: 45-50-2, 47.4% (-$2,130)
2013 Season 2-3 Unit NFL Picks: 38-42, 47.5% (-$2,890)

2002 Season 4-5 Unit NFL Picks: 11-12 (47.8%)
2003 Season 4-5 Unit NFL Picks: 16-13-1 (55.2%)
2004 Season 4-5 Unit NFL Picks: 18-11 (62.1%)
2005 Season 4-5 Unit NFL Picks: 25-22-1 (53.2%)
2006 Season 4-5 Unit NFL Picks: 21-29-1 (42.0%)
2007 Season 4-5 Unit NFL Picks: 35-30-2, 53.8% (+$420)
2008 Season 4-5 Unit NFL Picks: 39-26-2, 60.0% (+$4,055)
2009 Season 4-5 Unit NFL Picks: 29-26, 52.7% (+$330)
2010 Season 4-5 Unit NFL Picks: 32-22, 59.3% (+$4,790)
2011 Season 4-5 Unit NFL Picks: 14-14, 50.0% (-$1,260)
2012 Season 4-5 Unit NFL Picks: 14-21, 40.0% (-$3,650)
2013 Season 4-5 Unit NFL Picks: 17-9-3, 65.4% (+$2,970)

2001 Season Over-Under: 3-2 (60.0%)
2002 Season Over-Under: 121-91-3 (57.1%)
2003 Season Over-Under: 126-132-2 (48.8%)
2004 Season Over-Under: 139-124-4 (52.9%)
2005 Season Over-Under: 117-145-4 (44.7%)
2006 Season Over-Under: 129-132-5 (49.4%)
2007 Season Over-Under: 136-145-3, 48.4% (-$1,900)
2008 Season Over-Under: 137-125-6, 52.3% (+$860)
2009 Season Over-Under: 128-135-4, 48.7% (-$3,195)
2010 Season Over-Under: 128-135-5, 48.7% (-$5)
2011 Season Over-Under: 131-131-5, 50.0% (+$135)
2012 Season Over-Under: 125-121-5, 50.8% (+$30)
2013 Season Over-Under: 132-130-5, 50.4% (-$340)

2007 Season Prop/ML/Teaser/Parlay Picks: +$1,035
2008 Season Prop/ML/Teaser/Parlay Picks: +$1,775
2009 Season Prop/ML/Teaser/Parlay Picks: +$865
2010 Season Prop/ML/Teaser/Parlay Picks: -$200
2011 Season Prop/ML/Teaser/Parlay Picks: +$590
2012 Season Prop/ML/Teaser/Parlay Picks: -$1,685
2013 Season Prop/ML/Teaser/Parlay Picks: +$2,245

2006 NFL Picks of the Month: 3-3 (50%)
2007 NFL Picks of the Month: 3-3, 50.0% (-$400)
2008 NFL Picks of the Month: 6-1, 85.7% (+$3,720)
2009 NFL Picks of the Month: 3-2, 60.0% (+$640)
2010 NFL Picks of the Month: 2-4, 33.3% (-$1,810)
2011 NFL Picks of the Month: 5-2, 71.4% (+$1,870)
2012 NFL Picks of the Month: 3-2, 60.0% (+$560)
2013 NFL Picks of the Month: 6-0, 100% (+$3,900)
2014 NFL Picks of the Month: 2-4, 33.3% (-$1,350)

Career NFL Picks Against The Spread: 2,290-2,116-129, 52.0% (+$7,950)
Career 2-3 Unit NFL Picks: 740-668-34 (52.6%)
Career 4-5 Unit NFL Picks: 305-267-13 (53.3%)
Career Over-Under: 1,822-1,765-51 (50.8%)
Career Second-Half NFL Picks: 22-15-1 (61.1%)
Career NFL Picks of the Month: 33-22 (60.0%)





My Team-by-Team ATS Record
This section shows how well I do when picking each team this year. The purpose is to see how well I read each team. Pushes are not displayed. Winning/losing streak in parentheses.


| | | | |
| --- | --- | --- | --- |
| Cowboys: 7-8 (2014: 7-11) | Bears: 6-9 (2014: 8-8) | Bucs: 9-7 (2014: 9-7) | 49ers: 13-3 (2014: 8-7) |
| Eagles: 7-9 (2014: 9-7) | Lions: 11-5 (2014: 8-8) | Falcons: 9-7 (2014: 8-8) | Cardinals: 6-12 (2014: 8-9) |
| Giants: 9-6 (2014: 5-11) | Packers: 7-11 (2014: 13-4) | Panthers: 6-12 (2014: 8-10) | Rams: 8-7 (2014: 8-8) |
| Redskins: 12-5 (2014: 8-8) | Vikings: 8-9 (2014: 12-4) | Saints: 7-8 (2014: 6-9) | Seahawks: 6-10 (2014: 10-9) |
| | | | |
| Bills: 7-6 (2014: 7-9) | Bengals: 7-8 (2014: 6-11) | Colts: 6-8 (2014: 8-10) | Broncos: 9-4 (2014: 8-9) |
| Dolphins: 8-8 (2014: 10-5) | Browns: 7-8 (2014: 9-5) | Jaguars: 2-13 (2014: 10-6) | Chargers: 10-6 (2014: 7-9) |
| Jets: 9-6 (2014: 8-8) | Ravens: 7-7 (2014: 10-8) | Texans: 4-13 (2014: 8-7) | Chiefs: 9-9 (2014: 9-6) |
| Patriots: 12-5 (2014: 10-9) | Steelers: 9-6 (2014: 9-8) | Titans: 5-9 (2014: 8-6) | Raiders: 7-9 (2014: 7-9) |
| | | | |
| Divisional: 45-47 (2011-14: 177-178) | 2x Game Edge: 17-16 (2011-14: 69-81) | 2x Psych Edge: 29-28 (2011-14: 121-105) | 2x Vegas Edge: 41-40 (2011-14: 176-183) |
| 2x Trend Edge: 32-29 (2011-14: 107-99) | Double Edge: 15-15 (2011-14: 43-46) | Triple Edge: 1-2 (2011-14: 2-1) | Quad Edge: 0-0 (2011-14: 0-0) |


NFL Picks - Feb. 5


2017 NFL Mock Draft - Feb. 5


2016 NFL Mock Draft - Feb. 4


2016 NBA Mock Draft - Feb. 2


NFL Free Agents


Fantasy Football Rankings - Jan. 15




---



Chicago Bears (4-2) at Washington Redskins (1-4)
Line: Bears by 1. Total: 49.
Las Vegas Hilton Advance Point Spread: Redskins -1.
Walt's Calculated Line (After Week 6): Redskins -1.
Sunday, Oct. 20, 1:00 ET
Discuss Week 7 Games, Talk Trash

The Game. Edge: Bears.

If you've followed this site for a while, you might remember that I like to respond to my spam mails. Three years ago, a man named Jon Wire from the "United Bank of Africoan" promised me an ATM card of some sort, so I responded as a man named Mister Compassion Chuck Norris, who was raised by wolves. The following season, I received e-mails from Richard Held and Loon Bruce, who told me I won a Facebook Award, which comes with a "lump sum pay out of (750,000.00 GBP)." Pretending to be Matthew Millen Kim, I sent out my application and fake money.

As for 2012, I messed around with a spammer pretending to be a black woman named Mulyana. I assumed Steve Urkel's identity and had many exchanges with Mulyana. Click the link to see all of that.

A man named Mark Pepe e-mailed me. I wonder if he was touching his Pepe when sending me this message. Get it? Pepe. Never mind. I pretended to be Riley Cooper, and Mark Pepe actually replied back to me! Check out the Spam Mails page to see it. And by "it," I don't mean Mark's Pepe.

WASHINGTON OFFENSE: Robert Griffin is still not back to where he was, but at least he's willing to run around. Griffin scrambled an average of 4.5 times per game in the first four weeks of the season. He took off nine times at Dallas, generating 77 rushing yards. His passing mechanics still need to improve, but Griffin has at least proven that he can be a threat on the ground.

The fact that the Bears have to worry about that aspect of Washington's offense will be huge in this matchup. Griffin's scrambling ability will open things up for Alfred Morris via the read option. Morris already had an easy matchup versus a Chicago defense that couldn't bring down Brandon Jacobs. He could easily have his best game of the season this Sunday.

Griffin should also be able to improve from an aerial aspect. He had to do deal with a ton of pressure Sunday night, but that won't be the case this week because the Bears simply cannot get to the quarterback. Thanks to Julius Peppers' regression and Henry Melton's absence, Chicago has fewer sacks than all but two teams (Steelers, Giants) this year. That would help explain why they rank 29th versus the pass in terms of YPA (8.42).

CHICAGO OFFENSE: Of course, the Redskins have major issues stopping the pass themselves. They're even worse than the Bears in that regard, ranking 31st (8.57). Washington's issue isn't about the pass rush; the culprit is poor secondary play. Aside from cornerback Josh Wilson, no Redskin defensive back is playing well right now. That's why I have them taking a corner in the second round of my 2014 NFL Mock Draft.

Jay Cutler will easily expose the Redskins' secondary with his talented weapons. Alshon Jeffery caught only one pass last Thursday, but he's two weeks removed from a 218-yard performance. I can't see Washington having any sort of answer for him or Brandon Marshall. Brian Orakpo and Ryan Kerrigan will need to have the games of their lives to slow down the Bears, but it must be noted that Jay Cutler has taken only nine sacks this year. Only Peyton Manning has been sacked on fewer occasions.

Oh, and let's not forget that Washington's inept linebackers will also have to worry about tackling Matt Forte coming out of the backfield. The Redskins are perhaps the worst-tackling team in the NFL. London Fletcher is too old and too slow to be on the field.

RECAP: You know those games where one team is favored, yet everyone on ESPN picks the other side? This happened twice last week; the Steelers and Patriots were laying points, yet all of the former players chose the Jets and Saints. I think there are two such contests this week, and this happens to be one of them. Everyone will be on the Bears even though their defense has been pure garbage since losing Melton. I'm taking the Redskins, though there's no line value for me to bet on them.

FINAL THOUGHTS: Still a non-bet with a lean toward Washington.


The Psychology. Edge: Redskins.


Washington's season is on the line. The Bears don't need to win this game.


The Vegas. Edge: Redskins.
No surprise that all of the action is on the Bears.
Percentage of money on Chicago: 63% (29,000 bets)


The Trends. Edge: Redskins.

Jay Cutler is 30-54 ATS if you exclude Monday Night Football.
Redskins are 12-6 ATS after losing to the Cowboys since 1997.
Opening Line: Redskins -2.
Opening Total: 51.
Weather: .


Week 7 NFL Pick: Redskins 26, Bears 23
Redskins +1 (0 Units) -- Correct; $0
Under 49 (0 Units) -- Incorrect; $0
Redskins 45, Bears 41


---



Dallas Cowboys (3-3) at Philadelphia Eagles (3-3)
Line: Eagles by 2.5. Total: 55.5.
Las Vegas Hilton Advance Point Spread: Cowboys -1.
Walt's Calculated Line (After Week 6): Eagles -3.
Sunday, Oct. 20, 1:00 ET
Discuss Week 7 Games, Talk Trash

The Game. Edge: Eagles.

Video of the Week: I asked my friends on Facebook to send me funny videos for the Video of the Week section. This one is from Bill W. It's entitled How Animals Eat Their Food. It doesn't sound like it would be funny, but I laughed out loud multiple times upon watching this.

PHILADELPHIA OFFENSE: I'm just as shocked as you are. Who knew that Nick Foles could run Chip Kelly's offense so effectively? Foles dominated the Buccaneers, going 22-of-31 for 296 yards and four touchdowns (three passing, one rushing). Foles wasn't exactly battling the Giants or Redskins either; Tampa had limited its previous four opponents to just 17.5 points per game. Sure, their schemes are stupid - why wasn't Darrelle Revis shadowing DeSean Jackson? - but the Buccaneers still have a stout defense. Foles was just that good.

With that in mind, Foles needs to continue to start, even if the other quarterback is healthy (which is actually not the case). At the very least, the Eagles need to see what they have in Foles before they prepare for the 2014 NFL Draft, which is loaded with quarterbacks. Foles lucks out a bit here, as DeMarcus Ware will be out of the lineup. Dallas had its "no-name defense" step up versus Washington, and while it's great that Drake Nevis, Kyle Wilber and Nick Hayden were able to apply pressure on Robert Griffin, I find it hard to believe they'll repeat that performance in this contest. Ware will sorely be missed.

Of course, I can't write something up about the Eagles without mentioning LeSean McCoy, who has been phenomenal this year. McCoy, who just rushed for 116 yards at Tampa, should have his way with the Cowboys, who are 25th versus the run in terms of YPC allowed to opposing running backs (4.33).

DALLAS OFFENSE: The Eagles will score plenty of points, but the same can be said about the Cowboys. The struggles of Philadelphia's secondary have been well-documented; the Eagles have yet to surrender fewer than 273 passing yards to any opponent, which is astonishing. Tony Romo, who is two weeks removed from a 500-yard outing, should have his way with Philadelphia, who won't be able to cover Dez Bryant, Jason Witten or Terrance Williams.

Having said that, Dallas' scoring attack won't be at full capacity because of DeMarco Murray's absence. The oft-injured Murray is out again, which is unfortunate for the Cowboys, who operate much more efficiently with their star runner in the backfield. They actually struggled to move the chains a bit Sunday night after Murray was knocked out, but Dwayne Harris' two kick returns bailed them out.

Murray's normal replacement would be the quick Lance Dunbar, but he's out as well. Dallas will have to roll with fifth-round rookie Joseph Randle. The Oklahoma State product mustered only 17 yards on 11 carries last week. Even worse, he struggled in pass protection - an area in which Murray excels. Romo hasn't been sacked very often this season, but the Eagles may have more success getting to him with Randle lining up in the backfield.

RECAP: I mentioned earlier that there are two games in which the ESPN analysts will pick the underdog to win straight up. I'm not sure if this is the second - some might be on the Foles bandwagon - but I could definitely see the majority siding with Dallas.

I think Philadelphia is the right side. The Eagles are a better team with Foles because he's not a turnover machine. Meanwhile, not having Ware and Murray in the lineup makes Dallas that much worse.

One last thing: There's an interesting trend that favors Philadelphia. Since 1989, teams that have been swept by an opponent the previous season have covered 56 percent of the time when favored in their first matchup the following year. This trend is 4-0 this year (Lions, Week 1; Lions, Week 4; Chiefs, Week 6; Cowboys, Week 6). Of course, I'm an idiot and went against all four of those teams. Derp.

FINAL THOUGHTS: I'm curious to see where all of the ESPN analysts go with this selection. I thought earlier during the week that most of them may pick Dallas, but I'm getting a different feeling now because Ware and Murray are both out. We'll see. Regardless, I still like the Eagles for two units.

SUNDAY MORNING: As it turns out, four of the six ESPN analysts have selected the Cowboys even though the Eagles are favored. This is a strong sign that Philadelphia is the correct (and sharp) side.


The Psychology. Edge: None.
No edge found.


The Vegas. Edge: Eagles.


Looks like people aren't buying Philadelphia.
Percentage of money on Dallas: 70% (46,000 bets)


The Trends. Edge: None.
History: Cowboys have won the last 2 meetings.
Opening Line: Pick.
Opening Total: 56.
Weather: .


Week 7 NFL Pick: Eagles 34, Cowboys 27
Eagles -2.5 (2 Units) -- Incorrect; -$220
Over 55.5 (0 Units) -- Incorrect; $0
Cowboys 17, Eagles 3


---



St. Louis Rams (3-3) at Carolina Panthers (2-3)
Line: Panthers by 7. Total: 42.5.
Las Vegas Hilton Advance Point Spread: Panthers -4.5.
Walt's Calculated Line (After Week 6): .
Sunday, Oct. 20, 1:00 ET
Discuss Week 7 Games, Talk Trash

The Game. Edge: Panthers.

The Adventures of Tom Brady's Haircuts is back for a second season! As with everything else though, I'm moving it to its own separate page. See what3's going on this week with this picture here: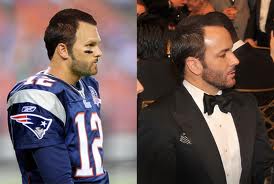 CAROLINA OFFENSE: Which Cam Newton will show up? That's the most intriguing question surrounding this game. It's amazing how different he is on a week-to-week basis. In Arizona, Newton didn't seem to know what was going on. He broke each huddle super late and didn't even bother to determine what Arizona was doing. He barely ran as well, and he ended up throwing three interceptions and no touchdowns as a consequence. But last week, he misfired on just six occasions, going 20-of-26 for 242 yards, three touchdowns and no picks to go along with nine scrambles and a fourth score on the ground.

Perhaps it has to do with whether Newton feels like he's being disrespected or not. The two games in which Newton ran the fewest amount of times were the ones where Carolina was favored. The Panthers are getting nearly a touchdown here, though understandably so; the Rams have been awful for most of the season.

However, St. Louis picked things up with a dominant effort at Houston. Maybe the Texans gave up, but a big difference was that the Rams started Trumaine Johnson over Cortland Finnegan at cornerback. Finnegan has inexplicably been one of the league's worst corners this season. Johnson, meanwhile, had an excellent outing. Perhaps he and Janoris Jenkins will help shut down Carolina's aerial attack. If so, the Panthers will have to do it on the ground, and they'll have success there because St. Louis' defense allows more yards per carry than any team except Jacksonville.

ST. LOUIS OFFENSE: The Trumaine Johnson thing was nice for the Rams, but the big key to beating Houston was pass protection. They didn't allow a single sack, which is remarkable considering they were going up against J.J. Watt and Antonio Smith. Watt actually had his worst performance of the year, by far.

The Rams will have another challenge in this matchup because Carolina has a fierce defensive front. Shielding Sam Bradford will obviously be key so he doesn't have to settle for so many checkdowns like he did in the early stages of the season. If Bradford has time, he'll definitely have his way with a Carolina secondary that just isn't very good.

Helping Bradford's cause is the fact that opponents have to actually respect the ground game now. Daryl Richardson was awful at the beginning of the season, but the Rams have found something with fifth-round rookie Zac Stacy. The Vanderbilt product has gained 161 yards on 33 carries through two games - good for a yards-per-carry clip of 4.9. He should be able to find some room versus a Carolina stop unit that is only slightly above average in terms of stopping the rush (13th; 3.85 YPC).

RECAP: The Rams burned me in the early stages of the season, but thanks to Stacy, Trumaine Johnson and some other players stepping up, it appears as though they're finally living up to expectations. The spread has yet to adjust to this, so let's take advantage by betting a few units on St. Louis.

In addition to line value, there are two reasons why I like the underdog: First, the Panthers have a game coming up in four days, so they may have one eye on that. Second, Cam Newton doesn't seem to handle success very well. He's arrogant, so he has disappointed when expected to win easily. He's 4-4 against the spread coming off a victory of 10-plus. That doesn't sound very lucrative, but it's misleading because one spread win came against the 2011 Buccaneers, who quit on Raheem Morris, while another one came last year versus the inept Matt Leinart, who was more concerned about his impending hot tub date with Nick Lachey than the football game he had to play.

FINAL THOUGHTS: It's a bit disconcerting that there is some sharp action on the Panthers, but the sharps aren't always right. I think the Panthers will look ahead to their Thursday game, just as Seattle did last week.


The Psychology. Edge: None.
No edge found.


The Vegas. Edge: None.
Equal action.
Percentage of money on Carolina: 54% (27,000 bets)


The Trends. Edge: Rams.
Jeff Fisher is 38-21 ATS as an underdog since 2006.
Rams are 24-35 ATS on grass since 2001.
Panthers are 17-26 ATS as a home favorite of 3.5 or more since 2001.
Panthers are 33-47 ATS at home since 2003.
Opening Line: Panthers -6.5.
Opening Total: 41.5.
Weather: .


Week 7 NFL Pick: Panthers 20, Rams 17
Rams +7 (3 Units) -- Incorrect; -$330
Under 42.5 (0 Units) -- Incorrect; $0
Panthers 30, Rams 15


---



Tampa Bay Buccaneers (0-5) at Atlanta Falcons (1-4)
Line: Falcons by 7. Total: 43.
Las Vegas Hilton Advance Point Spread: Falcons -7.
Walt's Calculated Line (After Week 6): Falcons -4.5.
Sunday, Oct. 20, 1:00 ET
Discuss Week 7 Games, Talk Trash

The Game. Edge: None.

This summer, I ran a Mafia game on the Web site called Penn State Sex Scandal Mafia. You can click the link to read the introduction and see the list of players. I'll add to this page throughout the season, listing roles and talking about funny things that happened during the game.

Why am I doing this? Well, I wanted to post this on the main section of this Web site so that the mainstream media people who have sand in their vages will pick up on this and complain that I'm being insensitive.

Oh, and by the way, we have other Mafia games going on right now in the Mafia Forum. Mafia is a blast, so come and join the fun.

ATLANTA OFFENSE: The Falcons are so banged up that it's completely ridiculous. Both sides of the ball are ravaged by injuries. On offense, Atlanta recently lost Julio Jones for the year. Roddy White, who would normally be asked to step up, is doubtful with a hamstring. Steven Jackson is still out. Even left tackle Sam Baker is doubtful because of a problematic knee. Is anyone going to play for the Falcons?

Matt Ryan will have to consistently move the chains with Tony Gonzalez and... umm... Tony Gonzalez. His other receiving options include Harry Douglas, Kevin Cone, Drew Davis and Levine Toilolo. Oh, and let's not forget about Jacquizz Rodgers coming out of the backfield! This isn't exactly the greatest supporting cast in the league.

The Buccaneers don't seem to know what they're doing schematically on defense, but they have the talent to contain Atlanta's skeleton-crew offense. This actually might be one instance in which they'll benefit from nonsensically asking Darrelle Revis to play zone. The Falcons no longer have anything that resembles a No. 1 receiver, so Revis wouldn't really have to shut down anyone.

TAMPA BAY OFFENSE: The Falcons' injuries extend to the defense. Two linebackers (Kroy Biermann, Sean Weatherspoon) being out has forced scrubs like Joplo Bartu and Paul Worrilow onto the field. Also, Asante Samuel has barely played, but the bye week came at the right time for him, as he has used the time off to heal up. He's currently not listed on the injury report.

I suppose it's only fair that Samuel will return to the lineup because the Buccaneers are getting back an offensive player to match that. Mike Williams missed last week's contest with a hamstring, but he resumed practicing Wednesday. Williams' absence at Philadelphia is noteworthy because rookie Mike Glennon played well without him, going 26-of-43 for 273 yards, two touchdowns and an interception. Granted, Glennon battled the inept Eagles' secondary, but it's not like he has to take on the '85 Bears in this matchup. As mentioned, the Falcons have a depleted linebacking corps. They also struggle to get to the quarterback, so Glennon figures to have a clean pocket all afternoon.

All of the injuries have ruined the Falcons' ability to stop the run as well. They've surrendered a ridiculous 5.4 yards per carry to opposing running backs in their previous three contests, which would make them the league's worst unit versus ground attacks if extended over the entire season. It'll be a major shock if Doug Martin doesn't come close to matching his season-high rushing total of 144 yards.

RECAP: This spread is way too high. The Falcons are too be banged up to be getting this sort of credit. Also, the Buccaneers have been competitive in each game they've played - excluding their Week 3 loss at New England - despite the fact that every single opponent of theirs currently has a record of .500 or better. Record-wise, this is actually Tampa's easiest game of the season.

I like the Buccaneers a lot this week. If you're wary of wagering money on an 0-5 team, don't be. Winless, road underdogs are a sick 54-28 against the spread after Week 5, dating back to 1989.

FINAL THOUGHTS: This spread has dropped to +6, indicating the sharps are on the Buccaneers. You can still get +7 at Bovada, but a +6 or +6.5 line wouldn't prevent me from wagering three units on the visitor.


The Psychology. Edge: None.
No edge found.


The Vegas. Edge: Buccaneers.
Slight lean on the host.
Percentage of money on Atlanta: 63% (37,000 bets)


The Trends. Edge: None.
History: Falcons have won 7 the last 9 meetings.
Matt Ryan is 25-16 ATS at home.
Mike Smith is 18-9 ATS after a loss.
Opening Line: Falcons -7.
Opening Total: 42.
Weather: .


Week 7 NFL Pick: Falcons 19, Buccaneers 17
Buccaneers +7 (3 Units) -- Incorrect; -$330
Under 43 (0 Units) -- Incorrect; $0
Falcons 31, Buccaneers 23



Week 7 NFL Picks - Late Games
San Francisco at Tennessee, Houston?at?Kansas City, Baltimore at Pittsburgh, Cleveland at Green Bay, Denver at Indianapolis, Minnesota at NY Giants



Prop/Teaser/Parlay Picks
A list of some of my favorite team/player prop picks this week
(Offense & defensive ROY picks to be counted whenver winners are announced.) Picks carried over on a week-to-week basis will be in black.


Prop/teaser/parlay picks posted in Week 7 NFL Picks - Late Games




---



Buffalo Bills (2-3) at Miami Dolphins (3-2)
Line: Dolphins by 7. Total: 44.
Las Vegas Hilton Advance Point Spread: Dolphins -10.
Walt's Calculated Line (After Week 6): Dolphins -6.5.
Sunday, Oct. 20, 1:00 ET
Discuss Week 7 Games, Talk Trash

The Game. Edge: Dolphins.

As with the random NFL notes, I'm going to have all of my Random College Football Notes on one page as well.

Random College Football Notes:

1. In honor of Matt Millen's A Football Life, I feel like I need to comment on him in this section. Millen was the color analyst in Saturday's Penn State-Michigan game. I found this confusing. ESPN doesn't allow Kirk Herbstreit to pick the game he broadcasts during College GameDay because it doesn't want him to be biased during the telecast, yet Millen is allowed to be one of the announcers of a Penn State contest despite the fact that he's a Nittany Lion alumnus? How the hell does that make any sense? It's just typical ESPN stupidity.

Oh, and I found it amusing that Millen said his usual sexual phrase during the broadcast when he remarked, "We didn't know if he could shove it up in there and be physical. I like what I see here."

You do, do you? Perhaps you'd like it even more if there were kielbasas in the picture as well.

2. Speaking of ESPN stupidity, I loved the following headline on their Web site:




Poor Utah. Its "biggest home upset ever" actually happened to be a loss.

3. I heard renowned gambler Fezzik predict that Oregon will be a favorite over Alabama in the National Championship. That's great, but what about Oregon State? The Beavers cannot be counted out. Just look at their beatdown of Washington State (thanks, Joe B.):




Holy crap. And they say the Oregon Ducks are explosive!

BUFFALO OFFENSE: I was set to wager tons of money on Miami if newly signed Matt Flynn was going to be the starting quarterback. Thaddeus Lewis performed very admirably in his second NFL start this past weekend, but suffered a foot injury at the end of the contest. His status was up in the air, prompting Buffalo to sign the horrendous Flynn. The Bills, however, received good news. Lewis will be healthy enough to be the starting quarterback this Sunday.

Lewis has his limitations, but he can move around pretty well. He scrambled seven times and scored once on the ground versus Cincinnati. Miami hasn't dealt with a mobile quarterback yet this season (aside from Andrew Luck), so it'll be interesting to see how they handle Lewis. The Dolphins have a solid pass rush - their total of 13 sacks on the year is misleading because Cameron Wake has played in two full games - so they should be able to get to the Duke product.

The Dolphins also have a top-10 ground defense, so they're expected to contain Fred Jackson and the disappointing C.J. Spiller. On the bright side for Buffalo, Stevie Johnson will be back in the lineup. Miami's defensive weakness is the secondary, so having Johnson back will be huge for Lewis' potential to exploit it.

MIAMI OFFENSE: The secondary is an issue for the Dolphins, but the most glaring liability on this team is the offensive line. If it weren't for the Raiders' 10 ridiculous sacks last week, Miami would lead all teams with 24 surrendered sacks - which is remarkable considering that they're one of the handful of squads that has played five games as opposed to six.

The two tackles - Jonathan Martin and Tyson Clabo - as well guard John Jerry are all awful when it comes to pass protection. They'll have to deal with Mario Williams, Kyle Williams and Marcell Dareus, and will ultimately fail to block them. Ryan Tannehill will take at least four sacks again - he's been sacked no fewer than that amount in any game this year, which is ridiculous - yet he'll continue to perform on a high level, which says a lot about him. The Bills have a sub-par secondary and a defense that struggles at times to tackle, so Tannehill will engineer some decent drives.

RECAP: The spread is too high. On one side, the Bills have stayed within a touchdown of every team they've battled this season, save for the Browns, but only because of Jeff Tuel's ineptitude. On the other side, only one of Miami's victories has been by more than four points - also against the Browns in the season opener.

The Dolphins are coming off a bye, so that should help, but they may have one eye on the New England game next week. And besides, how does one get up for playing someone named Thaddeus Lewis, anyway?

FINAL THOUGHTS: I'm not a fan that this line dropped to +7, but it won't keep me from betting a unit on the Bills. I wouldn't wager on them at +6.5.


The Psychology. Edge: Bills.


The Dolphins play at New England next week.


The Vegas. Edge: None.
Equal action.
Percentage of money on Buffalo: 54% (27,000 bets)


The Trends. Edge: Bills.

History: Dolphins have won 7 of the last 10 meetings.
Dolphins are 2-11 ATS as favorites of 3.5 or more since 2008.
Dolphins are 8-24 ATS at home against teams with losing records since 2003.
Underdog is 42-20 ATS in the Dolphins' last 62 games.
Opening Line: Dolphins -7.5.
Opening Total: 43.5.
Weather: .


Week 7 NFL Pick: Dolphins 27, Bills 21
Bills +7 (1 Unit) -- Correct; +$100
Over 44 (0 Units) -- Push; $0
Bills 23, Dolphins 21





---



New England Patriots (5-1) at New York Jets (3-3)
Line: Patriots by 4. Total: 44.
Las Vegas Hilton Advance Point Spread: Patriots -5.
Walt's Calculated Line (After Week 6): Patriots -1.
Sunday, Oct. 20, 1:00 ET
Discuss Week 7 Games, Talk Trash

The Game. Edge: None.

VEGAS RECAP: The sportsbooks have now stolen money from the public in five of six weekends. Of the five highly bet teams, four failed to cover (Texans, Seahawks, Saints, Colts). The Eagles are the only team that average bettors won money with. Vegas will have to give some cash back to the public quite soon, or there will be many disappointed kids come Christmas morning.

I'll be updating the Vegas betting action all week, as usual. I'll notify you of any updates @walterfootball.

NEW ENGLAND OFFENSE: This very matchup was the first time the majority of the public got the sense that there was something wrong with the Patriots' offense. Tom Brady went 19-of-39 for 185 yards and a touchdown in a frustrating Week 2 performance in which he constantly yelled at his clueless, young receivers.

Well, it's five weeks later, so has anything changed? Not really. Brady is just two weeks removed from going 18-of-38 for 197 yards and an interception at Cincinnati. There was a glimmer of hope that Danny Amendola and Rob Gronkowski would be healthy, but the former just suffered a concussion, while the latter is now expected back in Week 8. Brady's rapport with Kenbrell Thompkins is better, but Aaron Dobson continues to plague the team with drops. I have no idea why he's still on the field.

The Patriots were able to sustain drives versus the Saints by running the ball with Stevan Ridley, who had 96 yards on 20 carries. But that won't work very well against the Jets, who are much better versus the run in terms of YPC (1st; 2.84) than New Orleans is (30th; 4.65). Brady will have to do more, which could be problematic because his offensive line has been a mess, surrendering nine sacks the past two weeks. Only two teams (Chiefs, Ravens) have more sacks than the Jets this year.

Something else to keep in mind is that the Patriots have the third-worst red-zone offense in the NFL this year, while the Jets are 11th in red-zone defense. New England will move the ball, but will probably settle for more threes than sevens.

NEW YORK OFFENSE: The Patriots were able to come away with a 13-10 victory in the aforementioned matchup because Geno Smith was dreadful. Smith went 15-of-35 for 214 yards and three interceptions. Smith's rookie campaign has been interesting, in that he's been good-bad-good-bad-good-bad. He doesn't seem to sustain success very well - his teammates were even concerned with how poorly he handled the accolades following the Monday night victory over Atlanta - but he at least has proven that he can bounce back from adversity.

Smith struggled against the Steelers, so will he rebound yet again? I'd have to think so, considering all of the injuries the Patriots have sustained on defense. Vince Wilfork's absence has been huge, both literally and figuratively. The Bengals and Saints combined to rush for 4.5 yards per carry against New England, whose seasonal YPC is at 4.1. Bilal Powell should be able to pick up big chunks on the ground, setting up Smith in short-yardage situations.

Two other New England defenders who could be out are linebacker Jerod Mayo and cornerback Aqib Talib. Mayo is excellent in coverage and will be missed, but Talib's absence would be even more significant. Talib has been playing out of his mind this year, so not having him around would further expose some of the other Patriot defensive backs (like Steven Gregory, who continues to suck).

RECAP: The Jets are my favorite pick of the week for many reasons:

1. As noted below, the Patriots are coming off an emotional win. They game-planned the hell out of that New Orleans matchup and were very fortunate to come away with a thrilling victory. Now, the Patriots have to take on a team they've already beaten as a road favorite, so there will be a letdown factor.

2. I mentioned earlier that New England struggles in the red zone. Given that two tough defenses are battling each other, this should be a low-scoring affair. Thus, taking the points is probably the right away to go.

3. I love betting on home underdogs immediately after losing as home dogs. Teams are 49-23 against the spread in those situations since 2002, including 2-0 this year (Bills, Week 2; Raiders, Week 5). Home underdogs in general have thrived this year (20-14 ATS; 4-2 ATS in divisional games).

4. The spread is off. I have this as a "pick 'em." The Patriots are 5-1, but their record is deceiving. Aside from the Saints, the combined record of the teams New England has beaten is 6-16. They've had just one victory by more than a touchdown (crappy Tampa Bay). Their other wins have been by 2, 3, 7 and 3. They just don't have the type of explosive offense to run away from teams as they did in years' past. Perhaps that will change once Gronkowski and Amendola return at 100 percent, but as of now, New England is a "bet against" when favored by more than a field goal against a quality opponent.

FINAL THOUGHTS: Rob Gronkowski may be back, but that doesn't affect my pick. One non-quarterback isn't going to change a selection that I love, especially considering that Gronkowski might be a bit rusty. The Jets are still my top choice this week. They're available at +4 -110 at Bovada.


The Psychology. Edge: Jets.



The Patriots are coming off an emotional, last-second victory.


The Vegas. Edge: Jets.



Lots of money on the Patriots.
Percentage of money on New England: 81% (60,000 bets)


The Trends. Edge: None.
History: Patriots have won 18 of the last 22 meetings.
History: Home Team has won 7 of the last 10 meetings.
Patriots are 40-26 ATS vs. AFC East opponents since 2001.
Tom Brady is 153-50 as a starter (117-81 ATS).
Jets are 16-3 ATS at home following a home loss in the last 19 instances.
Opening Line: Patriots -3.
Opening Total: 43.5.
Weather: .


Week 7 NFL Pick: Patriots 16, Jets 15
Jets +4 (4 Units) -- Correct; +$400
Under 44 (0 Units) -- Incorrect; $0
Jets 30, Patriots 27









Seattle Seahawks (5-1) at Arizona Cardinals (3-3)
Line: Seahawks by 6. Total: 41.
Las Vegas Hilton Advance Point Spread: Seahawks -6.5.
Walt's Calculated Line (After Week 6): Seahawks -5.
Thursday, Oct. 17, 8:25 ET
Discuss Week 7 Games, Talk Trash

The Game. Edge: Seahawks.



WEEK 6 RECAP: Well, I hit my top pick last week (Ravens +3), but other than that and New England's last-second victory over the Saints, Week 6 was horrible. Heading into Monday night, I'm 3-11 for -$620. When I s*** the bed as I did this past weekend, I like to review every game to see if I was doing stuff wrong, or if I just endured some terrible luck. Let's delve into every game in no particular order.

Cardinals +10 at 49ers: There were numerous games in Week 6 where the wrong side hit. This is one example. I still have no idea how Arizona didn't cover. The Cardinals legitimately had more net yardage than the 49ers, but they were done in by five turnovers. If Larry Fitzgerald doesn't fumble inside the red zone, Arizona covers this spread. I had no action on this contest, but I did have the Cardinals as a side.

Why am I saying this? I think it's important to note which sides were the correct ones for future handicapping purposes. Rather than think, "Oh, the Cardinals didn't cover at the 49ers; they suck," it should rather be, "Arizona hung tough with its stellar defense and was competitive on the road against a top-five team."

Titans at Seahawks -12: This is another case of the wrong team covering. Again, I had no action on this contest, but Seattle should've beaten the spread. If the kicker doesn't get injured, there's no botched field goal hold returned for a touchdown, which happened to be the only time Tennessee found the end zone the entire afternoon.

Jaguars at Broncos -26.5: The Broncos barely tried because they had the Colts coming up. Besides, how could they get up for Jacksonville? The Jaguars played their best game of their year, but I still think betting on them would've been a mistake. Wagering on the worst team in football is hardly a lucrative proposition - as the old adage goes, bad things happen when betting on bad teams - and just because Jacksonville covered doesn't mean that gambling on them was a wise choice. This was a situation where there was no real right side.

Saints at Patriots -1.5: The Patriots needed a last-second touchdown to win this game, but they were the right side. They led throughout, but things fell apart for them when they lost four key players to injury. My calculated spread for this contest was New England -3, and that's exactly what the number landed on.

Packers at Ravens +3: Wow, I was lucky to win this game. The Ravens somehow converted a fourth-and-a-billion and then hit on a backdoor touchdown to draw to within two. Later, they avoided the dreaded front-door field goal because Eddie Lacy ran past the first-down marker and slid down inbounds. All of this occurred with three key Packer players out of commission. Having said that, this shouldn't have been a lopsided affair or anything. I don't know why, but Baltimore did stupid crap all afternoon, killing itself with dumb penalties and horrible red-zone play-calling. Packers -3 was probably the right number, so I was fortunate to get away with betting against Aaron Rodgers.

Eagles at Buccaneers +2.5: I liked the Eagles a lot during the early stages of the week, but not so much after it was revealed that the Buccaneers were dealing with an outbreak of Staph infections. I dropped this pick from three to two units and removed Tampa from my LVH Supercontest card, but I should've just made them a non-bet. How were the Tampa players supposed to focus on this game with this going on? I was stupid for not removing all units.

Lions at Browns +2.5: The Browns would've been the right side - if they had a legitimate quarterback. Everyone saw that weird backhanded interception from Brandon Weeden, but what SportsCenter didn't show was multiple dropped pick-sixes from the Detroit defense. Weeden is garbage, and I was very dumb for wagering so much money on him in a near-pick 'em situation. I've learned my lesson.

Giants at Bears -7.5: I don't think there was a right side in this game. The Bears seemed destined to win by 6-10 points. The spread was right in the middle.

Raiders +8 at Chiefs: This should've been a zero-unit selection, but I had no problem picking the Raiders to cover. They led, were tied or trailed by seven for most of this contest. Things fell apart for them at the very end, but I guess that should've been expected from a first-year starter at Arrowhead. Maybe this was another game in which there was no right side.

Rams at Texans -7.5: A couple of weird bounces helped the Rams early on, but this still doesn't excuse the Texans for not trying at all. Their lack of effort was disgusting. Matt Schaub actually played better than most of his teammates, but they just quit on him. I really don't get it. How do the Rams get blown out at Atlanta, yet crush a comparable team in Houston? This result befuddled me.

Steelers at Jets +1: I usually don't overreact to one game - which is why my NFL Power Rankings don't change much on a week-to-week basis - but I put too much stock into the Jets' victory at Atlanta. I totally dismissed the "Bad Geno" we saw at Tennessee. I should've gotten a clue that I had the wrong side when every single ESPN analyst was slurping Geno Smith during the week.

Bengals at Bills +6: Thaddeus Lewis was an unknown. I'm fine with my decision to keep money off of him.

Redskins +5.5 at Cowboys: I wonder how different this game would've been had the Cowboys not scored 14 points off Dwayne Harris' special-teams returns. Perhaps Dallas would've found a way into the end zone anyway, but I don't know. Besides, the Redskins had some luck when DeMarco Murray, DeMarcus Ware and Jason Hatcher all left the game. I was right in stating last week that I didn't think this spread was high enough to take Washington, so I have no idea what drugs I was on when I added a unit on the Redskins.

Panthers at Vikings -2.5: Ugh. So much for the Vikings rallying around Adrian Peterson. The opposite happened instead. The defense showed no interest in tackling. I thought Minnesota would show the same spirit Kansas City did with Jovan Belcher and Cincinnati with Chris Henry, but this was more like the Giants' awful outing when Tom Coughlin's brother died. Perhaps a team needs the death of an actual player on the roster to rally. Just something to remember for the future.

If you missed it, I bet three units on the Vikings on Saturday evening and said that I was going to donate my winnings to Futures Without Violence because I felt bad profiting off such a tragic situation. Well, I'm still going to donate despite the loss. I'm not going to allow a pathetic showing by some players get in the way of giving money to a good cause.

Week 7 NFL Picks will be posted all day Wednesday. Follow me @walterfootball for updates.

ARIZONA OFFENSE: Remember what happened the last time the Cardinals battled the Seahawks? John Skelton tossed four interceptions and Arizona as a whole lost four fumbles in an embarrassing 58-0 beatdown. Anyone who owned Seattle's defense in their fantasy league won their matchup by default - even if they forgot to set their lineup and left everyone on the bench.

The Cardinals have more stability at the quarterback position now, though sometimes it doesn't appear like it. Carson Palmer has thrown at least two interceptions in each of his previous four games. He fired a pair of picks and took a safety early on at San Francisco, but he eventually got his act together and engineered drives consistently enough to allow his squad to gain 400-plus net yards. He'll need to do an even greater job in this contest because Seattle has a better secondary than San Francisco. They also have a superior pass rush, which spells trouble for Palmer because his offensive line is not a quality unit.

Part of the reason Arizona has been able to stay in all but one game this year despite Palmer's turnovers is Andre Ellington. The sixth-round rookie has been a huge spark as a Darren Sproles-type weapon. The 49ers had trouble bringing him down, but Seattle tackles much better as a whole, so he should be neutralized for the most part.

SEATTLE OFFENSE: While Ellington has been a factor in terms of Arizona being able to keep things close, the defense is the primary reason. The Cardinals' stop unit, which was good to begin with, got a major boost two weeks ago when inside linebacker Daryl Washington returned to the lineup. Washington is one of the top players at his position and is strong in every facet of the game. He particularly specializes in blitzing, which is key because Russell Wilson is protected by a decrepit offensive line that has yielded the 10th-most sacks in the league - and that's saying something considering how mobile Wilson is.

Wilson, as always, will do a good job of evading defenders and finding his targets downfield. The Cardinals will counter with Patrick Peterson, but Seattle is the kind of team that won't be affected by a shutdown cornerback very much because it doesn't have a true No. 1 receiver. Wilson spreads the ball around equally - or at least he will until Percy Harvin returns from injury.

The Seahawks are a run-first team anyway, and Marshawn Lynch is fresh off a performance in which he rushed for 77 yards and registered 78 receiving yards. Lynch will not have a very easy time finding running lanes, however, given that Arizona is fourth versus ground attacks (3.4 YPC).

RECAP: I feel like this spread is right where it should be. I have it as Seattle -5, so I favor the Cardinals a bit, but not enough to bet them. This should be a low-scoring affair, so taking the underdog makes sense.

Again, Week 7 NFL Picks will be posted all day. I'll announce via Twitter @walterfootball when each selection is posted.

FINAL THOUGHTS: This spread has dropped to +4.5 despite there being a ton of money on the Seahawks, indicating that the sharps are all over the Cardinals. I thought Arizona was the right side at +6.5 or +6, but I'm not as big of a fan at +4.5. That wouldn't be enough to make me jump on Seattle either. So, if you bet the Cardinals at +6 or higher, congrats on getting good value. If you haven't bet on this contest yet, I'd say to stay away.


The Psychology. Edge: None.
No edge found.


The Vegas. Edge: Cardinals.


Tons of action on the road favorite.
Percentage of money on Seattle: 70% (68,000 bets)


The Trends. Edge: Cardinals.


History: Home Team has won 6 of the past 7 meetings.
Seahawks are 18-31 ATS on the road since 2006 if they're not coming off an away loss.
Cardinals are 20-8 ATS at home as underdogs or favorites of less than -3 since 2007.
Opening Line: Seahawks -6.
Opening Total: 40.
Weather: Dome.


Week 7 NFL Pick: Seahawks 19, Cardinals 16
Cardinals +6 (0 Units) -- Incorrect; $0
Under 41 (1 Unit) -- Incorrect; -$110
Seahawks 34, Cardinals 22



@walterfootball for updates.


Go to Week 7 NFL Picks - Late Games


NFL Picks (Preseason 2013): 10-6 (+$720)
NFL Picks (Week 1, 2013): 4-11-1 (-$1,290)
NFL Picks (Week 2, 2013): 6-10 (+$130)
NFL Picks (Week 3, 2013): 9-6-1 (+$20)
NFL Picks (Week 4, 2013): 11-4 (+$870)
NFL Picks (Week 5, 2013): 8-6 (+$1,060)
NFL Picks (Week 6, 2013): 4-11 (-$420)

NFL Picks (2013): 52-54-1 (+$1,090)
NFL Picks (2012): 130-145-8 (-$5,760)
NFL Picks (2011): 137-133-12 (-$1,925)
NFL Picks (2010): 144-131-8 (+$6,080)
NFL Picks (2009): 151-124-9 (+$3,370)
NFL Picks (2008): 136-125-6 (+$4,330)
If you don't quite understand the line, total or anything else, go to my Sports Betting FAQ.
---