PGA Picks (6/25/20):
+$1,170
PGA Picks (7/2/20):
$0
PGA Picks (2020):
+$1,170
PGA DraftKings Picks and Lineups for 7/2/20:
Before we get to the bets, here's one of the DraftKings lineups I'm using: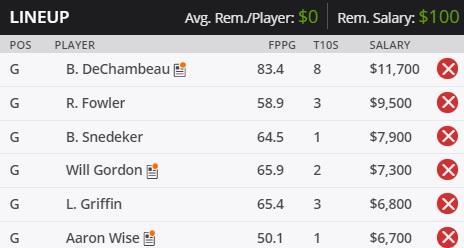 Bryson DeChambeau is the most expensive golfer on the slate, but he's well worth the price with all of the other top guys sitting out the holiday weekend. Rickie Fowler is a great play as well at $9,500.
As for individual bets, we hit with Dustin Johnson at 28/1 last week! I hope all of you jumped on that incredible value. Perhaps we'll hit another nice one this week.
Here are the individual bets I'm making:
Rickie Fowler 33/1: 0.5 units to win 16.5 (DraftKings)
Tony Finau 30/1: 0.5 units to win 15 (BetUS)
Sungjae Im 24.5/1: 0.5 units to win 12.25 (Bookmaker)
Scottie Scheffler 40/1: 0.5 Units to win 20 (Bookmaker)
Brandt Snedeker 47.5/1: 0.5 Units to win 23.75 (Bookmaker)
Erik Van Rooyen 66/1: 0.5 Units to win 33 (DraftKings)
The best odds I can find for DeChambeau are 6.5/1 at DraftKings, but there's no value with him. Like last week, I'm going to continue to find some high-probability mid-range plays that have strong values, though I considered Hideki Matusyama at 17.72/1 odds at DraftKings.
Rickie Fowler has the best value at 33/1 on DraftKings. Fowler has the sixth-best chance of winning this tournament per my numbers, so 33/1 is an incredible bargain. Tony Finau is a close second at 30/1 on BetUS, as he has the seventh-best chance of prevailing.
My favorite of the realistic long shots is Erik Van Rooyen at 66/1 on DraftKings. He has the 14th-best chance of winning, so 66/1 is way too good to pass up.
PGA DraftKings Picks and Lineups for 6/25/20:
To my surprise, I've done well in the two PGA tournaments since the return of golf in early June. This lineup placed highly last weekend despite Rickie Fowler missing the cut: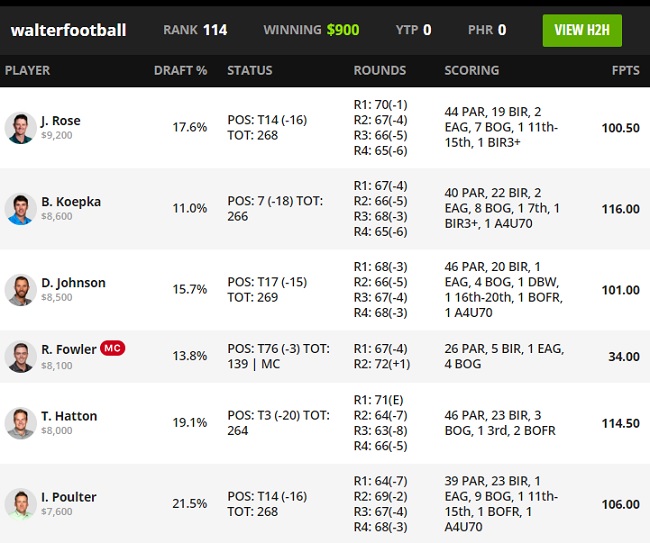 I also hit Webb Simpson at 30/1 with one of the four bets I made (Tyrell Hatton being the other on a different sportsbook):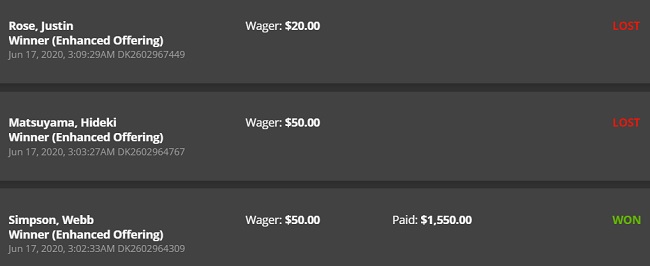 I don't consider myself an expert at this at all, but I've gotten good information from several sources to help me with my wagers and DraftKings lineups. So, with that in mind, here's what I'm playing this weekend: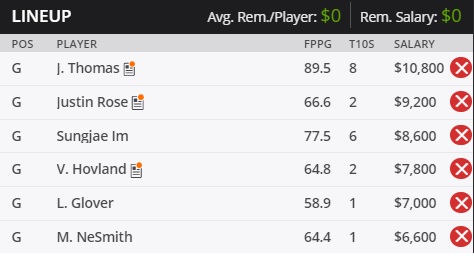 I've played Justin Rose in every tournament since the return of golf because he's been working like a madman during the pandemic. He even fired his coach because he found a better way to hit the ball during the lockdown months when he was swinging balls by himself. Justin Thomas has been on fire as well.
Here are the individual bets I'm making:
Sungjae Im 35/1: 0.5 units to win 17.5 (DraftKings)
Justin Rose 33/1: 0.5 Units to win 16.6 (Bookmaker)
Dustin Johnson 28/1: 0.5 Units to win 14 (DraftKings)
Paul Casey 45/1: 0.5 Units to win 22.5 (DraftKings)
Patrick Cantlay: 0.5 Units to win 15.75 (Bookmaker)
Viktor Hovland: 0.3 Units to win 18 (DraftKings)
I'm just taking shots on some of the great values. I also considered John Rahm at 18/1 on DraftKings. I couldn't quite get there, but he and Justin Thomas (12/1) are the two favorites I would bet.
Also, you may have noticed that four of the six bets I made are on DraftKings' sportsbook. I've been very impressed with the odds I've seen on the DK sportsbook, and I would recommend opening an account on that platform. I also still recommend DraftKings stock ($DKNG). I gave it out on the
2020 NFL Betting Props
when it was $29, and I still think it's a buy right now as long as it's under $40. I believe it will hit $50 in the near future.
Fantasy Football Rankings
- June 10
2022 NFL Mock Draft
- May 13
2021 NFL Mock Draft
- May 12
2020 College Football Recruiting Rankings
- April 14
NFL Power Rankings
- April 5
NFL Picks
- Feb. 2
2020 NBA Mock Draft
- Sept. 27
Injured/injury risk

Potential bust

Potential sleeper

Rank higher in touchdown leagues

Rank lower in touchdown leagues

Rank higher in PPR (points per reception) leagues

Rank lower in PPR leagues