These are my NCAA Tournament picks for 2023. I would suggest not picking Alabama to win if you're playing in a pool with more than a dozen people. Alabama is the favorite, but everyone will be picking them to win. However, this is a one-and-done tournament, and anything could happen. You're better off picking another team to win the tournament because you'll have a good chance of finishing first in your pool if that team advances further in the field.
At any rate, here are my picks: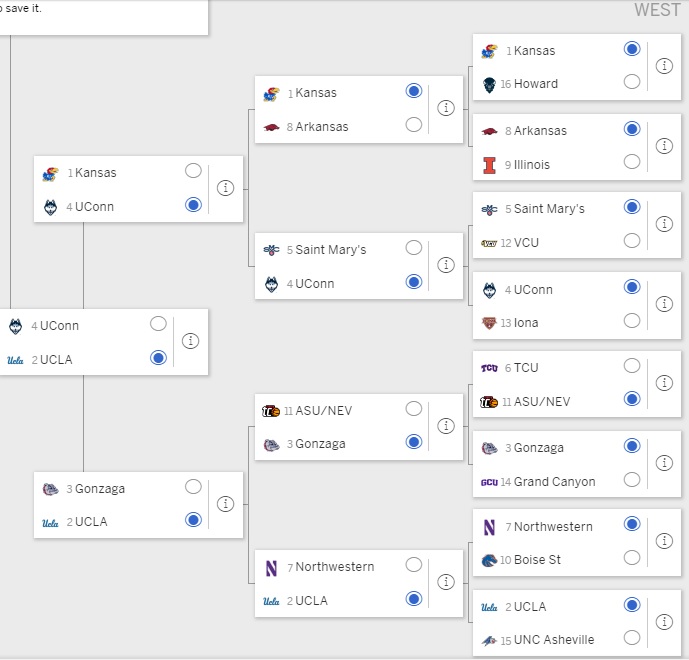 I don't think Kansas is that good of a No. 1 seed this year. The Jayhawks won last year, but they're a bit worse now, yet they're still a No. 1. I wouldn't pick them to win either.
My two favorite teams in this bracket are the two that made it to the Elite Eight. UCLA and Connecticut are two stellar, defensively oriented teams. It wouldn't shock me to see either win the national championship. If you think UCLA will be a popular championship pick in your pool, feel free to pivot to Connecticut.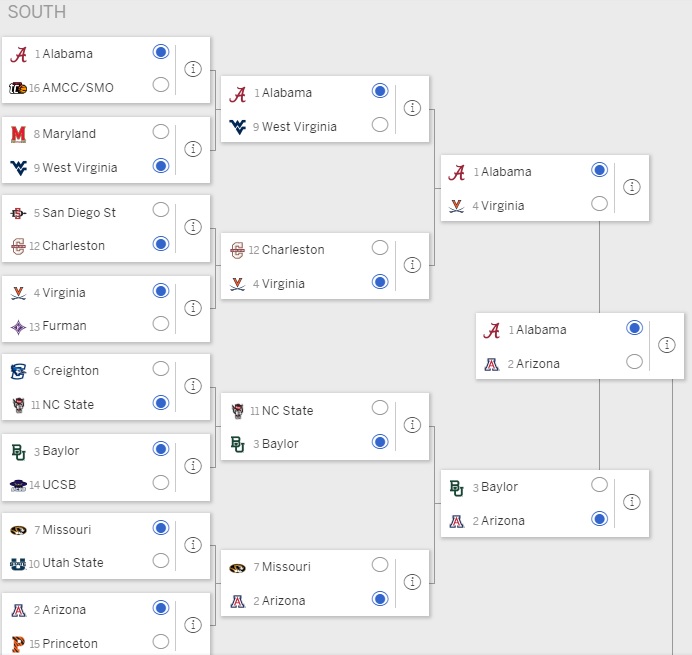 Alabama has the best player in the tournament, so I wouldn't expect them to lose early. They should be able to reach the Elite Eight relatively easily, in fact, because the top of this bracket is underwhelming.
The bottom half of the South is much more interesting. Arizona and Baylor are championship-worthy teams, and both have a legitimate chance to knock out Alabama. Arizona's defense is much better than Baylor's, so I picked the Wildcats to advance to the Elite Eight.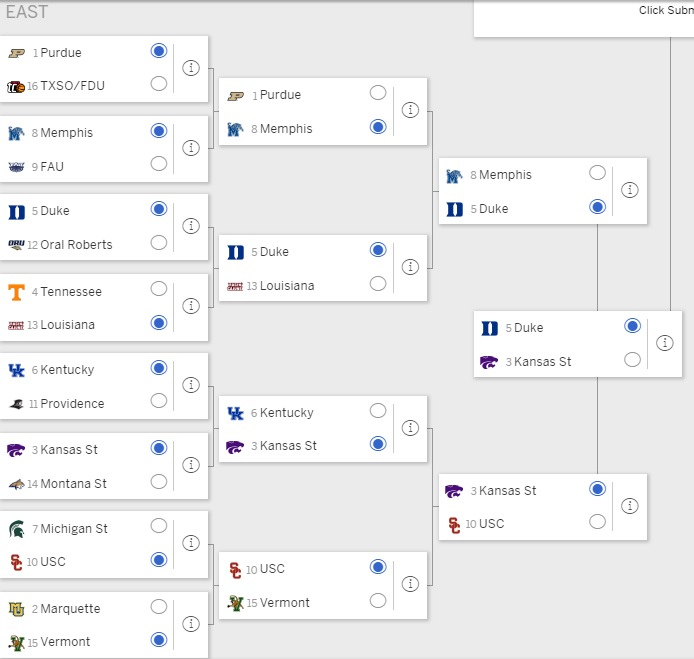 This bracket SUUUUUUUCCCCCCCCCKKKKKKKKSSSSSSS. Seriously, all top-four seeds are extremely underwhelming, and most of these teams lost their opening-round conference tournament game. Obviously, Purdue didn't, because they wouldn't be a No. 1 seed if they had, but they barely beat the crappy teams in the crappy Big Ten. I'm a Penn State alumnus, so I can say this.
My three favorite teams in this bracket are Duke, Memphis, and Oral Roberts. Yes, Oral Roberts. The NCAA Tournament committee was so scared of Oral Roberts making their precious major schools look bad that they downgraded Duke from the No. 2 or 3 seed it deserved to a No. 5. The Blue Devils, coached by the ghost of Coach K, could enjoy the same success North Carolina did last year when it was coached by the ghost of Roy Williams.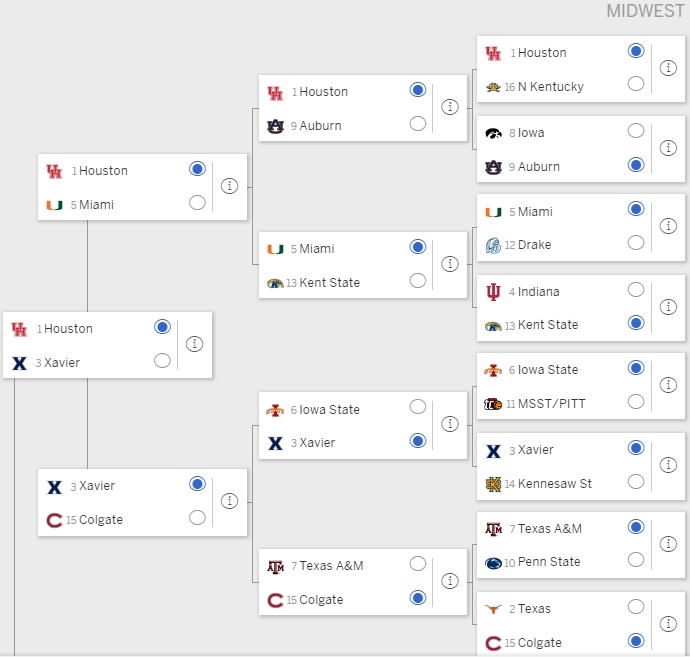 The one thing that stands out here is that I have Colgate going to the Sweet 16. Saint Peter's went to the Elite Eight as a No. 15 seed last year, so it can't be that nutty of a prediction. Colgate is getting tons of sharp money in its matchup against a Texas team with an interim head coach.
Xavier will stop any run from Colgate, however. Xavier is a legitimate championship contender, but I like Houston more.

If you pointed a gun to my head and asked me to pick a team to win the championship for $1 – shout out to Kenny – my pick would be Alabama. Like I said, however, if you're in a large pool, you need to find some leverage because most people will select Alabama.
My favorite non-Alabama teams to win it all are UCLA, Houston, Connecticut, and Arizona in that order. UCLA plays the best defense in the country, and it always seems like Pac-12 teams overperform, so that's why I picked them to win the championship.
NFL Picks
- Sept. 29
2024 NFL Mock Draft
- Sept. 27
Fantasy Football Rankings
- Sept. 7
NFL Power Rankings
- June 2