2021 Fantasy Football Mock Drafts:
Our 2021 Fantasy Football Mock Draft videos will be posted on this page. I'm going to begin live streaming fantasy football mock drafts on occasion. Announcements on how to join the mock draft will be on my Twitter
@walterfootball
and
Facebook
pages.
While the fantasy football mock draft videos will be posted here, you can live stream them via our
WalterFootball YouTube channel
. Please hit subscribe; it would mean a lot to us!
Here's our July 7 fantasy football mock draft (12 teams, PPR.) I selected third, while Jacob chose 11th. Jacob tried a no-running back strategy, so you can see how that worked!
Here's the full fantasy football mock draft: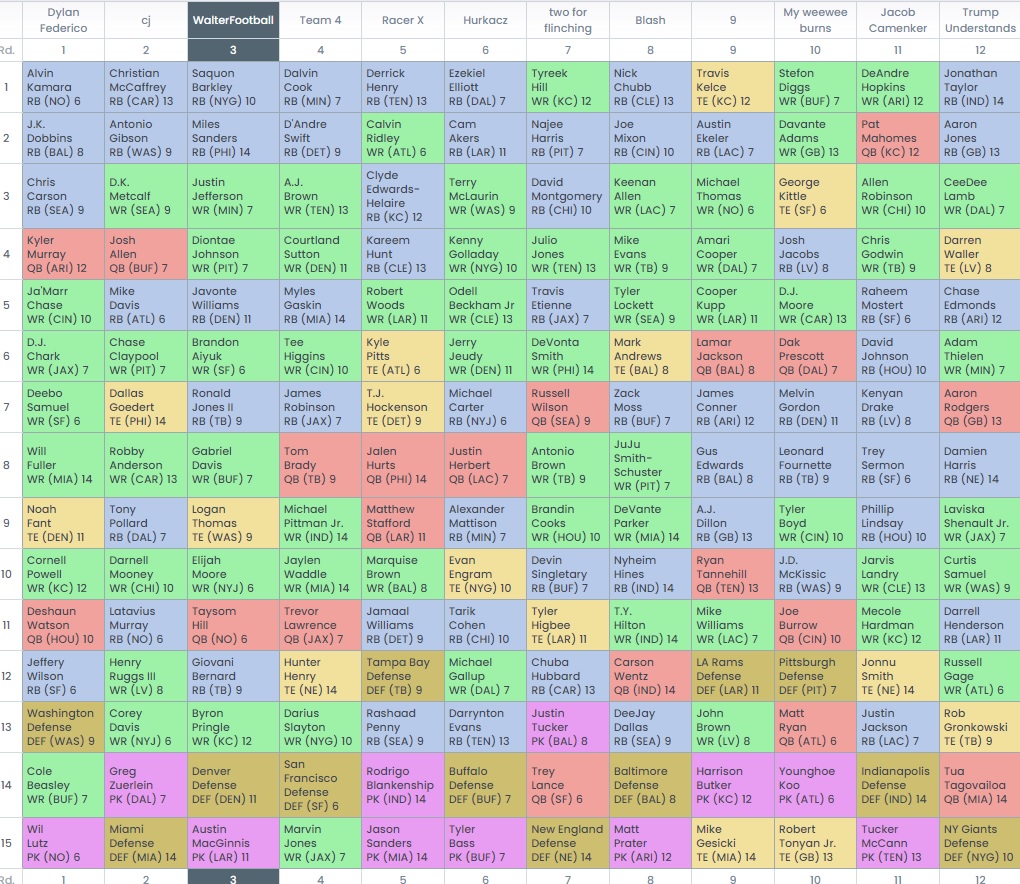 Here's our June 15 fantasy football mock draft (12 teams, standard.) I selected eighth, while Jacob chose third. This was our first mock draft, and it was quite the learning experience!
More 2021 Fantasy Football Articles:
Fantasy Football Rankings
2021 Fantasy Football Rankings:
2021 Fantasy Football Rankings: Quarterbacks
- 7/28 (Walt)
2021 Fantasy Football Rankings: Running Backs
- 7/28 (Walt)
2021 Fantasy Football Rankings: Wide Receivers
- 7/28 (Walt)
2021 Fantasy Football Rankings: Tight Ends
- 7/28 (Walt)
2021 Fantasy Football Rankings: Kickers
- 6/9 (Walt)
2021 Fantasy Football Rankings: Defenses
- 6/9 (Walt)
2021 Fantasy Football Rookie Rankings: Dynasty
- 5/9 (Walt)
2021 Fantasy Football Mock Drafts:
2021 Fantasy Football Mock Drafts
- 7/8 (Walt)
2021 Fantasy Football Cheat Sheets:
2021 Fantasy Football Cheat Sheet: Top 250
- 7/28 (Walt)
2021 Fantasy Football Cheat Sheet: Top 250 PPR
- 7/28 (Walt)
2021 Fantasy Football Cheat Sheet: Top 250 Half-PPR
- 7/28 (Walt)
2021 Fantasy Football Cheat Sheet: Top 250 2-QB
- 7/28 (Walt)
2021 Fantasy Football Cheat Sheet: Top 250 Touchdown League
- 7/28 (Walt)
2021 Fantasy Football Cheat Sheet: Custom
- 7/28 (Walt)
2021 Fantasy Football: Dynasty Rankings
- 7/28 (Walt)
2021 Fantasy Football Spreadsheets
- 7/28 (Walt)
2021 Fantasy Football Articles:
2021 Fantasy Football Stock Report: OTAs, Training Camp
- 7/28 (Walt)
2021 Fantasy Football Sleepers
- 6/6 (Walt)
2021 Fantasy Football Busts
- 6/6 (Walt)
2021 Fantasy Football Value Picks
- 5/16 (Walt)
Fantasy Football Rankings
- July 28
2022 NFL Mock Draft
- July 14
NFL Power Rankings
- May 12
NFL Picks
- Feb. 8
Injured/injury risk

Potential bust

Potential sleeper

Rank higher in touchdown leagues

Rank lower in touchdown leagues

Rank higher in PPR (points per reception) leagues

Rank lower in PPR leagues