NFL Picks (Preseason 2012):
6-9-1 (-$1,440)
NFL Picks (Week 1, 2012):
3-13 (-$2,250)
NFL Picks (Week 2, 2012):
8-7-1 (+$430)
NFL Picks (Week 3, 2012):
7-9 (+$70)
NFL Picks (2012):
24-38-2 (-$3,190)
NFL Picks (2011):
137-133-12 (-$1,925)
NFL Picks (2010):
144-131-8 (+$6,080)
NFL Picks (2009):
151-124-9 (+$3,370)
NFL Picks (2008):
136-125-6 (+$4,330)
If you don't quite understand the line, total or anything else, go to my
Sports Betting FAQ
.
---
Vegas betting action updated Oct. 1, 5:55 p.m. ET. Follow
@walterfootball
for updates.
Go to
Week 4 NFL Picks
- Late Games


Cleveland Browns (0-3) at Baltimore Ravens (2-1)
Line: Ravens by 11. Total: 44.
Las Vegas Hilton Advance Point Spread:
Ravens -12.5.
Walt's Projected Line (Before Week 3):
Ravens -12.5.
Walt's Projected Line (After Week 3):
Ravens -13.5.
Thursday, Sept. 27, 8:30 ET
Discuss Week 4 Games, Talk Trash
The Game. Edge: Ravens.


WEEK 3 RECAP:
Well, it was a winning week, but barely. I'm obviously happy about hitting my September NFL Pick of the Month with the Patriots +2.5, but I feel like I sloppily handicapped several other games. I panicked in dropping units on the Bengals, and I didn't pay enough attention to the Steelers' injuries, focusing only on Oakland's. And then there were the Panthers. I loved them when they were +1, but the line movement of 3.5 points for Hakeem Nicks was ridiculous. I knew that, but I talked myself into sticking with the same bet because I had changed so many things the week before. That was a huge mistake.
I was thinking about it, and maybe the NFL isn't so difficult to figure out. Check out the major headlines that ESPN and the other major networks covered last week:
1. The Giants have too many injuries to compete with the Panthers on short rest.
2. Jay Cutler's whining is destroying the Bears' locker room.
3. The 49ers are the best team in the NFL.
4. Peyton Manning is done.
5. The Patriots won't be able to score without Aaron Hernandez.
Well, guess what? The Giants, Bears and Patriots covered. The 49ers didn't. Only the Broncos lived up to the media's expectations.
ESPN and other networks love to hype up a team's big win or disparage a squad for a bad loss. But it's only one game, and a team is never as good or as bad as they look each week. Fading the media seems like a great strategy.
Here are the big storylines for Week 4:
1. Cam Newton is having mental issues and is struggling to live up to expectations.
2. The Jets are done without Darrelle Revis.
3. The Saints are one of the worst teams in the NFL without Sean Payton.
4. Peyton Manning is still done. And so are the Patriots.
Does that mean I'm taking the Panthers, Jets, Saints, Broncos and Patriots? Well, I don't anticipate betting each of those sides, but it wouldn't surprise me if they combine to go 3-2 or 4-1.
Oh, and I should note that despite having a winning week, I still received some hate mail. I'll list those later.
I'll be posting these NFL Picks throughout the day. Follow me at
@walterfootball
for updates.
BALTIMORE OFFENSE:
Joe Flacco is now carrying the Ravens' banner. He has helped transform Baltimore into an offensive team, as he has vastly improved his game. Having talented weapons like Ray Rice, Torrey Smith and Dennis Pitta at his disposal really helps too. The Browns have never battled this version of the Ravens, and they don't stand a chance preparing for their no-huddle on such short rest.
Joe Haden's absence is killing Cleveland. The team couldn't contain Andy Dalton and Ryan Fitzpatrick the past two weeks, so how can it possibly stop Flacco, especially considering that they can't pressure the quarterback? Second-year end Jabaal Sheard has regressed since his impressive rookie campaign.
Of course, the Ravens could screw this up by not involving Ray Rice enough. Offensive coordinator Cam Cameron was guilty of this at Philadelphia, and he nearly made the same mistake versus New England. However, Baltimore started running the ball in the second quarter of the latter contest, and that's when the offense picked up steam. Rice will have wide-open lanes against the Browns, who are just 22nd against ground attacks (4.4 YPC).
CLEVELAND OFFENSE:
While Baltimore's offense has improved, the defense has regressed a bit. Terrell Suggs' injury has depleted the pass rush, as Haloti Ngata is the only one getting to the quarterback now. Second-round rookie Courtney Upshaw hasn't done anything of note yet.
The good news is that it doesn't really matter this week because Brandon Weeden is the worst starting quarterback in the NFL. He's wildly inaccurate and constantly stares down his receivers. And those receivers happen to be incredibly inept. Greg Little, who can't stop dropping passes, could be benched, according to head coach Pat Shurmur. Mohamed Massaquoi, meanwhile, has been ruled out for this contest. It'll be up to Josh Gordon, Jordan Cameron and Jordan Norwood to get open against Baltimore.
But at least the Browns have Trent Richardson. He's the one saving them from having one of the all-time worst offenses. Unfortunately, he'll find it extremely difficult to locate any running room against the Ravens, who surrender just 3.3 YPC, which is good for fifth in the NFL. Richardson will have to do his damage as a receiver out of the backfield.
RECAP:
This has blowout written all over it. On top of the complete personnel mismatch, the Browns are traveling on short rest. Want to know how really crappy squads fare in these Thursday night games? Teams with a winning percentage of .333 or worse on the road on Thursday nights are 3-14 against the spread since 1989, losing by an average margin of 29-11.
I don't like to lay double digits in divisional matchups this early in the season, so that's the only thing holding me back from making this a huge play. Baltimore should win big.
SURVIVOR PICK:
I mentioned that 3-14 ATS trend. Those teams are 1-16 straight up; the lone victor being the 1995 Giants at Arizona as a 2.5-point underdog. Baltimore is not losing this game. My top survivor options this week would be: Ravens, Texans (used them already), Packers and Falcons.
The Psychology. Edge: None.
The Ravens put a lot of energy into the New England game, but the Browns have to travel on short rest, so everything should cancel out.
The Vegas. Edge: Browns.

Not as much action on the Ravens as you might think.
Percentage of money on Baltimore: 74% (30,000 bets)


The Trends. Edge: Ravens.
History: Ravens have won the last 8 meetings.
Opening Line: Ravens -12.
Opening Total: 45.
Weather: .


Week 4 NFL Pick: Ravens 30, Browns 6
Ravens -11 (2 Units) -- Incorrect; -$220
Under 44 (0 Units) -- Correct; $0
Survivor Pick (2-1)
Ravens 23, Browns 16
Recap of this game


---



New England Patriots (1-2) at Buffalo Bills (2-1)
Line: Patriots by 4. Total: 48.5.
Las Vegas Hilton Advance Point Spread: Patriots -3.5.
Walt's Projected Line (Before Week 3): Patriots -3.5.
Walt's Projected Line (After Week 3): Patriots -3.
Sunday, Sept. 30, 1:00 ET
Discuss Week 4 Games, Talk Trash

The Game. Edge: Patriots.



VEGAS RECAP: How are people going to keep betting if they lose money every week? The sportsbooks have now obliterated the public three consecutive weekends. They won six of the eight highly bet games. They cashed in with the Vikings, Titans, Chiefs, Jaguars, Raiders, and of course, the Seahawks. They lost with just the Jets and Falcons. They're definitely going to have to give something back to the public soon or else no one will be betting these games by November.

I'll be updating the Vegas betting action all week, as usual. I'll notify you of any updates @walterfootball.

BUFFALO OFFENSE: The Bills suffered a huge loss when C.J. Spiller went down in the first quarter at Cleveland. They had already scored 14 points, and it looked like they'd approach 40 for the afternoon. However, they managed just 10 more points through the final three quarters, as Tashard Choice obviously couldn't duplicate the same game-breaking talent.

Spiller will be out for a couple of weeks, but the good news is that Fred Jackson could be back. Jackson, coming off an LCL tear, gave himself a 70- to 75-percent chance of playing in this contest. I think he'll suit up, but there's no way of knowing if he'll be 100 percent considering that he was given a timetable of 4-6 weeks when he sustained his injury in Week 1. The Bills would love to have Jackson at full strength after watching Ray Rice gash the Patriots on Sunday night. A realistic scenario, however, is that a limited Jackson and a pedestrian Choice won't get much on the ground versus New England.

That means Ryan Fitzpatrick will be asked to do more than he should. He had no issues moving the chains in a Week 3 home battle against the Patriots last year, going 27-of-40 for 369 yards, two touchdowns and a pair of picks. However, Bill Belichick figured out Chan Gailey's offense in the rematch, as his team intercepted Fitzpatrick four times on Jan. 1. Belichick is great at taking away one of the element of an offense, so if he erases Steve Johnson from Buffalo's game plan, Fitzpatrick will definitely struggle.

NEW ENGLAND OFFENSE: Speaking of struggling, the Patriots haven't been nearly as explosive this year because the interior of the offensive line is garbage. Tom Brady has constantly been harassed these past two weeks, and that figures to continue at Buffalo. While Mario Williams has been a huge disappointment thus far, Kyle Williams and Marcell Dareus have created havoc for opposing offenses. They'll have a huge advantage against the Patriots' guards and center.

Belichick countered his team's main liability Sunday night by having Brady get the ball out quickly to his receivers. That should be able to work again, given that Buffalo's corners are pretty questionable. Stephon Gilmore and Aaron Williams have just been OK, but the three quarterbacks they've battled thus far are Mark Sanchez, Matt Cassel and Brandon Weeden.

The Patriots didn't run Stevan Ridley much last week because they utilized a no-huddle attack and wanted a better receiver at running back. It's unclear what Belichick plans to do this week - which is why I didn't have Ridley very high in my fantasy running back rankings this summer - but it's worth noting that Buffalo just restricted Trent Richardson and the Browns to 33 rushing yards.

RECAP: Remember when I said that Vegas would have to give something back to the public? Well, maybe this is it. There's so much money coming in on New England, but considering how much money the sportsbooks have raked in, it really doesn't matter at this point. Or at least I hope it doesn't because I love the Patriots.

The bottom line is that I can't envision Brady and Belichick dropping a third game in a row. Brady is 13-3 against the spread after a defeat as long as he's not favored by seven or more. On the other end of the spectrum, there's a terrible trend in Fitzpatrick's favor. Did you know that no quarterback has covered the spread since 2000 when playing in a September game coming off two or more consecutive victories in which he threw zero interceptions in both contests? The trend is 0-18 ATS, and it makes sense because an overconfident signal-caller will do too much and consequently commit errors.

FINAL THOUGHTS: I still feel strongly about this pick. Yes, the line movement is shady, but Vegas has won so much money these first three weeks that they almost have to give something back.


The Psychology. Edge: None.
This is a big game for the Bills, but the Patriots will want to rebound off a loss with everyone still doubting them.


The Vegas. Edge: Bills.



Everyone expects the Patriots to bounce back.
Percentage of money on New England: 86% (87,000 bets)


The Trends. Edge: Patriots.


History: Patriots have won 16 of the last 17 meetings.
Bills are 20-14 ATS against losing teams since 2006.
Bills are 9-22 ATS in their last 31 home games vs. a team with a winning record.
Patriots are 38-21 ATS vs. AFC East opponents since 2001.
Tom Brady is 136-46 as a starter (106-72 ATS).
Tom Brady is 25-12 ATS off a loss (4-6 ATS as -7 or more).
Tom Brady is 17-8 ATS off a loss since 2003 (4-5 ATS as -7 or more).
Opening Line: Patriots -3.5.
Opening Total: 50.5.
Weather: .


Week 4 NFL Pick: Patriots 34, Bills 20
Patriots -4 (4 Units) -- Correct; +$400
Over 48.5 (0 Units) -- Correct; $0
Patriots 52, Bills 28






---



Minnesota Vikings (2-1) at Detroit Lions (1-2)
Line: Lions by 4. Total: 48.5.
Las Vegas Hilton Advance Point Spread: Lions -7.5.


Walt's Projected Line (Before Week 3): Lions -9.


Walt's Projected Line (After Week 3): Lions -7 (Stafford) or Lions -4.5 (Hill).


Sunday, Sept. 30, 1:00 ET
Discuss Week 4 Games, Talk Trash

The Game. Edge: Lions.

HATE MAIL: Another week, another stack of hate mails. Let's see what they have to say this time:

Walter should give up on the very poor comedy act and concentrate on his picks. Feels like I'm in high school every time I have to wade through the stupid stuff to read the picks.

That's awesome. High school was a fun time. I'm glad I can help you reminisce :-).

I love how Walter makes fun of other people's typos then he turns around this morning and puts that the Panthers won 36-7 last night on this page. Idiot!

You mean the Panthers didn't win 36-7? Ohhhhhhhh, so that's why 5Dimes claimed that I lost $440.

THIS SITE IS AWESOME! THANK YOU SO MUCH FOR YOUR ANALYIS WALT! YOU HAVE MADE ME SO MUCH MONEYYYY!!! BEST HANDICAPPING WEBSITE ON THE INTERNET!!! WHY????? all you have to do is take the opposite of what walt says, and your guaranteed MONEYYY! this guy has made me thousands!!!!!!

When you're able to move into your mansion in two years, remember who put you there!

I am on Ravens for 7 Units this week (Walter has Patriots for 7 Units). My fade Walter continues to pay - Great outright win by Giants (Walter had Panthers for 4U)

All good things...

Walt's method of "capping": - Respond to hate mail - Respond to spammers - Write hilarious fake conversation - Respond to more hate mail - Think about which team really, really wants to win a game - Place 4 units

You make my job seem so easy. That kinda makes me a little depressed because I feel like I put a lot of work into this.

Classic lol Looks like another Friday and Saturday night locked up in your office "recalibrating" lol

Hey, hey, hey, I don't do any "recalibrating" in my office. It's all business here. I do my "recalibrating" in... oh... you mean recalibrating my handicapping. Never mind!

Here's some hate via Facebook:





Very true, but at least I can spell Secretariat.

And finally, no surprise that PGUP9 e-mailed me. He's obsessed with me for some strange reason, and I'm convinced he whacks off to my incorrect picks. This was from Thursday night: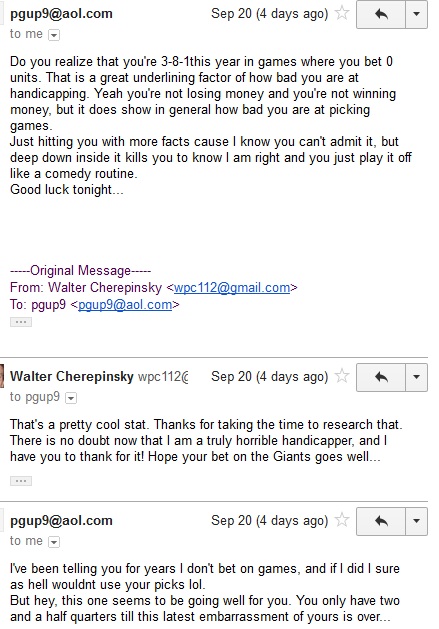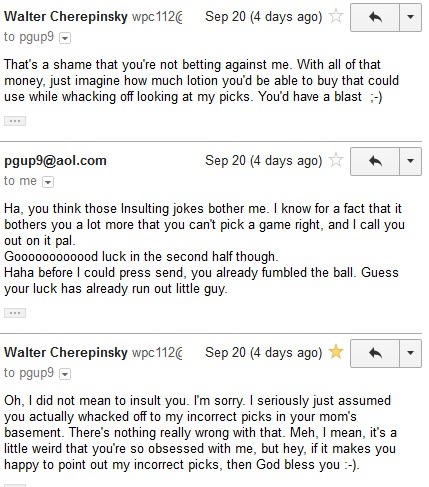 I did not hear from PGUP9 when I did really well in the early afternoon, but he predictably shot me an e-mail when my 4 p.m. picks were going down in flames: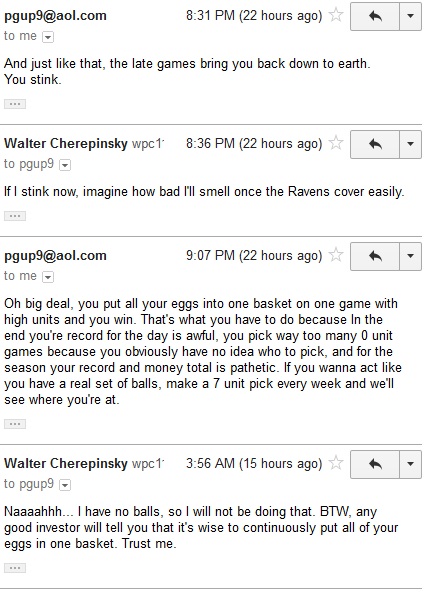 Imagine how happy PGUP9 will feel if I post my stock picks. He can pleasure himself Monday through Friday!

DETROIT OFFENSE: Matthew Stafford's bum hip is the reason why there's no spread on this game, and understandably so. Shaun Hill is a really good backup, but he lacks Stafford's elite arm strength, which is part of the reason why the Lions are so explosive.

Ser Stafford is not expected to practice until Friday, but Adam Schefter predicted that he will play. He's walking around fine, so that's good news. Even better news is that he'll get to battle a Minnesota secondary that hasn't really been tested yet. The Vikings have battled Blaine Gabbert, Andrew Luck and Alex Smith, so Stafford will probably be able to torch them, provided that he's protected from Jared Allen, Kevin Williams and Brian Robison. The offensive line has held up pretty well through three weeks, so that shouldn't be a problem.

Whether or not Stafford is hobbling around, the Lions will want to establish Mikel Leshoure again. Leshoure was outstanding against the Titans, but has a much tougher test this week. Minnesota is ranked seventh versus ground attacks, surrendering just a 3.3 YPC, thanks in part to linebackers Chad Greenway and Erin Henderson. The latter missed last week's contest but should be back for this one.

MINNESOTA OFFENSE: It's not a complete surprise that Christian Ponder is one of the league's top-rated passers this year. Ponder played well as a rookie until suffering a hip injury. Now healthy, Ponder is picking up where he left off when he nearly upset the Packers at home.

You have to like Ponder's chances against Detroit's secondary, especially with Jerome Simpson back from suspension. Simpson is not a terrific receiver by any means, but he's a big upgrade over the platoon of Michael Jenkins, Devin Aromashodu and Stephen Burton. He'll provide Minnesota with a downfield threat of sorts, which will be problematic for a Detroit secondary that just allowed Jake Locker to throw for 378 yards. The issue with the Lions is that they're missing stud safety Louis Delmas. Erik Coleman and John Wendling are being torched on a weekly basis, while rookie corner Bullet Bill Bentley absolutely sucked in his first full game last week.

Simpson's return is great and all, but Ponder will continue to get the ball to his playmakers, Percy Harvin, Kyle Rudolph and Adrian Peterson. The latter continues to amaze coming off brutal ACL and MCL tears in late December. The Lions are just two weeks removed from yielding 141 rushing yards to the 49ers, so Peterson should have another quality outing.

RECAP: I can't give you a pick yet because there's no spread, but I can tell you that I'm leaning toward Minnesota if Stafford plays. Check back later in the week for a definitive selection.

LINE POSTED: This line has come in at -4.5, which is really low considering that it was -7.5 prior to Week 3. There's tremendous line value with Detroit, but that's only going to keep me off laying money with the Vikings. I'm picking Minnesota because Detroit is in bad position because it's coming off an overtime loss on the road. Teams in that situation (as long as they're not road dogs) are just 28-62 against the spread since 1994.

FINAL THOUGHTS: The line value on this game sucks. I wish it were closer to a touchdown so I could bet Minnesota.


The Psychology. Edge: None.
No psychological edge found.


The Vegas. Edge: Vikings.


Slight lean on the host.
Percentage of money on Detroit: 65% (43,000 bets)


The Trends. Edge: None.
History: Vikings have won 21 of the last 25 meetings (Lions 3-0 last 3).
Opening Line: Lions -4.5.
Opening Total: 47.
Weather: Dome.


Week 4 NFL Pick: Lions 30, Vikings 27
Vikings +4 (0 Units) -- Correct; $0
Over 48.5 (0 Units) -- Incorrect; $0
Vikings 20, Lions 13






---



Carolina Panthers (1-2) at Atlanta Falcons (3-0)
Line: Falcons by 7. Total: 48.5.
Las Vegas Hilton Advance Point Spread: Falcons -6.5.
Walt's Projected Line (Before Week 3): Falcons -6.
Walt's Projected Line (After Week 3): Falcons -9.5.
Sunday, Sept. 30, 1:00 ET
Discuss Week 4 Games, Talk Trash

The Game. Edge: Falcons.




The most illiterate sports bettor in the world is a man named the Real John Moss. He loves to e-mail me and talk to me on G-chat. He's been messaging me for a while now, but I never knew what his purpose was - until he sent me this e-mail in May: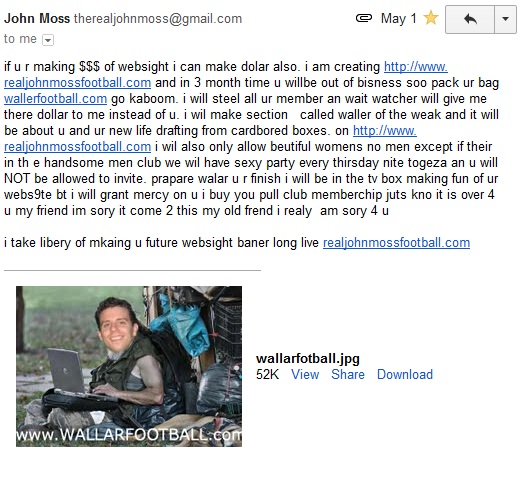 You know what's sad is that TheRealJohnMoss.com Web site used to actually work. Now, the server won't load. It's such a shame too because it was a glorious site. I really miss it.

It sucks that the Real John Moss for spending too much money on his famous parties to pay for his Web hosting. But can you really blame him? After all, the "handsome men" he invites look like this: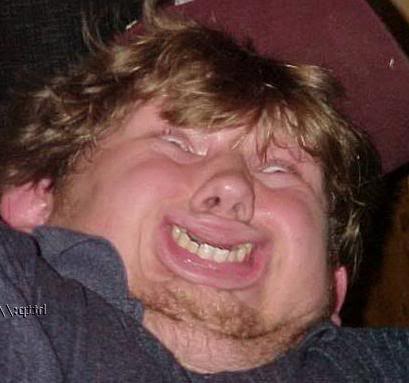 Very handsome indeed.

CAROLINA OFFENSE: Cam Newton is a mess. There's growing concern that he doesn't have the mental makeup to play the quarterback position. He's reportedly seeing a team psychologist. I wonder what they discussed following that Thursday night disaster. Perhaps he told Cam not to pull off his Superman cape down 23-7 in the fourth quarter.

It doesn't get any easier for Newton. The Falcons have a terrific back seven that has made Peyton Manning and Philip Rivers both look awful in consecutive weeks. Defensive coordinator Mike Nolan confused the hell out of the former, so you have to figure that he'll have a big advantage over Newton, who doesn't quite understand what's going on right now.

There are two glimmers of hope for Carolina. First is that the Falcons don't have nearly as good of a pass rush as the Giants do. John Abraham and Jonathan Babineaux have been mediocre this year, while Ray Edwards continues to steal money from Arthur Blank. That means Newton won't be running for his life like he was Thursday night. Second, Jonathan Stewart will be back. Head coach Ron Rivera stated two weeks ago how important Stewart is for the team's passing attack, so maybe Newton will rebound with his top running back on the field again.

ATLANTA OFFENSE: Of course, any sort of optimism goes out the window when you look at the immense advantage the Falcons have against Carolina's stop unit. Panthers' defensive coordinator Sean McDermott is constantly outmatched. His coverage schemes are absolutely terrible, and Matt Ryan, who is currently the leading candidate for MVP, will have no issues dissecting them.

Ryan could easily have a record-setting day if the Panthers' offense can keep up. Carolina's safeties are a joke, while the pass rush can't get any sort of push. No Panther is consistently getting to the quarterback; not even Charles Johnson, who doesn't have a single sack this year.

The Falcons have become such a pass-oriented team for a couple of reasons, one of which is the severe decline of Michael Turner. He stinks. However, Turner could have a decent outing because the Carolina defensive tackles can be pushed around quite effortlessly. As a result, the Panthers are easy to run against, as Andre Brown discovered Thursday night. Carolina is 29th against ground attacks (4.9 YPC).

RECAP: I love betting on teams coming off blowout losses. To give you an actual figure, underdogs that were just defeated by more than four touchdowns are 58-31 against the spread since 2002, excluding Week 17 contests, for obvious reasons. The reason behind this is that things aren't always as bad as they seem, given that the media loves to overreact to everything. As a result, we're usually given good line value with those underdogs.

Unfortunately, that's not happening here. When Atlanta upset San Diego, I was hoping for at least a 10-point spread because of people would be overreacting to the Carolina blowout loss. Instead, we're getting no line value whatsoever for some reason.

I'm still picking Carolina to bounce back and cover, but I'm not betting against Ryan in the Georgia Dome with no line value on my side.

FINAL THOUGHTS: As with the Detroit-Minnesota contest, this game provides no line value. Why aren't the Falcons close to -10 after their victory over the Chargers and Carolina's blowout loss against the Giants? It's not like the public would be all over the Panthers.


The Psychology. Edge: None.
No psychological edge found.


The Vegas. Edge: Panthers.



No surprise that the public likes the host.
Percentage of money on Atlanta: 79% (74,000 bets)


The Trends. Edge: Falcons.

History: Falcons have won 6 of the last 7 meetings.
Matt Ryan is 21-9 ATS at home.
Opening Line: Falcons -7.
Opening Total: 50.
Weather: Dome.


Week 4 NFL Pick: Falcons 26, Panthers 20
Panthers +7 (0 Units) -- Correct; $0
Under 48.5 (0 Units) -- Incorrect; $0
Falcons 30, Panthers 28






---



San Francisco 49ers (2-1) at New York Jets (2-1)
Line: 49ers by 4. Total: 41.
Las Vegas Hilton Advance Point Spread: 49ers -3.
Walt's Projected Line (Before Week 3): 49ers -3.
Walt's Projected Line (After Week 3): 49ers -3.5.
Sunday, Sept. 30, 1:00 ET
Discuss Week 4 Games, Talk Trash

The Game. Edge: 49ers.




Some random NFL notes I can't put anywhere else:

1. I have three fantasy football-related things I must discuss. If you've been reading this Web site for a while, you know that I used to make fun of this guy Bo-Bo, whom I considered to be the worst fantasy football player in the history of mankind. To give you an idea, he spent a sixth-round pick on Trent Edwards one year. Trent Edwards!

Bo-Bo has since retired from fantasy football, but he never achieved an imperfect 0-13 season because he'd always have one or two elite players he took early on who carried him. It made me upset that he never went 0-13 despite setting his lineup each week, but I've learned to live with it and have since moved on.

Luckily, I may have found someone even worse than Bo-Bo. It's a guy in one of my leagues whose team name is Wooks, for some strange reason. What is "Wooks," something short for Wookie? Why not just say "Wookie?" Anyway, he has a legitimate shot at 0-13. Look at what happened to his team in Week 1: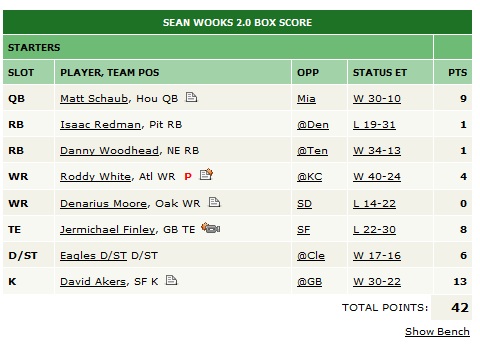 Danny Woodhead!? Who the hell owns Woodhead in a league, let alone starts him? And who was Wooks' first-round pick, Roddy White? Jermichael Finley? David Akers? How can anyone assemble such a terrible team? Like it shouldn't even be humanly possible.

2. Unless you're a professional fantasy football player who participates in leagues where the buy-in is at least $500, I'm sure you'll agree that fantasy football should be about having fun, talking trash and claiming a trophy at the very end. Sure, money makes it more interesting, but being able to boast that you're better than everyone is priceless.

That's where fantasy football etiquette comes into play. I can't have respect for anyone who cheats in fantasy football. There's no benefit. If you cheat and win, your championship is tainted. If you lose, you look like a fool.

Something occurred in Bo-Bo's former league. Bo-Bo hasn't participated in it in three years - I've heard rumors that he's in Alaska (seriously) - but I'm still in it as a team partner with my friend and former neighbor, Schmidty. We won the championship two years ago, but had terrible luck in 2011, failing to make the playoffs despite being the highest-scoring team in the league. I'm still pretty pissed about that.

However, that was nothing compared to what happened after the Giants-Cowboys opener. You know how Kevin Ogletree had an awesome performance and was pegged as the No. 1 waiver-wire addition following the Monday night games? Well, Yahoo! screwed up and didn't lock waivers because the game was on a Wednesday. A team named "Just Win" picked up Ogletree. This angered at least half the league, who claimed it wasn't fair because waivers should've been functioning. The commissioner should have then stepped in and asked Just Win to dump Ogletree while he fixed the problem. Instead, the commissioner did nothing, while Just Win laughed at everyone because he obtained the crown jewel of the Week 1 waiver wire.

Lame. Really lame. Anything Just Win does now is tainted. Oh, and we just beat him, 99-59, thanks to Andre Brown, whom we added legitimately: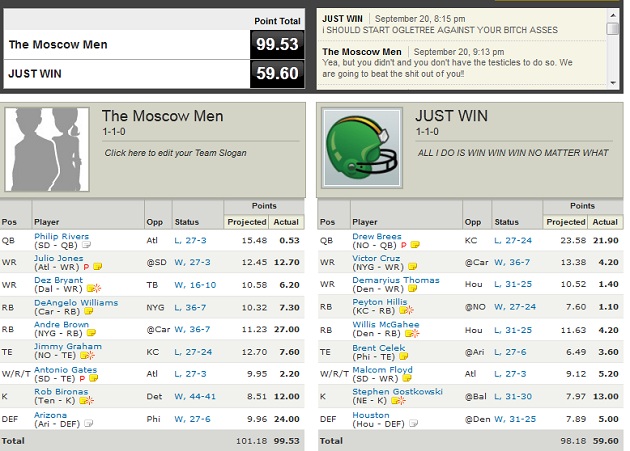 3. Paul F. sent me an e-mail expressing his frustration about some dumb trades he's been offered in his league. For instance, an owner proposed to give him Peyton Manning in exchange for Ray Rice and Ryan Fitzpatrick.

It's hilarious that this person asked Paul to throw in Fitzpatrick, as if Rice-Manning wasn't lopsided enough. I'd like to see Paul counter with just a Rice-Manning swap. Would that person decline it because he wouldn't be getting Fitzpatrick?

People ask me all the time about trades. Believe it or not, but I haven't made a fantasy football trade in FIVE YEARS. Why? Because the only deals I'm offered are stupid ones like that.

SAN FRANCISCO OFFENSE: I don't need to tell you how big of a loss Darrelle Revis is for the Jets' defense. New York surrenders a completion percentage of 54 when Revis is on the field and 70-plus percent when he's unavailable. Kyle Wilson has not lived up to his first-round billing. Ryan Tannehill couldn't take advantage of him this past Sunday because of his billion end zone overthrows, but Alex Smith at least has the personnel to do so.

Smith has to be thrilled. Not only does he get to avoid battling Revis the one time he has to face him every four years; he'll have all the time in the world to locate his receivers downfield. The Jets have absolutely no pass rush, totaling just three sacks in three games. Calvin Pace has regressed, Aaron Maybin is a complete non-factor, while Quinton Coples has been a huge disappointment thus far. Making matters worse, Ryan won't be able to use many of his exotic blitz packages because he'll have to worry about coverages in the back end.

Having said that, the 49ers better stick to what they do best offensively, which is running the ball. The Jets are terrible versus the rush, surrendering 4.7 YPC. Jim Harbaugh didn't call enough running plays for Gore last week, so he'll have to make up for that against New York.

NEW YORK OFFENSE: Oh man... I don't even know where to begin with this. Mark Sanchez sucks. Tim Tebow is being misused. Shonn Greene is one of the worst starting running backs in the NFL. The receivers can't get open. And the offensive line can't block. Other than that, the Jets' offense is a juggernaut.

How is Sanchez going to move the chains in this contest? It's almost inconceivable. He'll be under heavy pressure all afternoon because teams have finally figured out right tackle Austin Howard. On the rare occasions in which Sanchez will have time to throw, he'll lob ugly ducks toward Tebow's helmet. He might get lucky with one or two big gains like last week, but that's pretty optimistic.

Oh, and forget about the running game. Greene is garbage. All he does is fall forward two yards past the line of scrimmage every time. It might be one yard in this game because the 49ers are third against the run (2.99 YPC).

RECAP: All my game analysis says San Francisco will cover, so that probably means the Jets will beat the number, given that my double-star game edges are 2-6 this year and just 21-22 in 2011.

In all seriousness, the Jets do seem like the right side because they're a veteran team that will be looking to prove itself after being written off in the wake of Revis' injury. I could see this because a weird contest in which Sanchez looks competent for a change and somehow pulls an upset, prompting Chris Berman to shout, "That's why they play the games!" on SportsCenter.

Having said that, there's no way in hell I'm betting on either team.

FINAL THOUGHTS: Another strange line. There's just half a point of movement because of Revis' absence?


The Psychology. Edge: None.
No psychological edge found.


The Vegas. Edge: Jets.



No Revis? No Jets' betting action.
Percentage of money on San Francisco: 83% (73,000 bets)


The Trends. Edge: None.
Opening Line: 49ers -3.5.
Opening Total: 40.5.
Weather: .


Week 4 NFL Pick: 49ers 22, Jets 20
Jets +4 (0 Units) -- Incorrect; $0
Over 41 (0 Units) -- Incorrect; $0
49ers 34, Jets 0






---



San Diego Chargers (2-1) at Kansas City Chiefs (1-2)
Line: Chargers by 1. Total: 44.5.
Las Vegas Hilton Advance Point Spread: Chargers -3.
Walt's Projected Line (Before Week 3): Chargers -3.
Walt's Projected Line (After Week 3): Chargers -3.
Sunday, Sept. 30, 1:00 ET
Discuss Week 4 Games, Talk Trash

The Game. Edge: Chargers.

Some college football notes I can't put anywhere else:

1. A couple of weeks ago, I mentioned my frustration regarding FOX's decision to pair Charles "Mr. Upspeak" Davis with the awesome Gus Johnson. In addition to making the broadcast sound like a cartoon, Davis said a very weird thing:

"Matt Barkley wants to win championships at USC."

First of all, Barkley is a senior, so he can't possibly win championships at USC. He can win one; not multiple. Although USC could always pay for a second championship for Barkley, am i rite?

And second, Barkley did not return to win championships. He came back so he could bang all of the hot chicks on campus. That is fairly obvious.

2. Speaking of hot chicks on campus, I'm sure you've seen clips of the Boise State cheerleader getting leveled by a Michigan State player. If not, click the link. Meanwhile, the Vanderbilt cheerleaders the day before were yelling and cheering on as South Carolina was kneeling down to the ice the game.

Look, I know the only requisite to becoming a cheerleader is looking hot. If you're hot, you're on the squad. If you're not, better luck next lifetime - unless you go to a crappy school. But I feel like cheerleaders should also be required to know what's going on. They should also look back once in a while to make sure a player isn't about to ram them. And they definitely shouldn't yell, "Go team!" if the opponent is kneeling to win the freaking game.

3. By the way, you have to love the racist and sexist comments posted under that YouTube video (as well as other ones showing the same clip). Here are some of the best/worst ones and my responses to them:

- Not even an apology? Stupid American monkeys.

So, what time's your KKK meeting tonight?

- Around 0:10, 0:09 you can see her a**.

Thanks for pointing that out, perv.

- She took it up the a**.

Now, if only she were facing the field...

- I bet she takes a dick hard too.

I'd think that's a safer bet than saying the Browns will miss the playoffs this year.

- Whatever. I bet football players have slammed against her before, if ya know what I mean.

Yeah, absolutely. Because cheerleaders have no idea what's going on since they're always facing the crowd, so they get slammed all the time. I know what you mean.

- Shoot, I'd hit that too!

You wish. Now go back to whacking off to anime porn in your mom's basement (not that there's anything wrong with that).

KANSAS CITY OFFENSE: The Chiefs can actually leap into first place with a victory against the Chargers, but their playoff hopes took a big blow when they lost center Rodney Hudson to a season-ending knee injury. Hudson was playing really well, so even though he's not a household name, it's not something that should be taken lightly. Hudson's absence prompted Kansas City to move Ryan Lilja to center with rookie Jeff Allen moving in as a starting guard. Allen was awful in limited action last week, and that was against New Orleans' sorry defensive front.

The Chargers will definitely take advantage of Hudson's absence. Young players like Kendall Reyes, Corey Liuget and Cam Thomas have played well at times this year. With solid inside linebacker Donald Butler behind them, the Chargers rank eighth versus the run, allowing 3.3 YPC. In other words, I doubt Jamaal Charles is going to dominate this contest like he did last week.

If Charles is limited to mostly minimal gains, the Chiefs don't have much of a hope of moving the chains consistently. Matt Cassel stinks - he was barely any good against the inept Saints - and you have to wonder about his pass protection with Hudson out of the lineup.

SAN DIEGO OFFENSE: I can't explain what happened to Philip Rivers last week. He was so sharp against the Titans, yet he fell flat on his face against the Falcons. Yes, his offensive line couldn't hold up, and of course Atlanta's defense is much better than Tennessee's, but Rivers' severe regression in a span of seven days was really stunning.

Can Rivers rebound? Yes, but it's going to be difficult, especially considering the state of his offensive line. Michael Harris and Jeromey Clary might be the worst couple of tackles in the NFL, and they don't stand a chance against Tamba Hali and Justin Houston. Everyone knows about the former, but Houston is actually outplaying Hali this year. He notched three sacks and a safety against the Saints last week. There is good news for San Diego regarding this matter though, and that's Jared Gaither's recovery. Norv Turner told the media that Gaither is coming off a good week of rehab, which is the first positive thing he said about his fragile left tackle since the summer. Gaither's return would obviously be a big boost.

Another good sign is that Ryan Mathews didn't suffer any setbacks during last week's loss. Mathews looked very jittery, losing a fumble inside the Atlanta 5-yard line. However, he'll almost definitely be better in his second game coming back from a broken collar bone. The Chiefs aren't very good against the run, permitting 4.5 YPC - Dontari Poe sucks thus far - so you have to like Mathews' chances.

RECAP: There are a few reasons why I like the Chargers:

1. The line value we're getting is incredible. San Diego was a three-point favorite prior to last week. Following a blowout loss to the Falcons and a fluky Kansas City victory over the Saints, the Chargers are now a one-point underdog. That's a swing of four points! Talk about overreaction.

2. I like getting Rivers as an underdog. It's only one point, but still.

3. Teams losing as a non-divisional favorite and then playing a road divisional game usually fare pretty well; they're 52-30 against the spread in the past 10 years.

4. The Hudson injury is huge. Most bettors don't know who he is, so they're underestimating the impact that his absence will have on the Chiefs.

FINAL THOUGHTS: No change. I still like San Diego for a medium-sized play.


The Psychology. Edge: None.
No psychological edge found.


The Vegas. Edge: Chiefs.



People think the Chargers will bounce back.
Percentage of money on San Diego: 71% (51,000 bets)


The Trends. Edge: Chargers.

History: Home Team has won 21 of the last 28 meetings (Chargers have won 7 of the last 9).
Philip Rivers is 15-9 ATS as an underdog. ???
Norv Turner is 11-3 ATS as a favorite after losing as a favorite.
Chargers are 16-24 ATS in Weeks 1-8 since 2007.
Chiefs are 24-11 ATS in October since 2002.
Chiefs are 15-26 ATS at home since 2007.
Opening Line: Chargers -1.5.
Opening Total: 46.
Weather: .


Week 4 NFL Pick: Chargers 26, Chiefs 13
Chargers -1 (3 Units) -- Correct; +$300
Under 44.5 (0 Units) -- Incorrect; $0
Chargers 37, Chiefs 20


---



Tennessee Titans (1-2) at Houston Texans (3-0)
Line: Texans by 13. Total: 45.
Las Vegas Hilton Advance Point Spread: Texans -10.


Walt's Projected Line (Before Week 3): Texans -12.
Walt's Projected Line (After Week 3): Texans -11.
Sunday, Sept. 30, 1:00 ET
Discuss Week 4 Games, Talk Trash

The Game. Edge: Texans.




If you've followed this site for a while, you may know that I like to respond to my spam mails. I'm continuing last week's, which was from a woman named Mulyana:




Yes, I'm Steve Urkel. The biggest nerd in television history. If you're not familiar with him, just watch this.

Sure enough, the person pretending to be this Mulyana chick e-mailed me back, as he's a dumb spammer from somewhere in Asia and has no clue who Urkel is. Here's the next e-mail with a picture:

Dearest one,

welcome . Please don't angry that this mail came to you when we have not meet before. this mail might come to you as a surprise and the temptation to ignore it as unserious could come into your mind but please consider it a divine wish and accept it with a deep sense of humility I am writing you because i saw your profile at website. when am seaching for partner. i like to have a good relationship with you, and i have a special reason why i decided to contact you. I decided to contact you because of the urgency of my situation here and after get your contact.

How was your day?.when mine was cool over here in Dakar Senegal My names is mulyana Dreamad, i came from Rwanda here Africa and presently i am residing in the church mission here in dakar as a result of war going on in my country. I am doing nursing in school which i have not finished yet.

My late father was the managing direct of slogas oil and chaiman of SDL company before the rebels attacked my house one early morning killing my mother and my father. It was only me that is alive now and i managed to make my way to country Senegal where i am leaving now. I would like to know more about you. Your likes and dislikes, your hobbies and what you are doing presently.

I am still single never married i am 24 years old am looking for partner lover who will love me for who i am let me explain for your understand about my late father inheritance. if you are not the person i am looking for, with due respect to you delete my email and don't respond to me.

my father is from Rwanda my father was former chairman slogas oil before my Father death he deposited( ?9.7 MILLION US DOLLAR )as my next of kin beneficiary I will be very happy to have an intimate relationship with you. And regarding investing the money in your country we will start the plans as soon as the money is in your hands. Let me explain to you in details for your understanding.

The reason I want you to help me get the money out from the africa banking firm is because I can not get it out myself. I am a refugee in this country, the local laws of this country does not allow individual or somebody with refugee status to handle business and financial transaction. The deposit was made by my late father and I am his next of kin/beneficiary but I can not withdraw or access to the deposit because of my refugee status.

*** Blah, blah, more about transferring money... ***

I will like you to understand also that during my discussions with the director of the banking firm this morning, I understood the capability of their banking firm to be able to TRANSFER the money to you in your country in safetly with out problems without any risk. This is why your complete details is very important Send your full name phone number house address . IF you wanted to talk to me now told Rev FATHER EVANS WILLY that you want to speak with mulyana room 27 Female hostel, he will send for me ok, here is the number +221 772594097 end_of_the_skype_highlighting

Your lovely Mulyana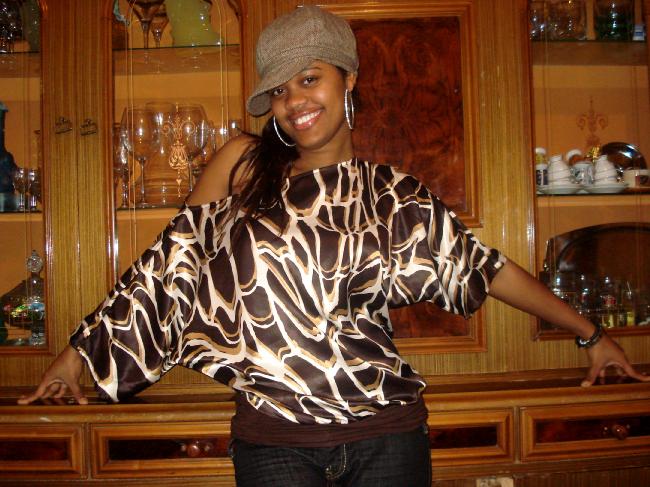 Wow, she seems so sincere. I almost want to give her my real info... nah...

Here's my reply: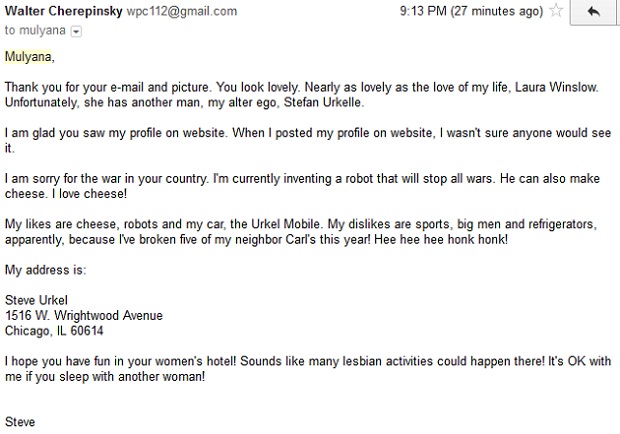 By the way, that address that I listed is the actual Winslow residence from Family Matters. It's currently preserved as a historical property. I really hope they get some sort of mail from "Mulyana."

*** OK, so that's what happened last week. Here was Mulyana's latest response: ***

My Dearest

Thank so much for your mail . I must first and foremost extend my sincere thanks to you for your reply . stemming from the fact that we have not known each other before .The reason of telling you to keep everything confidentially is because of my safety untill the money getting to your hand. i have never disclose to people but only you and God maybe will can call it destiny,

I will like you to know that in anything i set out to do, i always seek the divine face of God first before proceeding. I prayed and fasted, before going ahead to search for a foreign partner who will assist me, after my fasting the divine spirit of God minister to my inner self that i will soon get helper, where and how it will happened was beyond my immediate knowledge, not until i contacted you and you responded. That is why i have come to believe that you can help me by trusting the spirit of God and following the divine direction.

I am not really pressing you to give me your personal information, the issue is that i need your help and you are not helping me for nothing. You are entitled to the percentage commission i told you and also you are free to negociate with me on the percentage you will take on accrued profits after investment.

It is very important for you to know that i will come over to join you in your country immediately the money gets into your account so that both of us will put head together in all matters concerning investing the funds. I would preferred to meet you in your country before the money gets into your account, but i don't have any money with me here in Senegal, for my trip to join you in your country. Honey you have to contact bank now for the transaction via this contact

BANK OF AFRICA INC(BOA).
THIS IS THE DEPOSIT INFORMATION
Ownership code: ISFCO/523/06/2L/2000
Deposit code: ISFCO/01/523/2000
Security code: PAG/ISFCO/523/D-14/2000

ACCOUNT NUMBER.....wt/1002 3703450
SWIFT CODE........ ....... ABFISNDA
code BANQUE.............. K0012
code GUICHET.............. 01208
Depositor: Dr Dreamad tuazama
Beneficiary: Miss mulyana dreamad
amount $5.500.000.00

You are free to ask me questions on anything you feel like knowing about the money. I am trusting God for everything because, i have come to realize that it is only the almighty God who has "Immediate and accurate answers to all questions and needs in the life of every mortal being", hence i cannot do anything without consulting Him and His Christ. Enough for now, until i read from you.

With so much love and care for you.
mulyana

How sweet. It actually does sound like she loves and cares for me. And she can be all mine, provided I send Dr. Dreamad Tuazma my information!

I sent this back to the sweet Mulyana: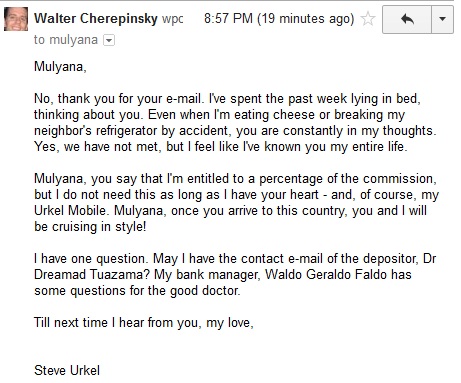 I guess I'll have to create another e-mail account for Waldo Geraldo Faldo so I can mess with the good doctor.

TENNESSEE OFFENSE: Jake Locker is the ultimate wild card. He can look so great sometimes, but when he's bad, he's absolutely terrible. He starts doing stupid stuff like throwing off his back foot and heaving careless passes across his body. He did this all afternoon in a Week 2 blowout loss at San Diego, but then he came back and torched the Lions, looking like a Pro Bowler in the process.

It's going to be very difficult for Locker to repeat what he just did against the Texans, who rank first against the pass with a 5.6 YPA. If you're a non-believer in Peyton Manning, you could argue that Houston hasn't really been tested yet, given that the other two quarterbacks it beat up on were Ryan Tannehill and Blaine Gabbert. There's a chance Locker could succeed, but his offensive line will have to continue to hold up; he's been sacked only twice through three games thus far, but the front group will be tested this week against leading Defensive Player of the Year candidate J.J. Watt.

It's remarkable that Locker has been sacked only twice though considering how poor the offensive line blocks for Chris Johnson. That's not to absolve CJ1.4YPC though. He's done. He's not getting anything against the Texans, who haven't permitted more than 80 rushing yards in any game thus far.

HOUSTON OFFENSE: One of the reasons I picked against the Texans last week was because their offense didn't impress me the first two weeks. They were really sloppy against the Dolphins and then just dinked and dunked versus Jacksonville. But Schaub exploded at Denver, torching the Broncos' secondary mercilessly.

The Titans have surrendered an average of 323 passing yards per game thus far, so Schaub should be able to exploit that. Granted, they've battled nothing but upper-echelon quarterbacks this season, but Schaub isn't exactly chopped liver. Schaub shouldn't have much of an issue toying with Tennessee's pedestrian safeties.

If the Texans establish an early lead, they'll be able to ice this game away easily with heavy doses of Arian Foster and Ben Tate. The Titans are not good at stopping the run (18th; 4.1 YPC) and won't be until stud inside linebacker Colin McCarthy returns from an ankle injury. There's actually a chance McCarthy will play this week, but that would be overly optimistic.

RECAP: Houston has a double-star game edge, but I like the Titans a bit - and not because double-star game edges usually lose.

I'm a big fan of taking double-digit divisional underdogs in the first half of the season. Teams in that situation are 25-14 against the spread because they tend to be underrated. Like, why are the Titans getting nearly two touchdowns? They were blown out in Weeks 1 and 2 because they made dumb mistakes, so what if Week 3 was really who they are? We don't know enough about Tennessee to lay more than 10 points the other way, especially considering that it knows its opponent extremely well.

Also, while we're on the subject of the spread, we're getting good line value with the Titans. Houston was -10 prior to Week 3, and now it's been bumped up two points. I don't get why it would move like that, especially after Tennessee showed signs of life.

FINAL THOUGHTS: Kenny Britt is doubtful, so I'm downgrading this to one unit.


The Psychology. Edge: None.
No psychological edge found.


The Vegas. Edge: Titans.


Everyone now recognizes the Texans as the best team in the NFL.
Percentage of money on Houston: 74% (51,000 bets)


The Trends. Edge: None.
History: Titans have won 2 of the last 3 meetings.
Opening Line: Texans -11.
Opening Total: 43.5.
Weather: .


Week 4 NFL Pick: Texans 24, Titans 16
Titans +13 (1 Unit) -- Incorrect; -$110
Under 45 (0 Units) -- Incorrect; $0
Texans 38, Titans 14


---



Seattle Seahawks (2-1) at St. Louis Rams (1-2)
Line: Seahawks by 2.5. Total: 39.
Las Vegas Hilton Advance Point Spread: Seahawks -2.5.
Walt's Projected Line (Before Week 3): Pick.
Walt's Projected Line (After Week 3): Seahawks -3.
Sunday, Sept. 30, 1:00 ET
Discuss Week 4 Games, Talk Trash

The Game. Edge: Seahawks.



Video of the Week: Forum member Tango posted this video of a Call Me Maybe parody of the Replacement Officials. I LOLed pretty hard.

ST. LOUIS OFFENSE: It's really no surprise that the Rams struggled offensively at Chicago. Sam Bradford had success throwing short passes in Week 2 against the Redskins, who lost two front-seven starters in the first half and couldn't adjust, but dinking and dunking doesn't work against elite defenses. The Bears completely shut down Bradford. The Seahawks will do the same.

The big problem is the offensive line. Left tackle Rodger Saffold is out with a knee. Center Scott Wells is missing with a foot. Right guard Rokevious Watkins is gone for the year. The Bears practically lived in St. Louis' backfield on Sunday, and the Seahawks figure to do the same with their plethora of awesome pass-rushers. If you thought that Bruce Irvin (was there ever any doubt that he would be a great NFL player?) looked awesome against Bryan Bulaga, just wait and see what he does to right tackle Barry Richardson.

Making matters worse for Bradford, his top skill-position player, Steven Jackson, is banged up. Jackson foolishly played last week and was very ineffective. He should have taken time to heal. Instead, he hurt his team against the Bears, and he'll do the same thing in this contest. Jackson should just sit out and let Daryl Richardson carry the load until he's close to 100 percent. This type of football arrogance needs to stop.

SEATTLE OFFENSE: The Rams' offensive line isn't the only unit ravaged by injuries. Defensive tackle Michael Brockers has been out, which has really hurt the run defense. Brockers is listed as doubtful, so Marshawn Lynch will be in full Beast Mode again.

The Seahawks will be fine if Lynch can break big gains. They'll need him to do that because Russell Wilson can be shaky at times. He'll make a couple of really good throws each week, but he can't be asked to win a game yet, especially considering that none of his receivers can get open.

More importantly, Wilson must be protected. Chris Long is a devastating pass-rusher, while Robert Quinn can flash at times. The Seahawks have some weak points on the offensive line, especially right tackle Breno Giacomini, who has to deal with Long.

RECAP: The Seahawks should dominate both sides of the line of scrimmage and win this game. They routinely crush the Rams and figure to do so again. I'd bet a couple of units on them if it weren't for the Touchception ramifications. How is Seattle going to respond to winning a game undeservedly?

UNIT CHANGE: I'm dropping the unit I had on this game. I'm not comfortable betting on the Seahawks following that emotional victory.

FINAL THOUGHTS: I'm almost tempted to change this pick to the Rams. This is as close to a coin flip that you can get.


The Psychology. Edge: Unknown.
It'll be interesting to see how the Seahawks rebound from that farce of a victory.


The Vegas. Edge: None.
Equal action.
Percentage of money on Seattle: 57% (50,000 bets)


The Trends. Edge: None.
History: Seahawks have won 13 of the last 14 meetings.
Seahawks are 17-33 ATS on the road since 2006.
Opening Line: Seahawks -2.5.
Opening Total: 40.5.
Weather: .


Week 4 NFL Pick: Seahawks 17, Rams 12
Seahawks -2.5 (0 Units) -- Incorrect; $0
Under 39 (0 Units) -- Correct; $0
Rams 19, Seahawks 13




Week 4 NFL Picks - Late Games
Dolphins at Cardinals, Raiders at Broncos, Bengals at Jaguars, Redskins at Buccaneers, Saints at Packers, Giants at Eagles, Bears at Cowboys



Prop/Teaser/Parlay Picks
A list of some of my favorite team/player prop picks this week
(Offense & defensive ROY picks to be counted whenver winners are announced.) Picks carried over on a week-to-week basis will be in black.


Prop/teaser/parlay picks posted in Week 4 NFL Picks - Late Games



2017 NFL Mock Draft - Feb. 12


2016 NFL Mock Draft - Feb. 11


NFL Free Agents


NFL Picks - Feb. 7


2016 NBA Mock Draft - Feb. 2


Fantasy Football Rankings - Jan. 15




SUB MENU





Note: For legality purposes, this Web site does not promote or advocate gambling. This is solely for entertainment purposes only.






Last Week's NFL Picks Against The Spread (Week 21, 2015): 1-0 (+$200)
Last Week's 2-3 Unit NFL Picks (Week 21, 2015): 1-0 (+$200)
Last Week's 4-5 Unit NFL Picks (Week 21, 2015): 0-0 ($0)
Last Week Over-Under (Week 21, 2015): 1-0 ($0)
Last Week's Prop/ML/Teaser/Parlay Picks (Week 21, 2015): -$580

2015 NFL Picks of the Month: 3-3, 50.0% (-$100)

2015 Season NFL Picks Against The Spread: 134-138-12, 49.3% (-$2,360)
2015 Season 2-3 Unit NFL Picks: 47-44-1, 51.6% (-$820)
2015 Season 4-5 Unit NFL Picks: 17-16-2, 51.5% (-$1,120)
2015 Season Over-Under: 143-119-5, 54.6% ($0)
2015 Season Prop/ML/Teaser/Parlay Picks: -$855

1999 Season NFL Picks Against The Spread: 27-41-3 (39.7%)
2000 Season NFL Picks Against The Spread: 128-123-8 (51.0%)
2001 Season NFL Picks Against The Spread: 127-122-7 (51.0%)
2002 Season NFL Picks Against The Spread: 123-136-7 (47.5%)
2003 Season NFL Picks Against The Spread: 146-126-8 (53.7%)
2004 Season NFL Picks Against The Spread: 157-123-8 (56.1%)
2005 Season NFL Picks Against The Spread: 156-126-11 (55.3%)
2006 Season NFL Picks Against The Spread: 151-135-9 (52.8%)
2007 Season NFL Picks Against The Spread: 162-135-10, 54.5% (+$2,550)
2008 Season NFL Picks Against The Spread: 148-140-7, 51.4% (+$2,620)
2009 Season NFL Picks Against The Spread: 151-124-9, 54.9% (+$3,370)
2010 Season NFL Picks Against The Spread: 144-131-8, 52.4% (+$6,080)
2011 Season NFL Picks Against The Spread: 137-133-12, 50.7% (-$1,925)
2012 Season NFL Picks Against The Spread: 130-145-8, 47.3% (-$5,760)
2013 Season NFL Picks Against The Spread: 144-131-8, 52.4% (+$5,580)
2014 Season NFL Picks Against The Spread: 143-133-7, 51.8% (-$1,885)
2015 Season NFL Picks Against The Spread: 134-138-12, 49.3% (-$2,360)

2002 Season 2-3 Unit NFL Picks: 41-49-2 (45.6%)
2003 Season 2-3 Unit NFL Picks: 52-51-2 (50.5%)
2004 Season 2-3 Unit NFL Picks: 65-44-3 (59.6%)
2005 Season 2-3 Unit NFL Picks: 77-61-1 (55.8%)
2006 Season 2-3 Unit NFL Picks: 65-61-4 (51.6%)
2007 Season 2-3 Unit NFL Picks: 83-59-5, 58.5% (+$4,110)
2008 Season 2-3 Unit NFL Picks: 44-57-3, 43.6% (-$3,510)
2009 Season 2-3 Unit NFL Picks: 49-35-3, 58.3% (+$2,260)
2010 Season 2-3 Unit NFL Picks: 51-38-4, 57.3% (+$3,180)
2011 Season 2-3 Unit NFL Picks: 44-51-3, 46.3% (-$2,715)
2012 Season 2-3 Unit NFL Picks: 45-50-2, 47.4% (-$2,130)
2013 Season 2-3 Unit NFL Picks: 38-42, 47.5% (-$2,890)
2015 Season 2-3 Unit NFL Picks: 47-44-1, 51.6% (-$820)

2002 Season 4-5 Unit NFL Picks: 11-12 (47.8%)
2003 Season 4-5 Unit NFL Picks: 16-13-1 (55.2%)
2004 Season 4-5 Unit NFL Picks: 18-11 (62.1%)
2005 Season 4-5 Unit NFL Picks: 25-22-1 (53.2%)
2006 Season 4-5 Unit NFL Picks: 21-29-1 (42.0%)
2007 Season 4-5 Unit NFL Picks: 35-30-2, 53.8% (+$420)
2008 Season 4-5 Unit NFL Picks: 39-26-2, 60.0% (+$4,055)
2009 Season 4-5 Unit NFL Picks: 29-26, 52.7% (+$330)
2010 Season 4-5 Unit NFL Picks: 32-22, 59.3% (+$4,790)
2011 Season 4-5 Unit NFL Picks: 14-14, 50.0% (-$1,260)
2012 Season 4-5 Unit NFL Picks: 14-21, 40.0% (-$3,650)
2013 Season 4-5 Unit NFL Picks: 17-9-3, 65.4% (+$2,970)
2015 Season 4-5 Unit NFL Picks: 17-16-2, 51.5% (-$1,120)

2001 Season Over-Under: 3-2 (60.0%)
2002 Season Over-Under: 121-91-3 (57.1%)
2003 Season Over-Under: 126-132-2 (48.8%)
2004 Season Over-Under: 139-124-4 (52.9%)
2005 Season Over-Under: 117-145-4 (44.7%)
2006 Season Over-Under: 129-132-5 (49.4%)
2007 Season Over-Under: 136-145-3, 48.4% (-$1,900)
2008 Season Over-Under: 137-125-6, 52.3% (+$860)
2009 Season Over-Under: 128-135-4, 48.7% (-$3,195)
2010 Season Over-Under: 128-135-5, 48.7% (-$5)
2011 Season Over-Under: 131-131-5, 50.0% (+$135)
2012 Season Over-Under: 125-121-5, 50.8% (+$30)
2013 Season Over-Under: 132-130-5, 50.4% (-$340)
2015 Season Over-Under: 143-119-5, 54.6% ($0)

2007 Season Prop/ML/Teaser/Parlay Picks: +$1,035
2008 Season Prop/ML/Teaser/Parlay Picks: +$1,775
2009 Season Prop/ML/Teaser/Parlay Picks: +$865
2010 Season Prop/ML/Teaser/Parlay Picks: -$200
2011 Season Prop/ML/Teaser/Parlay Picks: +$590
2012 Season Prop/ML/Teaser/Parlay Picks: -$1,685
2013 Season Prop/ML/Teaser/Parlay Picks: +$2,245
2015 Season Prop/ML/Teaser/Parlay Picks: -$855

2006 NFL Picks of the Month: 3-3 (50%)
2007 NFL Picks of the Month: 3-3, 50.0% (-$400)
2008 NFL Picks of the Month: 6-1, 85.7% (+$3,720)
2009 NFL Picks of the Month: 3-2, 60.0% (+$640)
2010 NFL Picks of the Month: 2-4, 33.3% (-$1,810)
2011 NFL Picks of the Month: 5-2, 71.4% (+$1,870)
2012 NFL Picks of the Month: 3-2, 60.0% (+$560)
2013 NFL Picks of the Month: 6-0, 100% (+$3,900)
2014 NFL Picks of the Month: 2-4, 33.3% (-$1,350)
2015 NFL Picks of the Month: 3-3, 50.0% (-$100)

Career NFL Picks Against The Spread: 2,291-2,116-129, 52.0% (+$8,150)
Career 2-3 Unit NFL Picks: 741-668-34 (52.6%)
Career 4-5 Unit NFL Picks: 305-267-13 (53.3%)
Career Over-Under: 1,823-1,765-51 (50.8%)
Career Second-Half NFL Picks: 22-15-1 (61.1%)
Career NFL Picks of the Month: 33-22 (60.0%)





My Team-by-Team ATS Record
This section shows how well I do when picking each team this year. The purpose is to see how well I read each team. Pushes are not displayed. Winning/losing streak in parentheses.


| | | | |
| --- | --- | --- | --- |
| Cowboys: 7-8 (2014: 7-11) | Bears: 6-9 (2014: 8-8) | Bucs: 9-7 (2014: 9-7) | 49ers: 13-3 (2014: 8-7) |
| Eagles: 7-9 (2014: 9-7) | Lions: 11-5 (2014: 8-8) | Falcons: 9-7 (2014: 8-8) | Cardinals: 6-12 (2014: 8-9) |
| Giants: 9-6 (2014: 5-11) | Packers: 7-11 (2014: 13-4) | Panthers: 7-12 (2014: 8-10) | Rams: 8-7 (2014: 8-8) |
| Redskins: 12-5 (2014: 8-8) | Vikings: 8-9 (2014: 12-4) | Saints: 7-8 (2014: 6-9) | Seahawks: 6-10 (2014: 10-9) |
| | | | |
| Bills: 7-6 (2014: 7-9) | Bengals: 7-8 (2014: 6-11) | Colts: 6-8 (2014: 8-10) | Broncos: 10-4 (2014: 8-9) |
| Dolphins: 8-8 (2014: 10-5) | Browns: 7-8 (2014: 9-5) | Jaguars: 2-13 (2014: 10-6) | Chargers: 10-6 (2014: 7-9) |
| Jets: 9-6 (2014: 8-8) | Ravens: 7-7 (2014: 10-8) | Texans: 4-13 (2014: 8-7) | Chiefs: 9-9 (2014: 9-6) |
| Patriots: 12-5 (2014: 10-9) | Steelers: 9-6 (2014: 9-8) | Titans: 5-9 (2014: 8-6) | Raiders: 7-9 (2014: 7-9) |
| | | | |
| Divisional: 45-47 (2011-14: 177-178) | 2x Game Edge: 17-16 (2011-14: 69-81) | 2x Psych Edge: 30-28 (2011-14: 121-105) | 2x Vegas Edge: 42-40 (2011-14: 176-183) |
| 2x Trend Edge: 32-29 (2011-14: 107-99) | Double Edge: 16-15 (2011-14: 43-46) | Triple Edge: 1-2 (2011-14: 2-1) | Quad Edge: 0-0 (2011-14: 0-0) |