Jerks of the Week - Jan. 28, 2013
Jerks of the Week for Jan. 28, 2013
JERK OF THE WEEK: One Final Night at Tango
It saddens me to tell you this, but
Tango
, my favorite bar, has closed. I've been going to Tango for nearly a decade, and I've written about many a jerk from there over the years, but the bar down the block from my house closed its doors for the final time last Saturday night.
I interviewed a 34-year-old bartender who had been working there since his early 20s. He told me there were five reasons why Tango lost a ton of business over the years. The first is unfortunate, as the owner's 40-year-old daughter passed away suddenly. The other four angered me:
1. Parx Casino:
I've always hated Parx Casino. That place ruined my New Year's Eve three years ago, and I had a terrible time there last December when a
Jersey Shore waiter constantly harassed me into doing shots
. Oh, and then there was the highly offensive sign outside of the club in the casino: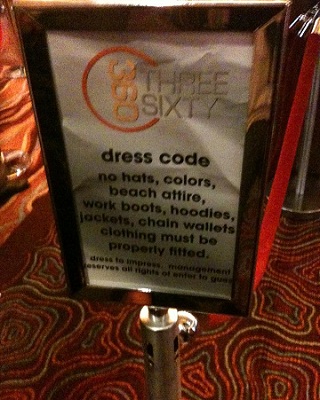 No colors, eh? I guess Club 360 is the home of the Aryan brotherhood or something, but no matter - I'm sure the ghost of Martin Luther King Jr. will come into the owner's home one night and strangle him.
The Parx patrons also bother me. They're just zombies who sit at slot machines and mindlessly pull levers back and forth. I'm not against gambling because I feel like people should have the freedom to whatever they want, but it's just depressing to see these half-animated corpses rotting away in front of the machines.
Parx ruined two of my nights over the past three years, so it wasn't a big deal until now - because Parx is one of the reasons why Tango is finished. Parx is about a 5-minute drive from Tango if there's no traffic, so people just decided to go there instead. And why not? Drinks are cheap or free if you're near the gambling areas, plus the place never closes. And for those who like the bar scene, there are actual bars in Parx.
Oh, and there are also so many more people there, so there's a better chance of scoring with a hot individual of the opposite sex, rather than a
biker who looks like Santa Claus
(not that there's anything wrong with that).
2. Bands:
I hate bands. They're loud and obnoxious. They play crappy music that only sounds good to drunken people. And they're apparently expensive.
Tango's bartender told me that his bar couldn't lure in any quality bands because they all cost too much. They apparently used to be cheaper, but Parx has been paying the good bands tons of money to play there.
No more bands meant no more girls because girls apparently follow bands wherever they go. No more girls meant no more guys because guys follow girls wherever they go. No more guys meant no more money for the bar.
I'll never understand why girls follow bands anyway. Like I said, they play terrible music. Plus, they're way too loud. I want to actually talk at a bar; not have my ears bleed upon hearing a crappy cover of a crappy Maroon 5 song.
3. DUI Laws:
Tango, which used to be known as Whiskey Tango and then was known as Philly Four and then JC Washington's House, was a huge bar when I turned 21. Everyone went there; it was the place to be in Northeast Philly. My friends and I used to drive 10 minutes just to go there almost every weekend. Now, apparently no one wants to drive there.
The bartender told me that dropping the Pennsylvania DUI limit to .08 was a big factor in the bar's decline, as younger people opted to stay more local. I don't know what it driving limit used to be, but unless you're an a**hole member of MADD (Mothers Against Drunk Driving), I think you'll agree that the .08 limit is too low.
According to a blood-alcohol calculator I found online, I'd be at .081 if I had six beers over three hours. That's nothing. I've consumed way more than that amount in that span, and I've been completely coherent. This may anger the idiots associated with MADD (who won't admit that there are five times more drunk walking accidents than drunk driving ones, per Freakonomics), but I say that the limit should be raised back to what it was. I don't know what it was, but 0.8 sounds more reasonable than 0.08. I feel like I could drive perfectly well at 0.8***.
***Side note: I feel like I should say that the stupid BAC calculator I found doesn't calculate anything over 0.5 for some reason. The best I could do is 24 beers in three hours, which is 0.47. However, when I input 22 beers in one hour, I get 0.46. So, I can drink 22 beers in one hour, and then two more beers over the next two hours and be even drunker than I was before? That makes no sense. I feel like the MADD a**holes are manipulating the BAC calculator.
At any rate, these previous three factors are why most bars in this area are losing money. "If you gave me a million dollars, I would not open a bar in Northeast Philly," the bartender said. Of course, there's yet another reason why Tango failed...
4. Weird People:
The bartender conceded that normal people who went to Tango were weirded out by some of the regulars. He wouldn't name any names, but I've definitely written about some strange Tango patrons over the years, including...
---
---
WalterFootball.com is part of the NESN digital network.