Jerks of the Week for Feb. 7, 2011
JERK OF THE WEEK NO. 1: Olive Garden
I run this Web site for a living, so I have the luxury of setting my own schedule. I usually go to bed late and sleep in close to noon. A couple of weeks ago, I got a phone call at the ungodly hour of 10 in the morning.
I checked my phone, and it was my friend Ben. Ben is one of the nicest guys I know and he's familiar with my schedule, so I figured if he was calling this early, there must have been a really important reason - but I was too tired, so I let it go to voicemail. Minutes later, I heard the following message:
"YOOOOO WALLLLTTTT! IT'S BEN! I JUST GOT A GIFT CERTFICIATE TO OLIVE GARDEN, LET'S GO ON SATURDAY!!!"
At this point, you might be thinking, "This is clearly not important. How dare Ben call you so early in the morning?"
See, that's where you're wrong. There's nothing more important to me than food - especially free food. Thus, Ben could have called me at 7 a.m. (two hours past my bedtime) and I wouldn't have been upset about it.
Now, if you've been reading Jerks of the Week for a while, you may recall an entry I posted about
Olive Garden
. I wrote, "There are plenty of things to hate about the Olive Garden... the crappy food, the terrible ambiance, the people who go there..."
Again, there's nothing more important to me than food (especially free food). So, am I a hypocrite for agreeing to go there with Ben and two of our friends? Yes. But I'm hungry, damn it. NOM NOM NOM NOM.
Braving the bitter cold on a Saturday evening, Ben and I, along with our friends Dale and Larry, arrived at the Olive Garden on Welsh and the Boulevard in Northeast Philly. The first thing I noticed was how many hot chicks were in the waiting area.
It was really unbelievable. I expected maybe one or two hot girls, but there were seriously about a dozen attractive women either waiting to be seated or working there. Single guys in Philly - forget the trashy bars and crowded clubs. Just go to that Olive Garden on a Saturday night.
Unfortunately, there were so many people there that we had to wait 30-40 minutes to be seated. I constantly had to move out of the way so people could get through. At one point, this small black kid kept bumping into my legs. I would have kicked his a**, but that would have been both illegal and racist.
We were finally seated, and I ordered the only thing on the menu that I could understand - the chicken parmesan. It came with my choice of salad or soup, and I opted for the former. Since Olive Garden sucks, however, there was an issue:
Waitress:
What salad dressing would you like?
Me:
Ranch.
Waitress:
We don't have Ranch.
What!? She had to be joking right?
Me:
What do you mean you don't have Ranch?
Waitress:
We don't have Ranch dressing.
OK, Olive Garden is the worst place in the world. How can any restaurant not have Ranch dressing? Shouldn't this be a requirement? Why wouldn't any restaurant not have Ranch? Everyone loves Ranch. If you don't like Ranch salad dressing, you're a communist as far as I'm concerned. And if you own a restaurant that doesn't serve Ranch, I will never eat at your establishment. Hear that pretentious douche bag Olive Garden owner? I will never eat at Olive Garden again!!!

Sorry, I get emotional over these things. Like I said, food is very important to me.


Me:
What salad dressing do you have?
Waitress:
We have this Italian recipe.
Larry:
It tastes like Ranch, actually.
Me:
No, that's nonsense. What type of soup do you have?
Waitress:
We have broccoli bisque.
Me:
Ugh. No tomato soup?
Waitress:
No, sorry.
No Ranch dressing or tomato soup? What kind of hell hole is this?
Me:
Arrrrgggghhhh. Fine. I'll take the salad.
Was my ordering nightmare over? Of course not...
Waitress:
What would you like to drink?
Me:
Iced tea. Sweetened.
Waitress:
Our iced tea has a passion fruit flavor.
NOOOOOOOOOOOOOOOOOO!!!!!!!!!!!!!!!!!!!!
Me:
F*** you, slut waitress!
OK, I didn't say that last thing. I gave up and ordered a Sprite. Fortunately, that didn't come in a passion fruit flavor.
When our bill came out, we were astonished to see that it was for $98. We then perused the bill and noticed some weird things. For example, Larry was given a shot of chocolate mousse and was charged $8 for it.
We were also billed $2.95 for each order of marinara sauce that came with our "free" breadsticks. So much for being free. With all of the money they make off marinara sauce, you'd think Olive Garden could afford Ranch dressing and regular iced tea.
I seriously can't get over how much Olive Garden ripped
us
Ben off? How can any establishment charge $2.95 for some marinara sauce? I just checked at the local Wawa, and they sell marinara sauce for 50 cents. Oh, and they also sell Ranch dressing, regular iced tea and tomato soup.
The next time Ben gets a gift certificate, I hope it's for Wawa.
JERK OF THE WEEK NO. 2: Red Lobster
The Olive Garden at Welsh and the Boulevard is right next to two other restaurants: Red Lobster and Applebee's. Six days after my Olive Garden nightmare, my family and I went to Red Lobster to celebrate my mom's birthday. Unfortunately, my experience at Red Lobster was far worse than it was at Olive Garden.
I'd like to preface this by saying that I love Red Lobster. When I was a little kid, I used to collect my dad's leftover lobster tails. I don't know what I did with them, but apparently my plans to rule the world with them did not come to fruition.
Nowadays, I get 18 fried shrimp, mashed potatoes and a salad with RANCH dressing every time I go. Oh, and I also eat about eight cheddar bay biscuits when I'm there. I love cheddar bay biscuits ewigrewgoriborboreiboeb4hgr. Sorry, I was in a drooling stupor there for a second.
Unfortunately, times have changed. The Red Lobster at Welsh and the Boulevard is now a zoo. It's always unbelievably crowded, and unlike Olive Garden, there are no hot chicks. Instead, there are drug dealers, prostitutes and various ugly people wearing lip rings. The Philadelphia government might as well send all their welfare checks to this particular Red Lobster because that's where all of their money is being spent.
We were finally seated after about an hour of waiting. To our astonishment, we noticed plenty of open tables as we walked around. Apparently, this Red Lobster was understaffed. Oh man, what a tough economy we live in. There are no jobs available anywhere.
Our waiter was a man named Krentz. Sounds like a monstrous German body-builder, right? Actually, he was a skinny, nervous black guy. Krentz seemed like a nice dude, but he must have been just starting out because he kept screwing up. For instance, instead of saying "Canola oil" he said "Crayola oil." Not that I would have known the difference without my sister pointing it out to me.
Not to disparage Krentz or anything, but the service was awful. Our salads and cheddar bay biscuits came 20 minutes after we ordered. We were given no utensils until we asked for them. There were no croutons and barely any Ranch dressing on my salad - ARGH!!!! - and instead of receiving 18 fried shrimp, as advertised, I was given only 12.
Once again, I'd like to remind you that food is very important to me. So when you cheat me out of cheddar bay biscuits, croutons, fried shrimp and Ranch dressing, I'm going to be pissed off enough to write about it in the Jerks of the Week section of my Web site.
And fortunately for me, Krentz is not a big German body-builder, so he can't find me and kick my a**.
JERK OF THE WEEK NO. 3: Farim
I don't have a third restaurant to rant about, so I'd like to discuss a particular e-mailer.
As you know, I tend to get
regular hate mail
and
QB Dog Killer-related hate mail
. I also receive fan mail, inquisitive mail and like everyone else, spam mail. On Thursday, I obtained weird mail.
This strange person named Farim sent me nine e-mails in a row. To prove this to you, I took the following snapshot of my inbox: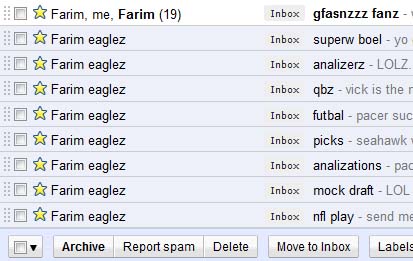 As you can probably tell by the subjects of Farim's e-mails, he wrote some pretty crazy things. Here they are, and once again, I'm sending you screenshots of his e-mails so you know I'm not making this up:

Sounds like something I'd say to Ranch dressing.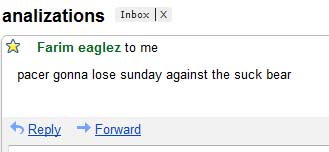 According to his "analizations," the Indiana Pacers played the Chicago Suck Bear in the Super Bowl this Sunday.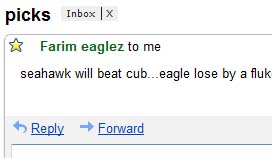 I thought the Pacers were playing the Suck Bear? Now it's the Seahawks and the Cubs? This is more confusing than Terry Bradshaw's drunken analysis of the Super Bowl.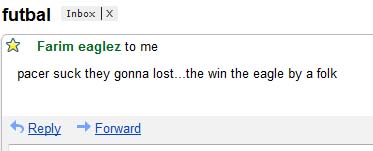 Farim is now 0-of-2 in his efforts to spell "fluke" correctly. Perhaps on his third try he'll end with "flake."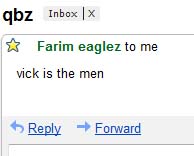 QB Dog Killer's supporters are so desperate to vindicate their beloved athlete that they now believe that he is multiple human beings.
I haven't even said anything to this guy just yet, so he's apparently having make-believe conversations with me. I guess the doctors at his mental hospital forgot to give him his meds today.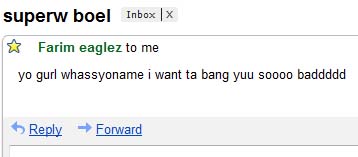 Not that there's anything wrong with that.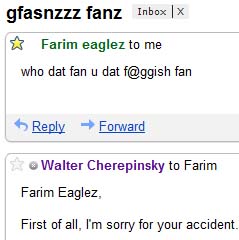 As you can see, I finally had enough of this guy. Here's my entire reply:
Farim Eaglez,

First of all, I'm sorry for your accident. I'm not sure how you suffered massive brain damage, but it must have been pretty traumatic.

Secondly, I'd like to applaud you. Most people with massive brain damage wouldn't attempt to use a computer. But you, against all odds, have hopped onto the Internet and mustered enough willpower to send multiple nonsensical e-mails to me.

I salute you, Farim Eaglez. Godspeed.

Walt
Farim quickly sent a response, perhaps relieved he was actually having a real conversation with me instead of a make-believe one.
lol wtf!??!?!?!?!?!???!?!?!?? accient up my @$$ yu brain up yoooo @$$ lolz like wtf wtf wtf ima eat yuuuuu

futbalz

pacer suck they gonna lost.... the win the eagle by a folk............. mike vick 4 prezidint stop trying to be mighty and stand up for someone behind a computer screen you weak b!!!h id like eto seee you do that to my face. oh right you wouldnt bcuz

LOLZ!!!!!!!!!!!!!!!!!!!!!!!!!!!!!!!!!!!!!!!!!!!!!!!!!!!!1!!!!!!!!!!!!!!!!!!! br>
http://www.youtube.com/watch?v=Z3xd8bXlzeU <------------------ picks lolz

LOLZZ good futba infu hehehehehhehehehalolzol

ill pay yu 50 bucks now stikkkk it innnnnnn
Wow. If you add this guy's IQ and age, you MIGHT sneak into double digits.
Here was my reply:
"stop trying to be mighty and stand up for someone behind a computer screen you weak b!!!h"

I can say the same thing to you, my brain-damaged friend ;-)

I agree though. The Indiana Pacers do suck.

Walt


A confused Farim sent me two e-mails in a row: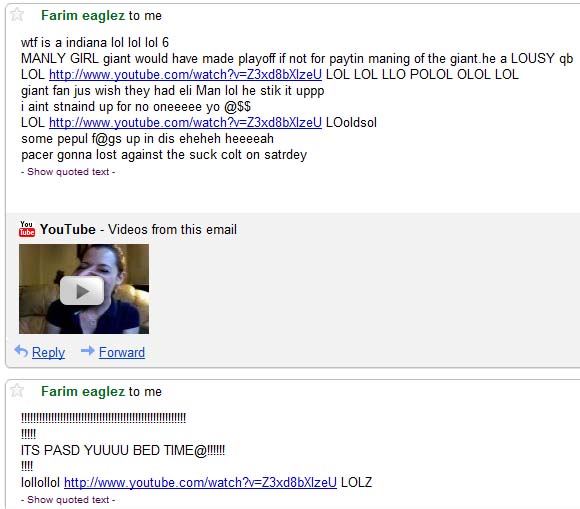 This guy is obviously insane, right? I'm just surprised that mental hospitals have an Internet connection.
I responded:
You know, I'm shocked that the wardens at your mental hospital allow you to stay up so late.

Maybe I'll make a call tomorrow to get that straightened out.


The difference between a sane person and a crazy person is that the sane person knows they're crazy. Farim apparently is not sane, as indicated by his next reply:
lola i dont have a bed time. i yuuuu elda now GO TO BED CHIDL loal wtf is mental!?>!>!>! yu make no senz

lol lol olol http://www.youtube.com/watch?v=Z3xd8bXlzeU LOL

http://www.nfl.com/fans/profile/farim add meee hunnah bunchzzzz

lol guess wat!!! 2day i wernt ta safeway and da woma nsed no steelin chokolit LOL LOL LOL LOL OL OOL i almost got away wit da futbalzzzz


If you go to that second URL that Farim provided you'll see that he has a GameCenter profile.
Suddenly, this all made sense to me. GameCenter people are among the dumbest individuals on Earth. Read my Jerks of the Week entry on
GameCenter people
for more.
Farim sent me two more e-mails containing the following quotes:
"lol yu r my worst enemy!!!! lo llo l lo,l ol o http://www.youtube.com/watch?v=Z3xd8bXlzeU LOL"
"OMG YU WINKAYFACED ME!!!! OMGOMG OMGOGOMGOMGOMGOMGOGMIM GONAN DIE DA WINKAY FAYZE"
"ADD ME ON NFL>COM UR MY BESGT FRAIND!!!!! PLZZZZZZZZ"
"send me a nacked pic of yuu plzzzzz lolz grape joze"
"GIMEME YO NUMBA GURRRRRL lol r u mejican i wanna pic of yu sooo baddddd"
This got me thinking - what if I stooped down his level? What if I copy-pasted the quotes from GameCenter I used in my previous Jerks of the Week column? Maybe I need to act stupid to get him to understand me.
Here was my next e-mail to Farim:
Hehe Texans Beatin Eagles?? Nah Mat Shaub Is A Catfish DESEAN MOSSD THAT GUY!!!! steeler fan better move on out of eastern penn cuz the eagles are pas new team nah nah nah u got my last coment all missed up. i ment the nfc is bette then the afc. the afc has some good teams but all the leet players in the nfl are in the nfc like my boy brees petersen jackson oh and wen the colts boot manning mfc scoop him to the north be won by the team with the best record! why u all hatin on finnegan???? so he punch a black guy and he black that happens all the time in tenesse kerry playin how he look a korpse! gagagagagagaga Jules edelmen jsut returned a punt 04 years for an td OHHHHHHHHHHHHHHHHHHH THATS RIGHT BIZ ITCHES MY HAWKS BE STR8 SOMPIN DEM SAINTS!!! THOT YALL SAID DONT SHOW UP CUZ WE AINT GOT NO CHANCE GO BACK TO MISSOURI nwx week gonna be goooooooooood! interconf matchupa like stlers pats falcon eagles pack hawks jets pats ravns saints an the
If you had a seizure reading that, I apologize. I hoped this could make Farim understand me. Unfortunately, I received this response:
lol wut yu turned tat esay in 4 skoool lolz

LOL MATS SHAPE CATFISH but he spelled rong lololz

GOOO DESEAN LOZLOLZ DESEAN 4 PREZ HE MOSSD YALL UP DA @$$

giants suck.....they r the worst team in the nfc they ssssssssssss

lol wut. yu make no senze lolzlolzlozolzlolzolzlolz

LOLL YAYAYAY!Y!Y!YY!Y!Y!!!!!!! STEELER SUCK DA EAGLE DA BEST IN DA AFL!!!!!!!! lpol so true eagle 4 southeastern westeastern pen

GO EAGLE..... the win the eagle folk

LOLZOLZLOLZOLZOZLZOLZOLZOZLZLO http://www.youtube.com/watch?v=Z3xd8bXlzeU good nfl pics LOLZOLZLOLZOLZ pacer suck


No dice, so it was time to unleash the big guns. I decided piece together Taton's comments in my next e-mail:
Packer sux got sack to much!!! if PIT win is a miracle steers wont win SB mark my word look like the bird run into the steel!!!!
Farim's response:

I find it funny that Farim agreed with my complete nonsense. But at that point, I just gave up. This idiot was not going to make any sort of sense, so I left my computer.
Farim apparently wanted attention, so he e-mail me again a few minutes later:

Damn it, I had money on "flake."
But that's "fluk," "folk" and "flook." Three strikes and you're out, Farim. Now go take your meds and have imaginary conversations with your other friends. Maybe they'll send you a naked picture.