My Thoughts on the 2017 NFL Draft – Live on Draft Day!
What is this?
I'll be posting my thoughts on the 2017 NFL Draft here. That will include everything from the actual picks, to the TV personalities, to the commercials, etc. Anything goes. This page will be updated every five minutes or so, so I hope you join me for the 2017 NFL Draft!
By the way, I'll be posting live
2017 NFL Draft Grades
for individual picks. Overall 2017 NFL Draft Grades will be posted all day Sunday. Follow me
@walterfootball
for updates.
Also, you can discuss the 2017 NFL Draft in the
Draft Day
page, or post a comment below. The Draft Day page will have comments from all draft pages, announced picks and the top remaining players available on our Big Board.
5:10:
I'm checking in to post two betting propss I'm wagering on. I hit both last year with Ezekiel Elliott Under 8.5 -250 and Myles Jack Over 8 -400. This year, I like:
Corey Davis Over 17.5 +120
John Ross Under 18.5 -130
We know a team that is seeking a receiver in the second round, but wouldn't even take Davis there because of durability concerns. I think he could slip. As for Ross, the Bengals like him a lot at No. 9.
6:12:
Might as well start this now! Our final
2017 NFL Mock Draft
is in, and there are two hours to go before a flurry of picks come in, and I once again complain about the NFL shortening the time in between picks.
6:13:
By the way, our
NFL Draft Rumor Mill
has a report where a top-10 prospect's agent doesn't want his client to go to the Jaguars because they're a "bad organization." I'm assuming this agent forgot that the Jaguars have a swimming pool in their stadium. A swimming pool! How cool is that?
6:17:
Good lord, why is there no good pre-draft programming on TV? On NFL Network, we have some stupid fashion show. On ESPN, we have SC6, where the two anchors argue about what their 14th-favorite vegetable is. This is terrible.
6:18:
Why the hell does NFL Network think football fans want to watch this? Let's do one final mock draft instead from Mike Mayock. That would generate greater viewership for sure.
6:21:
Chidobe Awuzie said he's dressed in all black because it's going to be a "murder scene." Draft stock up.
6:23:
I'm surprised they went with Carl Weathers to be on this show. Because this draft is in Philadelphia, the NFL Network should've gotten Sylvester Stallone and his translator.
6:24:
Wow, so, NFL Network is on commercial, so I switched over to ESPN. Lo and behold, ESPN is talking about the fashion show as well. And ESPN is wondering why they've lost so much money. Maybe they wouldn't have to fire 100 people if they'd talk about sports once in a while!
6:25:
By the way, did anyone see the Roger Goodell interview on NFL Network earlier? Steve Mariucci seemed like he was having a seizure talking to Goodell. Mariucci gushed all over Goodell, claiming that Goodell has had "unprecedented success" as commissioner. You could say Goodell has been successful, but how in the world was it unprecedented?
6:27:
Creed Clean? No wonder he lost to Rocky in the second movie. Spoiler alert!
6:30:
I should note that I'm going to watch the NFL Network tonight. This is the first time I won't be tuning into ESPN during the draft. Chris Berman is gone, so I'm sticking with Rich Eisen. Plus, ESPN has turned into such a bulls**t network that avoids sports in favor of nonsense. I'm done with them, save for
PTI
and Monday Night Football.
6:31:
I love how every player is being asked how excited they are. I wish a player would respond, "Meh, it's OK, I'd rather be playing the new Zelda game right now. Can't f***ing kill those Lynels!"
6:34:
Quick story for anyone who has played the new Zelda: I fought the Red Lynel for the first time, and I ate most of my food in the process. But I killed him. As I was gathering stuff, red dots began appearing, and then Zelda told me the blood moon was rising. Immediately following the cut scene, I was struck in the back of the head with a shock arrow. Game over. I kid you not. FML.
6:35:
And I just realized that I'm not talking about sports now either. Damn it, looks like I'll have to fire 100 employees like ESPN just did.
6:37:
Little Caesar's just did a commercial on NFL Network, which pisses me off because the Little Caesar's next to my house moved, as did the Sonic. The a**holes in my neighborhood don't enjoy good food; instead, they support this place called Delice Cafe, which serves a**hole food like fufu a la tutu.
6:38:
And I'm not talking football again, but come on, there's nothing going on now. NFL Network and ESPN really need to come up with something better than this stupid fashion show.
6:40:
Was just informed that the Draft Day commenting isn't working, and our live mock draft contest scoring may not operate either. We were hacked two weeks ago, but there's no excuse for this and I take full responsibility.
6:45:
Comcast just ran a commercial telling us we can access the Billboard Music Awards' greatest moments ever. Oh wowowow soooo happyyyyy.
6:49:
Ugh, Pro Football Talk just reported that Jarrad Davis' floor is No. 22. I had him going to the Dolphins last week. I know I'm going to regret changing picks this final week as always.
6:51:
Kevin King has his own clothing line? Serious stock down. His outfit reminds me of something the shady European art dealer wore in one of the
Beverly Hills Cop
movies.
6:53:
Kevin King is being asked to show his last text. It would be super terrible if they revealed that it was some girl he's seeing on the side, rather than his girlfriend. I can't believe NFL Network would ask him a question like that.
6:55:
This Verizon commercial with the girl going to a job interview is so unrealistic. No chance some hippie playing music in the subway would stop so an industrious woman can talk to a potential employer.
7:02:
Man, it's crazy how much better NFL Network's analysts are better than ESPN's. Rich Eisen beats whomever ESPN has. Mike Mayock crushes the ESPN draft analysts. I like Louis Riddick, but he's not a draft guy. Daniel Jeremiah is, and he's great. The coaches are a wash, I think. NFL Network it is.
7:04:
DeShone Kizer backtracking on claiming that he's the mix of Tom Brady and Cam Newton? Somehow, that purple suit makes him more believable.
7:07:
Maybe NFL Network is on to something with this red carpet thing. My fiancee just walked into my office and said, "Ooohh, I didn't know the draft had a red carpet!" She then watched it for several minutes.
7:09:
I wish some player would show up in pajama pants and flip-flops. That's what I would do. Pajama pants are the best, and they are so much more fashionable than suits.
7:11:
Does anyone else feel bad for the poor guy in the friend zone in that Taco Bell commercial? That takes me back to my high school days when I would vomit when trying to talk to girls. My tip to avoiding the friend zone? Stop being friends! If you enter the friend zone, there is no escape from it. None.
7:13:
Jonathan Allen was asked who would play him in a movie. He should've said something nonsensical like Jackie Chan or Clint Eastwood.
7:21:
For those wondering if Myles Garrett will be the pick or not, Mel Kiper just made a ninja update to his mock draft, slotting Garrett at the top. Kiper did start all of this though, so we should let that slide.
7:23:
Mitchell Trubisky's dad was saying, "I'm proud of all my kids, but this…" I thought he was going to say, "This kid is way better than those other three idiots I raised." Unfortunately, he did not.
7:27:
We have consensus mock draft picks on the
Draft Day
page. Check it out: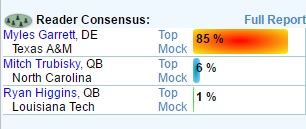 Umm… who is Ryan Higgins, and who slotted him No. 1 to the Browns?
7:30:
Oh, and the commenting on the
Draft Day
page is now working. Someone on there said they have nudes of Manti Te'o's girlfriend, so that's pretty cool.
7:32:
OK, the stupid Red Carpet show is done. Thank God. Rich Eisen is the best, by the way. How the hell did ESPN let him go? If you're wondering why ESPN is doing so poorly, here's proof. You can't let great talent get away.
7:33:
Nick Saban booed. Welcome to Philly!
7:38:
A Browns fan just apologized in advance for this draft in the
Draft Day
feature. But I have a feeling the Jaguar fans will be the ones needing to say sorry once their team picks Deshaun Watson.
7:39:
I'm glad to see Steve Mariucci has recovered from the seizure he suffered while interviewing Roger Goodell.
7:43:
Are there really people wearing jerseys that say "NFL Draft" on the back? How lame is that?
7:48:
I can't believe the nonsense that was going on with the Browns and Mitchell Trubisky earlier today. I wouldn't have been surprised if Jackson just walked out of the building if they took Trubisky over Myles Garrett. As I wrote on Facebook, if this were
Game of Thrones
, eight people would've died already.
7:50:
A question on
Draft Day
about Dalvin Cook and why he slipped. Some of it is his off-the-field issues, but he'll be the least-athletic running back to be chosen in the first round in a very long time if he's picked today.
7:52:
Less than 10 minutes to go!
7:57:
Wow, eight of the 21 first-round quarterbacks from 2007 to 2014 aren't in the NFL anymore. Crazy to recall that Jake Locker and Blaine Gabbert were picked over J.J. Watt; Christian Ponder was picked over Robert Quinn, and Blake Bortles was picked over Khalil Mack.
8:00:
Mike Mayock is right that Philly is more optimistic about Carson Wentz than any other quarterback ever, even Donovan McNabb. If you asked 10 Philadelphians if Wentz could turn water into wine, nine would say he could.
8:01:
Wow, apparently Colin Cowherd said DeShone Kizer pulled out of an interview with him because he thought he might be criticized. I don't even…
8:03:
For the record – and maybe this makes me look dumb in the future – but the only quarterback in this class I'd touch in the first round is Pat Mahomes.
8:04:
Ugh, I hate the square where everyone is standing right now. I hate downtown, period. I have no idea how the hell to drive down there. Every time I've tried, I've almost died.
8:05:
BOOOOOOOOOOOOOOOOOOOOOOOOOOOOOOOOOOOOOOOOOOOOOOOOOOOOOO!!!!!!!!!!!!!!!!!!!!!!!!!!!!!!!!!!!!!!!!
Come on, Philly! Come on!
BOOOOOOOOOOOOOOOOOOOOOOOOOOOOOOOOOOOOOOOOOOOOOOOOOOOOOOOOOOOOOOOOOOOOOOOO!!!!!!!!!!!!!!!!!!!
8:07:
The Browns are now on the clock! You don't say? By the way, what if the Browns' traded their No. 12 pick to themselves for the No. 1 pick? Is that possible?
8:09:
I'll say that Goodell handled that better than he usually does. Looks like he's done a good job of finally developing some thick skin.
8:11:
My editor said it best: "Did Goodell really antagonize the Philly crowd? I would not want to be his security detail."
8:13:
Just snuck in a ninja piss before it begins… and the pick is in!
With the No. 1 pick in the 2017 NFL Draft, the Browns select Myles Garrett, DE
8:14:
I got a pick right! Yes! Yes! Yes!!!
8:16:
Terrible pick!
8:17:
By the way, here's what the Mitchell Trubisky grade would've been:
*** If the Browns pick Mitchell Trubisky: ***
THE WORST DRAFT PICK EVER Grade
There is no Millen grade that will do this justice. It's quite simply the worst draft pick ever made. The Browns' coaching staff and scouts want Myles Garrett, yet the baseball front office has ignored all of the football people and selected a mediocre quarterback prospect over a "can't miss" edge rusher.
Unreal.
I don't understand how the Browns haven't learned the mistakes other teams have made in the recent past, like the Jaguars selecting Blaine Gabbert one pick prior to J.J. Watt, or the Jaguars selecting Blake Bortles two picks prior to Khalil Mack, or the Vikings choosing Christian Ponder two picks before Robert Quinn. Reaching for a pedestrian quarterback over an elite edge rusher has never worked. Never. And yet, the Browns are doing this with the No. 1 overall pick!
What's crazy is that the Cleveland front office is aware that its analytics can't determine how good quarterbacks are yet. This is actually true. They've been concerned that the analytics determined Jared Goof was better than Carson Wentz, and that Cody Kessler was a third-round prospect. With that in mind, why in the world are they reaching for Trubisky when their analytics are not yet configured properly? This is the dumbest thing I've ever seen in my life. Ever.
Congratulations, Browns. You've cemented yourselves as the worst team in professional sports history. No. The worst team in organized sports history. That's right – the local Pee Wee team, featuring the one kid picking boogers instead of covering opposing receivers, is more competent than the Browns.
Let's finish off this grade with this meme, which says it all (thanks, Abhi S.):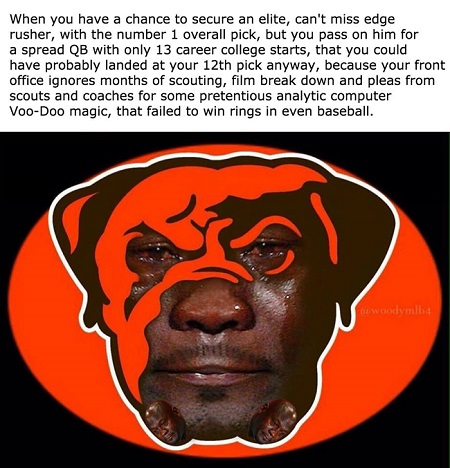 8:18:
Whoa, Bears move to No. 2!
*** If the Browns pick Mitchell Trubisky: ***
THE WORST DRAFT PICK EVER Grade
8:24:
Ugh. Wow. Stupid teams do stupid things.
With the No. 2 pick in the 2017 NFL Draft, the Bears select Mitchell Trubisky, QB
8:28:
lolololololbears
With the No. 3 pick in the 2017 NFL Draft, the Bears select Solomon Thomas, DE
8:32:
Ugh, I'm such an idiot for changing my pick at the 11th hour. I knew I'd regret it. I had Solomon Thomas going to the 49ers for months, yet I blew it. Stupid!
8:33:
What's funny is that there's a much better chance Solomon Thomas is a perennial Pro Bowler than Mitchell Trubisky, yet the 49ers were given a bunch of picks to take him over Trubisky.
With the No. 4 pick in the 2017 NFL Draft, the Jaguars select Leonard Fournette, RB
8:39:
Hey, the Browns can move up here for Mitchell Tru… wait, never mind.
With the No. 5 pick in the 2017 NFL Draft, the Titans select Corey Davis, WR
8:45:
So many good prospects have fallen to the Jets because of multiple teams' stupidity. Insane.
8:46:
Man, at this point I don't think I'm going to get two picks right in my mock draft. I'll be thrilled to even get a second correct pick!
8:48:
Yes, do it, Browns! Trade for Kirk Cousins! F*** over the 49ers, who screwed you over!
With the No. 6 pick in the 2017 NFL Draft, the Jets select Jamal Adams, S
8:53:
The NFL Network guys are right, by the way, that the Jets have the worst roster in the NFL. Every single position is a need for them except five-technique.
8:55:
OK, come on, Chargers! Pick Malik Hooker! Give me a second correct pick!
8:57:
Peyton Manning said he's been busy in retirement. I'm sure that Eli Manning is keeping busy by shipping stuff off to various people.
With the No. 7 pick in the 2017 NFL Draft, the Chargers select Mike Williams, WR
With the No. 8 pick in the 2017 NFL Draft, the Panthers select Christian McCaffrey, RB
9:03:
Pick No. 2 correct! Woohoo!
9:08:
OK, a second correct pick I feel like validates my job and my mock draft. Life is good.
9:09:
Dare I be greedy and ask for a third correct pick? Let's go John Ross! Take him, Bengals!
With the No. 9 pick in the 2017 NFL Draft, the Bengals select John Ross, WR
9:14:
Yes! Pick No. 3! I'm on fire!!!!
9:15:
The Chiefs have moved up to No. 10. Wow. Pat Mahomes? Deshaun Watson?
9:16:
Holy crap. The Chiefs gave up next year's first-round pick to move up to No. 10 (as well as No. 27 and a third-rounder).
9:17:
How about Jonathan Allen, Malik Hooker, O.J. Howard and Marshon Lattimore still available? As I say every year, stupid teams do stupid things.
With the No. 10 pick in the 2017 NFL Draft, the Chiefs select Pat Mahomes, QB
9:22:
Welp, for the first time since 2013, I've got a Texans pick incorrect. Booooo!
9:25:
Great move by the Bills, by the way. They could've had Lattimore, Allen or Hooker, but the way this draft is going, they'll be able to land a great prospect at No. 27.
With the No. 11 pick in the 2017 NFL Draft, the Saints select Marshon Lattimore, CB
9:34:
Wow, these teams are crazy. Houston just gave Cleveland its first-round pick in 2018.
With the No. 12 pick in the 2017 NFL Draft, the Texans select Deshaun Watson, QB
9:41:
Man, these teams are giving up too much for mediocre quarterbacking prospects. I like Mahomes, but Trubisky and Watson didn't warrant this price.
9:42:
Oh, and Jonathan Allen and Malik Hooker are still available!!! And O.J. Howard!!!!! Ahhhhhhhhhhh!!!
With the No. 13 pick in the 2017 NFL Draft, the Cardinals select Haason Reddick, LB
9:49:
Holy crap, the Eagles have so many good players to choose from. Insane. Take Howard please, though.
With the No. 14 pick in the 2017 NFL Draft, the Eagles select Derek Barnett, DE
9:50:
The NFL Draft should be in Philly every year. Crowd is absolutely insane.
With the No. 15 pick in the 2017 NFL Draft, the Colts select Malik Hooker, S
9:59:
If you were to tell me that Malik Hooker and Jonathan Allen were going to be available at No. 15, I would've called the mental hospital on you, then puked all over the place. This is unreal.
With the No. 16 pick in the 2017 NFL Draft, the Ravens select Marlon Humphrey, CB
10:09:
Sorry for the delayed posting. These picks are coming in too quickly. Like I said, I was going to complain about not having enough time! You can check out all my thoughts on each pick in the
NFL Draft Grades
page.
10:10:
I feel bad for Jonathan Allen. He seems like a good guy, and he's a great player. Crazy that he's fallen this far. The Redskins will be lucky to have him.
With the No. 17 pick in the 2017 NFL Draft, the Redskins select Jonathan Allen, DL
10:17:
I don't understand how this happened. Shoulders? Sure. But 17 is stupid late for him.
10:18:
Another reason to increase pick time is because the TV networks fall behind. Let's make this longer. Please tweet this recommendation to Goodell!
With the No. 18 pick in the 2017 NFL Draft, the Titans select Adoree Jackson, CB
10:23:
What the hell is happening with O.J. Howard. Allen fell because of his shoulders, but what super-secret mystery injury does Howard have?
10:27:
Ugh. TV networks are WAY behind. The NFL needs to slow this down. Start this at 7:30, and extend each pick by two minutes.
With the No. 19 pick in the 2017 NFL Draft, the Buccaneers select O.J. Howard, TE
With the No. 20 pick in the 2017 NFL Draft, the Broncos select Garett Bolles, OT
10:35:
Ugh. Had Bolles to Broncos before I thought the Seahawks would trade up for him. So stupid!!!!!!
With the No. 21 pick in the 2017 NFL Draft, the Lions select Jarrad Davis, LB
With the No. 22 pick in the 2017 NFL Draft, the Dolphins select Charles Harris, DE
10:42:
I'm such an idiot. I'd have seven correct picks now instead of five if I didn't change up my mock draft at 4 p.m.
With the No. 23 pick in the 2017 NFL Draft, the Giants select Evan Engram, TE
10:51:
This almost has to be Reuben Foster, right? He seems like the perfect Raider.
10:52:
By the way, Charlie's killing it with his mock draft. I think he's beating all of the experts. He is definitely the best NFL Draft analyst out there, and we're lucky to have him.
With the No. 24 pick in the 2017 NFL Draft, the Raiders select Gareon Conley, CB
10:59:
This is officially the craziest draft ever. I don't even know anymore. The Raiders better hope Conley is innocent.
11:00:
Will this entice some team to pick Joe Mixon in the first!?
With the No. 25 pick in the 2017 NFL Draft, the Browns select Jabrill Peppers, S
11:06:
Crazy that the Browns are accumulating so many resources. They almost have to land Jimmy Garoppolo or Kirk Cousins now. Or, they can Suck for Sam Darnold. Either works.
11:07:
There's that trade Tony Pauline mentioned between the Seahawks and Falcons. Atlanta has given up a third and a seventh.
With the No. 26 pick in the 2017 NFL Draft, the Falcons select Takkarist McKinley, LB
11:10:
Love the emotion from McKinley. At first. He was a bit out of control, so I'm wondering if he's going to rack up lots of unsportsmanlike penalties and such. That said, shame on Rich Eisen. I love Eisen, but don't apologize for someone else dropping the F-bomb. No one should be concerned about anyone dropping the F-bomb on live TV. It's fine, and people need to get over themselves.
With the No. 27 pick in the 2017 NFL Draft, the Bills select Tre'Davious White, CB
With the No. 28 pick in the 2017 NFL Draft, the Cowboys select Taco Charlton, DE
11:16:
I'll keep talking about my mock some more. I made six changes at 4 p.m. It was really flipping three players. I had Solomon Thomas to the 49ers, but moved him to the Bears. I had Charles Harris to the Dolphins, but moved him to the Colts. I had Taco Charlton to the Cowboys, but moved him to the Lions. Why am I so stupid!?
With the No. 29 pick in the 2017 NFL Draft, the Browns select David Njoku, TE
11:34:
In moving back twice, the Seahawks have picked up an extra third-, fourth- and seventh-round pick. Great work!
With the No. 30 pick in the 2017 NFL Draft, the Steelers select T.J. Watt, DE/OLB
With the No. 31 pick in the 2017 NFL Draft, the 49ers select Reuben Foster, LB
11:41:
Who is Reuben Froster?
With the No. 32 pick in the 2017 NFL Draft, the 49ers select Reuben Foster, LB
12:03:
Well, I'm all caught up. Thanks for reading this even though I was so far behind. Remember, all my
NFL Draft Grades
are available here.
What a crazy night. So many trades, plus Gareon Conley at 24. Wow. I'm disappointed with my mock, but Charlie got nine correct. I would've gotten eight right had I not made my 4 p.m. changes. Instead, I got five correct.
Here's the list of how many each expert got correct:
Kiper – 2
McShay – 4
Jeremiah – 8
Reuter – 3
Scott Wright – 5
Bucky Brooks – 4
Mike Mayock – 5
Zierlein – 6
Charley Casserly – 2
Prisco – 4
Brugler – 3
Rang – 4
Matt Miller – 6
Peter King – 7
Schraeger – 4
Josh Norris – 4
12:08:
Thanks for reading this. Please tweet @nflcommish to make each pick longer so I can write more nonsense. Stay tuned tonight/tomorrow morning for my Round 2 and 3 Re-mock (as well as Charlie's). My
NFL Draft Grades
will continue all day tomorrow and Saturday, and we will be posting more rumors.
NFL Picks
- Sept. 27
2024 NFL Mock Draft
- Sept. 27
Fantasy Football Rankings
- Sept. 7
NFL Power Rankings
- June 2
2023:
2023 NFL Week 1 Recap
- Sept. 11
2023 NFL Week 2 Recap
- Sept. 18
2022:
Live 2022 NFL Draft Blog
- April 28
2022 NFL Week 1 Recap
- Sept. 9
2022 NFL Week 2 Recap
- Sept. 16
2022 NFL Week 3 Recap
- Sept. 23
2022 NFL Week 4 Recap
- Sept. 30
2022 NFL Week 5 Recap
- Oct. 7
2022 NFL Week 6 Recap
- Oct. 14
2022 NFL Week 7 Recap
- Oct. 21
2022 NFL Week 8 Recap
- Oct. 28
2022 NFL Week 9 Recap
- Nov. 4
2022 NFL Week 10 Recap
- Nov. 11
2022 NFL Week 11 Recap
- Nov. 18
2022 NFL Week 12 Recap
- Nov. 25
2022 NFL Week 13 Recap
- Dec. 2
2022 NFL Week 14 Recap
- Dec. 9
2022 NFL Week 15 Recap
- Dec. 16
2022 NFL Week 16 Recap
- Dec. 23
2022 NFL Week 17 Recap
- Dec. 30
2022 NFL Week 18 Recap
- Jan. 7
2022 NFL Playoffs Recap
- Feb. 13
2021:
Live 2021 NFL Draft Blog
- April 25
2021 NFL Week 1 Recap
- Sept. 13
2021 NFL Week 2 Recap
- Sept. 20
2021 NFL Week 3 Recap
- Sept. 27
2021 NFL Week 4 Recap
- Oct. 4
2021 NFL Week 5 Recap
- Oct. 11
2021 NFL Week 6 Recap
- Oct. 18
2021 NFL Week 7 Recap
- Oct. 25
2021 NFL Week 8 Recap
- Nov. 1
2021 NFL Week 9 Recap
- Nov. 8
2021 NFL Week 10 Recap
- Nov. 15
2021 NFL Week 11 Recap
- Nov. 22
2021 NFL Week 12 Recap
- Nov. 29
2021 NFL Week 13 Recap
- Dec. 6
2021 NFL Week 14 Recap
- Dec. 13
2021 NFL Week 15 Recap
- Dec. 20
2021 NFL Week 16 Recap
- Dec. 27
2021 NFL Week 17 Recap
- Jan. 3
2021 NFL Week 18 Recap
- Jan. 10
2021 NFL Playoff Recap
- Jan. 17
2020:
Live 2020 NFL Draft Blog
- April 25
2020 NFL Week 1 Recap
- Sept. 11
2020 NFL Week 2 Recap
- Sept. 18
2020 NFL Week 3 Recap
- Sept. 25
2020 NFL Week 4 Recap
- Oct. 2
2020 NFL Week 5 Recap
- Oct. 9
2020 NFL Week 6 Recap
- Oct. 16
2020 NFL Week 7 Recap
- Oct. 23
2020 NFL Week 8 Recap
- Oct. 30
2020 NFL Week 9 Recap
- Nov. 6
2020 NFL Week 10 Recap
- Nov. 13
2020 NFL Week 11 Recap
- Nov. 20
2020 NFL Week 12 Recap
- Nov. 27
2020 NFL Week 13 Recap
- Dec. 4
2020 NFL Week 14 Recap
- Dec. 11
2020 NFL Week 15 Recap
- Dec. 18
2020 NFL Week 16 Recap
- Dec. 25
2020 NFL Week 17 Recap
- Jan. 3
2020 NFL Playoffs Recap
- Feb. 3
2019:
Live 2019 NFL Draft Blog
- April 25
2019 NFL Week 1 Recap
- Sept. 9
2019 NFL Week 2 Recap
- Sept. 16
2019 NFL Week 3 Recap
- Sept. 23
2019 NFL Week 4 Recap
- Sept. 30
2019 NFL Week 5 Recap
- Oct. 7
2019 NFL Week 6 Recap
2019 NFL Week 7 Recap
2019 NFL Week 8 Recap
2019 NFL Week 9 Recap
2019 NFL Week 10 Recap
2019 NFL Week 11 Recap
2019 NFL Week 12 Recap
2019 NFL Week 14 Recap
2019 NFL Week 15 Recap
2019 NFL Week 16 Recap
2019 NFL Week 17 Recap
2018:
Live 2018 NFL Draft Blog
- April 30
2018 NFL Week 1 Recap
- Sept. 7
2018 NFL Week 2 Recap
- Sept. 14
2018 NFL Week 3 Recap
- Sept. 21
2018 NFL Week 4 Recap
- Sept. 28
2018 NFL Week 5 Recap
- Oct. 5
2018 NFL Week 6 Recap
- Oct. 12
2018 NFL Week 7 Recap
- Oct. 19
2018 NFL Week 8 Recap
- Oct. 26
2018 NFL Week 9 Recap
- Nov. 2
2018 NFL Week 10 Recap
- Nov. 9
2018 NFL Week 11 Recap
- Nov. 16
2018 NFL Week 12 Recap
- Nov. 23
2018 NFL Week 13 Recap
- Nov. 30
2018 NFL Week 14 Recap
- Dec. 7
2018 NFL Week 15 Recap
- Dec. 14
2018 NFL Week 16 Recap
- Dec. 21
2018 NFL Week 17 Recap
- Dec. 31
2018 NFL Week 18 Recap
- Jan. 6
2017:
Live 2017 NFL Draft Blog
- April 30
2017 NFL Week 1 Recap
- Sept. 12
2017 NFL Week 2 Recap
- Sept. 19
2017 NFL Week 3 Recap
- Sept. 26
2017 NFL Week 4 Recap
- Oct. 2
2017 NFL Week 5 Recap
- Oct. 9
2017 NFL Week 6 Recap
- Oct. 16
2017 NFL Week 7 Recap
- Oct. 23
2017 NFL Week 8 Recap
- Oct. 30
2017 NFL Week 9 Recap
- Nov. 6
2017 NFL Week 10 Recap
- Nov. 13
2017 NFL Week 11 Recap
- Nov. 20
2017 NFL Week 12 Recap
- Nov. 27
2017 NFL Week 13 Recap
- Dec. 4
2017 NFL Week 14 Recap
- Dec. 11
2017 NFL Week 15 Recap
- Dec. 18
2017 NFL Week 16 Recap
- Dec. 25
2017 NFL Week 17 Recap
- Jan. 1
2017 NFL Week 18 Recap
- Jan. 8
2017 NFL Week 19 Recap
- Jan. 15
2017 NFL Week 20 Recap
- Jan. 22
Super Bowl LII Recap
- Feb. 5
2017:
Live 2017 NFL Draft Blog
- April 30
2017 NFL Week 1 Recap
- Sept. 12
2017 NFL Week 2 Recap
- Sept. 19
2017 NFL Week 3 Recap
- Sept. 26
2017 NFL Week 4 Recap
- Oct. 2
2017 NFL Week 5 Recap
- Oct. 9
2017 NFL Week 6 Recap
- Oct. 16
2017 NFL Week 7 Recap
- Oct. 23
2017 NFL Week 8 Recap
- Oct. 30
2017 NFL Week 9 Recap
- Nov. 6
2017 NFL Week 10 Recap
- Nov. 13
2017 NFL Week 11 Recap
- Nov. 20
2017 NFL Week 12 Recap
- Nov. 27
2017 NFL Week 13 Recap
- Dec. 4
2017 NFL Week 14 Recap
- Dec. 11
2017 NFL Week 15 Recap
- Dec. 18
2017 NFL Week 16 Recap
- Dec. 25
2017 NFL Week 17 Recap
- Jan. 1
2017 NFL Week 18 Recap
- Jan. 8
2017 NFL Week 19 Recap
- Jan. 15
2017 NFL Week 20 Recap
- Jan. 22
Super Bowl LII Recap
- Feb. 5
2016:
Live 2016 NFL Draft Blog
- April 30
2016 NFL Week 1 Recap
- Sept. 12
2016 NFL Week 2 Recap
- Sept. 19
2016 NFL Week 3 Recap
- Sept. 26
2016 NFL Week 4 Recap
- Oct. 3
2016 NFL Week 5 Recap
- Oct. 10
2016 NFL Week 6 Recap
- Oct. 17
2016 NFL Week 7 Recap
- Oct. 24
2016 NFL Week 8 Recap
- Oct. 31
2016 NFL Week 9 Recap
- Nov. 7
2016 NFL Week 10 Recap
- Nov. 14
2016 NFL Week 11 Recap
- Nov. 21
2016 NFL Week 12 Recap
- Nov. 28
2016 NFL Week 13 Recap
- Dec. 5
2016 NFL Week 14 Recap
- Dec. 12
2016 NFL Week 15 Recap
- Dec. 19
2016 NFL Week 16 Recap
- Dec. 26
2016 NFL Week 17 Recap
- Jan. 2
2016 NFL Week 18 Recap
- Jan. 9
2016 NFL Week 19 Recap
- Jan. 16
2016 NFL Week 20 Recap
- Jan. 23
2016 NFL Week 21 Recap
- Feb. 6
2015:
Live 2015 NFL Draft Blog
- April 30
2015 NFL Week 1 Recap
- Sept. 12
2015 NFL Week 2 Recap
- Sept. 17
2015 NFL Week 3 Recap
- Sept. 24
2015 NFL Week 4 Recap
- Oct. 1
2015 NFL Week 5 Recap
- Oct. 8
2015 NFL Week 6 Recap
- Oct. 15
2015 NFL Week 7 Recap
- Oct. 22
2015 NFL Week 8 Recap
- Oct. 29
2015 NFL Week 9 Recap
- Nov. 5
2015 NFL Week 10 Recap
- Nov. 12
2015 NFL Week 11 Recap
- Nov. 19
2015 NFL Week 12 Recap
- Nov. 26
2015 NFL Week 13 Recap
- Dec. 4
2015 NFL Week 14 Recap
- Dec. 11
2015 NFL Week 15 Recap
- Dec. 18
2015 NFL Week 16 Recap
- Dec. 25
2015 NFL Week 17 Recap
- Jan. 4
2015 NFL Week 18 Recap
- Jan. 11
2015 NFL Week 19 Recap
- Jan. 18
2015 NFL Week 20 Recap
- Jan. 25
Super Bowl 50 Recap
- Feb. 8
2014:
Live 2014 NFL Draft Blog
- May 8
2014 NFL Week 1 Recap
- Sept. 5
2014 NFL Week 2 Recap
- Sept. 12
2014 NFL Week 3 Recap
- Sept. 19
2014 NFL Week 4 Recap
- Sept. 26
2014 NFL Week 5 Recap
- Oct. 3
2014 NFL Week 6 Recap
- Oct. 10
2014 NFL Week 7 Recap
- Oct. 17
2014 NFL Week 8 Recap
- Oct. 24
2014 NFL Week 9 Recap
- Oct. 31
2014 NFL Week 10 Recap
- Nov. 6
2014 NFL Week 11 Recap
- Nov. 13
2014 NFL Week 12 Recap
- Nov. 20
2014 NFL Week 13 Recap
- Nov. 27
2014 NFL Week 14 Recap
- Dec. 5
2014 NFL Week 15 Recap
- Dec. 12
2014 NFL Week 16 Recap
- Dec. 19
2014 NFL Week 17 Recap
- Dec. 29
2014 NFL Week 18 Recap
- Jan. 4
2014 NFL Week 19 Recap
- Jan. 11
2014 NFL Week 20 Recap
- Jan. 18
Super Bowl XLIX Live Blog
- Feb. 1
Super Bowl XLIX Recap
- Feb. 2
2013:
Live 2013 NFL Draft Blog
- April 26
2013 NFL Week 1 Recap
- Sept. 10
2013 NFL Week 2 Recap
- Sept. 17
2013 NFL Week 3 Recap
- Sept. 24
2013 NFL Week 4 Recap
- Oct. 1
2013 NFL Week 5 Recap
- Oct. 8
2013 NFL Week 6 Recap
- Oct. 15
2013 NFL Week 7 Recap
- Oct. 22
2013 NFL Week 8 Recap
- Oct. 29
2013 NFL Week 9 Recap
- Nov. 4
2013 NFL Week 10 Recap
- Nov. 11
2013 NFL Week 11 Recap
- Nov. 18
2013 NFL Week 12 Recap
- Nov. 25
2013 NFL Week 13 Recap
- Dec. 2
2013 NFL Week 14 Recap
- Dec. 9
2013 NFL Week 15 Recap
- Dec. 16
2013 NFL Week 16 Recap
- Dec. 23
2013 NFL Week 17 Recap
- Dec. 30
2013 NFL Week 18 Recap
- Jan. 6
2013 NFL Week 19 Recap
- Jan. 13
2013 NFL Week 20 Recap
- Jan. 20
Super Bowl XLVIII Recap
- Feb. 3
Super Bowl XLVIII Live Blog
- Feb. 2
2012:
Live 2012 NFL Draft Blog
- April 26
2012 NFL Week 1 Recap
- Sept. 10
2012 NFL Week 2 Recap
- Sept. 17
2012 NFL Week 3 Recap
- Sept. 24
2012 NFL Week 4 Recap
- Oct. 1
2012 NFL Week 5 Recap
- Oct. 8
2012 NFL Week 6 Recap
- Oct. 15
2012 NFL Week 7 Recap
- Oct. 22
2012 NFL Week 8 Recap
- Oct. 29
2012 NFL Week 9 Recap
- Nov. 5
2012 NFL Week 10 Recap
- Nov. 12
2012 NFL Week 11 Recap
- Nov. 19
2012 NFL Week 12 Recap
- Nov. 26
2012 NFL Week 13 Recap
- Dec. 3
2012 NFL Week 14 Recap
- Dec. 10
2012 NFL Week 15 Recap
- Dec. 17
2012 NFL Week 16 Recap
- Dec. 24
2012 NFL Week 17 Recap
- Dec. 31
2012 NFL Week 18 Recap
- Jan. 7
2012 NFL Week 19 Recap
- Jan. 14
2012 NFL Week 20 Recap
- Jan. 21
Super Bowl XLVII Recap
- Feb. 4
Super Bowl XLVII Live Blog
- Feb. 4
2011:
Live 2011 NFL Draft Blog
- April 28
2011 NFL Week 1 Recap
- Sept. 12
2011 NFL Week 2 Recap
- Sept. 19
2011 NFL Week 3 Recap
- Sept. 26
2011 NFL Week 4 Recap
- Oct. 3
2011 NFL Week 5 Recap
- Oct. 10
2011 NFL Week 6 Recap
- Oct. 17
2011 NFL Week 7 Recap
- Oct. 24
2011 NFL Week 8 Recap
- Oct. 31
2011 NFL Week 9 Recap
- Nov. 7
2011 NFL Week 10 Recap
- Nov. 14
2011 NFL Week 11 Recap
- Nov. 21
2011 NFL Week 12 Recap
- Nov. 28
2011 NFL Week 13 Recap
- Dec. 5
2011 NFL Week 14 Recap
- Dec. 12
2011 NFL Week 15 Recap
- Dec. 19
2011 NFL Week 16 Recap
- Dec. 26
2011 NFL Week 17 Recap
- Jan. 2
2011 NFL Week 18 Recap
- Jan. 9
2011 NFL Week 19 Recap
- Jan. 16
2011 NFL Week 20 Recap
- Jan. 23
Super Bowl XLVI Live Blog
- Feb. 6
2010:
Live 2010 NFL Draft Blog
- April 22
2010 Hall of Fame Game Live Blog
- Aug. 8
2010 NFL Kickoff Live Blog
- Sept. 9
2010 NFL Week 1 Review
- Sept. 13
2010 NFL Week 2 Review
- Sept. 20
2010 NFL Week 3 Review
- Sept. 27
2010 NFL Week 4 Review
- Oct. 4
2010 NFL Week 5 Review
- Oct. 11
2010 NFL Week 6 Review
- Oct. 18
2010 NFL Week 7 Review
- Oct. 25
2010 NFL Week 8 Review
- Nov. 1
2010 NFL Week 9 Review
- Nov. 8
2010 NFL Week 10 Review
- Nov. 15
2010 NFL Week 11 Review
- Nov. 22
2010 NFL Week 12 Review
- Nov. 29
2010 NFL Week 13 Review
- Dec. 6
2010 NFL Week 14 Review
- Dec. 13
2010 NFL Week 15 Review
- Dec. 20
2010 NFL Week 16 Review
- Dec. 27
2010 NFL Week 17 Review
- Jan. 3
2010 NFL Week 18 Review
- Jan. 10
2010 NFL Week 19 Review
- Jan. 17
2010 NFL Week 19 Review
- Jan. 24
Super Bowl XLV Live Blog
- Feb. 6
2009:
Live 2009 NFL Draft Blog
- April 25
2009 Hall of Fame Game Live Blog
- Aug. 10
2009 NFL Kickoff Live Blog
- Sept. 10
2009 NFL Week 1 Review
- Sept. 14
2009 NFL Week 2 Review
- Sept. 21
2009 NFL Week 3 Review
- Sept. 28
2009 NFL Week 4 Review
- Oct. 5
2009 NFL Week 5 Review
- Oct. 12
2009 NFL Week 6 Review
- Oct. 19
2009 NFL Week 7 Review
- Oct. 26
2009 NFL Week 8 Review
- Nov. 2
2009 NFL Week 9 Review
- Nov. 9
2009 NFL Week 10 Review
- Nov. 16
2009 NFL Week 11 Review
- Nov. 23
2009 NFL Week 12 Review
- Nov. 30
2009 NFL Week 13 Review
- Dec. 6
2009 NFL Week 14 Review
- Dec. 13
2009 NFL Week 15 Review
- Dec. 20
2009 NFL Week 16 Review
- Dec. 27
2009 NFL Week 17 Review
- Jan. 4
2009 NFL Week 18 Review
- Jan. 11
2009 NFL Week 19 Review
- Jan. 18
2009 NFL Week 20 Review
- Jan. 25
Super Bowl XLIV Live Blog
- Feb. 7
2008:
Live 2008 NFL Draft Blog
- April 26
2008 NFL Kickoff Blog
- Sept. 4
NFL Week 1 Review
- Sept. 8
NFL Week 2 Review
- Sept. 15
NFL Week 3 Review
- Sept. 22
NFL Week 4 Review
- Sept. 29
NFL Week 5 Review
- Oct. 6
NFL Week 6 Review
- Oct. 13
NFL Week 7 Review
- Oct. 20
NFL Week 8 Review
- Oct. 27
NFL Week 9 Review
- Nov. 3
NFL Week 10 Review
- Nov. 10
NFL Week 11 Review
- Nov. 17
NFL Week 12 Review
- Nov. 24
NFL Week 13 Review
- Dec. 1
NFL Week 14 Review
- Dec. 8
NFL Week 15 Review
- Dec. 15
NFL Week 16 Review
- Dec. 22
NFL Week 17 Review
- Dec. 29
NFL Wild Card Playoffs Review
- Jan. 4
NFL Divisional Playoffs Review
- Jan. 11
NFL Championship Sunday Review
- Jan. 19
Super Bowl XLIII Live Blog