Ravens 42, Jets 21
Even though the Ravens doubled up the Jets on the scoreboard, the result of this game is not indicative of how lopsided it was. Baltimore was up 35-7 at one point when it allowed some sloppy touchdowns to the Jets. New York scored on a blocked punt and a Jamison Crowder touchdown set up by a long Robby Anderson reception. Lamar Jackson didn't even play for most of the fourth quarter, so the Ravens could have prevailed by more than three touchdowns if they really wanted to.


Jackson came into this game with a quad injury, so some people doubted his ability to dominate this contest. Jackson proved the doubters wrong once again. He was terrific, going 15-of-23 for 212 yards and five touchdowns. That's correct - one third of his completions went for touchdowns. Jackson also rushed for 86 yards on eight scrambles, showing no ill effects of his quad injury.

While Jackson was dominant, he made a couple of mistakes. He missed some passes he should've hit, including a deep score to Mark Andrews in the fourth quarter. It's crazy to think that Jackson could've posted even more than the 46 fantasy points he accumulated in this contest. My condolences if you had to battle him in the semi-final of your fantasy league.


Amazingly, all five of Jackson's touchdowns went to different players. Miles Boykin (1-5) caught the first, then Andrews (4-52) found the end zone on a play that was set up by Marquise Brown's drawn pass interference in the end zone. Brown (4-45) eventually scored as well, as did Seth Roberts (3-66) and Mark Ingram.


Speaking of Ingram, he had a huge fantasy performance. He rushed for 76 yards on 13 carries on top of logging two touchdowns. His scoring reception, a 10-yarder, was his only catch of the night.


The Jets were in a constant deficit, yet found a way to give Le'Veon Bell 21 carries. Bell turned those attempts into 87 yards. Curiously, Adam Gase shied away from giving Bell the ball on multiple fourth-down tries. Perhaps Gase was preparing for life without Bell next season.


Sam Darnold failed on those fourth-down attempts. He was 18-of-32 for 218 yards, two touchdowns and an interception where he threw the ball right to a Baltimore player, which made me wonder if his backup tight end, Daniel Brown, ran the wrong route. Darnold's numbers weren't bad, but he struggled. He missed some throws he should've converted, including one where he had someone named Jeff Smith open on a deep score, but heaved the ball out of bounds. Darnold also lost a fumble that set up a Baltimore touchdown.


Despite Darnold's struggles, Jamison Crowder had a big night. Crowder caught six of his 11 targets for 90 yards and two touchdowns. Crowder dropped a ball in the end zone, but scored two plays later. Anderson (4-66) was next on New York's receiving list.




Patriots 34, Bengals 13
The final score of this game is certainly not indicative of how these teams performed. This was just a 13-10 affair at halftime, as the Patriots' defense had extreme difficulty getting off the field. For example, the Bengals ran eight times for 86 rushing yards on their opening drive, setting up a play-action throw to Cethan Carter for a 7-0 touchdown. Cincinnati's defense, meanwhile, was getting plenty of pressure on Tom Brady. The collapsing pocket caused Brady to overthrow Mohamed Sanu for a potential touchdown in the second quarter. Brady was then sacked on the ensuing third down.

It appeared as though the Patriots might lose to the Bengals, but that's when Andy Dalton began to implode. Dalton fired his first interception, which was a great play by Stephon Gilmore. This set up a Brady touchdown throw to N'Keal Harry. Dalton then heaved a weak floater that sailed behind his receiver. Gilmore made the interception once again, and this time, he ran all the way to the end zone to give his team a 27-10 lead. Dalton made it a hat trick at the end of the third quarter when he was picked deep in New England territory on a weak-armed heave.

Dalton's poor play ruined a potential victory. He finished 17-of-31 for only 151 yards, one touchdown and four interceptions. This, however, was the best thing that could've happened to Cincinnati. With the Giants foolishly prevailing, the Bengals are one loss away from clinching the No. 1 pick in the 2020 NFL Draft, which will be used on Joe Burrow. For more, check out my 2020 NFL Mock Draft.


Meanwhile, the Patriots had a rocky offensive performance. Aside from the lack of picks, Brady nearly had the same stat line as Dalton, going 15-of-29 for just 128 yards. Brady saw lots of pressure, but wasn't going against a great secondary, or anything. Despite the victory, the Patriots can't be encouraged by what they saw from Brady and the rest of the offense in this contest.


Brady's two touchdowns went to James White (3-49) and Harry (2-15). White actually led the Patriots in receiving despite being guilty of a drop, as Julian Edelman was a major disappointment; he caught just two of his five targets for nine yards. However, Edelman wasnt at fault, as Brady hurled a couple of uncatchable balls in Edelman's direction in the opening quarter.

That said, Edelman betrayed Brady with a drop toward the end of the second quarter. Sanu was even worse, dropping a pass on fourth-and-4. He caught just two of his eight targets for a mere 13 yards. He appears to be a waste of a second-round pick.


I suspected the Patriots would be able to move the chains on the ground against Cincinnati, and they were able to do so, as Sony Michel dashed for 89 yards on 19 carries. Unfortunately for Michel owners - if there are any who made it this far into the playoffs - they saw a touchdown vultured by Rex Burkhead (6-53).


As referenced earlier, the Bengals had great success on the ground. Joe Mixon gaind 136 yards on 25 carries. He would've had a monster afternoon had the Bengals not fallen way behind in the third quarter. Mixon also caught three passes for 20 receiving yards.


Cincinnati's leader in receiving yardage was Tyler Eifert (3-44), followed by Tyler Boyd (3-26). Boyd saw a team-high seven targets, but could barely do anything with them because of Gilmore's elite coverage.




Buccaneers 38, Lions 17
The Lions were missing 10 starters entering this game, yet for a split second, it appeared as though they'd be able to compete with the Buccaneers. That's because Jameis Winston had his usual gaffe, throwing an interception on the opening drive because he didn't see linebacker Jahlani Tavai.

That, however, was the end of Detroit's chances of winning this contest. The Lions quickly went three-and-out following the pick, while Winston bounced back to throw a pair of deep touchdowns on the next couple of drives. A 14-0 deficit was absolutely insurmountable for a team missing double-digit starters, though the Lions managed to make things interesting at the end before David Blough heaved a pick-six when his team advanced past midfield in a seven-point affair.


Winston did a great job rebounding from the pick, which turned out to be his only mistake that counted on the afternoon, though he should've been picked on a pass behind Chris Godwin in the second quarter. Despite missing Mike Evans and losing Godwin to an injury, Winston went 28-of-42 for 458 yards, four touchdowns and his early interception. Granted, Winston was battling a defense missing half of its starters, but this result all but locks in his return to the team next year.


Godwin caught five of his seven targets for 121 yards before he left the game with an injury. He wasn't the primary story, however, as former first-rounder Breshad Perriman finally had the breakout performance Ravens general manager Ozzie Newsome thought he'd see when he spent a Thursday pick on him. Perriman, who had been woefully inefficient in the past, caught five of his six targets for 113 yards and three touchdowns. With Evans and potentially Godwin out, Perriman needs to be added in all fantasy formats.

As for Winston's other receiving options, Scotty Miller (3-49) hauled in Winston's fourth touchdown. O.J. Howard was also a factor with four receptions for 46 yards.


The Buccaneers couldn't run whatsoever on the Lions, as Ronald Jones was limited to 23 yards on 11 carries. Peyton Barber (10-17) wasn't any better.


The best fantasy-performing running back in this contest was Wes Hills, a rookie out of Slippery Rock. With Bo Scarbrough out, Hills rumbled for 21 yards on 10 carries, scoring two touchdowns in the process.


Blough had a disappointing showing, considering the positive matchup. He went 24-of-43 for only 260 yards and two interceptions, one of which was a telegraphed pick-six when this game was interesting. His other interception was hurled off his back foot, resulting in a hideous overthrow. Blough also missed some passes he should've converted, including a potential connection to Kenny Golladay to move the chains on a third down. He also had Golladay open deep downfield in the middle of the third quarter, but missed him by a mile. Blough was bad, but it's worth noting that his offensive line was down two starters.


Blough's primary target was Danny Amendola, who secured eight of his 13 targets for 102 yards. He caught a 46-yard bomb while being interfered with. Conversely, Golladay (3-44) was a big disappointment, but it wasn't his fault that the pedestrian Blough missed him on multiple occasions.




Packers 21, Bears 13
The Packers limped into this game, coming off sluggish victories over the Redskins and Giants, following a blowout loss to the 49ers. Pass protection had been a major issue, as Aaron Rodgers was constantly hounded in the Washington game. The concern here was obvious. If the Packers couldn't pass protect for Rodgers against the Redskins, how would they shield him versus a superior Chicago pass rush, which would be welcoming back Akiem Hicks from injury?

I don't know how the Packers did it, but they protected Rodgers extremely well in this contest. Rodgers often had all the time in the world to find his receivers for big gains. He was sacked just once.

Rodgers, however, was limited to only 21 points and a poor stat line - 16-of-33, 203 yards, one touchdown - because of his horrible receivers not named Davante Adams. The Packer wideouts dropped several passes. This includes Marquez Valdes-Scantling's dropped 70-yard touchdown and Geronimo Allison's drop on third down. Then again, Rodgers was lucky he wasn't picked by linebacker Nick Kwiatkoski at the end of the opening half. Rodgers was also very fortunate that a fumble of his deep in his own territory was overturned by replay review.


Adams was the only Packer receiver who had more than one catch and more than 20 receiving yards. He reeled in seven of his 13 targets for 103 yards and a touchdown. The next-best receiver was Jake Kumerow, who caught only one pass for 49 yards to set up a touchdown. Allison (2-19) and Valdes-Scantling (no catches) were both awful and need to be replaced this offseason.


Aaron Jones had a big fantasy day despite being limited to just 51 yards on 13 carries. He scored twice, however, as the Bears had some poor tackling efforts in the red zone, mainly by Prince Amukamara.


The Bears, meanwhile, struggled to move the chains for most of the afternoon. That's because Mitchell Trubisky suffered through some major regression. Trubisky played well against the Cowboys last Thursday because he was more decisive and was willing to scramble more. The Trubisky we saw against the Packers was way more tentative. He seldom scrambled - four carries, 29 yards - and he would often drift backward in the pocket and loft horrible passes.

Trubisky had a great yardage total - he was 29-of-53 for 348 yards and a touchdown - but that's not indicative of how he really performed. Most of his positive production came in garbage time. He also threw two interceptions, though one came on a Hail Mary attempt at the end of the opening half.


Trubisky's lone touchdown went to Anthony Miller, who had another monstrous outing. He caught nine of his 15 targets for 118 yards and a touchdown. He trailed only Allen Robinson (7-125) on the stat sheet.


David Montgomery couldn't find any running room, mustering only 39 yards on 14 carries. Tarik Cohen didn't run very well either (8-28), but he was a much bigger factor in the passing game, snatching seven of his 10 targets for 57 receiving yards.




Texans 24, Titans 21
The Texans took the first of two meetings over a 3-week span to decide the AFC South, but they did so unconventionally. A couple of weird plays decided this game, and both occurred early.

The first took place at the end of Tennessee's initial drive. The possession featured a Ryan Tannehill 60-yard bomb to A.J. Brown, but the drive concluded with a blocked field goal. Soon after that, the Titans had another success drive enter the red zone. Tannehill delivered a potential score to backup tight end Anthony Firkser, but a defender delivered a crushing hit, causing the ball to ricochet into the arms of Whitney Mercilus. The Texan linebacker would've scored if Jonnu Smith didn't run him down, but it didn't matter because Deshaun Watson capitalized on the turnover with a touchdown pass to Kenny Stills.

The Titans were in a constant deficit as a result of these plays, but they tried to make it a game in the second half. They actually tied this contest, but their injury-ravaged secondary had no answer for Watson.


Watson finished 19-of-27 for 243 yards, two touchdowns and a pair of interceptions. As with Tannehill, Watson had a fluky pick when a pass of his was batted into the air. The other interception was a late throw, which allowed Kenny Vaccaro to make a great play to break on the ball. Watson had a key scramble in the fourth quarter to convert a fourth-and-8, setting up the game-winning score.


Watson's two touchdowns both went to Stills, who did nothing much otherwise. Stills caught three balls for 35 yards, trailing both DeAndre Hopkins (6-119) and Will Fuller (5-61).


The Texans continue to incorrectly feed the ball to Carlos Hyde over Duke Johnson. Proving that it's better to be lucky than good, Hyde had some surprisingly successful runs in this contest, as he gained 104 yards and a touchdown on 26 attempts.


In a shocking turn of events, Hyde had more rushing yards than Derrick Henry. The bulldozing, Bowser-type running back was stymied in a tough matchup in this contest, as he gained 86 yards on 21 carries. Given that the Titans were in an early deficit, they just couldn't run with Henry as much as they wanted to, though Henry didn't really have many good running lanes to burst through.


Tannehill had to carry the team, and he put some nice drives together, including a possession that lasted nearly 10 minutes. It nearly resulted in no points, thanks to some Henry stuffs at the goal line and a great play by Zach Cunningham, but Tannehill scored with a rushing touchdown on fourth down.

Tannehill ended up going 22-of-36 for 279 yards, three touchdowns (two passing, one rushing) and the aforementioned interception. He played well, but poor variance ruined a potential victory.


A.J. Brown put together another monstrous performance. He caught eight of his 13 targets for 114 yards and a touchdown. He outgained Jonnu Smith (5-60) and Corey Davis (3-57) by a wide margin. He reeled in the aforementioned 60-yard bomb, then made some impressive receptions in the second half. He made a nice toe-tapping play along the sideline to move the chains on third down, then somehow hauled in a ball that was thrown way behind him. Brown is already a solid No. 1 NFL receiver, as far as I'm concerned, and the sky is the limit for him.




Chiefs 23, Broncos 3
Any thought that the heavy snow on the field would bother Patrick Mahomes and the rest of his play-makers was quickly dismissed on the opening drive. Patrick Mahomes led the team down the field for a touchdown, as the possession was capped off by a 41-yard touchdown bomb to Tyreek Hill. That was the only trip to the end zone Kansas City had in the first half, but the team added three field goals to its scoring total to have a 12-point lead entering intermission.

Mahomes was playing very well at the moment - 15-of-19, 210 yards, TD prior to halftime - but the bigger story was the defense. It allowed just three points to a red-hot Drew Lock, and that number would've been zero had the Broncos not surprised the Chiefs with a fourth-and-1 deep shot to Noah Fant. Lock connected with Fant, showing great touch, and that set up a field goal. That was the only time Kansas City's improved defense surrendered points in meaningful action.

If the defense can continue to play like this, it'll be very difficult to defeat the Chiefs. The defense was the downfall last year, which spoiled Mahomes' MVP season. Mahomes, of course, is as good as ever; he went 27-of-34 for 340 yards, two touchdowns and an interception on a great play made by safety Justin Simmons.


Hill ended up catching both of Mahomes' touchdowns. He caught five of his seven targets for 67 yards. He trailed only Travis Kelce on the stat sheet; Kelce hauled in 11 of his 13 targets for 142 yards. He also drew an interference flag.


If there's a dark cloud over this victory, it's that the Chiefs' running game was horrible. LeSean McCoy showed no signs of life once again outside of one play where he had a nice cut-back run. Otherwise, he was limited to just 16 yards on six carries. He was outgained by both Darwin Thompson (8-38) and Spencer Ware (7-26). Damien Williams could return next week.


It was disappointing to see Phillip Lindsay struggle on the stat sheet as much as the Kansas City backs. Don't blame Lindsay for the most part though. Some genius Denver coaching made sure that Lindsay had just seven carries, which he turned into 32 yards. He was guilty of a drop, however. Royce Freeman (5-12) didn't do anything with his opportunities.


Denver's coaching hung Drew Lock out to dry by not running the ball at all. Instead, they had Lock attempt 40 passes. He completed just 18 of them for 208 yards and an interception. Lock appeared to be picked on a desperate heave on fourth down, but the turnover was negated by a penalty. Lock followed that up with an interception on the very next play, making a horrible toss into the end zone on first down.

It must be note that Lock showed some flaws with his pocket awareness and mechanics. He sometimes held the ball in the pocket too long. Even worse, he sometimes drifted back in the pocket too much and fired a pass off his back foot, causing him to release some poor passes.


Only two Broncos had more than 26 receiving yards. They were the usual suspects: Courtland Sutton (4-79) and Fant (2-56). Lock and Sutton had a miscommunication on one occasion. Still, Denver needs another wideout, and I have it taking one in my 2020 NFL Mock Draft.




Giants 36, Dolphins 20
Giants fans had a nice dose of 'Member Berries last Monday night when they watched Eli Manning play well against the Eagles for a half of action. The 'Member Berry addiction was real in this game, as Manning led the team to a victory this time, improving his career record to an even .500. Manning high-fived the fans after the game, as those in the stands may have been happy to know that the Giants still preserved the No. 2 overall pick in the 2020 NFL Draft, thanks to oppnents' win percentage.

Manning went 20-of-28 for 283 yards, two touchdowns and three interceptions. Manning threw some horrible picks - he telegraphed one of them, and he failed to see linebacker Jerome Baker in coverage on another - but he had some bright moments as well in a very favorable matchup against the dreadful Dolphins.


Manning's touchdowns went to Golden Tate (1-51) and Darius Slayton (2-31), though both trailed Sterling Shepard in the box score. Shepard logged nine targets on 11 targets for 111 yards.


While the fans enjoyed watching Manning at home one last time - if he doesn't start the season finale versus the Eagles - it was Saquon Barkley who stole the show. Barkley had been a major disappointment for his fantasy owners ever since he returned from his ankle sprain that he suffered in Tampa Bay. Perhaps it was too late for them, but Barkley finally came alive against Miami's horrible run defense. He ran for 112 yards and two touchdowns on 24 carries, while also catching four of his five targets for 31 receiving yards.


Meanwhile, the Dolphins were doing their best to hang around, but mistakes crushed their chances. They missed a 49-yard field goal, saw Patrick Laird stuffed on a fourth-and-1 in the red zone and lost a turnover when Ryan Fitzpatrick fumbled while scrambling. Despite this, the Giants led by just one, 14-13, in the third quarter when Miami self destructed. Laird was tackled in his own end zone for a safety, and the Giants were able to score a touchdown on a short field after that to establish a double-digit lead.

Laird had a disappointing game overall. Aside from the safety and stuff, Laird was limited to 46 yards on 12 carries, and he also caught two passes for only eight receiving yards. Even worse, Myles Gaskin (9-43) nearly had as many carries, so this should take Laird out of fantasy consideration going forward.


Fitzpatrick went 23-of-41 for 279 yards and two touchdowns. He also lost a fumble on the scramble, but posted solid numbers in a very easy matchup.


Both of Fitzpatrick's touchdowns went to DeVante Parker (4-72). Parker and Albert Wilson (5-59) led the Dolphins in receiving despite suffering concussions last week.




Seahawks 30, Panthers 24
The final score may say that the Seahawks won by just six points, but this was a blowout for most of the afternoon. The Seahawks were up 30-10 in the fourth quarter, but they surrendered a pair of garbage-time touchdowns to ruin a possible cover for those who bet on them.

The Seahawks had a very easy time moving the chains on the Panthers. Carolina's horrible run defense was once again exposed, as Chris Carson rushed for 133 yards and two touchdowns on 24 carries. Seattle had a very run-heavy drive to start, as Carson plunged into the end zone at the end of the possession. He didn't see much work after that in the opening half, but he was a late-game hammer following intermission, scoring his second touchdown after halftime. Carson ended up with 133 yards and two scores on 24 carries.

Carson didn't do much else in the opening half because Russell Wilson torched the Panthers with some long throws. Wilson made one bad play when he was strip-sacked, but that was negated by a penalty. Wilson hit some big plays otherwise, and he ended up with just six incompletions on the afternoon. Wilson finished 20-of-26 for 286 yards and two touchdowns.


Tyler Lockett led the Seahawks in receiving, thanks to a 44-yard reception he made as he was getting tackled. Lockett tallied eight catches for 120 yards and a touchdown. D.K. Metcalf (2-36) also found the end zone. It's also worth noting that while Josh Gordon caught a 58-yard diving pass, he was also responsible for an interception on a trick play.


The dark cloud over this victory was an injury to Bobby Wagner, who got hurt in the fourth quarter. Wagner is one of the top linebackers in the NFL, and Seattle won't be the same without him if he's out for a while.


As for the Panthers, Kyle Allen had a dreadful performance. Save for the interception count, the stats may not show it, as Allen went 25-of-41 for 277 yards and a touchdown. However, Allen threw three picks and was way off the mark on several of his other passes. Allen wasn't even close to Jarius Wright on an early third-down attempt, and he later was picked on a late throw, which allowed Wagner to step in front of the intended receiver. Allen's next interception was tipped at the line of scrimmage. Following yet another interception - a panicked throw under heavy pressure - Allen was seemingly pick-sixed, but replay review showed that the Seattle defender dropped the ball.

Allen accumulated some garbage time late in the game to make his stats look better than they should've been. He was horrible, however, and it's clear now that he's nothing more than a decent backup. The Panthers might as well see what they have in Will Grier in the final two games of the season.


Christian McCaffrey did the best he could to keep the Panthers in the game. McCaffrey had yet another dominant fantasy performance. He rushed for 87 yards and two touchdowns on 19 carries, and he also caught eight of his 12 targets for 113 receiving yards.


Only one Panther had more receiving yards than McCaffrey, and that was D.J. Moore, who did all of his work in garbage time. Moore had just one reception in the opening half, but finished with eight catches for 113 yards.

Elsewhere in the Carolina receiving corps, Curtis Samuel (5-31) caught Allen's lone touchdown. Ian Thomas (2-23) dropped a ball.




Eagles 37, Redskins 27
By Charlie Campbell -
@draftcampbell
EDITOR'S NOTE: I'm glad I had just one unit on the Redskins. I may have had a complete meltdown after losing the cover on that ridiculous final play.


The Eagles were fortunate to win this game, as Washington outplayed them for long stretches. Dwayne Haskins had his best game as a pro, but Carson Wentz willed his team to win with some clutch passes to produce touchdowns, while the Redskins settled for a few too many field goals. At the end of the day, Philadelphia keeps pace with Dallas to potentially win the weakest division in the NFL, while the Redskins maintained their status for a top-three pick next April.


The Eagles struck first with Wentz leading a field goal drive, but quickly after that, Haskins hit Terry McLaurin on a slant and McLaurin made a defender miss to explode downfield for a 75-yard touchdown. Philadelphia moved into Washington territory on the ensuing drive, and the officials helped the Eagles with a terrible low-hit-on-the-quarterback penalty when Wentz was actually tackled around the waist. A few plays later, Miles Sanders had a short rushing touchdown to go up 10-7.

The Redskins responded with the ageless wonder Adrian Peterson ripping the Eagles on a few runs, including a perfectly executed option by Haskins to flip the ball to Peterson for a chunk run to get inside the 10-yard line. On third-and-goal, Haskins threw a bullet to Steven Sims (4-45) in the back of the end zone for the score. It was phenomenal ball placement by Haskins to throw open Sims, and the Redskins took a 14-10 lead into halftime.

Philadelphia took the lead when Wentz rolled out and made an unbelievable pass to Sanders for a 15-yard touchdown. It was perfectly placed with velocity to fire the ball past three Redskins defenders for the score. It was one of the best passes of the 2019 season. Washington answered with Peterson running for a key conversion and before Haskins took off on a 23-yard run to get inside the 20. To end the drive, Peterson had a 10-yard score, tying him with Walter Payton for fourth all time in rushing touchdowns (110). That gave the Redskins a 21-17 lead early in the fourth quarter.

Not much later, Sanders took off on a 56-yard run, which set up a short touchdown pass to Zach Ertz. The Redskins answered with a field goal to tie it at 24 with eight minutes remaining. On the ensuing possession, Redskins linebacker Ryan Anderson continued his huge game with a strip-sack that was recovered by Jonathan Allen at the Eagles' 34-yard line. That turnover was turned into another Dustin Hopkins field goal for a 27-24 lead.

Wentz responded by moving the ball, and Dallas Goedert made a beautiful one-handed catch to get into Washington territory. With just under 30 seconds remaining, Wentz lofted in a short touchdown pass to Greg Ward (7-61-1) for the win.


Wentz was 30-of-43 for 266 yards and three touchdowns. Ertz had five receptions for 61 yards and a touchdown.


Miles Sanders had a huge performance for Philadelphia, running for 122 yards on 19 carries with a touchdown and made six receptions for 50 yards and another receiving score.


Dwayne Haskins completed 19-of-28 passes for 261 yards with two touchdowns and zero interceptions.


Peterson ran for 66 yards on 16 carries with a touchdown.


McLaurin had five receptions for 130 yards and a touchdown.




Vikings 39, Chargers 10
By Charlie Campbell -
@draftcampbell
EDITOR'S NOTE: I wish I would've known that Melvin Gordon bet on the Vikings. That would've been great information to know before I made my pick on this game.


The Vikings cruised in Los Angeles, and this game had the feel of an SEC team scheduling a cupcake opponent late in the season to notch team an easy win that essentially serves as a bye before a tougher opponent. Minnesota has Green Bay next week, but the Vikings weren't looking ahead, as they dominated. The Chargers could not stop fumbling the ball, and Philip Rivers provided another example that his talent is fading quickly with a meltdown turnover performance.


The Vikings took the opening drive down the field, with Irv Smith hauling in a 1-yard touchdown reception. The Chargers responded with two passes to Mike Williams for 58 yards, which produced a field goal for Los Angeles. Then the turnover parade started for the Chargers, as Danielle Hunter stripped Gordon of the ball, and Vikings safety Harrison Smith recovered at the Chargers' 10-yard line. That gifted Minnesota a field goal to start the second quarter.

On the ensuing Chargers possession, Rivers found Keenan Allen for some key conversations and a 27-yard pass to Austin Ekeler set up a first-and-goal. Mike Williams (4-71-1) skied over Mike Hughes for a short touchdown catch to give Los Angeles a 10-9 lead. Minnesota got away with a hold on Joey Bosa to get a 13-yard completion to Adam Thielen (3-27) for a key conversion that set up another field goal for the Vikings. Late in the first half, Rivers made a terrible decision of throwing a ball up for grabs in the middle of the field, and it floated to Harrison Smith for an interception. The Vikings were in position to take firm control of the game, but Kirk Cousins threw an interception to Melvin Ingram.

Rivers would not let Cousins out-do him, committing an ugly turnover before the half. With 20 seconds remaining, Rivers demonstrated terrible ball security while under pressure from Danielle Hunter and dropped the ball. Ifeadi Odenigbo scooped up the loose ball and returned it 56 yards for a touchdown to give Minnesota a 19-10 lead at halftime.

Gordon fumbled the ball away on the opening play of the third quarter, and Hunter recovered the ball to set up Vikings at the 26-yard line. That produced another field goal for Minnesota. Late in the third quarter, the Chargers got deep into Vikings territory with a 24-yard completion to Hunter Henry, but Rivers threw a terrible fourth-down pass to squander the scoring opportunity. A 46-yard pass to Stefon Diggs set up an e8t-yard touchdown run by Mike Boone (13-56-2) to put the Chargers away.


Cousins completed 19-of-25 passes for 207 yards with a touchdown pass and an interception. Diggs caught four passes for 76 yards.


Dalvin Cook ran for 27 yards on nine carries. He suffered a shoulder injury that looked serious.


Rivers completed 28-of-39 passes for 307 yards with one touchdown and three interceptions.


Gordon had 28 yards on seven carries with two critical fumbles. Ekeler had 19 yards on seven carries with five receptions for 62 yards.


Allen had nine catches for 99 yards.




Jaguars 20, Raiders 16
It's staggering that the Raiders lost to Jacksonville. They held a double-digit lead for most of the afternoon in their final game in Oakland. They took 10 trips into Jacksonville territory. That's right - 10 trips across midfield! Despite this, they posted just 16 points. They eventually lost control of this game, as the Jaguars won in the final seconds because the Raiders couldn't put them away earlier and missed a field goal on the preceding drive.

The Raiders made countless mistakes in Jacksonville territory. For example, Derek Carr didn't see a wide-open Zay Jones on third down, opting instead to heave a helpless pass out of bounds. Carr also took some bad sacks and held on to the ball forever. Meanwhile, Jalen Richard didn't help matters by dropping a third-down pass in the red zone. Constant blunders limited the Raiders to just 16 points.


Carr finished 23-of-36 for 267 yards and a touchdown. The stat line doesn't look bad, but Carr was horrible. The Raiders will need to find a new quarterback this offseason to eventually replace him. Here's a link to the 2020 NFL Draft Quarterback Prospect Rankings.


The Raiders shockingly didn't trample Jacksonville's anemic run defense. Josh Jacobs seemed to have a dream matchup, but nothing came of it. Jacobs mustered 89 yards on 24 carries. Pro Bowl right tackle Trent Brown was out with an injury, but that shouldn't have mattered against a Jacksonvlle defense missing its top four linebackers.


Darren Waller was the only Oakland player who consistently played well. Waller hauled in eight of his 10 targets for 122 yards. Tyrell Williams (2-45) caught a 40-yard touchdown when he broke free of a tackle, but he didn't do anything else. Williams has been dealing with an injury for quite some time.


As for the Jaguars, Gardner Minshew struggled for most of the afternoon, as his offensive line struggled to protect him. He and the rest of the Jacksonville offense had just 75 net yards in the opening half. However, Minshew came up big when it mattered most. Minshew went 17-of-29 for 201 yards and two touchdowns.


While Keelan Cole led the Jaguars in receiving - three catches, 76 yards - it was Chris Conley who came up big. Conley caught both fourth-quarter touchdowns, hauling in four of his eight targets for 49 yards. Dede Westbrook (2-14) was a major disappointment.


Leonard Fournette couldn't generate anything on the ground, as he was restricted to 42 yards on 15 carries. He also caught five of his seven targets for 31 receiving yards.




Cardinals 38, Browns 24
The Browns announced that Freddie Kitchens would return for next season, as ownership had been impressed with a recent 4-1 run heading into this contest. Apparently, the vaunted head coach who defeated strong opponents like the Dolphins and Bengals was somehow no match for the Cardinals.


Kyler Murray had a nice bounce-back game from last week's debacle. Murray has thrived whenever he hasn't faced much pressure, and that was the case in this game because Myles Garrett and Olivier Vernon were both out of the lineup. Murray had plenty of explosive scrambles and was accurate whenever he released the ball, for the most part.

Murray misfired on just six attempts, going 19-of-25 for 219 yards, one touchdown and an interception on an underthrow where he didn't put enough touch on the ball. He also scrambled eight times for 56 rushing yards.


While Murray performed well, his performance was nothing compared to Kenyan Drake's. Drake was unbelievable in this game, rushing for 137 yards and a whopping four touchdowns on 22 attempts. It was apparent that he was bound for a big game right away, as he carried multiple defenders on his back on the very first play from scrimmage and then picked up a nice, 9-yard gain after scooting past a helpless defender on a reception on the very next snap. David Johnson - three carries, six yards - was barely a factor. It's ridiculous that the Dolphins had no idea what they possessed with Drake. Adam Gase can mostly be blamed for this.


This may have been Larry Fitzgerald's final home game. He didn't exactly go out with a bang, as he caught three passes for 42 yards. He was second on the team in receiving, trailing only Damiere Byrd (6-86), whose long gain came on a broken tackle. He finished ahead of Christian Kirk and his four catches for 33 yards (to go along with a drawn pass interference in the end zone.) Murray's lone touchdown went to tight end Dan Arnold, who made a nice, toe-tapping grab in the end zone.


Murray bested his fellow Oklahoma alumnus, Baker Mayfield, who failed to take advantage of a great matchup. Opposing quarterbacks have torched the Cardinals relentlessly, but Mayfield failed to do so. His stat line doesn't look too bad - 30-of-43, 247 yards, two touchdowns, one interception - but that's very misleading, as most of his production came in garbage time. He had just 82 yards at intermission, and he was lucky he didn't throw two picks, as an Arizona defender dropped a ball when Mayfield targeted Landry. Mayfield's actual interception came on a horrible overthrow to Odell Beckham Jr. in the end zone.


Mayfield doesn't deserve all of the blame for this loss, as Beckham was guilty of an ugly drop deep downfield on Cleveland's initial drive. Despite this, Beckham finished as the team's leading receiver with eight catches for 66 yards. Landry (5-23) was a big disappointment. Both of Mayfield's touchdowns went to Ricky Seals-Jones (3-29), who avenged his time in Arizona, when he frustrated his former team with his lackluster performances.


Nick Chubb was the best-performing Cleveland player, rushing for 127 yards and a touchdown on just 17 carries. Kareem Hunt, meanwhile, was once again a bigger factor as a receiver out of the backfield, hauling in eight of his nine targets for 62 receiving yards.




Cowboys 44, Rams 21
This was an odd game that began very strangely, as the officials ruled that the Cowboys opted to give the Rams first possession for both halves. Audio tape reversed it, but that's how this contest went.

Some other examples include the Cowboys having 10 men on the field coming out of a timeout, and yet Sean McVay calling his own timeout to negate his advantage. Meanwhile, Dak Prescott had two potential interceptions that were dropped on the same possession, and yet he managed to cap off the drive with a touchdown throw to Jason Witten.

Jared Goff didn't have as much luck. He hit his hand on a helmet as he released a pass in the second quarter and had a swollen thumb as a result. He threw horrible ducks for the rest of the afternoon, giving the Rams no chance to win. He went 33-of-51 for 284 yards, two touchdowns and an interception, which occurred on the play that Goff hurt his hand. It must be noted that most of Goff's yardage came on garbage-time checkdowns.


Going back to Prescott, he was way more efficient, at least on paper, going 15-of-23 for 212 yards and two touchdowns. His second score came on a 59-yard bomb to Tavon Austin, who was wide open because of a busted coverage that came as a result of Prescott escaping what appeared to be a sure sack. However, Prescott was lucky to get away with three potential interceptions. As mentioned, two were dropped, while a third was negated by offsetting penalties. Prescott was also able to benefit from one of the Rams' terrific starting cornerbacks, Troy Hill, suffering an injury.


Austin happened to lead the Cowboys in receiving, as his 59-yard score was his only reception. Witten (4-36) was also ahead of both Amari Cooper (1-19) and Michael Gallup (1-6), who had trouble getting open against the Rams' elite secondary.


Most of the Cowboys' production came on the ground, as the Rams were completely helpless to stop Ezekiel Elliott. The Pro Bowl runner rumbled for 117 yards on 24 carries. He also scored twice and caught three passes for 43 receiving yards.


Todd Gurley didn't have nearly as much success moving the chains. He was limited to only 20 yards on 11 carries. Luckily for his fantasy owners, he scored twice. He also dropped a pass, but that was more on Goff not getting the ball to Gurley in stride, as this was one of many examples of which Goff's passing was affected by his injured hand.


Goff's leader in receiving yards was tight end Tyler Higbee, who has exploded in recent weeks. Higbee caught 12 of his 14 targets for 111 yards. He led everyone else by a wide margin, including Cooper Kupp (6-41), who caught a touchdown in garbage time. Both Brandin Cooks (4-48) and Robert Woods (4-17) disappointed. The former dropped a pass that would've gone for a gain of about 15 yards.




Falcons 29, 49ers 22
The 49ers endured a tough gauntlet heading into this game, battling the Packers, Ravens and Saints in the prior three weeks. Following this contest, they had to take on the Rams and Seahawks, so this was going to be their final game against an opponent with a losing record. This team, which has no track record of success, didn't know how to handle an obvious sandwich situation, as they thought they could beat the Falcons with a lackluster effort.

That, obviously, turned out to be incorrect. The 49ers were playing like they were sleepwalking throughout the afternoon, especially when they went up 19-10 as a result of a fumbled punt return. Their defense, missing five starters, simply couldn't stop the Matt Ryan-to-Julio Jones connection, allowing the Falcons to get back into the game. Meanwhile, San Francisco's offense sputtered, as the offensive line couldn't block the Falcons' pass rush.


Ryan finished 25-of-39 for 210 yards and two touchdowns. He did well overall, though this matchup wasn't as difficult as it looked on paper because of all of San Francisco's injured players. Ryan was also lucky he didn't throw an interception, as linebacker Fred Warner dropped the ball because a teammate of his hit him accidentally.


Julio Jones accumulated more than half of Ryan's yardage. He reeled in 13 of a ridiculous 20 targets for 134 yards and two touchdowns, breaking a streak of nine games in which he failed to find the end zone. Jones made some terrific receptions, including a great back-shoulder catch along the sideline, as well as the game-winning score that barely crossed the goal line. He also drew a defensive holding call on the opening drive and drew a pass interference flag in the end zone in the middle of the fourth quarter. Jones was limping after the former play, but that obviously did not impact him for the rest of the afternoon.

Jones caught the touchdown one play after Austin Hooper dropped what appeared to be the decisive score. However, replay review showed that the ball touched the ground. Hooper didn't fare very well, catching three of his six targets for 20 yards. Russell Gage (5-27) wasn't much better in Calvin Ridley's absence.


Devonta Freeman had trouble finding running room, tallying 39 yards on 12 carries. In fact, he was nearly out-rushed by Ryan, who scrambled five times for 27 rushing yards.


The 49ers had more success running than the Falcons did, but only by default. Raheem Mostert gained 54 yards and a touchdown on 14 carries. He saw way more work than Tevin Coleman and Matt Breida, both of whom handled four attempts. Coleman dropped a pass on the 49ers' initial offensive possession, as he and Breida, who lost a fumble, paled in comparison to Mostert. The upstart back made a tremendous move on a gain of nine yards on the opening drive on a play that would've been a minimal gain otherwise.


Like Ryan, Garoppolo was lucky that he didn't throw an interception, as he had a dropped pick thrown behind Deebo Samuel. Garoppolo struggled for most of the afternoon, going 22-of-34 for only 200 yards and a touchdown.


Most of Garoppolo's production went to one player, and that was George Kittle. The dominant tight end had a monster performance, breaking tackles and making great catches all afternoon. Kittle matched Jones' 13 catches for 134 yards. Samuel (1-29) was the only other 49er with more than 11 receiving yards, but he dropped a pass.




Bills 17, Steelers 10
The Steelers have been a nice story, rebounding from their 0-2 start made with Ben Roethlisberger, but they can't possibly contend with their horrible quarterbacks. Duck Hodges suffered his first defeat, looking helpless against Buffalo's defense.

The Bills made some mistakes in this game - a Josh Allen tipped interception, a Devin Singletary lost fumble - but the Steelers couldn't take advantage of these errors because of Hodges' incompetence. Hodges surrendered a 10-7 lead when he heaved a horrible interception across the field, which Tre'Davious White snatched very easily. Hodges then struggled to move the chains, allowing the Bills to capitalize with a touchdown drive, highlighted by a 40-yard bomb Josh Allen threw off his back foot to John Brown. Several plays later, Allen found a wide-open Tyler Kroft for the winning score.

The Steelers had two more chances after that. Hodges hit James Washington with a 32-yard bomb on a third-and-1, but a delay of game, a sack on a missed read and a failure to see an open Washington on fourth down ruined the first drive. The second possession saw Hodges take an ill-advised sack that made him hurry on the next play, which was an underthrown heave into the end zone that was picked again. Hodges, who went 23-of-38 for 202 yards, one touchdown and four interceptions, needed to be better, but his physical limitations betrayed him.


Meanwhile, the Bills clinched playoff berth for the second time since 1999, and the first in the Josh Allen era. Allen didn't have a great game either, as he opened with an interception on inaccurate ball toward Cole Beasley that was tipped. However, he came up big on the decisive drive of the evening.

Allen barely completed half of his passes in a very difficult matchup, going 13-of-25 for only 139 yards, one touchdown and an interception. He did plenty of damage on the ground, scrambling seven times for 23 rushing yards and a second touchdown.


Brown came up big on the aforementioned 40-yard bomb. He ended up with seven catches for 99 yards on 10 targets. Amazingly, he was the only Buffalo player not named Singletary to catch multiple passes, and the only Bill to have more than 14 receiving yards. His only blemish was a drop. Beasley hauled in just one of his six targets for just six yards.


Speaking of Singletary, he coughed up the ball twice, losing one fumble. Brown secured the other. Aside from the fumbles, Singletary looked special. He was difficult to tackle and displayed some very shifty moves. Singletary rushed for 87 yards on 21 carries against a tough front, all while catching two passes on as many receptions. Frank Gore (10-15) looked very sluggish by comparison.


As for Pittsburgh's rushing game, James Conner made his return from injury, but didn't carry a full workload. He gained 42 yards on just eight attempts. He salvaged his night with a receiving touchdown, as he caught four balls for nine aerial yards.


Three Steelers finished ahead of Conner in receiving: Washington (5-83), Diontae Johnson (5-62) and Nick Vannett (5-40).




Saints 34, Colts 7
Drew Brees entered this game knowing that he needed three touchdowns to surpass Peyton Manning for the all-time NFL career touchdown record. Little did he know that he would set two records in the same night.

Brees fired touchdown No. 3 in the second quarter, or so it seemed. The official negatd the score because of offensive pass interference, so Brees had to wait until the third quarter to eclipse Manning. He did so on a scoring throw to Josh Hill. This was touchdown No. 540, and Brees eventually tacked on yet another to Taysom Hill to put this game completely out of reach for the Colts.

Meanwhile, Brees also set the single-game NFL completion percentage record. He connected on 29-of-30 passes, as his only misfire was to Latavius Murray in the backfield. He connected on all 29 of his other attempts in one of those most terrific performances we'll ever see from a quarterback.

Brees' final numbers were 29-of-30 for 307 yards and four touchdowns. He didn't even play the full game because of the lopsided margin, so Brees could've put together an even better stat line if he wanted to.


Michael Thomas also figures to set a record soon, as he's well on pace to break Marvin Harrison's single-season receptions mark. Thomas added 12 to his total, as his dozen catches went for 128 yards and a touchdown. Brees' fourth score went to Tre'Quan Smith, who reeled in his only 21-yard reception in the end zone. Jared Cook (4-54) also contributed.


Alvin Kamara didn't need to do much, but he once again struggled to generate much yardage after contact. He rushed for 66 yards on 14 carries, and he also caught five passes for 23 receiving yards.


The one dark cloud over this victory was that guard Larry Warford suffered an injury in the third quarter. Warford's absence would be a substantial hit to New Orleans' offensive line.


Going through the Colts quickly, Jacoby Brissett had an ugly showing, going 18-of-34 for 165 yards. He showed poor accuracy throughout the evening, missing some open receivers, including Zach Pascal on an early third-and-9 and T.Y. Hilton on another third down. Brissett hasn't been the same since returning from injury, but Indianapolis will need to find a long-term answer this offseason anyway. Here are the 2020 NFL Draft Quarterback Prospect Rankings.


Hilton took the field, but didn't play very much. He saw nine targets, but reeled in just four of them for 25 yards. Pascal (4-44) led the Colts on the receiving list. Jack Doyle (2-21) dropped a pass in the opening half.


The Colts didn't have much of a chance to run the ball, as Marlon Mack was limited to just 19 yards on 11 carries. Jordan Wilkins (3-10) scored a garbage-time touchdown to win someone $250,000 in this showdown slate. Here's the winning lineup: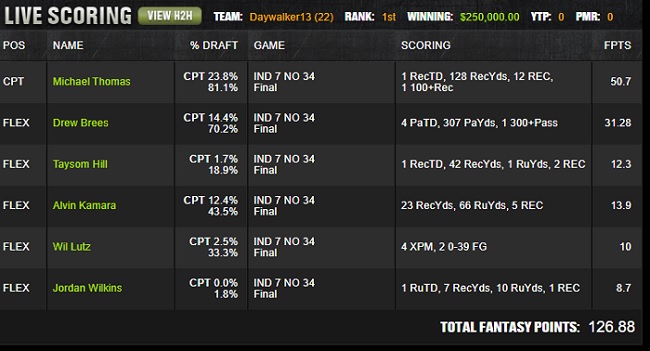 For more thoughts, check out my updated
NFL Power Rankings
, which will be posted Tuesday morning.
Fantasy Football Rankings
- June 10
2022 NFL Mock Draft
- June 8
NFL Power Rankings
- May 12
NFL Picks
- Feb. 8
2020:
Live 2020 NFL Draft Blog
- April 25
2020 NFL Week 1 Recap
- Sept. 11
2020 NFL Week 2 Recap
- Sept. 18
2020 NFL Week 3 Recap
- Sept. 25
2020 NFL Week 4 Recap
- Oct. 2
2020 NFL Week 5 Recap
- Oct. 9
2020 NFL Week 6 Recap
- Oct. 16
2020 NFL Week 7 Recap
- Oct. 23
2020 NFL Week 8 Recap
- Oct. 30
2020 NFL Week 9 Recap
- Nov. 6
2020 NFL Week 10 Recap
- Nov. 13
2020 NFL Week 11 Recap
- Nov. 20
2020 NFL Week 12 Recap
- Nov. 27
2020 NFL Week 13 Recap
- Dec. 4
2020 NFL Week 14 Recap
- Dec. 11
2020 NFL Week 15 Recap
- Dec. 18
2020 NFL Week 16 Recap
- Dec. 25
2020 NFL Week 17 Recap
- Jan. 3
2020 NFL Week 18 Recap
- Jan. 9
2019:
Live 2019 NFL Draft Blog
- April 25
2019 NFL Week 1 Recap
- Sept. 9
2019 NFL Week 2 Recap
- Sept. 16
2019 NFL Week 3 Recap
- Sept. 23
2019 NFL Week 4 Recap
- Sept. 30
2019 NFL Week 5 Recap
- Oct. 7
2019 NFL Week 6 Recap
2019 NFL Week 7 Recap
2019 NFL Week 8 Recap
2019 NFL Week 9 Recap
2019 NFL Week 10 Recap
2019 NFL Week 11 Recap
2019 NFL Week 12 Recap
2019 NFL Week 14 Recap
2019 NFL Week 15 Recap
2019 NFL Week 16 Recap
2019 NFL Week 17 Recap
2018:
Live 2018 NFL Draft Blog
- April 30
2018 NFL Week 1 Recap
- Sept. 7
2018 NFL Week 2 Recap
- Sept. 14
2018 NFL Week 3 Recap
- Sept. 21
2018 NFL Week 4 Recap
- Sept. 28
2018 NFL Week 5 Recap
- Oct. 5
2018 NFL Week 6 Recap
- Oct. 12
2018 NFL Week 7 Recap
- Oct. 19
2018 NFL Week 8 Recap
- Oct. 26
2018 NFL Week 9 Recap
- Nov. 2
2018 NFL Week 10 Recap
- Nov. 9
2018 NFL Week 11 Recap
- Nov. 16
2018 NFL Week 12 Recap
- Nov. 23
2018 NFL Week 13 Recap
- Nov. 30
2018 NFL Week 14 Recap
- Dec. 7
2018 NFL Week 15 Recap
- Dec. 14
2018 NFL Week 16 Recap
- Dec. 21
2018 NFL Week 17 Recap
- Dec. 31
2018 NFL Week 18 Recap
- Jan. 6
2017:
Live 2017 NFL Draft Blog
- April 30
2017 NFL Week 1 Recap
- Sept. 12
2017 NFL Week 2 Recap
- Sept. 19
2017 NFL Week 3 Recap
- Sept. 26
2017 NFL Week 4 Recap
- Oct. 2
2017 NFL Week 5 Recap
- Oct. 9
2017 NFL Week 6 Recap
- Oct. 16
2017 NFL Week 7 Recap
- Oct. 23
2017 NFL Week 8 Recap
- Oct. 30
2017 NFL Week 9 Recap
- Nov. 6
2017 NFL Week 10 Recap
- Nov. 13
2017 NFL Week 11 Recap
- Nov. 20
2017 NFL Week 12 Recap
- Nov. 27
2017 NFL Week 13 Recap
- Dec. 4
2017 NFL Week 14 Recap
- Dec. 11
2017 NFL Week 15 Recap
- Dec. 18
2017 NFL Week 16 Recap
- Dec. 25
2017 NFL Week 17 Recap
- Jan. 1
2017 NFL Week 18 Recap
- Jan. 8
2017 NFL Week 19 Recap
- Jan. 15
2017 NFL Week 20 Recap
- Jan. 22
Super Bowl LII Recap
- Feb. 5
2017:
Live 2017 NFL Draft Blog
- April 30
2017 NFL Week 1 Recap
- Sept. 12
2017 NFL Week 2 Recap
- Sept. 19
2017 NFL Week 3 Recap
- Sept. 26
2017 NFL Week 4 Recap
- Oct. 2
2017 NFL Week 5 Recap
- Oct. 9
2017 NFL Week 6 Recap
- Oct. 16
2017 NFL Week 7 Recap
- Oct. 23
2017 NFL Week 8 Recap
- Oct. 30
2017 NFL Week 9 Recap
- Nov. 6
2017 NFL Week 10 Recap
- Nov. 13
2017 NFL Week 11 Recap
- Nov. 20
2017 NFL Week 12 Recap
- Nov. 27
2017 NFL Week 13 Recap
- Dec. 4
2017 NFL Week 14 Recap
- Dec. 11
2017 NFL Week 15 Recap
- Dec. 18
2017 NFL Week 16 Recap
- Dec. 25
2017 NFL Week 17 Recap
- Jan. 1
2017 NFL Week 18 Recap
- Jan. 8
2017 NFL Week 19 Recap
- Jan. 15
2017 NFL Week 20 Recap
- Jan. 22
Super Bowl LII Recap
- Feb. 5
2016:
Live 2016 NFL Draft Blog
- April 30
2016 NFL Week 1 Recap
- Sept. 12
2016 NFL Week 2 Recap
- Sept. 19
2016 NFL Week 3 Recap
- Sept. 26
2016 NFL Week 4 Recap
- Oct. 3
2016 NFL Week 5 Recap
- Oct. 10
2016 NFL Week 6 Recap
- Oct. 17
2016 NFL Week 7 Recap
- Oct. 24
2016 NFL Week 8 Recap
- Oct. 31
2016 NFL Week 9 Recap
- Nov. 7
2016 NFL Week 10 Recap
- Nov. 14
2016 NFL Week 11 Recap
- Nov. 21
2016 NFL Week 12 Recap
- Nov. 28
2016 NFL Week 13 Recap
- Dec. 5
2016 NFL Week 14 Recap
- Dec. 12
2016 NFL Week 15 Recap
- Dec. 19
2016 NFL Week 16 Recap
- Dec. 26
2016 NFL Week 17 Recap
- Jan. 2
2016 NFL Week 18 Recap
- Jan. 9
2016 NFL Week 19 Recap
- Jan. 16
2016 NFL Week 20 Recap
- Jan. 23
2016 NFL Week 21 Recap
- Feb. 6
2015:
Live 2015 NFL Draft Blog
- April 30
2015 NFL Week 1 Recap
- Sept. 12
2015 NFL Week 2 Recap
- Sept. 17
2015 NFL Week 3 Recap
- Sept. 24
2015 NFL Week 4 Recap
- Oct. 1
2015 NFL Week 5 Recap
- Oct. 8
2015 NFL Week 6 Recap
- Oct. 15
2015 NFL Week 7 Recap
- Oct. 22
2015 NFL Week 8 Recap
- Oct. 29
2015 NFL Week 9 Recap
- Nov. 5
2015 NFL Week 10 Recap
- Nov. 12
2015 NFL Week 11 Recap
- Nov. 19
2015 NFL Week 12 Recap
- Nov. 26
2015 NFL Week 13 Recap
- Dec. 4
2015 NFL Week 14 Recap
- Dec. 11
2015 NFL Week 15 Recap
- Dec. 18
2015 NFL Week 16 Recap
- Dec. 25
2015 NFL Week 17 Recap
- Jan. 4
2015 NFL Week 18 Recap
- Jan. 11
2015 NFL Week 19 Recap
- Jan. 18
2015 NFL Week 20 Recap
- Jan. 25
Super Bowl 50 Recap
- Feb. 8
2014:
Live 2014 NFL Draft Blog
- May 8
2014 NFL Week 1 Recap
- Sept. 5
2014 NFL Week 2 Recap
- Sept. 12
2014 NFL Week 3 Recap
- Sept. 19
2014 NFL Week 4 Recap
- Sept. 26
2014 NFL Week 5 Recap
- Oct. 3
2014 NFL Week 6 Recap
- Oct. 10
2014 NFL Week 7 Recap
- Oct. 17
2014 NFL Week 8 Recap
- Oct. 24
2014 NFL Week 9 Recap
- Oct. 31
2014 NFL Week 10 Recap
- Nov. 6
2014 NFL Week 11 Recap
- Nov. 13
2014 NFL Week 12 Recap
- Nov. 20
2014 NFL Week 13 Recap
- Nov. 27
2014 NFL Week 14 Recap
- Dec. 5
2014 NFL Week 15 Recap
- Dec. 12
2014 NFL Week 16 Recap
- Dec. 19
2014 NFL Week 17 Recap
- Dec. 29
2014 NFL Week 18 Recap
- Jan. 4
2014 NFL Week 19 Recap
- Jan. 11
2014 NFL Week 20 Recap
- Jan. 18
Super Bowl XLIX Live Blog
- Feb. 1
Super Bowl XLIX Recap
- Feb. 2
2013:
Live 2013 NFL Draft Blog
- April 26
2013 NFL Week 1 Recap
- Sept. 10
2013 NFL Week 2 Recap
- Sept. 17
2013 NFL Week 3 Recap
- Sept. 24
2013 NFL Week 4 Recap
- Oct. 1
2013 NFL Week 5 Recap
- Oct. 8
2013 NFL Week 6 Recap
- Oct. 15
2013 NFL Week 7 Recap
- Oct. 22
2013 NFL Week 8 Recap
- Oct. 29
2013 NFL Week 9 Recap
- Nov. 4
2013 NFL Week 10 Recap
- Nov. 11
2013 NFL Week 11 Recap
- Nov. 18
2013 NFL Week 12 Recap
- Nov. 25
2013 NFL Week 13 Recap
- Dec. 2
2013 NFL Week 14 Recap
- Dec. 9
2013 NFL Week 15 Recap
- Dec. 16
2013 NFL Week 16 Recap
- Dec. 23
2013 NFL Week 17 Recap
- Dec. 30
2013 NFL Week 18 Recap
- Jan. 6
2013 NFL Week 19 Recap
- Jan. 13
2013 NFL Week 20 Recap
- Jan. 20
Super Bowl XLVIII Recap
- Feb. 3
Super Bowl XLVIII Live Blog
- Feb. 2
2012:
Live 2012 NFL Draft Blog
- April 26
2012 NFL Week 1 Recap
- Sept. 10
2012 NFL Week 2 Recap
- Sept. 17
2012 NFL Week 3 Recap
- Sept. 24
2012 NFL Week 4 Recap
- Oct. 1
2012 NFL Week 5 Recap
- Oct. 8
2012 NFL Week 6 Recap
- Oct. 15
2012 NFL Week 7 Recap
- Oct. 22
2012 NFL Week 8 Recap
- Oct. 29
2012 NFL Week 9 Recap
- Nov. 5
2012 NFL Week 10 Recap
- Nov. 12
2012 NFL Week 11 Recap
- Nov. 19
2012 NFL Week 12 Recap
- Nov. 26
2012 NFL Week 13 Recap
- Dec. 3
2012 NFL Week 14 Recap
- Dec. 10
2012 NFL Week 15 Recap
- Dec. 17
2012 NFL Week 16 Recap
- Dec. 24
2012 NFL Week 17 Recap
- Dec. 31
2012 NFL Week 18 Recap
- Jan. 7
2012 NFL Week 19 Recap
- Jan. 14
2012 NFL Week 20 Recap
- Jan. 21
Super Bowl XLVII Recap
- Feb. 4
Super Bowl XLVII Live Blog
- Feb. 4
2011:
Live 2011 NFL Draft Blog
- April 28
2011 NFL Week 1 Recap
- Sept. 12
2011 NFL Week 2 Recap
- Sept. 19
2011 NFL Week 3 Recap
- Sept. 26
2011 NFL Week 4 Recap
- Oct. 3
2011 NFL Week 5 Recap
- Oct. 10
2011 NFL Week 6 Recap
- Oct. 17
2011 NFL Week 7 Recap
- Oct. 24
2011 NFL Week 8 Recap
- Oct. 31
2011 NFL Week 9 Recap
- Nov. 7
2011 NFL Week 10 Recap
- Nov. 14
2011 NFL Week 11 Recap
- Nov. 21
2011 NFL Week 12 Recap
- Nov. 28
2011 NFL Week 13 Recap
- Dec. 5
2011 NFL Week 14 Recap
- Dec. 12
2011 NFL Week 15 Recap
- Dec. 19
2011 NFL Week 16 Recap
- Dec. 26
2011 NFL Week 17 Recap
- Jan. 2
2011 NFL Week 18 Recap
- Jan. 9
2011 NFL Week 19 Recap
- Jan. 16
2011 NFL Week 20 Recap
- Jan. 23
Super Bowl XLVI Live Blog
- Feb. 6
2010:
Live 2010 NFL Draft Blog
- April 22
2010 Hall of Fame Game Live Blog
- Aug. 8
2010 NFL Kickoff Live Blog
- Sept. 9
2010 NFL Week 1 Review
- Sept. 13
2010 NFL Week 2 Review
- Sept. 20
2010 NFL Week 3 Review
- Sept. 27
2010 NFL Week 4 Review
- Oct. 4
2010 NFL Week 5 Review
- Oct. 11
2010 NFL Week 6 Review
- Oct. 18
2010 NFL Week 7 Review
- Oct. 25
2010 NFL Week 8 Review
- Nov. 1
2010 NFL Week 9 Review
- Nov. 8
2010 NFL Week 10 Review
- Nov. 15
2010 NFL Week 11 Review
- Nov. 22
2010 NFL Week 12 Review
- Nov. 29
2010 NFL Week 13 Review
- Dec. 6
2010 NFL Week 14 Review
- Dec. 13
2010 NFL Week 15 Review
- Dec. 20
2010 NFL Week 16 Review
- Dec. 27
2010 NFL Week 17 Review
- Jan. 3
2010 NFL Week 18 Review
- Jan. 10
2010 NFL Week 19 Review
- Jan. 17
2010 NFL Week 19 Review
- Jan. 24
Super Bowl XLV Live Blog
- Feb. 6
2009:
Live 2009 NFL Draft Blog
- April 25
2009 Hall of Fame Game Live Blog
- Aug. 10
2009 NFL Kickoff Live Blog
- Sept. 10
2009 NFL Week 1 Review
- Sept. 14
2009 NFL Week 2 Review
- Sept. 21
2009 NFL Week 3 Review
- Sept. 28
2009 NFL Week 4 Review
- Oct. 5
2009 NFL Week 5 Review
- Oct. 12
2009 NFL Week 6 Review
- Oct. 19
2009 NFL Week 7 Review
- Oct. 26
2009 NFL Week 8 Review
- Nov. 2
2009 NFL Week 9 Review
- Nov. 9
2009 NFL Week 10 Review
- Nov. 16
2009 NFL Week 11 Review
- Nov. 23
2009 NFL Week 12 Review
- Nov. 30
2009 NFL Week 13 Review
- Dec. 6
2009 NFL Week 14 Review
- Dec. 13
2009 NFL Week 15 Review
- Dec. 20
2009 NFL Week 16 Review
- Dec. 27
2009 NFL Week 17 Review
- Jan. 4
2009 NFL Week 18 Review
- Jan. 11
2009 NFL Week 19 Review
- Jan. 18
2009 NFL Week 20 Review
- Jan. 25
Super Bowl XLIV Live Blog
- Feb. 7
2008:
Live 2008 NFL Draft Blog
- April 26
2008 NFL Kickoff Blog
- Sept. 4
NFL Week 1 Review
- Sept. 8
NFL Week 2 Review
- Sept. 15
NFL Week 3 Review
- Sept. 22
NFL Week 4 Review
- Sept. 29
NFL Week 5 Review
- Oct. 6
NFL Week 6 Review
- Oct. 13
NFL Week 7 Review
- Oct. 20
NFL Week 8 Review
- Oct. 27
NFL Week 9 Review
- Nov. 3
NFL Week 10 Review
- Nov. 10
NFL Week 11 Review
- Nov. 17
NFL Week 12 Review
- Nov. 24
NFL Week 13 Review
- Dec. 1
NFL Week 14 Review
- Dec. 8
NFL Week 15 Review
- Dec. 15
NFL Week 16 Review
- Dec. 22
NFL Week 17 Review
- Dec. 29
NFL Wild Card Playoffs Review
- Jan. 4
NFL Divisional Playoffs Review
- Jan. 11
NFL Championship Sunday Review
- Jan. 19
Super Bowl XLIII Live Blog