My Thoughts on the 2020 NFL Draft - Live on Draft Day!
What is this?
I'll be posting my thoughts on the 2020 NFL Draft here. That will include everything from the actual picks, to the TV personalities, to the commercials, etc. Anything goes. This page will be updated every five minutes or so, so I hope you join me for the 2020 NFL Draft!
By the way, I'll be posting live
2020 NFL Draft Grades
for individual picks. Overall 2020 NFL Draft Grades will be posted all day Sunday. Follow me
@walterfootball
for updates.
Also, you can discuss the 2020 NFL Draft in the
Draft Day
page, or post a comment below. The Draft Day page will have comments from Charlie Campbell and me, announced picks and the top remaining players available on our Big Board.
7:10:
Let's get this started! The 2020 NFL Draft, the most unusual draft we'll ever see, is just 55 minutes away. Can't wait!
7:11:
Our
2020 NFL Draft Grades
will be live once again. In fact, the Joe Burrow grade is already available!
7:12:
Ian Rapoport just appeared on screen and said that the Jaguars could trade up to No. 3 for Andrew Thomas. This would be insanely stupid because there's a chance they could get Thomas at No. 9!
7:15:
The best part of this virtual draft, and really the entire quarantine, is that we don't get that stupid red carpet segment where players are interviewed while walking into the building. Thank goodness we were spared from that this year.
7:19:
Michael Irvin just called Joe Burrow "Joe Barrel." I think he may have been reading my
Emmitt Smith 2020 NFL Mock Draft
.
7:22:
The awkward thing about the TV broadcast is the 5-second delay between analysts. The League of Legends broadcasters are in the same studio, but they were masks. This seemed like a good idea, except one of the guys constantly touched his mask, which basically defeated the entire purpose of it.
7:24:
And yes, League of Legends. There are no NBA or MLB games to bet on, so I've resorted to gambling on 12-year-old Chinese and Korean kids playing video games. Each night, I pray that everyone's mom signed their permission slips. Sad times.
7:26:
It's also annoying that every commercial from a major company is like, "We're all in this together." Yes, yes, we know, you're pretending to care. Just pitch your product so we can move on with our lives.
7:30:
Ian Rapoport saying the Redskins will not trade the No. 2 overall pick.
Charlie Campbell said this two months ago
!
7:35:
I just pulled something gross out of my hair. Not sure what it was. The quarantine has not been kind for my hygiene. I've smelled worse than I've ever smelled before.
7:38:
It doesn't look like the quarantine has been kind of Deion Sanders' hygiene either. He looks like he's 80 years old.
7:40:
By the way, you can follow a live big board and chat in the
Draft Day
feature, as always.
7:44:
More commercials from companies saying they care. Don't play a drinking game where you take a shot every time you see an ad like this because you'll end up in the hospital with liver damage.
7:46:
Someone on
Draft Day
just wrote that he's looking forward to Millen's kielbasas tonight. We need O'Brien to have some sort of food fetish like Matt Millen did. That's something I'm going to have to come up with this summer.
7:48:
Twelve minutes until the draft, and we're getting a Zoom musical performance on NFL Network. Seems appropriate.
7:50:
Just did a final pre-draft pee during that stupid musical performance. I came back to hear someone say, "That was a wonderful musical performance!" Yeah, sure, that Zoom musical performance was quite lovely.
7:51:
Dolphins discussing moving up to No. 3! Let's go Tua!
7:53:
The two scarcest things during the pandemic: toilet paper and the hair coloring Steve Mariucci uses.
7:55:
Five minutes until the draft!
7:57:
I thought we might get a hacker d*ck pic at some point during the draft, but I didn't expect it from Mariucci.
7:59:
Wow. I can't believe it. Roger Goodell finally developed a sense of humor and embraced the boos. Maybe now he'll unban us from the combine. OK, probably not.
8:01:
Anyway, back to the Dolphins-Lions trade. Detroit has to move down. It really does. Because the Lions can get anyone they want at No. 5 that they can get at No. 3. Even if it's for just a fourth- or fifth-round pick, they have to move down.
8:03:
Holy hell, how long can Peyton Manning speak?
8:04:
WTF, I went on NFL Network to avoid ESPN people, and we're getting ESPN people on NFL Network!
8:05:
BOOOOOOOOOOOOOOOOOOOOOOOOOOOOOOOOOOOOOOOOOOOOOOO!!!!!!!!!!!!!!!!!!!!!!!!!!!
8:07:
Would it be the most surprising thing in the world if the camera happens to catch a dead body in Goodell's basement?
8:08:
Actually, I should be careful about saying stuff like that because Goodell might make me one of those dead bodies!
8:09:
Harry Connick Jr. looked like he was dropping a deuce at the end of that anthem.
8:11:
For those wondering why there hasn't been a pick yet, the Cardinals didn't select Kyler Murray until 8:23 p.m. last year. The NFL Draft usually has a delay.
8:12:
My wife just walked by the office and whispered something, almost as if she was trying not to interrupt a sacred event. And... she was probably right to do that.
8:13:
Got a text from my friend Body Burner (who burns bodies): "So far so terrible, Goodell is a clown, and that was a terrible anthem. Why do celebrities think they look cool singing like they are taking a s**t?" Glad someone else agrees with me on the dropping a deuce comment!
8:14:
Why is the NFL running a PSA 13 minutes into draft coverage?
8:15:
I'm praying that we see someone commit a crime on these live video feeds. That would really make my day, even more so than having an accurate mock draft.
8:16:
I told Body Burner I posted his comment. His reply: "Good. Your audience needs to read my thoughts."
8:17:
LOL this is so cheesy.
8:18:
Seriously, no Rich Eisen? No Daniel Jeremiah? This virtual draft sucks!
8:19:
Body Burner says the NFL should've hired an MC for this like Kevin Hart. Except, Kevin Hart said something naughty 20 years ago and now can't announce anything.
8:20:
Is the background behind Mel Kiper fake, or does he really have a small computer monitor that just says "ESPN" on it?
8:22:
Holy s**t, Duke Tobin's house is on fire!
8:25:
Just saw a great point on Twitter. There might be some technical difficulties tonight, so the Bengals probably shouldn't be using up all their time.
With the No. 1 pick in the 2020 NFL Draft, the Bengals select Joe Burrow, QB, LSU
8:27:
How much analysis do we need of Burrow? We know how great he is. Let's just move on already.
8:29:
And they're still dissecting Burrow. Why didn't they do this before the No. 1 pick?
8:31:
Ugh. Trey Wingo called Burrow the "Tiger King." I watched one epsiode of that and didn't get it at all. My wife wanted to stop watching halfway through.
With the No. 2 pick in the 2020 NFL Draft, the Redskins select Chase Young, DE, Ohio State
8:32:
Why are there five small mirrors above the drapes in Chase Young's house?
8:35:
Two for two in my mock draft! How awesome is that!?
8:36:
If the Lions don't trade this pick...
8:37:
Wow. Detroit's pick is in. This is a failure.
With the No. 3 pick in the 2020 NFL Draft, the Lions select Jeff Okudah, CB, Ohio State
8:41:
Bob Quinn needs to step down. Seriously. This is just embarrassing. How could he not get anything by moving down two spots? Even if it was just a fifth-round pick. He should've gotten something.
8:43:
Someone on Twitter just said that the Lions are taking "the DT." This was a joke, I think.
8:45:
By the way, can we get an explanation for the huge portrait Ron Rivera had of the Redskins logo?
With the No. 4 pick in the 2020 NFL Draft, the Giants select Andrew Thomas, OT, Georgia
8:52:
Everyone seems to be making fun of Dave Gettleman for this, but it's a fine pick. It's disappointing that they didn't trade down. It's also disappointing that the Giants didn't pick Tristan Wirfs because they liked Wirfs and Thomas equally. Gettleman actually preferred Wirfs, but the coaches liked Thomas a bit better.
8:53:
Tua time? Please?
8:54:
Also, why was Gettleman wearing a mask in his own home?
With the No. 5 pick in the 2020 NFL Draft, the Dolphins select Tua Tagovailoa, QB, Alabama
8:58:
Good for Tua. Bad for the ESPN analysts asking if he would play right away. His own agent said he wanted Tua to sit for a year!
8:59:
Let's see if the Chargers have been BSing us about Tyrod Taylor...
With the No. 6 pick in the 2020 NFL Draft, the Chargers select Justin Herbert, QB, Oregon
9:05:
I liked the Justin Herbert pick until I saw him wearing a Joey Harrington jersey. Ew!
9:06:
And then I saw the Oregon cheerleaders in that highlight, and I loved the pick again!
With the No. 7 pick in the 2020 NFL Draft, the Panthers select Derrick Brown, DT, Auburn
9:11:
The Cardinals REALLY wanted to trade down, but I was told they like Tristan Wirfs a lot. Let's see if he's the pick.
9:13:
Arizona has not traded! No trades yet. I wonder if that's because of the virtual situation.
With the No. 8 pick in the 2020 NFL Draft, the Cardinals select Isaiah Simmons, LB, Clemson
9:18:
Ugh!!! I moved Simmons out of the No. 8 pick in my mock - where I had him for like a month - the day before the draft. That's what I get for second guessing myself, though I did get word that Arizona was desperately trying to trade down.
9:19:
I wonder if we're going to see more than a handful of trades, really. The virtual setup might be limiting negotiations.
With the No. 9 pick in the 2020 NFL Draft, the Jaguars select C.J. Henderson, CB, Florida
9:25:
Slow down with these picks, and let's get some trades!
With the No. 10 pick in the 2020 NFL Draft, the Browns select Jedrick Wills, OT, Alabama
9:29:
Ugh, just missed Wills to the Jets by one pick! Arrgghh!
9:30:
The Jets just had Tristan Wirfs fall into their laps. By the way, so much for that combine performance mattering so much! Lesson learned, I guess. Jeff Okudah was meh at the combine, and he went No. 3, and Wirfs blew up at the combine and slipped out of the top 10.
9:31:
I'd like to thank the Jets for taking their sweet time so I could catch up. I wonder if Wills being off the board screwed up their plans.
9:32:
Pick is in. Still no trades!
With the No. 11 pick in the 2020 NFL Draft, the Jets select Mekhi Becton, OT, Louisville
9:37:
Booger McFarland just said that Sam Darnold's backside is protected. Doesn't he mean blind side? If only Darnold's backside was protected the night he got mono!
9:38:
I was told the Raiders were deciding between Henry Ruggs and CeeDee Lamb. I mocked Ruggs, but it was close. Go Ruggs!
With the No. 12 pick in the 2020 NFL Draft, the Raiders select Henry Ruggs, WR, Alabama
9:42:
So much for the Raiders loving CeeDee Lamb! Charlie Campbell, as usual, was right on the money with his reports. I had Ruggs to the Raiders in my mock because of Charlie's info. He's the greatest draft analyst in the known universe.
9:43:
And I say "known universe" because there might be some draft analyst in the delta quadrant of our galaxy who gets every single pick correct. Who knows!
9:44:
If you're this wizard draft analyst in the delta quadrant, please e-mail me your mock so I can put it in the mock draft database. Thanks.
9:45:
OK, I didn't like the Ruggs pick, but the robe changes everything.
9:46:
Anyway, the 49ers REALLY wanted Ruggs, so they're trying to trade out. The problem is that this virtual draft is making things difficult. Teams should've had more time t trade, maybe 12-15 minutes per pick. The NFL botched this.
9:47:
And we have a trade. Just for one spot. So, does it really count?
9:48:
Congrats to the Buccaneers for stealing Tristan Wirfs, presumably.
With the No. 13 pick in the 2020 NFL Draft, the Buccaneers select Tristan Wirfs, OT, Iowa
9:52:
The 49ers are on the clock once more. Again, they REALLY wanted Ruggs, so I think they're still trying to trade down. However, with Wirfs gone, I wonder if they pick CeeDee Lamb or Jerry Jeudy. I'm hoping it's Lamb because I have Jeudy to Denver in my mock.
9:54:
The trade, by the way, was for a swap of fourth- and seventh-round picks. That's not bad for the Buccaneers, but the 49ers won that one because they weren't going to draft Wirfs.
9:57:
Wow, I almost got tricked on Twitter by a fake Schefter account saying that the Eagles and 49ers agreed to a trade.
With the No. 14 pick in the 2020 NFL Draft, the 49ers select Javon Kinlaw, DT, South Carolina
10:02:
Both Jerry Jeudy and CeeDee Lamb dropped to the Broncos. Wow.
10:03:
That didn't take long!
With the No. 15 pick in the 2020 NFL Draft, the Broncos select Jerry Jeudy, WR, Alabama
10:06:
John Elway struggles with quarterbacks, but he's a great drafter otherwise. What a terrific pick.
10:08:
I hope the Falcons don't pick K'Lavon Chaisson. I have Chaisson to the Cowboys, and I heard that they love him. Atlanta could ruin everything because it couldn't trade up!
With the No. 16 pick in the 2020 NFL Draft, the Falcons select A.J. Terrell, CB, Clemson
10:14:
OK, so I know the Cowboys love Chaisson ... but I don't think they anticipated that CeeDee Lamb would be available.
10:15:
How much did Jerry Jones pay for those two weird orbs behind him?
With the No. 17 pick in the 2020 NFL Draft, the Cowboys select CeeDee Lamb, WR, Oklahoma
10:22:
Lamb is all about BPA. The Cowboys are mostly set at receiver, but you can't pass up on his talent at this stage. Nice pick by Dallas.
10:23:
The Dolphins are probably priced into a tackle here, but I wouldn't hate it if they selected Chaisson.
10:24:
Eagle fans have to be pissed that their team didn't trade up with Atlanta for Lamb. I'd say it's a huge whiff by Howie Roseman, but trading must be very difficult right now.
With the No. 18 pick in the 2020 NFL Draft, the Dolphins select Austin Jackson, OT, USC
10:30:
Four minutes to go until the Jaguars miss out on trading Yannick Ngakoue for the 19th pick. Given the trading problems teams are having, I don't expect that to happen.
10:31:
And the Raiders' pick is in.
With the No. 19 pick in the 2020 NFL Draft, the Raiders select Damon Arnette, CB, Ohio State
10:35:
BBBLLLLEEEEGGGHHHHH!!!!
10:40:
Slow down, teams!
10:41:
Why isn't the NFL Draft going to be in Vegas next year? Who cares about Cleveland!?
With the No. 20 pick in the 2020 NFL Draft, the Jaguars select K'Lavon Chaisson, DE, LSU
10:42:
Goodell doesn't know how to pronounce K'Lavon!
10:43:
Can Goodell ask the dead body in his basement closet to pronounce the names?
10:44:
Eagles are on the clock. Justin Jefferson? Jalen Reagor? Brandon Aiyuk?
With the No. 21 pick in the 2020 NFL Draft, the Eagles select Jalen Reagor, WR, TCU
10:49:
The Vikings were hoping for K'Lavon Chaisson, and they liked A.J. Terrell. My best guess here is Jaylon Johnson, or maybe Ezra Cleveland.
10:54:
As expected, the Patriots have traded down! The Chargers are on the clock. I wonder if the Chargers will pick one of the running backs or left tackles. It makes sense to move ahead of the Vikings and Dolphins for a tackle, as well as the Seahawks and Ravens for a running back.
With the No. 22 pick in the 2020 NFL Draft, the Vikings select Justin Jefferson, WR, LSU
With the No. 23 pick in the 2020 NFL Draft, the Chargers select Kenneth Murray, LB, Oklahoma
11:03:
Damn it, Patrick Queen could be the Saints pick. That's another selection I had the day prior to the draft. I'm really going to be kicking myself for not getting two more picks correct. I'm seriously going to lose hours of sleep over this!
11:04:
The Patriots-Chargers trade, by the way, was almost dead even on the trade value chart. Still, considering that the Chargers gave up a pick and didn't build around Justin Herbert, I have to consider New England the winners of the deal.
11:05:
I hate these damn commercials that take over the full screen, making the bottom ticker disappear. When I was a kid, they were low quality, and my friend Frank would say "they destroyed the TV." That doesn't even happen anymore, so these commercials suck all around.
With the No. 24 pick in the 2020 NFL Draft, the Saints select Cesar Ruiz, C/G, Michigan
11:10:
Hey, Vikings, Cesar Ruiz just went off the board, so make sure you take the other center, Matt Hennessy. I have him mocked to you, so pretty please?
11:11:
Patrick Queen becomes the latest player who is dropping. I thought he would go to the Raiders. I'm still shocked by the Arnette pick.
11:13:
The 49ers trade up into the No. 25 spot. So much for teams not being able to trade.
11:14:
San Francisco will apparently draft a receiver, according to Adam Schefter.
With the No. 25 pick in the 2020 NFL Draft, the 49ers select Brandon Aiyuk, WR, Arizona State
11:22:
Just got a call from my dad, who is an Eagles fan. He is not happy, to say the least. If it was just Reagor, he would've been OK with it, but the rival Cowboys stole CeeDee Lamb when the Eagles had a chance to move up for him. Not good!
11:23:
The Packers have traded up. So much for not being able to trade. The Lions, Falcons and Eagles have no more excuses.
With the No. 26 pick in the 2020 NFL Draft, the Packers select Jordan Love, QB, Utah State
11:28:
It's a good thing the Packers leapt the Seahawks, Ravens and Titans for Jordan Love! Seattle, Baltimore and Tennessee were clearly looking to replace Russell Wilson, Lamar Jackson and the newly paid Ryan Tannehill!
With the No. 27 pick in the 2020 NFL Draft, the Seahawks select Jordyn Brooks, LB, Texas Tech
11:36:
I don't even care about the Brooks pick. I'm so tilted from the Packers pick. I'm not a Packer fan, but I'm just disappointed to see Aaron Rodgers' talent wasted again. The Packers should've won three Super Bowls with Rodgers. They're not going to win another one for a long time.
With the No. 28 pick in the 2020 NFL Draft, the Ravens select Patrick Queen, LB, LSU
11:43:
The Ravens must be laughing at half the teams in the NFL right now. What else is new?
11:45:
The Titans are on the clock. They need a tackle, and both Josh Jones and Ezra Cleveland are available.
11:48:
Why is there a mummy in Mike Vrabel's house?
With the No. 29 pick in the 2020 NFL Draft, the Titans select Isaiah Wilson, OT, Georgia
11:52:
Will the Dolphins go double tackle, or will they take the first running back off the board? I'm torn, but I'm rooting for Josh Jones.
11:55:
Seriously, can someone explain what this is?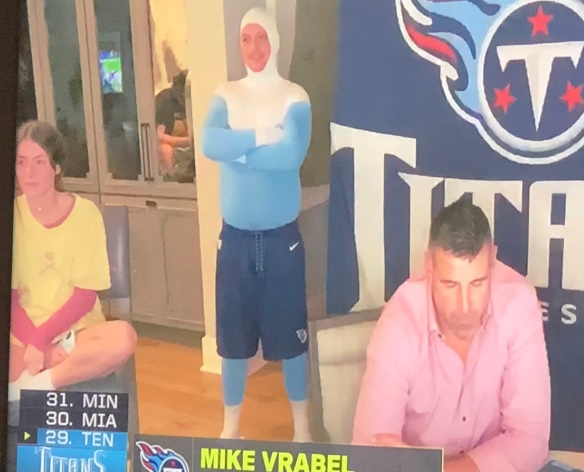 With the No. 30 pick in the 2020 NFL Draft, the Dolphins select Noah Igbinoghene, CB, Auburn
12:01:
It's odd the Dolphins would spend so many resources on cornerbacks the year after Tom Brady moves out of the division.
With the No. 31 pick in the 2020 NFL Draft, the Vikings select Jeff Gladney, CB, TCU
12:05:
Man, the Chiefs really wanted Jeff Gladney...
12:06:
The Vikings killed two birds with one stone in my mock draft. Not only did I get No. 31 wrong, but they made sure No. 32 would be incorrect as well. Ugh. F**k you, Zimmer, even though you won me so much money with your preseason winnings!
With the No. 32 pick in the 2020 NFL Draft, the Chiefs select Clyde Edwards-Helaire, RB, LSU
12:11:
I didn't think Andy Reid wanted to pick a running back in the first round, but he had to make changes on the fly with his cornerback off the board.
12:14:
Before we sign off, can someone check behind Roger Goodell's TV to make sure a dead body isn't hidden there?
12:15:
Thanks for reading this! Please tweet @nflcommish and ask him to reveal the dead bodies on Day 2 or 3. Stay tuned tonight/tomorrow morning for my Round 2 and 3 Re-mock (as well as Charlie's).
NFL Picks
- Oct. 24
2022 NFL Mock Draft
- Oct. 20
NFL Power Rankings
- Oct. 19
Fantasy Football Rankings
- Sept. 8
2021:
Live 2021 NFL Draft Blog
- April 25
2021 NFL Week 1 Recap
- Sept. 13
2021 NFL Week 2 Recap
- Sept. 20
2021 NFL Week 3 Recap
- Sept. 27
2021 NFL Week 4 Recap
- Oct. 4
2021 NFL Week 5 Recap
- Oct. 11
2021 NFL Week 6 Recap
- Oct. 18
2021 NFL Week 7 Recap
- Oct. 25
2020:
Live 2020 NFL Draft Blog
- April 25
2020 NFL Week 1 Recap
- Sept. 11
2020 NFL Week 2 Recap
- Sept. 18
2020 NFL Week 3 Recap
- Sept. 25
2020 NFL Week 4 Recap
- Oct. 2
2020 NFL Week 5 Recap
- Oct. 9
2020 NFL Week 6 Recap
- Oct. 16
2020 NFL Week 7 Recap
- Oct. 23
2020 NFL Week 8 Recap
- Oct. 30
2020 NFL Week 9 Recap
- Nov. 6
2020 NFL Week 10 Recap
- Nov. 13
2020 NFL Week 11 Recap
- Nov. 20
2020 NFL Week 12 Recap
- Nov. 27
2020 NFL Week 13 Recap
- Dec. 4
2020 NFL Week 14 Recap
- Dec. 11
2020 NFL Week 15 Recap
- Dec. 18
2020 NFL Week 16 Recap
- Dec. 25
2020 NFL Week 17 Recap
- Jan. 3
2020 NFL Playoffs Recap
- Feb. 3
2019:
Live 2019 NFL Draft Blog
- April 25
2019 NFL Week 1 Recap
- Sept. 9
2019 NFL Week 2 Recap
- Sept. 16
2019 NFL Week 3 Recap
- Sept. 23
2019 NFL Week 4 Recap
- Sept. 30
2019 NFL Week 5 Recap
- Oct. 7
2019 NFL Week 6 Recap
2019 NFL Week 7 Recap
2019 NFL Week 8 Recap
2019 NFL Week 9 Recap
2019 NFL Week 10 Recap
2019 NFL Week 11 Recap
2019 NFL Week 12 Recap
2019 NFL Week 14 Recap
2019 NFL Week 15 Recap
2019 NFL Week 16 Recap
2019 NFL Week 17 Recap
2018:
Live 2018 NFL Draft Blog
- April 30
2018 NFL Week 1 Recap
- Sept. 7
2018 NFL Week 2 Recap
- Sept. 14
2018 NFL Week 3 Recap
- Sept. 21
2018 NFL Week 4 Recap
- Sept. 28
2018 NFL Week 5 Recap
- Oct. 5
2018 NFL Week 6 Recap
- Oct. 12
2018 NFL Week 7 Recap
- Oct. 19
2018 NFL Week 8 Recap
- Oct. 26
2018 NFL Week 9 Recap
- Nov. 2
2018 NFL Week 10 Recap
- Nov. 9
2018 NFL Week 11 Recap
- Nov. 16
2018 NFL Week 12 Recap
- Nov. 23
2018 NFL Week 13 Recap
- Nov. 30
2018 NFL Week 14 Recap
- Dec. 7
2018 NFL Week 15 Recap
- Dec. 14
2018 NFL Week 16 Recap
- Dec. 21
2018 NFL Week 17 Recap
- Dec. 31
2018 NFL Week 18 Recap
- Jan. 6
2017:
Live 2017 NFL Draft Blog
- April 30
2017 NFL Week 1 Recap
- Sept. 12
2017 NFL Week 2 Recap
- Sept. 19
2017 NFL Week 3 Recap
- Sept. 26
2017 NFL Week 4 Recap
- Oct. 2
2017 NFL Week 5 Recap
- Oct. 9
2017 NFL Week 6 Recap
- Oct. 16
2017 NFL Week 7 Recap
- Oct. 23
2017 NFL Week 8 Recap
- Oct. 30
2017 NFL Week 9 Recap
- Nov. 6
2017 NFL Week 10 Recap
- Nov. 13
2017 NFL Week 11 Recap
- Nov. 20
2017 NFL Week 12 Recap
- Nov. 27
2017 NFL Week 13 Recap
- Dec. 4
2017 NFL Week 14 Recap
- Dec. 11
2017 NFL Week 15 Recap
- Dec. 18
2017 NFL Week 16 Recap
- Dec. 25
2017 NFL Week 17 Recap
- Jan. 1
2017 NFL Week 18 Recap
- Jan. 8
2017 NFL Week 19 Recap
- Jan. 15
2017 NFL Week 20 Recap
- Jan. 22
Super Bowl LII Recap
- Feb. 5
2017:
Live 2017 NFL Draft Blog
- April 30
2017 NFL Week 1 Recap
- Sept. 12
2017 NFL Week 2 Recap
- Sept. 19
2017 NFL Week 3 Recap
- Sept. 26
2017 NFL Week 4 Recap
- Oct. 2
2017 NFL Week 5 Recap
- Oct. 9
2017 NFL Week 6 Recap
- Oct. 16
2017 NFL Week 7 Recap
- Oct. 23
2017 NFL Week 8 Recap
- Oct. 30
2017 NFL Week 9 Recap
- Nov. 6
2017 NFL Week 10 Recap
- Nov. 13
2017 NFL Week 11 Recap
- Nov. 20
2017 NFL Week 12 Recap
- Nov. 27
2017 NFL Week 13 Recap
- Dec. 4
2017 NFL Week 14 Recap
- Dec. 11
2017 NFL Week 15 Recap
- Dec. 18
2017 NFL Week 16 Recap
- Dec. 25
2017 NFL Week 17 Recap
- Jan. 1
2017 NFL Week 18 Recap
- Jan. 8
2017 NFL Week 19 Recap
- Jan. 15
2017 NFL Week 20 Recap
- Jan. 22
Super Bowl LII Recap
- Feb. 5
2016:
Live 2016 NFL Draft Blog
- April 30
2016 NFL Week 1 Recap
- Sept. 12
2016 NFL Week 2 Recap
- Sept. 19
2016 NFL Week 3 Recap
- Sept. 26
2016 NFL Week 4 Recap
- Oct. 3
2016 NFL Week 5 Recap
- Oct. 10
2016 NFL Week 6 Recap
- Oct. 17
2016 NFL Week 7 Recap
- Oct. 24
2016 NFL Week 8 Recap
- Oct. 31
2016 NFL Week 9 Recap
- Nov. 7
2016 NFL Week 10 Recap
- Nov. 14
2016 NFL Week 11 Recap
- Nov. 21
2016 NFL Week 12 Recap
- Nov. 28
2016 NFL Week 13 Recap
- Dec. 5
2016 NFL Week 14 Recap
- Dec. 12
2016 NFL Week 15 Recap
- Dec. 19
2016 NFL Week 16 Recap
- Dec. 26
2016 NFL Week 17 Recap
- Jan. 2
2016 NFL Week 18 Recap
- Jan. 9
2016 NFL Week 19 Recap
- Jan. 16
2016 NFL Week 20 Recap
- Jan. 23
2016 NFL Week 21 Recap
- Feb. 6
2015:
Live 2015 NFL Draft Blog
- April 30
2015 NFL Week 1 Recap
- Sept. 12
2015 NFL Week 2 Recap
- Sept. 17
2015 NFL Week 3 Recap
- Sept. 24
2015 NFL Week 4 Recap
- Oct. 1
2015 NFL Week 5 Recap
- Oct. 8
2015 NFL Week 6 Recap
- Oct. 15
2015 NFL Week 7 Recap
- Oct. 22
2015 NFL Week 8 Recap
- Oct. 29
2015 NFL Week 9 Recap
- Nov. 5
2015 NFL Week 10 Recap
- Nov. 12
2015 NFL Week 11 Recap
- Nov. 19
2015 NFL Week 12 Recap
- Nov. 26
2015 NFL Week 13 Recap
- Dec. 4
2015 NFL Week 14 Recap
- Dec. 11
2015 NFL Week 15 Recap
- Dec. 18
2015 NFL Week 16 Recap
- Dec. 25
2015 NFL Week 17 Recap
- Jan. 4
2015 NFL Week 18 Recap
- Jan. 11
2015 NFL Week 19 Recap
- Jan. 18
2015 NFL Week 20 Recap
- Jan. 25
Super Bowl 50 Recap
- Feb. 8
2014:
Live 2014 NFL Draft Blog
- May 8
2014 NFL Week 1 Recap
- Sept. 5
2014 NFL Week 2 Recap
- Sept. 12
2014 NFL Week 3 Recap
- Sept. 19
2014 NFL Week 4 Recap
- Sept. 26
2014 NFL Week 5 Recap
- Oct. 3
2014 NFL Week 6 Recap
- Oct. 10
2014 NFL Week 7 Recap
- Oct. 17
2014 NFL Week 8 Recap
- Oct. 24
2014 NFL Week 9 Recap
- Oct. 31
2014 NFL Week 10 Recap
- Nov. 6
2014 NFL Week 11 Recap
- Nov. 13
2014 NFL Week 12 Recap
- Nov. 20
2014 NFL Week 13 Recap
- Nov. 27
2014 NFL Week 14 Recap
- Dec. 5
2014 NFL Week 15 Recap
- Dec. 12
2014 NFL Week 16 Recap
- Dec. 19
2014 NFL Week 17 Recap
- Dec. 29
2014 NFL Week 18 Recap
- Jan. 4
2014 NFL Week 19 Recap
- Jan. 11
2014 NFL Week 20 Recap
- Jan. 18
Super Bowl XLIX Live Blog
- Feb. 1
Super Bowl XLIX Recap
- Feb. 2
2013:
Live 2013 NFL Draft Blog
- April 26
2013 NFL Week 1 Recap
- Sept. 10
2013 NFL Week 2 Recap
- Sept. 17
2013 NFL Week 3 Recap
- Sept. 24
2013 NFL Week 4 Recap
- Oct. 1
2013 NFL Week 5 Recap
- Oct. 8
2013 NFL Week 6 Recap
- Oct. 15
2013 NFL Week 7 Recap
- Oct. 22
2013 NFL Week 8 Recap
- Oct. 29
2013 NFL Week 9 Recap
- Nov. 4
2013 NFL Week 10 Recap
- Nov. 11
2013 NFL Week 11 Recap
- Nov. 18
2013 NFL Week 12 Recap
- Nov. 25
2013 NFL Week 13 Recap
- Dec. 2
2013 NFL Week 14 Recap
- Dec. 9
2013 NFL Week 15 Recap
- Dec. 16
2013 NFL Week 16 Recap
- Dec. 23
2013 NFL Week 17 Recap
- Dec. 30
2013 NFL Week 18 Recap
- Jan. 6
2013 NFL Week 19 Recap
- Jan. 13
2013 NFL Week 20 Recap
- Jan. 20
Super Bowl XLVIII Recap
- Feb. 3
Super Bowl XLVIII Live Blog
- Feb. 2
2012:
Live 2012 NFL Draft Blog
- April 26
2012 NFL Week 1 Recap
- Sept. 10
2012 NFL Week 2 Recap
- Sept. 17
2012 NFL Week 3 Recap
- Sept. 24
2012 NFL Week 4 Recap
- Oct. 1
2012 NFL Week 5 Recap
- Oct. 8
2012 NFL Week 6 Recap
- Oct. 15
2012 NFL Week 7 Recap
- Oct. 22
2012 NFL Week 8 Recap
- Oct. 29
2012 NFL Week 9 Recap
- Nov. 5
2012 NFL Week 10 Recap
- Nov. 12
2012 NFL Week 11 Recap
- Nov. 19
2012 NFL Week 12 Recap
- Nov. 26
2012 NFL Week 13 Recap
- Dec. 3
2012 NFL Week 14 Recap
- Dec. 10
2012 NFL Week 15 Recap
- Dec. 17
2012 NFL Week 16 Recap
- Dec. 24
2012 NFL Week 17 Recap
- Dec. 31
2012 NFL Week 18 Recap
- Jan. 7
2012 NFL Week 19 Recap
- Jan. 14
2012 NFL Week 20 Recap
- Jan. 21
Super Bowl XLVII Recap
- Feb. 4
Super Bowl XLVII Live Blog
- Feb. 4
2011:
Live 2011 NFL Draft Blog
- April 28
2011 NFL Week 1 Recap
- Sept. 12
2011 NFL Week 2 Recap
- Sept. 19
2011 NFL Week 3 Recap
- Sept. 26
2011 NFL Week 4 Recap
- Oct. 3
2011 NFL Week 5 Recap
- Oct. 10
2011 NFL Week 6 Recap
- Oct. 17
2011 NFL Week 7 Recap
- Oct. 24
2011 NFL Week 8 Recap
- Oct. 31
2011 NFL Week 9 Recap
- Nov. 7
2011 NFL Week 10 Recap
- Nov. 14
2011 NFL Week 11 Recap
- Nov. 21
2011 NFL Week 12 Recap
- Nov. 28
2011 NFL Week 13 Recap
- Dec. 5
2011 NFL Week 14 Recap
- Dec. 12
2011 NFL Week 15 Recap
- Dec. 19
2011 NFL Week 16 Recap
- Dec. 26
2011 NFL Week 17 Recap
- Jan. 2
2011 NFL Week 18 Recap
- Jan. 9
2011 NFL Week 19 Recap
- Jan. 16
2011 NFL Week 20 Recap
- Jan. 23
Super Bowl XLVI Live Blog
- Feb. 6
2010:
Live 2010 NFL Draft Blog
- April 22
2010 Hall of Fame Game Live Blog
- Aug. 8
2010 NFL Kickoff Live Blog
- Sept. 9
2010 NFL Week 1 Review
- Sept. 13
2010 NFL Week 2 Review
- Sept. 20
2010 NFL Week 3 Review
- Sept. 27
2010 NFL Week 4 Review
- Oct. 4
2010 NFL Week 5 Review
- Oct. 11
2010 NFL Week 6 Review
- Oct. 18
2010 NFL Week 7 Review
- Oct. 25
2010 NFL Week 8 Review
- Nov. 1
2010 NFL Week 9 Review
- Nov. 8
2010 NFL Week 10 Review
- Nov. 15
2010 NFL Week 11 Review
- Nov. 22
2010 NFL Week 12 Review
- Nov. 29
2010 NFL Week 13 Review
- Dec. 6
2010 NFL Week 14 Review
- Dec. 13
2010 NFL Week 15 Review
- Dec. 20
2010 NFL Week 16 Review
- Dec. 27
2010 NFL Week 17 Review
- Jan. 3
2010 NFL Week 18 Review
- Jan. 10
2010 NFL Week 19 Review
- Jan. 17
2010 NFL Week 19 Review
- Jan. 24
Super Bowl XLV Live Blog
- Feb. 6
2009:
Live 2009 NFL Draft Blog
- April 25
2009 Hall of Fame Game Live Blog
- Aug. 10
2009 NFL Kickoff Live Blog
- Sept. 10
2009 NFL Week 1 Review
- Sept. 14
2009 NFL Week 2 Review
- Sept. 21
2009 NFL Week 3 Review
- Sept. 28
2009 NFL Week 4 Review
- Oct. 5
2009 NFL Week 5 Review
- Oct. 12
2009 NFL Week 6 Review
- Oct. 19
2009 NFL Week 7 Review
- Oct. 26
2009 NFL Week 8 Review
- Nov. 2
2009 NFL Week 9 Review
- Nov. 9
2009 NFL Week 10 Review
- Nov. 16
2009 NFL Week 11 Review
- Nov. 23
2009 NFL Week 12 Review
- Nov. 30
2009 NFL Week 13 Review
- Dec. 6
2009 NFL Week 14 Review
- Dec. 13
2009 NFL Week 15 Review
- Dec. 20
2009 NFL Week 16 Review
- Dec. 27
2009 NFL Week 17 Review
- Jan. 4
2009 NFL Week 18 Review
- Jan. 11
2009 NFL Week 19 Review
- Jan. 18
2009 NFL Week 20 Review
- Jan. 25
Super Bowl XLIV Live Blog
- Feb. 7
2008:
Live 2008 NFL Draft Blog
- April 26
2008 NFL Kickoff Blog
- Sept. 4
NFL Week 1 Review
- Sept. 8
NFL Week 2 Review
- Sept. 15
NFL Week 3 Review
- Sept. 22
NFL Week 4 Review
- Sept. 29
NFL Week 5 Review
- Oct. 6
NFL Week 6 Review
- Oct. 13
NFL Week 7 Review
- Oct. 20
NFL Week 8 Review
- Oct. 27
NFL Week 9 Review
- Nov. 3
NFL Week 10 Review
- Nov. 10
NFL Week 11 Review
- Nov. 17
NFL Week 12 Review
- Nov. 24
NFL Week 13 Review
- Dec. 1
NFL Week 14 Review
- Dec. 8
NFL Week 15 Review
- Dec. 15
NFL Week 16 Review
- Dec. 22
NFL Week 17 Review
- Dec. 29
NFL Wild Card Playoffs Review
- Jan. 4
NFL Divisional Playoffs Review
- Jan. 11
NFL Championship Sunday Review
- Jan. 19
Super Bowl XLIII Live Blog