My Thoughts on the 2014 NFL Draft - Live on Draft Day!
What is this?
I'll be posting my thoughts on the 2014 NFL Draft here. That will include everything from the actual picks, to the ESPN personalities, to the commercials, etc. Anything goes. This page will be updated every five minutes or so, so I hope you join me for the 2014 NFL Draft!
By the way, I'll be posting live
2014 NFL Draft Grades
for individual picks. Overall 2014 NFL Draft Grades will be up on Monday morning. Follow me
@walterfootball
for updates.
Also, you can discuss the 2014 NFL Draft in the soon-to-be-posted brand new Draft Day page, or post a comment below. The Draft Day page will have comments from all draft pages, announced picks and the top remaining players available on our Big Board.
12:40:
I'll be back later this evening - after I finish the final update of my
2014 NFL Mock Draft
- but I wanted to take a look at some betting props. These are from Bovada:
1. Who will be drafted 1st? Johnny Manziel -250. You have to pay $2.50 to win $1 for Manziel, but it's worth it. It's hard to see Manziel getting past the Buccaneers. Bortles, meanwhile, could easily fall to 20.
2. Khalil Mack Over 4.5. It's possible that Mack could be Jacksonville's choice, but it's equally (or even more) likely that the Jaguars will choose Sammy Watkins because their goal is to obtain four starters with their first five picks. Also, don't count out Johnny Manziel, who could be the third-overall choice. If it's Manziel, Mack will almost certainly fall to No. 5.
7:17:
Now it's the time you've all been waiting for. My top 10 storylines for the 2014 NFL Draft...
1. I don't feel good about my
2014 NFL Mock Draft
. I feel like I'm only going to get two picks correct because of crazy trades and incompetence from stupid teams. If the Jaguars draft another right tackle because they read online that Chad Henne will improve that way, I swear, I'm throwing my laptop out the window.
(And now it's time to remind everyone how seriously the Jaguars take the draft):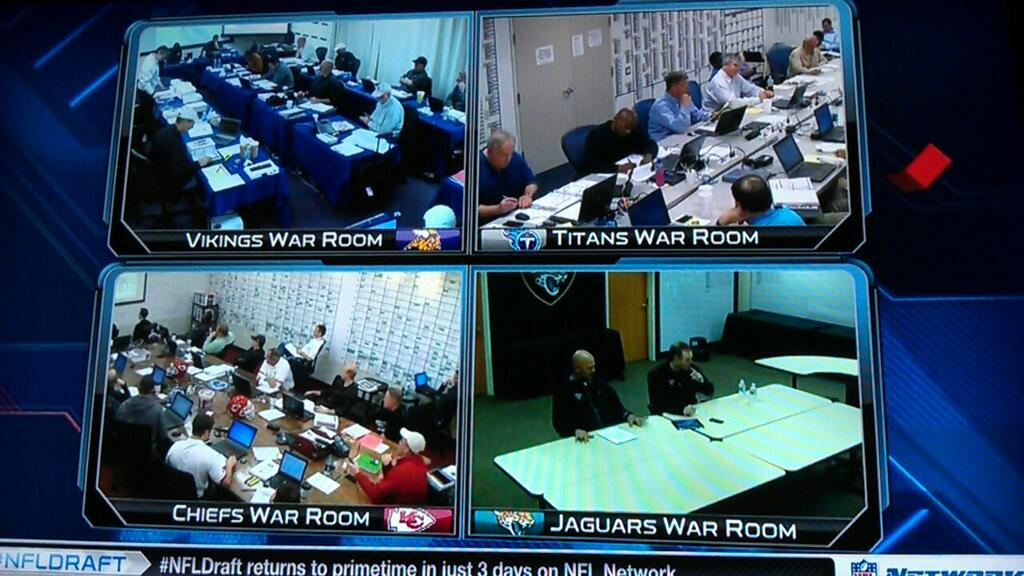 2. Roger Goodell reportedly wants to push the draft back even further next year. It'll be in the middle of May. By 2016, it'll be at the end of May. And come 2030, the draft will be taking place on Thanksgiving. "I don't care about the fans; I just want to make the owners more money, even if it's only 0.01 percent more and I piss off everyone in the process," he'll say on his next Twitter Q&A session. This is more than 140 characters, but Goodell won't care.
3. One frustrated Cowboy fan will leak a fake phone conversation where Jerry Jones says that he hopes all black people die in a nuclear explosion. The Twitter sand in the vag mafia will go on a rampage, prompting Goodell to exile Jones. This is actually the best thing that could ever happen to Dallas, since it'll prompt the team to bring in a real general manager.
4. Speaking of the Cowboys, they're going to spend their first-round pick on a sixth-round right tackle. I've had Taylor Lewan to them a bunch, but maybe they'll take the other Michigan tackle, Michael Schofield. I'll bash the selection, but then butt-kissers like Phil Simms will criticize mock drafters on the air, proclaiming Schofield to be a great choice. This all sounds bizarre, but it happened last year.
5. Some of the ridiculous pre-draft rumors will take place. Not only will the Texans trade for Ryan Mallett; they'll also deal the first-round pick to both Buffalo AND Atlanta. The Texans will take all of those selections, and when the Bills and Falcons respond angrily, general manager Rick Smith will reply, "Oops I didn't mean to do that lol."
6. Speaking of trades, look for the Browns to deal three future first-round picks for the No. 1 overall selection, where they'll take Dee Ford. They'll then trade away three future second-rounders for the No. 7 overall pick, and then re-acquire the three future first-round choices to move up from No. 7 to 6 - and they'll get a kick-returner to boot! Someone should seriously make a movie about this. They could even have the general manager be the son of the late, former ex-coach!
7. I personally can't wait for Chris Berman's French accent when he says Laurent Duvernay-Tardif's name. Boomer has the best French accent of all time, and when I hear it, tears will gush out of my eyes uncontrollably.
8. At some point, the camera will find Timmy Jernigan and Zach Mettenberger. They'll be smoking a crack pipe in a closet somewhere. When they see that people are watching, they'll just shrug their shoulders and go back to smoking.
9. Based on the rumors, it sounds like the Rams will take Johnny Manziel and exile Sam Bradford from St. Louis. They'll then find Bradford's new home and burn it to the ground and plant a Johnny Football flag in its spot.
10. On Manziel: I feel like the Browns will draft him. He'll make his way to the podium, but Jay Glazer will swoop in with a parachute and take the microphone from Goodell. "Attention, attention! Johnny Football can't be the Cleveland pick!" he'll shout. Goodell will then nod his head and tell Manziel to go back to the green room.
7:22:
Hey, Roger Goodell wants to keep the draft in May because the players can graduate. What a good guy! Seriously, does anyone buy this BS? Goodell just wants money. He doesn't give a damn about graduation.
7:25:
If you haven't seen it, we have our new
Draft Day
feature up. It has a live big board, comments and chatting.
7:29:
ESPN has been playing that "I'm the man, I'm the man, I'm the man" song all evening. So annoying. I feel like I'm going to jump out my window if I keep hearing it. I hate it. If you have to tell people that you're the man, you are most definitely not the man.
7:30:
Love this AndroGel commercial. You can raise your testosterone, but you will get cancer, AIDS, herpes and Ebola in the process! Buy our product!
7:32:
There are a lot of "aces" back there, according to Chris Berman. Get it? Because they were playing cards?
7:33:
Glad to have NFL Draft guru Ray Lewis on ESPN. Lewis has been studying the draft for decades, so he will provide some great insight for sure.
7:34:
Love the NFL Primetime music they play on ESPN. It's such a shame ESPN ruined that show.
7:35:
The NFL Draft has turned into a rave. What's up with this music? And where are the half-naked chicks with the glow sticks?
7:37:
In other sports, the Miami Heat somehow had 15 points in the first quarter. Was LeBron watching the TV with the draft on instead of paying attention to his game?
7:38:
Hey Jimmy Garoppolo, come to New York so the audience can have someone to see in the green room on Friday!
7:39:
Ra'Shede "Egg Man" has taken the stage. Some team should draft him so they get all of Sonic's emeralds.
7:44:
Forum member BCB: "What a special night. The Browns get to ruin not one, but two careers this evening."
7:46:
Speaking of inept teams, take a look at this lulzy tweet:
Seriously, how am I supposed to have an accurate mock draft with these bozos picking at the top every year?
7:49:
More on the Jags... this is what I posted in the live blog last year: "It really baffles me how someone like David Caldwell gets a job in the NFL. He started the offseason by saying he wants to build around Blaine Gabbert, and now he takes a right tackle when he could have just signed one? This team is going to be awful for a long time. I feel for Jaguar fans who know how bad of a move this was. Speaking of stupid teams, the Raiders better not take D.J. Hayden."
And now we're back... what the Jags really should do is take Manziel. I don't get the Mack pick. They have Gus Bradley, who can get so much out of late-round defenders. Why take a LEO at No. 3?
7:52:
Chris Berman just said that Ego is high on himself. What a dick thing to say.
7:53:
I think Britt McHenry goes first in the ESPN NFL Draft Sideline Reporter Mock Draft.
7:56:
Gotta love the comments on the
Draft Day
page:
7:58:
If you don't like my analysis, Charlie has his own
draft blog
.
7:59:
I say this because someone in the comment board below said my jokes suck. I put so much hard work into making these jokes, so this person made me cry. I am weeping right now. I don't even care if I get any of my picks right.
8:02:
Why does ESPN have these terrible openings every year? They always pick a dumb song that they think is cool, and it never has anything to do with the draft. Can't they not have an opening song?
8:06:
So, Jon Gruden is saying that the Texans are an Alex Smith away from going 11-5?
8:07:
I don't get Mel Kiper saying it's an "obvious pick." He had Khalil Mack to the Texans a few weeks ago.
8:09:
Does Chris Berman have a red mark on the right side of his lip? Is that from Leather?
8:10:
Oh, and I should have known that the Jerry Jones defenders would chime in below. The pick was still terrible. Travis Frederick was always seen as a solid prospect, but Dallas could have gotten someone else and then Frederick. As a result, their defense was an abomination.
8:12:
Someone just asked for "more Emmitt Smith, less Ray Lewis." I'm a fan of this. Luckily, there's
Emmitt Smith's 2014 NFL Mock Draft
.
8:14:
Mel Kiper looks pissed that Jon Gruden is questioning him. Gruden has balls. I'd be scared to challenge someone who looks like a vampire.
With the No. 1 pick, the Houston Texans select Jadeveon Clowney
8:15:
I got a pick right! I got a pick right! I'm the man, I'm the man, I'm the man.
8:18:
You can check out my live
NFL Draft Grades
here.
8:20:
I wrote up my grade for the Rams taking Greg Robinson. Hopefully that's not a waste of time.
8:21:
If you haven't seen it, the live big board on our
Draft Day
page automatically updated, so Khalil Mack is now No. 1. The live big boar will be updated instantly throughout the night.
8:22:
These DirecTV wires commercials are so creative. The kid flying around on the ceiling fan is pure genius. I want to get DirecTV immediately.
With the No. 2 pick, the St. Louis Rams select Greg Robinson
8:27:
Ray Lewis says Greg Robinson is the next Jonathan Ogden. He has studied Robinson on film for months, no doubt.
8:28:
Here's where my mock draft goes down the toilet. I think the Jaguars are picking Khalil Mack - but only because I had Sammy Watkins in my mock. If I had Mack there, they'd take Watkins. The Jaguars always find a way to screw me.
With the No. 3 pick, the Jacksonville Jaguars select Blake Bortles
8:31:
WOOOOOOOOOOOOOOWWWWWWWWWWWWWWWWWWWWWWWWWWW!!!!!!!!!!
8:35:
Blake Bortles grade is up, and the Bills have moved up to No. 4! This draft is nuts.
With the No. 4 pick, the Buffalo Bills select WR Sammy Watkins
8:40:
Ugh, I am behind. The picks are coming in too quickly. But this draft is absolutely insane.
8:41:
This pick has to be Khalil Mack, right?
With the No. 5 pick, the Oakland Raiders select DE/OLB Khalil Mack
8:48:
I'm content with this. The Jaguars were bound to screw things up, so getting three right out of five isn't so bad. I'd love it if the Falcons take Jake Matthews.
8:49:
Boooo no Lewan! Take Matthews! Thomas Dimitroff's No. 1 priority should be preserving my mock draft.
With the No. 6 pick, the Atlanta Falcons select OT Jake Matthews
8:51:
I'll get to the grade soon, but take a look at this comment:
It's almost like my mock draft ruined this person's life.
8:56:
I have Johnny Manziel in my mock, but I'll be pretty surprised if this isn't Mike Evans. I wasn't sure if Evans would be here. If I had that happening in my mock draft, Evans wouldn't been the pick.
With the No. 7 pick, the Tampa Bay Buccaneers select WR Mike Evans
9:03:
Johnny Football hasn't been shown on camera. Hmm...
With the No. 8 pick, the Cleveland Browns select CB Justin Gilbert
9:05:
CLEVELAND SUCKS! CLEVELAND SUCKS! CLEVELAND SUCKS!
9:10:
These picks need to slow down so I can post more corny jokes. I know you all love them.
9:11:
What Charlie wrote in his
live blog
makes a lot of sense: Who knows what the 2015 first-rounder will be for the Browns, I don't understand Cleveland passing on Sammy Watkins for Justin Gilbert. They already have a great corner and just need a solid number two. Josh Gordon is one toke away from being gone for a year or more. The Browns defense was already pretty solid.
With the No. 9 pick, the Minnesota Vikings select DE/OLB Anthony Barr
With the No. 10 pick, the Detroit Lions select TE Eric Ebron
9:18:
Ugh, so behind. But did Ray Lewis forget Antonio Gates' name? Really, ESPN?
With the No. 11 pick, the Tennessee Titans select OT Taylor Lewan
9:23:
Wow, the Browns almost traded up. I wonder what they were going for. Another corner, maybe?
9:28:
I'm going to send gift bags to teams that help my mock draft. The Falcons and Raiders got gift bags. Giants? You know you want it. I've included some beef jerky and a Snickers bar. Go with Zack Martin, and it could be yours.
With the No. 12 pick, the New York Giants select WR Odell Beckham
9:30:
F*** you, Giants.
9:33:
Chris Mortensen made it seem like the Browns were trying to trade up for Beckham when he said "everything fell the Giants' way." I'm pissed the 49ers didn't move up for Beckham because they reportedly liked him a lot.
9:34:
We were told the Rams like Bradley Roby, so I'm hoping that'll be the pick. The Rams didn't get a gift bag because the Greg Robinson selection was locked in, so I'm hoping Les Snead is reading this.
9:36:
Stupid kids football commercial. "I get to be friends with that guy and that guy." You don't even know their names, liar!
With the No. 13 pick, the St. Louis Rams select DT Aaron Donald
With the No. 14 pick, the Chicago Bears select CB/S Kyle Fuller
9:44:
GIFT BAG FOR THE BEARS WOOOOOOOOOOOOOO!!!!!!!!!!!
9:45:
Just got a text from my friend Gary: "You know what scares me? I may have to blow you." My dreams have come true.
With the No. 15 pick, the Pittsburgh Steelers select ILB Ryan Shazier
9:49:
Todd McShay said he had two people tell him that Johnny Manziel would be the pick. Let's see how accurate he was.
With the No. 16 pick, the Dallas Cowboys select G/OT Zack Martin
9:54:
Great job by Jerry Jones improving that defense.
10:00:
SOOO BEHINDDD AHHHHHHHHHHHH!!!!!!
With the No. 17 pick, the Baltimore Ravens select ILB C.J. Mosley
10:04:
You know, I was looking forward to the draft just so I could hear Mel Kiper's scouting report on Ray Lewis. My dreams have come true.
10:05:
Johnny Manziel continues to fall. Jay Glazer said he would go No. 20 to Arizona, so if that comes true, he is God.
10:06:
Everyone always brings up Aaron Rodgers as encouragement for quarterbacks who fall, but what about all of the busts? Brady Quinn, Jimmy Clausen and Geno Smith all fell, and they all sucked.
10:07:
Just checked my phone and saw someone text me: "Manzi to Cowboys." How the hell did Todd McShay get my number?
With the No. 18 pick, the New York Jets select S Calvin Pryor
10:10:
Rex Ryan gets beef jerky! NOM NOM NOM NOM!!!
10:14:
I'm happy my mock is doing well. That's the only reason I haven't thrown my laptop at the TV. I'm so sick of this "I'm the Man" song. Can ESPN stop playing it? Or could they choose five songs to rotate next year? Whoever sings that song needs to be thrown into a volcano.
10:16:
Weird that the Dolphins didn't move up for Zack Martin. The Steelers didn't want to do a deal?
10:17:
I'm also shocked the 49ers haven't moved up yet. What are they going to do with all of those picks?
With the No. 19 pick, the Miami Dolphins select OT Ja'Wuan James
10:18:
YESSSSS!!!
10:19:
Love the crowd reaction, by the way. They were all like, "Who?"
10:20:
The Saints have moved up! Marqise Lee?
10:24:
Ugh, it was that stupid football kid again. I hate that commercial. No kid would ever say, "I can't play football unless it's head-up certified!" So lame.
10:25:
I don't get why the Saints have to go defense, as the ESPN guys are proclaiming. Marques Colston is always hurt, and Lance Moore is gone. Wideout is a huge need.
With the No. 20 pick, the New Orleans Saints select WR Brandin Cooks
10:29:
I just shouted in my game-show host voice, "Brandin Cooks got his mom a BRAAND NEEEWW CAAAARR!" Good times.
10:31:
I'm in a good mood now, but I'm going to strangle the next person next to me when "I'm the Man" is heard in the background or on the radio. If you hang out with me, you've been warned.
10:33:
I'll actually be pretty surprised if the Packers go Ha Ha. Not impossible, but I just doubt it. We'll see (I know I just jinxed myself).
With the No. 21 pick, the Green Bay Packers select S Ha Ha Clinton-Dix
10:34:
Oops!!!
10:39:
Think this is Cody Latimer or Marqise Lee. Would've been Ha Ha Clinton-Dix.
10:40:
There's some serious tension between Mel Kiper and Jon Gruden. Sure, analysts argue, but they don't sound like they like each other, and Chris Berman even had to say "we're all having fun."
10:41:
These "Framily" commercials would piss me off if the red-headed MILF wasn't so hot. I'm planning on doing a Jerks entry on it, so I won't spoil it too much, but let me just say I'm jealous of that hamster that gets to bang that woman.
10:42:
Browns have traded up! Marqise Lee? Johnny Football?
10:43:
F*** you, Aloe Blacc. You suck.
With the No. 22 pick, the Cleveland Browns select QB Johnny Manziel
10:48:
Oh man, this draft is nuts. I'd say it was the greatest draft ever, but the ESPN theme song spoiled it a bit.
10:49:
The Chiefs are letting this run down because they are so desperate to trade out. They hate not having a second-round pick, and they don't want to reach for a guard.
10:50:
Oh, and I almost forgot: So much for the Browns' $100,000 study that Teddy Bridgewater is the best quarterback in this class.
10:51:
So, the Browns drafted Manziel because a homeless man told them to. That's almost as bad as the Jaguars asking their kicker what to do.
10:57:
I was so confused by Kansas City's pick that I almost forgot to post this:
With the No. 23 pick, the Kansas City Chiefs select DE/OLB Dee Ford
10:58:
Dee Ford...? Why? Terrible.
With the No. 24 pick, the Cincinnati Bengals select CB Darqueze Dennard
10:59:
Moar gift bags.
With the No. 25 pick, the San Diego Chargers select CB Jason Verrett
11:07:
Phew, almost done. Sorry for the lack of corny jokes, but it's hard to post stuff when there back-to-back picks.
11:08:
I want two more correct picks and no more "I'm the Man" music for the rest of the evening. Think I have a chance?
11:09:
NOOOOOOOOOOOOOOOO NOT THIS F*****ING SOOONGGG AGAAAINN AHHHHHHHHHHHHHGHHHHHHHHHHHHHHHHHHHH!
11:10:
"Like a Chip Kelly offense, the pick is going to come in really fast." - Chris Berman. Except it didn't come in fast at all.
With the No. 26 pick, the Philadelphia Eagles select DE/OLB Marcus Smith
11:14:
Just realized that the Panthers might get Marqise Lee. Argh, I considered mocking him to them today, but gave Lee to the Saints instead.
11:15:
According to our
Draft Day
feature, the top players available are Teddy Bridgewater, Louis Nix, Marqise Lee, Xavier Su'a-Filo and Derek Carr.
With the No. 27 pick, the Arizona Cardinals select S Deone Bucannon
With the No. 28 pick, the Carolina Panthers select WR Kelvin Benjamin
11:25:
Caught up... and the pick is in. FML.
11:26:
Two of my final four pick possibilites are alive. Let's go Hageman at 29 and Bitonio at 32!
With the No. 29 pick, the New England Patriots select DT Dominique Easley
11:31:
"I'm going to be friends with that guy and that guy." I wonder how "that guy" and "that guy" feel about this kid not knowing their names. They should kick his a** and give him the beatdown he deserves.
With the No. 30 pick, the San Francisco 49ers select S Jimmie Ward
11:37:
Time is running out for me to make corny jokes, but blame the NFL. They need to move back to 15 minutes. I don't care if the draft lasts six hours. Roger Goodell needs the fans to read more of my corny jokes.
With the No. 31 pick, the Denver Broncos select CB Bradley Roby
11:42:
The Vikings have traded up! Hopefully for Derek Carr so I can count this as a correct pick. Of course, they could take Teddy Bridgewater...
11:43:
Oh, and I also hate those Bud Light commercials where that guy is secretly being filmed even though there's a camera on him at all times. So stupid. Why do we care if he's having a good time? It actually doesn't even look like a good time to me, to be honest. Why would he want to play ping pong against Arnold when he could be banging that brunette who asked him if he's up for whatever?
With the No. 32 pick, the Minnesota Vikings select QB Teddy Bridgewater
11:56:
Thanks for bearing with me and participating in the live chat on the Draft Day page. Stay tuned tonight/tomorrow morning for my Round 2 and 3 Re-mock (as well as Charlie's). My
NFL Draft Grades
will continue all day tomorrow and Saturday.
2022 NFL Mock Draft
- May 6
NFL Power Rankings
- April 4
NFL Picks
- Feb. 8
Fantasy Football Rankings
- Jan. 11
2020:
Live 2020 NFL Draft Blog
- April 25
2020 NFL Week 1 Recap
- Sept. 11
2020 NFL Week 2 Recap
- Sept. 18
2020 NFL Week 3 Recap
- Sept. 25
2020 NFL Week 4 Recap
- Oct. 2
2020 NFL Week 5 Recap
- Oct. 9
2020 NFL Week 6 Recap
- Oct. 16
2020 NFL Week 7 Recap
- Oct. 23
2020 NFL Week 8 Recap
- Oct. 30
2020 NFL Week 9 Recap
- Nov. 6
2020 NFL Week 10 Recap
- Nov. 13
2020 NFL Week 11 Recap
- Nov. 20
2020 NFL Week 12 Recap
- Nov. 27
2020 NFL Week 13 Recap
- Dec. 4
2020 NFL Week 14 Recap
- Dec. 11
2020 NFL Week 15 Recap
- Dec. 18
2020 NFL Week 16 Recap
- Dec. 25
2020 NFL Week 17 Recap
- Jan. 3
2020 NFL Week 18 Recap
- Jan. 9
2019:
Live 2019 NFL Draft Blog
- April 25
2019 NFL Week 1 Recap
- Sept. 9
2019 NFL Week 2 Recap
- Sept. 16
2019 NFL Week 3 Recap
- Sept. 23
2019 NFL Week 4 Recap
- Sept. 30
2019 NFL Week 5 Recap
- Oct. 7
2019 NFL Week 6 Recap
2019 NFL Week 7 Recap
2019 NFL Week 8 Recap
2019 NFL Week 9 Recap
2019 NFL Week 10 Recap
2019 NFL Week 11 Recap
2019 NFL Week 12 Recap
2019 NFL Week 14 Recap
2019 NFL Week 15 Recap
2019 NFL Week 16 Recap
2019 NFL Week 17 Recap
2018:
Live 2018 NFL Draft Blog
- April 30
2018 NFL Week 1 Recap
- Sept. 7
2018 NFL Week 2 Recap
- Sept. 14
2018 NFL Week 3 Recap
- Sept. 21
2018 NFL Week 4 Recap
- Sept. 28
2018 NFL Week 5 Recap
- Oct. 5
2018 NFL Week 6 Recap
- Oct. 12
2018 NFL Week 7 Recap
- Oct. 19
2018 NFL Week 8 Recap
- Oct. 26
2018 NFL Week 9 Recap
- Nov. 2
2018 NFL Week 10 Recap
- Nov. 9
2018 NFL Week 11 Recap
- Nov. 16
2018 NFL Week 12 Recap
- Nov. 23
2018 NFL Week 13 Recap
- Nov. 30
2018 NFL Week 14 Recap
- Dec. 7
2018 NFL Week 15 Recap
- Dec. 14
2018 NFL Week 16 Recap
- Dec. 21
2018 NFL Week 17 Recap
- Dec. 31
2018 NFL Week 18 Recap
- Jan. 6
2017:
Live 2017 NFL Draft Blog
- April 30
2017 NFL Week 1 Recap
- Sept. 12
2017 NFL Week 2 Recap
- Sept. 19
2017 NFL Week 3 Recap
- Sept. 26
2017 NFL Week 4 Recap
- Oct. 2
2017 NFL Week 5 Recap
- Oct. 9
2017 NFL Week 6 Recap
- Oct. 16
2017 NFL Week 7 Recap
- Oct. 23
2017 NFL Week 8 Recap
- Oct. 30
2017 NFL Week 9 Recap
- Nov. 6
2017 NFL Week 10 Recap
- Nov. 13
2017 NFL Week 11 Recap
- Nov. 20
2017 NFL Week 12 Recap
- Nov. 27
2017 NFL Week 13 Recap
- Dec. 4
2017 NFL Week 14 Recap
- Dec. 11
2017 NFL Week 15 Recap
- Dec. 18
2017 NFL Week 16 Recap
- Dec. 25
2017 NFL Week 17 Recap
- Jan. 1
2017 NFL Week 18 Recap
- Jan. 8
2017 NFL Week 19 Recap
- Jan. 15
2017 NFL Week 20 Recap
- Jan. 22
Super Bowl LII Recap
- Feb. 5
2017:
Live 2017 NFL Draft Blog
- April 30
2017 NFL Week 1 Recap
- Sept. 12
2017 NFL Week 2 Recap
- Sept. 19
2017 NFL Week 3 Recap
- Sept. 26
2017 NFL Week 4 Recap
- Oct. 2
2017 NFL Week 5 Recap
- Oct. 9
2017 NFL Week 6 Recap
- Oct. 16
2017 NFL Week 7 Recap
- Oct. 23
2017 NFL Week 8 Recap
- Oct. 30
2017 NFL Week 9 Recap
- Nov. 6
2017 NFL Week 10 Recap
- Nov. 13
2017 NFL Week 11 Recap
- Nov. 20
2017 NFL Week 12 Recap
- Nov. 27
2017 NFL Week 13 Recap
- Dec. 4
2017 NFL Week 14 Recap
- Dec. 11
2017 NFL Week 15 Recap
- Dec. 18
2017 NFL Week 16 Recap
- Dec. 25
2017 NFL Week 17 Recap
- Jan. 1
2017 NFL Week 18 Recap
- Jan. 8
2017 NFL Week 19 Recap
- Jan. 15
2017 NFL Week 20 Recap
- Jan. 22
Super Bowl LII Recap
- Feb. 5
2016:
Live 2016 NFL Draft Blog
- April 30
2016 NFL Week 1 Recap
- Sept. 12
2016 NFL Week 2 Recap
- Sept. 19
2016 NFL Week 3 Recap
- Sept. 26
2016 NFL Week 4 Recap
- Oct. 3
2016 NFL Week 5 Recap
- Oct. 10
2016 NFL Week 6 Recap
- Oct. 17
2016 NFL Week 7 Recap
- Oct. 24
2016 NFL Week 8 Recap
- Oct. 31
2016 NFL Week 9 Recap
- Nov. 7
2016 NFL Week 10 Recap
- Nov. 14
2016 NFL Week 11 Recap
- Nov. 21
2016 NFL Week 12 Recap
- Nov. 28
2016 NFL Week 13 Recap
- Dec. 5
2016 NFL Week 14 Recap
- Dec. 12
2016 NFL Week 15 Recap
- Dec. 19
2016 NFL Week 16 Recap
- Dec. 26
2016 NFL Week 17 Recap
- Jan. 2
2016 NFL Week 18 Recap
- Jan. 9
2016 NFL Week 19 Recap
- Jan. 16
2016 NFL Week 20 Recap
- Jan. 23
2016 NFL Week 21 Recap
- Feb. 6
2015:
Live 2015 NFL Draft Blog
- April 30
2015 NFL Week 1 Recap
- Sept. 12
2015 NFL Week 2 Recap
- Sept. 17
2015 NFL Week 3 Recap
- Sept. 24
2015 NFL Week 4 Recap
- Oct. 1
2015 NFL Week 5 Recap
- Oct. 8
2015 NFL Week 6 Recap
- Oct. 15
2015 NFL Week 7 Recap
- Oct. 22
2015 NFL Week 8 Recap
- Oct. 29
2015 NFL Week 9 Recap
- Nov. 5
2015 NFL Week 10 Recap
- Nov. 12
2015 NFL Week 11 Recap
- Nov. 19
2015 NFL Week 12 Recap
- Nov. 26
2015 NFL Week 13 Recap
- Dec. 4
2015 NFL Week 14 Recap
- Dec. 11
2015 NFL Week 15 Recap
- Dec. 18
2015 NFL Week 16 Recap
- Dec. 25
2015 NFL Week 17 Recap
- Jan. 4
2015 NFL Week 18 Recap
- Jan. 11
2015 NFL Week 19 Recap
- Jan. 18
2015 NFL Week 20 Recap
- Jan. 25
Super Bowl 50 Recap
- Feb. 8
2014:
Live 2014 NFL Draft Blog
- May 8
2014 NFL Week 1 Recap
- Sept. 5
2014 NFL Week 2 Recap
- Sept. 12
2014 NFL Week 3 Recap
- Sept. 19
2014 NFL Week 4 Recap
- Sept. 26
2014 NFL Week 5 Recap
- Oct. 3
2014 NFL Week 6 Recap
- Oct. 10
2014 NFL Week 7 Recap
- Oct. 17
2014 NFL Week 8 Recap
- Oct. 24
2014 NFL Week 9 Recap
- Oct. 31
2014 NFL Week 10 Recap
- Nov. 6
2014 NFL Week 11 Recap
- Nov. 13
2014 NFL Week 12 Recap
- Nov. 20
2014 NFL Week 13 Recap
- Nov. 27
2014 NFL Week 14 Recap
- Dec. 5
2014 NFL Week 15 Recap
- Dec. 12
2014 NFL Week 16 Recap
- Dec. 19
2014 NFL Week 17 Recap
- Dec. 29
2014 NFL Week 18 Recap
- Jan. 4
2014 NFL Week 19 Recap
- Jan. 11
2014 NFL Week 20 Recap
- Jan. 18
Super Bowl XLIX Live Blog
- Feb. 1
Super Bowl XLIX Recap
- Feb. 2
2013:
Live 2013 NFL Draft Blog
- April 26
2013 NFL Week 1 Recap
- Sept. 10
2013 NFL Week 2 Recap
- Sept. 17
2013 NFL Week 3 Recap
- Sept. 24
2013 NFL Week 4 Recap
- Oct. 1
2013 NFL Week 5 Recap
- Oct. 8
2013 NFL Week 6 Recap
- Oct. 15
2013 NFL Week 7 Recap
- Oct. 22
2013 NFL Week 8 Recap
- Oct. 29
2013 NFL Week 9 Recap
- Nov. 4
2013 NFL Week 10 Recap
- Nov. 11
2013 NFL Week 11 Recap
- Nov. 18
2013 NFL Week 12 Recap
- Nov. 25
2013 NFL Week 13 Recap
- Dec. 2
2013 NFL Week 14 Recap
- Dec. 9
2013 NFL Week 15 Recap
- Dec. 16
2013 NFL Week 16 Recap
- Dec. 23
2013 NFL Week 17 Recap
- Dec. 30
2013 NFL Week 18 Recap
- Jan. 6
2013 NFL Week 19 Recap
- Jan. 13
2013 NFL Week 20 Recap
- Jan. 20
Super Bowl XLVIII Recap
- Feb. 3
Super Bowl XLVIII Live Blog
- Feb. 2
2012:
Live 2012 NFL Draft Blog
- April 26
2012 NFL Week 1 Recap
- Sept. 10
2012 NFL Week 2 Recap
- Sept. 17
2012 NFL Week 3 Recap
- Sept. 24
2012 NFL Week 4 Recap
- Oct. 1
2012 NFL Week 5 Recap
- Oct. 8
2012 NFL Week 6 Recap
- Oct. 15
2012 NFL Week 7 Recap
- Oct. 22
2012 NFL Week 8 Recap
- Oct. 29
2012 NFL Week 9 Recap
- Nov. 5
2012 NFL Week 10 Recap
- Nov. 12
2012 NFL Week 11 Recap
- Nov. 19
2012 NFL Week 12 Recap
- Nov. 26
2012 NFL Week 13 Recap
- Dec. 3
2012 NFL Week 14 Recap
- Dec. 10
2012 NFL Week 15 Recap
- Dec. 17
2012 NFL Week 16 Recap
- Dec. 24
2012 NFL Week 17 Recap
- Dec. 31
2012 NFL Week 18 Recap
- Jan. 7
2012 NFL Week 19 Recap
- Jan. 14
2012 NFL Week 20 Recap
- Jan. 21
Super Bowl XLVII Recap
- Feb. 4
Super Bowl XLVII Live Blog
- Feb. 4
2011:
Live 2011 NFL Draft Blog
- April 28
2011 NFL Week 1 Recap
- Sept. 12
2011 NFL Week 2 Recap
- Sept. 19
2011 NFL Week 3 Recap
- Sept. 26
2011 NFL Week 4 Recap
- Oct. 3
2011 NFL Week 5 Recap
- Oct. 10
2011 NFL Week 6 Recap
- Oct. 17
2011 NFL Week 7 Recap
- Oct. 24
2011 NFL Week 8 Recap
- Oct. 31
2011 NFL Week 9 Recap
- Nov. 7
2011 NFL Week 10 Recap
- Nov. 14
2011 NFL Week 11 Recap
- Nov. 21
2011 NFL Week 12 Recap
- Nov. 28
2011 NFL Week 13 Recap
- Dec. 5
2011 NFL Week 14 Recap
- Dec. 12
2011 NFL Week 15 Recap
- Dec. 19
2011 NFL Week 16 Recap
- Dec. 26
2011 NFL Week 17 Recap
- Jan. 2
2011 NFL Week 18 Recap
- Jan. 9
2011 NFL Week 19 Recap
- Jan. 16
2011 NFL Week 20 Recap
- Jan. 23
Super Bowl XLVI Live Blog
- Feb. 6
2010:
Live 2010 NFL Draft Blog
- April 22
2010 Hall of Fame Game Live Blog
- Aug. 8
2010 NFL Kickoff Live Blog
- Sept. 9
2010 NFL Week 1 Review
- Sept. 13
2010 NFL Week 2 Review
- Sept. 20
2010 NFL Week 3 Review
- Sept. 27
2010 NFL Week 4 Review
- Oct. 4
2010 NFL Week 5 Review
- Oct. 11
2010 NFL Week 6 Review
- Oct. 18
2010 NFL Week 7 Review
- Oct. 25
2010 NFL Week 8 Review
- Nov. 1
2010 NFL Week 9 Review
- Nov. 8
2010 NFL Week 10 Review
- Nov. 15
2010 NFL Week 11 Review
- Nov. 22
2010 NFL Week 12 Review
- Nov. 29
2010 NFL Week 13 Review
- Dec. 6
2010 NFL Week 14 Review
- Dec. 13
2010 NFL Week 15 Review
- Dec. 20
2010 NFL Week 16 Review
- Dec. 27
2010 NFL Week 17 Review
- Jan. 3
2010 NFL Week 18 Review
- Jan. 10
2010 NFL Week 19 Review
- Jan. 17
2010 NFL Week 19 Review
- Jan. 24
Super Bowl XLV Live Blog
- Feb. 6
2009:
Live 2009 NFL Draft Blog
- April 25
2009 Hall of Fame Game Live Blog
- Aug. 10
2009 NFL Kickoff Live Blog
- Sept. 10
2009 NFL Week 1 Review
- Sept. 14
2009 NFL Week 2 Review
- Sept. 21
2009 NFL Week 3 Review
- Sept. 28
2009 NFL Week 4 Review
- Oct. 5
2009 NFL Week 5 Review
- Oct. 12
2009 NFL Week 6 Review
- Oct. 19
2009 NFL Week 7 Review
- Oct. 26
2009 NFL Week 8 Review
- Nov. 2
2009 NFL Week 9 Review
- Nov. 9
2009 NFL Week 10 Review
- Nov. 16
2009 NFL Week 11 Review
- Nov. 23
2009 NFL Week 12 Review
- Nov. 30
2009 NFL Week 13 Review
- Dec. 6
2009 NFL Week 14 Review
- Dec. 13
2009 NFL Week 15 Review
- Dec. 20
2009 NFL Week 16 Review
- Dec. 27
2009 NFL Week 17 Review
- Jan. 4
2009 NFL Week 18 Review
- Jan. 11
2009 NFL Week 19 Review
- Jan. 18
2009 NFL Week 20 Review
- Jan. 25
Super Bowl XLIV Live Blog
- Feb. 7
2008:
Live 2008 NFL Draft Blog
- April 26
2008 NFL Kickoff Blog
- Sept. 4
NFL Week 1 Review
- Sept. 8
NFL Week 2 Review
- Sept. 15
NFL Week 3 Review
- Sept. 22
NFL Week 4 Review
- Sept. 29
NFL Week 5 Review
- Oct. 6
NFL Week 6 Review
- Oct. 13
NFL Week 7 Review
- Oct. 20
NFL Week 8 Review
- Oct. 27
NFL Week 9 Review
- Nov. 3
NFL Week 10 Review
- Nov. 10
NFL Week 11 Review
- Nov. 17
NFL Week 12 Review
- Nov. 24
NFL Week 13 Review
- Dec. 1
NFL Week 14 Review
- Dec. 8
NFL Week 15 Review
- Dec. 15
NFL Week 16 Review
- Dec. 22
NFL Week 17 Review
- Dec. 29
NFL Wild Card Playoffs Review
- Jan. 4
NFL Divisional Playoffs Review
- Jan. 11
NFL Championship Sunday Review
- Jan. 19
Super Bowl XLIII Live Blog