My Thoughts During the 2017 Hall of Fame Game Live Blog - Live Updates
What is this?
I'll be posting my thoughts during the Cowboys-Cardinals game here. That will include everything from the actual game, to the TV personalities, to the commercials, etc. Anything goes. This page will be updated every five minutes or so Thursday evening, so I hope you join me for the first NFL game in six months. Football is back.
Feel free to post your thoughts in the
comments below
.
4:30:
I'm stopping in here before the game (8 p.m. Eastern) to discuss a wagering opportunity I have. BetUS gave me a free $50 bet for tonight's game as some sort of a loyalty bonus. I don't like either side in this game, as neither the coaching staffs nor the backup quarterbacks have much of an advantage. The story is that the Arizona starters won't play, but that doesn't matter. It's all about the coaches and the backup signal-callers in the preseason. With that in mind, both teams have some stinkers in the latter category, but Arizona's Trevor Knight intrigues me. He could be a good preseason quarterback, so I'm going to take Arizona +2 as my free wager. I wouldn't recommend betting real money on this game, however. I would like to note though that my
NFL Picks
for some of the Week 1 preseason games have been posted!
7:55:
There are five minutes to go, so time to load this up. Somehow NBC doesn't have a pre-game show, opting to show Access Hollywood instead. Oh boy, I can't wait to find out who Selena Gomez is dating now OMGOMGOMGOMGOMG.
7:57:
Olivia Munn lost 12 pounds! OMGOMGOMGOMGOMGOMG. This is actually a real story. They care that Olivia Munn lost 12 pounds.
7:59:
If you couldn't tell, I hate celebrities. Well, not
hate
. It just annoys the hell out of me that people care about them. I don't get it. They're just regular humans who can act/sing/whatever well, but they're usually lacking in other departments. Most of them seem particularly stupid, so I think it's terrible when they make uninformed political statements because morons listen to them.
8:01:
Anyway, football is back! Sort of! Maybe... Well, at least the field turf is functional this year.
8:05:
I think you know you're old when you see a player play out his entire career, beginning from when you were at least in college, and then you see him go into the Hall of Fame. That's LaDainian Tomlinson for me. In fact, Tomlinson's draft (2001), was the first mock draft I ever conducted! Here's what I wrote about Tomlinson, whom I correctly mocked to the Chargers:
Obviously they didn't want Vick. This may be too soon to take Brees, so they will go for a running back.
The Chargers ended up getting Brees in the second round. Good call, 18-year-old Walt!
8:06:
Stupendous might be my new favorite emotion. Is there an emoticon for stupendous?
8:09:
So, it turns out I have a Jaime Lannister-type reading level, as I didn't glance closely enough at my free BetUS wager. I have a free $50 bet, but it's for which team scores first. I picked the Cardinals. Go Drew Stanton!
8:10:
Sweet, the Cardinals have the ball first. This feels like overtime for me. Except a field goal wins!
8:11:
Blaine Gabbert!? NOOOOO!!! WHERE'S DREW STANTON!!??!?!?
8:13:
My 3-year-old nephew is into Yo Gabba Gabba! I'm going to call Blaine Gabbert "Yo Gabbert Gabbert!"
8:14:
Yo Gabbert Gabbert! with a great pass, Cardinals almost in the red zone!
8:15:
Yo Gabbert Gabbert! looks pretty good right now, but he's not exactly playing anyone who will make him close his eyes upon throwing the ball. Cardinals to the 5!
8:17:
TOUCHDOWN CARDINALS!!! I WON $50!!!! WOOHOO!!!!!!!!!
Cardinals 7, Cowboys 0
8:19:
I'm sorry I ever doubted you, Yo Gabbert Gabbert! That drive was terrific. NFL career validated.
8:20:
A cool preview for
the Brave
. Any bets for when it'll be canceled? Mid-October? Early November?
8:21:
La'el Collins might actually start, so he's worth watching. Dallas' offensive line isn't as good this year as it was last season.
8:22:
Kellen Moore with his best Sam Bradford impression, throwing short on third down.
8:23:
It looked like T.J. Logan just ran into the Dallas player to intentionally draw the penalty. I'm surprised more players don't do that.
8:25:
I'm glad Kurt Warner and Terrell Davis were inducted into the Hall of Fame. There was debate about them, but they were great players who changed the course of NFL history.
8:28:
Yo Gabbert Gabbert! with a strike to Troy Niklas. It's the "Disappointing Players Who Have Sucked Their Entire Careers But Are Doing Well Vs. Backups" bowl.
8:29:
There are Jacksonville Jaguars fans out there sitting and wondering, "WTF, where was this guy when he was on our team!?" Yo Gabbert Gabbert! is 6-of-6 for 107 yards.
8:31:
Arizona reaches the end zone again! The Cardinals are clobbering the Cowboys. OMG WHAT WILL HAPPEN TO THE COWBOYS WILL THEY EVEN MAKE TEH PLAYOFFS!? Sorry, I thought I was ESPN for a second.
8:33:
Yo Gabbert Gabbert! with the QB sneak! He's unstoppable!
Cardinals 15, Cowboys 0
8:36:
Time for me to complain. I don't think the Cardinals and Cowboys should play next weekend. Not because of rest, or whatnot, but if this were the first of four games for them, instead of five, they'd be more inclined to play their starters, at least some of them.
8:38:
It's really a shame that Tony Romo couldn't have a Hall of Fame career. He had the talent, but there were just way too many injuries. He could still be playing, and I wish he remained in the NFL to quarterback the Texans.
8:40:
KELLEN MOORE HIT A DEEP PASS OMG WILL HE REPLACE DAK PRESCOTT TUNE INTO SPORTSCENTER TO FIND OUT!!!
8:42:
Moore throws a touchdown! What an exciting game!
Cardinals 15, Cowboys 7
8:45:
I don't know how I feel about this game being on a Thursday night, by the way. I mean, I'm glad about it this year because my birthday happens to be on Sunday, but it doesn't feel right being on Thursday night. It feels more natural on Sunday night, though I guess the NFL wanted to make sure the turf would be fine.
8:47:
That's kind of insane that Yo Gabbert Gabbert has had so many different coaches. No wonder he doesn't know to keep his eyes open - no one told him to!
8:49:
My editor just messaged me: "Silly Access Hollywood. Olivia Munn lost 225 pounds - Aaron Rodgers."
8:52:
Noooo! Yo Gabbert Gabbert! fumbles! It seemed like he just gave up on the play, thinking, "Oh no, this is going to hurt and Arians told me I can't close my eyes anymore, so I'll just let go of the ball!"
8:55:
I don't think La'el Collins is playing anymore, so that's a good sign that the Cowboys have seen enough positive things out of him. That said, he wasn't exactly challenged tonight.
8:58:
Brandon Williams gets beaten, it's like 2016 all over again. Cowboys in the red zone.
9:01:
Sam Irwin-Hill, famous country music star, with a field goal for Dallas.
Cardinals 15, Cowboys 10
9:04:
Hey, did you guys know that today is Tom Brady's 40th birthday? You'd think the TV networks would make a bigger deal about this!
9:06:
Yo Gabbert Gabbert! starting to cool down. I guess the hype train to get him to supplant Carson Palmer has been derailed.
9:08:
While we're in commercial, I'd like to point out that the scumbag has returned!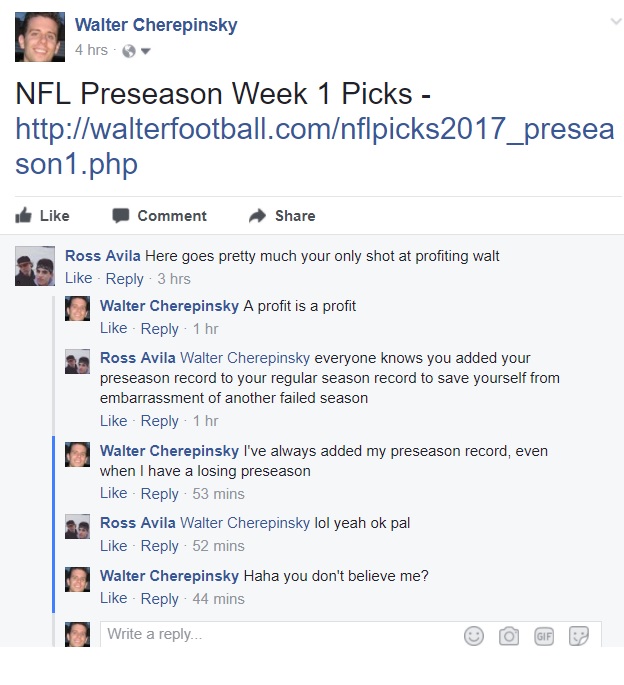 I've had winning and losing seasons, but if there's one thing I haven't done is lie or exaggerate my record in any way. Ross is just jealous, as he sells women's shoes for a living. He's like Al Bundy, except he never scored four touchdowns in a single game.
9:12:
Why is Cris Collinsworth bringing up Damontre Moore? He sucks.
9:13:
It sucks that there won't be any fantasy notes from this game. If anyone can think of something to write about, let me know; this game was pretty worthless from a fantasy perspective.
9:15:
Jerome Booger needs to chill out with these flags. Is he getting paid by the hour, or something? We don't want to be here till midnight, Jerome!
9:19:
My fiancee asked me if I wanted to upgrade from the Samsung S4 to the S8. I told her yes, because I want my new phone to explode in my face. That's all I've wanted from a phone.
9:20:
I'm surprised NBC hasn't canceled
the Brave
already.
9:21:
Wow, Brandon Williams lucked into that interception. He had no idea what was going on, but the ball just fell into his arms.
9:25:
Maybe it's just me, but it sounds like Jerome Booger says, "the penalty has been decline" instead of "declined." It makes sense that his sh**ty grammar accompanies his sh**ty officiating.
9:26:
The Cardinals apparently have someone named Bundy. Like Ross Avila, he hasn't scored four touchdowns in a single game either.
9:30:
Just as the two announcers were reciting love sonnets for Yo Gabbert Gabbert!, Yo Gabbert Gabbert! was nearly pick-sixed by Chidobe Awuzie. And just like that, it's halftime, with Arizona leading, 15-10.
9:36:
Jerry Jones is going to be part of Season 10 of Emmitt on the Brink. I'll tell you this - the 10-year anniversary of Emmitt on the Brink will not disappoint!
9:37:
I wonder if Al Michaels and Cris Collinsworth will ask Jerry Jones why he doesn't care about signing players who beat women.
9:40:
It's nice of NBC to advertise its news programs. "Fake news, with Lester Holt, at 9 p.m Eastern." Can't wait!
9:41:
What the hell was that show? Texas Moonlight? Who the hell wants to watch vampires in Texas? We just had like 20 seasons of
True Blood
, which was vampires in Louisiana.
9:46:
I love how Jerry Jones says, "By gum, we got to use the young players we drafted," like he's one of the coaches who decides whether that'll happen or not.
9:49:
Rico Gathers just had a great play while Jerry Jones was putting people to sleep with his soft voice. Just checking in and letting you know that I'm still awake.
9:51:
Touchdown, Cowboys! Cooper Rush throws it to some guy I've never heard of!
Cowboys 17, Cardinals 15
9:53:
Jerry Jones with a great joke: "By gum, Cooper Rush looks real good, but probably never even seen a rush, much like a coyote on a warm summer Texas night."
9:54:
Oh no, the Olympics are coming, aren't they? Ugh! Can't wait for people to randomly care about sports they've never heard of for two weeks!
9:58:
Speaking of Emmitt on the Brink, there's Emmitt, giving some words of wisdom to the young players. Interestingly enough, Emmitt played for both of these teams, so he could technically go to both sidelines.
10:01:
Whoa,
Will & Grace
is back? I wish they'd re-boot some better shows. How awesome would
Married with Grandchildren
be? Unfortunately, Al Bundy is stuck on the ABC show.
10:02:
Ronnie Hillman with his patented 0-yard run. It's good to know some things don't change.
10:04:
I normally hate sideline interviews during games, but this game is all about the Hall of Fame inductees. So, I don't mind that the announcers missed the breakup by Budda Baker.
10:05:
The penalty on the Logan was not decline, apparently.
10:06:
I was right - Emmitt is on the Arizona sideline. Emmitt is undoubtedly telling Larry Fitzgerald how a leopard can't change its stripes.
10:08:
My fiancee is watching the game with me, and she somehow knows Drew Stanton and not Carson Palmer. I doubted her, and she said, "No, really, he's that white guy. I know him."
10:10:
Jason Garrett needs to get a life. Seriously. Why's he challenging this play and prolonging this game? Don't you have anything better to do, Jason!?
10:11:
This looks stupid. Do they really have to have someone hold up the review tablet?
10:11:
Holy s**t, that was fast! I take it back. Challenge all you want, coaches.
10:14:
Arizona hit the field goal, and the penalty was decline, and Arizona takes over, according to Jerome Booger. Yes, it's preseason for the officials as well.
Cardinals 18, Cowboys 17
10:17:
I was wondering if Michelle was actually going to interview Morten Anderson. NBC easily could've gone, "Aaaand, it's a kicker, and no one cares."
10:18:
I hate that stat in football. "All-time leading scorer." Come on. Morten Anderson was not a better scorer than Jerry Rice and Emmitt Smith.
10:19:
My fiancee, watching the Andersen interview and looking at the busts: "Are those people with bags on their heads behind him!?"
10:21:
Ronnie Hillman did good things in Denver? Really? When did this happen, and in what parallel universe?
10:24:
Great, a commercial where people are doing nothing but taking selfies of each other. I think selfies should be made illegal, and emitcons, too. There's nothing more pretentious than an a**hole taking selfies of themselves.
10:27:
Hot off the wire: The Dolphins fear Ryan Tannehill will need season-ending surgery, but no decision has been made yet. And by the "wire," I mean Adam Schefter's Twitter account.
10:32:
"By gum, Cooper Rush with a great rush." - Jerry Jones, practicing his next pun.
10:43:
Sorry for not posting for 11 minutes. I was typing up the
Ryan Tannehill Disaster Grade
.
10:44:
Oh, and I'm pretty sure I heard that Sam Irwin-Hill hit a field goal of some sort.
Cowboys 20, Cardinals 18
10:46:
I still can't decide if Sam Irwin-Hill sounds more like a country music star or a serial killer who cuts off the noses of his victims.
10:49:
Arizona missed a field goal. See, if you want to hit three-pointers, you need a serial-killer country music star!
10:50:
Arizona's kicker tonight is Matt Wile. How fitting. Wile E. Coyote always f***s up in the desert, and Matt
Wile
f***ed up for a team in the desert. You can't make this stuff up!
(Yes, I'm running out of things to write about.)
10:53:
My fiancee and I used to watch
Silicon Valley
, but she's done with the show because of how creepy the main character is in the Verizon commercials. I still ove the show, but she's finished with it.
10:54:
And we've reached the time of night where my fiancee is popping the pimples on my back. Ow! Mother-f***er!
10:55:
The poor Arizona receiver couldn't find the ball because it sailed 10 yards out of bounds. Damn it, Cris Collinsworth beat me to it.
10:57:
Oh joy, more Colin Kaepernick talk. I can't get enough of it. You know, no one even mentioned Jay Cutler not being on a team prior to his retirement, and Cutler is way better than Kaepernick.
10:58:
Everyone's talking about Kaepernick, but why don't the Dolphins trade for Yo Gabbert Gabbert!?!?!?!
11:00:
What about Johnny Manziel for the Dolphins? Nothing could go wrong with Johnny Football being in South Beach, right?
11:03:
Some guy named Hamlet on the Cowboys was forced out of bounds. Cardinals taking over with one more chance to win the bet I thought I was making in the first place!
11:06:
So much for that! Rod Smith picks up a first down to end this exciting game!
11:10:
I still can't believe ESPN let go of Ed Werder. All to bring in Chip Kelly as an analyst! I can't wait to make fun of Kelly during the season. I haven't been this excited since Emmitt was on the air.
11:12:
Here it is, Arizona with a final drive to set up Wile E. Coyote with a game-winning field goal! So excited football is back!
11:14:
Oh, Trevor Knight! Your Sam Bradford passes were not going to get it done. The final-second play was decline by Jerome Booger, and the game is over. Dallas wins, 20-18.
11:16:
Thanks for reading my incoherent thoughts! I'll have
Fantasy Football Rankings
updated later tonight, along with a game recap and updated stock reports.
NFL Picks
- Jan. 16
2021 NFL Mock Draft
- Jan. 13
Fantasy Football Rankings
- Jan. 11
2022 NFL Mock Draft
- Nov. 15
NFL Power Rankings
- Nov. 14
2020 College Football Recruiting Rankings
- April 14
2020 NBA Mock Draft
- Sept. 27
2020:
Live 2020 NFL Draft Blog
- April 25
2020 NFL Week 1 Recap
- Sept. 11
2020 NFL Week 2 Recap
- Sept. 18
2020 NFL Week 3 Recap
- Sept. 25
2020 NFL Week 4 Recap
- Oct. 2
2020 NFL Week 5 Recap
- Oct. 9
2020 NFL Week 6 Recap
- Oct. 16
2020 NFL Week 7 Recap
- Oct. 23
2020 NFL Week 8 Recap
- Oct. 30
2020 NFL Week 9 Recap
- Nov. 6
2020 NFL Week 10 Recap
- Nov. 13
2020 NFL Week 11 Recap
- Nov. 20
2020 NFL Week 12 Recap
- Nov. 27
2020 NFL Week 13 Recap
- Dec. 4
2020 NFL Week 14 Recap
- Dec. 11
2020 NFL Week 15 Recap
- Dec. 18
2020 NFL Week 16 Recap
- Dec. 25
2020 NFL Week 17 Recap
- Jan. 3
2020 NFL Week 18 Recap
- Jan. 9
2019:
Live 2019 NFL Draft Blog
- April 25
2019 NFL Week 1 Recap
- Sept. 9
2019 NFL Week 2 Recap
- Sept. 16
2019 NFL Week 3 Recap
- Sept. 23
2019 NFL Week 4 Recap
- Sept. 30
2019 NFL Week 5 Recap
- Oct. 7
2019 NFL Week 6 Recap
2019 NFL Week 7 Recap
2019 NFL Week 8 Recap
2019 NFL Week 9 Recap
2019 NFL Week 10 Recap
2019 NFL Week 11 Recap
2019 NFL Week 12 Recap
2019 NFL Week 14 Recap
2019 NFL Week 15 Recap
2019 NFL Week 16 Recap
2019 NFL Week 17 Recap
2018:
Live 2018 NFL Draft Blog
- April 30
2018 NFL Week 1 Recap
- Sept. 7
2018 NFL Week 2 Recap
- Sept. 14
2018 NFL Week 3 Recap
- Sept. 21
2018 NFL Week 4 Recap
- Sept. 28
2018 NFL Week 5 Recap
- Oct. 5
2018 NFL Week 6 Recap
- Oct. 12
2018 NFL Week 7 Recap
- Oct. 19
2018 NFL Week 8 Recap
- Oct. 26
2018 NFL Week 9 Recap
- Nov. 2
2018 NFL Week 10 Recap
- Nov. 9
2018 NFL Week 11 Recap
- Nov. 16
2018 NFL Week 12 Recap
- Nov. 23
2018 NFL Week 13 Recap
- Nov. 30
2018 NFL Week 14 Recap
- Dec. 7
2018 NFL Week 15 Recap
- Dec. 14
2018 NFL Week 16 Recap
- Dec. 21
2018 NFL Week 17 Recap
- Dec. 31
2018 NFL Week 18 Recap
- Jan. 6
2017:
Live 2017 NFL Draft Blog
- April 30
2017 NFL Week 1 Recap
- Sept. 12
2017 NFL Week 2 Recap
- Sept. 19
2017 NFL Week 3 Recap
- Sept. 26
2017 NFL Week 4 Recap
- Oct. 2
2017 NFL Week 5 Recap
- Oct. 9
2017 NFL Week 6 Recap
- Oct. 16
2017 NFL Week 7 Recap
- Oct. 23
2017 NFL Week 8 Recap
- Oct. 30
2017 NFL Week 9 Recap
- Nov. 6
2017 NFL Week 10 Recap
- Nov. 13
2017 NFL Week 11 Recap
- Nov. 20
2017 NFL Week 12 Recap
- Nov. 27
2017 NFL Week 13 Recap
- Dec. 4
2017 NFL Week 14 Recap
- Dec. 11
2017 NFL Week 15 Recap
- Dec. 18
2017 NFL Week 16 Recap
- Dec. 25
2017 NFL Week 17 Recap
- Jan. 1
2017 NFL Week 18 Recap
- Jan. 8
2017 NFL Week 19 Recap
- Jan. 15
2017 NFL Week 20 Recap
- Jan. 22
Super Bowl LII Recap
- Feb. 5
2017:
Live 2017 NFL Draft Blog
- April 30
2017 NFL Week 1 Recap
- Sept. 12
2017 NFL Week 2 Recap
- Sept. 19
2017 NFL Week 3 Recap
- Sept. 26
2017 NFL Week 4 Recap
- Oct. 2
2017 NFL Week 5 Recap
- Oct. 9
2017 NFL Week 6 Recap
- Oct. 16
2017 NFL Week 7 Recap
- Oct. 23
2017 NFL Week 8 Recap
- Oct. 30
2017 NFL Week 9 Recap
- Nov. 6
2017 NFL Week 10 Recap
- Nov. 13
2017 NFL Week 11 Recap
- Nov. 20
2017 NFL Week 12 Recap
- Nov. 27
2017 NFL Week 13 Recap
- Dec. 4
2017 NFL Week 14 Recap
- Dec. 11
2017 NFL Week 15 Recap
- Dec. 18
2017 NFL Week 16 Recap
- Dec. 25
2017 NFL Week 17 Recap
- Jan. 1
2017 NFL Week 18 Recap
- Jan. 8
2017 NFL Week 19 Recap
- Jan. 15
2017 NFL Week 20 Recap
- Jan. 22
Super Bowl LII Recap
- Feb. 5
2016:
Live 2016 NFL Draft Blog
- April 30
2016 NFL Week 1 Recap
- Sept. 12
2016 NFL Week 2 Recap
- Sept. 19
2016 NFL Week 3 Recap
- Sept. 26
2016 NFL Week 4 Recap
- Oct. 3
2016 NFL Week 5 Recap
- Oct. 10
2016 NFL Week 6 Recap
- Oct. 17
2016 NFL Week 7 Recap
- Oct. 24
2016 NFL Week 8 Recap
- Oct. 31
2016 NFL Week 9 Recap
- Nov. 7
2016 NFL Week 10 Recap
- Nov. 14
2016 NFL Week 11 Recap
- Nov. 21
2016 NFL Week 12 Recap
- Nov. 28
2016 NFL Week 13 Recap
- Dec. 5
2016 NFL Week 14 Recap
- Dec. 12
2016 NFL Week 15 Recap
- Dec. 19
2016 NFL Week 16 Recap
- Dec. 26
2016 NFL Week 17 Recap
- Jan. 2
2016 NFL Week 18 Recap
- Jan. 9
2016 NFL Week 19 Recap
- Jan. 16
2016 NFL Week 20 Recap
- Jan. 23
2016 NFL Week 21 Recap
- Feb. 6
2015:
Live 2015 NFL Draft Blog
- April 30
2015 NFL Week 1 Recap
- Sept. 12
2015 NFL Week 2 Recap
- Sept. 17
2015 NFL Week 3 Recap
- Sept. 24
2015 NFL Week 4 Recap
- Oct. 1
2015 NFL Week 5 Recap
- Oct. 8
2015 NFL Week 6 Recap
- Oct. 15
2015 NFL Week 7 Recap
- Oct. 22
2015 NFL Week 8 Recap
- Oct. 29
2015 NFL Week 9 Recap
- Nov. 5
2015 NFL Week 10 Recap
- Nov. 12
2015 NFL Week 11 Recap
- Nov. 19
2015 NFL Week 12 Recap
- Nov. 26
2015 NFL Week 13 Recap
- Dec. 4
2015 NFL Week 14 Recap
- Dec. 11
2015 NFL Week 15 Recap
- Dec. 18
2015 NFL Week 16 Recap
- Dec. 25
2015 NFL Week 17 Recap
- Jan. 4
2015 NFL Week 18 Recap
- Jan. 11
2015 NFL Week 19 Recap
- Jan. 18
2015 NFL Week 20 Recap
- Jan. 25
Super Bowl 50 Recap
- Feb. 8
2014:
Live 2014 NFL Draft Blog
- May 8
2014 NFL Week 1 Recap
- Sept. 5
2014 NFL Week 2 Recap
- Sept. 12
2014 NFL Week 3 Recap
- Sept. 19
2014 NFL Week 4 Recap
- Sept. 26
2014 NFL Week 5 Recap
- Oct. 3
2014 NFL Week 6 Recap
- Oct. 10
2014 NFL Week 7 Recap
- Oct. 17
2014 NFL Week 8 Recap
- Oct. 24
2014 NFL Week 9 Recap
- Oct. 31
2014 NFL Week 10 Recap
- Nov. 6
2014 NFL Week 11 Recap
- Nov. 13
2014 NFL Week 12 Recap
- Nov. 20
2014 NFL Week 13 Recap
- Nov. 27
2014 NFL Week 14 Recap
- Dec. 5
2014 NFL Week 15 Recap
- Dec. 12
2014 NFL Week 16 Recap
- Dec. 19
2014 NFL Week 17 Recap
- Dec. 29
2014 NFL Week 18 Recap
- Jan. 4
2014 NFL Week 19 Recap
- Jan. 11
2014 NFL Week 20 Recap
- Jan. 18
Super Bowl XLIX Live Blog
- Feb. 1
Super Bowl XLIX Recap
- Feb. 2
2013:
Live 2013 NFL Draft Blog
- April 26
2013 NFL Week 1 Recap
- Sept. 10
2013 NFL Week 2 Recap
- Sept. 17
2013 NFL Week 3 Recap
- Sept. 24
2013 NFL Week 4 Recap
- Oct. 1
2013 NFL Week 5 Recap
- Oct. 8
2013 NFL Week 6 Recap
- Oct. 15
2013 NFL Week 7 Recap
- Oct. 22
2013 NFL Week 8 Recap
- Oct. 29
2013 NFL Week 9 Recap
- Nov. 4
2013 NFL Week 10 Recap
- Nov. 11
2013 NFL Week 11 Recap
- Nov. 18
2013 NFL Week 12 Recap
- Nov. 25
2013 NFL Week 13 Recap
- Dec. 2
2013 NFL Week 14 Recap
- Dec. 9
2013 NFL Week 15 Recap
- Dec. 16
2013 NFL Week 16 Recap
- Dec. 23
2013 NFL Week 17 Recap
- Dec. 30
2013 NFL Week 18 Recap
- Jan. 6
2013 NFL Week 19 Recap
- Jan. 13
2013 NFL Week 20 Recap
- Jan. 20
Super Bowl XLVIII Recap
- Feb. 3
Super Bowl XLVIII Live Blog
- Feb. 2
2012:
Live 2012 NFL Draft Blog
- April 26
2012 NFL Week 1 Recap
- Sept. 10
2012 NFL Week 2 Recap
- Sept. 17
2012 NFL Week 3 Recap
- Sept. 24
2012 NFL Week 4 Recap
- Oct. 1
2012 NFL Week 5 Recap
- Oct. 8
2012 NFL Week 6 Recap
- Oct. 15
2012 NFL Week 7 Recap
- Oct. 22
2012 NFL Week 8 Recap
- Oct. 29
2012 NFL Week 9 Recap
- Nov. 5
2012 NFL Week 10 Recap
- Nov. 12
2012 NFL Week 11 Recap
- Nov. 19
2012 NFL Week 12 Recap
- Nov. 26
2012 NFL Week 13 Recap
- Dec. 3
2012 NFL Week 14 Recap
- Dec. 10
2012 NFL Week 15 Recap
- Dec. 17
2012 NFL Week 16 Recap
- Dec. 24
2012 NFL Week 17 Recap
- Dec. 31
2012 NFL Week 18 Recap
- Jan. 7
2012 NFL Week 19 Recap
- Jan. 14
2012 NFL Week 20 Recap
- Jan. 21
Super Bowl XLVII Recap
- Feb. 4
Super Bowl XLVII Live Blog
- Feb. 4
2011:
Live 2011 NFL Draft Blog
- April 28
2011 NFL Week 1 Recap
- Sept. 12
2011 NFL Week 2 Recap
- Sept. 19
2011 NFL Week 3 Recap
- Sept. 26
2011 NFL Week 4 Recap
- Oct. 3
2011 NFL Week 5 Recap
- Oct. 10
2011 NFL Week 6 Recap
- Oct. 17
2011 NFL Week 7 Recap
- Oct. 24
2011 NFL Week 8 Recap
- Oct. 31
2011 NFL Week 9 Recap
- Nov. 7
2011 NFL Week 10 Recap
- Nov. 14
2011 NFL Week 11 Recap
- Nov. 21
2011 NFL Week 12 Recap
- Nov. 28
2011 NFL Week 13 Recap
- Dec. 5
2011 NFL Week 14 Recap
- Dec. 12
2011 NFL Week 15 Recap
- Dec. 19
2011 NFL Week 16 Recap
- Dec. 26
2011 NFL Week 17 Recap
- Jan. 2
2011 NFL Week 18 Recap
- Jan. 9
2011 NFL Week 19 Recap
- Jan. 16
2011 NFL Week 20 Recap
- Jan. 23
Super Bowl XLVI Live Blog
- Feb. 6
2010:
Live 2010 NFL Draft Blog
- April 22
2010 Hall of Fame Game Live Blog
- Aug. 8
2010 NFL Kickoff Live Blog
- Sept. 9
2010 NFL Week 1 Review
- Sept. 13
2010 NFL Week 2 Review
- Sept. 20
2010 NFL Week 3 Review
- Sept. 27
2010 NFL Week 4 Review
- Oct. 4
2010 NFL Week 5 Review
- Oct. 11
2010 NFL Week 6 Review
- Oct. 18
2010 NFL Week 7 Review
- Oct. 25
2010 NFL Week 8 Review
- Nov. 1
2010 NFL Week 9 Review
- Nov. 8
2010 NFL Week 10 Review
- Nov. 15
2010 NFL Week 11 Review
- Nov. 22
2010 NFL Week 12 Review
- Nov. 29
2010 NFL Week 13 Review
- Dec. 6
2010 NFL Week 14 Review
- Dec. 13
2010 NFL Week 15 Review
- Dec. 20
2010 NFL Week 16 Review
- Dec. 27
2010 NFL Week 17 Review
- Jan. 3
2010 NFL Week 18 Review
- Jan. 10
2010 NFL Week 19 Review
- Jan. 17
2010 NFL Week 19 Review
- Jan. 24
Super Bowl XLV Live Blog
- Feb. 6
2009:
Live 2009 NFL Draft Blog
- April 25
2009 Hall of Fame Game Live Blog
- Aug. 10
2009 NFL Kickoff Live Blog
- Sept. 10
2009 NFL Week 1 Review
- Sept. 14
2009 NFL Week 2 Review
- Sept. 21
2009 NFL Week 3 Review
- Sept. 28
2009 NFL Week 4 Review
- Oct. 5
2009 NFL Week 5 Review
- Oct. 12
2009 NFL Week 6 Review
- Oct. 19
2009 NFL Week 7 Review
- Oct. 26
2009 NFL Week 8 Review
- Nov. 2
2009 NFL Week 9 Review
- Nov. 9
2009 NFL Week 10 Review
- Nov. 16
2009 NFL Week 11 Review
- Nov. 23
2009 NFL Week 12 Review
- Nov. 30
2009 NFL Week 13 Review
- Dec. 6
2009 NFL Week 14 Review
- Dec. 13
2009 NFL Week 15 Review
- Dec. 20
2009 NFL Week 16 Review
- Dec. 27
2009 NFL Week 17 Review
- Jan. 4
2009 NFL Week 18 Review
- Jan. 11
2009 NFL Week 19 Review
- Jan. 18
2009 NFL Week 20 Review
- Jan. 25
Super Bowl XLIV Live Blog
- Feb. 7
2008:
Live 2008 NFL Draft Blog
- April 26
2008 NFL Kickoff Blog
- Sept. 4
NFL Week 1 Review
- Sept. 8
NFL Week 2 Review
- Sept. 15
NFL Week 3 Review
- Sept. 22
NFL Week 4 Review
- Sept. 29
NFL Week 5 Review
- Oct. 6
NFL Week 6 Review
- Oct. 13
NFL Week 7 Review
- Oct. 20
NFL Week 8 Review
- Oct. 27
NFL Week 9 Review
- Nov. 3
NFL Week 10 Review
- Nov. 10
NFL Week 11 Review
- Nov. 17
NFL Week 12 Review
- Nov. 24
NFL Week 13 Review
- Dec. 1
NFL Week 14 Review
- Dec. 8
NFL Week 15 Review
- Dec. 15
NFL Week 16 Review
- Dec. 22
NFL Week 17 Review
- Dec. 29
NFL Wild Card Playoffs Review
- Jan. 4
NFL Divisional Playoffs Review
- Jan. 11
NFL Championship Sunday Review
- Jan. 19
Super Bowl XLIII Live Blog