Sept. 1, 2018.
This is a 2018 Fantasy Football Mock Draft I took part in with 11 of my friends. I've been in this league since 2007. It's a standard-scoring league that starts three receivers.
Please note that this is a one-player KEEPER league, which is why you can see Alvin Kamara in the 10th round, or JuJu Smith-Schuster in the 14th.
Just a heads up that we have 2018 Fantasy Football Mock Drafts every Wednesday afternoon or evening. Follow me on Twitter or Facebook to find out when the next mock draft will be.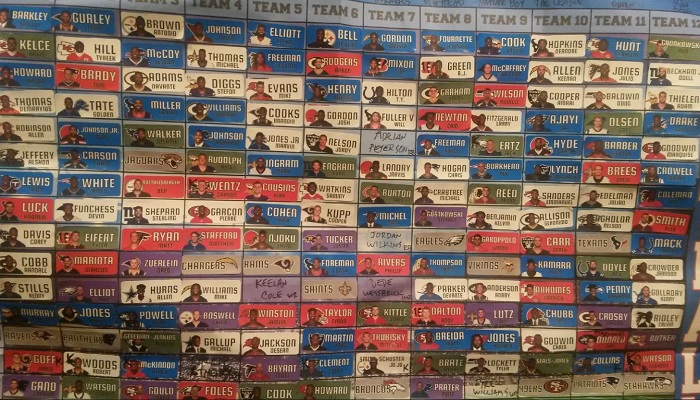 MY PICKS, ROUNDS 1-2: I'm Team 10. My one-player keeper was Alvin Kamara. I drafted him in the 11th round last year, so I was able to keep him in the 10th.
Because we start three receivers, I wanted to go with back-to-back wideouts. DeAndre Hopkins was my top player available anyway. I was hoping for Julio Jones at 2.03, but he was snatched one pick before me. I had Michael Thomas rated over Keenan Allen, but because I have Kamara, I opted to pass on Thomas.
BEST PICKS, ROUNDS 1-2: Jones gets the nod, as does Thomas to Team 4. I liked the A.J. Green selection as well.
WORST PICKS, ROUNDS 1-2: Saquon Barkley first overall? Rob Gronkowski in the opening round? Aaron Rodgers in the middle of the second frame? Travis Kelce in the second round? These are some stinkers.
MY PICKS, ROUNDS 3-4: Another receiver, as all my comparable wideouts were gone in the wake of Davante Adams, Stefon Diggs and T.Y. Hilton being snatched off the board.
I went with my first, erm, second running back with Jay Ajayi in the fourth round. Ajayi is a decent bargain in the fourth round.
BEST PICKS, ROUNDS 3-4: I mentioned Adams, Diggs and Hilton before, so those are my top picks. As I've been saying all summer, the receiver position is very thin, especially in leagues in which you start three players at the position.
WORST PICKS, ROUNDS 3-4: Taking a quarterback this early is a mistake, especially in a league in which you have to start three receivers.
The worst pick was Lamar Miller, who may not last until mid-season. He's completely worn down.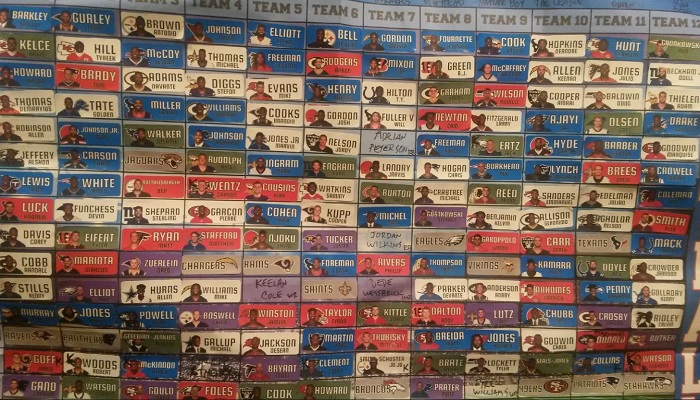 MY PICKS, ROUNDS 5-6: With all of the decent receivers gone, I opted for two running backs. Carlos Hyde has looked great this preseason, while Marshawn Lynch provides decent value in the sixth round.
BEST PICKS, ROUNDS 5-6: Chris Carson was a solid pick-up at the end of the sixth round. I also wanted Adrian Peterson, but Team 7 snatched him before I could.
WORST PICKS, ROUNDS 5-6: I can't believe Duke Johnson went in the fifth round. This is not a PPR league. Other bad picks include Delanie Walker, Jordy Nelson, and of course, the Jaguars defense.
MY PICKS, ROUNDS 7-8: Two more receivers for me. I love Emmanuel Sanders, as I think it's possible that he could catch 100 passes this year because he's Case Keenum's favorite receiver.
As for Geronimo Allison? It might be too early for him, but he's atop my
Fantasy Football Sleepers
page, and I was surrounded by two people using my rankings.
BEST PICKS, ROUNDS 7-8: If I didn't already have four running backs, I would've selected Sony Michel with one of my picks. Kelvin Benjamin and Pierre Garcon were nice choices as well.
WORST PICKS, ROUNDS 7-8: The Alex Smith pick didn't make much sense to me because the guy who took him was keeping Deshaun Watson as a 14th-rounder. But that's not nearly as bad as...
A kicker in the eighth round!?!??! Why!!?!?!?!??!?!?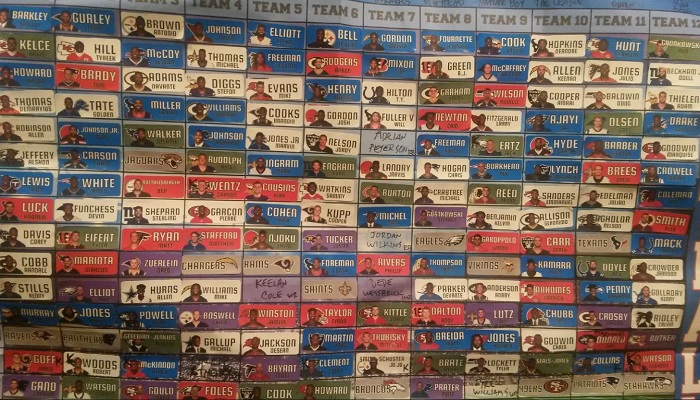 MY PICKS, ROUNDS 9-10: People were already beginning to take backup quarterbacks, so I had to take one. I was hoping for Jimmy Garoppolo, but he went one pick before me. Thus, I had to settle for Derek Carr.
My 10th pick, as a reminder, was used on the keeper choice for Kamara.
BEST PICKS, ROUNDS 9-10: I mentioned Garoppolo, which was a sharp pick. Matt Ryan and Matthew Stafford provided good value as well.
WORST PICKS, ROUNDS 9-10: Once again, it's too early for defenses, so those five choices stick out as the worst in these rounds if it weren't for the kicker picks. Why, God, why are people taking kickers so early? Why are people picking kickers at all? Don't take a kicker in your fantasy league because you can otherwise have time to hold a sleeper to determine which one you want to keep.
MY PICKS, ROUNDS 11-12: I like Carr this year, but I'll acknowledge that he's not the safest option. I like having a high-upside backup in Patrick Mahomes.
As a reminder, this is a keeper league, and we can't keep the same guy two years in a row, so I'm hoping Nick Chubb is someone I can hold on to next year.
BEST PICKS, ROUNDS 11-12: I thought Robby Anderson went way later than I thought he would. Mike Williams and King Dedede Westbrook provide good upside as well.
WORST PICKS, ROUNDS 11-12: Some people were mad that I was able to keep Kamara. Maybe these people should focus on picking sleepers instead of kickers in Rounds 11-12. If you're taking a kicker before the final round of your fantasy draft, you're doing it wrong.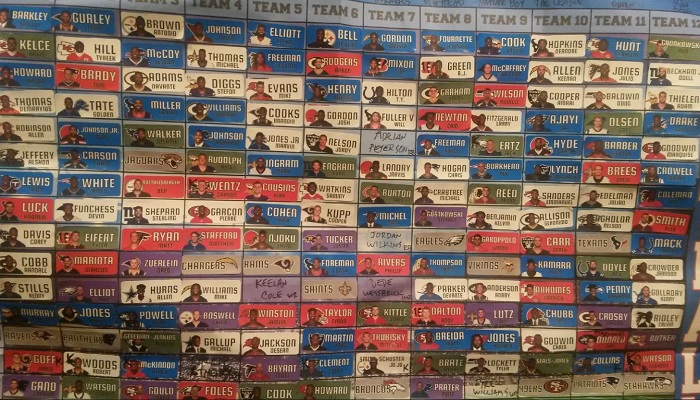 MY PICKS, ROUNDS 13-15: Chris Godwin is another sleeper. I'm hoping the Buccaneers bring in a viable coach to get the most out of Jameis Winston, who, in turn, could turn Godwin into a star.
My tight end is Ricky Seals-Jones, who is very athletic. My defense is the 49ers because the Vikings can't block. I opted not to take a kicker, partly because I thought this draft was 16 rounds instead of 15. Oops.
BEST PICKS, ROUNDS 13-15: High-upside picks include: Michael Gallup, Doug Martin, Matt Breida, Phillip Lindsay, Ronald Jones, Sam Darnold (for keeper purposes) and Corey Clement.
By the way, Deshaun Watson, Alex Collins, JuJu Smith-Schuster, Jerick McKinnon, Robert Woods and Jared Goff were all keepers.
WORST PICKS, ROUNDS 13-15: Low-upside picks include: DeSean Jackson and Tyler Lockett.
'll be adjusting some of my
Fantasy Football Rankings
based on the draft results, so check them out. Also, we'll be doing mock drafts every Wednesday afternoon or evening, so come join us!
My Fantasy Team:
QB - Derek Carr, QB, Raiders
RB - Alvin Kamara, RB, Saints
RB - Jay Ajayi, RB, Eagles
WR - DeAndre Hopkins, WR, Texans
WR - Keenan Allen, WR, Chargers
WR - Amari Cooper, WR, Raiders
TE - Ricky Seals-Jones, TE, Cardinals
K - Oops no kicker
DEF - 49ers Defense
BN - Carlos Hyde, RB, Browns
BN - Marshawn Lynch, RB, Raiders
BN - Emmanuel Sanders, WR, Broncos
BN - Geronimo Allison, WR, Packers
BN - Patrick Mahomes, QB, Chiefs
BN - Nick Chubb, RB, Browns
BN - Chris Godwin, WR, Buccaneers
Barring injuries, Alvin Kamara, DeAndre Hopkins and Keenan Allen should carry me into the playoffs. I then have to rely on variance, as there's always a chance all of my players could crap the bed one week. That's the nature of fantasy.
I like my team. Quarterback and tight end are weak points, but I'm stacked at the important positions, and I have some nice potential keepers for next year.
More 2018 Fantasy Football Articles:
Fantasy Football Rankings
2018 Fantasy Football Rankings:
2018 Fantasy Football Rankings: Quarterbacks
- 9/5 (Walt)
Chet Gresham's Fantasy Football Quarterback Rankings
- 8/29 (Chet)
2018 Fantasy Football Rankings: Running Backs
- 9/5 (Walt)
Chet Gresham's Fantasy Football Running Back Rankings
- 8/29 (Chet)
2018 Fantasy Football Rankings: Wide Receivers
- 9/5 (Walt)
Chet Gresham's Fantasy Football Wide Receiver Rankings
- 8/29 (Chet)
2018 Fantasy Football Rankings: Tight Ends
- 9/5 (Walt)
Chet Gresham's Fantasy Football Tight End Rankings
- 8/29 (Chet)
2018 Fantasy Football Rankings: Kickers
- 8/21 (Walt)
2018 Fantasy Football Rankings: Defenses
- 8/21 (Walt)
Fantasy Football Rookie Rankings: Dynasty
- 8/21 (Walt)
Fantasy Football Rookie Rankings: Dynasty
- 5/18 (Chet)
2018 Fantasy Football Mock Drafts:
Fantasy Football Mock Draft
- 9/1 (Walt)
Fantasy Football Mock Draft
- 8/30 (Walt)
Fantasy Football Mock Draft
- 8/27 (Walt)
Fantasy Football PPR Mock Draft
- 8/23 (Walt)
Fantasy Football Mock Draft
- 8/22 (Walt)
Fantasy Football Mock Draft
- 8/16 (Walt)
Fantasy Football PPR Mock Draft
- 8/9 (Walt)
Fantasy Football Mock Draft
- 8/2 (Walt)
Fantasy Football PPR Mock Draft
- 8/1 (Chet)
Fantasy Football PPR Mock Draft
- 7/26 (Walt)
Fantasy Football 2-QB Dynasty Draft
- 5/25 (Chet)
2018 Fantasy Football Cheat Sheets:
2018 Fantasy Football Cheat Sheet: Top 250
- 9/5 (Walt)
2018 Fantasy Football Cheat Sheet: Top 250 PPR
- 9/5 (Walt)
2018 Fantasy Football Cheat Sheet: Top 250 2-QB
- 9/5 (Walt)
2018 Fantasy Football Cheat Sheet: Top 250 Touchdown League
- 9/5 (Walt)
2018 Fantasy Football Cheat Sheet: Custom
- 9/5 (Walt)
2018 Fantasy Football: Dynasty Rankings
- 9/5 (Walt)
2018 Fantasy Football Spreadsheets
- 9/5 (Walt)
2018 Fantasy Football Articles:
2018 Fantasy Football Stock Report: OTAs, Training Camp
- 9/5 (Walt)
2018 Fantasy Football Sleepers
- 9/5 (Walt)
2018 Fantasy Football Busts
- 9/5 (Walt)
2018 Fantasy Football Mid-Round Values
- 9/5 (Walt)
2018 NFL Preseason Game Recaps
- 8/31 (Walt)
2018 Fantasy Football Stock Report: Preseason Games
- 8/31 (Walt)
2018 Fantasy Football Notes
- 8/31 (Chet)
2018 Fantasy Football Quarterback Preseason Targets Tracker
- 8/30 (Walt)
2018 Fantasy Football D/ST Drafting
- 8/28 (Chet)
2018 Fantasy Football ADP Values: Running Backs
- 8/16 (Chet)
2018 Fantasy Football Round-by-Round Strategy Guide
- 8/15 (Walt)
2018 Fantasy Football ADP Values: Quarterbacks
- 8/15 (Chet)
2018 Fantasy Football Tight Ends to Target
- 8/9 (Chet)
2018 Fantasy Football - PPR Draft Strategy: Rounds 1 and 2
- 7/27 (Chet)
2018 Fantasy Football: Doug Baldwin's Value
- 7/25 (Chet)
2018 Fantasy Football: Chris Hogan's Value
- 7/18 (Chet)
2018 Fantasy Football: Alvin Kamara's Value
- 7/16 (Chet)
2018 Fantasy Football Strength of Schedule: Tight Ends
- 7/11 (Chet)
2018 Fantasy Football Strength of Schedule: Wide Receivers
- 7/6 (Chet)
2018 Fantasy Football Strength of Schedule: Running Backs
- 7/5 (Chet)
2018 Fantasy Football Strength of Schedule: Quarterbacks
- 7/4 (Chet)
2018 Fantasy Football Tight Ends Better Than ADP
- 6/29 (Chet)
2018 Fantasy Football Wide Receivers Better Than ADP
- 6/28 (Chet)
2018 Fantasy Football Target Shares
- 6/22 (Chet)
2018 Fantasy Football Wide Receiver Points Per Game
- 6/13 (Chet)
2018 Fantasy Football Mock Draft Simulator
- 6/2
2018 Fantasy Football Value Players
- 5/25 (Chet)
2017 Fantasy Football Quarterback Look-Back
- 1/28 (Walt)
2018 Fantasy Football: Running Backs with the Most Carries
- 1/28 (Walt)
NFL Picks
- Dec. 8
2022 NFL Mock Draft
- Dec. 8
NFL Power Rankings
- Dec. 7
Fantasy Football Rankings
- Sept. 8