By Chet Gresham -
@ChetGresham
Follow
@walterfootball
for updates.
I'll give you my usual caveat here when discussing strength of schedule, and that's that it can be deceiving and tough to rely on when selecting fantasy players. But, and of course there is a but, there are only so many good defensive players and coaches, and just a few select teams are going to turn their defenses around in one season. So, I think it should be part of due diligence to check out the strength of schedule for each position and now that I've completed
quarterbacks
, I'll move onto running backs.
First off, just a quick rundown of how I rank defenses against fantasy running backs. First, I compile the number of rushing attempts, rushing yards, yards per carry, rushing touchdowns, receptions, receiving touchdowns targets, total yards, fantasy points, fantasy points per look, red-zone touches and Football Outsiders rush defensive ranking, and the average out how each team defense ranked in all of those categories to come up with an overall ranking. Is this perfect? Not at all, but it gives us a broad swath of passing stats and gives us an average I can live with.
Here is how it comes out:
The Vikings have the No. 1 rush defense while the Bills have the worst rush defense when using my method. These results sound reasonable to me. These will change plenty during the season, but when evaluating two players in the same tier, if they are at the edges of the strength of schedule rankings, I feel okay letting SOS be a tie-breaker.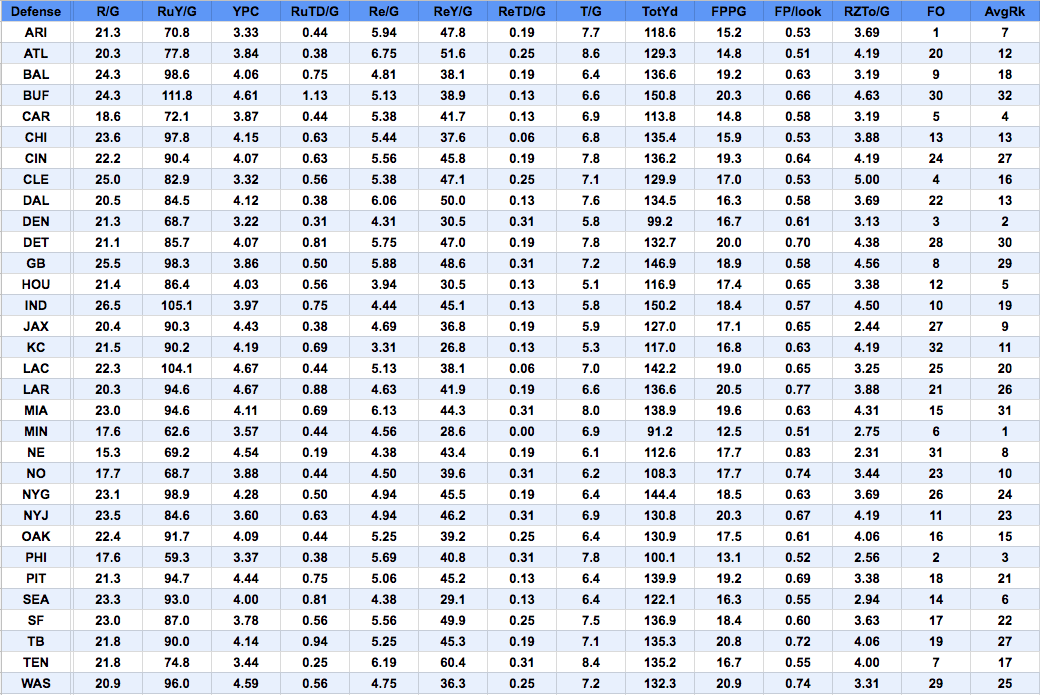 Jordan Howard and Tarik Cohen, Bears
With Seattle and Arizona in the first two weeks and Minnesota in their division, at first blush, things don't look great for the Bears' running backs, but you can take out one of those Vikings games since they play Week 17 and then pile in weak rush defenses like Detroit and Green Bay, which they meet twice each, and then Buffalo, Tampa Bay and the New York Giants to give them some easy contests, while the toughest matchups are few and far between. Howard will remain the lead back, but Cohen will see receiving work and possibly line up in various formations to give him more chances. Howard will have trouble putting up significant numbers when his team is trailing in the second half, but this schedule should keep him prosperous early in games, which should help the Bears stay in games. The bonus is that the Chicago defense is only getting better, and I expect the unit to make more strides this season.



Sony Michel, Rex Burkhead and James White, Patriots
The Patriots start out against Houston and Jacksonville but then take on some teams that they should have little trouble dominating with their running backs, like Detroit, Miami (x2), Buffalo (x2), Green Bay, New York Jets and Pittsburgh. Plus, they get the best fantasy playoff schedule in the league. The trouble as usual with New England is deciphering who will get the ball out of the backfield. After drafting Sony Michel in the first round, I expect he gets some leeway to earn the lead-back work, but Rex Burkhead is going to be involved, as he was great in the red zone last season and shows his versatility over and over again. I believe Bill Belichick wants Michel as his wear-down-the-defense back, Burkhead as his utility tool and White as a specialized pass-catcher, and in this offense, all three can put up fantasy relevant numbers.

Dalvin Cook, Vikings
Cook started off strong as a rookie but quickly had his season ended with an ACL injury. Now, he'll get to start anew, but this time without Jerick McKinnon to take away targets, plus he'll have a favorable strength of schedule in the NFC North, especially since he won't have to take on his own team's defense! Cook will face more top run defenses than the first two teams, but he'll have plenty of poor defenses to beat up on in the meantime, and his path to touches is right up there with the stud running backs like Gurley, Bell, Elliott and Johnson.


Todd Gurley, Rams and Le'Veon Bell, Steelers
My top-two fantasy picks this season also have the two of the worst strength of schedules in the league, but these aren't your average backs with inconsistent workloads; these are great backs with the most significant workloads in the league. Last season, Bell destroyed the Ravens for 311 total yards and five touchdowns, and Football Outsiders had them as the ninth-best run defense in the league for 2017. And Gurley pummeled Seattle and Arizona, both of which rank in the single-digits in my composite rankings. Minnesota also handled Gurley and Bell, so it's not like either is unstoppable, but their usages and abilities combine to make them much more consistent than other backs I would be more worried about if they fell to the bottom of this list.

Saquon Barkley, Giants
Barkley seems destined to start the season with the same type of usage that Bell and Gurley had last season, but since he is a rookie, we can't be overly confident. Could Jonathan Stewart get goal-line work? Could Barkley fall behind as a pass blocker and lose time to Stewart or Gallman or whomever? Possibly. Then you add in a menacing schedule, and I can understand some hesitancy. But for me, I can't get past the odds that he'll average 20 touches a game as a runner and receiver, putting him right up there with the elite backs. There is no-doubt he holds more risk, but my projections for his touches make him impossible to fade.

Ezekiel Elliott, Cowboys
Elliott belongs in the elite range due to his usage just like these other guys, but I do see his range of outcomes being reasonably wide. The Cowboys have no receivers they can count on at the moment, so Elliott is by far the most significant asset and will be the focus of the offense and defenses he faces. He is going to get a lot of work and see stacked boxes a large percentage of the time, and when you're facing Carolina, Jacksonville, Seattle, Houston, an ascending Tennessee defense, Philadelphia (2x), New Orleans and you only get to meet the New York Giants once, the hits could add up. Like the other top guys, Elliott's touches will be there early and often, and his offensive line and ability will make him a top fantasy player as usual, but I see a bit more risk with what could become a one-dimensional offense.
For cross-referencing purposes, here is the overall schedule grid for this season: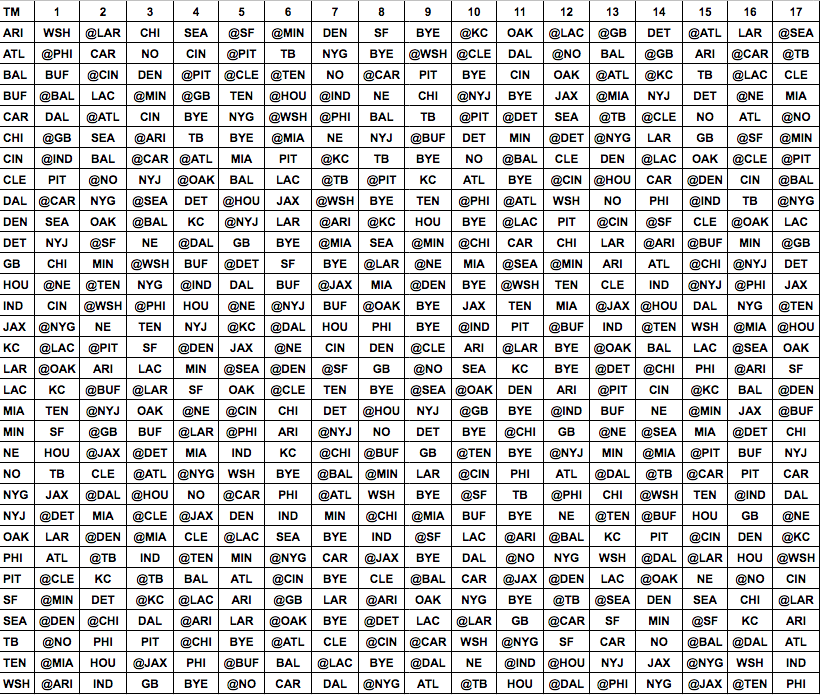 For more recommendations, check out WalterFootball.com's
Fantasy Football Rankings
.
More 2016 Fantasy Football Articles:
Fantasy Football Rankings
2016 Fantasy Football Rankings:
2016 Fantasy Football Rankings: Quarterbacks
- 9/7 (Walt)
Chet Gresham's Fantasy Football Quarterback Rankings
- 8/30 (Chet)
2016 Fantasy Football Rankings: Running Backs
- 9/7 (Walt)
Chet Gresham's Fantasy Football Running Back Rankings
- 8/30 (Chet)
2016 Fantasy Football Rankings: Wide Receivers
- 9/7 (Walt)
Chet Gresham's Fantasy Football Wide Receiver Rankings
- 8/30 (Chet)
2016 Fantasy Football Rankings: Tight Ends
- 9/7 (Walt)
Chet Gresham's Fantasy Football Tight End Rankings
- 8/30 (Chet)
2016 Fantasy Football Rankings: Defenses
- 6/15 (Walt)
2016 Fantasy Football Rankings: Kickers
- 6/15 (Walt)
Fantasy Football Rookie Rankings
- 5/13 (Walt)
Fantasy Football Rookie Rankings: Dynasty
- 5/13 (Walt)
Fantasy Football Rookie Rankings: Dynasty
- 5/27 (Chet)
2016 Fantasy Football Mock Drafts:
2016 Fantasy Football Mock Draft: PPR
- 9/1 (Walt)
2016 Fantasy Football Mock Draft Video
- 8/31 (Walt)
2016 Fantasy Football Mock Draft: Real Draft
- 8/29 (Walt)
2016 Fantasy Football Mock Draft: Standard
- 8/25 (Walt)
2016 Fantasy Football Mock Draft: 2-QB
- 8/25 (Chet)
2016 Fantasy Football Mock Draft Video
- 8/24 (Walt)
2016 Fantasy Football Mock Draft: PPR
- 8/18 (Walt)
2016 Fantasy Football Mock Draft Video
- 8/13 (Walt)
2016 Fantasy Football Mock Draft: Standard
- 8/11 (Walt)
2016 Fantasy Football Mock Draft: Standard
- 8/4 (Walt)
2016 Fantasy Football Mock Draft Video
- 8/4 (Walt)
2016 Fantasy Football Mock Draft: PPR
- 8/2 (Chet)
2016 Fantasy Football Mock Draft: PPR
- 7/28 (Walt)
2016 Fantasy Football Mock Draft
- 7/21 (Walt)
2016 Fantasy Football: MFL 10 Draft
- 5/13 (Chet)
2016 Fantasy Football Cheat Sheets:
2016 Fantasy Football Cheat Sheet: Top 250
- 9/7 (Walt)
2016 Fantasy Football Cheat Sheet: Top 250 PPR
- 9/7 (Walt)
2016 Fantasy Football Cheat Sheet: Top 250 2-QB
- 9/7 (Walt)
2016 Fantasy Football Cheat Sheet: Top 250 Touchdown League
- 9/7 (Walt)
2016 Fantasy Football Cheat Sheet: Custom
- 9/7 (Walt)
2016 Fantasy Football: Dynasty Rankings
- 9/7 (Walt)
2016 Fantasy Football PPR Rankings
- 8/26 (Chet)
2016 Fantasy Football Spreadsheets
- 9/7 (Walt)
2016 Fantasy Football Articles:
2016 Fantasy Football Stock Report: Training Camp
- 9/7 (Walt)
2016 Fantasy Football Mock Draft Simulator
- 9/7 (Walt)
2016 Fantasy Football Sleepers
- 9/4 (Walt)
2016 NFL Preseason Recap, Fantasy Football Notes
- 9/2 (Walt)
2016 Fantasy Football Preseason Stock
- 9/2 (Walt)
2016 Fantasy Football Preseason Quarterback Targets
- 9/2 (Walt)
2016 Fantasy Football Waiver-Wire Targets
- 8/31 (Chet)
2016 Fantasy Football Busts
- 8/31 (Walt)
Fantasy Football Auction Advice
- 8/24 (Chet)
2016 Fantasy Football Round-by-Round Strategy Guide
- 8/18 (Walt)
2016 Fantasy Football Daily Fantasy Preseason Week 2 Streaming Options
- 8/18 (Chet)
2016 Fantasy Football Draft Queue: Wide Receivers and Tight Ends
- 8/17 (Chet)
2016 Fantasy Football Draft Queue: Quarterbacks and Running Backs
- 8/16 (Chet)
2016 Fantasy Football Training Camp Notes
- 8/10 (Chet)
2016 Fantasy Football Wide Receivers to Avoid
- 8/6 (Walt)
2016 Fantasy Football Running Backs to Avoid
- 8/5 (Walt)
2016 Fantasy Football Notes
- 7/26 (Chet)
2016 Fantasy Football Late-Round Wide Receiver Targets
- 7/21 (Chet)
2016 Fantasy Football Late-Round Running Back Targets
- 7/19 (Chet)
2016 Fantasy Football ADP Values
- 7/14 (Chet)
2016 Fantasy Football: C.J. Anderson Profile
- 7/7 (Chet)
2016 Fantasy Football Favorite MFL Players
- 6/29 (Chet)
2016 Fantasy Football: 2016 NFL Draft Fallout: Chip Kelly
- 6/23 (Chet)
2016 Fantasy Football: Marvin Jones Profile
- 6/22 (Chet)
2016 Fantasy Football: Devin Funchess Profile
- 6/15 (Chet)
2016 Fantasy Football 2-QB Draft
- 6/9 (Chet)
Fantasy Football Beginner's Guide
- 6/7 (Walt)
2016 Fantasy Football: Running Back Drafting and ADP
- 6/3 (Chet)
2016 Fantasy Football: Quarterback Drafting and ADP
- 6/1 (Chet)
2016 Fantasy Football: Eli Manning Profile
- 5/25 (Chet)
2016 Fantasy Football: Jordan Matthews Profile
- 5/24 (Chet)
2016 Fantasy Football Rookie Dynasty Draft Wrap-up
- 5/18 (Walt)
2016 Fantasy Football: 2016 NFL Draft Fallout
- 5/11 (Chet)
2016 Fantasy Football: MFL 10 Quarterback Values
- 4/30 (Chet)
2016 Fantasy Football: MFL 10 Wide Receiver Values
- 4/28 (Chet)
2016 Fantasy Football: Tight End Strength of Schedule
- 4/25 (Chet)
2016 Fantasy Football: Wide Receiver Strength of Schedule
- 4/21 (Chet)
2016 Fantasy Football: Running Back Strength of Schedule
- 4/20 (Chet)
2016 Fantasy Football: Quarterback Strength of Schedule
- 4/19 (Chet)
2016 Fantasy Football: MFL 10
- 2/19 (Chet)
2016 Fantasy Football Sleepers: Philip Rivers
- 2/16 (Chet)
2016 Fantasy Football: Quarterback ADP vs. Reality
- 2/12 (Chet)
2016 Fantasy Football Fallout: Marshawn Lynch Retires
- 2/11 (Chet)
2016 Fantasy Football Fallout: Calvin Johnson Retires
- 2/9 (Chet)
2016 Fantasy Football Forecast: Dynasty
- 1/21 (Chet)
2016 Fantasy Football Forecast: Tight Ends
- 1/19 (Chet)
2016 Fantasy Football Forecast: Wide Receivers
- 1/14 (Chet)
2016 Fantasy Football Forecast: Running Backs
- 1/13 (Chet)
2016 Fantasy Football Forecast: Quarterbacks
- 1/12 (Chet)
2022 NBA Mock Draft
- May 18
2023 NFL Mock Draft
- May 17
Fantasy Football Rankings
- May 12
NFL Power Rankings
- May 11
NFL Picks
- Feb. 13