By Chet Gresham –
@ChetGresham
Follow
@walterfootball
for updates.
I'll give you my usual caveat here when discussing strength of schedule, and that's that it can be deceiving and tough to rely on when selecting fantasy players. But, and of course there is a but, there are only so many good defensive players and coaches, and just a few select teams are going to turn their defenses around in one season. So I think it should be part of due diligence to check out the strength of schedule for each position and quarterbacks will be where I start.
First off, just a quick rundown of how I rank defenses against fantasy quarterbacks. First, I compile the completion percentage, yards passing per attempt, yards passing per completion, yards passing per game, interceptions per game, touchdown-to-interception ratio, fantasy points per attempt, fantasy points allowed per game, Football Outsiders' pass defensive ranking and the average out how each team defense ranked in all of those categories to come up with an overall ranking. Is this perfect? Not at all, but it gives us a broad swath of passing stats and gives us an average I can live with.
Here is how it comes out:
Jacksonville is the no-doubt leader and for a good reason, while Cleveland is dead last. I see Cleveland, Green Bay and Houston getting better, but I also don't see them moving up into being top-10 defenses, while many of the top defenses look like they should continue playing well. So let's take a look at the season as a whole: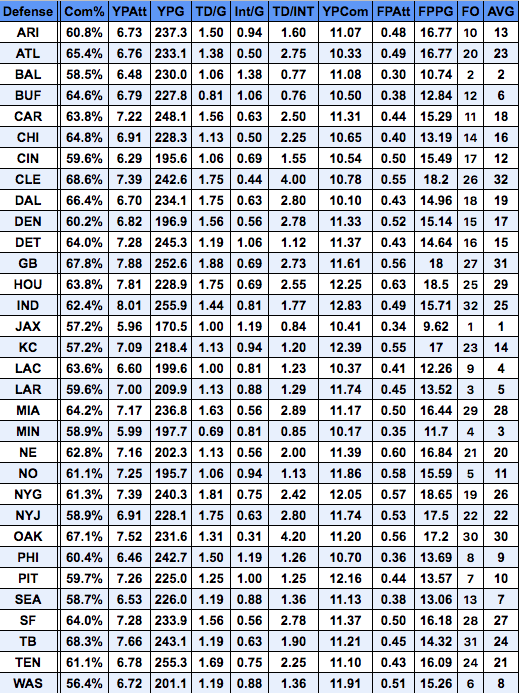 Alex Smith, Redskins
Smith had a career year in 2017 and was promptly traded to Washington to make room for Patrick Mahomes. Now Smith will be in a more pass-happy offense, as you can see when you compare Smith's last three seasons of pass attempts to Kirk Cousins' last three years. Cousins averaged 563 attempts to Smith's 488. No matter how you look at it, Smith will throw more this season, plus he gets a nice schedule to add into the equation.

Blake Bortles, Jaguars
Man, I am not a Bortles fan by any stretch of the imagination, but this guy is set up to be a heavy fantasy streamer. He's not going to need to win games by chucking the ball non-stop in the fourth quarter like he did early in his career, but he is going to have positive game scripts and will be able to make his pass attempts count as defenses will be keying in on the run more often than not. A winning team means fantasy points, even for average quarterbacks. Additionally, Bortles has been allowed to run the ball more and has gained the trust of offensive coordinator Nathaniel Hackett, and now in his second season with the team, Hackett seems ready to give Bortles more opportunities to run and throw deep. Plus, he gets a good schedule, as the AFC South isn't stacked defensively while the New York Jets, Kansas City, Dallas, Pittsburgh, Buffalo and Miami aren't poised to improve in their pass defenses this season. I hate to say it, but Bortles makes for a decent backup and a robust 2QB league starter.

Deshaun Watson, Texans
Watson had a decent schedule when he went off last season, so it does make it a little tougher to project him for 16 weeks of those insane numbers, although this year's schedule isn't a significant deterrent either. Additionally, he gets Jacksonville in Week 17, and when you have to play them twice in fantasy, that's a relief. Add in the fact that Watson doesn't plan on limiting his rushing attempts; I think we can feel confident that despite the small sample size last year, Watson will be able to keep from falling into a sophomore slump.

Pat Mahomes, Chiefs
Mahomes' first season as a starter isn't going to be a cakewalk by any means. The Chargers have arguably the best pass defense in the league, while the Broncos have fallen a bit but added Bradley Chubb and are still going to be tough. The Chiefs also take on the Jaguars, Rams and Ravens and don't get the weak Raiders pass defense twice due to their Week 17 matchup. Of course, there are some excellent matchups in there, and this Kansas City offense isn't one to be trifled with, especially if Mahomes can come close to his prospects. The addition of Sammy Watkins could make this offense even tougher to defend, no matter the defense, but I'm going to want another quarterback paired with Mahomes on my team this season.


Aaron Rodgers and Russell Wilson, Packers/Seahawks
Both Rodgers and Wilson have tough schedules, but in both cases, the talent level is too high to knock them down your draft boards too far because they've beaten good defense over and over again, and if they remain healthy, both will be near the top in fantasy points come Week 17. This is your stern reminder not to let strength of schedule move you away from studs.

Marcus Mariota, Titans
Mariota has a wide range of defenses he'll face this season, with Jacksonville twice, Philadelphia, Baltimore and the L.A. Chargers, while also getting Miami, Dallas, Indianapolis – just once in fantasy -, and the N.Y. Giants. I expect a bounce-back season for Mariota, but I see some inconsistency that may need some streaming quarterbacks thrown in for good measure.
For cross-referencing purposes, here is the overall schedule grid for this season: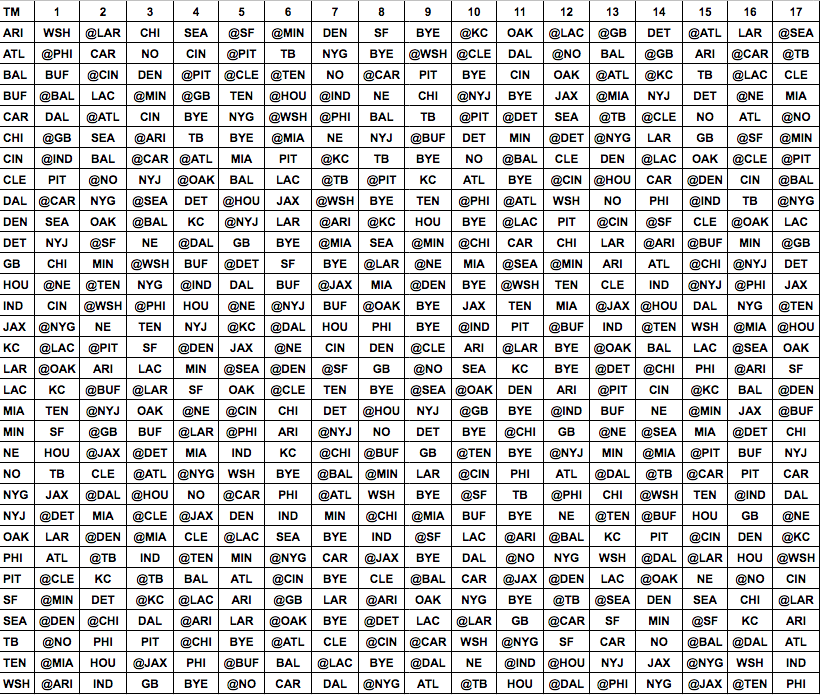 For more recommendations, check out WalterFootball.com's
Fantasy Football Rankings
.
More 2016 Fantasy Football Articles:
Fantasy Football Rankings
2016 Fantasy Football Rankings:
2016 Fantasy Football Rankings: Quarterbacks
- 9/7 (Walt)
Chet Gresham's Fantasy Football Quarterback Rankings
- 8/30 (Chet)
2016 Fantasy Football Rankings: Running Backs
- 9/7 (Walt)
Chet Gresham's Fantasy Football Running Back Rankings
- 8/30 (Chet)
2016 Fantasy Football Rankings: Wide Receivers
- 9/7 (Walt)
Chet Gresham's Fantasy Football Wide Receiver Rankings
- 8/30 (Chet)
2016 Fantasy Football Rankings: Tight Ends
- 9/7 (Walt)
Chet Gresham's Fantasy Football Tight End Rankings
- 8/30 (Chet)
2016 Fantasy Football Rankings: Defenses
- 6/15 (Walt)
2016 Fantasy Football Rankings: Kickers
- 6/15 (Walt)
Fantasy Football Rookie Rankings
- 5/13 (Walt)
Fantasy Football Rookie Rankings: Dynasty
- 5/13 (Walt)
Fantasy Football Rookie Rankings: Dynasty
- 5/27 (Chet)
2016 Fantasy Football Mock Drafts:
2016 Fantasy Football Mock Draft: PPR
- 9/1 (Walt)
2016 Fantasy Football Mock Draft Video
- 8/31 (Walt)
2016 Fantasy Football Mock Draft: Real Draft
- 8/29 (Walt)
2016 Fantasy Football Mock Draft: Standard
- 8/25 (Walt)
2016 Fantasy Football Mock Draft: 2-QB
- 8/25 (Chet)
2016 Fantasy Football Mock Draft Video
- 8/24 (Walt)
2016 Fantasy Football Mock Draft: PPR
- 8/18 (Walt)
2016 Fantasy Football Mock Draft Video
- 8/13 (Walt)
2016 Fantasy Football Mock Draft: Standard
- 8/11 (Walt)
2016 Fantasy Football Mock Draft: Standard
- 8/4 (Walt)
2016 Fantasy Football Mock Draft Video
- 8/4 (Walt)
2016 Fantasy Football Mock Draft: PPR
- 8/2 (Chet)
2016 Fantasy Football Mock Draft: PPR
- 7/28 (Walt)
2016 Fantasy Football Mock Draft
- 7/21 (Walt)
2016 Fantasy Football: MFL 10 Draft
- 5/13 (Chet)
2016 Fantasy Football Cheat Sheets:
2016 Fantasy Football Cheat Sheet: Top 250
- 9/7 (Walt)
2016 Fantasy Football Cheat Sheet: Top 250 PPR
- 9/7 (Walt)
2016 Fantasy Football Cheat Sheet: Top 250 2-QB
- 9/7 (Walt)
2016 Fantasy Football Cheat Sheet: Top 250 Touchdown League
- 9/7 (Walt)
2016 Fantasy Football Cheat Sheet: Custom
- 9/7 (Walt)
2016 Fantasy Football: Dynasty Rankings
- 9/7 (Walt)
2016 Fantasy Football PPR Rankings
- 8/26 (Chet)
2016 Fantasy Football Spreadsheets
- 9/7 (Walt)
2016 Fantasy Football Articles:
2016 Fantasy Football Stock Report: Training Camp
- 9/7 (Walt)
2016 Fantasy Football Mock Draft Simulator
- 9/7 (Walt)
2016 Fantasy Football Sleepers
- 9/4 (Walt)
2016 NFL Preseason Recap, Fantasy Football Notes
- 9/2 (Walt)
2016 Fantasy Football Preseason Stock
- 9/2 (Walt)
2016 Fantasy Football Preseason Quarterback Targets
- 9/2 (Walt)
2016 Fantasy Football Waiver-Wire Targets
- 8/31 (Chet)
2016 Fantasy Football Busts
- 8/31 (Walt)
Fantasy Football Auction Advice
- 8/24 (Chet)
2016 Fantasy Football Round-by-Round Strategy Guide
- 8/18 (Walt)
2016 Fantasy Football Daily Fantasy Preseason Week 2 Streaming Options
- 8/18 (Chet)
2016 Fantasy Football Draft Queue: Wide Receivers and Tight Ends
- 8/17 (Chet)
2016 Fantasy Football Draft Queue: Quarterbacks and Running Backs
- 8/16 (Chet)
2016 Fantasy Football Training Camp Notes
- 8/10 (Chet)
2016 Fantasy Football Wide Receivers to Avoid
- 8/6 (Walt)
2016 Fantasy Football Running Backs to Avoid
- 8/5 (Walt)
2016 Fantasy Football Notes
- 7/26 (Chet)
2016 Fantasy Football Late-Round Wide Receiver Targets
- 7/21 (Chet)
2016 Fantasy Football Late-Round Running Back Targets
- 7/19 (Chet)
2016 Fantasy Football ADP Values
- 7/14 (Chet)
2016 Fantasy Football: C.J. Anderson Profile
- 7/7 (Chet)
2016 Fantasy Football Favorite MFL Players
- 6/29 (Chet)
2016 Fantasy Football: 2016 NFL Draft Fallout: Chip Kelly
- 6/23 (Chet)
2016 Fantasy Football: Marvin Jones Profile
- 6/22 (Chet)
2016 Fantasy Football: Devin Funchess Profile
- 6/15 (Chet)
2016 Fantasy Football 2-QB Draft
- 6/9 (Chet)
Fantasy Football Beginner's Guide
- 6/7 (Walt)
2016 Fantasy Football: Running Back Drafting and ADP
- 6/3 (Chet)
2016 Fantasy Football: Quarterback Drafting and ADP
- 6/1 (Chet)
2016 Fantasy Football: Eli Manning Profile
- 5/25 (Chet)
2016 Fantasy Football: Jordan Matthews Profile
- 5/24 (Chet)
2016 Fantasy Football Rookie Dynasty Draft Wrap-up
- 5/18 (Walt)
2016 Fantasy Football: 2016 NFL Draft Fallout
- 5/11 (Chet)
2016 Fantasy Football: MFL 10 Quarterback Values
- 4/30 (Chet)
2016 Fantasy Football: MFL 10 Wide Receiver Values
- 4/28 (Chet)
2016 Fantasy Football: Tight End Strength of Schedule
- 4/25 (Chet)
2016 Fantasy Football: Wide Receiver Strength of Schedule
- 4/21 (Chet)
2016 Fantasy Football: Running Back Strength of Schedule
- 4/20 (Chet)
2016 Fantasy Football: Quarterback Strength of Schedule
- 4/19 (Chet)
2016 Fantasy Football: MFL 10
- 2/19 (Chet)
2016 Fantasy Football Sleepers: Philip Rivers
- 2/16 (Chet)
2016 Fantasy Football: Quarterback ADP vs. Reality
- 2/12 (Chet)
2016 Fantasy Football Fallout: Marshawn Lynch Retires
- 2/11 (Chet)
2016 Fantasy Football Fallout: Calvin Johnson Retires
- 2/9 (Chet)
2016 Fantasy Football Forecast: Dynasty
- 1/21 (Chet)
2016 Fantasy Football Forecast: Tight Ends
- 1/19 (Chet)
2016 Fantasy Football Forecast: Wide Receivers
- 1/14 (Chet)
2016 Fantasy Football Forecast: Running Backs
- 1/13 (Chet)
2016 Fantasy Football Forecast: Quarterbacks
- 1/12 (Chet)
NFL Picks
- Oct. 2
2024 NFL Mock Draft
- Sept. 27
Fantasy Football Rankings
- Sept. 7
NFL Power Rankings
- June 2