By Chet Gresham -
@ChetGresham
Aug. 2, 2016.
Follow
@walterfootball
for updates.
Mock Draft Settings:
12 teams, PPR Scoring, QB, 2 RB, 3 WR, TE, WR/RB/TE, D/ST, K. Eight-player Bench.
I picked eighth, which is not my favorite spot, but I haven't really found a spot I love yet. The third pick might be my favorite so far, but a lot depends on who you are drafting against this season. So without further adieu, I bring you my 12-team PPR mock draft.

MY PICKS, ROUNDS 1-2:
I went with A.J. Green with the eighth overall pick. I actually have Dez Bryant ahead of Green in my rankings, but I'm coming around to the fact that the Bengals just don't have enough good receivers to spread the targets around. They lost Mohammed Sanu and Marvin Jones, and tight end Tyler Eifert won't be 100 percent healthy by Week 1. It may not be what the Bengals want to do, but they will have to force the ball to Green more than they have been.
LeSean McCoy is a player I like a lot this year, but the four-game suspension and weight gain for Karlos Williams, who is McCoy's backup, gives McCoy some safety. The Bills are a run-heavy team, so no matter what, McCoy will get plenty of work and when healthy last year, he looked very much like the same old Shady, accumulating 100-plus yards and/or a touchdown in 10 consecutive games.
BEST PICK, ROUNDS 1-2:
The first two rounds usually follow ADP fairly closely, and that happened in this mock as well. But, I think getting Brandin Cooks, Keenan Allen and Allen Robinson as the last three picks of the second round is great. I had all three in my sights as I grabbed McCoy, and they would have been safer, but I wanted a running back as eight had already come off the board.
WORST PICK, ROUNDS 1-2:
Le'Veon Bell went too early, but I've already seen this a few times since his suspension. I believe Bell will be fine this year once he gets onto the field, but if you have a 2-week fantasy playoff and don't play Week 17, that's a total of nine games you get out of Bell before the playoffs. If you can get him mid-third round, I'm okay with that, but there's no need to reach for a guy you know will miss four games.
MY PICKS, ROUNDS 3-4:
I ended up with C.J. Anderson in the third round, which is where I've been grabbing him a lot this year. You might be able to wait later on him, but I like him enough that I rather have him on my team than hope he falls to me for value. Anderson is the clear lead back on a team with a solid offensive line and defense. And with no strong quarterback, Denver will need to win on the ground. Anderson's upside is as a Top-5 fantasy running back this year.
My next pick went for Sammy Watkins. I was grabbing him in the third round before his foot injury, and now that he's passed his conditioning test, it won't be long until he's back on the practice field. Injuries are my only concern about Watkins. He is a special talent.
BEST PICK, ROUNDS 3-4:
Julian Edelman as the last pick of the third round is a nice get. Edelman was running routes on the side at the start of training camp, so I feel good about him being ready and in PPR leagues. When he was injured last season in Week 9, he was on pace for 114 receptions.
WORST PICK, ROUNDS 3-4:
Delanie Walker led all tight ends in targets last year with 134, which helped boost his totals, but after picking up DeMarco Murray and Derrick Henry, I believe the Titans will go run heavy and limit Walker's targets to a more normal level.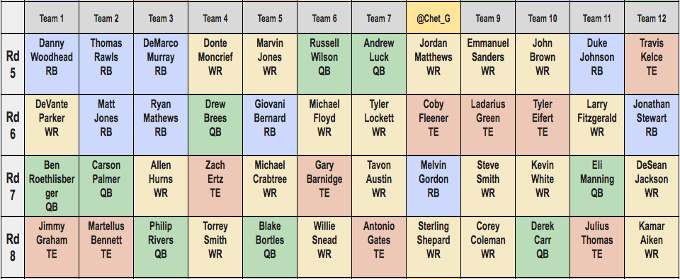 MY PICKS, ROUNDS 5-6:
Jordan Matthews isn't my favorite receiver to target this year, but he is the Eagles' No. 1 receiver and I believe they will need to pass to try to stay in games. Ryan Matthews is already hurting and Wendell Smallwood is a rookie, which means there's a good chance coach Doug Pederson won't have the luxury of running the ball effectively. My only concern for Matthews is if he'll get enough targets, but with Zach Ertz as the only real competition for looks this season, I think he will be relied on heavily.
Coby Fleener has already been getting rave reviews for his work so far with the Saints. Drew Brees has said about Fleener, "As a tight end in this offense, you get a lot of opportunities, you get a lot of favorable match-ups, and you can be a guy that catches a lot of balls, and I certainly see him in that role." If the Saints can turn 34-year-old Ben Watson into a fantasy asset, then they should be able to do the same with 27-year-old Fleener.
BEST PICKS, ROUNDS 5-6:
I would probably say this if he was selected in the second round, but Donte Moncrief is one of my favorite players this season, so I'd be more than happy to grab him in the fifth round. I was very much hoping he'd fall to me.
I also am a big proponent of Giovani Bernard in PPR leagues. He'll have trouble scoring touchdowns with Jeremy Hill there, but he severely outplayed Hill as a runner and receiver last season, and now with the Bengals' receiving targets shrinking, Bernard should be in line for even more than his 49 receptions from last year.
WORST PICK, ROUNDS 5-6:
Here's where I take a bit of a leap. My choice for worst pick is Danny Woodhead. Last season after Keenan Allen and Stevie Johnson were hurt, Woodhead became the main receiving target and to add to that, his counterpart Melvin Gordon wasn't doing much, which gave Woodhead even more work. Then, with offensive linemen dropping left and right, Phillip Rivers rarely had time to throw deep, so he had to throw short to Woodhead even more. The thing is, I don't think we can count on all of those things happening again. I believe Gordon isn't as bad as he was last season and that even with a little bit of injury luck the Chargers should be able to spread their offense out and not make Woodhead the focal point.
MY PICKS, ROUNDS 7-8:
Hey, there's Melvin Gordon. Yeah, I liked what I saw from him when he found the crease last year, even if it didn't happen all that often. As I talked about in Danny Woodhead's blurb, the Chargers were a mess last season and I believe some retuning, better injury luck and the return of offensive coordinator Ken Whisenhunt really helps the running game and Gordon.
Sterling Shepard is set up perfectly in an up-tempo, quick-hitting Giants offense. Coach Ben McAdoo already has said he has no qualms with starting Shepard as a rookie, and that's where he's been practicing so far in training camp. He should see around 100 targets and a 65-70-reception season should be his floor.
BEST PICK, ROUNDS 7-8:
Kamar Aiken jumps out at me as a solid, if not that exciting pick. With Steve Smith and Breshad Perriman hurting, Aiken is the guy who is going to see the most targets for the Ravens. I usually wait too long, hoping his boringness will help him fall in drafts, but I've been waiting too long. I think he's safe enough to grab when you want to.
WORST PICK, ROUNDS 7-8:
Steve Smith is easily the worst pick of these rounds. All the news about his injury and rehab has not been promising. His Achilles looked like shredded chicken according to his doctor and was worse than he had ever seen. I would never put anything past Smith, but I'll just cheer for him without any shares on my teams.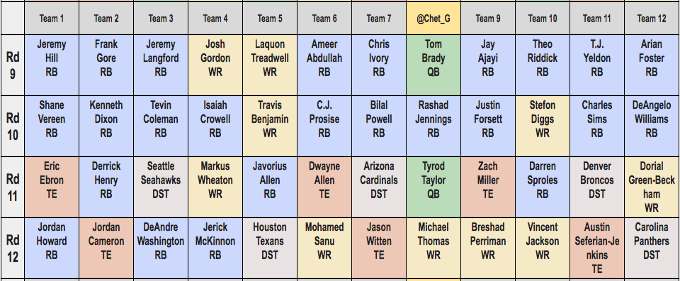 MY PICKS, ROUNDS 9-10:
Tom Brady dropped way too far, so I had to pick him. He'll be a top fantasy quarterback once he returns in Week 5 - RIP Cleveland. I'll just need to make sure I grab a quarterback I like before all the good backups are gone.
Rashad Jennings isn't my favorite pick, but he should be the lead back for the Giants and his competition remains underwhelming. Toward the end of last season, he was used as the lead back and led the league in rushing over the final four weeks. Jennings will split time, but I like the Giants' offense and Jennings is their best running back.
BEST PICK, ROUNDS 9-10:
I'm going to go with Travis Benjamin here, as Stevie Johnson tore his meniscus and will need surgery. The timetable isn't known for Johnson's recovery yet, but Benjamin is going to have more targets funneled his way. I really liked what I saw from Benjamin last year in Cleveland, and with Phillip Rivers as his quarterback, I think we can expect fantasy goodness.
WORST PICK, ROUNDS 9-10:
Shane Vereen is a good receiver, and in the right situation, I'd love him in a PPR league like this, but the Giants drafted another good pass catcher in Paul Perkins, plus Rashad Jennings isn't a bad receiver himself. The competition is just too thick for Vereen to be anything other than a late-round flier.
MY PICKS, ROUNDS 11-12:
To supplement my Tom Brady pick I went with Tyrod Taylor. Taylor ranked third last season in fantasy points per play and showed rushing ability that can keep him as a good fantasy quarterback even when he isn't having a good passing game. I also like that I'll need Taylor early in the season, as my one worry with him is an injury and hopefully early in the season, he'll be less beat down and susceptible to injuries.
Michael Thomas is a rookie, but one of the more NFL-ready rookies in this year's draft. He should take the spot of Marques Colston and have Mr. Drew Brees chucking him the ball. So far, all reports out of training camp have been glowing, and as long as Thomas can win a starting job, he'll be more than worth a 12th-round pick.
BEST PICK, ROUNDS 11-12:
I'm liking Dwayne Allen more and more, especially if you can get him this late. Allen has been blocked by Coby Fleener his whole career, and now he gets the job all to himself. The Colts paid him starting-tight end money and even told him it was solely his job. Indianapolis' offense should be kind to a single starting tight end for fantasy.
WORST PICK, ROUNDS 11-12:
At this point in the draft, it's hard to call any picks particularly bad. I would never grab a defense this early, but I'm not going to go into that. I can make a case for all of these players this late, but the player I dislike the most is Javorius Allen. I like him as a receiver, and in the Ravens' offense that's a plus, but I like Kenneth Dixon's ability as a receiver and runner more, and then, of course, Justin Forsett is the starter.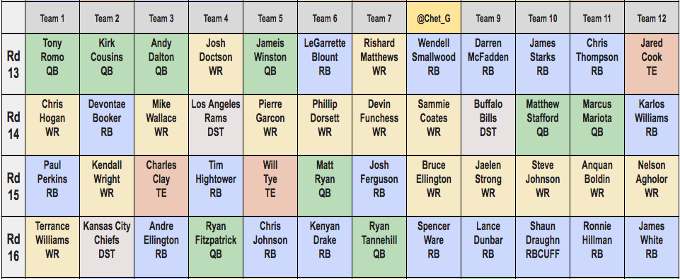 MY PICKS, ROUNDS 13-14:
I went with Philadelphia backup running back Wendell Smallwood. This pick may not pan out, but we know Ryan Matthews is already hurt and will get hurt again, it just depends on how long he's out. If it's for a long time, I see Smallwood and Darren Sproles splitting the job, but I do like Smallwood's ability enough that I think he would take over the majority of the work.
Sammie Coates is one of my favorite late-round receivers. I don't truly believe in Markus Wheaton, but I do believe in Coates. The upside in this Pittsburgh offense is pretty high for any player getting targets, and if Coates can beat out Wheaton, I think the forer has a great fantasy season as the No. 2 receiver.
BEST PICK, ROUNDS 13-14:
I think some of the other picks are safer, but I love Chris Hogan's upside in the Patriots' offense. Picking "sleeper" wide receivers in this offense has been an impossible task, but Hogan is already turning some heads in practice and I could see him winning a job. He's a high-risk pick, but I'm willing to take the risk this late.
WORST PICK, ROUNDS 13-14:
I really want to like Jared Cook. He has the athletic ability and now the quarterback, but he's just never really "got it." There's also talk that Richard Rogers has slimmed down and could retain the starting job.
MY PICKS, ROUNDS 15-16:
Bruce Ellington is getting a lot of hype this offseason, and it's starting to look like he at the very least will be the starter in the slot, which is a great spot for a receiver in a Chip Kelly offense. Ellington easily could be the No. 1 target while Torrey Smith gets deeper targets, but fewer.
I've been a fan of Spencer Ware for a while now, but I don't just have to be a fan anymore to recommend him because he showed his worth last season after Jamaal Charles was injured. This season, Ware looks to have moved ahead of Charcandrick West and is the main backup to Charles. If Charles gets hurt again, we should see even more of Ware than last year.
BEST PICK, ROUNDS 15-16:
It's still not a closed case, but Will Tye should be able to beat out Larry Donnell for the starting tight end job for the Giants. Tye is the superior offensive player to Donnell, and I love the Beckham Jr., Shepard, Tye triumvirate.
WORST PICKS, ROUNDS 15-16:
Again, you can show a path for any of these picks to work out, but for me, Ronnie Hillman is a player I'd skip altogether this season. C.J. Anderson blew by Hillman late last season, and now Devontae Booker looks to be doing the same. I'd be very surprised if Hillman was third or even fourth on the depth chart come Week 1.
Just a heads up that we have 2016 Fantasy Football Mock Drafts with Walter every Wednesday afternoon or evening. Check out the forum or follow Walter on Twitter to find out when the next mock draft will be. Also, check out our
Fantasy Football Rankings
.
More 2016 Fantasy Football Articles:
Fantasy Football Rankings
2016 Fantasy Football Rankings:
2016 Fantasy Football Rankings: Quarterbacks
- 9/7 (Walt)
Chet Gresham's Fantasy Football Quarterback Rankings
- 8/30 (Chet)
2016 Fantasy Football Rankings: Running Backs
- 9/7 (Walt)
Chet Gresham's Fantasy Football Running Back Rankings
- 8/30 (Chet)
2016 Fantasy Football Rankings: Wide Receivers
- 9/7 (Walt)
Chet Gresham's Fantasy Football Wide Receiver Rankings
- 8/30 (Chet)
2016 Fantasy Football Rankings: Tight Ends
- 9/7 (Walt)
Chet Gresham's Fantasy Football Tight End Rankings
- 8/30 (Chet)
2016 Fantasy Football Rankings: Defenses
- 6/15 (Walt)
2016 Fantasy Football Rankings: Kickers
- 6/15 (Walt)
Fantasy Football Rookie Rankings
- 5/13 (Walt)
Fantasy Football Rookie Rankings: Dynasty
- 5/13 (Walt)
Fantasy Football Rookie Rankings: Dynasty
- 5/27 (Chet)
2016 Fantasy Football Mock Drafts:
2016 Fantasy Football Mock Draft: PPR
- 9/1 (Walt)
2016 Fantasy Football Mock Draft Video
- 8/31 (Walt)
2016 Fantasy Football Mock Draft: Real Draft
- 8/29 (Walt)
2016 Fantasy Football Mock Draft: Standard
- 8/25 (Walt)
2016 Fantasy Football Mock Draft: 2-QB
- 8/25 (Chet)
2016 Fantasy Football Mock Draft Video
- 8/24 (Walt)
2016 Fantasy Football Mock Draft: PPR
- 8/18 (Walt)
2016 Fantasy Football Mock Draft Video
- 8/13 (Walt)
2016 Fantasy Football Mock Draft: Standard
- 8/11 (Walt)
2016 Fantasy Football Mock Draft: Standard
- 8/4 (Walt)
2016 Fantasy Football Mock Draft Video
- 8/4 (Walt)
2016 Fantasy Football Mock Draft: PPR
- 8/2 (Chet)
2016 Fantasy Football Mock Draft: PPR
- 7/28 (Walt)
2016 Fantasy Football Mock Draft
- 7/21 (Walt)
2016 Fantasy Football: MFL 10 Draft
- 5/13 (Chet)
2016 Fantasy Football Cheat Sheets:
2016 Fantasy Football Cheat Sheet: Top 250
- 9/7 (Walt)
2016 Fantasy Football Cheat Sheet: Top 250 PPR
- 9/7 (Walt)
2016 Fantasy Football Cheat Sheet: Top 250 2-QB
- 9/7 (Walt)
2016 Fantasy Football Cheat Sheet: Top 250 Touchdown League
- 9/7 (Walt)
2016 Fantasy Football Cheat Sheet: Custom
- 9/7 (Walt)
2016 Fantasy Football: Dynasty Rankings
- 9/7 (Walt)
2016 Fantasy Football PPR Rankings
- 8/26 (Chet)
2016 Fantasy Football Spreadsheets
- 9/7 (Walt)
2016 Fantasy Football Articles:
2016 Fantasy Football Stock Report: Training Camp
- 9/7 (Walt)
2016 Fantasy Football Mock Draft Simulator
- 9/7 (Walt)
2016 Fantasy Football Sleepers
- 9/4 (Walt)
2016 NFL Preseason Recap, Fantasy Football Notes
- 9/2 (Walt)
2016 Fantasy Football Preseason Stock
- 9/2 (Walt)
2016 Fantasy Football Preseason Quarterback Targets
- 9/2 (Walt)
2016 Fantasy Football Waiver-Wire Targets
- 8/31 (Chet)
2016 Fantasy Football Busts
- 8/31 (Walt)
Fantasy Football Auction Advice
- 8/24 (Chet)
2016 Fantasy Football Round-by-Round Strategy Guide
- 8/18 (Walt)
2016 Fantasy Football Daily Fantasy Preseason Week 2 Streaming Options
- 8/18 (Chet)
2016 Fantasy Football Draft Queue: Wide Receivers and Tight Ends
- 8/17 (Chet)
2016 Fantasy Football Draft Queue: Quarterbacks and Running Backs
- 8/16 (Chet)
2016 Fantasy Football Training Camp Notes
- 8/10 (Chet)
2016 Fantasy Football Wide Receivers to Avoid
- 8/6 (Walt)
2016 Fantasy Football Running Backs to Avoid
- 8/5 (Walt)
2016 Fantasy Football Notes
- 7/26 (Chet)
2016 Fantasy Football Late-Round Wide Receiver Targets
- 7/21 (Chet)
2016 Fantasy Football Late-Round Running Back Targets
- 7/19 (Chet)
2016 Fantasy Football ADP Values
- 7/14 (Chet)
2016 Fantasy Football: C.J. Anderson Profile
- 7/7 (Chet)
2016 Fantasy Football Favorite MFL Players
- 6/29 (Chet)
2016 Fantasy Football: 2016 NFL Draft Fallout: Chip Kelly
- 6/23 (Chet)
2016 Fantasy Football: Marvin Jones Profile
- 6/22 (Chet)
2016 Fantasy Football: Devin Funchess Profile
- 6/15 (Chet)
2016 Fantasy Football 2-QB Draft
- 6/9 (Chet)
Fantasy Football Beginner's Guide
- 6/7 (Walt)
2016 Fantasy Football: Running Back Drafting and ADP
- 6/3 (Chet)
2016 Fantasy Football: Quarterback Drafting and ADP
- 6/1 (Chet)
2016 Fantasy Football: Eli Manning Profile
- 5/25 (Chet)
2016 Fantasy Football: Jordan Matthews Profile
- 5/24 (Chet)
2016 Fantasy Football Rookie Dynasty Draft Wrap-up
- 5/18 (Walt)
2016 Fantasy Football: 2016 NFL Draft Fallout
- 5/11 (Chet)
2016 Fantasy Football: MFL 10 Quarterback Values
- 4/30 (Chet)
2016 Fantasy Football: MFL 10 Wide Receiver Values
- 4/28 (Chet)
2016 Fantasy Football: Tight End Strength of Schedule
- 4/25 (Chet)
2016 Fantasy Football: Wide Receiver Strength of Schedule
- 4/21 (Chet)
2016 Fantasy Football: Running Back Strength of Schedule
- 4/20 (Chet)
2016 Fantasy Football: Quarterback Strength of Schedule
- 4/19 (Chet)
2016 Fantasy Football: MFL 10
- 2/19 (Chet)
2016 Fantasy Football Sleepers: Philip Rivers
- 2/16 (Chet)
2016 Fantasy Football: Quarterback ADP vs. Reality
- 2/12 (Chet)
2016 Fantasy Football Fallout: Marshawn Lynch Retires
- 2/11 (Chet)
2016 Fantasy Football Fallout: Calvin Johnson Retires
- 2/9 (Chet)
2016 Fantasy Football Forecast: Dynasty
- 1/21 (Chet)
2016 Fantasy Football Forecast: Tight Ends
- 1/19 (Chet)
2016 Fantasy Football Forecast: Wide Receivers
- 1/14 (Chet)
2016 Fantasy Football Forecast: Running Backs
- 1/13 (Chet)
2016 Fantasy Football Forecast: Quarterbacks
- 1/12 (Chet)
NFL Picks
- Oct. 27
NFL Power Rankings
- Oct. 27
2021 NFL Mock Draft
- Oct. 21
Fantasy Football Rankings
- Sept. 9
2022 NFL Mock Draft
- May 13
2020 College Football Recruiting Rankings
- April 14
2020 NBA Mock Draft
- Sept. 27