By Chet Gresham -
@ChetGresham
Follow
@walterfootball
for updates.
I'll give you my usual caveat here when discussing strength of schedule, and that's that it can be deceiving and tough to rely on when selecting fantasy players. But, and of course there is a but, there are only so many good defensive players and coaches, and just a few select teams are going to turn their defenses around in one season. So, I think it should be part of due diligence to check out the strength of schedule for each position and now that I've completed
quarterbacks
and
running backs
, I'll move onto wide receivers.
Here's a quick rundown of how I rank defenses against fantasy wide receivers. First, I compile the number of receptions, receiving yards, yards per reception, yards per target, fantasy points per target, touchdowns, targets, completion percentage, fantasy points, Football Outsiders pass defensive rankings, and the average out how each team defense ranked in all of those categories to come up with an overall ranking. Is this perfect, not at all, but it gives us a broad swath of passing stats and gives us an average I can live with.Is this perfect? Not at all, but it gives us a broad swath of passing stats and gives us an average I can live with.
Here is how it comes out: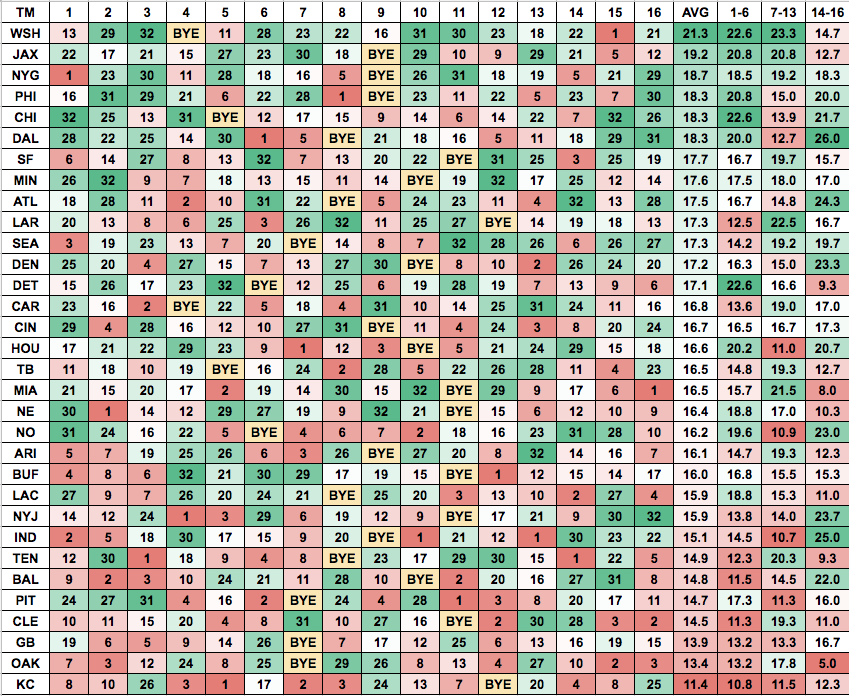 The Jaguars have the No. 1 pass defense against wide receivers while the Packers had the worst pass defense when using my method. These will change plenty during the season, but when evaluating two players in the same tier, if they are at the edges of the strength of schedule rankings, I feel okay letting SOS be a tie-breaker.
The SOS chart for wide receivers will look similar to the quarterback chart but not the same, as wide receivers have a whole different set of problems than quarterbacks, and some defenses are better at, or at least spend more defensive capital on, stopping top wide receivers, which in turn gives opportunities elsewhere in the passing game.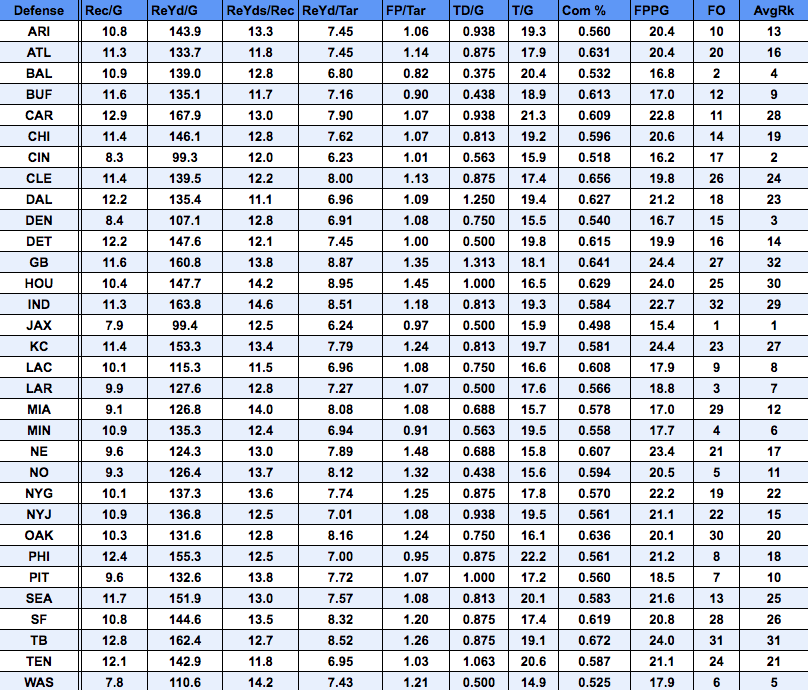 Jamison Crowder and Josh Doctson, Redskins
The Redskins gets a fantastic schedule for wide receivers, as they only face one defense which ranked in the single digits last season, but unfortunately, this team is Jacksonville, which has best the pass defense, and the matchup is in Week 15, smack in the middle of the fantasy playoffs. But that is just one small blemish on an otherwise consistently favorable schedule. That sets up well for one of my favorite receivers Jamison Crowder, who gets a quarterback who ranked in the top three in quarterback rating when throwing to the slot receiver over the last five years. He has been a staple in my early best-ball drafts and will likely continue to be. Josh Doctson, on the other hand, is more of a dart throw at the moment but one who the Redskins look like they very much want to keep throwing. I feel their commitment to him, coupled with his late-round ADP, puts him in a right spot as a flier this season, and the schedule doesn't hurt.




Marqise Lee, Keelan Cole, Donte Moncrief and Dede Westbrook, Jaguars
Jacksonville ranked 23rd in pass attempts last season but 19th in attempts toward wide receivers, while first-year offensive coordinator Nathaniel Hackett got his bearings. Hackett says he plans on giving Bortles more this season and I expect more passes to be in his plans, but if Jacksonville doesn't need them due to the best defense in the league and a strong ground game, I still don't see Bortles throwing more than your average quarterback. Jacksonville's schedule is an easy one for wide receivers though, and if one player jumps out as the clear go-to guy, he could easily have good value. The competition, however, is fierce, and when you add in Austin Seferian-Jenkins, it gets even fiercer. I like Lee as a value guy still and Cole as a flier, but overall, I don't think we can rely on big seasons from any one Jaguars receiver.


Antonio Brown and JuJu Smith-Schuster, Steelers
The Steelers have a tough schedule overall but start out with Cleveland, Kansas City, and Tampa Bay, which should help Brown and Smith-Schuster get off to good starts to the season. After that, it gets pretty ugly. Brown, of course, is a stud and can't be stopped unless you want Le'Veon Bell to go off for 300 yards, but Smith-Schuster could have a bit more trouble in these tougher games. I think Smith-Schuster is good enough to beat good defenses, but the onslaught of them and his high ADP make me a bit wary.


Tyreek Hill and Sammy Watkins, Chiefs
The addition of Sammy Watkins to this receiving corps is excellent for Patrick Mahomes, but it could hurt the target numbers of the receivers, as Travis Kelce is likely not to see a decrease. That should be okay, as their efficiency numbers will be elevated on what should be an incredibly offensive-minded team again, but the Chiefs' schedule is scary and projecting both receivers near their upsides will be too.
For cross-referencing purposes, here is the overall schedule grid for this season: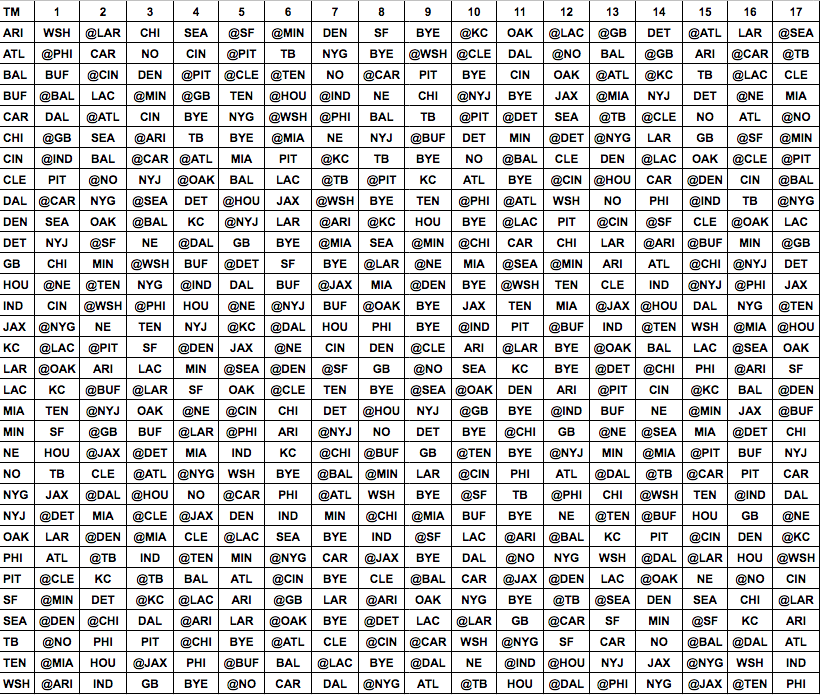 For more recommendations, check out WalterFootball.com's
Fantasy Football Rankings
.
More 2016 Fantasy Football Articles:
Fantasy Football Rankings
2016 Fantasy Football Rankings:
2016 Fantasy Football Rankings: Quarterbacks
- 9/7 (Walt)
Chet Gresham's Fantasy Football Quarterback Rankings
- 8/30 (Chet)
2016 Fantasy Football Rankings: Running Backs
- 9/7 (Walt)
Chet Gresham's Fantasy Football Running Back Rankings
- 8/30 (Chet)
2016 Fantasy Football Rankings: Wide Receivers
- 9/7 (Walt)
Chet Gresham's Fantasy Football Wide Receiver Rankings
- 8/30 (Chet)
2016 Fantasy Football Rankings: Tight Ends
- 9/7 (Walt)
Chet Gresham's Fantasy Football Tight End Rankings
- 8/30 (Chet)
2016 Fantasy Football Rankings: Defenses
- 6/15 (Walt)
2016 Fantasy Football Rankings: Kickers
- 6/15 (Walt)
Fantasy Football Rookie Rankings
- 5/13 (Walt)
Fantasy Football Rookie Rankings: Dynasty
- 5/13 (Walt)
Fantasy Football Rookie Rankings: Dynasty
- 5/27 (Chet)
2016 Fantasy Football Mock Drafts:
2016 Fantasy Football Mock Draft: PPR
- 9/1 (Walt)
2016 Fantasy Football Mock Draft Video
- 8/31 (Walt)
2016 Fantasy Football Mock Draft: Real Draft
- 8/29 (Walt)
2016 Fantasy Football Mock Draft: Standard
- 8/25 (Walt)
2016 Fantasy Football Mock Draft: 2-QB
- 8/25 (Chet)
2016 Fantasy Football Mock Draft Video
- 8/24 (Walt)
2016 Fantasy Football Mock Draft: PPR
- 8/18 (Walt)
2016 Fantasy Football Mock Draft Video
- 8/13 (Walt)
2016 Fantasy Football Mock Draft: Standard
- 8/11 (Walt)
2016 Fantasy Football Mock Draft: Standard
- 8/4 (Walt)
2016 Fantasy Football Mock Draft Video
- 8/4 (Walt)
2016 Fantasy Football Mock Draft: PPR
- 8/2 (Chet)
2016 Fantasy Football Mock Draft: PPR
- 7/28 (Walt)
2016 Fantasy Football Mock Draft
- 7/21 (Walt)
2016 Fantasy Football: MFL 10 Draft
- 5/13 (Chet)
2016 Fantasy Football Cheat Sheets:
2016 Fantasy Football Cheat Sheet: Top 250
- 9/7 (Walt)
2016 Fantasy Football Cheat Sheet: Top 250 PPR
- 9/7 (Walt)
2016 Fantasy Football Cheat Sheet: Top 250 2-QB
- 9/7 (Walt)
2016 Fantasy Football Cheat Sheet: Top 250 Touchdown League
- 9/7 (Walt)
2016 Fantasy Football Cheat Sheet: Custom
- 9/7 (Walt)
2016 Fantasy Football: Dynasty Rankings
- 9/7 (Walt)
2016 Fantasy Football PPR Rankings
- 8/26 (Chet)
2016 Fantasy Football Spreadsheets
- 9/7 (Walt)
2016 Fantasy Football Articles:
2016 Fantasy Football Stock Report: Training Camp
- 9/7 (Walt)
2016 Fantasy Football Mock Draft Simulator
- 9/7 (Walt)
2016 Fantasy Football Sleepers
- 9/4 (Walt)
2016 NFL Preseason Recap, Fantasy Football Notes
- 9/2 (Walt)
2016 Fantasy Football Preseason Stock
- 9/2 (Walt)
2016 Fantasy Football Preseason Quarterback Targets
- 9/2 (Walt)
2016 Fantasy Football Waiver-Wire Targets
- 8/31 (Chet)
2016 Fantasy Football Busts
- 8/31 (Walt)
Fantasy Football Auction Advice
- 8/24 (Chet)
2016 Fantasy Football Round-by-Round Strategy Guide
- 8/18 (Walt)
2016 Fantasy Football Daily Fantasy Preseason Week 2 Streaming Options
- 8/18 (Chet)
2016 Fantasy Football Draft Queue: Wide Receivers and Tight Ends
- 8/17 (Chet)
2016 Fantasy Football Draft Queue: Quarterbacks and Running Backs
- 8/16 (Chet)
2016 Fantasy Football Training Camp Notes
- 8/10 (Chet)
2016 Fantasy Football Wide Receivers to Avoid
- 8/6 (Walt)
2016 Fantasy Football Running Backs to Avoid
- 8/5 (Walt)
2016 Fantasy Football Notes
- 7/26 (Chet)
2016 Fantasy Football Late-Round Wide Receiver Targets
- 7/21 (Chet)
2016 Fantasy Football Late-Round Running Back Targets
- 7/19 (Chet)
2016 Fantasy Football ADP Values
- 7/14 (Chet)
2016 Fantasy Football: C.J. Anderson Profile
- 7/7 (Chet)
2016 Fantasy Football Favorite MFL Players
- 6/29 (Chet)
2016 Fantasy Football: 2016 NFL Draft Fallout: Chip Kelly
- 6/23 (Chet)
2016 Fantasy Football: Marvin Jones Profile
- 6/22 (Chet)
2016 Fantasy Football: Devin Funchess Profile
- 6/15 (Chet)
2016 Fantasy Football 2-QB Draft
- 6/9 (Chet)
Fantasy Football Beginner's Guide
- 6/7 (Walt)
2016 Fantasy Football: Running Back Drafting and ADP
- 6/3 (Chet)
2016 Fantasy Football: Quarterback Drafting and ADP
- 6/1 (Chet)
2016 Fantasy Football: Eli Manning Profile
- 5/25 (Chet)
2016 Fantasy Football: Jordan Matthews Profile
- 5/24 (Chet)
2016 Fantasy Football Rookie Dynasty Draft Wrap-up
- 5/18 (Walt)
2016 Fantasy Football: 2016 NFL Draft Fallout
- 5/11 (Chet)
2016 Fantasy Football: MFL 10 Quarterback Values
- 4/30 (Chet)
2016 Fantasy Football: MFL 10 Wide Receiver Values
- 4/28 (Chet)
2016 Fantasy Football: Tight End Strength of Schedule
- 4/25 (Chet)
2016 Fantasy Football: Wide Receiver Strength of Schedule
- 4/21 (Chet)
2016 Fantasy Football: Running Back Strength of Schedule
- 4/20 (Chet)
2016 Fantasy Football: Quarterback Strength of Schedule
- 4/19 (Chet)
2016 Fantasy Football: MFL 10
- 2/19 (Chet)
2016 Fantasy Football Sleepers: Philip Rivers
- 2/16 (Chet)
2016 Fantasy Football: Quarterback ADP vs. Reality
- 2/12 (Chet)
2016 Fantasy Football Fallout: Marshawn Lynch Retires
- 2/11 (Chet)
2016 Fantasy Football Fallout: Calvin Johnson Retires
- 2/9 (Chet)
2016 Fantasy Football Forecast: Dynasty
- 1/21 (Chet)
2016 Fantasy Football Forecast: Tight Ends
- 1/19 (Chet)
2016 Fantasy Football Forecast: Wide Receivers
- 1/14 (Chet)
2016 Fantasy Football Forecast: Running Backs
- 1/13 (Chet)
2016 Fantasy Football Forecast: Quarterbacks
- 1/12 (Chet)
NFL Picks
- Jan. 16
2022 NFL Mock Draft
- Jan. 12
NFL Power Rankings
- Jan. 11
2023 NFL Mock Draft
- Dec. 12
Fantasy Football Rankings
- Sept. 8