By Chet Gresham –
@ChetGresham
Published May 25, 2018
Follow
@walterfootball
for updates.
If you aren't in a 2QB league of some kind, you really should look into starting or getting into one. I am currently in a dynasty 2QB league in which we just did our rookie draft for the season. I have done a couple other rookie drafts already but without the added need for quarterbacks, and I can tell you this draft was much deeper and more interesting.
In 1QB leagues, rookie quarterbacks have very little value, even long term, as it's fairly easy to acquire a talented quarterback and there's a good chance you already have one or two on your team already. But in 2QB leagues, they are very much a top commodity, which adds a ton of value to the rookies, as you will see here.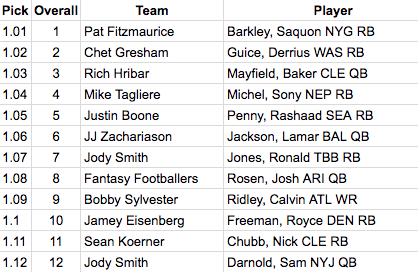 Saquon Barkley is going to go No. 1 in just about any league unless running backs are devalued mightily, but after him, you can start thinking about quarterbacks if you are hurting at the position. I had the second pick and feel okay with Russell Wilson and Patrick Mahomes as my two quarterbacks, and I also thought/hoped that I could grab one with my second pick.
I was deciding between Rashaad Penny and Derrius Guice, and it really wasn't until I clicked Guice that I had finally decided on him. I like Penny more than Guice this season for fantasy, but for the long run, Guice is the better prospect and I need to think in dynasty terms.
The first quarterback off the board came next when Mr. Hribar took Baker Mayfield. I like Lamar Jackson a bit more, but Mayfield is a dual threat on a team that is now stacked with talent. Jackson went three picks later and, well, you can see the Josh Rosen and Sam Darnold also went in the first round. When people play in 2QB leagues, they learn quickly just how scarce quarterbacks become, especially consistent ones, so do not think your league-mates are going to wait on a quarterback, even when there are strong running backs to be had.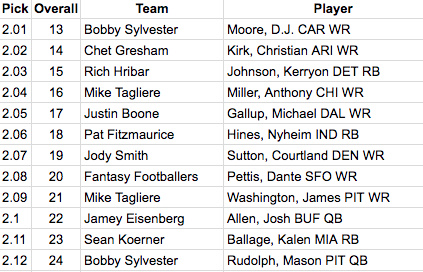 The quarterback push allowed me to get a receiver I like when I grabbed Christian Kirk 14th overall. There were other strong picks to be had there, which isn't usually the case in 1QB leagues. I needed a wide receiver and contemplated Anthony Miller, but I like the fact that Kirk will have a chance to grow with Josh Rosen and won't have a top wide receiver ahead of him after Larry Fitzgerald retires.
Josh Allen is loathed by much of the draft community, and that has shown in rookie drafts, but with the extra quarterback, he still will be an early-ish pick. Mason Rudolph was the other quarterback to go in the second round, which might have been a bit early, as Ben Roethlisberger is likely to play three more seasons and this league starts so many players that it is tough to hold on to longer term projects like Rudolph.
Since this is also a full PPR league, Nyheim Hines was someone I wanted to target, yet it wasn't meant to be. I really like him with Frank Reich in Indianapolis.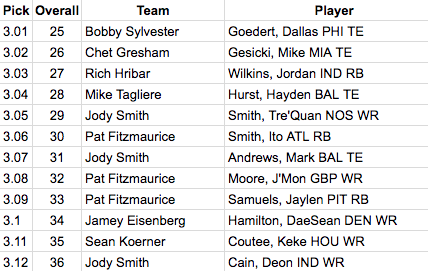 In this league, we can start up to three tight ends, so I had no qualms about taking Mike Gesicki with my third pick. Adam Gase likes using tight ends, and Gesicki should be the starter Week 1 and, with Jarvis Landry, gone there should be plenty of work underneath.
This round didn't have any surprise picks, and I would be happy with the upside of all of these guys. At this point, you'll probably want to work on building some depth for positions you are weak in.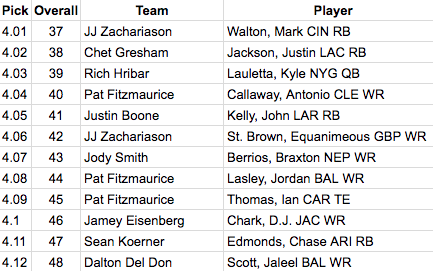 I almost took Justin Jackson in the third round but went with Gesicki because I knew he would get playing time soon, whereas Jackson will need help or bad luck for Melvin Gordon. I like the situation though, as Gordon doesn't seem to be a back who can keep up these huge workloads for much longer and be successful. There really aren't many backs who can, to be honest, so it was a situation I felt there was some room for growth.
We're now getting into pure fliers and guys who will likely be tossed to the waiver wire for the next hot commodity. That's why a player like Antonio Callaway makes sense. He's a monster talent who had too many off-field issues to put a lot of draft capital in. The fourth round in a rookie draft is a great place to give him a shot.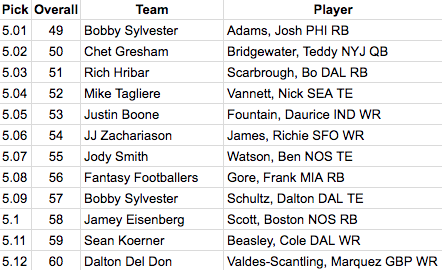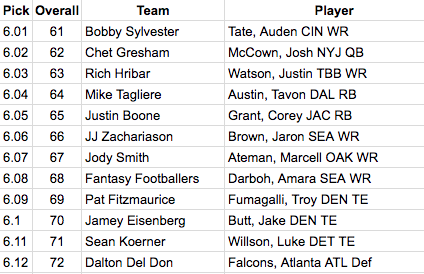 With only two quarterbacks, I needed to look for some help, so I decided to draft the two backup quarterbacks for the New York Jets! I did that because Sam Darnold is raw and simply don't expect him to start this season behind center, but I could be wrong there. The good news is that Teddy Bridgewater still has a future and I like his talent enough to hold him for the time being. Josh McCown, on the other hand, is almost done in the league, but in the sixth round, I'm not going to feel too bad about dropping him, if need be.
You can see that some veterans were being picked. I wanted Ben Watson and probably should have taken him earlier, but I was getting scared about having no backup quarterbacks. Frank Gore is very much startable in this deep league, so he's a nice addition. Tavon Austin is getting a lot of hype in Dallas for some reason and isn't the worst pick this late. When you can start up to seven wide receivers, you grab guys like Austin.
I wish I could have gotten a running back and quarterback who I liked, but even with the extended value of a 2QB league, there just aren't enough of them to go around. I still feel pretty good about the draft though and hope Mr. Mahomes plays like I think he will. If that happens, I should be able to be competitive.
For more recommendations, check out WalterFootball.com's
Fantasy Football Rankings
.
More 2018 Fantasy Football Articles:
Fantasy Football Rankings
2018 Fantasy Football Rankings:
2018 Fantasy Football Rankings: Quarterbacks
- 9/5 (Walt)
Chet Gresham's Fantasy Football Quarterback Rankings
- 8/29 (Chet)
2018 Fantasy Football Rankings: Running Backs
- 9/5 (Walt)
Chet Gresham's Fantasy Football Running Back Rankings
- 8/29 (Chet)
2018 Fantasy Football Rankings: Wide Receivers
- 9/5 (Walt)
Chet Gresham's Fantasy Football Wide Receiver Rankings
- 8/29 (Chet)
2018 Fantasy Football Rankings: Tight Ends
- 9/5 (Walt)
Chet Gresham's Fantasy Football Tight End Rankings
- 8/29 (Chet)
2018 Fantasy Football Rankings: Kickers
- 8/21 (Walt)
2018 Fantasy Football Rankings: Defenses
- 8/21 (Walt)
Fantasy Football Rookie Rankings: Dynasty
- 8/21 (Walt)
Fantasy Football Rookie Rankings: Dynasty
- 5/18 (Chet)
2018 Fantasy Football Mock Drafts:
Fantasy Football Mock Draft
- 9/1 (Walt)
Fantasy Football Mock Draft
- 8/30 (Walt)
Fantasy Football Mock Draft
- 8/27 (Walt)
Fantasy Football PPR Mock Draft
- 8/23 (Walt)
Fantasy Football Mock Draft
- 8/22 (Walt)
Fantasy Football Mock Draft
- 8/16 (Walt)
Fantasy Football PPR Mock Draft
- 8/9 (Walt)
Fantasy Football Mock Draft
- 8/2 (Walt)
Fantasy Football PPR Mock Draft
- 8/1 (Chet)
Fantasy Football PPR Mock Draft
- 7/26 (Walt)
Fantasy Football 2-QB Dynasty Draft
- 5/25 (Chet)
2018 Fantasy Football Cheat Sheets:
2018 Fantasy Football Cheat Sheet: Top 250
- 9/5 (Walt)
2018 Fantasy Football Cheat Sheet: Top 250 PPR
- 9/5 (Walt)
2018 Fantasy Football Cheat Sheet: Top 250 2-QB
- 9/5 (Walt)
2018 Fantasy Football Cheat Sheet: Top 250 Touchdown League
- 9/5 (Walt)
2018 Fantasy Football Cheat Sheet: Custom
- 9/5 (Walt)
2018 Fantasy Football: Dynasty Rankings
- 9/5 (Walt)
2018 Fantasy Football Spreadsheets
- 9/5 (Walt)
2018 Fantasy Football Articles:
2018 Fantasy Football Stock Report: OTAs, Training Camp
- 9/5 (Walt)
2018 Fantasy Football Sleepers
- 9/5 (Walt)
2018 Fantasy Football Busts
- 9/5 (Walt)
2018 Fantasy Football Mid-Round Values
- 9/5 (Walt)
2018 NFL Preseason Game Recaps
- 8/31 (Walt)
2018 Fantasy Football Stock Report: Preseason Games
- 8/31 (Walt)
2018 Fantasy Football Notes
- 8/31 (Chet)
2018 Fantasy Football Quarterback Preseason Targets Tracker
- 8/30 (Walt)
2018 Fantasy Football D/ST Drafting
- 8/28 (Chet)
2018 Fantasy Football ADP Values: Running Backs
- 8/16 (Chet)
2018 Fantasy Football Round-by-Round Strategy Guide
- 8/15 (Walt)
2018 Fantasy Football ADP Values: Quarterbacks
- 8/15 (Chet)
2018 Fantasy Football Tight Ends to Target
- 8/9 (Chet)
2018 Fantasy Football - PPR Draft Strategy: Rounds 1 and 2
- 7/27 (Chet)
2018 Fantasy Football: Doug Baldwin's Value
- 7/25 (Chet)
2018 Fantasy Football: Chris Hogan's Value
- 7/18 (Chet)
2018 Fantasy Football: Alvin Kamara's Value
- 7/16 (Chet)
2018 Fantasy Football Strength of Schedule: Tight Ends
- 7/11 (Chet)
2018 Fantasy Football Strength of Schedule: Wide Receivers
- 7/6 (Chet)
2018 Fantasy Football Strength of Schedule: Running Backs
- 7/5 (Chet)
2018 Fantasy Football Strength of Schedule: Quarterbacks
- 7/4 (Chet)
2018 Fantasy Football Tight Ends Better Than ADP
- 6/29 (Chet)
2018 Fantasy Football Wide Receivers Better Than ADP
- 6/28 (Chet)
2018 Fantasy Football Target Shares
- 6/22 (Chet)
2018 Fantasy Football Wide Receiver Points Per Game
- 6/13 (Chet)
2018 Fantasy Football Mock Draft Simulator
- 6/2
2018 Fantasy Football Value Players
- 5/25 (Chet)
2017 Fantasy Football Quarterback Look-Back
- 1/28 (Walt)
2018 Fantasy Football: Running Backs with the Most Carries
- 1/28 (Walt)
NFL Picks
- Sept. 27
2024 NFL Mock Draft
- Sept. 27
Fantasy Football Rankings
- Sept. 7
NFL Power Rankings
- June 2