By Chet Gresham -
@ChetGresham
Follow
@walterfootball
for updates.
Relying on players from Seattle this coming season in fantasy could be a little perilous, as the team is sinking quickly from its recent powerhouse days. The Seahawks still have Russell Wilson, however, which is enough to expect fantasy production from their offense, as Wilson has been a consistent catalyst even in their darkest times. Wilson's ability to evade tacklers and make tough throws should keep the passing game on track, with the primary beneficiary being Doug Baldwin.
Baldwin has put up good numbers over the last three seasons, ranking fourth in total wide receiver fantasy points and second in touchdowns receptions. Those overall numbers look great and are, but they are also a product of extreme consistency in health, as he is one of just 14 receivers to play in all 48 games during that span. The consistency is excellent, but it still led to fantasy finishes of WR7, WR10 and WR13. Those finishes are good, but they aren't showing his upside due to his low target numbers. During these last three seasons, Baldwin has only averaged 7.1 targets per game. When you look at the top fantasy receivers in the game, they almost always see eight or more, with players like Antonio Brown and DeAndre Hopkins topping 11 targets a game.
Baldwin has turned his seven targets into good fantasy numbers by playing with high efficiency. Over the last three seasons, he ranks eighth in yards per target, fourth in catch rate and second in touchdowns. When he gets the ball thrown his way, he makes it count. The obvious question follows, how many targets will Baldwin see this year?
First, let's take a look at last year's target distribution: Baldwin 116, Graham 95, Richardson 80, Lockett 71, J.D. McKissic 46, Willson 22, Davis 18, Vannett 15, and so on and on with the scrubs. This offseason, Seattle let Jimmy Graham, Paul Richardson and Luke Willson head off to other-colored pastures, which leaves 197 targets up for grabs. The Seahawks did acquire wide receiver Jaron Brown, who is a talented, deep-ball player, but in no way a target hog, and journeyman tight end Ed Dickson, who is an average talent who won't command the targets Graham did. The lack of viable targets makes it easy to project Seattle's best receiver for an increase. How many exactly, is tough to say, but there is room for him to get into the 140-150 target range. I'm usually more conservative with my projections, so I've penciled him in for 25 percent of the target share, whereas he's been around 23-24 percent over the last three seasons. That puts him at approximately 136 targets with a chance for more if Wilson once again ups his total passes, which he has done from his second year on, with 393 attempts his rookie year and then 407, 452, 483, 546 and 553 last season. Seattle does want to run the ball more, but its best player is without a doubt Wilson, and rookie running back Rashad Penny will need to make a big leap to command enough work to limit Wilson's attempts. Add in the fact that Seattle's once dominant defense is slowly becoming middle of the pack, and the chances that the Seahawks will play from behind go up.
But let's say that Baldwin's targets don't improve the way we want. I don't expect that, but if it were to happen, there is an excellent chance that the type of targets he'll see this year will be in the red zone, where he has been consistent in his career, catching 16-of-41 red-zone targets for touchdowns, a 39-percent success rate.
Last year, Baldwin saw just eight red-zone targets to rank him 50th out of all wide receivers and 79th when you add in tight ends, while Jimmy Graham led all tight ends with 25 red-zone targets. In the last three seasons with Seattle, Graham saw 54 red-zone targets, catching 15 touchdowns for a 27.8-percent success rate, while Baldwin, in that same stretch, caught 16-of-41 targets for a 39-percent touchdown rate. Baldwin's size, 5-foot-10, 192 pounds, is not prototypical for a red-zone target, but his route running, especially in small spaces, is immaculate, and when you add in Wilson's skill set, you end up with extreme efficiency. Graham, one of the best red-zone targets in the league, stands at 6-foot-7, 265 pounds, and still, Baldwin was more efficient. That's amazing.
Now Seattle has lost 36 red-zone targets with Graham, Paul Richardson, who had more red-zone targets than Baldwin for some reason, and Willson out of town. Baldwin's best season was 2015 when he caught 12 touchdowns and finished as the seventh-best fantasy receiver despite just 103 targets, but that year was also his best year as a red-zone target with 17, of which he caught seven for touchdowns.
Baldwin's upside is tremendous this year with even a conservative 136 targets, plus around 20 red-zone targets. My projection has him catching 96 passes for 1,253 yards and ten touchdowns. That would put him as my eighth-best fantasy wide receiver this year, and his upside with more targets is even higher.
When Graham was out with an injury in 2015 for five games, Baldwin went on a tear. In those five games, he saw 11 red-zone targets and turned four into touchdowns. In the previous 11 games, he saw a total of four red-zone targets: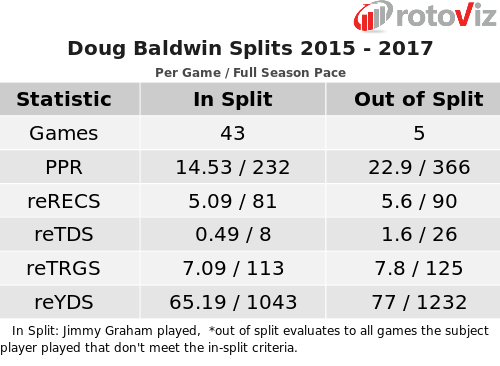 That 1.6 touchdowns a game isn't going to happen of course, but he sure got to work with Graham out of the picture.
When you look at games where Baldwin has totaled six or more targets, he has impressive numbers: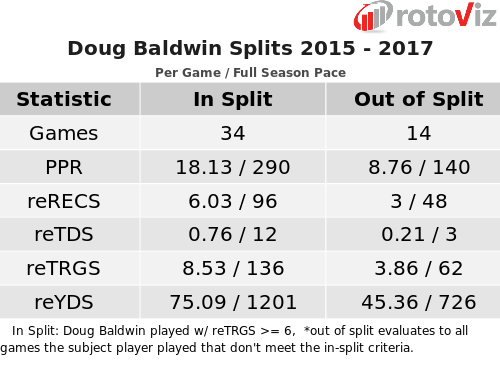 This season will be much tougher for Baldwin to hit those target lows as he has in the past, which gives him his usual floor as a top-10 receiver, but also gives him a ceiling as a top-5 receiver. Grab him in the third round wherever you can.
For more recommendations, check out WalterFootball.com's
Fantasy Football Rankings
.
More 2016 Fantasy Football Articles:
Fantasy Football Rankings
2016 Fantasy Football Rankings:
2016 Fantasy Football Rankings: Quarterbacks
- 9/7 (Walt)
Chet Gresham's Fantasy Football Quarterback Rankings
- 8/30 (Chet)
2016 Fantasy Football Rankings: Running Backs
- 9/7 (Walt)
Chet Gresham's Fantasy Football Running Back Rankings
- 8/30 (Chet)
2016 Fantasy Football Rankings: Wide Receivers
- 9/7 (Walt)
Chet Gresham's Fantasy Football Wide Receiver Rankings
- 8/30 (Chet)
2016 Fantasy Football Rankings: Tight Ends
- 9/7 (Walt)
Chet Gresham's Fantasy Football Tight End Rankings
- 8/30 (Chet)
2016 Fantasy Football Rankings: Defenses
- 6/15 (Walt)
2016 Fantasy Football Rankings: Kickers
- 6/15 (Walt)
Fantasy Football Rookie Rankings
- 5/13 (Walt)
Fantasy Football Rookie Rankings: Dynasty
- 5/13 (Walt)
Fantasy Football Rookie Rankings: Dynasty
- 5/27 (Chet)
2016 Fantasy Football Mock Drafts:
2016 Fantasy Football Mock Draft: PPR
- 9/1 (Walt)
2016 Fantasy Football Mock Draft Video
- 8/31 (Walt)
2016 Fantasy Football Mock Draft: Real Draft
- 8/29 (Walt)
2016 Fantasy Football Mock Draft: Standard
- 8/25 (Walt)
2016 Fantasy Football Mock Draft: 2-QB
- 8/25 (Chet)
2016 Fantasy Football Mock Draft Video
- 8/24 (Walt)
2016 Fantasy Football Mock Draft: PPR
- 8/18 (Walt)
2016 Fantasy Football Mock Draft Video
- 8/13 (Walt)
2016 Fantasy Football Mock Draft: Standard
- 8/11 (Walt)
2016 Fantasy Football Mock Draft: Standard
- 8/4 (Walt)
2016 Fantasy Football Mock Draft Video
- 8/4 (Walt)
2016 Fantasy Football Mock Draft: PPR
- 8/2 (Chet)
2016 Fantasy Football Mock Draft: PPR
- 7/28 (Walt)
2016 Fantasy Football Mock Draft
- 7/21 (Walt)
2016 Fantasy Football: MFL 10 Draft
- 5/13 (Chet)
2016 Fantasy Football Cheat Sheets:
2016 Fantasy Football Cheat Sheet: Top 250
- 9/7 (Walt)
2016 Fantasy Football Cheat Sheet: Top 250 PPR
- 9/7 (Walt)
2016 Fantasy Football Cheat Sheet: Top 250 2-QB
- 9/7 (Walt)
2016 Fantasy Football Cheat Sheet: Top 250 Touchdown League
- 9/7 (Walt)
2016 Fantasy Football Cheat Sheet: Custom
- 9/7 (Walt)
2016 Fantasy Football: Dynasty Rankings
- 9/7 (Walt)
2016 Fantasy Football PPR Rankings
- 8/26 (Chet)
2016 Fantasy Football Spreadsheets
- 9/7 (Walt)
2016 Fantasy Football Articles:
2016 Fantasy Football Stock Report: Training Camp
- 9/7 (Walt)
2016 Fantasy Football Mock Draft Simulator
- 9/7 (Walt)
2016 Fantasy Football Sleepers
- 9/4 (Walt)
2016 NFL Preseason Recap, Fantasy Football Notes
- 9/2 (Walt)
2016 Fantasy Football Preseason Stock
- 9/2 (Walt)
2016 Fantasy Football Preseason Quarterback Targets
- 9/2 (Walt)
2016 Fantasy Football Waiver-Wire Targets
- 8/31 (Chet)
2016 Fantasy Football Busts
- 8/31 (Walt)
Fantasy Football Auction Advice
- 8/24 (Chet)
2016 Fantasy Football Round-by-Round Strategy Guide
- 8/18 (Walt)
2016 Fantasy Football Daily Fantasy Preseason Week 2 Streaming Options
- 8/18 (Chet)
2016 Fantasy Football Draft Queue: Wide Receivers and Tight Ends
- 8/17 (Chet)
2016 Fantasy Football Draft Queue: Quarterbacks and Running Backs
- 8/16 (Chet)
2016 Fantasy Football Training Camp Notes
- 8/10 (Chet)
2016 Fantasy Football Wide Receivers to Avoid
- 8/6 (Walt)
2016 Fantasy Football Running Backs to Avoid
- 8/5 (Walt)
2016 Fantasy Football Notes
- 7/26 (Chet)
2016 Fantasy Football Late-Round Wide Receiver Targets
- 7/21 (Chet)
2016 Fantasy Football Late-Round Running Back Targets
- 7/19 (Chet)
2016 Fantasy Football ADP Values
- 7/14 (Chet)
2016 Fantasy Football: C.J. Anderson Profile
- 7/7 (Chet)
2016 Fantasy Football Favorite MFL Players
- 6/29 (Chet)
2016 Fantasy Football: 2016 NFL Draft Fallout: Chip Kelly
- 6/23 (Chet)
2016 Fantasy Football: Marvin Jones Profile
- 6/22 (Chet)
2016 Fantasy Football: Devin Funchess Profile
- 6/15 (Chet)
2016 Fantasy Football 2-QB Draft
- 6/9 (Chet)
Fantasy Football Beginner's Guide
- 6/7 (Walt)
2016 Fantasy Football: Running Back Drafting and ADP
- 6/3 (Chet)
2016 Fantasy Football: Quarterback Drafting and ADP
- 6/1 (Chet)
2016 Fantasy Football: Eli Manning Profile
- 5/25 (Chet)
2016 Fantasy Football: Jordan Matthews Profile
- 5/24 (Chet)
2016 Fantasy Football Rookie Dynasty Draft Wrap-up
- 5/18 (Walt)
2016 Fantasy Football: 2016 NFL Draft Fallout
- 5/11 (Chet)
2016 Fantasy Football: MFL 10 Quarterback Values
- 4/30 (Chet)
2016 Fantasy Football: MFL 10 Wide Receiver Values
- 4/28 (Chet)
2016 Fantasy Football: Tight End Strength of Schedule
- 4/25 (Chet)
2016 Fantasy Football: Wide Receiver Strength of Schedule
- 4/21 (Chet)
2016 Fantasy Football: Running Back Strength of Schedule
- 4/20 (Chet)
2016 Fantasy Football: Quarterback Strength of Schedule
- 4/19 (Chet)
2016 Fantasy Football: MFL 10
- 2/19 (Chet)
2016 Fantasy Football Sleepers: Philip Rivers
- 2/16 (Chet)
2016 Fantasy Football: Quarterback ADP vs. Reality
- 2/12 (Chet)
2016 Fantasy Football Fallout: Marshawn Lynch Retires
- 2/11 (Chet)
2016 Fantasy Football Fallout: Calvin Johnson Retires
- 2/9 (Chet)
2016 Fantasy Football Forecast: Dynasty
- 1/21 (Chet)
2016 Fantasy Football Forecast: Tight Ends
- 1/19 (Chet)
2016 Fantasy Football Forecast: Wide Receivers
- 1/14 (Chet)
2016 Fantasy Football Forecast: Running Backs
- 1/13 (Chet)
2016 Fantasy Football Forecast: Quarterbacks
- 1/12 (Chet)
2022 NBA Mock Draft
- May 18
2023 NFL Mock Draft
- May 17
Fantasy Football Rankings
- May 12
NFL Power Rankings
- May 11
NFL Picks
- Feb. 13