By Chet Gresham -
@ChetGresham
Follow
@walterfootball
for updates.
I'll give you my usual caveat here when discussing strength of schedule, and that's that it can be deceiving and tough to rely on when selecting fantasy players. But, and of course there is a but, there are only so many good defensive players and coaches, and just a few select teams are going to turn their defenses around in one season. So, I think it should be part of due diligence to check out the strength of schedule for each position and now that I've completed
quarterbacks
,
running backs
,
wide receivers
, and I'll move onto tight ends.
Here's a quick rundown of how I rank defenses against fantasy tight ends. First, I compile the number of targets, receptions, receiving yards, yards per reception, yards per target, touchdowns, fantasy points, red-zone targets, Football Outsiders pass defensive rankings against tight ends, and the average of how each team defense ranked in all of those categories to come up with an overall ranking. Is this perfect? Not at all, but it gives us a broad swath of passing stats and gives us an average I can live with.
Here is how it comes out: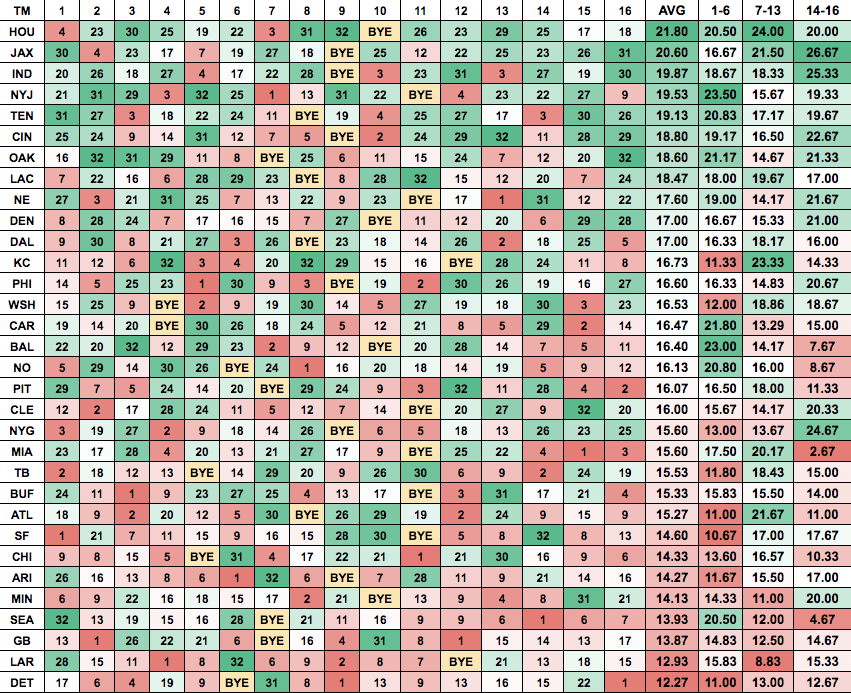 The Vikings have the No. 1 pass defense against tight ends while the Broncos had the worst tight end defense when using my method. These will change plenty during the season, but when evaluating two players in the same tier, if they are at the edges of the strength of schedule rankings, I feel okay letting SOS be a tie-breaker.
Tight end defense is tough to wrap your head around because the numbers come from many factors that can change from game to game. For the most part, a defense is going to face a decent wide receiver or running back, but there are many teams with mediocre tight ends and game plans that barely utilize the position offensively other than blocking. I do believe a 16-game season is still enough to give us a good overall view of how well a defense can contain tight ends, especially when we look at the very best and worst statistically, but the margin for error is more extensive.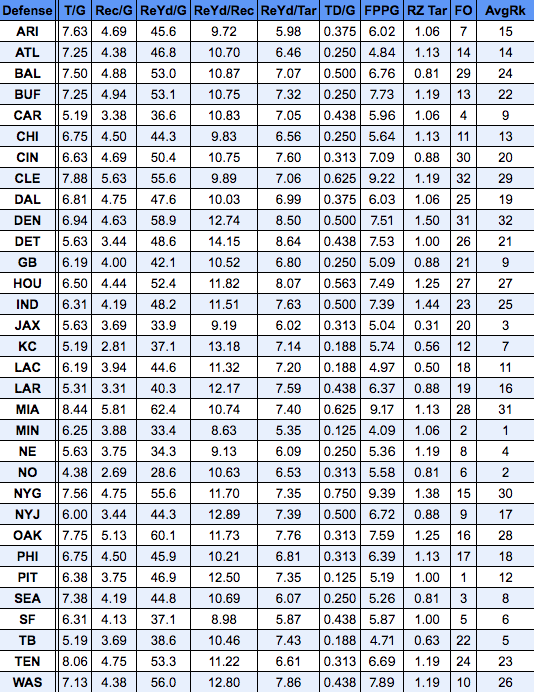 Ryan Griffin, Stephen Anderson and Jordan Akins, Texans
Overall, Houston gets the easiest schedule for fantasy tight ends, but of course, the team is hurting at the position at the moment and all signs point toward a committee approach at the position. I expect Ryan Griffin will start, but Anderson and Akins are the better fantasy players if they can get on the field, which they might not be able to enough to be useful. At this point, we will keep an eye on the situation and hope for some clarity. If one player outperforms the rest this training camp, we can get a bit more excited about that player's prospects.

Austin Seferian-Jenkins, Jaguars
There is a real opportunity of Seferian-Jenkins this season to break out. The Jaguars have plenty of talent in their receiving corps, but they also don't have any players who demand 100-plus targets. Seferian-Jenkins could easily carve a role out for himself in what should be a competent offense on a winning team. He should also be a prime red-zone target due to the shortage of proven red-zone targets on the team at the moment. Leonard Fournette is the engine for the offense, but once the Jaguars move near the goal line, they will need Seferian-Jenkins' ability. I don't expect numbers on par with the elite tight ends, but it doesn't take much to get into the top 10 of fantasy tight ends and Seferian-Jenkins is on the cusp.


Eric Ebron and Jack Doyle, Colts
New Colts head coach Frank Reich likes utilizing tight ends in his offense, and Andrew Luck has been playing in two-tight end sets for much of his career. Reich went out and got Eric Ebron to pair with Jack Doyle, and both will see the field. Unfortunately, the odds are against both being top-10 fantasy tight ends, even if they perform near the peaks of their abilities, so we need to pick our horse and hope it outpaces the competition. For me, that's Ebron. Ebron is a better offensive player than Doyle, although not nearly as consistent. Doyle will catch the passes that come his way and do everything needed of him, but he's not a play-maker like Ebron. Doyle is safer by all accounts, but Ebron has the upside and when you couple that with Andrew Luck hopefully returning and a soft schedule, that's a lottery ticket I don't mind scratching off.

Delanie Walker, Titans
Walker is one of the most consistent fantasy tight ends in the league, and he's set up with a good schedule to help out during the rough times. I also expect the Titans to turn things around offensively with a new and better coaching staff this season. And really, they were so bad last year that Jeff Fisher could probably coach them and their offensive numbers would inch upward.

Luke Willson, Lions
Detroit let Eric Ebron go and signed Luke Willson, formerly of the Seahawks. Willson appears set to be the starting tight end, which puts him in the discussion for fantasy, especially when you factor in his triple-digit ADP, but his schedule isn't all that enticing. In deep, 2TE leagues, all starting tight ends need to be rostered, but I'll probably avoid Willson in most standard-sized leagues and go after Kenny Golladay instead.

Jared Cook, Raiders
Cook had a few top fantasy games last season and will go into this year as the incumbent starting tight end for Oakland while also facing a tremendous early schedule. It gets much tougher for the bulk of the season, but things lighten up again during the fantasy playoffs. The hope with Cook is that he gets off to a fast start and gains confidence for himself and the coaching staff, and in turn keeps up some fantasy consistency throughout the season.
For cross-referencing purposes, here is the overall schedule grid for this season: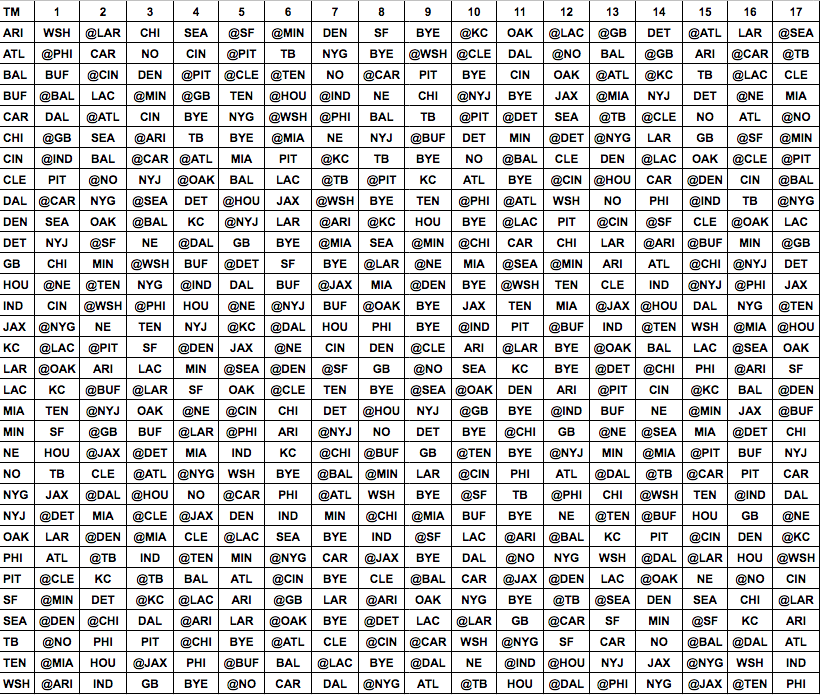 For more recommendations, check out WalterFootball.com's
Fantasy Football Rankings
.
More 2016 Fantasy Football Articles:
Fantasy Football Rankings
2016 Fantasy Football Rankings:
2016 Fantasy Football Rankings: Quarterbacks
- 9/7 (Walt)
Chet Gresham's Fantasy Football Quarterback Rankings
- 8/30 (Chet)
2016 Fantasy Football Rankings: Running Backs
- 9/7 (Walt)
Chet Gresham's Fantasy Football Running Back Rankings
- 8/30 (Chet)
2016 Fantasy Football Rankings: Wide Receivers
- 9/7 (Walt)
Chet Gresham's Fantasy Football Wide Receiver Rankings
- 8/30 (Chet)
2016 Fantasy Football Rankings: Tight Ends
- 9/7 (Walt)
Chet Gresham's Fantasy Football Tight End Rankings
- 8/30 (Chet)
2016 Fantasy Football Rankings: Defenses
- 6/15 (Walt)
2016 Fantasy Football Rankings: Kickers
- 6/15 (Walt)
Fantasy Football Rookie Rankings
- 5/13 (Walt)
Fantasy Football Rookie Rankings: Dynasty
- 5/13 (Walt)
Fantasy Football Rookie Rankings: Dynasty
- 5/27 (Chet)
2016 Fantasy Football Mock Drafts:
2016 Fantasy Football Mock Draft: PPR
- 9/1 (Walt)
2016 Fantasy Football Mock Draft Video
- 8/31 (Walt)
2016 Fantasy Football Mock Draft: Real Draft
- 8/29 (Walt)
2016 Fantasy Football Mock Draft: Standard
- 8/25 (Walt)
2016 Fantasy Football Mock Draft: 2-QB
- 8/25 (Chet)
2016 Fantasy Football Mock Draft Video
- 8/24 (Walt)
2016 Fantasy Football Mock Draft: PPR
- 8/18 (Walt)
2016 Fantasy Football Mock Draft Video
- 8/13 (Walt)
2016 Fantasy Football Mock Draft: Standard
- 8/11 (Walt)
2016 Fantasy Football Mock Draft: Standard
- 8/4 (Walt)
2016 Fantasy Football Mock Draft Video
- 8/4 (Walt)
2016 Fantasy Football Mock Draft: PPR
- 8/2 (Chet)
2016 Fantasy Football Mock Draft: PPR
- 7/28 (Walt)
2016 Fantasy Football Mock Draft
- 7/21 (Walt)
2016 Fantasy Football: MFL 10 Draft
- 5/13 (Chet)
2016 Fantasy Football Cheat Sheets:
2016 Fantasy Football Cheat Sheet: Top 250
- 9/7 (Walt)
2016 Fantasy Football Cheat Sheet: Top 250 PPR
- 9/7 (Walt)
2016 Fantasy Football Cheat Sheet: Top 250 2-QB
- 9/7 (Walt)
2016 Fantasy Football Cheat Sheet: Top 250 Touchdown League
- 9/7 (Walt)
2016 Fantasy Football Cheat Sheet: Custom
- 9/7 (Walt)
2016 Fantasy Football: Dynasty Rankings
- 9/7 (Walt)
2016 Fantasy Football PPR Rankings
- 8/26 (Chet)
2016 Fantasy Football Spreadsheets
- 9/7 (Walt)
2016 Fantasy Football Articles:
2016 Fantasy Football Stock Report: Training Camp
- 9/7 (Walt)
2016 Fantasy Football Mock Draft Simulator
- 9/7 (Walt)
2016 Fantasy Football Sleepers
- 9/4 (Walt)
2016 NFL Preseason Recap, Fantasy Football Notes
- 9/2 (Walt)
2016 Fantasy Football Preseason Stock
- 9/2 (Walt)
2016 Fantasy Football Preseason Quarterback Targets
- 9/2 (Walt)
2016 Fantasy Football Waiver-Wire Targets
- 8/31 (Chet)
2016 Fantasy Football Busts
- 8/31 (Walt)
Fantasy Football Auction Advice
- 8/24 (Chet)
2016 Fantasy Football Round-by-Round Strategy Guide
- 8/18 (Walt)
2016 Fantasy Football Daily Fantasy Preseason Week 2 Streaming Options
- 8/18 (Chet)
2016 Fantasy Football Draft Queue: Wide Receivers and Tight Ends
- 8/17 (Chet)
2016 Fantasy Football Draft Queue: Quarterbacks and Running Backs
- 8/16 (Chet)
2016 Fantasy Football Training Camp Notes
- 8/10 (Chet)
2016 Fantasy Football Wide Receivers to Avoid
- 8/6 (Walt)
2016 Fantasy Football Running Backs to Avoid
- 8/5 (Walt)
2016 Fantasy Football Notes
- 7/26 (Chet)
2016 Fantasy Football Late-Round Wide Receiver Targets
- 7/21 (Chet)
2016 Fantasy Football Late-Round Running Back Targets
- 7/19 (Chet)
2016 Fantasy Football ADP Values
- 7/14 (Chet)
2016 Fantasy Football: C.J. Anderson Profile
- 7/7 (Chet)
2016 Fantasy Football Favorite MFL Players
- 6/29 (Chet)
2016 Fantasy Football: 2016 NFL Draft Fallout: Chip Kelly
- 6/23 (Chet)
2016 Fantasy Football: Marvin Jones Profile
- 6/22 (Chet)
2016 Fantasy Football: Devin Funchess Profile
- 6/15 (Chet)
2016 Fantasy Football 2-QB Draft
- 6/9 (Chet)
Fantasy Football Beginner's Guide
- 6/7 (Walt)
2016 Fantasy Football: Running Back Drafting and ADP
- 6/3 (Chet)
2016 Fantasy Football: Quarterback Drafting and ADP
- 6/1 (Chet)
2016 Fantasy Football: Eli Manning Profile
- 5/25 (Chet)
2016 Fantasy Football: Jordan Matthews Profile
- 5/24 (Chet)
2016 Fantasy Football Rookie Dynasty Draft Wrap-up
- 5/18 (Walt)
2016 Fantasy Football: 2016 NFL Draft Fallout
- 5/11 (Chet)
2016 Fantasy Football: MFL 10 Quarterback Values
- 4/30 (Chet)
2016 Fantasy Football: MFL 10 Wide Receiver Values
- 4/28 (Chet)
2016 Fantasy Football: Tight End Strength of Schedule
- 4/25 (Chet)
2016 Fantasy Football: Wide Receiver Strength of Schedule
- 4/21 (Chet)
2016 Fantasy Football: Running Back Strength of Schedule
- 4/20 (Chet)
2016 Fantasy Football: Quarterback Strength of Schedule
- 4/19 (Chet)
2016 Fantasy Football: MFL 10
- 2/19 (Chet)
2016 Fantasy Football Sleepers: Philip Rivers
- 2/16 (Chet)
2016 Fantasy Football: Quarterback ADP vs. Reality
- 2/12 (Chet)
2016 Fantasy Football Fallout: Marshawn Lynch Retires
- 2/11 (Chet)
2016 Fantasy Football Fallout: Calvin Johnson Retires
- 2/9 (Chet)
2016 Fantasy Football Forecast: Dynasty
- 1/21 (Chet)
2016 Fantasy Football Forecast: Tight Ends
- 1/19 (Chet)
2016 Fantasy Football Forecast: Wide Receivers
- 1/14 (Chet)
2016 Fantasy Football Forecast: Running Backs
- 1/13 (Chet)
2016 Fantasy Football Forecast: Quarterbacks
- 1/12 (Chet)
2022 NBA Mock Draft
- May 18
2023 NFL Mock Draft
- May 17
Fantasy Football Rankings
- May 12
NFL Power Rankings
- May 11
NFL Picks
- Feb. 13