By Chet Gresham -
@ChetGresham
Published May 17, 2018
Follow
@walterfootball
for updates.
Below is a rookie draft I just completed that I thought might be of interest to any dynasty players out there. This league has been going for about four or five seasons and consists of guys who have contributed to Rotoworld at some time or another. It is a 14-team league with knowledgeable players, which makes things extremely tough. Last season, I was so close that I mortgaged away some future picks and made a run at the championship, which I came up short on. That puts me right back into rebuilding mode, but in this league, many teams are usually in rebuilding mode. But I digress, for this rookie draft, I had pick No. 11 in the first round but didn't have a pick in the second round. I did try to trade up for a top-seven pick because I need a running back and feel like the top running backs this year are pretty far ahead of the top wide receivers, but no luck there. This draft also allows you to take anyone who is a free agent, but that doesn't mean too much in this league.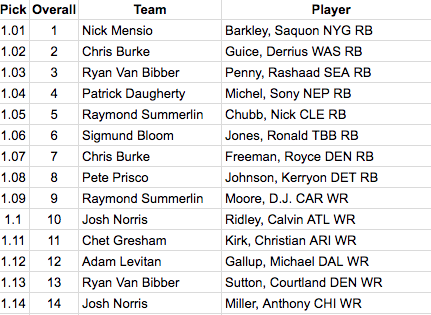 The first round went right where you would expect, with Saquon Barkley leading the way and then the other top running backs following. I have seen Derrius Guice go a couple picks later due to his role likely being just first and second downs, but for the longer term, he has as much upside as Barkley, but Barkley is already a top fantasy player before even getting on the field while Guice will need to work his way up.
The first wide receiver off the board was D.J. Moore, who is one of the few receivers who could lead their teams sooner than later, but I still don't have him inked in as a no-doubt No. 1 receiver. There are a few wideouts in this draft who I believe can become top receivers in the league, but they aren't going to explode onto the scene this season and most are projects in one way or the other.
I went with Christian Kirk, you know, the guy who got arrested. With Larry Fitzgerald on his way out, I see Kirk and Josh Rosen putting together good numbers in the long run. He also has a chance to pay dividends this season, as the Cardinals got rid of John Brown and J.J. Nelson is penciled in as the No. 2 receiver behind Fitzgerald. There's a lot of room to grow for Kirk in Arizona.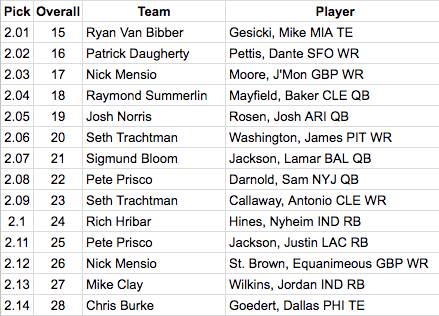 After the first round, you are going to see a lot of variety in rookie drafts this year. Of course, team need is a driving force, especially when looking at quarterbacks, but with no real sure-fire picks, many people are going to look for upside and play the lottery instead of grabbing someone who should be a solid player but doesn't appear to have the stuff to outshine the competition. That's why I love the Lamar Jackson and Baker Mayfield picks here. Both players could have trouble in the NFL, but they're ability to run will keep them viable fantasy players and if they really come together in an offensive scheme, they could truly put up huge numbers. I prefer Lamar Jackson's upside to Mayfield's, but I'm still a fan of both in rookie drafts this year - even if you feel set at quarterback.
I also like the Justin Jackson pick due to Melvin Gordon's usage and lackluster per-snap efficiency. Jackson probably isn't high on many rookie rankings, but he is in a good situation to capitalize on an injury to Gordon.
Nyheim Hines is another player who moved up based on his landing spot. The Colts likely won't have a back who has big usage, but with Frank Reich drawing up plays, it won't take much for someone like Hines to make an impact in the receiving game, especially since the Colts have very few established receivers. And since this league is full PPR, Hines very much has Darren Sproles kind of upside.
I love James Washington for the Steelers and Ben Roethlisberger, but Washington is going to have a heck of a time finding targets in this offense. That's not to say I don't like the pick, as things change and he has the ability to put up big numbers. He's one of those dynasty players you have to realize you might be waiting on for quite a while though. Antonio Brown and JuJu Smith-Schuster aren't going anywhere, and in the short term, Le'Veon Bell will continue to command big targets as well. I usually try to see some path to fantasy goodness within the first couple years for my picks if I can.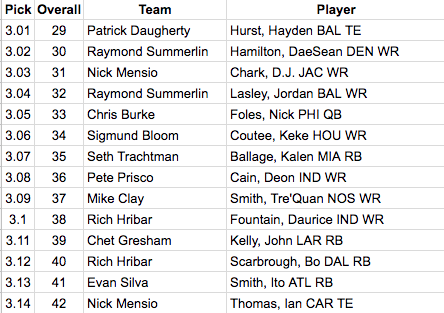 My favorite picks from Round 3 are Hayden Hurst and Tre'Quan Smith. I like Hurst in the Ravens system, and he is strictly a receiving tight end, which means we don't have to worry about him getting snaps but no routes. His upside may suffer if Lamar Jackson takes over though.
Tre'Quan Smith is the best of this group, with great speed and a strong ability to find and haul in deep passes. Ted Ginn Jr. showed he can be a good receiver, but he isn't the deep threat he used to be. Smith can take the top off a defense.
I went with John Kelly in my hope for a running back. He's nothing special but can break tackles and is a presence on early downs. If Todd Gurley is injured, I expect Kelly to be the lead back. This pick shows you just how quickly the good running backs were taken!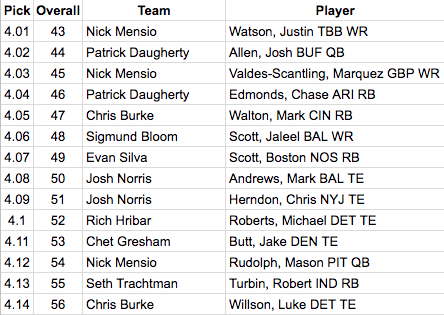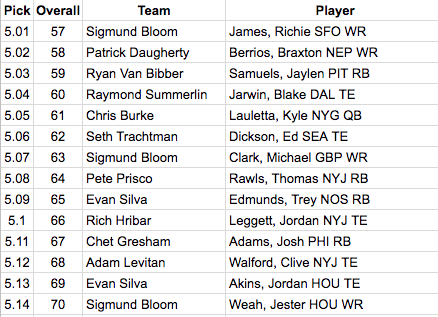 Rounds 4 and 5 were loaded with players who will likely end up back in free agency after we cut down our rosters, but I could keep Jake Butt, who was injured during his rookie season last year, and if he can come back from two ACL tears, he would have a prime spot in Denver, where the team has no starting tight end at the moment. Others had the same idea, as Clive Walford, Ed Dickson, and Luke Willson were all available and all are currently their teams' TE1. Be sure to check to see if free agents are available in your rookie drafts.
I probably would have picked Josh Adams instead of John Kelly in the third round if the Eagles didn't use a thousand running backs, but I was happy to get him late. He's no lock by any means but I like his ability after first contact and Jay Ajayi's knees are made of Swiss cheese.
Grabbing Green Bay receivers is never a bad idea as long as Aaron Rodgers is alive, so Marquez Valdes-Scantling was in my queue when he was taken in the fourth round. He is 6-foot-4 and ran a 4.37! That doesn't make him a good NFL player, but it's tough to beat those numbers this late in a rookie draft.
For more recommendations, check out WalterFootball.com's
Fantasy Football Rankings
.
More 2018 Fantasy Football Articles:
Fantasy Football Rankings
2018 Fantasy Football Rankings:
2018 Fantasy Football Rankings: Quarterbacks
- 9/5 (Walt)
Chet Gresham's Fantasy Football Quarterback Rankings
- 8/29 (Chet)
2018 Fantasy Football Rankings: Running Backs
- 9/5 (Walt)
Chet Gresham's Fantasy Football Running Back Rankings
- 8/29 (Chet)
2018 Fantasy Football Rankings: Wide Receivers
- 9/5 (Walt)
Chet Gresham's Fantasy Football Wide Receiver Rankings
- 8/29 (Chet)
2018 Fantasy Football Rankings: Tight Ends
- 9/5 (Walt)
Chet Gresham's Fantasy Football Tight End Rankings
- 8/29 (Chet)
2018 Fantasy Football Rankings: Kickers
- 8/21 (Walt)
2018 Fantasy Football Rankings: Defenses
- 8/21 (Walt)
Fantasy Football Rookie Rankings: Dynasty
- 8/21 (Walt)
Fantasy Football Rookie Rankings: Dynasty
- 5/18 (Chet)
2018 Fantasy Football Mock Drafts:
Fantasy Football Mock Draft
- 9/1 (Walt)
Fantasy Football Mock Draft
- 8/30 (Walt)
Fantasy Football Mock Draft
- 8/27 (Walt)
Fantasy Football PPR Mock Draft
- 8/23 (Walt)
Fantasy Football Mock Draft
- 8/22 (Walt)
Fantasy Football Mock Draft
- 8/16 (Walt)
Fantasy Football PPR Mock Draft
- 8/9 (Walt)
Fantasy Football Mock Draft
- 8/2 (Walt)
Fantasy Football PPR Mock Draft
- 8/1 (Chet)
Fantasy Football PPR Mock Draft
- 7/26 (Walt)
Fantasy Football 2-QB Dynasty Draft
- 5/25 (Chet)
2018 Fantasy Football Cheat Sheets:
2018 Fantasy Football Cheat Sheet: Top 250
- 9/5 (Walt)
2018 Fantasy Football Cheat Sheet: Top 250 PPR
- 9/5 (Walt)
2018 Fantasy Football Cheat Sheet: Top 250 2-QB
- 9/5 (Walt)
2018 Fantasy Football Cheat Sheet: Top 250 Touchdown League
- 9/5 (Walt)
2018 Fantasy Football Cheat Sheet: Custom
- 9/5 (Walt)
2018 Fantasy Football: Dynasty Rankings
- 9/5 (Walt)
2018 Fantasy Football Spreadsheets
- 9/5 (Walt)
2018 Fantasy Football Articles:
2018 Fantasy Football Stock Report: OTAs, Training Camp
- 9/5 (Walt)
2018 Fantasy Football Sleepers
- 9/5 (Walt)
2018 Fantasy Football Busts
- 9/5 (Walt)
2018 Fantasy Football Mid-Round Values
- 9/5 (Walt)
2018 NFL Preseason Game Recaps
- 8/31 (Walt)
2018 Fantasy Football Stock Report: Preseason Games
- 8/31 (Walt)
2018 Fantasy Football Notes
- 8/31 (Chet)
2018 Fantasy Football Quarterback Preseason Targets Tracker
- 8/30 (Walt)
2018 Fantasy Football D/ST Drafting
- 8/28 (Chet)
2018 Fantasy Football ADP Values: Running Backs
- 8/16 (Chet)
2018 Fantasy Football Round-by-Round Strategy Guide
- 8/15 (Walt)
2018 Fantasy Football ADP Values: Quarterbacks
- 8/15 (Chet)
2018 Fantasy Football Tight Ends to Target
- 8/9 (Chet)
2018 Fantasy Football - PPR Draft Strategy: Rounds 1 and 2
- 7/27 (Chet)
2018 Fantasy Football: Doug Baldwin's Value
- 7/25 (Chet)
2018 Fantasy Football: Chris Hogan's Value
- 7/18 (Chet)
2018 Fantasy Football: Alvin Kamara's Value
- 7/16 (Chet)
2018 Fantasy Football Strength of Schedule: Tight Ends
- 7/11 (Chet)
2018 Fantasy Football Strength of Schedule: Wide Receivers
- 7/6 (Chet)
2018 Fantasy Football Strength of Schedule: Running Backs
- 7/5 (Chet)
2018 Fantasy Football Strength of Schedule: Quarterbacks
- 7/4 (Chet)
2018 Fantasy Football Tight Ends Better Than ADP
- 6/29 (Chet)
2018 Fantasy Football Wide Receivers Better Than ADP
- 6/28 (Chet)
2018 Fantasy Football Target Shares
- 6/22 (Chet)
2018 Fantasy Football Wide Receiver Points Per Game
- 6/13 (Chet)
2018 Fantasy Football Mock Draft Simulator
- 6/2
2018 Fantasy Football Value Players
- 5/25 (Chet)
2017 Fantasy Football Quarterback Look-Back
- 1/28 (Walt)
2018 Fantasy Football: Running Backs with the Most Carries
- 1/28 (Walt)
2022 NFL Mock Draft
- May 4
NFL Power Rankings
- April 4
NFL Picks
- Feb. 8
Fantasy Football Rankings
- Jan. 11