By Chet Gresham -
@ChetGresham
Follow
@walterfootball
for updates.
Ed. Note:
The season is almost gone, but to help you figure out the last few weeks of the fantasy season - and into your playoffs! - Chet is mapping out team defense rankings for each position and charting them to provide the Remaining Strength of Schedule. Enjoy!
Here is how it comes out: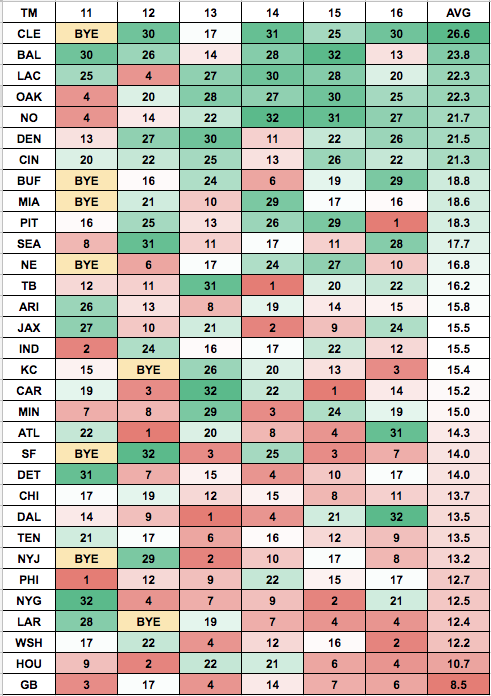 David Njoku, TE, Browns
Njoku has been a disappointment of late, but he still ranks 10th overall in tight end scoring and gets the best tight end schedule, as he will play at Cincinnati, at Houston, Carolina, at Denver, and back home against Cincinnati again. He has a bye in Week 11, and after five receptions and no touchdowns in his last three weeks, I expect he can be acquired at value.

Hunter Henry, TE, Chargers
The chances he returns to a full workload during the fantasy season is slim, but Henry needs to at least be on your radar because the Chargers' schedule looks great and Antonio Gates won't be able to capitalize. If reports start sounding optimistic, grab Henry just in case.

Jared Cook, TE, Raiders
Cook is the Raiders' No. 1 receiver, but their tanking and his inconsistency make things difficult to feel confident about his fantasy upside. The thing is, Cook is Oakland's best receiver at the moment and he gets a great schedule to finish off the season. At Arizona this week is a tough matchup, and despite the Ravens' weak stats against tight ends, Baltimore the following week isn't a smash spot, but after that Cook will play Kansas City, Pittsburgh, at Cincinnati and Denver. That's three home games and one road against weak tight end defenses during the fantasy playoffs.

Jeff Heuerman, TE, Broncos
Heuerman had a great game in Denver's first matchup without Demaryius Thomas, when he caught 10-of-11 targets for 83 yards and a touchdown against Houston, which is a strong sign that he'll see an uptick in targets with Thomas gone. Those targets won't stay in the double-digits, but even 5-7 targets a game with Heuerman's schedule is worthwhile. He gets a tough matchup with the Chargers this week, but then he faces Pittsburgh, at Cincinnati, at San Francisco, Cleveland and at Oakland, which are all top tight end matchups.

Jimmy Graham, TE, Packers
Even through 10 weeks of football, it can be difficult to trust tight end defensive stats, as some teams will have faces Zach Ertz and Travis Kelce while others have seen the likes of Luke Willson and Rico Gathers, but overall, I believe my rankings here are useful, on average. The Packers have the toughest tight end schedule to finish the season, as they go to Seattle, at Minnesota, Arizona, Atlanta, at Chicago and at N.Y. Jets. Add in the fact that Graham has seen large fluctuations in targets and I see him as an untrustworthy fantasy playoffs option.
For more recommendations, check out WalterFootball.com's
Fantasy Football Rankings
.
More 2018 Fantasy Football Articles:
Fantasy Football Rankings
2018 Fantasy Football Rankings:
2018 Fantasy Football Rankings: Quarterbacks
- 9/5 (Walt)
Chet Gresham's Fantasy Football Quarterback Rankings
- 8/29 (Chet)
2018 Fantasy Football Rankings: Running Backs
- 9/5 (Walt)
Chet Gresham's Fantasy Football Running Back Rankings
- 8/29 (Chet)
2018 Fantasy Football Rankings: Wide Receivers
- 9/5 (Walt)
Chet Gresham's Fantasy Football Wide Receiver Rankings
- 8/29 (Chet)
2018 Fantasy Football Rankings: Tight Ends
- 9/5 (Walt)
Chet Gresham's Fantasy Football Tight End Rankings
- 8/29 (Chet)
2018 Fantasy Football Rankings: Kickers
- 8/21 (Walt)
2018 Fantasy Football Rankings: Defenses
- 8/21 (Walt)
Fantasy Football Rookie Rankings: Dynasty
- 8/21 (Walt)
Fantasy Football Rookie Rankings: Dynasty
- 5/18 (Chet)
2018 Fantasy Football Mock Drafts:
Fantasy Football Mock Draft
- 9/1 (Walt)
Fantasy Football Mock Draft
- 8/30 (Walt)
Fantasy Football Mock Draft
- 8/27 (Walt)
Fantasy Football PPR Mock Draft
- 8/23 (Walt)
Fantasy Football Mock Draft
- 8/22 (Walt)
Fantasy Football Mock Draft
- 8/16 (Walt)
Fantasy Football PPR Mock Draft
- 8/9 (Walt)
Fantasy Football Mock Draft
- 8/2 (Walt)
Fantasy Football PPR Mock Draft
- 8/1 (Chet)
Fantasy Football PPR Mock Draft
- 7/26 (Walt)
Fantasy Football 2-QB Dynasty Draft
- 5/25 (Chet)
2018 Fantasy Football Cheat Sheets:
2018 Fantasy Football Cheat Sheet: Top 250
- 9/5 (Walt)
2018 Fantasy Football Cheat Sheet: Top 250 PPR
- 9/5 (Walt)
2018 Fantasy Football Cheat Sheet: Top 250 2-QB
- 9/5 (Walt)
2018 Fantasy Football Cheat Sheet: Top 250 Touchdown League
- 9/5 (Walt)
2018 Fantasy Football Cheat Sheet: Custom
- 9/5 (Walt)
2018 Fantasy Football: Dynasty Rankings
- 9/5 (Walt)
2018 Fantasy Football Spreadsheets
- 9/5 (Walt)
2018 Fantasy Football Articles:
2018 Fantasy Football Stock Report: OTAs, Training Camp
- 9/5 (Walt)
2018 Fantasy Football Sleepers
- 9/5 (Walt)
2018 Fantasy Football Busts
- 9/5 (Walt)
2018 Fantasy Football Mid-Round Values
- 9/5 (Walt)
2018 NFL Preseason Game Recaps
- 8/31 (Walt)
2018 Fantasy Football Stock Report: Preseason Games
- 8/31 (Walt)
2018 Fantasy Football Notes
- 8/31 (Chet)
2018 Fantasy Football Quarterback Preseason Targets Tracker
- 8/30 (Walt)
2018 Fantasy Football D/ST Drafting
- 8/28 (Chet)
2018 Fantasy Football ADP Values: Running Backs
- 8/16 (Chet)
2018 Fantasy Football Round-by-Round Strategy Guide
- 8/15 (Walt)
2018 Fantasy Football ADP Values: Quarterbacks
- 8/15 (Chet)
2018 Fantasy Football Tight Ends to Target
- 8/9 (Chet)
2018 Fantasy Football - PPR Draft Strategy: Rounds 1 and 2
- 7/27 (Chet)
2018 Fantasy Football: Doug Baldwin's Value
- 7/25 (Chet)
2018 Fantasy Football: Chris Hogan's Value
- 7/18 (Chet)
2018 Fantasy Football: Alvin Kamara's Value
- 7/16 (Chet)
2018 Fantasy Football Strength of Schedule: Tight Ends
- 7/11 (Chet)
2018 Fantasy Football Strength of Schedule: Wide Receivers
- 7/6 (Chet)
2018 Fantasy Football Strength of Schedule: Running Backs
- 7/5 (Chet)
2018 Fantasy Football Strength of Schedule: Quarterbacks
- 7/4 (Chet)
2018 Fantasy Football Tight Ends Better Than ADP
- 6/29 (Chet)
2018 Fantasy Football Wide Receivers Better Than ADP
- 6/28 (Chet)
2018 Fantasy Football Target Shares
- 6/22 (Chet)
2018 Fantasy Football Wide Receiver Points Per Game
- 6/13 (Chet)
2018 Fantasy Football Mock Draft Simulator
- 6/2
2018 Fantasy Football Value Players
- 5/25 (Chet)
2017 Fantasy Football Quarterback Look-Back
- 1/28 (Walt)
2018 Fantasy Football: Running Backs with the Most Carries
- 1/28 (Walt)
2022 NFL Mock Draft
- May 4
NFL Power Rankings
- April 4
NFL Picks
- Feb. 8
Fantasy Football Rankings
- Jan. 11