**** NOTES FOR EVERY GAME WILL BE UP AS SOON AS I WATCH THEM **** Follow me
@walterfootball
for updates.
2015 Preseason Notes:
Week 1
|
Week 2
|
Week 3
|
Week 4
2015 Fantasy Football Stock Pages:
Preseason Stock Week 1
|
Preseason Stock Week 2
|
Preseason Stock Week 3
|
Preseason Stock Week 4
|
Training Camp Stock


Eagles 39, Packers 26
With Jordy Nelson and several offensive linemen out, there was no need for the Packers to expose Aaron Rodgers. Losing him, after all, would have completely ended their season. Thus, it made sense that they kept him out of this game, even though it was the dress rehearsal.

With that in mind, however, why didn't this apply to the other starters? Three major players went down with various injuries in this contest. Bryan Bulaga hurt his ankle; Micah Hyde was carted off; while Randall Cobb banged his shoulder on the first drive. Fortunately, all of them appear to be fine. Bulaga reportedly "seems to be OK;" Hyde just had neck spasms; while the X-rays on Cobb's shoulder came back negative. The Packers were lucky to dodge a bullet - rather, three bullets - but the question remains, if Green Bay wasn't willing to take a chance on one prominent player, why did it do so with its others?


I'll get to some notes on the Packers later, but it would make sense to switch to the Eagles, since, you know, their starting quarterback actually played. Sam Bradford was a perfect 10-of-10 at Green Bay, accumulating 121 yards and three touchdowns in the process. Prior to watching this game, I assumed that many of his throws were checkdowns, and some of them were, but Bradford made several impressive throws. For instance, he put great touch on the score to Darren Sproles, who beat Sam Barrington in a horrible mismatch. Bradford was then extremely precise on a 21-yard gain to Jordan Matthews, and then he converted a nice pass to Trey Burton for another touchdown while under pressure.

Having said that, Bradford's play was never the question. He went No. 1 overall for a reason, after all. The concern is his durability, and it's highly unlikely that he'll make it through the season unscathed.

Here were Bradford's targets:

Miles Austin: 1
Trey Burton: 1 (1 end zone)
Brent Celek: 1 (1 end zone)
Jordan Matthews: 3
DeMarco Murray: 2
Darren Sproles: 2 (1 end zone)


Jordan Matthews caught all three targets thrown his way for 51 yards, including an impressive 17-yard reception he made over Hyde. Bradford threw to him more than anyone else, albeit by a slim margin. Matthews is well worth a Round 3-4 selection.


The other Mathews - minus the second "T" - was stuffed at the goal line on one of the first-quarter possessions. He rotated in with DeMarco Murray, who looked great; Murray picked up 28 yards on six attempts. He also caught two balls for 12 receiving yards.


Slow down the Nelson Agholor hype train. Agholor, who caught two passes for 11 yards at Green Bay, wasn't even targeted by Sam Bradford. Agholor could have some decent outings in his rookie campaign, but all of the rookie-related buzz is causing him to be drafted way earlier than he should be.


On the Eagles' backup quarterbacks...

- Mark Sanchez went 13-of-19 for 150 yards and two touchdowns. Sanchez mixed in some solid throws with a few horrible passes. In other words, the usual from Philadelphia's No. 2.

- As expected, Matt Barkley was the least-impressive of the four Philadelphia quarterbacks. He completed 5-of-9 passes for just 28 yards, as he opted to dink and dunk the entire time.

- Tim Tebow attempted just two official passes, completing both for 15 yards. One was a solid throw, while another was a screen. Interestingly enough, he was used on a pair of two-point conversions following the initial touchdowns. He failed to score on both occasions, however. He was stuffed inches shy of the goal line on the first attempt, while the second try featured a pass that fell incomplete. There was a bad snap, so Tebow had to hurry the throw.


As for the Packers, I have a few notes on them despite Rodgers' absence, mostly on Brett Hundley. The rookie quarterback had a strong showing, going 22-of-31 for 315 yards, two touchdowns and an interception. The pick wasn't his fault, as his receiver fell down, allowing Walter Thurmond to snatch the ball and take it back for six. However, Hundley made some impressive throws, beginning with a conversion to Andrew Quarless while scrambling out of the pocket. He then hit Jeff Janis between two defenders for a gain of 28 yards. On a later drive, he completed a 15-yard pass on a third down while on the move over Connor Barwin, doing a good job of keeping his eyes down the field.

Hundley was off the mark on some throws, and he was nearly picked because he stared down his receiver, but he also could've had a better game; he and Richard Rodgers drew pass interference in the end zone, while Ty Montgomery dropped a pass. Overall, the Packers should feel really optimistic that they'll be able to develop either a solid backup or a potential trading piece.


Speaking of Montgomery, he flashed on a 52-yard completion, showing off his blazing speed following a short catch. He made another reception, a 19-yarder, but also committed a drop. Janis, meanwhile, logged three catches for 72 yards and a touchdown. Montgomery is the favorite to be the No. 3 receiver, but it's very close.


I mentioned Sam Barrington earlier. In terms of just coverage, he had the worst performance from a linebacker I've ever seen. Chip Kelly made sure to target him on almost every play. Sproles ended up abusing him twice; once for a touchdown, and another for a 33-yard gain. Barrington also blew a coverage on Brent Celek's touchdown. He made some nice stops in the running game, but he's completely lost in coverage.


I made fun of Kevin Harlan earlier in the week during the Lions-Jaguars telecast. Lo and behold, he was also the play-by-play guy for the Packers telecast. Maybe he should consider doing just one game per week because he said that Hundley went to Stanford. I suppose that's not as bad as forgetting Jim Nantz's name.

Follow me @walterfootball for updates.









Vikings 28, Cowboys 14
Tony Romo barely played last week, so the Cowboys almost certainly planned to give him an extended look in the third preseason game. Sure enough, Romo was on the field for a quarter-and-a-half, and he appeared as though he didn't have any rust.

Romo finished 5-of-8 for 88 yards and two touchdowns. He made just one poor throw, missing Terrance Williams down the sideline for a big gain. However, this occurred after a 60-yard touchdown to Williams. Romo's other score was thrown to some guy named Lucky Whitehead after maneuvering the pocket to avoid pressure.

Romo's night could have been better, but he didn't have Dez Bryant at his disposal. He also was frustrated with Cole Beasley on one play, as an incompletion occurred because Beasley ran an incorrect route.

Here were Romo's targets:

Cole Beasley: 1
Gavin Escobar: 1
A.J. Jenkins: 1
Darren McFadden: 1
Joseph Randle: 1
Lucky Whitehead: 1 (1 end zone)
Terrance Williams: 3


In a sideline interview, Tony Romo mentioned that Terrance Williams has enjoyed a terrific training camp. It showed, as Williams, who led the starters in targets (3), torched the Vikings on a 60-yard touchdown, thanks to a poor angle by safety Robert Blanton. Williams was also open for another big gain down the sideline, but Romo fired the ball out of bounds. Dez Bryant was out, but Williams will definitely be more of a factor this upcoming season than he was last year.


Joseph Randle drew the start versus Minnesota. He struggled early on, thanks to poor blocking from an offensive line missing Zack Martin. He had two nice gains later on, as well as an 11-yard burst that was negated by a Ronald Leary hold. However, the big news is that Darren McFadden looked much better than he did the previous week. He was given just four carries, but turned them into 37 yards. After the game, it was reported that the Cowboys prefer McFadden over Randle, but they are fully dedicated to using a committee. This obviously hurts Randle's draft stock.


Randy Gregory continued his amazing preseason. He sacked Teddy Bridgewater early in the game and then had a second sack that was nullified by downfield holding. He has been dominant thus far, and it's clear that Dallas obtained a major steal.


Based on how little action Teddy Bridgewater saw, you'd think he had more experience than Tony Romo. Bridgewater was on the field for just two drives, but Mike Zimmer apparently didn't need to see more from him after the second-year quarterback was a perfect 7-of-7 for 76 yards on the two possessions. His best throw was a 39-yard bomb to Mike Wallace along the sideline that he launched while taking a big hit. The drive culminated in a field goal, as Bridgewater was sacked on third down.

Here were Bridgewater's targets:

Charles Johnson: 1
Jerick McKinnon: 2
Kyle Rudolph: 1
Mike Wallace: 3
Jarius Wright: 1


In an amazing feat, Mike Wallace converted every single target thrown his way, reeling in all three balls for 50 yards. I've never seen him be so efficient before. Wallace runs poor routes and drops passes, but there's a chance he's turning over a new leaf in Minnesota. I'll need to see more from him before I become a believer, however. I wouldn't recommend trusting him enough to draft him around or prior to his ADP.


You may notice that Charles Johnson didn't appear in the box score. But don't panic if you've drafted him already. The Viking starters barely played, and Johnson managed to draw a defensive penalty deep downfield on one of Bridgewater's throws. He's still a solid WR3 as Bridgewater's favorite target.


As with Johnson, Cordarrelle Patterson failed to secure a single pass. However, he scored on a 107-yard kickoff return. The Cowboys have struggled on special teams this preseason, so this is an area that needs to be shored up.


The Vikings struggled to run the ball, as Jerick McKinnon mustered just 10 yards on six carries. Adrian Peterson didn't play, but Minnesota's offensive line couldn't open up any rushing room for McKinnon.


It's great laughing at silly homer announcers in the preseason. The Cowboys have some color analyst named Babe who said something strange prior to kickoff:

"We're going to see the NFL's leading passer. Not Aaron Rodgers. Tony Romo is the NFL's leading passer."

Really? According to what? Is this some arbitrary opinion, or are you basing this on some obscure stat?

Follow me @walterfootball for updates.









Browns 31, Buccaneers 7
Marcus Mariota had an iffy debut, a better second performance and a worse third outing. Jameis Winston mirrored Mariota in his first two starts, so would the trend continue? Apparently, yes, albeit at a much great magnitude.

Winston, quite frankly, was dreadful in the dress rehearsal. Sometimes stats are misleading, but Winston's 6-of-15, 90-yard, one-interception performance properly describes how atrocious he was. Actually, scratch that. He was even worse.

Winston's interception, which went back for six, was an absolutely careless floater that he made while drifting backward. I have no idea what he was thinking when he released the ball. Winston also nearly had three other picks; the first was yet another poor floater heading toward Vincent Jackson; the second was an inaccurate ball behind the same wideout; while the third was irresponsibly heaved into triple coverage.

The pressure Winston dealt with was another story. He was sacked on the first possession because he held on to the ball too long. He was brought down twice on an ensuing drive, and he also had to throw some passes away because he was under duress. His final snap saw him get sacked by what seemed like a dozen Browns simultaneously, and he limped off the field right afterward. In short, this was not the type of performance Winston was looking for.

Here were Winston's targets:

Vincent Jackson: 5
Louis Murphy: 4
Austin Seferian-Jenkins: 2
Russell Shepard: 1
Charles Sims: 1
Luke Stocker: 1


No Buccaneer caught more than two passes in this game, with Jackson being one of those players, accumulating 38 yards in the process. He saw a team-high five targets, but two of those balls were nearly picked off.


Doug Martin didn't begin the dress rehearsal well, getting stuffed on a few occasions, including a third-and-1. However, Martin made some brilliant runs after that. He burst through a hole on a 19-yard touchdown and then did some tough rushing, muscling through some tacklers for a gain of 10. Martin appears to be in great shape for the first time since his rookie campaign, so make an effort to grab him as a sleeper.


Charles Sims, meanwhile, didn't see much action. He was given just three carries, turning them into nine yards. He did have a nice gain of eight, which featured a great juke move.


With Mike Evans out, it was disappointing to see Austin Seferian-Jenkins receive just two targets. He hauled in one of them for 14 yards.


If I were a Bucs fan, I'd find it alarming that Josh McCown was the better quarterback in this matchup by a wide margin. McCown did a nice job of rebounding from a sub-par Week 2, going 17-of-23 for 117 yards and two touchdowns.

McCown could've had an even better evening. He was victimized by two drops, one by Dwayne Bowe (naturally), while the other was committed by Duke Johnson, who was drilled viciously by Mike Jenkins. McCown also did a good job of scrambling, which was a bit of a surprise. He picked a couple of first downs with his feet - he rushed for 20 yards - and also moved out of the pocket to find Brian Hartline in the end zone for a first-quarter touchdown.

McCown was guilty of just a couple of poor throws. He made a low pass to Bowe, and was way behind an open Hartline on another, but overall, he had a strong performance.

Here were McCown's targets:

Gary Barnidge: 1 (1 end zone)
Travis Benjamin: 4
Dwayne Bowe: 2
Isaiah Crowell: 2
Jim Dray: 2
Taylor Gabriel: 4
Brian Hartline: 4 (1 end zone)
Andrew Hawkins: 1
Duke Johnson: 2
Terrance West: 1


Duke Johnson received the first carry of the game. Ironically, it was his only attempt - a gain of four yards. Johnson dropped a pass after a bone-crushing hit by Mike Jenkins, resulting in a concussion, so that's why he didn't get much work.

As for the other Cleveland runners, Isaiah Crowell was the most impressive of the three. He gained 27 yards on eight attempts, and he also managed to slip a tackle to pick up a first down on a 9-yard reception. Terrance West wasn't bad either, tallying 26 yards on seven tries. This is a situation I'd stay away from, as a different back could lead the Browns in rushes each week.


If, for some reason, you play in a fantasy league that requires someone to draft a receiver from every crappy team, you'll want Hartline over Bowe. Hartline actually made a very impressive touchdown grab, somehow getting both of his feet inbounds. That was his only catch, however, while Bowe failed to log a single reception. Bowe, who dropped a pass, continues to be terrible.

Follow me @walterfootball for updates.









Cardinals 30, Raiders 23
The Raiders have some positive momentum going, so this third preseason game could have continued to propel them to perhaps get off to a strong start in the 2015 regular season. Derek Carr would need to have a quality performance, but based on how he played, it's difficult to believe that the Raiders feel anything but underwhelmed.

Carr made some nice throws in this contest, including an 18-yard dart to Mychal Rivera on a third-and-16 early on, but was guilty of quite a few poor mistakes. He began by sailing a pass over Amari Cooper's head. He missed high toward Kenbrell Thompkins in the red zone. He then overshot Michael Crabtree in the end zone for a potential touchdown. He sailed another ball over Cooper toward the end of the first half, but his worst mistake came in the third quarter. He tried to get a screen pass to Rod Streater. It wasn't there, as the Cardinals read it perfectly, but Carr fired the pass anyway. Arizona came away with an easy pick-six on one of the worst throws I've seen in a very long time.

Carr finished 18-of-34 for 213 yards and that pick. As mentioned, he did several positive things, but he made way too many gaffes, especially in the red zone. Oakland was efficient in the red zone last year, but the absence of offensive coordinator Greg Olson seems to be hurting in that regard.

Here were Carr's targets:

Brice Butler: 1
Amari Cooper: 8
Michael Crabtree: 4 (1 end zone)
Roy Helu: 3
Taiwan Jones: 3
Marcel Reece: 2
Mychal Rivera: 3
Lee Smith: 1
Rod Streater: 5
Kenbrell Thompkins: 4


Amari Cooper caught four passes for 62 yards in one half of action against the Cardinals, including one play, a gain of 37, in which he dragged Patrick Peterson down the field for 10 yards. It could've been an even better performance, as Derek Carr missed him twice. Cooper, who saw a team-high eight targets, also dropped a pass because the sun got into his eyes. I like Cooper a lot, but because he's a hyped rookie, he's going way too early in fantasy drafts.


Latavius Murray gained just one yard on seven carries versus Arizona. That's not good. Murray was blown up in the backfield twice for losses of three and five, so he barely was above zero despite gaining 13 yards on one play. It's not Murray's fault he didn't have anywhere to run, but the concern is the offensive line, which may have lost right tackle Menelik Watson. The 2013 second-rounder went down with a leg injury and was sobbing when he was taken into the locker room. Jack Del Rio told reporters that it "does not look good."


Michael Crabtree saw four targets, but was able to reel in just one pass for six yards. Carr missed Crabtree on a couple of occasions, but Crabtree is not worth owning in any 12-team league. He's way too inefficient, and he doesn't have the quarterback to make up for it.


This game featured some poor quarterbacking, and Carson Palmer, on paper, was even worse than Carr. Palmer's ugly numbers - 8-of-22, 103 yards, two interceptions - don't tell the whole tale, however.

Palmer's first pick was his fault. He overshot Larry Fitzgerald, though part of that was the pressure that didn't allow him to step into the throw. The second was on rookie wideout J.J. Nelson, who ran the wrong route. Palmer missed a couple of his receivers, but the main culprit in this game was the play of the offensive line. It was absolutely horrible. Palmer took three sacks, and he had to throw away some passes because of pressure. Khalil Mack terrorized him. It was insane how absolutely dominant he was in this matchup. Rookie Mario Edwards also played well.

Here were Palmer's targets:

John Brown: 4 (1 end zone)
Andre Ellington: 4
Larry Fitzgerald: 5
David Johnson: 3
J.J. Nelson: 4


Larry Fitzgerald made some receptions early in the game, including a pretty hands catch for 26 yards. He looked good, but in addition to leaving early, the reason he couldn't post better numbers was because Palmer had too much pressure in his face.


The catch of the game for the Cardinals was made by John Brown. The Pitt State alumnus saw four targets, but reeled in only one ball. He made it count though, somehow snatching a pass over a much-taller defensive back down the sideline for a gain of 39 yards.


Andre Ellington saw the majority of the workload in the first half. He managed just 19 yards on nine carries, however, as Arizona's offensive line couldn't open any holes. He did convert a third-and-1 try, though.

David Johnson, meanwhile, failed on a third-and-1 with the starters. Making matters worse, he fumbled on the play, though he was fortunate that his teammate recovered the loose ball. Johnson ended up catching four balls for 40 yards and a touchdown, but some of that came with Drew Stanton at the helm. In terms of rushing, he lost two yards on four attempts.


A bit more on Arizona's offensive line: Bobby Massie will be suspended, so the Cardinals started Bradley Sowell at right tackle. He played poorly, but first-round rookie D.J. Humphries made Sowell look like Orlando Pace. Humphries, playing very late when Mack was long gone, looked like a human turnstile. If the Cardinals saw this tape back in April, they may not have even considered him in the seventh round.

Follow me @walterfootball for updates.









Texans 27, Saints 13
Many teams play their starting quarterbacks for at least a half in the third exhibition game, but Sean Payton apparently doesn't agree with that strategy. He told the FOX broadcasting crew that he had already seen enough of Brees this preseason. Thus, Brees was on the field for just one possession.

Brees engineered a scoring drive that culminated with a field goal. He moved the team well down the field, but had issues in the red zone, a major problem area from last year. Brees even had a near-interception on a pass to Marques Colston, as Brian Cushing read the play perfectly. I found it curious that Payton was so indifferent concerning this game, given that it would've been a nice opportunity to work on the red-zone problems that plagued the team so much in 2014.

Brees finished 4-of-6 for 40 yards. He looked good, save for the one pass to Colston. He should be better than he was in 2014, so he makes for a nice fantasy option in the fifth round.

Here were Brees' targets:

Marques Colston: 1 (1 end zone)
Brandin Cooks: 2
Josh Hill: 1 (1 end zone)
Mark Ingram: 1
Ben Watson: 1


Brandin Cooks played for just one drive, but he reeled in two of Brees' four completions for 19 yards. He made a 13-yard grab which featured him stopping on a dime and picking up more yardage. He's a very impressive player who is poised for a huge season.


Mark Ingram started and gained 13 yards on four carries. He also secured a 12-yard reception - yet another sign that he'll be a bigger part of the passing attack this season.


The Saints have said that they'll have a committee to replace Jimmy Graham, and so far, they haven't lied. Ben Watson and Josh Hill both saw targets from Brees on the opening drive. Hill was the recipient of a pass in the end zone, but it resulted in an incompletion because there was tight coverage.


The Texans took this game more seriously, as Brian Hoyer was on the field for a quarter-and-a-half. Hoyer went 7-of-11 for 82 yards, and could've had a much better stat line. He appeared to throw a touchdown to DeAndre Hopkins, drawing defensive pass interference in the process, but the officials curiously ruled it incomplete after all of the FOX announcers, including Mike Pereira thought it was a clean catch. This was after Hoyer opened with a great touch pass to Hopkins, floating the ball over Keenan Lewis down the sideline, for a gain of 29.

Hoyer made some mistakes, however. He threw short of Kewshawn Martin for a first down, and then he failed to recognize a blitz by the Saints on one occasion, forcing a throw-away and a third-and-long situation. Overall, though, Hoyer had a decent outing, and he was much better than Ryan Mallett (more on him later).

Here were Hoyer's targets:

DeAndre Hopkins: 2 (1 end zone)
Keshawn Martin: 1
Keith Mumphery: 3
Cecil Shorts: 1
Jaelen Strong: 2
Nate Washington: 1


DeAndre Hopkins is a beast. He was trending on Twitter for a couple of hours, and for good reason. The catch he made in the end zone on the opening drive against the Saints was a thing of beauty, as he reached out and snatched a ball that was far away from his body, all while being dragged down by the defender, who was flagged for pass interference. The officials reviewed the play, but ruled that he didn't catch it. They were incorrect, and it's a shame that incompetence had to ruin a tremendous play. Hopkins, who finished with one reception for 29 yards in very limited action, is poised to have a monstrous season.


Alfred Blue didn't see much action either, as he rushed for 18 yards and a touchdown on five carries. He did a good job of moving the pile on his longest attempt, a gain of eight yards.


The FOX broadcasters repeatedly said that the Texans were happy with Jaelen Strong's progression in training camp. Strong, who got off to a very slow start, had a decent showing in this contest, catching five balls for 40 yards and a touchdown.


Strong caught the touchdown from Mallett, who had an underwhelming outing. He opened by throwing short on a third down. He then fired a pass way behind Strong, and then overthrew C.J. Fiedorowicz in the end zone. Mallett was better in the third quarter, but still nearly hurled an interception on a high throw. He tossed behind another receiver, but he finished "Strong" with the aforementioned touchdown to that player.

Mallett finished 9-of-17 for 77 yards and the score. He showed off his great arm on a few impressive passes, but with the inaccurate throws and mental errors, he looked like, well, a quarterback who misses practice because of oversleeping.

Follow me @walterfootball for updates.




Broncos 19, 49ers 12
Peyton Manning did not look like himself in last week's preseason contest, and that was once again the case in this game. He played very similarly to the same quarterback who struggled down the stretch in 2014.

Manning began the game by overthrowing Cody Latimer. He later tossed an interception toward Demaryius Thomas in the end zone. The pass, which looked like a dying duck, had no chance to reach Thomas. Manning should've thrown a score on the ensuing drive - Latimer dropped the ball - but the troubling thing was that Manning failed to see a wide-open Owen Daniels in the end zone.

Manning finished 14-of-21 for 124 yards and an interception in a single half of action against the 49ers. He once again spent most of his time dinking and dunking, and some of his passes were way off. It's as if the 2014 season never ended, though Manning can't use his injury as an excuse any longer. He's an overrated fantasy commodity; I wouldn't touch him at his fourth-round ADP.

Here were Manning's targets:

C.J. Anderson: 3
Andre Caldwell: 1
James Casey: 1
Owen Daniels: 2
Demaryius Thomas: 5 (2 end zone)
Cody Latimer: 5 (2 end zone)
Jordan Norwood: 4


Cody Latimer tied Demaryius Thomas for the team lead in targets from Manning (5). Don't get too excited, however. Latimer dropped a touchdown, and Emmanuel Sanders wasn't in the lineup anyway. Those balls would've gone to Sanders instead, and it appears as though Jordan Norwood will take over the slot job, at least according to the Denver broadcasters. Norwood snatched four balls for 38 yards and looked pretty solid. I wouldn't draft him, but he's someone to monitor as the season progresses.


While the Denver passing attack lacked explosion in the dress rehearsal, the Broncos were able to move the chains on the ground. C.J. Anderson was brilliant, gaining 49 yards on 13 carries. Some of his attempts featured a number of broken tackles, as he was able to turn what appeared to be minimal gains into huge bursts. Anderson also caught three balls for 22 receiving yards. On one of the receptions, he spun away from a defender and broke more tackles to pick up a decent chunk. He's definitely worth a top-six fantasy draft pick in all non-2QB formats.


As for the other Denver runners, Ronnie Hillman once again mixed in with the ones. Hillman, who is on my Fantasy Football Sleepers list, tallied 35 yards on just five carries. Meanwhile, Montee Ball didn't enter the game until the fourth quarter. He should not be on your radar.


A quick blurb on Brock Osweiler, as people have been asking me about his long-term outlook. Osweiler went 15-of-20, but for only 104 yards. As the numbers indicate, he spent the majority of the evening tossing checkdowns. He nearly had a pick when he threw behind his receiver, and he missed out on a long touchdown by overshooting his target by just a bit. It was an underwhelming performance by Osweiler, but he was working with the backups, so it's difficult to read too much into it.


The 49ers would've loved it if Colin Kaepernick had an Osweiler-type performance, however. Kaepernick struggled mightily, going just 2-of-5 for 13 yards. Despite what the numbers indicate, he played the entire first half. Kaepernick simply had issues getting passes off. He took numerous sacks, including one that resulted in a safety. He also dropped a snap on the first drive and threw some balls away because of heavy pressure later on.

Delving more into Kaepernick, there's some good news/bad news. The good news is that he scrambled thrice for a whopping 53 yards. He looked great scampering downfield. The bad news is that Kaepernick's two long bursts on the ground came late in the second quarter when Von Miller, DeMarcus Ware and many of the Denver defensive starters were already out of the game.

Here were Kaepernick's targets:

Anquan Boldin: 1
Kendall Hunter: 1
Quinton Patton: 1
Torrey Smith: 2


There's not much to say about Kaepernick's receiving corps. Torrey Smith was targeted twice, while Anquan Boldin saw just one ball go his way. I have no notes on them.


Like Smith, Reggie Bush is a new player to the team. He had an exciting 21-yard rush in the first quarter, but don't read much into that. The Broncos let Bush have that big gain, as they conceded a draw on third-and-22. Bush came up a yard short of the first-down marker, forcing the 49ers to punt. Bush is irrelevant in the fantasy landscape.


There were two bright spots for the 49ers in the third preseason game. The first was Carlos Hyde, who once again ran extremely well. He was given just four carries, but he turned them into 28 yards. He broke numerous tackles on a 17-yard burst. Hyde will handle the majority of the workload this year, and he's one of my favorite players to target in the Round 3-4 range.

The second was NaVorro Bowman. The stud inside linebacker was all over the field, and I'm not exaggerating when I say that. He was everywhere. He sacked Peyton Manning twice (on one drive!), stuffed running backs for losses and made outstanding plays in coverage. He made life extremely difficult for Manning, and even the homer Bronco announcers couldn't stop praising him and pointing out how dominant he was.

Follow me @walterfootball for updates.




Redskins 31, Ravens 13
You wouldn't think that players would get riled up in meaningless preseason games, but don't tell that to Steve Smith, who was ejected at the end of the first quarter along with Chris Culliver, who engaged in fisticuffs after an extremely dirty play by the Washington defense. Linebacker Keenan Robinson grabbed a Baltimore receiver and committed a piledrive tackle, bending the player's head backward as a result. This resulted in a brawl that spawned five penalties, including the two ejections. Oh, and to top it off, as John Harbaugh ran to pull his players out of the scrum, Jay Gruden yelled something at him, and the two engaged in a heated shouting match.

Given that Steve Smith ended up playing just one quarter as a result of being ejected, he had a terrific performance, catching four passes for 95 yards and a touchdown. The score, a 63-yarder, happened because Smith abused beleaguered David Amerson. Smith also impressively broke a tackle on another reception. With barely anyone else to throw to, Joe Flacco is going to target Smith heavily, and the veteran wideout doesn't look like he's playing in his 15th year.


As for Flacco, he rebounded from last week's ugly outing. He went 8-of-13 for 137 yards and a touchdown, and he should've thrown a second score when offensive pass interference away from the play negated a touchdown strike to Crockett Gillmore. The tight end broke two tackles and ran into the end zone, so it's a shame that the play was nullified.

Flacco did, however, make some mistakes. He overthrew Nick Boyle in the end zone, and he was nearly intercepted on a throw to his fullback, as Amerson broke on the ball and almost came up with the pick. Overall, though, Flacco enjoyed a mostly positive evening, which he needed after looking woeful at Philadelphia.

Here were Flacco's targets:

Kamar Aiken: 3
Buck Allen: 1
Nick Boyle: 1
Marlon Brown: 1
Jeremy Butler: 1
Crockett Gillmore: 1
Kyle Juszcyzyk: 1
Steve Smith: 4
Darren Waller: 1


One missing player on that list was second-round rookie tight end Maxx Williams, who was in street clothes on the sideline. The Baltimore broadcasters said they weren't sure why Williams was sitting out.


Justin Forsett was given eight carries in this game, but produced just 19 yards. It's worth noting, however, that Forsett had to take a 4-yard loss because Flacco fumbled the snap from center and gave the ball to Forsett when the Washington defenders were already in the backfield. If it wasn't for that play, Forsett's stat line would've been seven rushes, 23 yards, which wouldn't have been terrible.


Forsett rotated with rookie Buck Allen, who didn't have better luck running the ball, mustering just 24 yards on 12 attempts. Allen also fumbled the ball at the 1-yard line at the end of the first half.


Timmy Jernigan is a Baltimore defensive player worth mentioning because he sustained what looked like a serious injury in the first half. He was down for a while and had to be helped off. Fortunately, all reports indicate that he's fine.


Moving on to the Redskins, I would've led off with them if it wasn't for the Steve Smith brawl. That's because Robert Griffin was the main story heading into this contest. Griffin was clear for a concussion by an independent neurologist, but then the neurologist backtracked on his diagnosis, declaring Griffin unfit to play. It's worth wondering if this neurologist made this decision after watching how awful Griffin was in last week's game, perhaps believing that the prima donna quarterback was concussed the entire time.

Kirk Cousins started, and the numbers say that he fared well. He went 20-of-27 for 190 yards, one touchdown and an interception. However, he wasn't as impressive as his stat line indicates. Beginning with the pick, it was horrible awareness on Cousins' part, who didn't see Terrell Suggs reading a bubble screen perfectly.

After that, Cousins threw behind Ryan Grant. He then skipped a pass into Grant's hands, which was incorrectly ruled a completion. After a pass behind Grant, he overshot the same receiver, though that occurred because he couldn't step into his throw. Right before halftime, Cousins amazingly fired a ball behind Grant once again.

Even Cousins' touchdown shouldn't have counted. The pass he threw, which was intended for Andre Roberts, was knocked away by a defender. The ball popped into the air and fell right into Jamison Crowder's hands. Crowder, who was simply in the right place at the right time, ran into the end zone.

Overall, Cousins was pretty unimpressive. Having said that, he performed better than Griffin would have, so making him the starter for Week 1 is the correct move.

Here were Cousins' targets:

Jamison Crowder: 4
Ryan Grant: 9
Alfred Morris: 2
Pierre Garcon: 1
Matt Jones: 1
Jordan Reed: 2
Andre Roberts: 5
Chris Thompson: 3


Don't read into Grant leading the Redskins with nine targets. First of all, I already described that Cousins couldn't connect with him on multiple occasions. Grant did finish with five catches for 64 yards, but keep in mind that he won't be used very much once DeSean Jackson and Pierre Garcon return to the lineup. Jackson was out for this contest, while Garcon played very briefly. If, however, both wideouts suffer injuries during the season, Grant will be a nice waiver-wire addition.


Crowder is another player who should be ignored. The fourth-round rookie might have a promising future, but his stat line in this game (4 catches, 41 yards, touchdown) was very fluky; he was extremely fortunate on the touchdown, as the pass was tipped into the air and fell right into his hands. He was also nearly responsible for a Cousins interception because he blocked when he should've ran a route. He's not ready to play in real action.


Jordan Reed caught two passes for 21 yards, which included a diving reception. It's encouraging to see flashes from Reed, who might be a ticking time bomb in terms of getting injured. I like him though - I have him on my Fantasy Football Sleepers list - as he's changed his diet and could remain healthy as a result.


The Ravens' telecast was pretty interesting. OK, maybe not, because the play-by-play guy spent about two minutes explaining what net punting average is. I'm not kidding. The sideline interview with John Harbaugh was hilarious, though:

Sideline reporter: End of the half, missed opportunities, do you feel?

John Harbaugh: Well, you don't want to fumble the ball.

Sideline reporter: What about the 2-minute defense giving up the touchdown at the end?

John Harbaugh: We don't want to give up touchdowns at the end. ... Give me a good question, and I'll answer it.

Sideline reporter: Thank you, coach.

Follow me @walterfootball for updates.




Colts 24, Rams 14
Some coaches don't take their third preseason games seriously, but that can't be said for Chuck Pagano, who attempted an onside kick in the first quarter of this contest. The Colts came to play, making Andrew Luck's performance obviously more significant than those of quarterbacks who played just one or two drives this week.

Luck didn't have his best game. He was hurt when Dwayne Allen dropped two passes and T.Y. Hilton managed to get just one foot inbounds on a near-touchdown. However, Luck threw an interception in the middle of the second quarter that was nullified by an incredibly stupid Alec Ogletree penalty that happened to be away from the play. Luck then made a poor attempt to Hilton; he had his No. 1 wideout open along the sideline, but led him too far out of bounds. Luck simply had issues dealing with the pressure and couldn't step into his throw as a consequence.

Luck finished 12-of-21 for 161 yards and a touchdown, which was a 32-yarder to Andre Johnson that featured a blown coverage by the Rams. Luck was also credited with a fumble, but his running back was the one who was at fault for bobbling the exchange.

Here were Luck's targets:

Dwayne Allen: 5 (1 end zone)
Duron Carter: 3 (1 end zone)
Jack Doyle: 1
Daniel Herron: 1
T.Y. Hilton: 7 (2 end zone)
Andre Johnson: 2
Donte Moncrief: 4
Josh Robinson: 1


Hilton, who led the Indianapolis starters in targets (7), caught three passes for 44 yards in one half of action. As mentioned, he nearly scored, but managed to keep just one foot inbounds. He also should've had another significant gain, but Luck missed him.


Andre Johnson caught just one pass, but he made it count, scoring on a 32-yarder as a result of the Rams blowing a coverage. Johnson saw just two targets because he wasn't on the field for very long. He was replaced by Duron Carter, son of Hall of Famer Cris Carter, who snatched three balls for 25 yards. However, the Colts had to waste a timeout in the 2-minute drill because Carter didn't know where to line up.


You may notice that Donte Moncrief finished third in targets (4), but he was on the field because Phillip Dorsett was out of the lineup. Moncrief, who reeled in two of those balls for 25 yards, won't be nearly as much of a factor once Dorsett returns to the lineup. His place is on special teams.


Another player missing in action was Frank Gore. Daniel Herron made the start, with Josh Robinson sprinkled in for some snaps. Herron gained 25 yards on nine carries and also had a 10-yard reception in which he broke a tackle to pick up a first down in the 2-minute drill.


Nick Foles surprisingly posted the better numbers in this matchup, going 10-of-11 for 128 yards and a touchdown. That has to be a huge, albeit temporary relief for the Rams, who watched their new quarterback struggle in the first two preseason games.

Foles was as solid as those numbers indicate. In fact, his stats could've been better, as a Tavon Austin 20-yard reception was negated by a ticky-tack offensive pass interference. Foles' score, a 44-yarder to Chris Givens, was a great pass in which Foles led Givens perfectly.

Here were Foles' targets:

Tavon Austin: 1
Kenny Britt: 3
Jared Cook: 1
Benny Cunningham: 2
Chris Givens: 1
Cory Harkey: 1
Lance Kendricks: 1
Tre Mason: 2
Isaiah Pead: 1


The Rams need to get Kenny Britt out of the lineup. He's always been injury-prone, but he was horribly inefficient against the Colts. He caught two of his three targets for 21 yards, but made two mistakes in the process. He did a bad job of trying to get the first down, coming up a yard shy of the marker when he could've fought to move the chains. He also failed to finish a route in the second quarter, which resulted in an incompletion. Britt is a bum who should be avoided in all fantasy leagues despite his status as a starting NFL receiver.


Brian Quick should play over Kenny Britt, but when will that happen? Quick didn't enter the third preseason game until midway through the second quarter, and he failed to reel in a single reception. This was terribly disappointing, as Quick has enough potential to be a borderline starter in fantasy.


Todd Gurley dressed for this game, but didn't take the field. Tre Mason started, but his night ended early when he came up lame and had to ice his hamstring for the remainder of the first half. Mason gained 12 yards on four carries - a stat line that would've been better had he not taken a 5-yard loss on his first attempt in which he was blown up in the backfield.


Two St. Louis defenders are worth mentioning. The first is Aaron Donald, who dominated the trenches. He was extremely forceful on one series, blowing up Herron three times. The third tackle was nearly a safety. Said Torry Holt after the play, "He's the best defensive tackle in the NFL."

The second was on the other end of the spectrum. Alec Ogletree had a miserable performance. As mentioned, he nullified a Janoris Jenkins interception by a dumb holding penalty. He also was flagged for being offside in the 2-minute drill, and then he missed a tackle on Herron in the open field, which would've forced a fourth down.


Speaking of Torry Holt, the Rams' color analyst made a couple of gaffes during the telecast, calling T.J. McDonald "C.J. McDonald" and Donte Moncrief "Sidney Moncrief."

Follow me @walterfootball for updates.




Bengals 21, Bears 10
You never want to lose a player, particularly a starting quarterback, to an injury in a preseason game. If you do, however, you'd obviously want it to be a minor malady that he could've played through if it happened to be the regular season. Fortunately for the Bengals, that's what Andy Dalton sustained in the third preseason contest.

Dalton engineered an impressive opening drive in which he spread the ball around to five different targets - none of whom happened to be A.J. Green. The Bengals played at a very brisk pace, rather than the morbid approach they displayed on national TV at Tampa Bay on Monday night. Dalton was even scrambling, running out of the read-option on one occasion.

Dalton was completely perfect, finishing 6-of-6 for 52 yards, and the drive culminated with a quarterback sneak for a touchdown. Dalton, however, sustained what was called a "minor" neck injury. The Cincinnati broadcasting team seemed to believe that Dalton would've remained in the game if this weren't an exhibition contest.

Here were Dalton's targets:

Giovani Bernard: 1
Rex Burkhead: 2
Tyler Eifert: 1
Ryan Hewitt: 1
Marvin Jones: 1


While A.J. Green saw no targets from Dalton, he managed to catch two passes for 19 yards with A.J. McCarron firing to him. One of the receptions was amazing, as Green grabbed a ball placed behind him with one hand.


It was no surprise that Jeremy Hill handled most of the workload. While Giovani Bernard was given three carries, which he turned into six yards, Hill handled 11 rushes, accumulating 46 yards and a touchdown in the process. He also had a 9-yard gain wiped out by a hold. Hill had mostly positive runs, though he was stuffed on a third-and-1 at the beginning of the second quarter.


Tyler Eifert secured two receptions for 30 yards, but he just barely missed out on a better night. He was tackled at the 3-yard line on a play in which it seemed like he had a good chance of scoring. That pass came from McCarron.


Speaking of McCarron, he absolutely needs to be mentioned because he was shockingly outstanding in relief of Dalton. He went 12-of-17 for 149 yards and a touchdown, and he didn't fire a single incompletion while working with the first team. He made three throws that really stood out. The first was a pretty, deep ball to Marvin Jones for a 43-yard gain. Unfortunately, this was nullified by a penalty. The second was another throw to Jones, which was placed perfectly over the head of a linebacker. Jones secured it for a 32-yard touchdown. The third was a nice, touch pass to Eifert - the aforementioned near-score - which went for a gain of 25 yards.


Jay Cutler played worse than both Dalton and McCarron, but to be fair, he was missing his top four receivers, as Alshon Jeffery, Eddie Royal, Marquess Wilson and Kevin White were all out. Thus, Cutler had to rely on mostly bums, as you'll see in his targets list below.

Cutler finished 13-of-17, but for only 98 yards. As the stats indicate, he spent the majority of the time checking the ball down. He tried deep attempts on a couple of occasions, but that often backfired because he didn't have the appropriate protection. He took some sacks, which was reminiscent of last year, when Cutler stopped caring because he was tired of the anemic pass protection. The pressure got to Cutler, as he threw way behind an open receiver in the beginning of the third quarter despite playing backups.

Here were Cutler's targets:

Josh Bellamy: 1
Martellus Bennett: 7
Matt Forte: 1
Rashad Lawrence: 3
Marc Mariani: 3
Jacquizz Rodgers: 1


Martellus Bennett saw seven targets in the dress rehearsal, which was more than double compared to any other player Jay Cutler had at his disposal. He snatched all seven for 45 yards. Alshon Jeffery and Eddie Royal were out, but this shows that with pass protection still being an issue, Cutler will heavily target Bennett this season, especially with Matt Forte set to see a reduction in targets in the wake of Marc Trestman's departure.


Speaking of Forte, he didn't have much running room either, gaining just 16 yards on six carries. He failed to reel in his only target from Cutler.


The Cincinnati broadcasting team, as you can imagine, was extremely pleased with their Bengals. The play-by-play guy was especially enthusiastic when he said this:

"TONIGHT SHOULD CONVINCE YOU THAT THE BENGALS ARE FOR REAL!"

Really? A victory over a pedestrian Chicago team missing half of its starters should convince people that the Bengals are for real? Maybe if Dalton suddenly grew a third mutant arm that could allow him to deliver passes all over the field against great defenses. That would convince me.

Follow me @walterfootball for updates.




Dolphins 13, Falcons 9
The Falcons had bigger fish to fry than worry about their third preseason game against the Dolphins, as they locked up Julio Jones to a big-money extension hours prior to this contest. For my grade for the Julio Jones extension, click the link.

Jones didn't suit up for the dress rehearsal, and neither did Roddy White, so Matt Ryan was stuck working with a skeleton crew of a supporting cast. He was forced to throw to the likes of Leonard Hankerson and Devin Hester, and he struggled as a result, going 3-of-7 for 49 yards.

Of course, it didn't help that Miami's defensive line completely overwhelmed his blocking. Perhaps it was because the Dolphins didn't respect the deep ball with Jones and White missing, but they were able to pound Ryan into submission. I was left wondering why the Falcons even played Ryan, and head coach Dan Quinn apparently had the same thought process, as he yanked his starting signal-caller in the beginning of the second quarter.

Here were Ryan's targets:

Leonard Hankerson: 4
Devin Hester: 2
Terron Ward: 1


Jones and White weren't the only prominent Falcons sitting this one out. Devonta Freeman was missing as well, which allowed rookie Tevin Coleman to make the start. Coleman mustered just two yards on four carries. However, there was no take-away from this; Miami's defensive front was just too forceful and didn't give Coleman any sort of running room. In fact, Coleman was blown up in the backfield on consecutive plays at one point. He managed to somehow push forward for a gain on one of the attempts, but he had to take a loss of five on the next play.


Hankerson led the Falcons in targets with four, and he managed to reel in three receptions for 50 yards. Don't get too excited, however, because as I mentioned, Jones and White were out of the lineup. Hankerson, much like Harry Douglas in recent years, will only be productive if one of the main receivers happens to be injured.


Let's move on to the Dolphins because there really isn't much worth discussing about the Falcons. Ryan Tannehill was sharp once again, despite the fact that Branden Albert was out of the lineup versus Atlanta. Tannehill went 15-of-19 for 145 yards and a touchdown in less than a half of action. One of his misfires was a miscommunication with Rishard Matthews, while another was a rare Jarvis Landry drop, so Tannehill could have easily gone 17-of-19. Definitely an improved passer, Tannehill seems poised for a solid fantasy campaign as a low-end QB1, thanks as well to his excellent scrambling ability.

Here were Tannehill's targets:

Jordan Cameron: 1
LaMichael James: 1
Greg Jennings: 1
Jarvis Landry: 6
Rishard Matthews: 4 (1 end zone)
Lamar Miller: 5
Kenny Stills: 1


Jarvis Landry led all Dolphin wideouts with 84 receiving yards on five catches against the Falcons. He saw a team-high six targets, so he only failed to convert one of those, which was an uncharacteristic drop. The big play was a 35-yarder, and Landry could've gone even farther down the field had his own tight end, Dion Sims, not gotten in the way. What's remarkable is that all of this happened in less than a half of action. Landry is going to have a monstrous season, especially for PPR owners.


Lamar Miller is someone you should target as one of your starting running backs. He was superb in the team's dress rehearsal, gaining 22 yards on six carries to go along with five catches for 31 receiving yards. The Dolphins are determined to ride him this year, and he's obviously a big part of the offense. Unless he gets injured, Miller stands a great chance to finish as a top-10 fantasy running back.


There are two things worth noting about Miami's offensive line. The first is that Mike Pouncey suffered an apparent knee injury in the first quarter. He left the game for a bit, came back in, and then exited for good. He'll have an MRI on Sunday, but he told the media that he won't be missing any games.

The second item regarding the blockers was Dallas Thomas' performance. The Dolphins talked up Thomas all offseason, and while it seemed like smoke for the draft at the time, apparently they were right all along. Thomas had a fantastic game, completely dominating rookie Vic Beasley.


The Dolphins' telecast is my favorite to listen to because the old broadcasters provide tons of gaffes. For instance, Dick Stockton referred to Jarvis Landry as "Greg Landry," while Nat Moore told the audience that the chop block is a "new rule put in this year."

And then, there was this exchange:

Dick Stockton: "Tannehill's intended target was Rishard Matthews."

Bob Griese: "Tannehill was telling us that he likes... Rashard... uhh... uhh... uhh..."

Nat Moore: "Matthews?"

Bob Griese: "Matthews!"

Like I said, these guys are the best.


With Rachel Santschi gone - scroll below to the Chiefs-Titans recap for details - we need a new, elite sideline reporter to carry the banner in the preseason. Perhaps we have one in Rudabeh Shahbazi: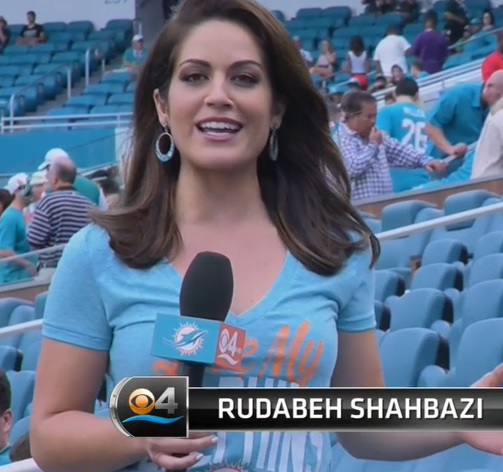 Now that's some terrific reporting. Sure, you could probably score 300 points using her name in Scrabble, but I'm not one to make fun of someone for such trivial things.

Follow me @walterfootball for updates.




Seahawks 16, Chargers 15
Russell Wilson hadn't put together a quality performance in the preseason, so this might have been his final chance before the season opener at St. Louis. Well, Wilson is now 0-for-3. He struggled again, as San Diego's defense was the latest stop unit to overwhelm him.

The common theme of the evening was the pressure Wilson dealt with. San Diego's seemingly fierce pass rush forced him to take a huge loss on an intentional grounding penalty on the second drive. Wilson then took a sack, which is unusual for him, and he was forced to throw several passes away because he had defenders in his face. Making matters worse, Wilson doesn't seem like he has a good rapport with Jimmy Graham, but I'll get to that later. I wouldn't be surprised at this point if the Seattle front office is beginning to regret the Graham-Max Unger trade. The offense would look so much better with Unger on the field right now to shore up the horrific blocking.

Wilson finished 7-of-15 for just 56 yards, meaning he had an anemic YPA of 3.7. Sadly, some of this was against the San Diego backups. He went 2-of-7 for 21 yards versus the reserves, as one of the incompletions was nearly picked. Wilson was victimized by a Jermaine Kearse drop, but it was just yet another brutal performance by him.

Here were Wilson's targets:

Doug Baldwin: 1
Jimmy Graham: 5 (1 end zone)
Jermaine Kearse: 4 (1 end zone)
Tyler Lockett: 2
Ricardo Lockette: 1
Marshawn Lynch: 1
Kevin Smith: 1


Jimmy Graham does not look happy. He caught just two passes for 24 yards in two-and-a-half quarters of action at San Diego. It was a frustrating evening for him though, as he watched Russell Wilson sail a ball over his head at the end of the first quarter. Later on, Wilson threw behind Graham in the red zone. The pass fell incomplete, and Graham glared back at Wilson and looked extremely frustrated to be in such a stagnant passing attack. The menacing gaze was troubling, as the Saints were more than happy to jettison Graham because of his alleged, horrible attitude creating issues in the locker room.


The Seahawks had Marshawn Lynch at their disposal for the first time in the preseason. He was very limited in action, however, seeing just two carries for six yards. He began by ripping off a 6-yard gain, but was stuffed on a third-and-1 on the same series. That was it for him, as Robert Turbin and Christine Michael split touches afterward. There's no worthy handcuff to own.


Tyler Lockett had a 102-yard return against the Broncos in Week 1, and he scored yet another touchdown on special teams. Wilson also targeted him twice. It's obviously early, but Lockett appears to be a successful third-round pick.


As for the Chargers, Philip Rivers didn't play last week, and it appears as though he didn't need to. He went 13-of-19 for 140 yards against the Seahawks, which is impressive considering the opponent he was battling. Granted, Seattle was missing its safeties, but Richard Sherman and the other starters were on the field.

Unfortunately, the dark cloud over this performance is that Wilson banged his finger on his final attempt and had to leave the game permanently. He ran into the locker room just prior to halftime. It's unclear how serious this injury is, and it's a shame that it had to sour a strong outing. Rivers had just a couple of poor throws. He overshot Stevie Johnson in the second quarter and then was a bit high toward Keenan Allen in the end zone, but he was otherwise prolific.

Here were Rivers' targets:

Keenan Allen: 4
Antonio Gates: 1
Melvin Gordon: 2
Ladarius Green: 2
Stevie Johnson: 6 (1 end zone)
Danny Woodhead: 3


Stevie Johnson is going to be a big factor in San Diego's passing attack. Johnson saw more targets (6) than any other player in the team's dress rehearsal. He converted four of those, accumulating 63 yards in the process. We've seen the slot position produce big numbers in this scoring attack, and Johnson should be able to pick up where Eddie Royal left off. It's worth mentioning that Johnson is more talented than Royal, so I think he's definitely worth a spot in my Fantasy Football Sleepers list.


Keenan Allen caught just two passes for 27 yards, but don't be concerned if you own him. He nearly had a touchdown, but Rivers overthrew him by just a bit. Thus, it could've been a much better night.


Melvin Gordon struggled again. He was given 14 carries versus Seattle, but turned them into just 34 yards. This has been a concern this offseason, and it has to do with Gordon stopping his legs when he reaches the line of scrimmage because he doesn't see the types of huge holes he enjoyed at Wisconsin. The silver lining is that Philip Rivers targeted Gordon twice. Danny Woodhead took the field on third down though, so don't think that Gordon took over that role, or anything.

Follow me @walterfootball for updates.




Jets 28, Giants 18
The Giants' announcers spent most of the pre-game asking Tom Coughin, as well as each other, whether Eli Manning would finally be able to connect with Odell Beckham Jr. Manning failed to complete a pass to his dynamic receiver in the first two preseason contests, so New York's goal in the dress rehearsal was to get the two on track.

Mission accomplished. Manning was able to fire five completed passes to Odell Beckham Jr. in one half of action. Manning played a decent game until his final throw. He finished 12-of-16 for 91 yards, but his night ended with a pick-six. Manning stared down James Jones like a leering drunk, allowing Antonio Cromartie to jump the route and score a touchdown going the other way. This had to leave a bad taste in the mouths of Giants fans, but at least Manning didn't look completely incompetent for the first time all preseason.

Here were Manning's targets:

Odell Beckham Jr: 7
Jerome Cunningham: 1
James Jones: 2
Preston Parker: 2
Rueben Randle: 1
Adrien Robinson: 2
Shane Vereen: 3


Odell Beckham Jr. was the prominent fantasy player in the preseason dress rehearsal by a wide margin. Beckham failed to catch a single pass heading into this contest, but he managed to snatch five balls versus the Jets. He accumulated just 31 yards, but that can be chalked up to bad luck more than anything. For instance, he made a terrific reception over Darrelle Revis with one hand while falling out of bounds, but was able to get just one foot in the field of play. Later on, Beckham once again beat Revis downfield, but Eli Manning sailed the pass out of bounds. Beckham is without a doubt worth a late pick in the first round of fantasy drafts, and he could end the year as the No. 1 overall receiver.


The Giants' running back rotation remained the same in this game. They started off with Rashad Jennings on the first drive and then transitioned to Andre Williams on the ensuing possession. Shane Vereen, meanwhile, always took the field on third downs.

Jennings and Vereen were the better backs in this contest. Jennings gained 28 yards and a touchdown on nine carries, while Shane Vereen tallied 39 total yards on six touches. Vereen had a 19-yard reception in which he impressively stopped on a dime after securing the football, eluding multiple defenders in the process. He's a solid back to own in PPR formats. Williams, meanwhile, failed to gain a single yard on two carries.


It's difficult to believe, but Ryan Fitzpatrick finished with a better stat line than his counterpart, going 9-of-14 for 127 yards and two touchdowns. He started slowly, sailing a pass out of bounds that was intended for Brandon Marshall. He also flung an inaccurate pass to Marshall on a third-and-short. However, Fitzpatrick was efficient and economical otherwise, though it's worth noting that one of his scores, a 24-yarder to Zac Stacy, was just a short toss on a perfect screen that any quarterback in the NFL could've made. Stacy, completely unchallenged, strolled into the end zone without anyone around him.

Here were Fitzpatrick's targets:

Eric Decker: 4 (1 end zone)
Quincy Enuwa: 1
Shaq Evans: 2
Brandon Marshall: 5
Bilal Powell: 1
Zac Stacy: 1


Brandon Marshall caught three passes for 33 yards in one half of action. Even though Marshall led the team in targets (5), those are the types of numbers you should expect on a weekly basis (multiplied by two because there are two halves, of course). Marshall is being way overdrafted at his fifth-round ADP.


Eric Decker tied Marshall with three receptions, accumulating 52 yards and a touchdown. He saw one fewer target. There's nothing to see here, though I'd much rather have Decker at his 11th-round ADP than Marshall at his fifth.


The Giants need to make sure that defensive back Jayron Hosley knows how to properly defend the run. He made two poor mistakes, allowing Chris Ivory to rip off a pair of big gains. Ivory finished with 38 yards on just six carries. He wasn't targeted in the passing game, which was disappointing.


Leonard Williams exited this game with a knee injury. He limped into the locker room and wasn't heard from again. Losing him would be huge, considering Sheldon Richardson's troubles.


The Giants' broadcasting team was guilty of just one error that I picked up. They didn't pronounce anyone's name wrong, and they didn't make any stupid declarations about their team. It was actually the play-by-play guy's birthday, and at halftime, the color analyst handed him a birthday cake. The play-by-play guy took it from him and beamed at it... and then he dropped it. He dropped the freaking cake. And just like that, the delicious treat was ruined. As a rather plump man, I cried on the inside.

Follow me @walterfootball for updates.




Bills 43, Steelers 19
The Bills sat some of their offensive starters in what seemed to be an effort to avoid having anyone get hurt. Ironically, they sustained injuries to the defense. Stephon Gilmore left the game with a concussion, and then linebacker Tony Steward, expected to be the top reserve at the position, had to leave with a knee concern. However, what seemed like the worst of the injuries occurred when safety Aaron Williams went down on a non-contact play. It eerily looked like the Jordy Nelson torn ACL from a week ago, and coincidentally, the Steelers were the opponent. Williams, who was down for a while, had to be helped off.

E.J. Manuel started at quarterback for Buffalo, which was odd considering that Matt Cassel and Tyrod Tayor entered the game in succession after Manuel was removed. Of the three, Taylor was most impressive, and it wasn't even close. Taylor went a near-perfect 12-of-13 for 122 yards to go along with a 20-yard rushing touchdown, and his only incompletion was a shot into the end zone that could have easily drawn a pass interference flag had Jerome Boger and the officiating crew not been so incompetent (more on that later). Taylor, who made some impressive throws, has sealed up the starting quarterback job. I don't think there's any doubt about that.

As for the other signal-callers, Cassel finished 6-of-7, but for only 38 yards. It was the usual dinking and dunking from him. He also would've been intercepted on his sole incompletion, had Brandon Boykin not dropped the ball. Manuel went 2-of-2 for 83 yards and a touchdown versus the Pittsburgh starters - 7-of-8, 170 yards and two scores overall - but was guilty of a delay-of-game infraction, as he took way too long to get out of a huddle on one occasion.


The Bills sat LeSean McCoy and their top four receivers, so there's not much worth talking about. One prominent player who did suit up was Charles Clay, and he torched Pittsburgh's awful-looking defense on a 67-yard touchdown from Manuel.


Meanwhile, Fred Jackson started at running back. He had terrific blocking on one play, allowing him to burst for 41 yards. He didn't do anything otherwise, however, as his other four attempts went for seven yards and a touchdown.


The Bills weren't the only team to sustain an injury. Kicker Garrett Hartley, who was signed to replace Shaun Suisham, hurt his leg during one of the kickoffs. The Steelers, consequently, had to go for two almost every time.


It's strange, but Ben Roethlisberger was on the field for just two drives. That's something you'd see in a preseason debut; not the dress rehearsal. Roethlisberger was shaky on the opening possession, looking skittish in the pocket on one play and then taking a sack on the next. However, he caught fire the next time he had the ball. The stats say he was just 2-of-4 for 30 yards, but that doesn't include three things: First, a drop by Heath Miller. Second, Martavis Bryant's drawn pass interference flag deep downfield. And third, the fact that Markus Wheaton nearly had a touchdown, getting tackled at the 1-yard line at the end of a 20-yard reception.

Here were Roethlisberger's targets:

Martavis Bryant: 1
Heath Miller: 2
Markus Wheaton: 1
DeAngelo Williams: 1


Martavis Bryant was unstoppable against the Bills. He caught three passes for 138 yards and a touchdown in a half of action, and he was even better than those numbers indicate. Bryant drew two pass interference flags, both on rookie cornerback Ronald Darby. One was deep downfield, while the other was in the end zone. Bryant otherwise made a deep catch over Darby, then hauled in a 36-yard reception in which he ran circles around the beleaguered Bills. Bryant even made the putrid Landry Jones look good, scoring a touchdown after beating Ron Brooks. If Bryant slips in your draft because of his suspension, make sure you grab him as a value pick.


Wheaton, as mentioned, was tackled at the 1-yard line, so in limited action, he finished the game with just one catch for 20 yards. This doesn't mean anything, as Antonio Brown didn't even log a reception.


Le'Veon Bell played in this game, but he didn't start. My guess is that the Steelers wanted to have DeAngelo Williams in the backfield with Roethlisberger because of the two-game suspension Bell is going to serve. Bell didn't seem to take this game seriously; he lost two yards on two plays, thanks to a minus-4 rush which saw him dancing around stupidly. He also got into a fight with Nigel Bradham and then was effectively whistled for unnecessary roughness away from the play, though the inept Jerome Boger said Matt Spaeth was the culprit.


Speaking of Boger, his incompetence was as prevalent as ever in this game. It started on the first drive, when the Steelers called timeout following a long Fred Jackson run. Pittsburgh simply wasn't prepared for the next play, but Boger thought that the Bills challenged the play. He announced that the play stood as called, but didn't charge Buffalo with a timeout. The announcers basically laughed at Boger, citing that it was preseason for him as well. They got frustrated with Boger in the second quarter, however, as Boger lost control of the game. The Steelers and Bills got into a fight, but Boger didn't penalize anyone. This led to the Bell play in which Spaeth was called for unnecessary roughness. The announcers said Boger was "half-asleep." It's terrifying that the NFL allows this overwhelmed buffoon to continue to serve as an official.


I'd be remiss if I didn't make fun of the Buffalo homer announcers. The color analyst, who actually broke the telestrator (seriously), got a bit too excited about the quarterbacks...

"Some say the Bills don't have a starting-caliber quarterback. I say they have three!"

OK, dude, calm down and snap back to reality. Taylor looks promising, but calling Cassel and Manuel starting-caliber signal-callers is almost as bad as Boger's officiating.

Follow me @walterfootball for updates.




Chiefs 34, Titans 10
It's unknown if Marcus Mariota will be on the field in the exhibition finale, so this may have been our final look at him prior to the regular season. Mariota had a mixed debut and followed that up with a strong showing last week, but battling a solid Kansas City defense would be his toughest challenge yet.

I'd say Mariota did just fine. He began slowly, however, appearing indecisive on his first attempt, throwing the ball away after hanging on to it too long in the pocket. He then scrambled for a 7-yard run, but was just short of the first down. On the next possession, he scampered for 14 yards on a zone-read run, but nearly had an interception afterward, as Derrick Johnson dropped the ball. Mariota also underthrew Delanie Walker, though the play should've been pass interference because Marcus Peters, who was beaten on the play, tackled Walker without looking back for the football.

Mariota's initial completion came on the third drive - a 14-yarder to Kendall Wright. He then showed great touch on a 30-yard pass to Wright. Mariota was on the field for one more series, but was victimized by a Hakeem Nicks drop.

In exactly one half of action, Mariota went 7-of-11 for 99 yards to go along with three scrambles for 22 rushing yards. He still has a lot to learn, but he looked solid in the team's dress rehearsal.

Here were Mariota's targets:

Harry Douglas: 1
Dexter McCluster: 2
Hakeem Nicks: 3
Delanie Walker: 1
Kendall Wright: 3


Wright tied for the team lead (among the starters) with three targets. He snatched all three balls for 60 yards. He's one of my top Fantasy Football Sleepers.


Nicks was even with Wright in terms of targets, but he didn't fare as well. He committed a drop and then limped off the field after making a catch. Nicks has been extremely durable throughout his career, so this was a big surprise (sarcasm).


Bishop Sankey had a nice outing last week, but didn't do as well at Kansas City. He mustered just 17 yards on six carries, but opened with a nice, 6-yard scamper on his first attempt. Unfortunately, he fumbled on the team's third drive, but was lucky to have one of his teammates recover the loose ball.


The experienced quarterback in this matchup, Alex Smith, put together a very impressive stat line, going a near-perfect 16-of-18 for 171 yards and two touchdowns. As you can imagine, however, most of Smith's yardage came via dinking and dunking. For instance, Smith's 29-yard touchdown to Jeremy Maclin was all the receiver, though it helped that cornerback Perrish Cox made a poor effort to tackle. Another example is that Travis Kelce's 34-yard reception was really a short pass and all YAC.

Smith made a couple of impressive passes, including his touchdown to Kelce, which was made through a tight window. However, Smith's two incompletions were awful despite being semi-routine passes, and it had some people in the crowd moaning and groaning.

Here were Smith's targets:

Jamaal Charles: 2
Chris Conley: 2 (1 end zone)
Knile Davis: 3
Frankie Hammond Jr: 1 (1 end zone)
Travis Kelce: 3
Jeremy Maclin: 7
Ryan Taylor: 1
Albert Wilson: 1


Jeremy Maclin dominated the targets with the first team against the Titans. He drew more than double compared to any other starter, as he saw seven balls go his way. Maclin reeled in all seven for 65 yards and a touchdown. Not bad for less than one half of action. It's clear that Smith is going to rely heavily on Maclin, who could be a PPR monster this season. If he stays healthy - a big "if," considering his history - he could be a low-end WR1 in that format.


Jamaal Charles had played prior to this game, but he was given his first carry of the preseason Friday night, which turned out to be a gain of nine yards. Charles looked great, finishing with 26 yards on just three attempts.


Third-round rookie receiver Chris Conley caught three balls for 30 yards, but it's worth noting that he saw just two targets from Alex Smith. One of them was a drawn pass interference flag.


I have nothing bad to say about the Chiefs' broadcasting team. However, the PA announcer annoyingly kept calling Marcus Mariota "Marcus Mari-yata."

Oh, and speaking of Kansas City's telecast, I was once again reminded that we don't have Rachel Santschi with us anymore, unfortunately. Let's recall how great her sideline reporting was...



Follow me @walterfootball for updates.




Patriots 17, Panthers 16
Tom Brady has been the talk of the league this offseason, and through two preseason games, it appeared as though everything off the field was affecting his performance. I was eager to see how he'd play in the team's dress rehearsal, since we probably wouldn't see him for a while after this contest.

By all accounts, Brady looked like a rotting corpse until the final drive of the first half. He had an open Scott Chandler for about a 10-yard gain early on, but sailed what looked like a helium-inflated ball over his tight end's head. He also threw two interceptions, though one wasn't his fault, as Charles Tillman wrestled the ball away from Aaron Dobson. Brady was most certainly guilty of the second pick though; he telegraphed a throw right to Dobson. On the next possession, Brady wasted a timeout at the end of the first quarter. He didn't like what he saw, and asked for a stoppage. The thing is, the game clock was ticking down and would have expired prior to the play clock, so Brady simply wasn't paying attention. And, to top it off, as all of this was going on, Brady was harassed by Carolina's pass rush, which constantly overwhelmed New England's front.

Brady eventually put together a strong drive at the end of the first half, which culminated in a touchdown on a great touch pass to Chandler. However, that wasn't enough to salvage what was a dreadful outing before that possession.

Overall, Brady had a third poor performance this preseason against the Panthers. He has struggled immensely, and he appears to be distracted by the Deflategate situation. Many are considering him a "steal" at his eighth-round ADP, but I wouldn't touch him there.

Here were Brady's targets:

Danny Amendola: 2
Brandon Bolden: 1
Scott Chandler: 4
James Develin: 1
Aaron Dobson: 2
Chris Harper: 1
Michael Hoomanawanui: 1
Reggie Wayne: 1


Reggie Wayne saw one target from Brady. He dropped that pass. As a rotting corpse himself, he's not on the radar in any league.


Aaron Dobson had a very disappointing performance at Carolina. He saw two targets go his way from Tom Brady, and the passes were intercepted on both occasions. One was especially Dobson's fault, as he allowed Charles Tillman to rip the ball out of his hands.


The box score says LeGarrette Blount rushed for 31 yards on eight carries. The caveat, however, is that he did all of that with the backups. Jonas Gray started and was underwhelming, picking up 11 yards on five attempts.


Jimmy Garoppolo will start the first four games of the season, so he's worth a detailed write-up as well. The stats say that he was outstanding, as he finished 13-of-17 for 126 yards and a touchdown. However, that's why it's incredibly important to actually watch the games, as Garoppolo wasn't nearly as impressive as those numbers indicate. Garoppolo's first throw should have been a pick-six; Bene Benwikere dropped a ball that was fired straight into his arms after he jumped the route on the telegraphed attempt. Garoppolo had another dropped interception on the very same drive, this time by Josh Norman.

Garoppolo was better after that, but only after Carolina's first-team defense exited. He had a nice drive in which he hit Dobson with a 40-yard pass down the sideline, and then fired a strike to Dion Lewis on the very next play for a touchdown. Later on, Garoppolo spun out of a potential sack and scrambled for a first down.

Overall, Garoppolo was shaky. I'd say how important it is for Brady to win his appeal against the NFL, but he's been even worse this preseason.


Bad quarterbacking was a trend in this game because Cam Newton didn't have his best performance either. Newton's outing was a roller coaster, and it began negatively. He was slow on a delivery to Philly Brown, and the pass was incomplete as a result. He then skipped a ball to Greg Olsen and sailed a pass over Ted Ginn's head. He then got into a rhythm and engineered a nice drive, though it stalled inside the 5-yard line. After that, Newton couldn't seem to get his timing down with his receivers, especially Brown. He showed bad body language while walking off the field on multiple occasions.

However, things finished on a positive (for Newton, at least). Newton hit Olsen for a 27-yard play, though the conversion was negated by a penalty. Newton then fired a 19-yard strike to Jerricho Cotchery through a very tight window, and he should've had Brown for a touchdown, but that was dropped.

Newton finished 17-of-28 for 160 yards and a touchdown. As mentioned, he should've thrown a second score, but that fell through Brown's hands. In fact, Newton was victimized by four drops, so his numbers could've been substantially better.

Here were Newton's targets:

Brenton Bersin: 1
Philly Brown: 5 (1 end zone)
Jerricho Cotchery: 4
Ted Ginn: 6
Greg Olsen: 10 (1 end zone)
Scott Simonson: 1
Mike Tolbert: 1
Fozzy Whittaker: 1


Greg Olsen is going to have a HUGE fantasy season. He was targeted a whopping 10 times in two-and-a-half quarters of action against the Patriots, and he secured six of those passes for 51 yards. He had a seventh reception, a 27-yarder, that was negated by a penalty. The only blemish of the evening was an uncharacteristic drop. With Kelvin Benjamin out for the year, Newton is going to target Olsen heavily, making the Panther tight end one of the best options at his position in fantasy.


Philly Brown needs to be discussed. Brown was so absolutely dreadful against the Patriots that he was trending on Twitter. Brown committed two drops out of his five targets. One should've been a touchdown, while another could have been a routine 5-yard completion. Brown also had poor timing with Newton, as the two barely connected (one catch, five yards). I thought there was a chance that Brown could be a sleeper in the wake of Kelvin Benjamin's season-ending injury, but I don't think he can be touched in 12-team leagues at this point.


Yet another underwhelming performance by Jonathan Stewart. The Panther back mustered just 12 yards on seven carries, and all but one of those yards came on just one attempt. Stewart was blown up on consecutive short-yard conversions; the first by Chandler Jones, the next by Jamie Collins. Second-year defensive lineman Dominique Easley was also impressive.


A couple of Carolina defenders are worth mentioning as well. Kony Ealy, starting in place of Frank Alexander, recorded another sack. Meanwhile, rookie linebacker Shaq Thompson was all over the field. He put pressure on Brady when he blitzed, and he also flashed in coverage.


I love making fun of preseason announcers, and the Carolina play-by-play guy was particularly peculiar. He started off strong by ripping on Brady:

"Worry not, with all Tom Brady has accomplished, his ego is always properly inflated."

Burn! However, after that, this guy had a couple of quotes that sounded like they could've come from Matt Millen:

"Bill Belichick wants Tom Brady to get lathered up, and he thinks tonight is the tonight."

What is this, Prom Night for Belichick?

"Jonas Gray gets jacked up on second and bangable."

I've spent the past few hours trying to decipher what this means, and yet I still have no clue. It sounds like this guy wants to give it to Jonas Gray, but why on second down?

Follow me @walterfootball for updates.




Lions 22, Jaguars 17
Blake Bortles was, without a doubt, the story of this game. Bortles had looked good in his first two preseason outings, yet he was at his best in the team's dress rehearsal. He was extremely sharp, leading the Jaguars on three separate scoring drives, as well as another possession that appeared as though it would've produced points had time not expired at the end of the first half.

Bortles opened the game by spinning away from a sack and scrambling for a first down. He then converted a third down, though it appeared as though Allen Hurns had just one foot inbounds upon making the reception. However, Detroit head coach Jim Caldwell was taking a nap, so he didn't throw the challenge flag. On the following possession, Bortles and Hurns drew a long pass interference flag on Rashean Mathis, who didn't have a good performance in his return to Jacksonville. The Jaguars scored a touchdown a couple of plays later, and they nearly had another on the next drive, but Allen Robinson dropped a touchdown.

Bortles went 20-of-29 for 245 yards and a touchdown to go along with four scrambles for 38 rushing yards in two-and-a-half quarters of action versus Detroit. He was every bit as good as those numbers indicate, which is not surprising at all. Offensive coordinator Greg Olson has turned water into wine before in terms of coaching up lesser quarterbacks, yet now he has a true talent in Bortles, who made only a couple of bad throws in this game. Bortles projects to be a solid QB2 with upside because of his rushing ability.

Here were Bortles' targets:

Rashad Greene: 3
Clay Harbor: 4
Allen Hurns: 5 (2 end zone)
Nic Jacobs: 2
Marcedes Lewis: 3
Allen Robinson: 7 (2 end zone)
Denard Robinson: 3
Tony Washington: 1
T.J. Yeldon: 1


If there's one dark cloud over Bortles' performance, it's the play of left tackle Luke Joeckel. The former No. 2 overall pick was fine in previous exhibition games this summer, but he took a huge step backward against the Lions. He had major issues blocking Phillip Hunt, who isn't even a starter in this league.


The lead story in this contest was nearly an injury to Allen Robinson; the second-year receiver took a big hit from linebacker Stephen Tulloch. He was down for a couple of minutes with what appeared to be a hurt shoulder. Fortunately, he reentered the game a few plays later. He didn't look good when he dropped a touchdown in the end zone, but he snatched a reception on the following drive, so he appeared to be fine. Robinson caught two balls for 14 yards, but led the team in targets (7).


Allen Hurns was inconsistent last season, but he was just an undrafted rookie free agent. Perhaps he'll be better in his sophomore campaign, and it seems as though that'll be the case, if this performance was any indication. Hurns led the starters with four catches for 42 yards and a touchdown. He also drew a long pass interference flag that set up another score. With Marqise Lee injured/lazy, Hurns has a real opportunity to be a viable fantasy option.


T.J. Yeldon made his NFL preseason debut, and he had an up-and-down performance. The good news is that he scored a touchdown and was on the field on third downs. He had a nice block in blitz pick-up, and he also caught a 12-yard pass in which he broke out of a Darius Slay tackle to pick up the first down. The bad news is Yeldon managed just 10 yards on eight carries, and on his score, he barely broke the plane - it was reviewed and couldn't be overturned because of a lack of evidence - and then coughed up the football. Yeldon simply didn't have any running room, which has to be disconcerting for the Jaguars because the Lions were missing Haloti Ngata.


As for the Lions' offense, Calvin Johnson was once again sidelined as a healthy scratch. This didn't prevent Matthew Stafford from lighting up Jacksonville's defense. He went 11-of-15 for 173 yards and two touchdowns in exactly one half of action. He had just one poor attempt in which he missed Ameer Abdullah, who was streaking down the sideline after blowing by a linebacker.

Here were Stafford's targets:

Ameer Abdullah: 2
Corey Fuller: 1 (1 end zone)
Emil Igwenagu: 1
Lance Moore: 1
Brandon Pettigrew: 2
Theo Riddick: 1
Greg Salas: 4
Golden Tate: 4


As for Ameer Abdullah, he was on the field during the first drive. He was removed from the game on a third-and-1, which saw George Winn try a short-yardage attempt. Abdullah was then given a second carry after Winn converted. Theo Riddick then subbed in, and then Abdullah came back. Long story short, the Lions ran what was the definition of a running back by committee. Abdullah, who picked up eight yards on three carries to go along with a 21-yard reception, will be splitting touches with Joique Bell during the regular season, making him unappealing at his fourth-round ADP.


With Megatron out, Stafford predictably focused on Golden Tate, who once again dominated the stat sheet. Tate secured three passes for 91 yards and a touchdown. He torched Aaron Colvin on the score, a 62-yarder.


Detroit backup running back Zach Zenner continued his outstanding preseason. He tallied 85 yards and a touchdown on just eight carries. Some are wondering if he's on the roster bubble, and I'd say it's a 100-percent lock he makes it. The supposed battle is apparently between Zenner and Winn, a terrific special-teamer, but I'm thinking the Lions may want to keep Zenner over Riddick, who isn't anything special.


CBS play-by-play guy Kevin Harlan has always been one of the best announcers, in my mind, but I think he's starting to slip. He made some unusual mistakes during the telecast. A small one early was calling Allen Hurns "Allen Hurst," but then he repeatedly said that Stefen Wisniewski was Detroit's center. He also appeared to forget Jim Nantz name after Nantz narrated a 2-minute analysis on the latest golf tournament. Then again, maybe Harlan fell asleep because golf is so incredibly boring.

Follow me @walterfootball for updates.


2015 Preseason Notes: Week 1 | Week 2 | Week 3 | Week 4
2015 Fantasy Football Stock Pages: Preseason Stock Week 1 | Preseason Stock Week 2 | Preseason Stock Week 3 | Preseason Stock Week 4 | Training Camp Stock









More 2015 Fantasy Football Articles:
Fantasy Football Rankings

2015 Fantasy Football Rankings:
2015 Fantasy Football Rankings: Quarterbacks - 9/10 (Walt)
Chet Gresham's Fantasy Football Quarterback Rankings - 9/4 (Chet)
2015 Fantasy Football Rankings: Running Backs - 9/10 (Walt)
Chet Gresham's Fantasy Football Running Back Rankings - 9/4 (Chet)
2015 Fantasy Football Rankings: Wide Receivers - 9/10 (Walt)
Chet Gresham's Fantasy Football Wide Receiver Rankings - 9/4 (Chet)
2015 Fantasy Football Rankings: Tight Ends - 9/10 (Walt)
Chet Gresham's Fantasy Football Tight End Rankings - 9/4 (Chet)
Chet Gresham's Fantasy Football Flex Rankings - 9/4 (Chet)
2015 Fantasy Football PPR Rankings - 9/4 (Chet)
2015 Fantasy Football Rankings: Defenses - 8/27 (Walt)
2015 Fantasy Football Rankings: Kickers - 8/27 (Walt)
Fantasy Football Rookie Rankings - 5/14 (Walt)
Fantasy Football Rookie Rankings: Dynasty - 5/14 (Walt)



2015 Fantasy Football Mock Drafts:
2015 Fantasy Football Mock Draft Simulator - 9/10 (Walt)
2015 Fantasy Football Mock Draft - 9/3 (Walt)
2015 Fantasy Football Mock Draft - 8/27 (Walt)
2015 Fantasy Football Mock Draft - 8/20 (Walt)
2015 Fantasy Football Mock Draft - 8/13 (Walt)
2015 Fantasy Football Experts Draft - 8/11 (Chet)
2015 Fantasy Football Mock Draft - 8/7 (Walt)
2015 Fantasy Football Mock Draft - 8/6 (Chet)
2015 Fantasy Football Mock Draft - 7/31 (Walt)
2015 Fantasy Football Mock Draft - 7/23 (Walt)
2015 Fantasy Football Mock Draft (2-QB) - 7/15 (Chet)
2015 Fantasy Football Mock Draft (PPR) - 7/6 (Chet)



2015 Fantasy Football Cheat Sheets:
2015 Fantasy Football Cheat Sheet: Top 250 - 9/10 (Walt)
2015 Fantasy Football Cheat Sheet: Top 250 PPR - 9/10 (Walt)
2015 Fantasy Football Cheat Sheet: Top 250 2-QB - 9/10 (Walt)
2015 Fantasy Football Cheat Sheet: Top 250 Touchdown League - 9/10 (Walt)
2015 Fantasy Football Cheat Sheet: Custom - 9/10 (Walt)
2015 Fantasy Football: Dynasty Rankings - 9/10 (Walt)
Chet Gresham's Fantasy Football Top 200 Rankings - 9/4 (Chet)
Chet Gresham's 2015 Fantasy Football Positional Cheat Sheet - 9/4 (Chet)
Chet Gresham's 2015 Fantasy Football Overall Cheat Sheet - 9/4 (Chet)

2015 Fantasy Football Articles:
2015 Fantasy Football Stock Report: Training Camp - 9/10 (Walt)
Fantasy Football Tight End Matchup Chart: Week 1 - 9/9 (Chet)
Fantasy Football Wide Receiver Matchup Chart: Week 1 - 9/8 (Chet)
2015 Fantasy Football Sleepers - 9/8 (Walt)
Fantasy Football Running Back Matchup Chart: Week 1 - 9/7 (Chet)
Fantasy Football Quarterback Matchup Chart: Week 1 - 9/6 (Chet)
2015 NFL Preseason Recap, Fantasy Football Notes - 9/4 (Walt)
2015 Fantasy Football Preseason Stock - 9/4 (Walt)
2015 Fantasy Football Quarterback Targets - 9/4 (Walt)
2015 Fantasy Football Busts - 9/4 (Walt)
2015 Fantasy Football Goal-Line Running Backs - 9/3 (Chet)
2015 Fantasy Football News - 9/1 (Chet)
2015 Fantasy Football: Better Than ADP - 8/31 (Chet)
Daily Fantasy Football: Running Backs - 8/27 (Chet)
2015 Fantasy Football: Late-Round Running Back Fliers - 8/24 (Chet)
2015 Fantasy Football Fallout: Jordy Nelson Injury - 8/24 (Chet)
2015 Fantasy Football Players to Target - 8/22 (Chet)
2015 Fantasy Football Spreadsheets - 8/22 (Walt)
2015 Fantasy Football Round-by-Round Strategy Guide - 8/20 (Walt)
2015 Fantasy Football: The Perfect Draft - 8/20 (Chet)
2015 Fantasy Football Players to Avoid: LeSean McCoy - 8/18 (Chet)
2015 Fantasy Football Values: Wide Receivers - 8/14 (Chet)
Daily Fantasy Football: Wide Receivers - 7/29 (Chet)
2015 Fantasy Football Value Profile: Brian Quick - 7/22 (Walt)
2015 Fantasy Football Value Profile: Eli Manning - 7/17 (Walt)
Daily Fantasy Football: A Primer - 7/10 (Chet)
2015 Fantasy Football Value Profile: Jarvis Landry - 7/7 (Walt)
Fantasy Football Offseason Stock Report: Up - 5/15 (Walt)
Fantasy Football Offseason Stock Report: Down - 5/15 (Walt)
2015 Fantasy Football: First-Round Bust History - 2/17 (Walt)
2015 Fantasy Football: Overdrafted Players - 2/15 (Walt)
2015 Fantasy Football: Running Backs with Most Carries - 2/15 (Walt)






NFL Picks - Jan. 16


2021 NFL Mock Draft - Jan. 13


Fantasy Football Rankings - Jan. 11


2022 NFL Mock Draft - Nov. 15


NFL Power Rankings - Nov. 14


2020 College Football Recruiting Rankings - April 14


2020 NBA Mock Draft - Sept. 27