July 31, 2015.
This is a PPR 2015 Fantasy Football Mock Draft I took part in with 11 other members of the forum and followers on Twitter. As usual, I'll have analysis of my picks, as well as the best and worst selections every two rounds.
Just a heads up that we have 2015 Fantasy Football Mock Drafts every Wednesday evening. Check out the
fantasy mock draft thread
for details.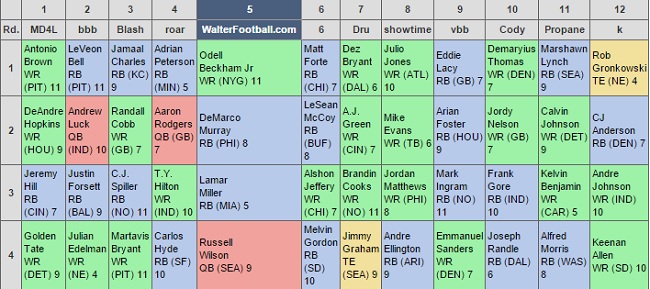 MY PICKS, ROUNDS 1-2: My selection of Odell Beckham Jr. at No. 5 caught some criticism. I guess those people forgot how utterly dominant Beckham was last season. Richard Sherman couldn't even cover him. I will admit that there is some risk of a sophomore slump, but if Beckham happened to be more of a guaranteed thing, he'd be my top choice in PPR formats, thanks to Le'Veon Bell's suspension.
My other pick was more conventional, though I don't really like DeMarco Murray. However, he was the top player available, so I almost had to choose him.
BEST PICKS, ROUNDS 1-2: I had to check to make sure LeSean McCoy wasn't taken when "6" was on the clock. I would've taken McCoy if he made it to me. Elsewhere, Arian Foster and Calvin Johnson seem like steals in Round 2.
WORST PICKS, ROUNDS 1-2: Demaryius Thomas was chosen too early; Cody may have gotten him at 2.03 instead of 1.10. DeAndre Hopkins was also a reach, but then again, he wouldn't have been available for MD4L at the end of the fourth round.
MY PICKS, ROUNDS 3-4: Lamar Miller is my best pick thus far; he'll have more volume this upcoming season. As for the fourth round, I panicked. I wanted either Jimmy Graham or Melvin Gordon, yet they both went right before me. There were a few options I considered, and I knew I could probably get Russell Wilson in the fifth frame, but I wasn't in love with anyone else, so I just settled for Wilson there.
BEST PICKS, ROUNDS 3-4: The Graham and Gordon picks, obviously. I also really liked the Jeremy Hill and Justin Forsett selections, as I would've considered them at 3.05.
WORST PICKS, ROUNDS 3-4: Martavis Bryant has loads of potential, but he does not belong in the fourth round. I'm afraid he's going to be like Cordarrelle Patterson last year - a hyped receiver with no history of production who will be taken way too early in fantasy drafts because sites like Rotoworld are pimping him. This happened with Patterson in 2014, and it's likely that Bryant will disappoint this season.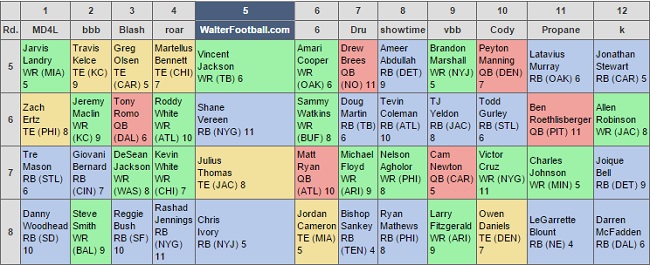 MY PICKS, ROUNDS 5-6: I needed a second receiver, and Vincent Jackson was the best one available. I considered Shane Vereen in the fifth round, so I was happy to get him in the sixth. Vereen is going to catch a ton of passes this year as Eli Manning's safety valve.
BEST PICKS, ROUNDS 5-6: I took Jackson, but I wanted Jarvis Landry as my fifth-round selection. I'm jealous of MD4L's receiving corps. I was also going to look at Greg Olsen at 5.05. Meanwhile, Tony Romo and Sammy Watkins appear to be sixth-round steals.
WORST PICKS, ROUNDS 5-6: Ameer Abdullah was chosen too early. He could be good, but Joique Bell is going to receive the majority of the workload, at least at the beginning of the season. There's some risk with Tevin Coleman as well. I don't like Showtime's running back group.
MY PICKS, ROUNDS 7-8: How was Julius Thomas available in the seventh round. Offensive coordinator Greg Olson is going to improve Blake Bortles' game, making Thomas a decent option. Meanwhile, I like Chris Ivory a lot as an RB4. He's a starting running back, after all, and it's not like he's terrible.
BEST PICKS, ROUNDS 7-8: It's crazy that Joique Bell, Detroit's starting runner, was taken two rounds after his backup. LeGarrette Blount is another back who provided lots of value. Also, Larry Fitzgerald was going to be a target of mine at 8.08.
WORST PICKS, ROUNDS 7-8: During the draft, Cody asked everyone if they ever thought cartoon characters were attractive. Well, he must have been distracted by anime porn when making his selections. Victor Cruz is done, while Owen Daniels is doner (not a word, but whatever). I don't know why he chose these players this early. The Darren McFadden picks sucks as well.

MY PICKS, ROUNDS 9-10: Two solid receivers. Nothing to write home about, but these guys are acceptable starting options in the event of injuries and/or bye weeks. I needed reliable depth at wideout.
BEST PICKS, ROUNDS 9-10: I was hoping to sneak Tom Brady onto my roster in Round 10. Good job by "K" snatching him up. I like the Matthew Stafford pick as well.
WORST PICKS, ROUNDS 9-10: More anime porn for Cody? Why is he taking a handcuff in Round 9? He doesn't even own Jamaal Charles! Oh, and the defense pick sucks, too. Also: Duke Johnson before Isaiah Crowell? I'm not so sure about that one.
MY PICKS, ROUNDS 11-12: Another receiver, but Kendall Wright has more upside. Marcus Mariota could be very good as a rookie - check out my
NFL Quarterback Power Rankings
- and it's not like he'll have anyone else to throw to. As for Joe Flacco, he's one of the better QB2s. If Russell Wilson gets hurt, I won't have much to worry about.
BEST PICKS, ROUNDS 11-12: Some of these buy-low receivers like Pierre Garcon, Marques Colston and Torrey Smith could end up being steals. Roy Helu was someone I was considering in the 12th round.
WORST PICKS, ROUNDS 11-12: Defense selections are bad again, but at least the Jets will have the luxury of beating up on the Browns in Week 1.

MY PICKS, ROUNDS 13-15: I'm getting a team's No. 1 receiver in the 13th round. I understand it's a Ram, but Brian Quick is pretty talented, and he produced last year before getting hurt. After that, defense and kicker. Whatever.
BEST PICKS, ROUNDS 13-15: High-upside picks include: Ladarius Green, Marcus Mariota, Terrance Williams, Cameron Artis-Payne, Donte Moncrief.
WORST PICKS, ROUNDS 13-15: Low-upside picks include: Fred Jackson, Nick Foles, Josh Hill, Michael Crabtree. There's no reason to draft low-upside players like these in the final three rounds. Swing for the fences instead.
My Fantasy Team:
QB - Russell Wilson, Seahawks
RB - DeMarco Murray, Eagles
RB - Lamar Miller, Dolphins
WR - Odell Beckham Jr., Giants
WR - Vincent Jackson, Buccaneers
RB/WR - Shane Vereen, RB, Giants
TE - Julius Thomas, Jaguars
K - Matt Bryant, Falcons
DEF - Vikings Defense
BN - Chris Ivory, RB, Jets
BN - Anquan Boldin, WR, 49ers
BN - Eric Decker, WR, Jets
BN - Kendall Wright, WR, Titans
BN - Joe Flacco, QB, Ravens
BN - Brian Quick, WR, Rams
I don't really like this team, but I don't hate it. I was in no-man's land in the first round when I took Odell Beckham. He was the best player on my list, but there was a dropoff after the top four running backs. Meanwhile, DeMarco Murray is not someone I like very much, but I somehow keep selecting him in these fantasy mocks.
The rest of the roster isn't bad. I have a higher-tier quarterback and tight end, and I don't feel as though I'm weak anywhere. This team just doesn't excite me very much.
More 2015 Fantasy Football Articles:
Fantasy Football Rankings
2015 Fantasy Football Rankings:
2015 Fantasy Football Rankings: Quarterbacks
- 9/10 (Walt)
Chet Gresham's Fantasy Football Quarterback Rankings
- 9/4 (Chet)
2015 Fantasy Football Rankings: Running Backs
- 9/10 (Walt)
Chet Gresham's Fantasy Football Running Back Rankings
- 9/4 (Chet)
2015 Fantasy Football Rankings: Wide Receivers
- 9/10 (Walt)
Chet Gresham's Fantasy Football Wide Receiver Rankings
- 9/4 (Chet)
2015 Fantasy Football Rankings: Tight Ends
- 9/10 (Walt)
Chet Gresham's Fantasy Football Tight End Rankings
- 9/4 (Chet)
Chet Gresham's Fantasy Football Flex Rankings
- 9/4 (Chet)
2015 Fantasy Football PPR Rankings
- 9/4 (Chet)
2015 Fantasy Football Rankings: Defenses
- 8/27 (Walt)
2015 Fantasy Football Rankings: Kickers
- 8/27 (Walt)
Fantasy Football Rookie Rankings
- 5/14 (Walt)
Fantasy Football Rookie Rankings: Dynasty
- 5/14 (Walt)
2015 Fantasy Football Mock Drafts:
2015 Fantasy Football Mock Draft Simulator
- 9/10 (Walt)
2015 Fantasy Football Mock Draft
- 9/3 (Walt)
2015 Fantasy Football Mock Draft
- 8/27 (Walt)
2015 Fantasy Football Mock Draft
- 8/20 (Walt)
2015 Fantasy Football Mock Draft
- 8/13 (Walt)
2015 Fantasy Football Experts Draft
- 8/11 (Chet)
2015 Fantasy Football Mock Draft
- 8/7 (Walt)
2015 Fantasy Football Mock Draft
- 8/6 (Chet)
2015 Fantasy Football Mock Draft
- 7/31 (Walt)
2015 Fantasy Football Mock Draft
- 7/23 (Walt)
2015 Fantasy Football Mock Draft (2-QB)
- 7/15 (Chet)
2015 Fantasy Football Mock Draft (PPR)
- 7/6 (Chet)
2015 Fantasy Football Cheat Sheets:
2015 Fantasy Football Cheat Sheet: Top 250
- 9/10 (Walt)
2015 Fantasy Football Cheat Sheet: Top 250 PPR
- 9/10 (Walt)
2015 Fantasy Football Cheat Sheet: Top 250 2-QB
- 9/10 (Walt)
2015 Fantasy Football Cheat Sheet: Top 250 Touchdown League
- 9/10 (Walt)
2015 Fantasy Football Cheat Sheet: Custom
- 9/10 (Walt)
2015 Fantasy Football: Dynasty Rankings
- 9/10 (Walt)
Chet Gresham's Fantasy Football Top 200 Rankings
- 9/4 (Chet)
Chet Gresham's 2015 Fantasy Football Positional Cheat Sheet
- 9/4 (Chet)
Chet Gresham's 2015 Fantasy Football Overall Cheat Sheet
- 9/4 (Chet)
2015 Fantasy Football Articles:
2015 Fantasy Football Stock Report: Training Camp
- 9/10 (Walt)
Fantasy Football Tight End Matchup Chart: Week 1
- 9/9 (Chet)
Fantasy Football Wide Receiver Matchup Chart: Week 1
- 9/8 (Chet)
2015 Fantasy Football Sleepers
- 9/8 (Walt)
Fantasy Football Running Back Matchup Chart: Week 1
- 9/7 (Chet)
Fantasy Football Quarterback Matchup Chart: Week 1
- 9/6 (Chet)
2015 NFL Preseason Recap, Fantasy Football Notes
- 9/4 (Walt)
2015 Fantasy Football Preseason Stock
- 9/4 (Walt)
2015 Fantasy Football Quarterback Targets
- 9/4 (Walt)
2015 Fantasy Football Busts
- 9/4 (Walt)
2015 Fantasy Football Goal-Line Running Backs
- 9/3 (Chet)
2015 Fantasy Football News
- 9/1 (Chet)
2015 Fantasy Football: Better Than ADP
- 8/31 (Chet)
Daily Fantasy Football: Running Backs
- 8/27 (Chet)
2015 Fantasy Football: Late-Round Running Back Fliers
- 8/24 (Chet)
2015 Fantasy Football Fallout: Jordy Nelson Injury
- 8/24 (Chet)
2015 Fantasy Football Players to Target
- 8/22 (Chet)
2015 Fantasy Football Spreadsheets
- 8/22 (Walt)
2015 Fantasy Football Round-by-Round Strategy Guide
- 8/20 (Walt)
2015 Fantasy Football: The Perfect Draft
- 8/20 (Chet)
2015 Fantasy Football Players to Avoid: LeSean McCoy
- 8/18 (Chet)
2015 Fantasy Football Values: Wide Receivers
- 8/14 (Chet)
Daily Fantasy Football: Wide Receivers
- 7/29 (Chet)
2015 Fantasy Football Value Profile: Brian Quick
- 7/22 (Walt)
2015 Fantasy Football Value Profile: Eli Manning
- 7/17 (Walt)
Daily Fantasy Football: A Primer
- 7/10 (Chet)
2015 Fantasy Football Value Profile: Jarvis Landry
- 7/7 (Walt)
Fantasy Football Offseason Stock Report: Up
- 5/15 (Walt)
Fantasy Football Offseason Stock Report: Down
- 5/15 (Walt)
2015 Fantasy Football: First-Round Bust History
- 2/17 (Walt)
2015 Fantasy Football: Overdrafted Players
- 2/15 (Walt)
2015 Fantasy Football: Running Backs with Most Carries
- 2/15 (Walt)
Fantasy Football Rankings
- Aug. 10
2023 NFL Mock Draft
- Aug. 2
2022 NBA Mock Draft
- June 23
NFL Power Rankings
- June 5
NFL Picks
- Feb. 13