Aug. 20, 2015.
This is a PPR 2015 Fantasy Football Mock Draft I took part in with 11 other members of the forum and followers on Twitter. As usual, I'll have analysis of my picks, as well as the best and worst selections every two rounds.
Just a heads up that we have 2015 Fantasy Football Mock Drafts every Wednesday evening. Check out the
fantasy mock draft thread
for details.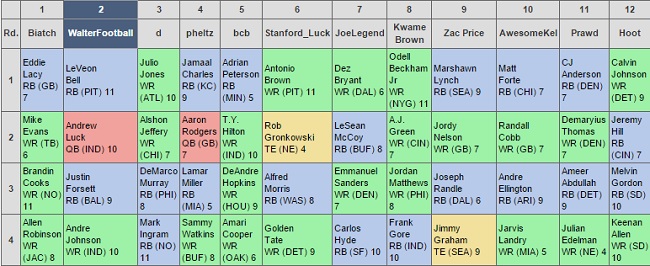 MY PICKS, ROUNDS 1-2: I wanted the second selection because I haven't drafted from an early spot in any of my mocks yet. Le'Veon Bell is the obvious second-overall choice, as he's going to be a monstrous producer once he returns from suspension.
As for Andrew Luck, I caught some flak for taking him over a receiver. Luck was my top player available, and I didn't want to pass on him. Sure, wideouts are important in PPR formats, but quarterbacks still post the most points, and I'm confident that Luck would help me secure many victories, if, you know, this mock were real.
BEST PICKS, ROUNDS 1-2: Antonio Brown should never make it to the sixth spot in any PPR draft. He's an obvious top-three choice in the format. Calvin Johnson was also a bargain at 1.12.
WORST PICKS, ROUNDS 1-2: I like Julio Jones a lot, but No. 3 overall? That was a shocker. I also didn't like the LeSean McCoy selection. For more on why
LeSean McCoy is someone to avoid
, click the link.
MY PICKS, ROUNDS 3-4: No receivers after three rounds is risky, but I wasn't in love with any of the receivers available. Someone I did want on my fantasy roster, however, was Justin Forsett, who is going to catch a billion passes in Marc Trestman's offense. You'll want him if you're in a PPR format.
I finally obtained my first wideout in Round 4. Better late than never, I guess. Andre Johnson figures to be a reliable possession target for Luck, so I'd look forward to the double points whenever Luck and Johnson connected if, you know, if this mock were real.
BEST PICKS, ROUNDS 3-4: The two receivers I really wanted at 4.11 were Golden Tate and Sammy Watkins. Stanford_Luck and Pheltz broke my heart.
WORST PICKS, ROUNDS 3-4: There's only one pick I hate in these two rounds, and that would be Mark Ingram at 4.10. Ingram played for a contract last year, so now that he was paid, he could regress. He's not someone you'd want to own in a PPR format, anyway.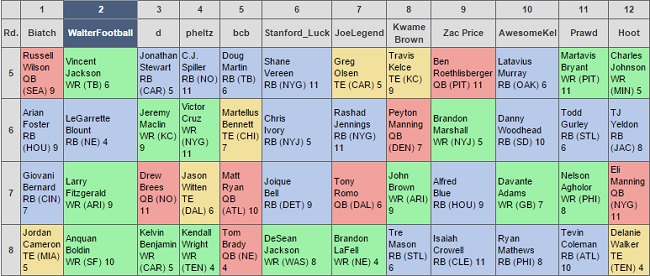 MY PICKS, ROUNDS 5-6: Another receiver. Vincent Jackson is a candidate of mine to bounce back. Or, was, maybe. I'm not as confident after seeing Jameis Winston crap the bed in his first preseason game.
LeGarrette Blount didn't play in his exhibition opener, but he should be a solid flex option Week 3 onward. Unfortunately, both he and Le'Veon Bell will be unavailable for me in Week 1. Hopefully I'll think of stuff like that in real-live drafts. BEST PICKS, ROUNDS 5-6: There were some quality running back selections made in Round 5, including Doug Martin, Shane Vereen and Latavius Murray.
WORST PICKS, ROUNDS 5-6: Arian Foster may look like the worst pick, but Biatch was dealing with a glitch. He said he wanted Joique Bell instead. The actual worst pick was Victor Cruz, who is going to struggle off a torn patellar tendon.
MY PICKS, ROUNDS 7-8: Following these two receiver selections, someone commented, "Walt has the oldest receiving corps I've ever seen." Aged to perfection, maybe. The way I see it, these old geezers are now possession receivers, so the catches would come in handy.
BEST PICKS, ROUNDS 7-8: Tony Romo and Joique Bell were my favorite picks of these two rounds. Romo is underrated, as the Cowboys will have to throw more this year, while Bell is still going to be heavily involved on offense as Ameer Abdullah gains experience.
WORST PICKS, ROUNDS 7-8: Kelvin Benjamin? I wonder if "D" thought he was getting a mega steal with Benjamin in the eighth round. Should've read the news, bud. Or, at the very, least, checked out my
Disaster Grade for Kelvin Benjamin's ACL tear
.

MY PICKS, ROUNDS 9-10: Devonta Freeman is the slight favorite to start in Atlanta, so I figured he was worth a shot in the ninth round. The Brian Quick pick, however, was a mistake; I wanted a tight end and a backup quarterback (Joe Flacco) in the Round 9-10 exchange, but I selected Quick by accident. I would have taken Kyle Rudolph instead.
BEST PICKS, ROUNDS 9-10: The tight ends I was targeting were Julius Thomas and Tyler Eifert, however. So much for stealing them at the end of Round 10. Oh well. Stevie Johnson was someone else I would've considered, as he's one of my top
Fantasy Football Sleepers
.
WORST PICKS, ROUNDS 9-10: Reggie Bush is a wasted pick, as is any defense in the 10th round.
MY PICKS, ROUNDS 11-12: Taking the wrong player by accident proved to be costly, as I ended up with a scrub tight end as a starter. I really wanted Joe Flacco, though. He's going to have a career year under Marc Trestman, and I wanted a nice insurance policy just in case Andrew Luck gets hurt.
BEST PICKS, ROUNDS 11-12: Jonas Gray had a nice preseason debut and could be a big producer if LeGarrette Blount slips up, so I liked that pick. There's plenty of upside with the Ronnie Hillman, Roy Helu, Breshad Perriman and Markus Wheaton selections as well.
WORST PICKS, ROUNDS 11-12: I don't know why so many people took backup tight ends. The tight end position produces the fewest amount of fantasy points, so unless you have a very shaky starter, there's no reason to draft a backup. You can easily pick up someone who's OK.
Elsewhere, I didn't like the DeAngelo Williams and Darren McFadden selections. Both are washed-up backs who probably won't do anything this year.

MY PICKS, ROUNDS 13-15: I definitely needed a backup tight end just in case Vernon Davis sucks again. Eric Ebron has had glowing reports in training camp, so perhaps I'll have a steal on my hands.
BEST PICKS, ROUNDS 13-15: High-upside picks include: Devin Funchess, Montee Ball, Andre Williams, Antonio Gates, Phillip Dorsett, Brandon Coleman and Matt Jones.
WORST PICKS, ROUNDS 13-15: Low-upside picks include: Jameis Winston, Heath Miller and Kevin White. Actually, White offers no upside because he probably won't even play.
My Fantasy Team:
QB - Andrew Luck, Colts
RB - Le'Veon Bell, Steelers
RB - Justin Forsett, Ravens
WR - Andre Johnson, Colts
WR - Vincent Jackson, Buccaneers
RB/WR - LeGarrette Blount, RB, Patriots
TE - Vernon Davis, TE, 49ers
K - Dan Bailey, K, Cowboys
DEF - Panthers Defense
BN - Larry Fitzgerald, WR, Cardinals
BN - Anquan Boldin, WR, 49ers
BN - Devonta Freeman, RB, Falcons
BN - Brian Quick, WR, Rams
BN - Joe Flacco, QB, Ravens
BN - Eric Ebron, TE, Lions
I should be in good shape beginning in Week 3. Le'Veon Bell and Andrew Luck are almost two can't-miss fantasy players, so they should be able to carry my team. I also think that Justin Forsett will post monster numbers in Baltimore's new offense.
Receivers and especially tight ends are a weak point. This is unfortunate in a PPR format, but I feel as though I'm strong enough at the other positions to offset that. Besides, I don't think my wideouts are terrible in a PPR setting; as I mentioned, they're all possession receivers, so they should be able to rack up catches.
More 2015 Fantasy Football Articles:
Fantasy Football Rankings
2015 Fantasy Football Rankings:
2015 Fantasy Football Rankings: Quarterbacks
- 9/10 (Walt)
Chet Gresham's Fantasy Football Quarterback Rankings
- 9/4 (Chet)
2015 Fantasy Football Rankings: Running Backs
- 9/10 (Walt)
Chet Gresham's Fantasy Football Running Back Rankings
- 9/4 (Chet)
2015 Fantasy Football Rankings: Wide Receivers
- 9/10 (Walt)
Chet Gresham's Fantasy Football Wide Receiver Rankings
- 9/4 (Chet)
2015 Fantasy Football Rankings: Tight Ends
- 9/10 (Walt)
Chet Gresham's Fantasy Football Tight End Rankings
- 9/4 (Chet)
Chet Gresham's Fantasy Football Flex Rankings
- 9/4 (Chet)
2015 Fantasy Football PPR Rankings
- 9/4 (Chet)
2015 Fantasy Football Rankings: Defenses
- 8/27 (Walt)
2015 Fantasy Football Rankings: Kickers
- 8/27 (Walt)
Fantasy Football Rookie Rankings
- 5/14 (Walt)
Fantasy Football Rookie Rankings: Dynasty
- 5/14 (Walt)
2015 Fantasy Football Mock Drafts:
2015 Fantasy Football Mock Draft Simulator
- 9/10 (Walt)
2015 Fantasy Football Mock Draft
- 9/3 (Walt)
2015 Fantasy Football Mock Draft
- 8/27 (Walt)
2015 Fantasy Football Mock Draft
- 8/20 (Walt)
2015 Fantasy Football Mock Draft
- 8/13 (Walt)
2015 Fantasy Football Experts Draft
- 8/11 (Chet)
2015 Fantasy Football Mock Draft
- 8/7 (Walt)
2015 Fantasy Football Mock Draft
- 8/6 (Chet)
2015 Fantasy Football Mock Draft
- 7/31 (Walt)
2015 Fantasy Football Mock Draft
- 7/23 (Walt)
2015 Fantasy Football Mock Draft (2-QB)
- 7/15 (Chet)
2015 Fantasy Football Mock Draft (PPR)
- 7/6 (Chet)
2015 Fantasy Football Cheat Sheets:
2015 Fantasy Football Cheat Sheet: Top 250
- 9/10 (Walt)
2015 Fantasy Football Cheat Sheet: Top 250 PPR
- 9/10 (Walt)
2015 Fantasy Football Cheat Sheet: Top 250 2-QB
- 9/10 (Walt)
2015 Fantasy Football Cheat Sheet: Top 250 Touchdown League
- 9/10 (Walt)
2015 Fantasy Football Cheat Sheet: Custom
- 9/10 (Walt)
2015 Fantasy Football: Dynasty Rankings
- 9/10 (Walt)
Chet Gresham's Fantasy Football Top 200 Rankings
- 9/4 (Chet)
Chet Gresham's 2015 Fantasy Football Positional Cheat Sheet
- 9/4 (Chet)
Chet Gresham's 2015 Fantasy Football Overall Cheat Sheet
- 9/4 (Chet)
2015 Fantasy Football Articles:
2015 Fantasy Football Stock Report: Training Camp
- 9/10 (Walt)
Fantasy Football Tight End Matchup Chart: Week 1
- 9/9 (Chet)
Fantasy Football Wide Receiver Matchup Chart: Week 1
- 9/8 (Chet)
2015 Fantasy Football Sleepers
- 9/8 (Walt)
Fantasy Football Running Back Matchup Chart: Week 1
- 9/7 (Chet)
Fantasy Football Quarterback Matchup Chart: Week 1
- 9/6 (Chet)
2015 NFL Preseason Recap, Fantasy Football Notes
- 9/4 (Walt)
2015 Fantasy Football Preseason Stock
- 9/4 (Walt)
2015 Fantasy Football Quarterback Targets
- 9/4 (Walt)
2015 Fantasy Football Busts
- 9/4 (Walt)
2015 Fantasy Football Goal-Line Running Backs
- 9/3 (Chet)
2015 Fantasy Football News
- 9/1 (Chet)
2015 Fantasy Football: Better Than ADP
- 8/31 (Chet)
Daily Fantasy Football: Running Backs
- 8/27 (Chet)
2015 Fantasy Football: Late-Round Running Back Fliers
- 8/24 (Chet)
2015 Fantasy Football Fallout: Jordy Nelson Injury
- 8/24 (Chet)
2015 Fantasy Football Players to Target
- 8/22 (Chet)
2015 Fantasy Football Spreadsheets
- 8/22 (Walt)
2015 Fantasy Football Round-by-Round Strategy Guide
- 8/20 (Walt)
2015 Fantasy Football: The Perfect Draft
- 8/20 (Chet)
2015 Fantasy Football Players to Avoid: LeSean McCoy
- 8/18 (Chet)
2015 Fantasy Football Values: Wide Receivers
- 8/14 (Chet)
Daily Fantasy Football: Wide Receivers
- 7/29 (Chet)
2015 Fantasy Football Value Profile: Brian Quick
- 7/22 (Walt)
2015 Fantasy Football Value Profile: Eli Manning
- 7/17 (Walt)
Daily Fantasy Football: A Primer
- 7/10 (Chet)
2015 Fantasy Football Value Profile: Jarvis Landry
- 7/7 (Walt)
Fantasy Football Offseason Stock Report: Up
- 5/15 (Walt)
Fantasy Football Offseason Stock Report: Down
- 5/15 (Walt)
2015 Fantasy Football: First-Round Bust History
- 2/17 (Walt)
2015 Fantasy Football: Overdrafted Players
- 2/15 (Walt)
2015 Fantasy Football: Running Backs with Most Carries
- 2/15 (Walt)
2022 NBA Mock Draft
- June 23
Fantasy Football Rankings
- June 15
2023 NFL Mock Draft
- June 14
NFL Power Rankings
- June 5
NFL Picks
- Feb. 13