Aug. 13, 2015.
This is a standard 2015 Fantasy Football Mock Draft I took part in with 11 other members of the forum and followers on Twitter. As usual, I'll have analysis of my picks, as well as the best and worst selections every two rounds.
Just a heads up that we have 2015 Fantasy Football Mock Drafts every Wednesday evening. Check out the
fantasy mock draft thread
for details.
MY PICKS, ROUNDS 1-2: I've realized that I can get both players I want in the first two rounds with the 12th and 13th picks. I'll be hoping for those selections in my real drafts this year. Oh, and I'm 4-for-4 in terms of taking Odell Beckham Jr. in my mocks. As Blash said in the chat, "You love Odell more than life." That is definitely accurate.
BEST PICKS, ROUNDS 1-2: It's kind of insane that Calvin Johnson made it to the middle of the second round. I would have considered him if Beckham had been off the board.
WORST PICKS, ROUNDS 1-2: Demaryius Thomas should not be chosen before Julio Jones, Odell Beckham and Megatron - not with Peyton Manning bound to continue regressing. I also don't like I Got 11's decision to go back-to-back wideouts. With the lack of depth at running back, it's difficult to justify that this year.
MY PICKS, ROUNDS 3-4: Like I said, there's a lack of depth at running back, so I had no issues choosing a pair in these two rounds. I was definitely taking Melvin Gordon, but LeGarrette Blount over both Jordan Matthews and Russell Wilson was a close call.
BEST PICKS, ROUNDS 3-4: I was jealous of some of the other running backs chosen in the third frame, namely Alfred Morris, Lamar Miller and Joseph Randle. Matthews and Wilson also make the cut for obvious reasons.
WORST PICKS, ROUNDS 3-4: There were a couple of sketchy picks here, including Jonathan Stewart and Mark Ingram, but the worst choice was easily Martavis Bryant. Taking him in the fourth round is a huge reach at this point.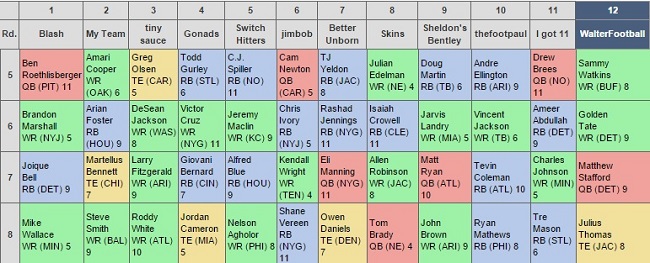 MY PICKS, ROUNDS 5-6: I think Sammy Watkins was my best pick in this mock draft. I just moved him up in my
Fantasy Football Wide Receiver Rankings
today, as there was a report that no one has been able to cover him in training camp. Golden Tate was the next-best available player, giving me solid depth at wideout.
BEST PICKS, ROUNDS 5-6: I think I would have selected one of the fifth-round quarterbacks if they had fallen to me. Greg Olsen would've been under consideration as well.
WORST PICKS, ROUNDS 5-6: A few players on my
Fantasy Football Busts
list were chosen in these two rounds: Victor Cruz, Brandon Marshall, Amari Cooper and DeSean Jackson. The Cruz pick is the worst of the bunch.
MY PICKS, ROUNDS 7-8: I went with Matthew Stafford, and I was very tempted to pick Tony Romo as well. That way, even though I chose a quarterback late, I would have been pretty much guaranteed a solid option each week. I couldn't really justify it though, especially with Joe Flacco as a realistic 11th-round option. Thus, I took a starting tight end.
BEST PICKS, ROUNDS 7-8: I liked the picks in Round 7 more than those in Round 6. Joique Bell, Allen Robinson and Charles Johnson are solid choices. Kendall Wright is No. 1 on my
Fantasy Football Sleepers
list. Shane Vereen is a strong selection in the middle of the eighth frame.
WORST PICKS, ROUNDS 7-8: I can't say there's anything terrible here, though Owen Daniels and Nelson Agholor were chosen too early. Also, it's worth noting that TheFootpaul wanted Charles Johnson, but was given Tevin Coleman instead for some reason.

MY PICKS, ROUNDS 9-10: Ideally, I would have gone with one running back and one receiver, but I didn't like any of the players available at the former position. I could live with Anquan Boldin and Stevie Johnson, though. Boldin is reliable, while Johnson is my No. 2 sleeper.
BEST PICKS, ROUNDS 9-10: Bishop Sankey and Devonte Freeman were the two running backs I was looking at as options in the Round 9-10 swing. Michael Floyd and Davante Adams would've been considered s well. Also, props to Gonads for snagging Tony Romo in the ninth round.
WORST PICKS, ROUNDS 9-10: Better Unborn? More like Better Undrafted. Kevin White hasn't practiced at all, so I don't see how he's going to see the field with John Fox on the sidelines. Also, shame on anyone who took a defense this early. Reggie Bush is a waste as well.
MY PICKS, ROUNDS 11-12: Here are the two running backs, and I don't mind them as fourth and fifth options. Roy Helu could emerge as Oakland's starter if Latavius Murray fails or gets hurt. Khiry Robinson is a nice value pick; Mark Ingram is bound to disappoint this year after signing a contract.
BEST PICKS, ROUNDS 11-12: Tiny Sauce ruined my Joe Flacco plan. TheFootPaul took my No. 3 sleeper. Tiny Sauce also did well in the 12th round, snagging Houston's potential starting running back.
WORST PICKS, ROUNDS 11-12: Excluding more bad defensive picks, I can pretty much get behind all of the selections. Nothing here is terrible.

MY PICKS, ROUNDS 13-15: No Joe Flacco, so why not Marcus Mariota, who's going to pick up a ton of rushing yards? After that, defense, kicker, blah blah. It's worth noting that if I had a 16th pick, it would've been Jordan Reed as a backup tight end.
BEST PICKS, ROUNDS 13-15: High-upside picks include: Cameron Artis-Payne, Marvin Jones, Montee Ball, Dorial Green-Beckham, Colin Kaepernick, Markus Wheaton, Jonas Gray.
WORST PICKS, ROUNDS 13-15: Low-upside picks include: Darren Sproles, Jameis Winston and especially Josh Hill. A tight end by committee in New Orleans? No thanks.
My Fantasy Team:
QB - Matthew Stafford, Lions
RB - Jeremy Hill, Bengals
RB - Melvin Gordon, Chargers
WR - Odell Beckham Jr., Giants
WR - Sammy Watkins, Bills
RB/WR - LeGarrette Blount, RB, Patriots
TE - Julius Thomas, Jaguars
K - Nick Novak, Chargers
DEF - Panthers Defense
BN - Golden Tate, WR, Lions
BN - Anquan Boldin, WR, 49ers
BN - Stevie Johnson, WR, Chargers
BN - Roy Helu, RB, Raiders
BN - Khiry Robinson, RB, Saints
BN - Marcus Mariota, QB, Titans
I think this is a good team. My receivers are stacked, and my running backs are pretty solid. My weakest position is quarterback, and that's not in terrible shape. Matthew Stafford figures to rebound off a down year because of a better offensive line, while Marcus Mariota could have a strong rookie campaign.
More 2015 Fantasy Football Articles:
Fantasy Football Rankings
2015 Fantasy Football Rankings:
2015 Fantasy Football Rankings: Quarterbacks
- 9/10 (Walt)
Chet Gresham's Fantasy Football Quarterback Rankings
- 9/4 (Chet)
2015 Fantasy Football Rankings: Running Backs
- 9/10 (Walt)
Chet Gresham's Fantasy Football Running Back Rankings
- 9/4 (Chet)
2015 Fantasy Football Rankings: Wide Receivers
- 9/10 (Walt)
Chet Gresham's Fantasy Football Wide Receiver Rankings
- 9/4 (Chet)
2015 Fantasy Football Rankings: Tight Ends
- 9/10 (Walt)
Chet Gresham's Fantasy Football Tight End Rankings
- 9/4 (Chet)
Chet Gresham's Fantasy Football Flex Rankings
- 9/4 (Chet)
2015 Fantasy Football PPR Rankings
- 9/4 (Chet)
2015 Fantasy Football Rankings: Defenses
- 8/27 (Walt)
2015 Fantasy Football Rankings: Kickers
- 8/27 (Walt)
Fantasy Football Rookie Rankings
- 5/14 (Walt)
Fantasy Football Rookie Rankings: Dynasty
- 5/14 (Walt)
2015 Fantasy Football Mock Drafts:
2015 Fantasy Football Mock Draft Simulator
- 9/10 (Walt)
2015 Fantasy Football Mock Draft
- 9/3 (Walt)
2015 Fantasy Football Mock Draft
- 8/27 (Walt)
2015 Fantasy Football Mock Draft
- 8/20 (Walt)
2015 Fantasy Football Mock Draft
- 8/13 (Walt)
2015 Fantasy Football Experts Draft
- 8/11 (Chet)
2015 Fantasy Football Mock Draft
- 8/7 (Walt)
2015 Fantasy Football Mock Draft
- 8/6 (Chet)
2015 Fantasy Football Mock Draft
- 7/31 (Walt)
2015 Fantasy Football Mock Draft
- 7/23 (Walt)
2015 Fantasy Football Mock Draft (2-QB)
- 7/15 (Chet)
2015 Fantasy Football Mock Draft (PPR)
- 7/6 (Chet)
2015 Fantasy Football Cheat Sheets:
2015 Fantasy Football Cheat Sheet: Top 250
- 9/10 (Walt)
2015 Fantasy Football Cheat Sheet: Top 250 PPR
- 9/10 (Walt)
2015 Fantasy Football Cheat Sheet: Top 250 2-QB
- 9/10 (Walt)
2015 Fantasy Football Cheat Sheet: Top 250 Touchdown League
- 9/10 (Walt)
2015 Fantasy Football Cheat Sheet: Custom
- 9/10 (Walt)
2015 Fantasy Football: Dynasty Rankings
- 9/10 (Walt)
Chet Gresham's Fantasy Football Top 200 Rankings
- 9/4 (Chet)
Chet Gresham's 2015 Fantasy Football Positional Cheat Sheet
- 9/4 (Chet)
Chet Gresham's 2015 Fantasy Football Overall Cheat Sheet
- 9/4 (Chet)
2015 Fantasy Football Articles:
2015 Fantasy Football Stock Report: Training Camp
- 9/10 (Walt)
Fantasy Football Tight End Matchup Chart: Week 1
- 9/9 (Chet)
Fantasy Football Wide Receiver Matchup Chart: Week 1
- 9/8 (Chet)
2015 Fantasy Football Sleepers
- 9/8 (Walt)
Fantasy Football Running Back Matchup Chart: Week 1
- 9/7 (Chet)
Fantasy Football Quarterback Matchup Chart: Week 1
- 9/6 (Chet)
2015 NFL Preseason Recap, Fantasy Football Notes
- 9/4 (Walt)
2015 Fantasy Football Preseason Stock
- 9/4 (Walt)
2015 Fantasy Football Quarterback Targets
- 9/4 (Walt)
2015 Fantasy Football Busts
- 9/4 (Walt)
2015 Fantasy Football Goal-Line Running Backs
- 9/3 (Chet)
2015 Fantasy Football News
- 9/1 (Chet)
2015 Fantasy Football: Better Than ADP
- 8/31 (Chet)
Daily Fantasy Football: Running Backs
- 8/27 (Chet)
2015 Fantasy Football: Late-Round Running Back Fliers
- 8/24 (Chet)
2015 Fantasy Football Fallout: Jordy Nelson Injury
- 8/24 (Chet)
2015 Fantasy Football Players to Target
- 8/22 (Chet)
2015 Fantasy Football Spreadsheets
- 8/22 (Walt)
2015 Fantasy Football Round-by-Round Strategy Guide
- 8/20 (Walt)
2015 Fantasy Football: The Perfect Draft
- 8/20 (Chet)
2015 Fantasy Football Players to Avoid: LeSean McCoy
- 8/18 (Chet)
2015 Fantasy Football Values: Wide Receivers
- 8/14 (Chet)
Daily Fantasy Football: Wide Receivers
- 7/29 (Chet)
2015 Fantasy Football Value Profile: Brian Quick
- 7/22 (Walt)
2015 Fantasy Football Value Profile: Eli Manning
- 7/17 (Walt)
Daily Fantasy Football: A Primer
- 7/10 (Chet)
2015 Fantasy Football Value Profile: Jarvis Landry
- 7/7 (Walt)
Fantasy Football Offseason Stock Report: Up
- 5/15 (Walt)
Fantasy Football Offseason Stock Report: Down
- 5/15 (Walt)
2015 Fantasy Football: First-Round Bust History
- 2/17 (Walt)
2015 Fantasy Football: Overdrafted Players
- 2/15 (Walt)
2015 Fantasy Football: Running Backs with Most Carries
- 2/15 (Walt)
Fantasy Football Rankings
- Aug. 10
2023 NFL Mock Draft
- Aug. 2
2022 NBA Mock Draft
- June 23
NFL Power Rankings
- June 5
NFL Picks
- Feb. 13