July 23, 2015.
This is a standard 2015 Fantasy Football Mock Draft I took part in with 11 other members of the forum and followers on Twitter. As usual, I'll have analysis of my picks, as well as the best and worst selections every two rounds.
Just a heads up that we have 2015 Fantasy Football Mock Drafts every Wednesday evening. Check out the
fantasy mock draft thread
for details.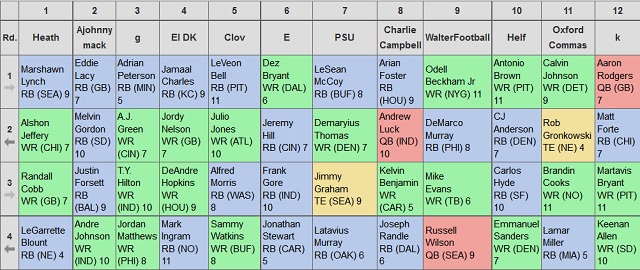 MY PICKS, ROUNDS 1-2: I love doing fantasy mock drafts. Not only are they fun; they're very informative. I learn so much from my first couple of fantasy mocks each summer. If you don't do your own fantasy football mock drafts, I strongly recommend that you being doing so.
One of the things I picked up is how incredibly deep the running back position is this year compared to the receivers. I immediately regretted my DeMarco Murray selection, citing that he would "probably be hurt by Week 2." I didn't think Murray was terrible value at 2.04, but as the draft progressed, the more I wished I picked Andrew Luck or one of the top wideouts.
BEST PICKS, ROUNDS 1-2: Anyone who went with a receiver in Round 2 gets the nod, especially Clob and El DK for Julio Jones and Jordy Nelson, respectively. I also thought the Rob Gronkowski selection was a good one. Chet Gresham has Gronkowski in his top 10. Check out the
Fantasy Football Rankings
home page for more.
WORST PICKS, ROUNDS 1-2: The "k" person at the very end was a computer, so that would explain those two sketchy picks. As for real humans, I'll give myself and Ajohnny Mack the worst selections for taking injury-prone and unknown running backs so early.
MY PICKS, ROUNDS 3-4: I had players ranked above Mike Evans on my cheat sheet - mostly running backs - but I decided that I should take Evans because the receivers were flying off the board. I even considered a running back in Round 4 before passing on all of them in favor of Russell Wilson, whose numbers will rise with Jimmy Graham on the roster. I should note that I would have taken Lamar Miller at 4.04 if he fell to me.
BEST PICKS, ROUNDS 3-4: The Miller choice deserves recognition, along with so many other selections. There were many quality picks made in Rounds 3-4, and I'm not going to be able to name them all. Among those that stood out are T.Y. Hilton, Alfred Morris, Jimmy Graham and LeGarrette Blount.
WORST PICKS, ROUNDS 3-4: The computer's decision to take Martavis Bryant at 3.12 is puzzling. But it's just a computer, so this will be the last time I reference it. Elsewhere, Jonathan Stewart went too early for my liking, especially when considering how injury-prone he has been throughout his career. I don't trust Mark Ingram to stay motivated either.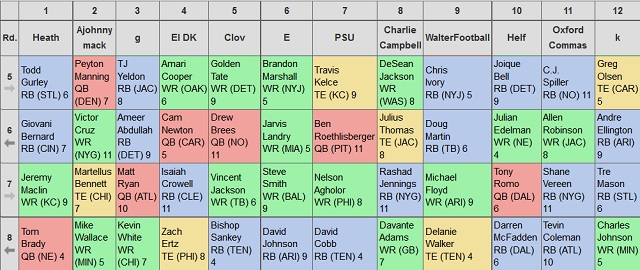 MY PICKS, ROUNDS 5-6: I'm fine with Chris Ivory and Doug Martin as my second and third running backs. Ivory is the unquestioned starter in New York, while Doug Martin has been enjoying a terrific offseason. Martin is in his contract year and will be motivated to recapture the magic he had in his rookie campaign.
BEST PICKS, ROUNDS 5-6: I was hoping one of Todd Gurley or T.J. Yeldon would fall to me at 5.09, but it wasn't meant to be. Also, Ben Roethlisberger seems like a mega steal in the middle of the sixth frame, doesn't he? I would have totally taken him at 6.04 if I didn't already have Russell Wilson. Drew Brees also would've been in consideration.
WORST PICKS, ROUNDS 5-6: There were three receiver selections I didn't like in these two rounds. Brandon Marshall appears to be on the decline, and now he has to work with Geno Smith, which has disaster written all over it. I don't trust DeSean Jackson to stay healthy, and I'm even more wary of Victor Cruz. Perhaps Jackson and Cruz will remain healthy, but they are two sketchy players right now.
MY PICKS, ROUNDS 7-8: I'm not too content with these two picks. Michael Floyd seems very "meh" to me, and Delanie Walker is even more "meh." In truth, I was running out of time on the clock - I didn't cross Jeremy Maclin off my cheat sheet, so I spent lots of time looking for him - prompting me to panic and take Walker.
BEST PICKS, ROUNDS 7-8: I was hoping Vincent Jackson wouldn't fall to me because I already had Mike Evans. That said, Jackson seems like a great bargain at 7.05. The same can be said for Tony Romo at 7.10. I also liked two selections in the eighth round: Davante Adams could have a HUGE 2015 campaign if one of Randall Cobb or Jordy Nelson goes down, while Tevin Coleman could run away with the starting job quite easily.
WORST PICKS, ROUNDS 7-8: Perhaps myself for Walker? Maybe PSU for Nelson Agholor, who seems like he was chosen two rounds too early. Steve Smith, meanwhile, may struggle to stay productive, so I wouldn't take him in the eighth round.

MY PICKS, ROUNDS 9-10: The ninth round is a bit early to take a quarterback, but I couldn't resist Matthew Stafford, who will have a better year with an improved offensive line. Besides, I wouldn't want to be completely screwed if Russell Wilson goes down. As for the 10th-round pick, I clicked on Torrey Smith, but my Firefox froze for 30 seconds. Once it unfroze, I had Roddy White. I'm not sure how that happened.
BEST PICKS, ROUNDS 9-10: I was hesitant to take Larry Fitzgerald because I already had Michael Floyd, but Charlie obtained great value in the 10th round. I also like the other Arizona wideout, John Brown, who is a mega sleeper. Check out my
Fantasy Football Stock Reports
for more.
WORST PICKS, ROUNDS 9-10: Three human selections stand out as being bad. The first two, as you might guess, are the defensive choices. I think taking a defense before Round 12 or so is a mistake, as it's so easy to play matchups on a weekly basis. The third is Josh Hill. The Saints are going to have a committee at tight end, so Hill should not be drafted.
MY PICKS, ROUNDS 11-12: Roy Helu could be Oakland's starting running back this year. That's definitely a possibility, so I'll take him in the 11th round. Kendall Wright, meanwhile, figures to bounce back now that he has a legitimate quarterback throwing the ball to him again.
BEST PICKS, ROUNDS 11-12: Three of the receiver choices look great to me. Anquan Boldin and Torrey Smith provide good value in the 11th round. Marques Colston is an even better bargain at the end of the 12th frame. I understand that Colston is old, but he might have one more strong season left in the tank. Why not take the chance at 12.12?
Also, credit to Charlie for snatching Tyler Eifert right after me in the 12th round. Eifert is a legitimate TE1. He should have gone earlier.
WORST PICKS, ROUNDS 11-12: Defense selections are bad again. I don't hate anything else, at least not in this draft...

MY PICKS, ROUNDS 13-15: I HATE FIREFOX!!! Sorry for the caps, but my Firefox froze and restarted itself. I tried logging back into the draft, but it wouldn't let me in. I was pretty angry, but luckily, Charlie and Clov teamed up to send me this mock draft.
Had I been picking, I would've taken Thomas Rawls in the 13th round. However, something I noticed before experiencing Internet browser failure was that Rawls was not listed in the FFC database, so I was just going to choose Robert Turbin as a placeholder instead. After that, kicker, defense, whatever.
BEST PICKS, ROUNDS 13-15: High-upside picks include: Sam Bradford, Marvin Jones, Alfred Blue, Khiry Robinson.
WORST PICKS, ROUNDS 13-15: Low-upside picks include: Fred Jackson, Markus Wheaton, Michael Robinson (though could be a place-holder for Rawls?) and Darren Sproles. Remember, in the final few rounds, swing for the fences if you're not taking a kicker and/or defense.
Again, I have to reiterate three things: First, Firefox blows, but I haven't had much success with other Internet browsers. I've tried Chrome, IE and Safari, and they've all disappointed me. Firefox must be the worst, though. Second, I'll be adjusting some of my
Fantasy Football Rankings
based on these draft results, so check them out. Third, we'll be doing mock drafts every Wednesday evening, so come join us!
My Fantasy Team:
QB - Russell Wilson, Seahawks
RB - DeMarco Murray, Eagles
RB - Chris Ivory, Jets
WR - Odell Beckham Jr., Giants
WR - Mike Evans, Buccaneers
RB/WR - Doug Martin, RB, Buccaneers
TE - Delanie Walker, Titans
K - Justin Tucker, Ravens
DEF - Panthers Defense
BN - Michael Floyd, WR, Cardinals
BN - Matthew Stafford, QB, Lions
BN - Roddy White, WR, Falcons
BN - Roy Helu, RB, Raiders
BN - Kendall Wright, WR, Titans
BN - Thomas Rawls, RB, Seahawks
Meh, I guess I could've done worse for my first team. I have two awesome receivers, but it doesn't seem like my team is particularly strong anywhere else. The quarterbacks are decent, but the running back corps is pretty shaky with injury-prone and inconsistent players. I should be able to do a better job next week, now that I have one mock under my belt.
More 2015 Fantasy Football Articles:
Fantasy Football Rankings
2015 Fantasy Football Rankings:
2015 Fantasy Football Rankings: Quarterbacks
- 9/10 (Walt)
Chet Gresham's Fantasy Football Quarterback Rankings
- 9/4 (Chet)
2015 Fantasy Football Rankings: Running Backs
- 9/10 (Walt)
Chet Gresham's Fantasy Football Running Back Rankings
- 9/4 (Chet)
2015 Fantasy Football Rankings: Wide Receivers
- 9/10 (Walt)
Chet Gresham's Fantasy Football Wide Receiver Rankings
- 9/4 (Chet)
2015 Fantasy Football Rankings: Tight Ends
- 9/10 (Walt)
Chet Gresham's Fantasy Football Tight End Rankings
- 9/4 (Chet)
Chet Gresham's Fantasy Football Flex Rankings
- 9/4 (Chet)
2015 Fantasy Football PPR Rankings
- 9/4 (Chet)
2015 Fantasy Football Rankings: Defenses
- 8/27 (Walt)
2015 Fantasy Football Rankings: Kickers
- 8/27 (Walt)
Fantasy Football Rookie Rankings
- 5/14 (Walt)
Fantasy Football Rookie Rankings: Dynasty
- 5/14 (Walt)
2015 Fantasy Football Mock Drafts:
2015 Fantasy Football Mock Draft Simulator
- 9/10 (Walt)
2015 Fantasy Football Mock Draft
- 9/3 (Walt)
2015 Fantasy Football Mock Draft
- 8/27 (Walt)
2015 Fantasy Football Mock Draft
- 8/20 (Walt)
2015 Fantasy Football Mock Draft
- 8/13 (Walt)
2015 Fantasy Football Experts Draft
- 8/11 (Chet)
2015 Fantasy Football Mock Draft
- 8/7 (Walt)
2015 Fantasy Football Mock Draft
- 8/6 (Chet)
2015 Fantasy Football Mock Draft
- 7/31 (Walt)
2015 Fantasy Football Mock Draft
- 7/23 (Walt)
2015 Fantasy Football Mock Draft (2-QB)
- 7/15 (Chet)
2015 Fantasy Football Mock Draft (PPR)
- 7/6 (Chet)
2015 Fantasy Football Cheat Sheets:
2015 Fantasy Football Cheat Sheet: Top 250
- 9/10 (Walt)
2015 Fantasy Football Cheat Sheet: Top 250 PPR
- 9/10 (Walt)
2015 Fantasy Football Cheat Sheet: Top 250 2-QB
- 9/10 (Walt)
2015 Fantasy Football Cheat Sheet: Top 250 Touchdown League
- 9/10 (Walt)
2015 Fantasy Football Cheat Sheet: Custom
- 9/10 (Walt)
2015 Fantasy Football: Dynasty Rankings
- 9/10 (Walt)
Chet Gresham's Fantasy Football Top 200 Rankings
- 9/4 (Chet)
Chet Gresham's 2015 Fantasy Football Positional Cheat Sheet
- 9/4 (Chet)
Chet Gresham's 2015 Fantasy Football Overall Cheat Sheet
- 9/4 (Chet)
2015 Fantasy Football Articles:
2015 Fantasy Football Stock Report: Training Camp
- 9/10 (Walt)
Fantasy Football Tight End Matchup Chart: Week 1
- 9/9 (Chet)
Fantasy Football Wide Receiver Matchup Chart: Week 1
- 9/8 (Chet)
2015 Fantasy Football Sleepers
- 9/8 (Walt)
Fantasy Football Running Back Matchup Chart: Week 1
- 9/7 (Chet)
Fantasy Football Quarterback Matchup Chart: Week 1
- 9/6 (Chet)
2015 NFL Preseason Recap, Fantasy Football Notes
- 9/4 (Walt)
2015 Fantasy Football Preseason Stock
- 9/4 (Walt)
2015 Fantasy Football Quarterback Targets
- 9/4 (Walt)
2015 Fantasy Football Busts
- 9/4 (Walt)
2015 Fantasy Football Goal-Line Running Backs
- 9/3 (Chet)
2015 Fantasy Football News
- 9/1 (Chet)
2015 Fantasy Football: Better Than ADP
- 8/31 (Chet)
Daily Fantasy Football: Running Backs
- 8/27 (Chet)
2015 Fantasy Football: Late-Round Running Back Fliers
- 8/24 (Chet)
2015 Fantasy Football Fallout: Jordy Nelson Injury
- 8/24 (Chet)
2015 Fantasy Football Players to Target
- 8/22 (Chet)
2015 Fantasy Football Spreadsheets
- 8/22 (Walt)
2015 Fantasy Football Round-by-Round Strategy Guide
- 8/20 (Walt)
2015 Fantasy Football: The Perfect Draft
- 8/20 (Chet)
2015 Fantasy Football Players to Avoid: LeSean McCoy
- 8/18 (Chet)
2015 Fantasy Football Values: Wide Receivers
- 8/14 (Chet)
Daily Fantasy Football: Wide Receivers
- 7/29 (Chet)
2015 Fantasy Football Value Profile: Brian Quick
- 7/22 (Walt)
2015 Fantasy Football Value Profile: Eli Manning
- 7/17 (Walt)
Daily Fantasy Football: A Primer
- 7/10 (Chet)
2015 Fantasy Football Value Profile: Jarvis Landry
- 7/7 (Walt)
Fantasy Football Offseason Stock Report: Up
- 5/15 (Walt)
Fantasy Football Offseason Stock Report: Down
- 5/15 (Walt)
2015 Fantasy Football: First-Round Bust History
- 2/17 (Walt)
2015 Fantasy Football: Overdrafted Players
- 2/15 (Walt)
2015 Fantasy Football: Running Backs with Most Carries
- 2/15 (Walt)
Fantasy Football Rankings
- Aug. 10
2023 NFL Mock Draft
- Aug. 2
2022 NBA Mock Draft
- June 23
NFL Power Rankings
- June 5
NFL Picks
- Feb. 13