**** NOTES FOR EVERY GAME WILL BE UP AS SOON AS I WATCH THEM **** Follow me
@walterfootball
for updates.
2015 Preseason Notes:
Week 1
|
Week 2
|
Week 3
|
Week 4
2015 Fantasy Football Stock Pages:
Preseason Stock Week 1
|
Preseason Stock Week 2
|
Preseason Stock Week 3
|
Preseason Stock Week 4
|
Training Camp Stock


Cardinals 22, Broncos 20
Chris Johnson saw action in this contest. He started and gained 45 yards on 11 carries. His longest run was a gain of 16, but he had a big hole to burst through. Perhaps his most impressive attempt was a 9-yarder in which he used a stiff-arm to avoid being tackled. Johnson also looked good in space once; he was able to elude a defender after making a catch to pick up a first down.

I still wouldn't draft Johnson; Andre Ellington is the same type of runner, and he'll continue to start. However, if Ellington gets hurt, Johnson will be worth picking up.


I heard good things about Arizona's third-string quarterback, Phillip Sims, so I was excited to watch him. Sims was a bit underwhelming, going 14-of-22 for 101 yards and a touchdown. Sims took several bad sacks early because he held on to the ball too long. He even lost a fumble on one of the plays. Sims also tossed way too many checkdowns for my liking. He got into a rhythm at the end of the first half, but I wasn't too impressed.


As for the other quarterback, Brock Osweiler was better, at least in the beginning. He opened with a 78-yard touchdown bomb to Andre Caldwell. It was slightly underthrown, but Caldwell was wide open, so it didn't matter.

Osweiler didn't finish well, however. He threw low to Montee Ball out of the backfield and then overshot a receiver downfield. His final numbers were 7-of-12 for 108 yards and a touchdown.


Speaking of Ball, he looked slow and sluggish as usual, mustering just 27 yards on 16 carries. Remember when he was a first-round fantasy pick last year? Wow.


I'm highly disappointed that I didn't hear many strange quotes from Cardinals' color analyst Ron Wolfley. The weirdest thing he said that I heard was this:

"If he shows up to the beach, he's going to get sand kicked in his face!"

I have no idea what that means. Wolfley may have been too distracted to say odd things, as he repeatedly praised Gary Kubiak. He must have said the following, "This is classic Gary Kubiak right here!" about 20 times during the telecast. And that's not an exaggeration. I think Ron Wolfley is in love with Gary Kubiak.

Follow me @walterfootball for updates.









Seahawks 31, Raiders 21
Given how poor Seattle's offense looked this preseason, it's no surprise that Pete Carroll chose to have Russell Wilson play this game. Wilson attempted one pass, completing a 63-yard bomb to Tyler Lockett, albeit against backups. Still, it has to feel good for the Seahawks' first-string offense to finally get on the board.

Here were Wilson's targets:

Tyler Lockett: 1


There was no way Marshawn Lynch was going to play. Robert Turbin wasn't on the field either. Christine Michael and Thomas Rawls appeared as though they were competing for the third running back job. I thought both looked impressive. Michael started and gained 39 yards on eight carries. He began the game by picking up a third-and-13, and he also had a 12-yard gain wiped out by a hold. Rawls, meanwhile, posted better numbers, tallying 87 yards and a touchdown on 11 attempts. Given Michael's mental issues, it wouldn't surprise me if Rawls makes the roster as the third back.


Frank Clark needs to be mentioned again. The second-round pick had some dominant performances in the preseason thus far, and he was once again unblockable. Some of his splash plays included a big tackle for loss, a sack, and a strip-sack that was scooped up for a touchdown by someone else. There's definitely a good chance that he'll be Defensive Rookie of the Year.


There's nothing really to say about the Raiders. Derek Carr was nowhere to be seen; Christian Ponder started and didn't play much before giving way to Matt McGloin.


The Seattle color analyst said something weird during the broadcast:

"Matt Gloin, from Scranton, Pa. He's everything you come to expect from someone from Scranton, Pa."

What does that mean? I only know a handful of people from Scranton, Pa., and most of them are markedly different. Here's one:




If McGloin is anything like this guy, the Raiders will be in trouble if Carr and Ponder get hurt.

Follow me @walterfootball for updates.









Chiefs 24, Rams 17
We had another starting quarterback play in this game. Hooray! Nick Foles was on the field for two drives, perhaps because of how sluggish the offense has looked this preseason.

Foles' first possession ended disastrously. He threw a pass toward Jared Cook, which bounced off his hands and into a Kansas City player's arms for an interception. The pick wasn't Foles' fault at all; Cooks should've secured the reception. The second drive, however, was much better, as Foles and Tavon Austin teamed up to lead the Rams down the field for a touchdown. Foles finished 2-of-3 for 49 yards and the interception.

Here were Foles' targets:

Tavon Austin: 3
Jared Cook: 1


Tavon Austin had the highlight of this game. It was a 43-yard reception in which he turned what appeared to be a 2-yard gain into a much longer reception, thanks to unreal dancing moves to avoid defenders. If you haven't seen the clip, definitely check it out. Having said that, Austin was able to get away with this against the Kansas City scrubs. I doubt this would've worked against most NFL first-string defenses.


Kenny Britt sucks. He absolutely needs to be benched immediately. He didn't receive any targets, but he put forth one of the worst blocking efforts on a pass - officially ruled a run - to Austin. As a result, Austin was drilled for a 6-yard loss. Britt could've taken a nap on the middle of the field and tried harder than he did on that play. Britt has dogged it this entire preseason, and it's absolutely embarrassing that he hasn't been benched yet.


Speaking of embarrassments, the Rams used a third-round pick on Sean Mannion when they could have drafted Brett Hundley. Mannion was dreadful in the preseason finale, going 11-of-24 for just 107 yards. He was nearly pick-sixed on multiple occasions, and when he wasn't tossing passes to the other team, he was getting his receivers killed. Mannion does not look like he belongs in the NFL.


There's not much to say about the Chiefs, who had Chase Daniel and Aaron Murray throw just four incompletions each. Daniel fired a touchdown to third-round rookie Chris Conley, who caught three balls for 38 yards in this contest.


Britt wasn't the only Rams receiver who put forth poor effort in this game. Torry Holt, a former member of the team, had to read the names of players in a competition off his Microsoft Surface, and his inability to pronounce those names made it sound like he was discussing them for the first time. "I don't know who's going to make it..." he said. You don't even know who they are, Torry!


There's some exciting news here. Rachel Santschi needs to be replaced as the best preseason sideline reporter, and we may have finally found our substitute: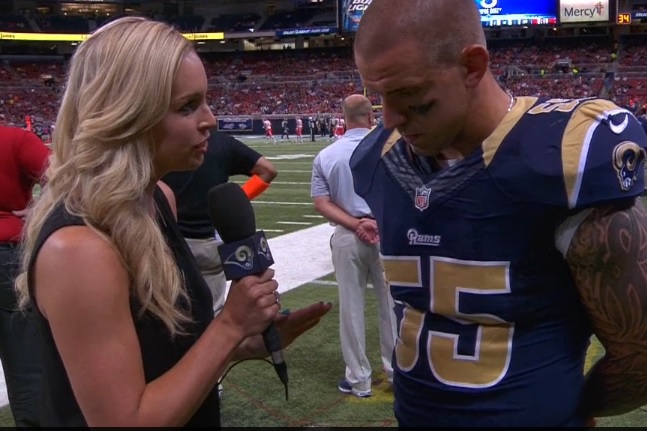 I watched the interview. I can't remember the questions, but I'm sure they were great.

Follow me @walterfootball for updates.









Cowboys 21, Texans 14
Tom Savage started for the Texans. Unlike other third-string quarterbacks, Savage's performance was significant because he's someone who could potentially start for a team down the road. Savage has loads of potential, but needs to put it all together mentally. Unfortunately, based on this game, he has a long way to go.

Savage went 18-of-29 for just 135 yards, two touchdowns and an interception. Savage had a poor overthrow early on. He was unlucky when Jaelen Strong dropped a deep pass, but his pick was horrible. Throwing from his own 1-yard line, Savage telegraphed a ball to Strong, which was snatched by a Dallas defender for a pick-six. There was no excuse for that putrid pass, and even the homer Texans announcers were disturbed by it.


Strong, meanwhile, had a disappointing showing. Granted, he didn't have the quarterbacking to be successful, but a poor drop on a deep ball won't exactly give his coaching staff the confidence to use him. He caught just one pass, an 18-yarder.


Chris Polk saw 10 carries in the preseason finale, which is a sign that he's behind Alfred Blue and Jonathan Grimes to be Arian Foster's backup. Polk had a nice 7-yard gain in which he spun out of a tackle to pick up a first down, but he was otherwise unimpressive as a runner, mustering only 24 yards. However, he did catch four balls for 37 receiving yards and a touchdown. Polk was competing with Kenny Hilliard, who gained 42 yards on 10 attempts.


As for the Cowboys, there's not much to say about the pedestrian Dustin Vaughan. The running back, Gus Johnson, had his moments, including a 21-yard touchdown in the third quarter. However, Johnson, at one point, was stuffed on a fourth-and-1 by rookie Christian Covington. The Houston announcers cited that the coaches were in love with Covington's motor.


Here's something weird. Check out the milf holding something/someone: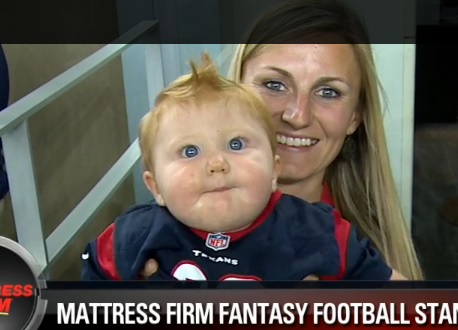 Is that a real child, or a Cabbage Patch Kid? I can't tell. Honestly. I'm not trying to be funny here. I have zero clue.

Follow me @walterfootball for updates.









Titans 24, Vikings 17
Marcus Mariota was one of the few starting quarterbacks to play in the preseason finale. He was on the field for just one drive, but he made it count.

Mariota completed 2-of-3 passes for 74 yards and a touchdown. He opened with a sharp strike to Delanie Walker for 15 yards. Mariota then suffered a drop from Dorial Green-Beckham. The pass was a bit behind the big wideout, but Green-Beckham should've caught the ball. Mariota's next attempt was a short pass, which Harry Douglas took to the house for a 59-yard touchdown.

Here were Mariota's targets:

Harry Douglas: 1
Dorial Green-Beckham: 1
Delanie Walker: 1


Mariota exited after the first drive. Bishop Sankey was featured almost exclusively on the second. He ran the ball on six of the seven plays in that touchdown drive, with his attempts going for 17 yards. The numbers aren't good, but it's significant that he kept his legs moving after contact. Color analyst Eddie George noted that Sankey's legs have done dead upon contact earlier in the preseason, so this was an improvement for him.


Green-Beckham had that drop early in the game, but he made up for it later, snatching two passes for 21 yards. Justin Hunter reeled in just one ball for 10 yards.


As for the Vikings, there's not much to say, as Taylor Heinicke was on the field the entire evening. Heinicke went 27-of-41 for 279 yards and two touchdowns along with two scrambles for 21 rushing yards. I thought he looked good, and I believe that he should make Minnesota's final roster.


Rookie receiver Stefon Diggs caught eight balls for 85 yards and a touchdown. He screwed up early with a fumble, but rebounded well with a strong showing.

Follow me @walterfootball for updates.




49ers 14, Chargers 12
The three quarterbacks in this game were Dylan Thompson, Kellen Clemens and Brad Sorsensen, so let's discuss the rugby running back!

Jarryd Hayne has been a revelation this preseason. It's amazing how well he has played despite having zero football experience. He had his trademark exciting punt return - his longest take-back was 28 yards - but the headliner is what he did on offense. Hayne, who made two catches, impressively hauled in a low pass. He then looked great on some third-quarter carries. On a gain of 19, he made some great cuts and broke a tackle, all while showing terrific vision. Then, on another play, he slammed into some guy named Rose, knocking him backward in hilarious fashion.

Hayne finished with 58 yards on just 10 attempts. An Australian news station reported that Hayne has already made the team. The 49ers would be foolish not to keep him in their final 53.


Bruce Ellington is another 49er worth mentioning. A 2014 fourth-rounder, Ellington showed great speed on a couple of plays. He outran everyone on a 70-yard reception, and then he had a long kickoff return that was brought back by a hold. Meanwhile, I wanted to note that Quinton Patton made a great catch on a ball heaved behind him on the two-point conversion following Ellington's touchdown.


I really have nothing on the Chargers. Branden Oliver played, but had little room, gaining just five yards on four carries. He's not worth a fantasy pick in 12-team leagues.


The 49ers' broadcasters said a couple of strange things. The sideline reporter had this to say about Hayne's jerseys being available in the team store:

"You have to be the No. 1 pick in the NFL Draft for your jersey to hit the store!"

Huh? What does that mean? Colin Kaepernick wasn't a No. 1 pick, so does that mean his jersey is unavailable for purchase?

And how about this quote from the color analyst:

"And tonight, he finally decided to relax and just stroke it."

And no. That was not Matt Millen... though I'm willing to bet that he would enjoy guys relaxing and stroking it.

Follow me @walterfootball for updates.




Bears 24, Browns 0
This was a scintillating matchup between David Fales and Thaddeus Lewis. Oh, what fun Preseason Week 4 is! Nonetheless, there were a couple of players worth mentioning.

For instance, Fales should be discussed briefly. Some may look at the box score and wonder if Fales could eventually start down the road, given that he went 14-of-18 for 131 yards and two touchdowns. To that, I'd say absolutely not. Fales' stat line is incredibly misleading, as he spent the majority of the evening dinking and dunking. Most of his longer plays, including his 19-yard touchdown to Marc Mariani, were just short tosses, though he did have a nice scramble to pick up a first down.


An actual significant player on Chicago's roster, rookie running back Jeremy Langford gained 55 yards on nine carries. Most of his yardage came on one play, a 34-yarder. He showed good vision and made a nice lateral cut on the attempt. Langford has been solid this preseason, and he has shown enough to prove that he can effectively take over for Matt Forte in the event of an injury.


Langford's counterpart, Terrance West, led the Browns in rushing in the preseason finale, which has to be discouraging for his fantasy outlook. Isaiah Crowell was nowhere to be seen, which means that West is probably behind him on the depth chart. West did have a nice outing on paper, gaining 35 yards on nine carries, but his longest rush, a 15-yarder, came on a play in which the Bears allowed him to run freely, given that it was a third-and-34 situation.


Dwayne Bowe played and actually did something, hauling in an 8-yard pass. Bowe has become so irrelevant that the Chicago play-by-play announcer called him "Dwight Bowe."


I don't know if he's going to make the roster, but Chicago linebacker John Timu had a great game. He was everywhere and seemingly was in on every tackle.

Follow me @walterfootball for updates.




Jaguars 17, Redskins 16
In a matchup between Colt McCoy and Stephen Morris, both of whom were on the field the entire way, there's only one player I want to mention in this recap: James Sample.

Sample, a fourth-round rookie, was extremely impressive in this game. The Jaguars' broadcasting team actually mentioned him early on, as both announcers agreed that he would be a starter right now if he hadn't dealt with injuries during training camp. Sample was finally able to take the field, and he lived up to the hype. He was everywhere and made big hits. For instance, one of his first plays was chasing down a player who caught the ball and limiting him to just one yard. He also made a huge hit at the end of the game to seal the victory for Jacksonville.

The Jaguars have dealt with issues in their secondary, but if Sample continues to play this well, that part of their defense will be much better.

Follow me @walterfootball for updates.




Panthers 23, Steelers 6
Cameron Artis-Payne was the significant star of this game. I know Joe Webb was unstoppable, but he's irrelevant in the grand scheme of things. Artis-Payne, on the other hand, is most definitely not.

Artis-Payne rushed for 67 yards on 12 carries. His best run was a 17-yarder in which he made a nice cut, found the hole and broke a tackle. Upon seeing this, the Steelers' play-by-play guy noted that Artis-Payne is "someone the Panthers are excited about." Throughout the night, Artis-Payne showed off excellent vision. He also broke free from the first tackler on almost every single run. He should be a solid replacement at running back when Jonathan Stewart gets hurt this year.


Another rookie, Devin Funchess, finally saw some action, making a pair of 11-yard receptions in the preseason finale. Funchess' first was an easy catch, but the second was impressive. He reached behind him, snatched the ball, and then hung on to it despite taking a big hit. It's promising that Funchess has finally been able to suit up. Perhaps he'll be able to be a significant producer this season.


Philly Brown caught a 9-yard pass from Derek Anderson. This is important, as Brown didn't drop the ball for a change.


As for the Steelers, QBDK started and completed a 10-yard pass to Martavis Bryant on the opening drive. He finished 3-of-5 for 24 yards, so the bulk of that came on the Bryant connection. One incompletion was a drop, while another was behind his target. He also took 20 yards worth of sacks, as the Panthers' front dominated Pittsburgh's offensive line. That might be because some of the starters, including Kawann Short, were on the field.

Follow me @walterfootball for updates.




Giants 12, Patriots 9
Forget this game. All the Patriots' announcers could talk about throughout this telecast was the end of Deflategate. Here are some of the comments they actually said during the broadcast:

"TOM BRADY KNOCKED DEFLATEGATE OUT OF THE PARK!!!"

"Tom, if you're watching at home, we're happy you're free!"

"I got so many high-fives because Tom Brady's suspension was overturned!"

Even the guys they randomly have on from Bob's Discount Furniture, for whatever reason, had something similar to say:

"We can finally celebrate the Super Bowl victory. This is everything we've been waiting for."

Yeah, good job winning the Super Bowl, Bob's Discount Furniture. As you can imagine, this type of homerism was unbearable.


As for this game, I appreciated that the coaches put players of significance on the field. For instance, LeGarrette Blount played well into the fourth quarter, for whatever reason. I know he'll be out for the opener, but it was pretty silly to have him play the entire contest. Blount didn't have much room to run - he was blown up for a loss of five on his first carry - gaining 24 yards on 10 carries. He also caught four balls for 54 receiving yards.


Reggie Wayne snatched two passes for 24 yards. He saw many other targets, but Ryan Lindley, who was under center the entire evening, couldn't connect with him. They simply didn't have their timing down. The highlight of Wayne's night was an 18-yard reception in which he put his arms up at the last second to fool the defensive back on what was a veteran move.


Aaron Dobson led the Patriots in receiving (4 catches, 56 yards). However, in the rare moments in which the Patriot announcers discussed the game, they mentioned that Dobson just hasn't been able to put it together mentally.


As for the Giants, Eli Manning didn't play, but all three running backs - Rashad Jennings, Andre Williams, Shane Vereen - all were on the field. Andre Williams received the first couple of carries in the preseason finale over Rashad Jennings, which can't be encouraging for Jennings owners. This seems to be a true time share, so I'd stay away. It should be noted that Williams (8 carries, 28 yards) dropped a pass, though it was a low throw.


Nassib, by the way, went 16-of-32 for 193 yards. The 50-percent completion was apt; some of his passes were on the money, while others were wildly inaccurate; he was almost picked a couple of times.


The officials didn't have their best showing. Pete Morelli's crew incorrectly reviewed a call, and then they had to blow a play dead because of the following explanation from Morelli, who sounded half-asleep in the process:

"The officials weren't in place to officiate this particular play."

The Patriots' play-by-play guy, taking a brief break from discussing Deflategate, made his feelings known about the refs' performance: "Get your act together!"

It's a sad day when the New England broadcasters make you look bad.

Follow me @walterfootball for updates.




Lions 17, Bills 10
This game was even more worthless than the Buccaneers-Lions matchup I just wrote about. Matthew Stafford wasn't going to play, while the Bills didn't use any of their top three quarterbacks that they rotated this past Saturday. Matt Simms started and played the whole way. Blegh.


Someone I want to discuss is Zach Zenner. The undrafted rookie running back enjoyed a solid preseason heading into this contest, and he and George Winn split carries this entire evening, perhaps to determine which one would make the final roster. Zenner outplayed Winn, but not by a wide margin.

Zenner gained 21 yards on 10 carries. He also scored a touchdown, showing that once again, he is very difficult to bring down in short yardage. Zenner's numbers are so poor because he didn't have much running room versus Buffalo's front, but he did break free for a 15-yard gain. Winn, meanwhile, didn't even manage two yards per carry, tallying just 27 yards on 14 attempts.


Nick O'Leary caught an 8-yard pass for the Bills. A report broke this week that O'Leary wouldn't make the team if he didn't happen to be a draft pick, so it seems like general manager Doug Whaley is trying to save face. Regardless, I doubt Whaley is discussing that decision with Rex Ryan.


The Lions' play-by-play guy may have taken a cocaine before the game, based on how hyper and excited he was. He was also inaccurate. For instance, in the first quarter, he shouted at the top of his lungs, "HE'S CLOSE TO A FIRST DOWN!!!" Except the runner was beyond the first-down marker by about 10 yards.

Follow me @walterfootball for updates.




Buccaneers 22, Dolphins 17
I literally have just three notes on this game. One is something the Buccaneer announcers said, while another was a Jerome Boger announcement. That's how worthless this game was. It was even worse than a typical Week 4 preseason contest. I mean, what am I supposed to say about a matchup between Mike Glennon and McLeod Bethel-Thompson? And what kind of name is McLeod, anyway?

The third note? Jay Ajayi. The fifth-round rookie had a spectacular outing, and his numbers - 66 yards on nine carries with two catches for 37 receiving yards - don't even tell the whole story. Ajayi did a great job of making defenders miss in the open field, and on contact, his legs wouldn't stop moving. Ajayi showed why he was considered a second-round prospect before injuries dropped him three frames. Unfortunately, that negative was prevalent in this contest, as he had to leave early with a chest issue. Hopefully he stops being snake-bitten, but as scientific studies have shown, some players just happen to be more injury-prone than others.


Oh, and one other thing before I move on to the silly things: For some reason, Tampa Bay had its starting secondary in the lineup in this contest. That's notable because none of the starters in the front seven were on the field. It was weird, but perhaps this was punishment for what A.J. McCarron did to them last week.


In terms of the announcers, the Tampa play-by-play guy told the audience that LaMichael James wanted to officially be called "LaMike James" from now on. LaMike? That's even worse than McLeod.


As for Boger, I enjoyed this announcement from him:

"That wath a muff... kick... ke... k... catch...?"

I'd say it's just the preseason for Boger, but the way he officiates, it's always the preseason for him.

Follow me @walterfootball for updates.




Bengals 9, Colts 6
Even though this was just a 9-6 affair in which all of the starters were nowhere near the field, this was one of the matchups I was most excited about because I wanted to see how A. J. McCarron would perform.

Yes, A.J. McCarron. He played well in relief of Andy Dalton last week, so I wanted to see if he could put together another strong performance. Unfortunately, he did not. McCarron wasn't bad, but he made plenty of mistakes in what was an up-and-down outing for him.

McCarron, notably, overthrew a wide-open Brandon Tate at the end of the first quarter. On the very next play, he made a great, back-shoulder pass toward Greg Little for a gain of 16. Right after that, he heaved a ball way behind Tate, and then overshot his target. On the very next drive, he made a very accurate pass to Tate along the sideline for 11 yards.

In the third quarter, McCarron looked skittish in the pocket and underthrew a receiver, and then he lost a fumble trying to scramble. As you can see, McCarron had a roller-coaster evening.

McCarron finished 15-of-28 for 219 yards and the lost fumble. He was hurt by a drop, but this was a disappointing night overall after he was so brilliant the week before.


There's really nothing worth saying about the Colts beyond Vick Ballard's showing. Ballard, coming off a brutal injury, gained 29 yards on nine carries. It was nice to see him healthy for a change.


Last week, I mentioned that the Colts announcers had a combined age of about 150, with the color analyst making weird noises with his mouth as if he was trying to adjust his dentures. I wanted to show you proof, so here it is: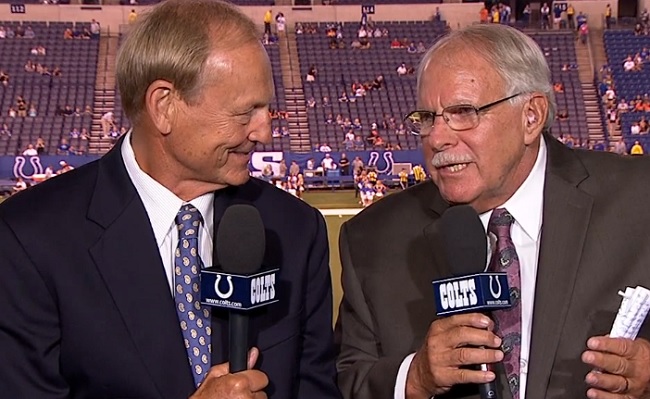 Meet Indianapolis' hip, young, broadcasting team!

Follow me @walterfootball for updates.




Packers 38, Saints 10
In a battle between Luke McCown and Scott Tolzien - at least in the beginning - this game really was the tale of two young receivers, though one didn't play. I'll explain.

For the Packers, Ty Montgomery didn't suit up in the preseason finale. Jeff Janis did, and Janis, who reportedly doesn't have Aaron Rodgers' trust, lined up incorrectly on the second play of the game. This is all extremely significant because it's a sign that Montgomery is ahead of Janis on the depth chart. Montgomery, as a result, is definitely worth a late-round pick. He'll produce as the team's third receiver, and if either Randall Cobb or Davante Adams goes down, Montgomery will post big numbers.

As for the Saints, Brandon Coleman opened the finale with a 45-yard reception from Luke McCown, beating first-round rookie Damarious Randall. He ultimately caught four balls for 82 yards. You can't like him as much as Montgomery, but he's a decent late-round flier who should be on your radar.


Brett Hundley stepped in at some point during the first half and went the rest of the way, finishing 16-of-23 for 236 yards and a whopping four touchdowns. Hundley's numbers are a bit misleading, as a 77-yard score of his came on a short slant. However, while he also made a couple of poor throws, he had a solid showing overall and was definitely better than Tolzien. Hundley still has a long way to go in terms of the mental aspect, but he has the physical skills to be a starter somewhere at some point down the road.

Follow me @walterfootball for updates.




Falcons 20, Ravens 19
Matt Ryan played in this game. He really did. You may not see his name on the stat sheet, but he handed the ball off to Tevin Coleman on the first play and then ran off the field permanently. The Baltimore announcers were appalled by this.

"I don't know what that was! What if he got hurt!?" some old guy shouted incoherently.

Calm down, bro. If Ryan was going to get hurt handing the ball of to a running back, he was going to get injured at some point anyway.


Speaking of Coleman, his numbers looked great. He gained 56 yards on eight carries. However, there has to be an asterisk attached to those figures. He had two big gains running outside, which I'm not sure would've worked against a starting defense. Coleman ran as he did in college, but a first-unit defense probably wouldn't have allowed that. It's also worth noting that the other primary running back, Terron Ward, was able to burst through huge holes as well.


Another rookie, Justin Hardy, caught two balls for 16 yards. What the numbers don't show is that he drew a pass interference deep downfield, albeit on a very shaky call. He also had a great 70-yard punt return.


There's not much to note about the Ravens. They rolled with Matt Schaub, who was a perfect 7-of-7 for 88 yards. Schaub was joined in the backfield by Buck Allen, who mustered just 10 yards on six attempts.


I mentioned the Ravens announcers earlier. The play-by-play guy shouted "The butterflies are in full flight as we get underway!" as the game kicked off. Again, calm down, bro. Not only is it preseason, but it's the fourth week of preseason, an abomination of games that should be completely wiped off the NFL slate.

Seriously, though. The NFL preseason is too long. I don't think two games is enough, but three is fine. Four is overkill, and none of the starters are on the field for the finale anyway. Can we please eliminate Preseason Week 4 so we can enjoy the start of college football?

Follow me @walterfootball for updates.




Jets 24, Eagles 18
None of the starters played in this game, so all eyes were on Matt Barkley and Tim Tebow, who were competing for the No. 3 quarterback spot for Philadelphia, which is obviously important because Sam Bradford will be injured at some point.

Barkley played the first and third quarters, and he struggled for the most part. His second pass was a severe underthrow that was picked off. It was so bad that Mike Mayock, serving as the color analyst, was appalled that an NFL quarterback could make such an attempt. On the next drive, Barkley floated a pass over his receiver's head and then flung a ball 10 yards over his target's head. These passes weren't even close.

Tebow, meanwhile, was on the field in the second and fourth quarters. He had some bad luck early, as two impressive throws - one when he while rolling left, another through a tight window - were dropped. He had some slightly high passes early in the flat, but then threw a perfect touchdown pass in the 2-minute drill. Tebow, who didn't have to think in that situation, was at his best as usual. In the second half, Tebow fired a 45-yard strike to some guy named Martino, who later made the catch of the week when he pinned the ball against his body with one arm for Tebow's second touchdown. Tebow did throw an interception when he forced the issue, but that was his only real blemish of the evening.

Barkley finished just 4-of-9 for 45 yards and the pick, while Tebow went 11-of-17 for 189 yards, two touchdowns and an interception, as well as 32 rushing yards on four scrambles. If this was truly a battle to see who would be the No. 3 signal-caller, then Tebow won easily, and it wasn't even close. Barkley has been the worst of Philadelphia's quarterbacks this preseason, which isn't a surprise because he's not an NFL-caliber player. He won't be in the league much longer.


As for the Jets, Matt Flynn and Josh Johnson split the snaps. Both had their moments, and both struggled at times. Flynn was slightly better through the air, but Johnson picked up a big chunk of yards on the ground. There's not much else to say about them.


A pair of former Rams, Daryl Richardson and Zac Stacy, split the carries evenly. Richardson gained 72 yards and a touchdown on 22 carries, while Stacy mustered 68 yards on 20 attempts. Both had a run of double-digit yards, and Stacy secured a 25-yard reception.

Follow me @walterfootball for updates.


2015 Preseason Notes: Week 1 | Week 2 | Week 3 | Week 4
2015 Fantasy Football Stock Pages: Preseason Stock Week 1 | Preseason Stock Week 2 | Preseason Stock Week 3 | Preseason Stock Week 4 | Training Camp Stock









More 2015 Fantasy Football Articles:
Fantasy Football Rankings

2015 Fantasy Football Rankings:
2015 Fantasy Football Rankings: Quarterbacks - 9/10 (Walt)
Chet Gresham's Fantasy Football Quarterback Rankings - 9/4 (Chet)
2015 Fantasy Football Rankings: Running Backs - 9/10 (Walt)
Chet Gresham's Fantasy Football Running Back Rankings - 9/4 (Chet)
2015 Fantasy Football Rankings: Wide Receivers - 9/10 (Walt)
Chet Gresham's Fantasy Football Wide Receiver Rankings - 9/4 (Chet)
2015 Fantasy Football Rankings: Tight Ends - 9/10 (Walt)
Chet Gresham's Fantasy Football Tight End Rankings - 9/4 (Chet)
Chet Gresham's Fantasy Football Flex Rankings - 9/4 (Chet)
2015 Fantasy Football PPR Rankings - 9/4 (Chet)
2015 Fantasy Football Rankings: Defenses - 8/27 (Walt)
2015 Fantasy Football Rankings: Kickers - 8/27 (Walt)
Fantasy Football Rookie Rankings - 5/14 (Walt)
Fantasy Football Rookie Rankings: Dynasty - 5/14 (Walt)



2015 Fantasy Football Mock Drafts:
2015 Fantasy Football Mock Draft Simulator - 9/10 (Walt)
2015 Fantasy Football Mock Draft - 9/3 (Walt)
2015 Fantasy Football Mock Draft - 8/27 (Walt)
2015 Fantasy Football Mock Draft - 8/20 (Walt)
2015 Fantasy Football Mock Draft - 8/13 (Walt)
2015 Fantasy Football Experts Draft - 8/11 (Chet)
2015 Fantasy Football Mock Draft - 8/7 (Walt)
2015 Fantasy Football Mock Draft - 8/6 (Chet)
2015 Fantasy Football Mock Draft - 7/31 (Walt)
2015 Fantasy Football Mock Draft - 7/23 (Walt)
2015 Fantasy Football Mock Draft (2-QB) - 7/15 (Chet)
2015 Fantasy Football Mock Draft (PPR) - 7/6 (Chet)



2015 Fantasy Football Cheat Sheets:
2015 Fantasy Football Cheat Sheet: Top 250 - 9/10 (Walt)
2015 Fantasy Football Cheat Sheet: Top 250 PPR - 9/10 (Walt)
2015 Fantasy Football Cheat Sheet: Top 250 2-QB - 9/10 (Walt)
2015 Fantasy Football Cheat Sheet: Top 250 Touchdown League - 9/10 (Walt)
2015 Fantasy Football Cheat Sheet: Custom - 9/10 (Walt)
2015 Fantasy Football: Dynasty Rankings - 9/10 (Walt)
Chet Gresham's Fantasy Football Top 200 Rankings - 9/4 (Chet)
Chet Gresham's 2015 Fantasy Football Positional Cheat Sheet - 9/4 (Chet)
Chet Gresham's 2015 Fantasy Football Overall Cheat Sheet - 9/4 (Chet)

2015 Fantasy Football Articles:
2015 Fantasy Football Stock Report: Training Camp - 9/10 (Walt)
Fantasy Football Tight End Matchup Chart: Week 1 - 9/9 (Chet)
Fantasy Football Wide Receiver Matchup Chart: Week 1 - 9/8 (Chet)
2015 Fantasy Football Sleepers - 9/8 (Walt)
Fantasy Football Running Back Matchup Chart: Week 1 - 9/7 (Chet)
Fantasy Football Quarterback Matchup Chart: Week 1 - 9/6 (Chet)
2015 NFL Preseason Recap, Fantasy Football Notes - 9/4 (Walt)
2015 Fantasy Football Preseason Stock - 9/4 (Walt)
2015 Fantasy Football Quarterback Targets - 9/4 (Walt)
2015 Fantasy Football Busts - 9/4 (Walt)
2015 Fantasy Football Goal-Line Running Backs - 9/3 (Chet)
2015 Fantasy Football News - 9/1 (Chet)
2015 Fantasy Football: Better Than ADP - 8/31 (Chet)
Daily Fantasy Football: Running Backs - 8/27 (Chet)
2015 Fantasy Football: Late-Round Running Back Fliers - 8/24 (Chet)
2015 Fantasy Football Fallout: Jordy Nelson Injury - 8/24 (Chet)
2015 Fantasy Football Players to Target - 8/22 (Chet)
2015 Fantasy Football Spreadsheets - 8/22 (Walt)
2015 Fantasy Football Round-by-Round Strategy Guide - 8/20 (Walt)
2015 Fantasy Football: The Perfect Draft - 8/20 (Chet)
2015 Fantasy Football Players to Avoid: LeSean McCoy - 8/18 (Chet)
2015 Fantasy Football Values: Wide Receivers - 8/14 (Chet)
Daily Fantasy Football: Wide Receivers - 7/29 (Chet)
2015 Fantasy Football Value Profile: Brian Quick - 7/22 (Walt)
2015 Fantasy Football Value Profile: Eli Manning - 7/17 (Walt)
Daily Fantasy Football: A Primer - 7/10 (Chet)
2015 Fantasy Football Value Profile: Jarvis Landry - 7/7 (Walt)
Fantasy Football Offseason Stock Report: Up - 5/15 (Walt)
Fantasy Football Offseason Stock Report: Down - 5/15 (Walt)
2015 Fantasy Football: First-Round Bust History - 2/17 (Walt)
2015 Fantasy Football: Overdrafted Players - 2/15 (Walt)
2015 Fantasy Football: Running Backs with Most Carries - 2/15 (Walt)






NFL Picks - Jan. 16


2021 NFL Mock Draft - Jan. 13


Fantasy Football Rankings - Jan. 11


2022 NFL Mock Draft - Nov. 15


NFL Power Rankings - Nov. 14


2020 College Football Recruiting Rankings - April 14


2020 NBA Mock Draft - Sept. 27