**** NOTES FOR EVERY GAME WILL BE UP AS SOON AS I WATCH THEM **** Follow me
@walterfootball
for updates.
2015 Preseason Notes:
Week 1
|
Week 2
|
Week 3
|
Week 4
2015 Fantasy Football Stock Pages:
Preseason Stock Week 1
|
Preseason Stock Week 2
|
Preseason Stock Week 3
|
Preseason Stock Week 4
|
Training Camp Stock


Buccaneers 25, Bengals 11
Marcus Mariota had a disappointing preseason debut, but rebounded with a strong second start. The Buccaneers were hoping that Jameis Winston could do the same following his abysmal initial outing.

Well, the good news is that Winston looked outstanding. The bad news is that Winston had to leave the game in the middle of the second quarter. Winston was expected to be on the field for the entire first half, but he stumbled and fell down on one play, taking a sack. He began limping around and happened to be ineffective on the next two snaps after that, getting flagged for intentional grounding on one poor throw. This prompted Lovie Smith to take him out of the game for good. Fortunately, all reports indicate Winston is fine. If so, the Buccaneers should consider themselves extremely lucky because it could've been much worse.

Winston's first possession wasn't remarkable outside of a 1-yard rushing touchdown, but he was very sharp after that - until he got hurt, at least. Winston was right on the money on a 16-yard connection with Vincent Jackson, but the second drive ended because Tim Wright dropped a possible first-down conversion on third-and-16. Winston did overshoot Mike Evans on a downfield bomb by a couple of yards, but he should've had a 17-yard completion to Jackson, but that was negated by offensive pass interference.

On a later possession, Winston fired a rifle throw to Russell Shepard for 22 yards. That was his best pass of the night, so it's a shame that his night ended prematurely.

Jameis Winston looked so much better versus Cincinnati than he did last week. He went 8-of-13 for 90 yards along with a touchdown run. He's not a fantasy QB1 by any means, but his two ground scores in as many weeks might mean that he could be a decent backup.

Here were Winston's targets:

Mike Evans: 2
Vincent Jackson: 2
Jorvorskie Lane: 1
Doug Martin: 1
Louis Murphy: 2
Brandon Myers: 1
Austin Seferian-Jenkins: 1
Russell Shepard: 1
Charles Sims: 1
Tim Wright: 1


I liked Vincent Jackson to have a rebound year, and I'm even more confident in that after watching him play against the Bengals. Though he had just one catch for 16 yards in a quarter-and-a-half of action, he should've also secured a 17-yard reception, an impressive snag along the sideline, which he made while somehow tapping both feet inbounds. Unfortunately. he was whistled for offensive pass interference. With Jameis Winston looking sharp, Jackson's outlook is bright.


Speaking of players set to rebound, Doug Martin was terrific versus Cincinnati. The fourth-year back rushed for 59 yards on just six carries. He opened by breaking numerous tackles on a gain of 15, and then he topped that, showing patience and then bursting through three potential tacklers for a 30-yard rush. Martin, who also had a solid blitz pick-up, added a 9-yard catch to his stat line. Martin is incredibly underrated this year. He has drawn glowing reports all offseason, and it's nice to see him back that up with a strong preseason performance.


Charles Sims, expected by some to take over for Doug Martin, managed just six yards on three attempts in the second preseason game. He dropped a pass as well. Martin dominated the first-team touches, so Sims is off the fantasy radar.


I have to say that I'm impressed by Mike Glennon. I never thought I'd say that after what happened in 2014, but Glennon looked good throwing the ball in this contest. He finished 10-of-15 for 121 yards and a touchdown. He made a number of solid throws, with his best one being a spectacular touch pass that he put in a perfect spot for an 18-yard gain. He still needs to work on his pocket awareness - he took an awful sack to put his team out of field goal range - but he has the tools to perhaps eventually emerge as a starter somewhere in this league. As for 2014, it must be remembered that Glennon struggled partly because the Buccaneers didn't have a real offensive coordinator.


Winston was the better starting quarterback in this matchup, and it wasn't even close. Andy Dalton must have thought that this was a playoff game because he was atrocious. He went 6-of-13 for only 46 yards and two interceptions, and those numbers are very much indicative of how poorly he played.

The trouble began on the second drive. He was misfired on a pass to Mohamed Sanu and then took a sack on third down. He was then sacked twice on the next drive. Kevin Zeitler and Eric Winston simply couldn't handle Gerald McCoy and the Buccaneer pass-rushers, and it didn't help that pedestrian center Russell Bodine was flagged for a penalty. Dalton's following possession featured a pick-six, though it wasn't the quarterback's fault. Green had the ball inexplicably bounce right out of his hands.

Dalton was responsible for the next interception, however, as the pass was a horrible overthrow toward Tyler Eifert. Dalton was also nearly picked a third time on another pass targeted for Green. He also overshot Jeremy Hill on a basic throw in the flat.

To be fair, Dalton was victimized by two drops (by Giovani Bernard and Tyler Eifert) and was able to have Marvin Jones draw a pass interference deep downfield. However, this was an abominable outing that will no doubt have the Cincinnati faithful discouraged. They are used to Dalton crapping the bed in the playoffs, but in meaningless games? This could be a sign of trouble.

Here were Dalton's targets:

Giovani Bernard: 2
Tyler Eifert: 3
A.J. Green: 4
Jeremy Hill: 2
Marvin Jones: 1
Mohamed Sanu: 2


Green led all the Cincinnati starters with two receptions for 24 yards, but the real story is that he was responsible for Dalton's pick-six. Dalton's ugly showing in this contest might make you reconsider Green as a second-round fantasy pick, but I would still draft him.


I drafted Tyler Eifert in the 11th round of a recent fantasy draft. I was concerned when he dropped a touchdown pass in the second quarter after taking a big hit from D.J. Swearinger. Eifert got up and was wincing in pain, prompting me to panic. Fortunately, nothing was mentioned of this afterward. More concerning, however, was how hideously Andy Dalton played at Tampa Bay.


Not even Jeremy Hill played well. He was the best of the Cincinnati starters until he lost a fumble. Hill gained 16 yards on four attempts otherwise. On the bright side, he saw most of the first-team snaps. Giovani Bernard wasn't even used on third down during the first drive. Bernard managed eight yards on three carries. He also dropped a pass.

Follow me @walterfootball for updates.









49ers 23, Cowboys 6
Tony Romo didn't play in the preseason opener, so I was a bit eager to see him take the field in San Francisco. Unfortunately, that's all he did. He was under center for one drive, and he attempted a single throw - a swing pass to Lance Dunbar, who lost a yard on the play. Thus, Romo's final numbers were 1-of-1 for minus-1 yards.

I can't say I understand this strategy. Keeping Romo out of the first game was fine, but effectively doing so in the second contest could backfire. I guess we'll see what happens.

Here were Romo's targets:

Lance Dunbar: 1


Romo wasn't the only disappointment in Dallas' backfield. Darren McFadden started and looked awful. He was bottled up twice on the first drive and ultimately finished with just foyr yards on three attempts. McFadden is washed up; he couldn't even produce last year despite the Raiders preparing the absolute perfect workout regimen for him (which is why he didn't get hurt.) He won't be in the NFL much longer, and he's not worth a fantasy roster spot in any sort of league.


Joseph Randle, meanwhile, was expected to miss this game, but ended up playing. He managed to accumulate 30 yards on seven carries. One of his best plays was turning what seemed like a loss into a 6-yard gain by reversing field. Unfortunately, Randle was flagged for holding Shayne Skov while in pass protection.


With Dez Bryant out and Jason Witten a non-factor, it might be better to move on to Dallas' defense. With that in mind, Randy Gregory needs to be discussed. Gregory, who was projected to be a top-three pick before he fell because of off-the-field concerns, was absolutely dominant in this contest. In the first half alone, he registered a sack and drew two holding calls. He's definitely going to be a big contributor in Dallas' defense this season.


Meanwhile, Colin Kaepernick was on the field for two drives instead of just one. That may not seem like much of a difference, but he attempted five passes and rushed once, compared to Romo's mere single attempt.

Kaepernick wasn't very good, however. He went 2-of-5 for 13 yards to go along with a 9-yard scramble. Granted, one of the incompletions was thrown away because of pressure, while another was broken up by Corey White to prevent a touchdown to Torrey Smith, but Kaepernick made a big mental mistake on his second possession, taking an awful sack for a loss of 10 yards.

Here were Kaepernick's targets:

Anquan Boldin: 1
Carlos Hyde: 1
Vance McDonald: 1
Torrey Smith: 1


Carlos Hyde was the most impressive starting offensive player against the Cowboys. The second-year back picked up 39 yards on just seven carries. He ran with great power and sprinkled in some dazzling moves, including a terrific cut-back on a 17-yard run. He also showed plus hands, snatching a 6-yard reception. There was some concern that Hyde would be in a committee this year, but he handled the workload himself in the second preseason game, and if he continues to perform like this, the 49ers won't be able to take him off the field.


The most impressive defensive player, meanwhile, was NaVorro Bowman. The stud inside linebacker was involved on all three plays in which Romo was on the field. He helped stuff McFadden twice and then forced Dunbar into a loss of yardage. Patrick Willis and Chris Borland are gone, but Bowman's return will prevent the 49ers' defense from being completely incompetent.


As for special teams, Jarryd Hayne shined again. Failing to mention Hayne last week was a glaring omission; if you haven't heard his story, he's a former star rugby player who has never played football before, yet he's been prolific in the preseason. Hayne had a 35-yard punt return in this contest, making people miss and running over tacklers. Hayne also paced the team with 54 rushing yards on eight attempts. He had a 34-yard burst in which he made a nice stiff-arm to elude a defender. Despite having zero football experience, Hayne is looking like a lock to make San Francisco's final roster.

Follow me @walterfootball for updates.









Bears 23, Colts 11
This was the final Saturday game I watched, and I was eager to see what happened to the Colts' offense, since the team had a doughnut on the scoreboard for most of the first half. Andrew Luck couldn't have struggled that much against Chicago's defense, could he?

As it turns out, every around Luck struggled. For instance, Luck was sacked on the first play because Pernell McPhee was easily able to beat the hapless Jack Mewhort. Two plays later, Luck had to throw the ball away because he was under duress immediately. On the next drive, Luck was betrayed by Andre Johnson, who dropped a pass, and then he was forced into an incompletion because Anthony Castonzo couldn't handle Jared Allen. Later on, T.Y. Hilton had a ball drop right through his hands on what looked like was going to be a long gain. Fortunately for Luck's sanity, Hilton was able to redeem himself with a 45-yard catch on a bomb in which he was able to beat Kyle Fuller. Luck then took matters into his own hands with a rushing touchdown.

Luck finished 5-of-9 for 71 yards and the score on the ground. But as written, Luck should've enjoyed a better outing. Two catches on the drops would've allowed him to go 7-of-9, and less pressure would've enabled him to torch Chicago's secondary.

Here were Luck's targets:

Dwayne Allen: 1
T.Y. Hilton: 3
Andre Johnson: 3


Hilton caught two passes for 52 yards. I'd say he could've had a bigger outing because of that aforementioned drop, but then his 45-yard reception never would've counted. Hilton remains a bottom-end WR1.


Andre Johnson saw three targets, but was only able to come away with an 8-yard reception. Johnson dropped a pass, while the other incompletion happened because the pressure Luck saw forced him into an errant throw.


Meanwhile, Phillip Dorsett, who enjoyed a big preseason debut, caught three passes for 21 yards. However, all of this came with Matt Hasselbeck.


Frank Gore saw his first action with the Colts, but only had two carries. He looked decent, accumulating 10 yards in the process on a pair of 5-yard bursts. Daniel Herron saw the field after that, but the other two backs, Josh Robinson and Vick Ballard, were the big stories at this position. Robinson, a sixth-round rookie, was the most impressive back, gaining 61 yards on 13 carries, albeit against the backups. Ballard, meanwhile, saw action for the first time since Week 1, 2013, thanks to multiple leg injuries. Ballard's two attempts went for four yards.


I was shocked while watching this game. Jay Cutler, believe it or not, was actually very sharp. The Bears ran a much quicker passing game than we've seen from them, and Cutler was surprisingly efficient.

Cutler went 8-of-9 for 69 yards, and the thing is, he could've had a much better evening. An early illegal-hands penalty wiped out a long completion of his to Josh Bellamy. Later, Cutler scrambled for a touchdown, which was wiped out by holding. The take-away was that when Cutler's helmet popped off after the run, he actually showed emotion in his face. Real emotion - something that he hasn't displayed in years. If this wasn't an aberration, the Bears actually might not be terrible this year.

Here were Cutler's targets:

Josh Bellamy: 1
Martellus Bennett: 3
Matt Forte: 1
Jacquizz Rodgers: 1
Eddie Royal: 1
Marquess Wilson: 3 (1 end zone)


Martellus Bennett is out of Marc Trestman's pass-happy offense, but so far, so good for him in the new scheme. Bennett saw three targets in a quarter-and-a-half of action and converted on all three of those, tallying 32 yards.


Matt Forte caught a ton of passes last year, but he snagged just one reception in this contest. He was given eight carries and ran for 24 yards. He fumbled early, but was fortunate to have a teammate recover.


It's good that the Bears know that if Matt Forte gets hurt, they won't be completely lost at running back. Jeremy Langford was impressive at Indianapolis, accumulating 80 yards and a touchdown on just nine carries. The bulk of Langford's yardage came on a 46-yard burst, which featured a nifty cut in the open field to dodge Colt Anderson. Unfortunately for Anderson, he was abused again later, whiffing on Langford deep in his own territory. Later on the drive, Langford broke out of a tackle and crashed into the end zone. I don't like handcuffs, but Langford will be a high-priority free agent if Forte sustains an injury.


I was amused by Indianapolis' broadcasting team, as both men probably had a combined age of 160. The color analyst may have been 90. He was doing that thing all extremely old men do, which is chewing on seemingly nothing in an attempt to keep their dentures in place. His analysis wasn't too bad, but he seemed lost at times.

"We gotta... we gotta... uhh... we gotta get the ball to Dorsett... the ball to Dorsett in space!"

He was at least able to finish his thought there. But not here:

"Pat McAfee is the touchback king of the league... he's uhh... that's amazing..."

What's really amazing is that he didn't take a nap during the telecast.

Follow me @walterfootball for updates.









Titans 27, Rams 14
Marcus Mariota had a bit of an underwhelming debut last week, so any sort of progress would have been encouraging for the Titans. As it turns out, Mariota improved by leaps and bounds in his second start.

Mariota's first strike was a good one. He was under center - noteworthy, considering his college offense - and he play-actioned and hit Kendall Wright with a perfect, 16-yard pass. He then drew the Rams offside with a hard count. On the next drive, Mariota rolled out to the right and found Craig Stevens for a gain of 35 yards on a very impressive touch throw. He then appeared to fire a touchdown to Dexter McCluster, but the small back was guilty of a horrible drop. Mariota's only blemish on the evening was a near-pick; he hesitated, causing his feet to stop. He then telegraphed a pass, which safety Mark Barron dropped.

Mariota finished 5-of-8 for 59 yards. It could've been a much different night for him; better, if McCluster hung on to the touchdown, or worse, if Barron snatched the interception. Still, there's plenty to be optimistic about regarding Mariota.

Here were Mariota's targets:

Justin Hunter: 1
Dorial Green-Beckham: 1
Dexter McCluster: 1 (1 end zone)
Craig Stevens: 1
Kendall Wright: 4


Marcus Mariota and Kendall Wright reportedly have clicked in training camp, and that translated to the field. Mariota targeted Wright a team-high four times, with Wright snatching two balls for 15 yards in slightly more than a quarter of work. Wright is likely to be a PPR machine this season.


I don't know what happened to the old Bishop Sankey, but someone kidnapped him and replaced him with a pod person who has much more talent. Sankey was awesome in the second preseason game, tallying 45 yards on just six carries. He started by breaking numerous tackles on a 19-yard gain, and there were a couple of other plays in which he was able to shed defenders. David Cobb has been getting a ton of hype lately, but Sankey made a huge statement against the Rams.


Speaking of huge statements, Dorial Green-Beckham had some awesome moments in the opening half. He saw just one target from Marcus Mariota, but he showed some great footwork on a 13-yard catch, as he was able to tap both feet down inbounds after running a great route. On the very next play, he spun out of a tackle and picked up a first down, gaining 10 yards. Green-Beckham would've been a top-10 pick in the 2015 NFL Draft had he been clean off the field, so he could be a very potent weapon for Mariota as early as this year if he stays out of trouble.


Green-Beckham did this all with Zach Mettenberger, who once again put together a strong performance. Mettenberger was a near-perfect 7-of-9 for 91 yards, and he was every bit as good as those numbers indicate. If Mettenberger keeps this up, the Titans might be able to obtain a mid-round draft pick for him, perhaps from a team like the Browns...


...Or maybe, the Rams? If Nick Foles keeps playing like he did at Tennessee, St. Louis will be in the market for a new signal-caller.

Foles was awful. He finished 3-of-7 for 18 yards and a pick-six, but those numbers don't tell the whole story. The interception actually wasn't completely his fault, as it seemed like Kenny Britt wasn't paying attention. However, some of Foles' other attempts weren't even close. He was way wide of Stedman Bailey on a third down, and he pathetically checked the ball down on a manageable third down. Foles' only positive moment was a play in which he escaped a sack and found Britt for a first down.

Here were Foles' targets:

Tavon Austin: 2
Kenny Britt: 3
Jared Cook: 1
Stedman Bailey: 1


Britt, as mentioned, had a regrettable evening. He caught two of his three targets for 15 yards, but he didn't try very hard on his route on the play in which Foles fired a pick-six. This might be yet another lost year for Britt.


No Todd Gurley again, so Tre Mason made the start. He didn't have much running room, as he mustered just six yards on three carries. He's only worth a fantasy roster spot because of Gurley's injury, but his seventh-round ADP is outrageously high.


There's not much else to say about the Rams, so let me address Randy Moss, who hinted about a return to the NFL. "I still have that itch!" he exclaimed prior to the game. Moss was trending on Twitter for a while because of this, but please ignore it. Even if this is legit - which I have major doubts about - I can't see any team being crazy enough to sign him. He's 38, and he's been out of football since 2012.

Follow me @walterfootball for updates.









Broncos 14, Texans 10
Brian Hoyer started last week's preseason game. It was Ryan Mallett's turn this time, so this was a great opportunity for him to distance himself from the competition. Unfortunately for the Texans, Mallett did not do that.

Mallett looked good early, firing a quick strike to Nate Washington for 10 yards to move the chains on third down. He also drew DeMarcus Ware offside with a hard count. However, he got worse after that, launching a poor pass toward Alfred Blue, which was also a bad decision because he was covered very well. Mallett was then nearly intercepted by Brandon Marshall.

Mallett finished 5-of-7 but for only 23 yards. He obviously has more talent than his counterpart, but the mental part of his game is a big question mark. He didn't do anything in this contest to quell those concerns.

Here were Mallett's targets:

Alfred Blue: 2
Damaris Johnson: 1
Keith Mumphery: 1
Jay Prosch: 1
Nate Washington: 3


As for Hoyer, he didn't do anything to distance himself either. He finished 7-of-11 for 52 yards in what was a very nondescript game. Seriously - I had zero positive or negative notes for him. He dinked and dunked for the most part. He tried to throw a deep pass to Garrett Graham, but the tight end ran a bad route. Hoyer is the favorite to start for the Texans because of his smarts, but it's obviously far from an ideal situation.


If you want to know about the third quarterback, Tom Savage went 15-of-24 for 168 yards. Thanks to a big arm, he was able to make some impressive throws, but his pocket presence is pretty shoddy. He took some bad sacks because he either held on to the ball too long or couldn't recognize what the Broncos were doing. He's not ready to play yet, but it's not like he's that much worse of an option than Hoyer or Mallett.


Alfred Blue drew the start, and he showed very nice patience on an early 8-yard run. Blue, however, couldn't find any rushing lanes on his other attempts, which is why he managed just 10 yards on four carries. The take-away though is that Blue was the primary back; Jonathan Grimes entered the contest after Blue left the field for the night. Grimes had better rushing numbers (5-23), but he was guilty of dropping an easy screen pass.


First-round rookie cornerback Kevin Johnson made a nice play in this contest. He did a great job of breaking up a third-down pass that Peyton Manning fired toward Demaryius Thomas. Said Bill O'Brien after the game, "He's a very smart player. We've been very happy with Kevin."


As for Manning, he failed to lead the team to any points in this contest, going 8-of-14 for only 52 yards. I wouldn't say Manning had a poor outing; he was victimized by three drops from Thomas, Jordan Norwood and James Casey. However, Manning made some poor throws as well. He overshot Thomas on the second possession, and then he missed Thomas again on what appeared to be a routine intermediate out on a third down. Manning was also nearly picked by Eddie Pleasant on a heave toward Owen Daniels.

I don't think we learned anything about Manning in this contest. He's now 39, so there's definitely a reason to believe that he's in for a major decline, especially after how poorly he finished in 2014. I don't think we'll figure him out until the season opener against Baltimore.

Here were Manning's targets:

C.J. Anderson: 1
James Casey: 1
Owen Daniels: 5
Jordan Norwood: 1
Demaryius Thomas: 6


Thomas led the Denver starters with six targets, but Manning connected with him on just three occasions for 24 yards. Manning fired two poor throws Thomas' way in a quarter-and-a-half of action.


Owen Daniels is worth mentioning after he caught four of five targets thrown his way in the second preseason game. Daniels collected 25 yards, but it appears as though he could be valuable in PPR formats, as someone will have to take Julius Thomas' targets.


Montee Ball is going three rounds earlier than Ronnie Hillman in fantasy drafts, yet Hillman was the first running back on the field once C.J. Anderson was done for the night at Houston. Hillman also looked much better than Ball, gaining 54 yards on just eight carries, while the sluggish Ball mustered only four yards on as many attempts.


Some notes on a couple of young Broncos:

- Brock Osweiler had a fantastic preseason debut, but fell back down to Earth in this contest. He failed to complete half of his passes, going 7-of-16 for 121 yards, one touchdown and an interception. Osweiler started well, launching a perfect, 57-yard touchdown bomb to Andre Caldwell. However, he was later pick-sixed because he didn't see the linebacker dropping into coverage.

- First-round rookie Shane Ray, who was taken for a ride by Grimes at one point, was helped off the field with what looked like a nasty leg injury. However, Ray managed to return to the field later on.

Follow me @walterfootball for updates.




Steelers 24, Packers 19
Seeing injuries in the preseason is the worst, so it's highly unfortunate that this was a virtual bloodbath for these two teams. The Steelers lost a few players, and I'll get to them later, but the most significant injury, at least from a fantasy football perspective, was to Jordy Nelson.

Nelson went down on a non-contact injury on the first drive of the game. He hobbled off, and Ian Rapoport reported that the initial diagnosis was a torn ACL. This is obviously very unfortunate for the Packers, as well as for anyone who drafted him in fantasy. My condolences if you were that unfortunate. Check out my NFL Disaster Rating for this injury.

The silver lining is that the Packers still have Aaron Rodgers, who will be able to transform Davante Adams into a big producer, as well as either Ty Montgomery or Jeff Janis into a capable No. 3 wideout.

Rodgers was sharp in this contest, going 4-of-5 for 57 yards. He took a sack for a safety on his second and final drive, but that was because he was backed up against his own goal line following a brilliant punt.

Here were Rodgers' targets:

Davante Adams: 1
Randall Cobb: 1
Eddie Lacy: 1
Jordy Nelson: 2


Randall Cobb caught his only target from Rodgers for 30 yards. He is one of two Packers who won't be affected by Nelson's injury from a fantasy perspective.


Eddie Lacy is the other Packer whose stock won't change. He ran extremely well against the Steelers, gaining 30 yards and a touchdown on six carries. He also caught a 3-yard pass, though he was partly guilty of surrendering the aforementioned safety-sack. He's a great runner who should be in the mix for the No. 1 overall pick.


Davante Adams couldn't reel in his only target against the Steelers, but he sees an obvious stock up in the wake of Jordy Nelson's injury. He now has WR2 upside and should be considered in the fifth round, if not earlier.


Richard Rodgers hauled three balls for 30 yards and a touchdown in the second preseason game. None of that was with Aaron Rodgers at the helm, but he's still worth moving up in the rankings. With Jordy Nelson out for the year, Aaron Rodgers won't have a choice but to utilize the tight end more, and Richard Rodgers happens to be the starter at that position.


As mentioned, the Steelers had their own injury problems. Maurkice Pouncey went down with a serious ankle injury, and it sounds like he'll be out for at least half the season - perhaps even the entire year. That's obviously a huge loss, as Pouncey is one of the top centers in the NFL. Elsewhere, Stephon Tuitt sprained his ankle, while Bruce "The Polish Point-Shaver" Gradkowski hurt his finger.


Ben Roethlisberger obviously can't like the fact that he won't have his center, but he was still sharp after Pouncey exited the game. Roethlisberger finished a near-perfect 11-of-14 for 100 yards and a touchdown, and he was robbed of a second score when Antonio Brown was called for offensive pass interference after catching a deep bomb. In fact, Roethlisberger was guilty of just one poor pass when he underthrew Markus Wheaton while under pressure.

Here were Roethlisberger's targets:

Le'Veon Bell: 3
Antonio Brown: 5 (1 end zone)
Martavis Bryant: 1 (1 end zone)
Will Johnson: 1
Heath Miller: 1
Markus Wheaton: 4 (1 end zone)


Le'Veon Bell might be slightly affected by Maurkice Pouncey's absence, but I wouldn't downgrade him because he might even catch more passes, as Roethlisberger will have to release the ball quicker. Bell gained 16 yards on six carries to go along with two catches for 16 receiving yards.


It should not surprise anyone that Antonio Brown led the Steelers in targets. He saw five balls go his way, catching four of them for 24 yards. The lone misfire was a touchdown overturned by offensive pass interference. Brown should be the No. 1 receiver off the board in all fantasy leagues.


Many are high on Martavis Bryant, but I'm not. Markus Wheaton is starting over him, and as Ben Roethlisberger has stated multiple times this season, Wheaton has shown tons of improvement. The third-year wideout snatched three of the four passes thrown his way for 42 yards and a touchdown, while Bryant saw just one target. Wheaton is an amazing value right now at his 11th-round ADP.


Good news, bad news for Sammie Coates. The good news is that he snatched a 54-yard reception in the third quarter. The bad news is that he was guilty of two ugly drops. He has a long way to go before seeing action in the regular season.

Follow me @walterfootball for updates.




Vikings 20, Raiders 12
I've been pessimistic about Derek Carr's chances this year, but he had a strong preseason debut last week. I was wondering if he could pick up where he left off, but he did not. Carr had a sub-par showing at Minnesota.

Carr finished 4-of-8 for 78 yards, with more than half of it (40) coming on one throw. It was a perfect pass to Amari Cooper down the sideline, beating Terence Newman. Mike Zimmer challenged the play, but it stood, as Cooper barely tapped his second foot inbounds upon falling out of play. It was an awesome sequence that should have Raider fans extremely stoked.

Unfortunately for Carr, the rest of his evening left much to be desired. He began by throwing behind Marcel Reece in the flat, on what should've been a routine completion. On the same drive, he overshot Cooper along the sideline. Later, he launched a ball way over the head of some guy named Seth Roberts.

Here were Carr's targets:

Amari Cooper: 2
Marcel Reece: 2
Mychal Rivera: 1
Seth Roberts: 1
Kenbrell Thompkins: 1


Amari Cooper saw just two targets in his second preseason game, but he made it count; he hauled in a 40-yard pass, blowing by Terence Newman, who had no chance of covering him. Cooper impressively tapped both feet inbounds before falling out of play. Cooper is going a bit too early in fantasy drafts, but he could have a big rookie campaign.


Latavius Murray had another solid showing. He gained 20 yards and a touchdown on just four carries. He was not targeted in the passing game, however, as Carr looked toward Marcel Reece instead.


There's not much to say about the Raiders, who had some procedural penalties. Carr was on the field until a 45-minute lightning delay, and Christian Ponder came into the game after that to a chorus of boos. Minnesota fans were much happier to see Teddy Bridgewater, who had another solid performance. He went 10-of-14 for 89 yards and a touchdown, which was a beautiful touch throw to Charles Johnson.

Having said that, there were a couple of down moments for Bridgewater. He missed a wide-open Kyle Rudolph and couldn't hit Jarius Wright in the flat. Otherwise, he was very good, and there are no signs that he'll be victimized by a sophomore slump.

Here were Bridgewater's targets:

Charles Johnson: 5 (1 end zone)
Rhett Ellison: 1
Jerick McKinnon: 3
Kyle Rudolph: 2
Mike Wallace: 1
Jarius Wright: 2


There was a report recently stating that Teddy Bridgewater's favorite target is Charles Johnson. The second preseason game showcased that, as Bridgewater fired a team-high five passes his way. Johnson looked good, securing four balls for 40 yards and a touchdown in a quarter-and-half of action. He's a solid WR3 to target around Round 7.


While Johnson looked good, a couple of Viking receivers disappointed. Mike Wallace dropped an easy pass early on - of course - and Cordarrelle Patterson saw his drop and raised him a bad route that resulted in a Shaun Hill interception. Both players are bums and should not be used.


Adrian Peterson sat out again, allowing Jerick McKinnon to draw the start. He struggled to find running room, mustering just 25 yards on 12 carries.


Trae Waynes was woeful in his first two preseason games, and it appeared as though he would have yet another brutal outing when he was torched early by some guy named Seth Roberts. However, Waynes redeemed himself later by breaking up a Ponder pass on third-and-13.


There's some concern with Blair Walsh; even the homer announcers expressed frustration with him. Walsh is now 2-of-6 on field goals during the preseason, and he even whiffed on an extra point that wasn't even close.


While Peterson didn't play, he was interviewed on the sideline. He was asked who the "LeBron James of football" is, and he responded with something like, "I'm gonna have to go with myself."

Wow, way to be humble there, Adrian. And I don't get how you're the "LeBron James of football," anyway. Are you saying that you're a pretentious douche bag who screwed over your hometown, only to return a few years later and cause unnecessary drama within the team?

Follow me @walterfootball for updates.




Giants 22, Jaguars 12
Eli Manning struggled in the preseason opener, and he was once again shaky. Manning posted ugly numbers - 4-of-14 for 46 yards - but his woeful stat line wasn't all his fault. He made several bad passes, but was hurt by his supporting cast as well.

Eli Manning and Odell Beckham Jr. simply couldn't connect versus the Jaguars. Beckham saw a team-high (for the starters) five targets, yet he failed to secure a single catch. Manning began by overthrowing Beckham a couple of times. He then appeared to connect with Beckham for a gain of 29, and it could've gone for a touchdown had Manning hit Beckham in stride rather than throwing it low. Unfortunately, it was ruled a drop upon inspection, as Beckham couldn't hang on to the ball. Manning then overshot Beckham once last time, though Beckham paid him back by dropping another ball. I'm sure things will improve in the regular season, but this left me with an uneasy feeling.

Manning showed bad chemistry with his other targets as well. He fired a throw over Larry Donnell's head, and then heaved a pass right at the feet of Preston Parker. Manning struggled last preseason as well, and though he eventually managed to catch fire, he was woeful at the beginning of the year.

Here were Manning's targets:

Odell Beckham Jr: 5
Larry Donnell: 2
Henry Hynoski: 1
Rashad Jennings: 1
Preston Parker: 3
Shane Vereen: 2


The Giants ran the same running back rotation they utilized last week. They started with Rashad Jennings, who gained four yards on just one carry because New York passed on every single play on the initial possession, and then they used Andre Williams (3 carries, 13 yards) on the second drive. Shane Vereen was sprinkled in on third downs. Vereen matched Williams' rushing numbers, and he also secured a 14-yard pass.


If you've looked at the box score, you may have seen that James Jones paced the Giants with five catches and 83 yards. Jones appears to be on track to make the final roster, but he did this all with the backups. It's possible though that Jones could push Preston Parker for his job as the No. 4 receiver.


As for the Jaguars, Blake Bortles was better by his counterpart, but only by default. He had a mixed outing, going 8-of-16 for 98 yards. A couple of his incompletions weren't his fault; he had a miscommunication with Rashad Greene and then was victimized by drops from Allen Robinson and Allen Hurns. Bortles, however, didn't see a couple of open receivers. He made some nice throws, including a very accurate dart to Robinson for 20 yards, and he has definitely shown improvement from last season, but there's still a lot of work to do.

Here were Bortles' targets:

Toby Gerhart: 1
Rashad Greene: 3
Allen Hurns: 3
Allen Robinson: 7 (1 end zone)
Denard Robinson: 2 (1 end zone)


Allen Robinson led the Jaguars in receiving yardage (64) off three catches at New York. He was also targeted a team-high seven times. Robinson looked good at times, and though he committed an awful drop in the red zone, it appears as though he's poised to have a big 2015 campaign.


I mentioned earlier that Hurns was guilty of a drop. It was a significant one, as it was a deep bomb that obviously would've gone for a huge gain. He secured just one of three targets thrown to him.


T.J. Yeldon was out again, so Denard Robinson reprised his role as the starter. He looked OK, mustering 19 yards on six carries. He was also targeted in the end zone, but Bortles couldn't connect with him. Toby Gerhart (5 carries, 15 yards) saw some short-yardage work.


A couple of odd quotes from the Jacksonville broadcasting team. The play-by-play guy had this to say:

"Tom Coughlin, the first man who brought the franchise to Jacksonville."

The "first man?" Did Coughlin buy the team and create the franchise? I don't understand this wording.

And here's a gem from Mark Brunell:

"Field goals are good, but you really want touchdowns."

Thanks, Mark! And here I thought what teams really coveted were those nifty three-point plays.

Follow me @walterfootball for updates.




Patriots 26, Saints 24
Tom Brady played last week and didn't look too good in his limited action, heaving balls that seemed so overly inflated that it appeared as though he was hurling balloons at his receivers. The thinking was that he would perhaps improve against a New Orleans defense that struggled all last year.

That didn't happen. Brady failed to move the chains whatsoever, with the team securing its initial first down after he left the game. His numbers were horrid, as he went 2-of-5 for only 13 yards.

To be fair, two of Brady's balls were broken up by a couple of defenders, who made nice plays. The other incompletion was the result of Danny Amendola getting his feet tangled with an opposing defensive back. Still, Brady didn't show anything positive, and he actually looked like he was sleepwalking throughout this game. He just seemed so lifeless that it made me wonder if the fallout from the Deflategate scandal has drained all of the energy out of him.

Here were Brady's targets:

Danny Amendola: 2
Michael Hoomanawanui: 1
Dion Lewis: 1
Jimmay Mundine: 1


Jimmy Garoppolo entered the game at the end of the first quarter and played the rest of the way. His numbers were outstanding - 28-of-33, 269 yards, one touchdown, one interception - but did his actual performance match his statistics? Almost, as there were a couple of issues.

Things didn't look good right away, as New England had to use a timeout immediately when Garoppolo went under center. Some of Garoppolo's incompletions should have been connected; he missed badly on a couple of passes, which includeed his interception, an overthrown pass forced into double coverage.

However, Garoppolo had a mostly positive evening. He was sharp on almost all of his intermediate passes, prompting the broadcasting team to call him a "Tom Brady clone." He did most of his work versus the Saints' third-string defense, but the New Orleans starters were on the field for the entire second quarter, yet Garoppolo handled himself just fine.


LeGarrette Blount posted an ugly stat line, mustering just 15 yards on 13 carries. Blount didn't look sluggish or anything; the Saints simply just did a fantastic job of controlling the line of scrimmage. One difference-maker was former Viking and Seahawk Kevin Williams, who was very impressive. The Saints announcers even said that Williams looked like a defensive tackle in his prime rather than a 13-year pro.


Jonas Gray posted a slightly more-impressive stat line, accumulating 22 yards on seven carries. Like Blount, he had difficulty finding running room, but he did his best to successfully break out of some tackles.


There's not much else to say about the Patriots, as they were still missing the likes of Rob Gronkowski and Julian Edelman, so with that in mind, I'll begin discussing the Saints.

Drew Brees had much more success than Tom Brady in the second preseason game, going a near-perfect 8-of-10 for 159 yards and two touchdowns in just a quarter-and-a-half of action. One of the incompletions was nearly a score to Brandon Coleman, but Devin McCourty did a great job of punching the ball out at the last second. It's only the preseason, but New Orleans should feel optimistic about Brees' 2015 campaign after watching this contest.

Here were Brees' targets:

Brandon Coleman: 1
Marques Colston: 1
Brandin Cooks: 3 (1 end zone)
Mark Ingram: 2
Khiry Robinson: 2
Ben Watson: 2 (2 end zone)


One of the main reasons Drew Brees was so effective in the team's second preseason game was Brandin Cooks. The second-year receiver was extremely dynamic, catching four passes for 117 yards and a touchdown in just one half of action. Cooks was brilliant, even making Pro Bowl safety Devin McCourty miss on an 18-yard reception. Cooks, who has been predicted to have a monster year by none other than Randy Moss, is definitely going to shoot up my Fantasy Football Rankings.


Brandon Coleman has been getting a ton of hype, but failed to convert on his only target of the night from Brees. McCourty knocked the ball away in the end zone.


Someone else who generated lots of hype earlier was Josh Hill. The Saints, however, plan to run a tight end by committee, and it was Ben Watson who got a couple of looks in the end zone from Drew Brees in the second preseason game. Hill scored later, but caught the pass from Luke McCown.


Mark Ingram signed a contract this offseason, but it doesn't appear as though he's ready to rest on his laurels. He looked good against the Patriots, ripping off an 11-yard run. However, his pass-catching ability was the story. He caught three passes for 45 yards, prompting the Saints' play-by-play guy to state, "Ingram has looked great catching the ball in training camp."


This game featured an official I had never seen before. He was a short, black guy named Barry Anderson, and I quickly noticed him because it seemed like he was taking forever to make each call. The aforementioned play-by-play guy felt the same way I did, commenting at one point, "He's going to make this call sometime today, I think."

Anderson, who was making his debut, doesn't appear ready for NFL action. He stopped the game at the end of the first half to review something that happened two plays ago. Bill Belichick was so irate about this that he looked like he wanted to throw his headset. He then called timeout, just to keep yelling at Anderson and the other officials. This stoppage was announced as a "30-second timeout," but no joke, it lasted several minutes because Belichick wouldn't stop shouting at the refs.

Follow me @walterfootball for updates.




Chargers 22, Cardinals 19
I'll be spending most of my time talking about the Cardinals, as Philip Rivers sat out because of a coach's decision. A curious one, to say the least.

Carson Palmer's numbers don't look great because of the completion percentage - he finished 3-of-7 for 88 yards and a touchdown - but they also don't tell the entire story. Two of his incompletions were because of miscommunications with Andre Ellington and J.J. Nelson. He was also victimized by a John Brown drop on a perfect pass. Thus, most of Palmer's passes were right on the money, including a 57-yard bomb to Nelson. Unfortunately, Palmer was knocked around a couple of times, as Bradley Sowell surrendered a sack, starting in place of the suspended Bobbie Massie.

Here were Palmer's targets:

John Brown: 3 (1 end zone)
Andre Ellington: 1
Darren Fells: 1
J.J. Nelson: 2


Andre Ellington didn't see much action in this contest. He had a nice, 11-yard run to open the contest, but then screwed up by running the wrong route, resulting in a Palmer incompletion. Ellington finished with 12 yards on two attempts.


The big story regarding Arizona's running back rotation revolved around David Johnson, as the third-round rookie saw action for the first time in his NFL career. Johnson had a mostly positive performance versus San Diego, rushing for 66 yards on 13 carries to go along with two catches for 15 receiving yards. Johnson escaped defenders with some strong stiff-arm action, and ran with a nice mix of speed and power. He did miss a hole on an early carry, and he could've done better in pass protection, but Johnson looked good overall. He has definitely earned some playing time when the real action begins.


It looks like the Cardinals may have something in fifth-round rookie receiver J.J. Nelson. The UAB product, who flashed last week, torched a starting San Diego cornerback on a 57-yard reception from Palmer. He also picked up 18 yards on a quality punt return.


Arizona needs to get its right tackle situation figured out. As mentioned, Bradley Sowell, starting in place of the suspended Bobby Massie, surrendered a sack. I was wondering where rookie D.J. Humphries was, and I quickly realized why he wasn't starting after seeing him perform in the second quarter. Humphries was beaten badly by Jeremiah Attaochu, and he looked very sluggish overall. The Cardinals need to re-think spending first-round picks on offensive linemen.


The Cardinals had a big scare early on. Calais Campbell, one of the team's top defensive players, went down for some time, grabbing his left hand. Fortunately, he missed just one play.


A bad showing by Logan Thomas: The second-year quarterback was solid last week, but was brutal in this contest. He went 0-of-4, and two of his passes weren't even close. Thomas had an open receiver for a touchdown, but threw way behind him. He later launched a pass downfield, but the ball sailed out of bounds.


I only have a few notes on the Chargers because Rivers didn't play. Keenan Allen did suit up, however, and he disappointed backup Kellen Clemens by dropping two passes. I won't read too much into this, as Allen's concentration may not have been there because he wasn't on the field with his starting quarterback. Allen ended up with two catches for 25 yards.


No Melvin Gordon either. Danny Woodhead actually started, and he did his best to emulate Mark Sanchez on one play, getting tackled because he ran into King Dunlap's rear end.


Melvin Ingram had a great game. He dominated Arizona's offensive line and caused havoc for both Palmer and Drew Stanton.


I'd be remiss if I didn't list some quotes from Cardinals color analyst Ron Wolfley. If you've never heard him, Wolfley is insane. I'm not kidding. He says the craziest things, like...

J.J. Nelson is a rail with eyeballs!

Cool. I was thinking about getting a rail with eyeballs as my next pet, so I may name it J.J.

I guarantee you right now, David Johnson has got the sauce on the boys.

During a game? Really? Perhaps later, in the comfort of his own bedroom while downloading some exotic videos, but not during a game, Wolf!

Every orifice of your body opens up and stuff comes out.

Man, what kind of exotic videos does Wolf download?

I like the way he stoked it right there!!!

Not that there's anything wrong with that.

I'd rather have a sumo wrestler kick me in the cradle!

Uhh... not that there's anything wrong with that either?

Ted Larsen, you don't want him to show up if he's selling something on Craigslist, if you know what I mean. You'll show up to his apartment, and there will be dim lighting.

Wow. So Wolf is saying that Larsen is a serial killer? Or just a horrible Craigslist seller to deal with?

Follow me @walterfootball for updates.




Panthers 31, Dolphins 30
The Panthers' season went down the drain when Kelvin Benjamin tore his ACL during the week - check out my Disaster Grades for more - and based on what happened in this game, things are just as disastrous as I made them out to be in the blurb available via the link.

Whether it was because of him or his supporting cast, Cam Newton struggled in his first start without Kelvin Benjamin. He opened with a poor throw to Philly Brown along the sideline; it was off the mark, and Brown couldn't stay on the field as a result. Brown and Jonathan Stewart then combined to drop three passes, including one in the end zone by the former. Newton also continued to throw poorly; he telegraphed an apparent pick-six to Greg Olsen - the defender barely stepped out of bounds on the return - and then Newton overthrew Ed Dickson. He finished just 4-of-10 for 42 yards and the interception. Newton will still be an effective fantasy player because of his running ability, but not having Benjamin at his disposal makes him a much less intriguing option.

Here were Newton's targets:

Philly Brown: 3 (1 end zone)
Ed Dickson: 1
Ted Ginn: 1
Greg Olsen: 4
Jonathan Stewart: 1


The good news for Philly Brown is that he saw three targets from Cam Newton against the Dolphins, including one in the end zone. The bad news is that he didn't snag a single catch. Newton misfired toward him once, and Brown let his quarterback down by dropping two passes. Brown has a great opportunity to get on the fantasy radar, but he was woeful in this contest.


Jonathan Stewart was also adversely affected by Kelvin Benjamin's absence. He rushed for only two yards on two carries against the Dolphins, and he was also guilty of a drop. Stewart is one of the most overdrafted players in fantasy this summer. You should avoid him; he's an injury-prone player who won't have any running room, thanks to Benjamin's injury and a pedestrian offensive line.


It appears as though Cameron Artis-Payne will be the prominent back when Stewart goes down with an injury. He gained 33 yards on four carries, though it's worth mentioning that all but four of that yardage came on one burst.


Good news, bad news for Carolina's defense: The good news is that rookie Shaq Thompson looked fantastic. He prevented a touchdown with a tackle and then broke up another potential touchdown by knocking the ball away on a pass to Jordan Cameron. The bad news is that defensive end Frank Alexander was carted off the field with an ankle injury. Sideline reporter Jordan Gross said that Alexander's body language was "not too positive."


As for the Dolphins, Ryan Tannehill was much better than his counterpart. He had a mostly positive night, as he went 12-of-15 for 102 yards and a touchdown to go along with an 11-yard scramble. However, there were a few bad moments. He was strip-sacked by 2014 second-rounder Kony Ealy, who was going up against a backup left tackle; Branden Albert didn't play. Tannehill then heaved a poor downfield attempt toward Kenny Stills, as he overshot him by about five yards. Tannehill was also nearly intercepted by Luke Kuechly. Otherwise, though, Miami has plenty to be optimistic about concerning its quarterback.

Here were Tannehill's targets:

Jordan Cameron: 2
Matt Hazel: 1
Jarvis Landry: 6 (2 end zone)
Rishard Matthews: 2
Lamar Miller: 2
Michael Preston: 1
Kenny Stills: 2
Damien Williams: 1


Jarvis Landry is going to have a huge year. Save for him, no other Miami starter saw more than two targets at Carolina. Landry drew six, including a pair in the end zone! Ryan Tannehill's favorite receiver by a mile, Landry snatched four balls for 20 yards, and he nearly scored a touchdown when he drew a defensive holding penalty in the end zone.


Lamar Miller mustered just five rushing yards on three carries, but he flashed on a 36-yard reception. He completely embarrassed Josh Norman with a juke in the open field after reeling in the catch.


A funny moment in this game occurred on a Joe Philbin challenge. I think it might have been the worst challenge of all time. Philbin wanted to review a touchdown after his running back was ruled down at the 1-yard line. The back, Damien Williams, reached for the pylon, and the ball came loose. It appeared as though he may have hit the pylon prior to hitting the turf. Instead, the official ruled that Williams actually dropped the ball out of bounds, and the play was a touchback - not a touchdown - because the ball hit the pylon. I've never seen a challenge completely backfire like that. The best part was that the ref announced that Philbin would not be charged a timeout.


The Panthers' play-by-play guy was a bit too enthusiastic in the opener. He shouted this at the top of his lungs:

"There is nothing like the preseason opener in Carolina!"

Umm... OK? If you say so.

Oh, and I don't know if you've seen this, but check out Jordan Gross, Carolina's sideline reporter. Keep in mind that Gross was a 300-pound lineman for the Panthers recently: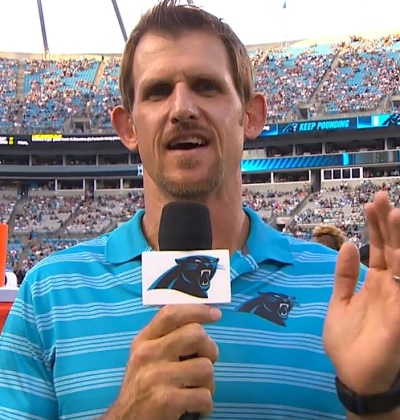 Holy crap. I wonder what happened to the human being who escaped from Gross' stomach.

Follow me @walterfootball for updates.




Eagles 40, Ravens 17
Sam Bradford sat out the preseason opener, so all eyes were on him in this contest. It was unknown how long he would play, but Chip Kelly decided to keep his starting quarterback on the field for just one drive. I'm sure the fans wanted to see more, as Bradford was a disappointment in his debut with the Eagles.

Bradford began the game by overthrowing Riley Cooper. He was then off target on a pass to Nelson Agholor, but the most significant thing to happen on the play was that he took a crushing hit in the pocket, and he was slow to get up. He didn't look right on his only other deep throw after that, as he missed Seyi Ajirotutu by a mile.

Bradford finished 3-of-5 for 35 yards. His completions were of the short and intermediate variety - passes most quarterbacks in the NFL could have converted. He was less accurate downfield, which is not surprising, given that he used to throw that way as a Ram. It also had to be disconcerting to see Bradford get up so slowly after that big blow. There is almost a zero-percent chance that he'll start all 16 games this year.

Here were Bradford's targets:

Nelson Agholor: 1
Seyi Ajirotutu: 1
Riley Cooper: 1
Josh Huff: 1
Jordan Matthews: 1
Darren Sproles: 2

Given that Bradford will suffer an injury at some point during the 2015 campaign, it's important to keep track of how Mark Sanchez is playing. Sanchez was dreadful last week, but he showed improvement in this contest, though he still made some mistakes. For instance, he didn't recognize that a player of his was open for a potential huge play, opting to throw into tight coverage instead. He also missed Jeff Maehl for a touchdown and then was nearly intercepted when a Baltimore player was able to get just one foot inbounds after snatching Sanchez's pass.

Having said that, Sanchez made a number of positive throws, as he was able to consistently move the chains, including two drives in which he was battling Baltimore's starting defense. Sanchez finished 14-of-20 for 118 yards.

Here were Sanchez's targets:

Nelson Agholor: 6
Seyi Ajirotutu: 1
Rasheed Bailey: 2
Kenjon Barner: 2
Trey Burton: 3
Jordan Matthews: 2
Jeff Maehl: 2 (1 end zone)
Raheem Mostert: 1
DeMarco Murray: 1
Darren Sproles: 1


DeMarco Murray was also making his first preseason start for the Eagles, and he was much more impressive than Sam Bradford. He ripped off a 7-yard carry on his first attempt, and then picked up six yards on his next try. He finished with 17 yards and a touchdown on five carries, but two things are worth noting: First, the Ravens couldn't stop any Philadelphia running back, as they looked like they really missed Haloti Ngata, and second, Murray came off the field on third downs in favor of Darren Sproles, as expected.

I'm not kidding about Baltimore's defense looking helpless without Ngata. Ryan Mathews tallied 19 yards and a touchdown on just three carries, while Darren Sproles picked up 10 yards on a couple of attempts. Even some guy named Raheem Mostert had success versus Baltimore's starters when Bradford, Murray and Mathews all left the game.


Nelson Agholor had an eventful second preseason game. Seeing a combined seven targets from both Bradford and Sanchez, he reeled in four balls for 49 yards. He made some impressive catches, but a couple of mental errors were peppered in. Agholor dropped a pass when he couldn't finish the catch while falling out of bounds. He also had the ball snatched away by a defender on what would've been logged as an interception for Sanchez, but it was nullified by a penalty.


It's Tebow Time! Tim Tebow once again took the field to a standing ovation. He struggled throwing the ball again, unfortunately, going 2-of-5 for just 13 yards. He took a sack because he held the ball too long, and he didn't see a couple of open receivers on separate plays. On the bright side, he had a 26-yard scramble and nearly scored on the ground. Once again though, Tebow didn't have a chance to be at his best because the game wasn't on the line. Instead, he had to think too much, which is a weakness of his.


Kenjon Barner scored a return touchdown last week, and he repeated that in this contest. He showed impressive ability, but it should be taken with a grain of salt, as the Ravens weren't trying at all.

Speaking of that, Baltimore put forth an embarrassing effort at Philadelphia. The team didn't look like it was trying whatsoever. It was guilty of numerous missed tackles and countless penalties (17 - and those were just the ones that were accepted!) It seemed like there was a flag on Baltimore on every third play. Some of the calls were horrendous - it should not surprise you that the incompetent Jerome Boger was the official - but the Ravens were simply extremely undisciplined, which is very uncharacteristic of a John Harbaugh-coached team in the preseason. Even color analyst Mike Mayock said that the Ravens weren't prepared for Chip Kelly's up-tempo offense. How is that even possible, given that Philadelphia is always up-tempo?


The Ravens didn't try very hard at Philadelphia, and Joe Flacco is included. If I didn't know any better, I would've thought that Jay Cutler kidnapped him and put on his jersey. Flacco had the worst performance I've ever seen from him, as he went 3-of-7 for 23 yards and two interceptions. The first pick was an underthrown deep ball to Kamar Aiken. The second sailed a mile over a wide-open Marlon Brown's head despite the fact that Flacco had a clean pocket. Flacco then heaved a high incomplete pass toward Maxx Williams, and just like that, his night was done. The Eagles didn't do anything to affect Flacco; he simply fired awful passes. I like Flacco this year in Marc Trestman's offense, but I'm going to have to change my mind if he plays like this next week.

Here were Flacco's targets:

Kamar Aiken: 2
Marlon Brown: 1
Justin Forsett: 1
Steve Smith: 1
Maxx Williams: 1


The Ravens desperately need Breshad Perriman back. Kamar Aiken led the starters with two targets, but he can't play. It's rather alarming that some bum like Aiken had to start in the wake of Perriman's injury. Baltimore has zero depth at wideout.


Justin Forsett was probably the only bright spot for the Ravens in their blowout loss at Philadelphia. He opened with a big gain of 14 yards and then burst for six yards, thanks to massive holes created by the offensive line. Forsett also caught one of Joe Flacco's three completions. He's going to have a huge season in Marc Trestman's offense.


Lorenzo Taliaferro was mixed in with the first-team offense, handling the short-yardage carries. He was stuffed on a third-and-1, but picked up the yard on the very next play when the Ravens went for it inside their own 40 on the initial drive. Taliaferro finished with eight yards on four attempts.


For what it's worth, the Ravens need to think about promoting Bryn Renner to be their No. 2 quarterback. Renner was very solid, going 15-of-21 for 158 yards and two touchdowns. He also displayed some mobility, picking up 22 yards on the ground. Matt Schaub, meanwhile, looked immobile and awful.


As mentioned, Mayock was the color analyst for the Eagles. Mayock's a great football analyst, but he said something rather strange during the telecast:

"I was looking for a good high school football game to watch one day..."

Really? You were that bored, Mayock? Or is that your idea of a good time on a Friday night? Either way, someone needs to introduce Mayock to a new hobby.

Perhaps Mayock can help NBC 10's graphics department. The news had this on display after the game: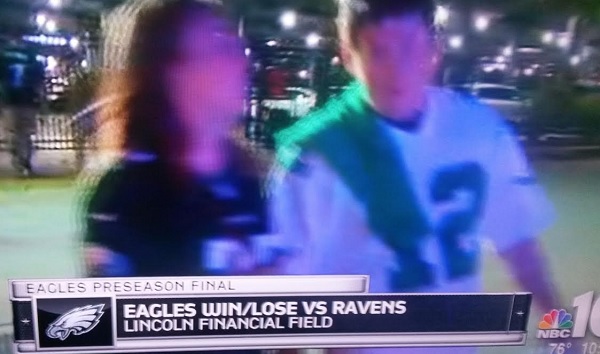 So, the Eagles won and lost? That's cool, can I get my money back?

Follow me @walterfootball for updates.




Jets 30, Falcons 22
Want to know how sharp Matt Ryan has been this preseason? He has more starts thus far than incompletions. Ryan, who went 6-of-6 last week, was 4-of-5 in his second contest. He accumulated 75 yards and a score, leading the team on two touchdown drives, though the second was a short one, thanks to Devin Hester's long return. Ryan nearly had two touchdown passes, but Julio Jones was interfered with in the end zone. It appears as though Ryan is going to have a big year, as the Falcons are finally not having terrible luck with injuries.

Here were Ryan's targets:

Leonard Hankerson: 3 (1 end zone)
Julio Jones: 1 (1 end zone)
Collin Mooney: 1


Julio Jones didn't catch a pass in this contest, but don't worry if you've drafted him already. Ryan attempted just five passes, and one that didn't count was fired toward Jones in the end zone. Jones didn't snag it, but only because Darrelle Revis held him. Jones is going to have a monstrous 2015 campaign, and nothing I saw Friday night would make me think otherwise.


There isn't much to say about Atlanta's offense. Roddy White, Tevin Coleman, Devonta Freeman and Antone Smith were all out. Leonard Hankerson saw three targets and secured a touchdown, but he won't be thrown to nearly as much when White returns to the lineup; think of how Harry Douglas' production fluctuated. Meanwhile, someone named Terrod Ward started at running back. He mustered just five yards on six carries.


Let's just move on to the Jets before I keep talking about Atlanta's fourth-stringers. Ryan Fitzpatrick finished 13-of-19 for 118 yards. Those numbers are very misleading, however. He struggled immensely against the Atlanta first-string stop unit, which once again performed well. Granted, the Falcons have battled two horrible offenses (Titans in Week 1), but there does seem to be some improvement.

But anyway, back to Fitzpatrick: He was 4-of-6 for 59 yards once the Falcons pulled their starters, meaning he went just 9-of-13 for only 59 yards versus the first-stringers. There were tons of short tosses, dying passes and balls batted down at the line of scrimmage. It was pretty depressing to watch.

Here were Fitzpatrick's targets:

Jeff Cumberland: 2
Eric Decker: 3
Shaq Evans: 1
Chris Ivory: 3
Brandon Marshall: 6 (1 end zone)
Bilal Powell: 5


To be fair to Fitzpatrick, he didn't get much help from his supporting cast. There was nothing wrong with Brandon Marshall, but Eric Decker struggled against the Falcons. He hauled in just one of his three targets for 12 yards, and he dropped a pass. He was also called for a hold that negated a 58-yard Bilal Powell run. With Ryan Fitzpatrick playing woeful football, it's hard to justify spending any sort of fantasy pick on Decker this summer.


Chris Ivory had some misleading stats in the second preseason game. He gained 36 yards and a touchdown on five carries to go along with three catches for 20 receiving yards. However, 33 of his rushing yards came on one run (for a touchdown) against Atlanta's second-string defense. Ivory had no running room versus the starters - save for a 13-yard gain nullified by a hold - as the offensive line struggled. Having said that, Ivory is worth a stock-up arrow. He saw three targets go his way, as Fitzpatrick's arm is so limited that he had no choice but to dump the ball off to his big back. Ivory's receiving yardage should rise this year, thanks to Fitzpatrick's incompetence.


With Fitzpatrick likely to get benched at some point - whether or not it's before Geno Smith returns from his broken jaw - it's important to analyze Bryce Petty. The fourth-round rookie had an up-and-down performance. He began by showing off a powerful throw to Jeremy Kerley for 21 yards, but then, on the same drive, he missed an open receiver by a mile in the end zone. On the ensuing possession, Petty floated a pass into the end zone that was nearly picked, and then he was strip-sacked because he held on to the ball too long, though a teammate recovered.

Petty improved after that, however. He made a sharp throw on a third-and-12 to pick up a first down, and he managed to engineer an impressive scoring drive in the third quarter. Petty ended on a down note though, sailing a pass out of bounds toward an open receiver.

Petty's final numbers look good. He finished 12-of-19 for 168 yards and a touchdown. He showed off positive athleticism and good arm strength in this contest. He had accuracy issues at times, but there is at least some reason for New York fans to feel optimistic.


While Petty had a somewhat positive outing, the same can't be said for Quinton Coples. The former first-round pick was completely embarrassed in coverage, failing to cover fullback Collin Mooney, who picked up a gain of 59 yards. It's odd that the Jets would have Coples in coverage to begin with; Todd Bowles definitely needs to re-think this strategy.


The Falcons' play-by-play guy was amusing. He was so enthusiastic in the opener, shouting at the top of his lungs, "Tonight, the Falcons fly north to get their taste of the Big Apple!"

What? What does that even mean? A "taste of the Big Apple?" They didn't even go to the "Big Apple;" they were in North Jersey. Even better, a minute later, this guy said, "You have to temper your excitement in the preseason." Oh yeah? Why didn't you follow your own advice, then?

The play-by-play guy cracked some jokes throughout the first half, with almost all of them focused on Geno Smith. "He was knocked out - literally!" he said, even though Smith was never unconscious after the hit. About 20 minutes later, the announcer quipped, "Geno Smith, once again, unavailable, because he got knocked out in the Ronda Rousey fight." With his glass jaw, Smith wouldn't even last 30 seconds.

Follow me @walterfootball for updates.




Chiefs 14, Seahawks 13
Pass protection was an issue for Russell Wilson in the preseason opener, so I was curious to see whether the blocking would improve against a worse defense. The Kansas City stop unit isn't bad, by any means, but it's not as potent as Denver's, especially without Dontari Poe and Tamba Hali.

The result was the same. Wilson was under pressure throughout the evening. He didn't take any sacks, thanks to his elusiveness, but he had to rush passes and throw the ball away on numerous occasions. As a consequence, Russell Wilson went 9-of-15 for only 78 yards. A drop by Jermaine Kearse didn't help.

Seattle needs to improve its blocking, and it sounds like the team will have an opportunity to do just that. There have been reports linking the Seahawks to Pro Bowl guard Evan Mathis, so getting him would upgrade the front substantially.

Here were Wilson's targets:

Doug Baldwin: 6
Derrick Coleman: 1
Jimmy Graham: 3
Jermaine Kearse: 2
Tyler Lockett: 1
Christine Michael: 1


Wilson didn't target Jimmy Graham during the first few drives, so I was beginning to think about giving the tight end a stock-down arrow. However, Wilson focused on Graham after that, and the former Saint ended up hauling in all three balls thrown his way for 39 yards. Graham's best catch was an impressive grab over Ron Parker, who looked helpless trying to defend him.


Marshawn Lynch sat out once again, so Robert Turbin started. The offensive line struggled to run block as well, so the slow and sluggish Turbin was limited to just four yards on six carries. Christine Michael mustered 27 yards on 10 carries, and was every bit as unimpressive as his 2.7 YPC. The highlight of his night was actually a play in which he absolutely leveled rush linebacker Dee Ford with a crushing hit, knocking Ford out of the game with a rib injury.

For the second-consecutive week, Seattle's fourth- and fifth-string running backs were better than Turbin and Michael. Thomas Rawls picked up 20 yards on four attempts, while Rod Smith (2-21) had a 19-yard burst in the fourth quarter. I'd like to see these guys get a chance with the first-team offense.


Doug Baldwin led the Seahawk starters with six targets, but I wouldn't adjust my rankings because of this. Wilson tends to spread the ball around to different players each week, and it just happened to be Baldwin's turn to be more productive than anyone else.


I picked the Seahawks to cover the 2.5-point spread in this contest. One of my reasons, which was a semi-joke, was that Andy Reid would be more focused on his dinner plans than this actual game. It actually appeared to be that way, as the Chiefs, despite being victorious, were very discombobulated at times. They made a number of weird mental mistakes. They muffed a punt. Jamaal Charles was tackled by his own lineman after making a catch. There was a random delay-of-game penalty on the third drive. Jeremy Maclin dropped a touchdown. Reid wasted a timeout inside Seattle's own 5-yard line, which he needed at the end of the first half, and this was after Alex Smith took a sack to knock the team out of field goal range. Offensive coordinator Doug Pederson called the most predictable plays of all time; Seattle's defenders knew what the Kansas City starters were doing on almost every single play.

To delve deeper into that, Bobby Wagner and the other Seattle linebackers read the Chiefs' attempted screens beautifully. Smith didn't fool them once. Of course, one could say that all Smith can do is throw short passes, which obviously include screens.

Smith, by the way, finished 11-of-18, but for only 81 yards. Save for a couple of nice throws, including a touchdown pass to Maclin, this was an ugly performance, to say the least. Smith also heaved a pick-six, which he telegraphed toward Jason Avant. The crowd showered him with boos after the Seahawks scored, so it appears as though the Kansas City faithful is finally beginning to sour on the weak-armed Smith.

Something else worth mentioning about Smith is that he took a beating in this game. He was wrecked on his first pass; he was hit so hard in the backfield that the official felt sorry for him and called roughing the passer, even though Smith was hit cleanly. Smith took several other sacks, and he was also pummeled when he foolishly dived head first on a scramble. I understand doing this when it counts, but in the preseason? It was just stupid.

Here were Smith's targets:

Jason Avant: 3
Jamaal Charles: 3
Knile Davis: 3
Frankie Hammond: 1
Travis Kelce: 1
Jeremy Maclin: 5 (2 end zone)
James O'Shaugnessy: 1
Albert Wilson: 1


Watching Smith was painful, but Kansas City fans were at least treated to Jamaal Charles. Unfortunately for them, Charles didn't play much. In fact, he didn't log a single carry, as Knile Davis (11 carries, 29 yards) handled the workload on the ground. Reid's game plan, apparently, was to give Charles some time, but not risk injury by giving him rushes. That actually made sense to me, so I won't criticize it. Charles reeled in all three passes thrown to him, but for only seven yards, as the Seattle linebackers recognized every single screen thrown to him. It didn't help that Charles was tackled by his own man, as mentioned. Losing him to injury on that play would've been brutal.


Jeremy Maclin was the lone bright spot for the Chiefs' offense in their second preseason game. Maclin dropped a touchdown pass, but made up for it with a score - which would've been very meaningful if this were a regular-season game, given that Alex Smith failed to throw a touchdown to a wideout all last year. Maclin snatched three of five targets thrown to him, as it appeared as though he and Smith had decent chemistry. Injuries are still a concern for Maclin, but he's a solid WR3 fantasy option.


Another Kansas City receiver, Chris Conley, didn't see any playing time with the first team, but he's worth mentioning. Conley, who was chosen in the third round this past April, made a horrific gaffe on special teams that even had the homer announcers making fun of him. Down one, the Seahawks punted with a couple of minutes remaining in regulation. The ball sailed into the end zone, yet Conley caught it and began running. Seattle tackled him at his own 3-yard line, meaning the Chiefs were three yards away from losing this game on a safety. Fortunately for them, they were able to pick up a first down and run out the clock, preserving my cover.


The Chiefs may have injury issues in their front seven, but they are VERY deep in the secondary. They had Sean Smith, Eric Berry and Tyvon Branch all on the field in the third quarter. Rookie cornerback Marcus Peters is also worth mentioning. Peters was beaten on a play in the first half, but made up for it immediately afterward; he did a good job breaking up a potential 15-yard pass to Jermaine Kearse, which would've moved the chains for the Seahawks on a third down.


I discussed Russell Wilson earlier. Something I failed to mention was that he was traded to the Chiefs at the beginning of the game. Yes, it's true. That's what the play-by-play announcer for Kansas City said, anyway:

"Russell Wilson, new contract and all, getting a start for the Chiefs."

Sorry, Seahawk fans.

There was more bad news for everyone else as well. That's because Rachel Santschi was no longer the sideline reporter for Kansas City. It was some guy with gel in his hair, which angered me. I had to look up what happened to Rachel, and she's now a reporter for the San Antonio Spurs.

Because viewers, including myself, were robbed of Rachel Santschi, I'll leave you with this:



Follow me @walterfootball for updates.




Redskins 21, Lions 17
Robert Griffin missed most of last season, and for a time Thursday evening, it appeared as though his 2015 campaign was in jeopardy. Griffin fumbled on his fourth drive and was hit hard while trying to retrieve the ball. He was down for a while and then was helped off. Fortunately for Griffin, he was diagnosed with a mere shoulder stinger and passed his concussion protocol.

Even if the injury is excluded, Robert Griffin had a disastrous showing in his second preseason game. He was strip-sacked on his first attempt, as rookie guard Brandon Scherff was pushed back into Griffin. The Washington quarterback then took three sacks on only four possessions, fumbling twice. Griffin, who had absolutely no pass protection, went 2-of-5 for just a laughable eight yards as a result. One of his incompletions was dropped, but Griffin was terrible. He didn't run either, so Washington managed just seven net yards of offense in the four drives the starting unit was on the field.

Things once again aren't looking good for the Redskins. Griffin had an atrocious outing, and it's not even all his fault because the offensive line, especially the tackles, couldn't block whatsoever. Griffin also reminded everyone how fragile he is, and it's difficult to imagine him lasting the whole year.

Here were Griffin's targets:

Pierre Garcon: 1
Matt Jones: 1
Andre Roberts: 2


DeSean Jackson didn't play in the second preseason game, so Pierre Garcon was Robert Griffin's primary receiver. Despite this, Garcon saw just one target go his way on four drives. He snagged it for four yards. This performance was highly discouraging; Robert Griffin's offensive line was so bad that Garcon never even had a chance to be productive, and it doesn't seem like those issues will change during the regular season.


I'm liking what I'm seeing out of Matt Jones. The third-round rookie was impressive once again, gaining 44 yards and a touchdown on just eight carries in his second preseason game. This includes a 24-yard burst in which he made two cuts, dodging a diving Detroit tackler in the process. Jones is a strong back, and he also happens to be elusive. I'm not into stashing handcuffs, but Jones is definitely worth considering if you like to utilize that strategy.


Speaking of Washington running backs, Alfred Morris saw a limited workload, getting just three carries, which he turned into 10 yards.


With Griffin struggling, it's important to discuss Washington's backup quarterbacks. Colt McCoy nearly led three touchdown drives, going 5-of-6 for 80 yards and a score in the process, but Kirk Cousins was more impressive. Cousins had better throws and ultimately finished 8-of-12 for 91 yards and a touchdown. Cousins curiously played behind McCoy, so it's not clear who the No. 2 quarterback will be yet. This is significant, as Griffin is pretty much guaranteed to miss time this year. Cousins is the better talent, but when things have gone downhill for him the past, he's shown a tendency to collapse mentally.


As for the Lions, Calvin Johnson sat out once again, so Matthew Stafford didn't have his full arsenal at his disposal. He still moved the chains well, going 6-of-8 for 78 yards. One of the incompletions was a dropped third-down pass by Corey Fuller. The pass was a bit behind him, but he should've secured the football.

Here were Stafford's targets:

Michael Burton: 1
Eric Ebron: 1
Corey Fuller: 2
Golden Tate: 3
Theo Riddick: 1
Jeremy Ross: 1


Golden Tate served as Stafford's top receiver with Calvin Johnson sidelined again. Tate saw a team-high three targets (for the starters), hauling in two of them for 21 yards. Tate might be able to post WR1-caliber numbers if Johnson gets hurt again.


Joique Bell is still hurt, but Ameer Abdullah played behind Theo Riddick. Neither back did much, however. Abdullah raised his ADP by about two full rounds with a devastating cut last week, but he saw just two carries for seven yards in this contest. Perhaps it's a good sign that Jim Caldwell was so reluctant to use him.


Detroit's best running back in this contest was fellow rookie Zach Zenner, an undrafted free agent out of South Dakota State. Zenner gained 22 yards on four carries to go along with five catches for 59 receiving yards and a touchdown. None of this yardage is bogus; in fact, Zenner had a 39-yard dash wiped out by a penalty. It'll be difficult for the Lions not to keep him on the final roster. Zenner could even emerge as the team's third running back over the unimpressive Riddick.


The Lions' scoring attack did a good job of moving the chains in the first half. Part of that was Stafford, Tate and company, but the primary reason was Washington's horrid tackling. I couldn't even count how many tackles the Redskins whiffed on in this contest. It was appalling. Even Joe Theismann, serving as the color analyst, mentioned it about a billion times.


Speaking of Theismann, he provided the audience with a rather strange quote: "The Redskins have three starting quarterbacks in the National Football League."

Three? What? Did you include yourself, Joe? How do you see three? More like zero.


Another funny moment from the broadcasting crew was when sideline reporter Clinton Portis interviewed DeSean Jackson. Portis asked Jackson what he thought about Griffin saying he was the best quarterback in the NFL. Jackson completely dodged the question, saying something, "You just have to be positive. I'm positive all the time, too."

So, Jackson apparently doesn't agree with Griffin's assessment. If anyone does, they are insane.

Follow me @walterfootball for updates.




Bills 11, Browns 10
Rex Ryan saw enough from Tyrod Taylor in the preseason opener to name him the starter in this game, so this was an opportunity for Taylor to pass Matt Cassel on the depth chart. Based on how he performed in this contest, Taylor may have won the job outright.

Taylor went 7-of-10 for 65 yards despite not having LeSean McCoy, Sammy Watkins and Robert Woods at his disposal. One of his incompletions was thrown away because he was under pressure. He also scrambled four times for 41 rushing yards.

Taylor made a number of strong plays, including on the first drive when he showed nice arm strength on a pass to Deonte Thompson for a gain of 13. He also did a good job of picking up a first down on a scramble after Cleveland correctly read the screen pass. On the following drive, he had a nice, 22-yard conversion to Thompson with a perfect throw near the sideline. He then looked like he was going to be sacked on one play, but somehow got out of two potential tackles and scrambled for seven yards.

Cassel obviously has more experience, but Taylor definitely possesses higher upside. He didn't make any mistakes in this game, which could prompt Ryan to choose the younger signal-caller to start against Indianapolis in the season opener.

Here were Taylor's targets:

Charles Clay: 1
Jerome Felton: 1
Marquise Goodwin: 1
Bronson Hill: 1
Chris Hogan: 1
Deonte Thompson: 4 (1 end zone)


With all of Buffalo's running backs and receivers out - the top five backs were missing with an injury - there was barely anyone worth talking about. Some person named Bronson Hill started at running back, for crying out loud.


One player I do want to mention is Buffalo's tight end. Charles Clay converted on his only target in the second preseason game, snatching an 11-yard reception. However, I want to give him a stock down because it appears as though Tyrod Taylor will start. Taylor might be better overall than Matt Cassel, but he's going to scramble on a number of plays, meaning Clay's target total could drop.


While many of the Buffalo offensive players sat out, most of the defensive stars took the field. There were obvious exceptions, including Kyle Williams, but the Bills' defense was roaring otherwise. They clamped down on the Browns, as Marcell Dareus absolutely dominated the line of scrimmage.

With barely any time to throw, Josh McCown struggled. He was sharp against a ridiculously terrible Washington defense in the preseason opener, but things were much different this week versus Buffalo's elite stop unit. He managed to complete 7-of-10 passes for 57 yards, which isn't bad, but he threw two interceptions and took a number of sacks. One of the picks wasn't his fault - it bounced off tight end Gary Barnidge's hands - but the second one definitely was, as it was a horrible downfield overthrow toward Andrew Hawkins.

Here were McCown's targets:

Gary Barnidge: 2
Travis Benjamin: 1
Jim Dray: 1
Brian Hartline: 3
Andrew Hawkins: 2
Rob Housler: 2


We once again didn't learn much from Cleveland's running back group. Terrance West started, but aside from one play in which he made some nice, shifty cuts to avoid tacklers, he didn't do much; he gained 42 yards on 11 carries, but only 30 yards on 10 attempts if his best run is excluded. Meanwhile, Isaiah Crowell accumulated 14 yards on five carries, and all but one of his yards came on a single try, where he made a nice stiff-arm to shake off linebacker Preston Brown. Duke Johnson did not play.

Neither Cleveland runner separated himself. Both West and Crowell had one quality moment, but didn't show anything otherwise. It's still looking like a rotation, but perhaps Johnson will be able to establish himself as the starter, whenever he finally gets healthy.


The starting Cleveland "play-makers" who tied for the most receptions on Thursday were Rob Housler and Brian Hartline, each of whom caught two balls for 27 and 18 yards, respectively. Neither is worth owning in 12-team fantasy leagues.


Johnny Manziel played the entire second half, and the stats look good. He finished 10-of-18 for 118 yards and a touchdown to go along with three scrambles and 19 rushing yards. He had a few bright moments, including a 37-yard hurl in which he scrambled left, threw downfield across his body and connected with his receiver. This was followed by a 21-yard touchdown pass. A couple of possessions later, Manziel impressively made multiple defenders miss in the backfield and converted a 17-yard pass, though that was negated by an illegal man downfield.

What the stats don't show, however, is that Manziel had major difficulty reading the blitz. Rex Ryan confused him on many occasions, which can't be a surprise because the mental part of Manziel's game is lacking. There's not much to be excited about regarding Manziel.


Mike Tirico and Jon Gruden weren't guilty of any funny gaffes that I heard, but I can at least make fun of one of the Cleveland fans. I know, I know, Browns backers are easy targets, but this guy looked like such an absolute tool that he needs to be mentioned.

Here's the back story: Manziel took the field at the beginning of the third quarter. He dropped back in the pocket on one play, saw that his first read was covered, and then scrambled up the middle for eight yards. The crowd cheered after the play. This guy, however, did something else...




He stood up, reached over to his bro, gave him a high-five, and then stared back at Manziel, almost as if he were thinking, "You're my bro, Johnny. I roll $20s in bathrooms with my cool button-down shirt, just like you."

Just look at this guy. He's so serious that it's ridiculous. And dude, if you ever read this, please button up your button-up shirt. It's called a "button-up" shirt for a reason.

Follow me @walterfootball for updates.


2015 Preseason Notes: Week 1 | Week 2 | Week 3 | Week 4
2015 Fantasy Football Stock Pages: Preseason Stock Week 1 | Preseason Stock Week 2 | Preseason Stock Week 3 | Preseason Stock Week 4 | Training Camp Stock







More 2015 Fantasy Football Articles:
Fantasy Football Rankings

2015 Fantasy Football Rankings:
2015 Fantasy Football Rankings: Quarterbacks - 9/10 (Walt)
Chet Gresham's Fantasy Football Quarterback Rankings - 9/4 (Chet)
2015 Fantasy Football Rankings: Running Backs - 9/10 (Walt)
Chet Gresham's Fantasy Football Running Back Rankings - 9/4 (Chet)
2015 Fantasy Football Rankings: Wide Receivers - 9/10 (Walt)
Chet Gresham's Fantasy Football Wide Receiver Rankings - 9/4 (Chet)
2015 Fantasy Football Rankings: Tight Ends - 9/10 (Walt)
Chet Gresham's Fantasy Football Tight End Rankings - 9/4 (Chet)
Chet Gresham's Fantasy Football Flex Rankings - 9/4 (Chet)
2015 Fantasy Football PPR Rankings - 9/4 (Chet)
2015 Fantasy Football Rankings: Defenses - 8/27 (Walt)
2015 Fantasy Football Rankings: Kickers - 8/27 (Walt)
Fantasy Football Rookie Rankings - 5/14 (Walt)
Fantasy Football Rookie Rankings: Dynasty - 5/14 (Walt)



2015 Fantasy Football Mock Drafts:
2015 Fantasy Football Mock Draft Simulator - 9/10 (Walt)
2015 Fantasy Football Mock Draft - 9/3 (Walt)
2015 Fantasy Football Mock Draft - 8/27 (Walt)
2015 Fantasy Football Mock Draft - 8/20 (Walt)
2015 Fantasy Football Mock Draft - 8/13 (Walt)
2015 Fantasy Football Experts Draft - 8/11 (Chet)
2015 Fantasy Football Mock Draft - 8/7 (Walt)
2015 Fantasy Football Mock Draft - 8/6 (Chet)
2015 Fantasy Football Mock Draft - 7/31 (Walt)
2015 Fantasy Football Mock Draft - 7/23 (Walt)
2015 Fantasy Football Mock Draft (2-QB) - 7/15 (Chet)
2015 Fantasy Football Mock Draft (PPR) - 7/6 (Chet)



2015 Fantasy Football Cheat Sheets:
2015 Fantasy Football Cheat Sheet: Top 250 - 9/10 (Walt)
2015 Fantasy Football Cheat Sheet: Top 250 PPR - 9/10 (Walt)
2015 Fantasy Football Cheat Sheet: Top 250 2-QB - 9/10 (Walt)
2015 Fantasy Football Cheat Sheet: Top 250 Touchdown League - 9/10 (Walt)
2015 Fantasy Football Cheat Sheet: Custom - 9/10 (Walt)
2015 Fantasy Football: Dynasty Rankings - 9/10 (Walt)
Chet Gresham's Fantasy Football Top 200 Rankings - 9/4 (Chet)
Chet Gresham's 2015 Fantasy Football Positional Cheat Sheet - 9/4 (Chet)
Chet Gresham's 2015 Fantasy Football Overall Cheat Sheet - 9/4 (Chet)

2015 Fantasy Football Articles:
2015 Fantasy Football Stock Report: Training Camp - 9/10 (Walt)
Fantasy Football Tight End Matchup Chart: Week 1 - 9/9 (Chet)
Fantasy Football Wide Receiver Matchup Chart: Week 1 - 9/8 (Chet)
2015 Fantasy Football Sleepers - 9/8 (Walt)
Fantasy Football Running Back Matchup Chart: Week 1 - 9/7 (Chet)
Fantasy Football Quarterback Matchup Chart: Week 1 - 9/6 (Chet)
2015 NFL Preseason Recap, Fantasy Football Notes - 9/4 (Walt)
2015 Fantasy Football Preseason Stock - 9/4 (Walt)
2015 Fantasy Football Quarterback Targets - 9/4 (Walt)
2015 Fantasy Football Busts - 9/4 (Walt)
2015 Fantasy Football Goal-Line Running Backs - 9/3 (Chet)
2015 Fantasy Football News - 9/1 (Chet)
2015 Fantasy Football: Better Than ADP - 8/31 (Chet)
Daily Fantasy Football: Running Backs - 8/27 (Chet)
2015 Fantasy Football: Late-Round Running Back Fliers - 8/24 (Chet)
2015 Fantasy Football Fallout: Jordy Nelson Injury - 8/24 (Chet)
2015 Fantasy Football Players to Target - 8/22 (Chet)
2015 Fantasy Football Spreadsheets - 8/22 (Walt)
2015 Fantasy Football Round-by-Round Strategy Guide - 8/20 (Walt)
2015 Fantasy Football: The Perfect Draft - 8/20 (Chet)
2015 Fantasy Football Players to Avoid: LeSean McCoy - 8/18 (Chet)
2015 Fantasy Football Values: Wide Receivers - 8/14 (Chet)
Daily Fantasy Football: Wide Receivers - 7/29 (Chet)
2015 Fantasy Football Value Profile: Brian Quick - 7/22 (Walt)
2015 Fantasy Football Value Profile: Eli Manning - 7/17 (Walt)
Daily Fantasy Football: A Primer - 7/10 (Chet)
2015 Fantasy Football Value Profile: Jarvis Landry - 7/7 (Walt)
Fantasy Football Offseason Stock Report: Up - 5/15 (Walt)
Fantasy Football Offseason Stock Report: Down - 5/15 (Walt)
2015 Fantasy Football: First-Round Bust History - 2/17 (Walt)
2015 Fantasy Football: Overdrafted Players - 2/15 (Walt)
2015 Fantasy Football: Running Backs with Most Carries - 2/15 (Walt)






NFL Picks - Jan. 17


2021 NFL Mock Draft - Jan. 13


Fantasy Football Rankings - Jan. 11


2022 NFL Mock Draft - Nov. 15


NFL Power Rankings - Nov. 14


2020 College Football Recruiting Rankings - April 14


2020 NBA Mock Draft - Sept. 27