**** NOTES FOR EVERY GAME WILL BE UP AS SOON AS I WATCH THEM **** Follow me
@walterfootball
for updates.
2015 Preseason Notes:
Week 1
|
Week 2
|
Week 3
|
Week 4
2015 Fantasy Football Stock Pages:
Preseason Stock Week 1
|
Preseason Stock Week 2
|
Preseason Stock Week 3
|
Preseason Stock Week 4
|
Training Camp Stock


Eagles 36, Colts 10
Sam Bradford is not completely healthy, so the Eagles opted to sit him out of the initial exhibition game. Mark Sanchez started instead and did not perform well. He completed just 2-of-7 passes for 52 yards and a touchdown. The score, a 34-yarder by Nelson Agholor, was just a short pass that the rookie wideout took the distance. Outside of escaping a sack and picking up a first down on the ground, Sanchez did nothing well. He underthrew an open Trey Burton deep downfield on the first series and then overshot Darren Sproles on a third-and-1. He also missed Jordan Matthews for an open touchdown on the following drive.

It's important to analyze Sanchez because he will start a handful of games this upcoming season. He struggled against a defense that is very mediocre, so that's not a good sign for the Eagles.

Here were Sanchez's targets:

Nelson Agholor: 2
Trey Burton: 1
Riley Cooper: 1
Jordan Matthews: 3
Darren Sproles: 1


Now Philadelphia's No. 1 receiver, Jordan Matthews had a strong preseason debut. He caught two passes for 44 yards, but could have enjoyed a better statistical outing had Mark Sanchez not missed him for a touchdown on the second possession. Matthews' best play was an impressive, leaping catch for a gain of 18 yards. He's bound to have a huge year.


Nelson Agholor had an up-and-down debut. The rookie began by dropping a pass, but then made up for it by skying high into the air to reel in an overthrown Sanchez ball. He then ran past Greg Toler, who made the worst tackling effort you'll ever see, for a touchdown. After that, while working with Matt Barkley, Agholor dropped an easy reception to move the chains on third down. Like last time though, he redeemed himself with a strong play, drawing a 32-yard pass interference flag.

Agholor finished with three grabs for 57 yards and the touchdown. He showed promise, but he needs to cut out the mental mistakes. He's a rookie, of course, so he has plenty of time to improve in that department.


DeMarco Murray, like Sam Bradford, sat out this game. Ryan Mathews got the nod and accumulated 18 yards on two carries. He looked good, and he's worth a late-round fantasy pick because of Murray's ridiculous 392 regular-season carries last year.


Notes on Philadelphia's backup quarterbacks:

Matt Barkley looked a lot better than he has in the past. He made a couple of nice, downfield throws, showing off good touch, though he sailed a pass over his receiver's head in the end zone on his initial drive. He did a good job of moving the chains overall, and he finished 12-of-20 for 192 yards and an interception, which was a tipped pass by Bjoern Werner.

Tim Tebow entered the game in the middle of the third quarter to a standing ovation. He began with some zone-read plays, handing the ball off most of the time, but showed off his arm with some accurate, laser passes to his targets. It looked like he had an improved, quicker delivery. As Tebow got into a groove, the crowd began chanting, "Te-bow! Te-bow! Te-bow!" He actually had to quiet the fans in order to make an audible.

Things got worse after that, unfortunately. Tebow took a couple of big sacks, as he held on to the ball too long on some occasions. Horrible blocking from an inept right tackle didn't help, but as the broadcasting team pointed out, if the first read wasn't there for Tebow, the play usually ended negatively. The good news is that he scored a rushing touchdown toward the end of the game.

Tebow finished 6-of-12 for 69 yards to go along with 15 rushing yards and the score. One of his passes was dropped. We didn't get to see Tebow at his best because the game was never on the line, but he showed enough to earn a spot on some team's roster.


I mentioned in the Titans-Falcons recap that Ryan Succop was the first kicker to miss an extra point in this new era of Roger Goodell fail. Cody Parkey was the second. Parkey also whiffed on a 34-yard field goal in the second half, so there's definitely some cause for concern here for the Eagles' kicking game.


A couple of young, Philadelphia defenders performed well in this contest. Marcus Smith showed improvement, which is key because he was awful as a rookie. Safety Ed Reynolds also had a strong showing; he picked off two passes and always seemed to be in the right place.


Meanwhile, Andrew Luck was on the field for a drive-and-a-half. He was moving the chains well on his second possession, but was pulled unceremoniously in the middle of it in favor of Matt Hasselbeck. It was odd to see that, but Chuck Pagano obviously wanted Luck to play an exact number of snaps.

Luck went 5-of-6 for 43 yards. His sole incompletion was a Coby Fleener drop. Luck looked as sharp as usual, despite showing an effort to get first-round rookie Phillip Dorsett involved as much as possible early on.

Here were Luck's targets:

Phillip Dorsett: 3
Coby Fleener: 1
Andre Johnson: 1
Zurlon Tipton: 1


Agholor wasn't the only rookie receiver making his NFL debut. Phillip Dorsett had a mixed performance in the preseason opener, though I'd say it was positive overall in terms of his fantasy outlook. Dorsett, who caught four passes for 51 yards, was involved early, as Andrew Luck targeted him three times during the first two possessions. He struggled a bit with the backups though, as he ran a bad route and then lost a fumble. However, the Colts like Dorsett and plan to use him often, making him a viable fantasy option this season.


Andre Johnson caught a 9-yard pass in his first game with the Colts. Andrew Luck targeted him only once in an effort to get Dorsett more involved, so I wouldn't read much into his meager stat line.


The Philadelphia broadcast featured Mike Mayock, so it was more professional than the other ones. They may want to hire a new graphic producer, however, because they screwed up here: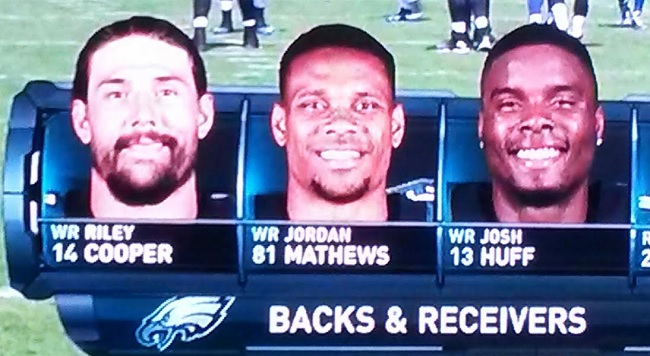 I can understand another team spelling a player's name wrong, maybe, but how could the Eagles botch their own guy's name? I was happy to see this though, as it reminded me of the Boy Meets World episode in which Eric Matthews failed to score 200 points on the SAT because he spelled his name wrong. "Two 'Ts' in Matthews! Stupid! Stupid!"

Follow me @walterfootball for updates.









Texans 23, 49ers 10
The Texans aren't sure whom they plan on starting at quarterback. After this contest, the situation remains just as cloudy. Both Brian Hoyer and Ryan Mallett performed well, and neither was able to distance himself from the other as a consequence.

Brian Hoyer started and played just one drive. He made it count, though, leading the team down the field and scoring a touchdown. Hoyer went 2-of-4 for 67 yards and a score, which was a 58-yarder to Cecil Shorts. The former Jacksonville receiver was operating in the slot, and he managed to find an open area in San Francisco's soft zone before taking off and scoring six points.

Here were Hoyer's targets:

Alan Bonner: 1
DeAndre Hopkins: 1
Garrett Graham: 1
Cecil Shorts: 1

I wanted to see more from Hoyer, and I was surprised that Bill O'Brien pulled him so early. Ryan Mallett entered the contest and saw action into the third quarter. He thrived, going 10-of-11 for 90 yards. Most of his passes were on the money, and he was able to show off his powerful arm on some of his attempts. He did well enough for O'Brien to name him the starter for next week's preseason contest.


While the quarterback situation is still unclear, Alfred Blue was able to distance himself from the other Houston running backs in the preseason opener. Blue tallied 59 yards on nine carries, with several of his runs being very impressive. He had a 14-yarder in which he made a great cut and exploded through an open lane. Blue also had a 32-yard burst. Granted, he had some great blocking helping him, but he looked pretty good.

Meanwhile, Chris Polk was touted as a potential starter, but he played behind Blue and Jonathan Grimes. He was on the field in the third quarter, and he mustered just 29 yards on 10 carries.


The Texans had issues at inside linebacker, so they spent a second-day selection on Benardrick McKinney. Unfortunately, McKinney disappointed in his debut. He was beaten in coverage by backup tight end Garrett Celek and then whiffed on a tackle while trying to bring down Celek, who was able to score a touchdown.


Jaelen Strong, another Houston rookie, managed just one reception. He made it count though, impressively out-muscling a San Francisco defensive back for a 10-yard touchdown.


The 49ers know who their quarterback is, but it's unclear if Colin Kaepernick will be able to function without Jim Harbaugh. Kaepernick did not get off to a good start in the preseason opener. He completed just one of his three pass attempts for 14 yards. He had an open Torrey Smith way downfield on one of his attempts, but he overshot him by about five yards.

Here were Kaepernick's targets:

Anquan Boldin: 1
Torrey Smith: 1


The stat sheet doesn't look good for Carlos Hyde either, as the second-year running back tallied just six yards on two carries. However, he had a solid 8-yard run negated by a hold. Hyde showed decent power on his runs, so don't downgrade him at all based on his numbers.


As mentioned, Torrey Smith was open deep on the only drive he played, yet Kaepernick couldn't connect with him. Smith has enjoyed a solid training camp, per some reports, but he's probably going to regret leaving Baltimore.


This game was difficult to watch. The Texans' broadcasting was fuzzy, and it felt like I was watching TV again in the 80s. It wasn't my TV; the NFL Network line at the bottom was fine, but everything else wasn't clear. The yellow first-down line was so distorted that it looked like it was a graphic in an Atari game. Even the narration at the beginning of the telecast was an 80s-ish throwback. A guy with a deep voice said, "It's that time of year again ... Texans ... 49ers." No fancy graphics or anything; it's as if that's all the Texans franchise could pay for.

As for the announcers, I'm usually a fan of Spencer Tillman, the color analyst, but he said something extremely odd at one point. Here is the direct quote:

"Everything is compressed in the red zone, from 6,500 yards to 1,300 yards."

I feel like one of two things is happening here. Either Tillman is WAY off on his numbers, or I'm an idiot and don't realize what in the world Tillman is talking about. Where is he getting 6,500 and 1,300 yards? That seems like way too much yardage!

Follow me @walterfootball for updates.









Chiefs 34, Cardinals 19
There were only three games Saturday night, but there were a number of important players who suffered injuries. The Chiefs were unfortunate to have three players on the field with the first unit who all left the game. Knile Davis, starting in place of Jamaal Charles, was carted into the locker room. Starting right guard Jeff Allen sustained a severe knee injury. De'Anthony Thomas, meanwhile, was knocked out with a calf.

The on-the-field play looked bleak for the Chiefs as well. The defense surrendered a touchdown drive to Carson Palmer, while Alex Smith fired an interception on his first possession. Smith forced the ball to Jason Avant, heaving it way behind him. Tyrann Mathieu picked it off and nearly took it back for six.

Smith's second drive was more successful, but it didn't produce any points. He finished 6-of-10 but for only 42 yards (a very Alex Smithian YPA of 4.2) and the pick. He also picked up 16 rushing yards on one scramble.

Here were Smith's targets:

Jason Avant: 1
Knile Davis: 1
Frankie Hammond: 1
Travis Kelce: 1
Jeremy Maclin: 1
De'Anthony Thomas: 2
Albert Wilson: 2


Jeremy Maclin made only one catch in his debut with the Chiefs for 12 yards. Alex Smith targeted him just once, but Maclin was impressive on the reception, snatching the ball over an Arizona defender.


Though it was a small sample size, Albert Wilson led the Chiefs' starters with two receptions for 15 yards. Smith looks comfortable targeting Wilson, who is worth a late-round fantasy pick.


As mentioned, Charles sat out the preseason. That's a good thing, as his backup, Knile Davis, sustained a knee injury. Davis was looking good - four carries, 23 yards - so it's a shame that he got hurt. Davis is one of the few truly draftable handcuffs.


I noted earlier that Kansas City's defense couldn't contain Arizona's starting offense. Carson Palmer was perfect, completing all four of his passes for 77 yards. His best throw was one where he threaded the needle to Andre Ellington through two defenders. Ellington used his speed to run for 57 yards before getting tackled at the 5-yard line.

Here were Palmer's targets:

John Brown: 1
Andre Ellington: 2
J.J. Nelson: 1


Andre Ellington had a strong preseason debut. He caught a 57-yard pass from Carson Palmer on the initial drive, and it looked like he was going to score before getting tackled at the 5-yard line. It didn't end up mattering though, as Ellington pounced into the end zone a couple of plays later, converting on a third-and-1 at the goal line. Ellington's stock has dropped with David Johnson now in the mix, but Johnson hasn't been able to stay healthy, making Ellington an attractive RB2 option.


Bruce Arians refused to start Logan Thomas last year despite his team's major issues at quarterback. Because of that, I was expecting Thomas to be awful, but he was actually pretty solid in this contest. Thomas went 9-of-15 for 107 yards and an interception that wasn't remotely his fault; Thomas hit his receiver perfectly, yet the ball bounced off his target's helmet and into the hands of a Kansas City defensive back. Thomas, who also had 18 rushing yards on four scrambles, missed out on a passing touchdown as well. Brittan Golden appeared to catch a score, but replay ruled that the ball came loose when he hit the ground. Thomas had some passes that were off, but he looked good overall.


I'd be remiss if I didn't talk about Arizona's TV announcers. I actually had someone on Facebook apologize to me in advance about the color analyst, some guy named Ron Wolfley. I've made fun of him over the years because of his crazy commentary. Here are some actual things he said during the game:

"You guys are light poles with lips!"

What the hell is a "light pole?"

"Kerwyn Williams is like a fire hydrant with lips!"

What is this guy's obsession with inanimate objects with lips? Makes me think that he's into some kinky things. Oh, and speaking of kinky...

"He could cook a turkey in his belly button."

Not that there's... anything... wrong with that...? I have no idea.

"He's like a watermelon with bungie cords hanging from it."

To the forum member who apologized to me ahead of time: Apology accepted.

Follow me @walterfootball for updates.









Vikings 26, Buccaneers 16
Jameis Winston played more than any other starting quarterback during the first week of the preseason. Lovie Smith opted to keep the No. 1 overall pick in the game for the entire first half, and based on how Winston performed, it looked like he definitely needed the work.

Winston had an atrocious debut. He did some things well and had some bright moments, but struggled overall. Here's a drive-by-drive analysis of his first start:

1. Winston overshot his target by about five yards on his first and only attempt.

2. Winston heaved a pass way behind Mike Evans and then was nearly picked on his next throw.

3. Winston took a sack from Everson Griffen, but then hit Vincent Jackson with a 43-yard pass while getting hit. Tampa nailed a field goal, as this was Winston's only positive drive versus the Minnesota defensive starters.

4. Looking skittish in the pocket, Winston stared down his receiver and telegraphed a pass that was intercepted by a reserve Minnesota defensive back.

5. The Buccaneers took a big loss on third down because Winston mishandled a slightly high snap.

6. Winston once again failed to move the chains versus the Viking backups. This time, he bobbled a snap, picked up the ball, rolled out and took a big loss on a sack instead of throwing the ball away. This prompted the color analyst to say, "He's making mistakes that are not acceptable at this level."

7. Winston managed to finally get into a rhythm. He converted some impressive passes and then scrambled into the end zone. However, it must be noted that Winston and the Tampa starters did this against the Minnesota backups.

Winston finished 9-of-19 for 131 yards, a rushing touchdown and the interception. If I had to grade this performance, I'd give him a "D." Winston appears as though he has a long way to go.

Here were Winston's targets:

Kenny Bell: 1 (1 end zone)
Mike Evans: 3
Vincent Jackson: 3
Mike James: 1
Louis Murphy: 4
Bobby Rainey: 1
Austin Seferian-Jenkins: 2
Russell Shepard: 1
Luke Stocker: 2


It goes from bad to worse for the Buccaneers, as right tackle Demar Dotson, the team's best offensive lineman, sustained a knee injury. He couldn't put any pressure on his leg and was helped off. Meanwhile, the Vikings also lost their right tackle, as Phil Loadholt tore his Achilles. For more on this, check out my Disaster Grades.


On a more positive note, Doug Martin rushed for 19 yards on five carries. There were reports that Martin was back to rookie form in training camp, and he certainly looked like it in this contest. His best gain was a 7-yard burst in which he made several Vikings miss.


The box score will tell you that Mike Evans didn't catch a single pass, but he was targeted three times. Winston simply couldn't get the ball to him. Winston could improve, but if not, Evans will have a rough sophomore campaign.


Meanwhile, Teddy Bridgewater was the far-superior quarterback in this matchup, as Winston's performance made the Viking signal-caller look like the second coming of Joe Montana. Bridgewater misfired on just one attempt, going 7-of-8 for 86 yards. He opened with a strong, 18-yard pass to Kyle Rudolph off a play-action bootleg to his left. His only incompletion was a deep end zone shot to Mike Wallace that had a chance of being caught. Wallace had good coverage from cornerback Johnthan Banks, so Bridgewater threw it to his back shoulder. Wallace simply couldn't reel in the ball.

Here were Bridgewater's targets:

Jerick McKinnon: 2
Kyle Rudolph: 1
Jarius Wright: 2
Mike Wallace: 2 (1 end zone)


Adrian Peterson didn't play in Minnesota's second preseason game, yet he's going to receive a stock-down arrow because of Phil Loadholt's season-ending Achilles injury. Loadholt is a tremendous run-blocker, so Peterson won't have as much running room without his monstrous right tackle.


Cordarrelle Patterson worked with Minnesota's second team, but is worth discussing because he did something stupid. Patterson scored a touchdown and then shouted gibberish to the camera, something like, "Good times comin!" Then, on the next drive, he caught a pass and then was penalized for taunting. This prompted the frustrated Minnesota play-by-play guy to say, "That's been three years of Cordarrelle in a nut shell."


Speaking of Minnesota first-rounders who need to improve, Trae Waynes surrendered a 43-yard reception to Vincent Jackson. He had solid coverage on Austin Seferian-Jenkins on one occasion, but overall, he disappointed again.


I discussed the Vikings' play-by-play guy last year. He apparently thinks he's a wrestling announcer who feels like he needs to shout everything at the top of his lungs. Here's an example:

"BOOM! JAMEIS WINSTON IS SACKED BY EVERSON GRIFFEN! CAUGHT THE ROOKIE ... ON THE BLIND SIIIIDEEEEE!"

If that's not ridiculous enough for you, how about this?

"THE VIKINGS HAVE NOW GONE NINE AND ONE HALF QUARTERS WITHOUT ALLOWING A PRESEASON TOUCHDOWN!"

Oooooohhhhhhhh!!! Not just nine - nine and "one half" quarters without a preseason touchdown. That's it, Minnesota fans, buy your Super Bowl tickets now, because success is measured by the amount of preseason touchdowns surrendered.

Follow me @walterfootball for updates.









Bengals 23, Giants 10
Eli Manning and the Giants' offense finished the 2014 campaign on a hot streak, so I was eager to see how they'd perform against what should be a solid Cincinnati defense. Tom Coughlin used Manning and his first-string scoring attack for an entire quarter, yet New York failed to put a single point on the board.

Manning's numbers from this contest look ugly. He went 4-of-8 for only 22 yards. However, he wasn't nearly as bad as those stats indicate. He was victimized by two drops, while another of his incompletions was the result of a miscommunication with Odell Beckham Jr. The Giants were sluggish during the preseason last year as well, so I wouldn't be concerned about this if I were a fan of the team.

Here were Manning's targets:

Odell Beckham: 1
Larry Donnell: 1
Rashad Jennings: 3
Preston Parker: 1
Rueben Randle: 1
Andre Williams: 1


Rueben Randle sustained an injury in this contest. He dropped a pass on the first drive and then proceeded to limp off the field. Randle should not be drafted in 12-team leagues.


Odell Beckham Jr. didn't come up with a single reception. He was targeted, however, yet he and Manning couldn't connect because of a miscommunication; Manning wanted a back-shoulder throw because of tight coverage, while Beckham didn't recognize it.


Much was made of Rashad Jennings working with the second team at times during training camp, but he started in the preseason opener. He didn't do anything great; he rushed for 14 yards on two carries, thanks to an 11-yard burst in which he had a huge hole. As for the other running backs, Andre Williams saw some action on the second drive, but looked sluggish, losing two yards on as many attempts. Shane Vereen, working with the first team, had a four-yard carry at the end of the first quarter, but didn't do anything else in terms of the stat sheet. It should be noted that he was on the field for all of New York's third downs, so he'll be heavily involved on offense.


The Giants had a scare on the first drive when Landon Collins was helped into the locker room with a knee injury. Fortunately, X-rays came back negative.


Meanwhile, Cincinnati's starting offense was on the field for just one drive, but Marvin Lewis saw everything he needed to, as Andy Dalton easily marched down the field for a touchdown against New York's No. 1 unit.

Dalton was a perfect 3-of-3 for 31 yards and a touchdown. His best throw was a perfectly placed 16-yard pass to A.J. Green along the sideline. He also put the team into a short-yardage situation with a 6-yard scramble in the red zone.

Here were Dalton's targets:

Tyler Eifert: 1
A.J. Green: 1
Mohamed Sanu: 1 (1 end zone)


Tyler Eifert caught two passes in as many drives for 30 yards in his preseason debut. The Cincinnati announcers couldn't stop talking about how much the Bengals missed Eifert last year, and they were right - Eifert is a very talented tight end who figures to be targeted heavily this season.


Jeremy Hill started and was used exclusively with the first-string offense. The Bengals' No. 1 unit didn't have any third downs, so I can't say if he was the third-down back or not, but the fact remains that Hill looked outstanding, albeit in limited action. Hill ran powerfully with a nice burst, tallying 15 yards on his two attempts. Giovani Bernard entered the game on the second drive, but Dalton, Green and the rest of Cincinnati's starters were already off the field. Bernard was also used as a returner, which probably means he'll be limited offensively.


Marvin Jones was a disappointment in his preseason debut. He didn't play with the first-string offense, and he came up with just one catch for 17 yards while working with the backups. Jones missed some practices, prompting Marvin Lewis to openly criticize him.


Nothing too weird from the Cincinnati announcers, but the color analyst seemed to forget who was playing quarterback for his team at times. There were a couple of occasions in which he would say something like, "Great throw there by Josh... uhh... Johnson?"

Follow me @walterfootball for updates.




Raiders 18, Rams 3
Sam Bradford is sitting out this weekend, but Nick Foles was able to make his debut for his new team. Foles had a mixed initial start. He showed nice touch on his first pass, a completion of 26 yards to Lance Kendricks. His next throw went for 35 yards on a wide receiver screen to Tavon Austin. However, Foles missed his target on the second drive and then was sacked on back-to-back plays (only one counted because of a penalty).

We still have a long way to go before we can make a verdict on Foles in St. Louis. What's clearer is that the offensive line is in bad shape. The unit had absolutely no answer for Khalil Mack, who set up both sacks.

Here were Foles' targets:

Tavon Austin: 2
Kenny Britt: 1
Jared Cook: 1 (1 end zone)
Lance Kendricks: 1


Austin, as mentioned, took a short pass on a receiver screen and ran 35 yards. He was targeted on another occasion, but Foles couldn't connect with him. Austin has been incredibly inefficient thus far in his career, so I imagine he won't be on the field as often once Brian Quick returns from injury. Quick was out with a minor shoulder problem.


Todd Gurley isn't ready to play yet, so Tre Mason started. We didn't get to see much of him; he was given two carries, which he turned into six yards. Again, the Rams' offensive line struggled, so Mason didn't have much of an opportunity.


Derek Carr and the Raiders' first-string offense had more volume in this contest, as Carr attempted nearly double the amount of passes that Foles did. Carr's night was mostly positive, though a lot of what he did was underneath. He made it a point to target Amari Cooper early and often, and it paid off - until his final attempt, when Cooper ran the route incorrectly. As a result, St. Louis cornerback Trumaine Johnson intercepted the pass.

Carr finished 6-of-9 for just 43 yards and the pick. He did a solid job of moving the chains, but again, he didn't threaten the Rams deep, and St. Louis seemed content to utilize the bend-but-don't-break philosophy. The Raider announcers kept saying that Carr was setting up an attempt over the top, but that never happened.

Here were Carr's targets:

Amari Cooper: 4 (1 end zone)
Michael Crabtree: 3
Latavius Murray: 1
Kenbrell Thompkins: 1


Amari Cooper was impressive in his preseason debut. The Rams had trouble covering him; he caught three of the passes thrown his way (22 yards), and he would've had a chance at a touchdown if he ran the route correctly. I still think Cooper is going a tad too early in fantasy drafts, but he looked like a stud in his initial NFL action.


Speaking of Raiders who impressed, Latavius Murray had an excellent exhibition opener. Murray led the team with 35 yards on just six carries. His big gain was a 17-yarder in which he showed great explosion. The difference between Murray and the slow plodders from last year - Darren McFadden, Maurice Jones-Drew - is night and day. Murray looks like a solid fantasy RB2 this year.


Michael Crabtree was involved with the Raiders' first-string offense. He saw three passes go his way, coming up with two of them for 15 yards. He looked much quicker than he did last year, but I need to see more in order to trust him.


Center Rodney Hudson was another veteran who played his first game for Oakland. Hudson was great, and he appeared to be an instant upgrade over the hobbled Stefen Wisniewski, who has been injured in recent seasons. Hudson did a great job of blasting open huge holes for Murray.


Clive Walford made his NFL debut in this contest, and he displayed some of his potential. He used his athleticism to beat a defender down the seam and ended up hauling in a 22-yard reception. Walford finished with two grabs for 28 yards.


OK, some bad news/good news: The bad news is that the rotting old men who used to broadcast for the Raiders are all gone. I'm going to miss their senile ramblings. The good news is that Matt Millen is now a color analyst for the team, so he should provide plenty of strange quotes for us.

Millen wasted no time in his debut. The play-by-play person, some woman named Beth, was dubbed the "Princess of Darkness" by Millen for some reason, probably because she frowned upon his affinity for inserting kielbasas into the backsides of 100-percent USDA Men.

Speaking of which, check out these quotes by Millen. For normal people, they would just be ordinary statements. But with Millen, I think we can infer that there's some sort of weird, sexual innuendo behind them:

"He's got a big leg. He always has."

You know he wanted to say "He's got a big c**k. He always has." Always.

"I like that Carrie kid. The more I watch him, the more I like him."

The more you watch him via a hidden camera you set up in his hotel room?

"I want to see if he was touched."

Ooohh, kinky!

Follow me @walterfootball for updates.




Broncos 22, Seahawks 20
There would be no rematch between Peyton Manning and Russell Wilson because the former didn't play. Wilson did suit up, however, but had some issues in terms of pass protection early on. Wilson was strip-sacked on his first pass attempt, as Von Miller embarrassed Justin Britt, who simply had no chance. Wilson was constantly swarmed on the next possession as well, but was able to elude defenders for the most part to move the chains. He took the Seahawks to the Denver 5-yard line, but the drive stalled because Wilson took another sack.

Wilson completed his only pass for 12 yards, and he also picked up another 12 yards on a scramble. There was nothing wrong with him this evening, but his offensive line was atrocious. The team never properly replaced Max Unger following the trade for Jimmy Graham, and that could definitely be an issue this season.

Here were Wilson's targets:

Jimmy Graham: 1
Chris Matthews: 1


Jimmy Graham made his first catch as a Seahawk in this contest, snatching a 12-yarder off play-action on the second drive. It's tough to gauge Graham's impact on the Seahawks based on this contest, given that Wilson attempted just one official pass.


Marshawn Lynch didn't suit up for this game, allowing Robert Turbin to start. Turbin didn't do anything spectacular, as usual, plodding for 13 yards on five carries. However, he continued to hold his claim to the No. 2 running back gig because of Christine Michael's poor performance. Michael had a nice, 12-yard run and also did a good job of picking up the blitz on one occasion, but he managed just 15 yards on seven attempts overall, and even worse, he fumbled, resulting in a big loss. Seattle's coaching staff has a problem with the mental part of Michael's game, so the fumble definitely won't help.

Neither Turbin nor Michael had much running room, and though it's likely that things would've been different for the two backs in the second half, but it must be noted that Thomas Rawls and Rod Smith both looked better than their counterparts. Rawls gained 31 yards on nine attempts and also reeled in a 19-yard touchdown reception, while Smith had a couple of tough runs (2 carries, 18 yards) and showed off his good hands; he was the target of four screen passes for 29 receiving yards.


Second-round rookie Frank Clark had an awesome NFL preseason debut. The defensive lineman dominated the line of scrimmage. He put heavy pressure on the quarterback and had some run stuffs for negative yardage. He also had a sack wiped out by an illegal-hands penalty. Clark was a first-round talent who fell a bit because of character concerns, so if he stays clean, the Seahawks could have a new defensive superstar.


Seattle sustained two injuries in this contest. Chris Matthews, who was a near-hero in the Super Bowl, walked off the field, favoring his left arm following an 8-yard completion in which he out-fought a defensive back. Later, Tarvaris Jackson had to leave the game with a leg injury. He was carted into the locker room.


As mentioned, Manning did not play in this contest, allowing Brock Osweiler to be under center the entire first half. Osweiler wasn't flawless - he made a poor throw behind Cody Latimer on one occasion, failing to hit him in stride - but the positives definitely outweighed the negatives. He finished 15-of-20 for 151 yards and a touchdown. Osweiler didn't convert in the red zone, and was fortunate not to be battling Richard Sherman, who sat out, but he did a good job of moving the chains throughout the opening half. He has at least earned the opportunity to be the team's franchise quarterback once Manning retires.


C.J. Anderson started and ran with good burst on an 11-yard gain right away. However, he fumbled on the team's second drive, though a teammate recovered. Anderson was given just three attempts - turning them into eight yards - because he tweaked his ankle and was forced to leave the game. It's not believed to be serious.

With Anderson knocked out, both Montee Ball and Ronnie Hillman had more opportunities than originally anticipated. Ball managed 27 yards on eight carries, while Hillman accumulated 66 yards on his eight tries. The numbers are definitely legit - Hillman ran with good burst, unlike last year, when he was hampered by injuries.

Follow me @walterfootball for updates.




Jaguars 23, Steelers 21
Ben Roethlisberger and most of Pittsburgh's other starters didn't play in the Hall of Fame Game, but they saw brief action in this contest. They were on the field for just one drive, but they made it count, easily marching down the field on Jacksonville's defense for a quick touchdown.

The possession culminated with a perfect Ben Roethlisberger pass to an open Martavis Bryant for a 44-yard touchdown. Bryant torched Davon House and was wide open, allowing Roethlisberger to easily deliver the ball to him. Big Ben then had all the time in the world on the ensuing two-point conversion, finding Markus Wheaton to make the score 8-0.

Roethlisberger was a perfect 3-of-3 for 59 yards and the touchdown. This was a small sample size, but he looked like he was in mid-season form.

Here were Roethlisberger's targets:

Le'Veon Bell: 1
Antonio Brown: 1
Martavis Bryant: 1
Markus Wheaton: 1


Martavis Bryant, as mentioned, beat Davon House pretty easily for Pittsburgh's first touchdown. He ultimately caught three balls for 55 yards and the score, though his other two catches came when Roethlisberger left the game. Bryant is unbelievably athletic and could have a breakout sophomore campaign. He's been a tad overdrafted, in my opinion, but I'll concede that I was wrong if he continues to dominate in the preseason.


Steelers' rookie receiver Sammie Coates led the team with five receptions (52 yards), but a lot of his work came late. Coates made an impressive reception along the sideline toward the end of the game. He's someone to watch down the road.


Le'Veon Bell saw limited action, but looked impressive. He carried the ball twice and gained 18 yards. He also secured a 9-yard reception. Bell, who looks like he's in excellent shape, would be the consensus No. 1 fantasy pick if he weren't serving a two-game suspension.


Once Roethlisberger left the game, Landry Jones took over the rest of the way. Jones' numbers may not look terrible at first glance - 24-of-46, 200 yards, one touchdown - but look beyond the fact that he reached the 200-yard plateau. Jones' YPA was an anemic 4.35, and his play matched that figure. Landry spent the entire evening either checking down or heaving horrible floaters that had no chance of reaching his targets. He was at his worst late in the fourth quarter; he was faced with a fourth-and-2 near midfield to keep the game alive. He had a receiver five yards in front of him with no defenders nearby, yet he lofted the pass over his target's head. Even the TV announcers were speechless. Mark Brunell, the color analyst, stuttered and stammered trying to explain that throw.

I've said it many times, and I'll repeat myself once more: Landry Jones is the worst quarterback in the NFL. The Steelers made a huge mistake drafting him in the fourth round, and it's horrible that they haven't realized that they have a sunk cost on their roster. He better not make it through final cuts again.


While Jones hasn't gotten any better, Blake Bortles showed some improvement. The second-year signal-caller went 11-of-15 for 118 yards and a rushing score, and those numbers would be even better if he hadn't been victimized by three drops, one of which was a possible 40-yard Clay Harbor touchdown. Allen Hurns and Bernard Pierce also let the ball slip through their hands.

Bortles' only real incompletion was an overthrow intended for Harbor. He was also strip-sacked in the first quarter when he didn't see the blind-side pressure, applied by James Harrison, who beat Luke Joeckel. Otherwise, Bortles played well, and the Jaguars definitely can be optimistic about his progression. It's no surprise that offensive coordinator/quarterback guru Greg Olson has done a great job of coaching up Bortles thus far.

Here were Bortles' targets:

Arrelious Benn: 1
Toby Gerhart: 2
Clay Harbor: 3
Allen Hurns: 2
Marcedes Lewis: 1
Bernard Pierce: 2
Allen Robinson: 2
Julius Thomas: 1
Tony Washington: 1


The big news for the Jaguars in the preseason opener was Julius Thomas' injury. Hit hard by William Gay (not that there's anything wrong with that) on his first reception, Thomas left the game with what turned out to be a fractured finger. He'll be out for the rest of the preseason, but figures to be back for the opener. Still, it's a concern; if Thomas doesn't heal in time, he obviously won't be very productive.


Allen Robinson snatched both targets thrown to him, accumulating 25 yards in a quarter-and-a-half of action. He looked good in training camp, and that has apparently carried over to the preseason.


T.J. Yeldon was out, so Denard Robinson drew the start. He had some nice runs, tallying 22 yards on four carries. Toby Gerhart was mixed in and was given a short-yardage opportunity.


The Jaguars TV announcers had some strange things to say. The play-by-play guy called Le'Veon Bell "Layvon Bell," but that was nothing compared to Brunell's commentary. Brunell provided us with these two gems:

1. "Something the Jaguars don't want to do is give up explosive plays."

Wow, really? And here I thought they were OK with doing that.

2. "Gus Bradley is not concerned about his record."

That's cool. The Jaguars can go 0-16, but that won't matter because he doesn't care about his record, right?

Follow me @walterfootball for updates.




Panthers 25, Bills 24
We know who Carolina's quarterback is going to be, but it's unclear whom the Bills will choose, as they have three candidates to select from. Matt Cassel started this contest and had a decent showing.

Cassel completed all but one of his passes - 7-of-8, with the sole incompletion being a Chris Hogan drop - but compiled only 45 yards. He did a good job of moving the chains and showed that he could be a game manager, but didn't challenge the Panthers downfield. It was telling that the Bills called for a run on third-and-12 deep in Carolina territory. The coaching staff was effectively saying that it had no confidence in Cassel's ability to convert. They played it safe, but ironically, kicker Jordan Gray whiffed on his field goal attempt.

Here were Cassel's targets:

Charles Clay: 1
Chris Hogan: 1
LeSean McCoy: 2
Matthew Mulligan: 2
Sammy Watkins: 2
Robert Woods: 2


Tyrod Taylor was the next quarterback on the field for the Bills, and he showed much more play-making ability than Cassel, albeit against the Carolina backups. Taylor displayed great speed on an awesome, 10-yard scramble, and then he picked up 20 yards on another run. He made another great play shortly afterward, eluding a sack by spinning away from a defensive lineman and finding Karlos Williams for 13 yards.

Taylor ended up finishing 5-of-8 for 49 passing yards along with 47 rushing yards on six scrambles. The runs were exciting, but Taylor wasn't nearly as accurate as Cassel. He failed to connect on some deep passes; one attempt sailed out of bounds, while another went over the head of his receiver.


E.J. Manuel played the entire second half. He hit Deonte Thompson perfectly for a 51-yard touchdown, but didn't do well otherwise. He finished 4-of-8 for 77 yards and the score, meaning he was just 3-of-7 for 26 yards if you exclude the bomb. His worst play was when he missed a wide open receiver by about 10 yards. The crowd booed him for the awful throw.


The Bills will primarily move the chains via LeSean McCoy this year, and the former Eagle did not disappoint his fans in his Buffalo debut. McCoy rushed for 16 yards on six carries, but had a couple of bright moments. He made multiple defenders miss on one reception, and then he broke a couple of tackles on a gain of eight yards.


The box score says that Sammy Watkins caught only one pass for six yards, but don't be discouraged by that. Watkins snagged a 15-yard reception early on, but the play was nullified by a horrible offensive pass interference call. Watkins is set for a strong sophomore campaign.


Robert Woods started across from Watkins. He posted better numbers - two catches, 11 yards - but he screwed up on one play. He had a first down in his sights, but ran backward in an attempt to pick up more yardage. Instead, he lost the first down, and the Bills had to punt.


Buffalo's defense, meanwhile, was roaring at the beginning of the game. The defensive front swarmed Cam Newton, who had no chance to find any of his weapons downfield. Newton actually had Philly Brown open for a 73-yard touchdown, but missed him because he couldn't step into his throw. Newton was then nearly picked off twice; Kelvin Benjamin had to break up a potential interception on one of the occasions.

Newton, however, got into a groove eventually. It started when he and Benjamin drew a deep pass interference flag on Stephon Gilmore. Newton then completed a perfect, 38-yard rainbow to Ted Ginn along the sidelines, and this was followed by a touchdown to Benjamin. Newton finished 5-of-10 for 83 yards and the score.

Here were Newton's targets:

Kelvin Benjamin: 6 (1 end zone)
Philly Brown: 1
Jerricho Cotchery: 1
Ted Ginn: 1
Greg Olsen: 1


There were some negative reports about Kelvin Benjamin and his conditioning this offseason, but the 2014 first-round receiver looked in perfect shape in his preseason debut. He slipped and caused an incompletion on the first drive, but was dominant afterward. He finished with three catches for 36 yards and a touchdown, and he also drew a deep pass interference flag on Buffalo's top cornerback.


Second-round rookie Devin Funchess saw action with Derek Anderson and the backups. He caught a 34-yard pass on the first play of the second half, and then he almost came up with a deep touchdown against rookie cornerback Ronald Darby a few plays later.


Jonathan Stewart didn't play, so Fozzy Whittaker started in his place. He struggled (5 carries, 3 yards), but Cameron Artis-Payne looked better, totaling 24 yards on eight attempts.


The Buffalo play-by-play guy was absolutely nuts. I could tell I was in for an interesting telecast when he opened by shouting, "First time in a long time where the expectations here are Super Bowl!"

Later on, when seeing Tyrod Taylor make some nifty scrambles, he tried to convince the color analyst of an idea of his by yelling, "How about a two-quarterback system!?" And if that wasn't bad enough, he constantly said "catched" instead of "caught," so it was clear that he took his grammar lessons from Emmitt Smith.

His most hilarious gaffe came when Derek Anderson completed a pass to his own receiver. He screamed this at the top of his lungs: "Interception!"

Yeah, so Derek Anderson apparently became the first quarterback in NFL history to throw an interception to a member of his own team. That's some magical flask.

Follow me @walterfootball for updates.




Falcons 31, Titans 24
All eyes were on Marcus Mariota, who was making his NFL preseason debut. The No. 2 overall pick had a couple of minor bright moments to begin the game, completing a pass to Harry Douglas for 12 yards off play-action and then drawing a defender offside with a hard count. However, disaster struck after that. Mariota began holding on to the ball too long, taking a sack on one occasion when Paul Soliai bulldozed through his center, who had no chance. Mariota was then intercepted - nearly pick-sixed - on a failed obvious screen attempt. Linebacker Justin Durant diagnosed the play perfectly, but Mariota still shouldn't have thrown the pass.

Mariota's second drive was more disastrous. Once again waiting in the pocket too long, Mariota had the ball knocked out of his hands. Linebacker Paul Worrilow scooped it up and ran back to the end zone for a touchdown. However, Mariota got into a rhythm after that and was much better on his third possession, but it has to be noted that he improved versus Atlanta's second-string defense. He finished 7-of-8 for 94 yards and the interception, but he was just 2-of-3 for 16 yards and a pick against the Falcons' starters.

It's still way too early to tell how good/bad Mariota will be. He struggled in the pocket, as things seemed to process slowly for him, but he was just seeing his first action as a pro. He could easily improve soon - perhaps even later during the preseason.

Here were Mariota's targets:

Antonio Andrews: 1
Harry Douglas: 3
Anthony Fasano: 2
Bishop Sankey: 1
Kendall Wright: 1


Bishop Sankey has been the best running back in Tennessee's training camp, which is just sad, based on how poorly he played in the preseason opener. Sankey mustered just 15 yards on eight carries. He had a gain of seven, which means his seven other attempts went for just eight yards. On one occasion, Sankey ran sideways on a second-and-1 and turned it into a third-and-3. He didn't have good blocking, but he didn't seem to display any sort of talent.


Second-round rookie Dorial Green-Beckham didn't see any action with the first string, but made a big play with Zach Mettenberger, catching a 32-yard pass. He had a chance for another deep reception, but Mettenberger's pass was underthrown.


Speaking of Mettenberger, he was the superior quarterback for the Titans. The pick was a bad throw, but it was his only one; he finished 8-of-11 for 129 yards and a touchdown otherwise. Most of his passes were right on the money, and he showed way more poise in the pocket than Mariota did. Of course, Mettenberger was playing against the backups, so he may have also struggled versus Atlanta's starters.


There weren't any missed extra points on Thursday night, but Roger Goodell's new asinine rule claimed its first victim when Ryan Succop whiffed on his one-point try. I know I'm going to get screwed on this new rule, and I'm already prepared for it.


Meanwhile, the Falcons were flawless on their opening drive. Matt Ryan, on his sole possession, was a perfect 6-of-6 for 86 yards and a touchdown. He had solid protection in the pocket, save for one play. That's key, as his blocking struggled in 2014.

Here were Ryan's targets:

Patrick DiMarco: 1
Leonard Hankerson: 1
Julio Jones: 4


Julio Jones was a monster in his preseason debut. He caught four balls for 61 yards and a touchdown - on just a single drive! Jones' score was a thing of beauty, as he put the breaks on Perrish Cox in the open field and ran into the end zone. Jones is going to have a huge year and is definitely worth consideration at the end of the first round of your fantasy draft.


With Devonta Freeman and Tevin Coleman sidelined, Antone Smith had an opportunity to impress the coaching staff. He didn't have much running room, however, and finished with just 17 yards on eight carries. Making matters worse, he was knocked out of the game with a hamstring injury.


Rookie receiver Justin Hardy had an up-and-down debut. He was responsible for T.J. Yates' interception; he tried to make a sliding catch, but had the ball pop out of his hands and into the arms of a Tennessee defender. Hardy rebounded after that, however, snagging three passes for 41 yards.

Follow me @walterfootball for updates.




Lions 23, Jets 3
Geno Smith took the anti-Lannister approach and refused to pay his debts, so Ryan Fitzpatrick started this game. This was an opportunity for the Jets to give Fitzpatrick some reps with his new team, but they didn't take advantage of it, opting to use Fitzpatrick for only one series, which was curious, to say the least. Fitzpatrick tossed just three passes and then was pulled in favor for Bryce Petty.

Fitzpatrick went 2-of-3 for 16 yards, with his sole incompletion being a dropped pass by Jeff Cumberland in the red zone that put an end to the possession. Both of Fitzpatrick's successful attempts were just ordinary throws.

Here were Fitzpatrick's targets:

Jeff Cumberland: 1
Eric Decker: 1
Brandon Marshall: 1


Bryce Petty ended up playing the rest of the game. We spoke to several teams prior to the draft, and some of them, including those that had a big need at quarterback, labeled Petty as "undraftable." It was easy to see why in this contest. Petty completed 10-of-18 passes, but for only 50 yards. Most of his attempts were of the checkdown variety, and his few deep shots fell wide of his target. One pass was especially brutal; he had an open receiver for about a 12-yard gain along the sideline on a third down, but completely missed him. Petty was victimized by two drops, but again, they were short throws that any signal-caller in the NFL could've made. It's only one game, but it appears as though our sources were right on about Petty.


The overrated Chris Johnson is gone, so the Jets' starting running back job belongs solely to Chris Ivory. That's a good thing, as Ivory had a strong preseason opener. He rushed for 25 yards on just six carries, which included a converted fourth-and-1 try. Ivory ran with great power, appearing poised for a solid 2015 campaign. He's going a bit later than he should in fantasy drafts.


There's not much else to write about concerning New York's offense, as Brandon Marshall and Eric Decker were also on the field for just one drive. The defense, meanwhile, was completely miserable. Matthew Stafford engineered a very easy scoring drive on his sole possession, as Golden Tate beat an extremely slow Marcus Gilchrist for a long score. Stafford and Tate left the field on the second possession, yet the Jets' first-string defense, featuring Darrelle Revis, still couldn't stop the Lions.

Stafford threw just two passes, but both were right on the money. He accumulated 57 yards on those attempts, including a 35-yard score to Tate.

Here were Stafford's targets:

Golden Tate: 2


Calvin Johnson did not suit up in the preseason opener as a precaution, so it's no surprise that Golden Tate had a dominant performance. Tate ran circles around New York's slow defense, taking both of his catches for 57 yards and a touchdown on his only possession.


I've been ranking Joique Bell ahead of Ameer Abdullah, but it might be time for that to change. Abdullah, who by all accounts has enjoyed a strong training camp, was extremely explosive in his preseason debut. He showed nice burst on his runs, and he made a great juke on a defender during his second attempt to pick up a first down. On the next possession, he displayed incredible acceleration after one cut for a gain of 45 yards. It needs to be said that this was against the Jets' first-string defense, and to top it off, Matthew Stafford and Golden Tate were both off the field on the play, so it's not like New York was focused on stopping the aerial attack. Abdullah is a legitimate, dynamic talent, and he could be a big producer as a rookie.


The Lions' broadcasters didn't make any mistakes. I want to mention them though because they spent a ton of time talking up Lance Moore as Detroit's No. 3 receiver. Moore was solid, catching two balls for 19 yards. He might be someone to monitor on the waiver wire if either Megatron or Tate goes down.

Follow me @walterfootball for updates.




Redskins 20, Browns 17
Injuries suck, especially in meaningless preseason games. There were several players who got hurt Thursday night, but the most notable individual to go down was Niles Paul, who will be out for the year with a dislocated ankle. It's a shame for Paul, as Jay Gruden called him the most complete tight end on the roster. It sounded like Paul was going to have a big role on offense, but that plan has completely gone awry. It goes without saying that Jordan Reed's stock needs to go up in the wake of Paul's injury. Unfortunately, for those who already pegged Reed as a Fantasy Football Sleeper, his ADP will rise.

For more on Paul's injury, check out my Disaster Grades for the Redskins.


Moving on to the players who made it through unscathed, Robert Griffin was better than his stats indicate. He went 4-of-8 for 36 yards - without DeSean Jackson - but those numbers don't tell the whole story. Griffin hit Pierre Garcon on a perfect 61-yard touchdown rainbow, but Garcon, who was completely wide open, dropped the ball. Griffin also scrambled on his second drive, picking up a first down on third-and-2. It's worth noting that Danny Shelton showed enough athleticism to run over to Griffin and tackle him to prevent him from advancing any farther down the field.

Here were Griffin's targets:

Pierre Garcon: 3 (2 end zone)
Ryan Grant: 3
Evan Spencer: 1
Darrel Young: 1


As mentioned, DeSean Jackson was out. Andre Roberts didn't start, however; Ryan Grant got the nod across from Garcon instead. Grant tied for the team lead in targets from Griffin, and he managed to finish with three grabs for 36 yards. Roberts (4-71) posted better numbers, but his work came with Kirk Cousins under center.


Speaking of Cousins, he looked extremely sharp, going 12-of-14 for 154 yards. He made some spectacular throws, including a perfect back-shoulder pass to Roberts. He later rushed for a touchdown on a read-option play. Perhaps the Redskins can use this performance to generate a trade market for him. We've seen him have great performances before, but his issue is that he quickly loses confidence after negative plays and goes into a horrible funk that he can't escape from.


The Redskins made it their goal to establish the running game early in this contest. Alfred Morris ran well, gaining 42 yards on eight carries. However, the most-impressive runner was third-round rookie Matt Jones. The Florida product was powerful, as he bounced off defenders on a gain of 23 yards at some point. Shortly afterward, he made some incredible cuts to pick up 12 yards. He finished with 38 yards on just five attempts.


As for the Browns, the first-string offense clicked on all cylinders on its only drive. Of course, that could be a result of how awful Washington's defense is, but the fact remains that Cleveland didn't have any difficulty marching down the field and scoring a touchdown.

It should be noted, however, that luck was involved. On one play, Josh McCown slipped on grass and heaved an underthrown ball downfield as a result. The pass was so short that the receiver had to stop, resulting in cornerback Chris Culliver crashing into the wideout. This drew a flag, allowing the Browns to set up with a first down in the red zone. Shortly afterward, McCown bought enough time in the pocket to find Travis Benjamin wide open for a touchdown.

McCown went a perfect 5-of-5 for 33 yards and the score. Cleveland fans should not get too excited - of course, they know this already - but McCown looked like the same quarterback who thrived under Marc Trestman in Chicago. This is obviously a very small sample size, but McCown will actually have an offensive coordinator this year - something he lacked in 2014 when Jeff Tedford had to be relieved because of medical issues.

Here were McCown's targets:

Travis Benjamin: 3 (1 end zone)
Taylor Gabriel: 1
Brian Hartline: 2


Brian Hartline led the team in receiving during the preseason opener, catching three balls for 30 yards. It's hard to justify drafting him because he provides no upside, but he could end up being a half-decent WR5 in 12-man fantasy leagues. He's definitely worth rostering in leagues featuring 14-plus teams.


I wish I could provide an update on Cleveland's running back situation for you, but it's still very cloudy. Isaiah Crowell started, but rotated with Terrance West on the opening drive. Neither impressed; Crowell mustered just six yards on four tries, while West managed 10 yards on four attempts. I guess we'll have to see how Duke Johnson looks once he returns from injury.


Rob Housler continued to struggle. He saw just one target in the preseason opener, and it wasn't even from Josh McCown. The pass, which was thrown by Johnny Manziel, was knocked away. Housler has zero fantasy relevance.


Speaking of Manziel, I'd be remiss if I didn't discuss him. Manziel wasn't terrible in this contest. In fact, he did a good job of getting the ball out quicker. He didn't look like a starter either, but he completed seven of his 11 attempted passes. He didn't bother going downfield though, which would explain why he had just 42 passing yards. On the bright side, he was able to score a touchdown on the ground following a Washington muffed punt.


Cleveland's other 2014 first-round pick needs to be mentioned as well. Cornerback Justin Gilbert struggled as a rookie, and his issues once again surfaced in this contest. Remember that 61-yard near-touchdown that Garcon could've scored? Garcon beat Gilbert, in part because Gilbert stopped paying attention to Garcon. Ryan Grant later torched Gilbert on a 22-yard gain. Gilbert had some nice moments when he covered Garcon well in the end zone on two consecutive plays, but his inconsistency has to be extremely frustrating.


I have some sad news to report: The Browns' TV network no longer employs Bernie Kosar. It was always great to listen to the drunken Kosar ramble about various things during the preseason. Fortunately, we now have two homers instead, who said stuff like:

"Crank up the running game! Cleveland has really good running backs!"

"People haven't seen the real Travis Benjamin yet!"

I hope I get to listen to these guys the next three weeks.

Follow me @walterfootball for updates.




Bears 27, Dolphins 10
Jay Cutler had a miserable 2014 season, but with a new offensive system in place, the question is whether he'll be able to rebound and revert back to the quarterback who once took the Bears to the NFC Championship. He didn't play long enough in this contest to determine anything, and we probably won't know until the regular season starts.

It's at least a positive that Cutler wasn't awful. He was a mediocre 4-of-7 for 42 yards, though Alshon Jeffery wasn't in the lineup. One of Cutler's incompletions came on a miscommunication with Eddie Royal. His offensive line showed some signs of trouble, however; Cutler took a sack and had to begin on a first-and-15 on one possession because Ndamukong Suh intimidated one of the blockers into false starting.

Here were Cutler's targets:

Martellus Bennett: 2
Jeremy Langford: 1
Jacquizz Rodgers: 1
Eddie Royal: 4


With Jeffery out for the preseason opener, Eddie Royal was Jay Cutler's favorite target. Half of Cutler's pass attempts were fired in Royal's direction. Royal came up with two catches for 19 yards. He had a miscommunication with Cutler, but was otherwise solid. Remember, he played with Cutler in Denver when he was at his best, and it's also worth pointing out that the Chicago TV announcers said that Cutler and Royal developed a great rapport in training camp.


Matt Forte also sat. Jacquizz Rodgers started and actually ran pretty well. While the Chicago offensive line didn't pass protect very well, it did open up some holes for Rodgers, who registered 33 yards on seven carries.


Chicago's offense wasn't incompetent, but the same can't be said for the defense, which allowed the Dolphins' first-string offense to march down the field and score a touchdown on its sole possession. The Bears looked helpless against the run, while safety Brock Vereen had an awful missed tackle on Jarvis Landry. I knew things wouldn't go well when the Chicago TV announcers pointed out that converted defensive end Shea McClellin would be calling the plays for the Bears at inside linebacker. I was so appalled by this that I actually said aloud, "Oh my God..."


As mentioned, the Dolphins' starting offense scored a touchdown on its first and only drive. Ryan Tannehill was nearly flawless, going 6-of-7 for 56 yards and a touchdown. It's worth noting that Tannehill nearly threw an interception - Jared Allen almost got his hands on the ball - but he was perfect otherwise. He also picked up a first down on a 4-yard scramble on third-and-2.

Here were Tannehill's targets:

Greg Jennings: 1
Jarvis Landry: 2 (1 end zone)
Rishard Matthews: 1
Dion Sims: 3 (1 end zone)


Jarvis Landry scored Tannehill's sole touchdown, catching both balls thrown to him for 11 yards. Landry was Tannehill's favorite target in 2014, and it appears as though that will be the case again.


It's hard to say if Miami's blocking was that good, or if Chicago's run defense was that bad, but Lamar Miller was able to turn three carries into 32 yards in the preseason opener. His numbers could've been even better, as he had an 8-yard scamper wiped out by a hold. Miller wasn't on the field for the team's goal-line package, but he never reentered the game after that time, so Joe Philbin could have just wanted him done for the evening.


I want to note this because he's still a big name, but I'll be surprised if Josh Freeman is still on Miami's roster much longer. In fact, he could be cut by the time I post this recap! Freeman was an abomination in this contest, going 5-of-16 for 76 yards and an interception. He was as bad as those numbers indicate, as he constantly either passed the ball to covered receivers or threw behind his targets. His pick was overthrown by a mile. Freeman is once again having the same issues we referenced a couple of seasons ago. It's sad, and hopefully he gets his life together soon. Unfortunately, it seems as though he's done in the NFL.


Moving on to a much funnier subject, the Bears' TV announcers made numerous mistakes and said some strange things. Here are some examples:

- The play-by-play guy called Lamar Miller "Lamar Martin."

- The color analyst said that Jarvis Landry is a running back.

- One of the guys said, "I love Josh Freeman."

But the worst comment came during the pre-game show:

- "Eddie Royal is a veteran quarterback who provides versatility!"

Yeah. Eddie Royal, the quarterback. Looks like Cutler has some competition on his hands.

Follow me @walterfootball for updates.




Chargers 17, Cowboys 7
The Cowboys didn't appear to take this game very seriously, and it certainly showed early on. Tony Romo, Joseph Randle and Dez Bryant all sat out, and while some starting offensive linemen were on the field, including Zack Martin and Travis Frederick, Dallas was using a guard at right tackle over Doug Free. Early in the game, the vaunted starting backfield of Brandon Weeden and Gus Johnson screwed up. Weeden botched a snap and watched the ball dribble backward about 10 yards. The Chargers scored an easy touchdown on the ensuing possession, and that was it for all of the starters in this contest.


I'll talk about the Chargers because they actually put forth some effort. Philip Rivers was on the field for one drive, completing both of his passes for 20 yards. It was impossible to learn anything from such a small sample size, but there's no reason Rivers should've regressed this offseason, so I think we can assume that he'll be fine in 2015.

Here were Rivers' targets:

Keenan Allen: 1
Antonio Gates: 1


We also didn't see much from Melvin Gordon in the preseason opener. The rookie running back carried the ball six times, but gained just 11 yards. It was far from an impressive effort, but it's not like he had much help. For example, he was hit in the backfield on his first carry, broke a tackle, but yet was still dragged down for a loss of a yard. The reason why I'm giving Gordon a down arrow this week is because he was removed on third down in favor of Danny Woodhead, who scored a touchdown from eight yards out, vulturing a score from Gordon. The Wisconsin product will start, but if the Chargers are behind, Woodhead will see the field often.


Speaking of Woodhead, the small runner carried the ball just once, but scored an 8-yard touchdown. It's clear that San Diego plans on using Woodhead as its third-down running back, as the team doesn't trust Gordon enough yet to be in that role. Woodhead showed no signs of injury, making him an appealing late-round option in PPR formats.


Like the rest of San Diego's first-string offense, Keenan Allen didn't play much. I just wanted to mention him because he managed to beat first-round rookie cornerback Byron Jones on his 12-yard reception. By all accounts, Allen is in much better shape this season and is poised to rebound from his down sophomore campaign.


The Chargers sustained an injury of consequence in this contest, losing guard Johnnie Troutman to an arm malady. The San Diego announcers actually sounded pissed that he was playing; they complained that he shouldn't have even been on the field because he wasn't ready to play. The team had offensive line issues last year, so this is not good news.


As you can probably tell, I don't have much to say about the Dallas backups. Gus Johnson was the starting running back, and he rushed for 35 yards and a touchdown on 13 carries, but left the contest with a shoulder injury. Johnson, who was fighting to be the Cowboys' No. 3 runner, will have to go back to announcing games for FS1.


As for Weeden, the ancient quarterback went 4-of-5 for 42 yards. His sole drive looked decent until he botched a snap and looked too decrepit to pounce on the loose ball.


This picture is emblematic of what sort of game it was for the Cowboys. Their fourth-string quarterback, some guy named J.Showers who didn't have a link on NFL.com, had this abomination on his right shoulder: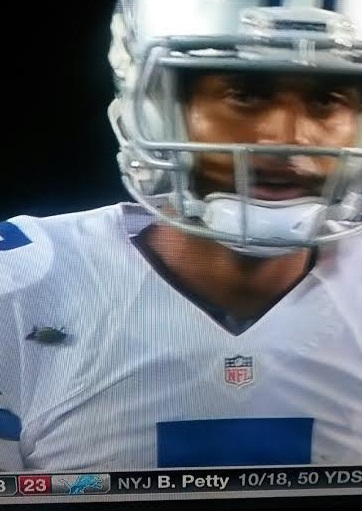 This giant bug bothered J.Showers so much that he spazzed out and then proceeded to overthrow his intended target by about 20 yards on the play. Insert your "J.Showers took a showers after the game" jokes here.

Follow me @walterfootball for updates.




Ravens 30, Saints 27
This was a rough game for the Saints. Not for the offensive players, or anything. Drew Brees didn't even take the field. It was all about their defense, and the amount of injuries their players sutained throughout the evening.

It all started when newly signed Brandon Browner was carted off into the locker room. This occurred right after Browner was flagged for a penalty (of course). Linebacker Dannell Ellerbe walked off with the help of trainers after that. And if things weren't bad enough, Delvin Breaux, who replaced Browner, also left with an injury of his own. The silver lining is that rookie linebacker Stephone Anthony flashed.


As mentioned, Brees didn't play, as Sean Payton decided to give Luke McCown the start. However, the other New Orleans starters were on the field. This includes Brandin Cooks, who caught one pass - a 28-yard touchdown. Cooks also nearly had a second score a bit earlier; he managed to snatch a deep pass and run into the end zone, but he was flagged for illegal touching because the defender pushed him out of bounds beforehand. Cooks' score came on a short pass that he caught in space. He then sprinted into the end zone. Cooks looks primed for a big year.


Mark Ingram was given four carries in this contest. He was bottled up on a third-and-short on the second drive because the offensive line provided no push, but he had a nice, 9-yard run after that. The take-away is that Ingram didn't look sluggish at all.


Ingram's counterpart, Khiry Robinson, made some big plays. He collected 35 rushing yards on just two carries (thanks to a 29-yarder), and he also caught three balls for 37 receiving yards and a touchdown. He nearly fumbled twice - the ball came loose on two occasions right after he hit the ground - but he ran with great power otherwise. Robinson, who was compared to Curtis Martin by Bill Parcells, is probably the superior New Orleans runner, but he'll need Ingram to get hurt to see much playing time.


Josh Hill led the Saints in receiving (3 catches, 40 yards), but all of his production came with the second team. There's nothing to see here.


As for the Ravens, Joe Flacco played just one drive, leading the team down the field for a touchdown, scored by reserve running back Lorenzo Taliaferro. Flacco looked very comfortable in Marc Trestman's scheme, going 5-of-6 for 33 yards.

Here were Flacco's targets:

Crockett Gilmore: 1
Kyle Juszczyk: 2
Steve Smith: 1
Lorenzo Taliaferro: 1


Justin Forsett didn't see much action. Instead, it was Taliaferro and rookie Buck Allen handling the workload in the first half. Allen had some nice plays, gaining 35 yards on 11 carries. He was guilty of a drop, however.


Maxx Williams finished second on the Ravens in receiving, only behind Michael Campanaro. Before you get too excited, Williams only saw action with the reserves. Having said that, he single-handedly won this game. Baltimore, trailing 27-23 with a couple of minutes remaining, was stranded in a fourth-and-20 near midfield. A desperate Bryn Renner threw a short pass to Williams, who jumped over a defender and bulldozed through two others to somehow pick up the first down. As this happened, I actually said aloud, "How the hell...?" If this is a sign of things to come, Williams is going to be a great player.


The starters didn't play much in this contest, so let's just move on to the team announcers. The play-by-play guy for the Saints said a couple of strange things:

"Matt Schaub is a good, accurate thrower ... except for that one year with all of those pick-sixes."

Oh, OK, let's just ignore what happened there. Yeah, Schaub's still good... except that he stood no chance of beating out Derek Carr last season.

At 1:30 on the clock: "This could be the final snap of the first quarter."

Wow. I knew the NFL changed some rules this offseason, but I didn't recall them implementing a 90-second play clock!

Follow me @walterfootball for updates.





Packers 22, Patriots 11

It wasn't quite clear whether Tom Brady would play or not in the preseason opener, given that he's been busy with the Deflategate proceedings, but he took the field for two drives. Unfortunately for the Patriots, Brady didn't quite look like himself, albeit in limited action. Brady's first pass, which was targeted for Josh Boyce, sailed on him. I'm actually not joking when I say this, but it looked like Brady was shocked that there was so much air in the ball.

Brady went just 1-of-4 for 10 yards. He was victimized by a Boyce drop, but his other two incompletions were pretty ugly. He didn't look like himself, but the preseason is still young, and Rob Gronkowski and several of the other starters didn't play.

Here were Brady's targets:

Josh Boyce: 2
Brandon Gibson: 1
Michael Hoomanawanui: 1


Jimmy Garoppolo took the field on New England's third offensive drive. By the time he was done, Bill Belichick looked like he was praying to God that Brady would be available in the season opener.

Garoppolo's numbers don't look terrible - he went 20-of-30 for 159 yards and an interception - but he had major problems moving the chains. His biggest issue was his pocket awareness, as he was often skittish when the Packers applied any sort of pressure on him. He took numerous sacks, including a costly one in the 2-minute drill at the end of the opening half when his team didn't have any timeouts remaining. He got into a groove during one drive in the third quarter, but that possession ultimately ended in a sack.

On top of that, Garoppolo's accuracy was a bit shaky. He overthrew Boyce a couple of times downfield, and he was nearly picked off three times. The one interception he actually threw was a pass on the wrong side of Boyce.

The Patriots have three more weeks to get Garoppolo ready for the season opener, and perhaps he'll be better with Gronkowski and company joining him on offense, but his inability to stay calm in the pocket, especially against the Green Bay scrub defenders, was definitely problematic.


Jonas Gray started for the injured LeGarrette Blount. He rushed for 74 yards on seven carries, but most of that - 55 yards - came on one attempt versus the Packer backups. Otherwise, Gray gained just 19 yards on six tries. His offensive line, which was comprised of multiple rookies on the interior, didn't give him any help.


The Patriots were clearly looking to feature wide receiver Josh Boyce, a fourth-round pick from 2013. Boyce disappointed his coaching staff. In fact, he was so bad that I'll be surprised if he makes final cuts. Boyce, who caught two passes for 19 yards, was guilty of multiple drops. He proved to be inefficient downfield, as Garoppolo misfired while throwing to him on many occasions. He also failed to fight for the ball on Garoppolo's sole pick. He's just a terrible player who doesn't belong in the NFL.


Before I move on to the Packers, I need to mention New England's secondary. Darrelle Revis and Brandon Browner are both gone, and the team now has major problems in that area as a result. Some guy named Darryl Roberts started, and he looked completely helpless against Jordy Nelson. Logan Ryan, meanwhile, was beaten by Jeff Janis for a long touchdown in the middle of the second quarter. Malcolm Butler was the only corner who performed on a high level.


There was a report Thursday that the Packers wanted to run a faster offense, given that they were just 21st in plays per game last year. They certainly were moving at a brisk pace, and they had no issues moving the chains up and down the field. They stalled in the red zone, but that's something that can be remedied during the season.

Aaron Rodgers looked extremely sharp. In fact, there was an obvious, huge disparity between him and Brady; they're clearly not on the same level anymore. Rodgers is the best quarterback in the league, and he seems poised for a career year.

Things did not start well for Rodgers, who took a sack on his first play when Chandler Jones beat left tackle David Bakhtiari, who had a rough night. However, Rodgers moved the chains on that drive by scrambling left on third down and finding Jordy Nelson along the sideline. Rodgers ultimately finished 11-of-19 for 117 yards in just one quarter of action. One of his passes was dropped by Andrew Quarless.

Here were Rodgers' targets:

Davante Adams: 6 (2 end zone)
Randall Cobb: 2
James Starks: 3
Eddie Lacy: 1 (1 end zone)
Jordy Nelson: 3 (1 end zone)
Andrew Quarless: 3


Davante Adams saw more targets than any other Packer receiver in the preseason opener. He caught only three of the six balls that came his way for 17 yards, but it's still a positive that he was so heavily involved on offense. Aaron Rodgers targeted him twice in the end zone, so Adams was very close to having a huge outing.


Eddie Lacy was given five carries in this contest. He looked great, running powerfully as he generated 36 yards on those attempts. The Patriots had major issues tackling him. James Starks was less successful, as he was stuffed by Jabaal Sheard - the Patriot announcers called him "Christian Sheard" - on a fourth-and-1 try near midfield. Starks had 38 receiving yards on three catches, so that was at least a positive for him.


Brett Hundley, Green Bay's young quarterback, played better than Garoppolo. Hundley, who went 4-of-6 for 60 yards and a touchdown, made some impressive plays. On one instance, he eluded two players to avoid taking a sack. A bit later, he made a great throw on third-and-10 to Ty Montgomery, but the Stanford product couldn't keep both feet inbounds. This is obviously a very small sample size, but it appears as though the Packers are doing a great job with Hundley.


Like last year, the Patriots' preseason broadcast featured two random Bob's Discount Furniture employees. I'm not sure why they keep bringing these bozos in; the one guy said something horribly inaccurate:

"Bradley Fletcher has played well consistently."

Really? In what universe? Fletcher was atrocious all year in 2014. Go back to selling dining room tables, bud.

Follow me @walterfootball for updates.




Vikings 14, Steelers 3
With Ben Roethlisberger, Le'Veon Bell and Antonio Brown all sidelined, there's not really much to say about the Steelers as far as a fantasy football perspective. Their starting backfield was comprised of Landry Jones and Cameron Stingly, after all. So, with that in mind, I'll begin with the Vikings.

Teddy Bridgewater played just one drive, but save for one throw - a pass behind Mike Wallace - he had a solid showing, displaying nice command of the offense. Bridgewater finished 5-of-6 for 44 yards, and he picked up six yards on his sole scramble. I was terrified that Bridgewater was going to sustain an injury on his scamper, and I imagine many Minnesota fans had similar thoughts.

Here were Bridgewater's targets:

Charles Johnson: 1
Jerick McKinnon: 1
Kyle Rudolph: 2
Mike Wallace: 1
Jarius Wright: 1


Teddy Bridgewater's preferred target in the Hall of Fame Game was Kyle Rudolph, who hauled in both of his targets on the first team's only offensive drive. Rudolph's two receptions went for 22 yards. Now completely healthy for a change, Rudolph could be in for a big fantasy season. His ADP is currently 13.01, which is ridiculously low. I'd have no problem taking him in the 12th frame if I happen to miss out on some of the big names. Bridgewater is going to target Rudolph a lot this season - assuming, of course, that Rudolph stays healthy.


Mike Wallace was involved on two plays during the opening drive. He handled an end-around that went nowhere, and then he was the near-recipient of a pass thrown behind him. The Vikings will undoubtedly come to realize that minimizing Wallace's involvement on offense will make the scoring attack more efficient.


Adrian Peterson dressed for the game, but didn't see any action. Matt Asiata (6-30) and Jerick McKinnon (2-2) handled the workload in the first half.


A pleasant surprise beyond Rudolph in this contest was Matt Kalil, who had a strong showing. This is huge, as Kalil struggled tremendously last year because of an injury. The Vikings will have a decent shot at the playoffs if Kalil can perform up to his ability. Bridgewater is fragile, so it's obvious that protecting him is paramount.


On the flip side, Trae Waynes was awful in his preseason debut. The first-round cornerback was seen as the consensus top player at his position in the 2015 class, but we know that some teams weren't as high on him. It's easy to see why after this game. Waynes was torched routinely and flagged on multiple occasions. This doesn't mean he'll definitely be a bust, but it's a very disconcerting start for him.


With Roethlisberger out, Landry Jones played the entire way. Jones opened the game with some nice passes, prompting me to joke that he was on steroids in my Live Preseason Blog. Jones' play disintegrated after that, however, and his horrible accuracy was prevalent throughout the second half. I called Jones (16-of-32, 135 yards) one of the worst quarterbacks in NFL history prior to this game, and I didn't see enough from him to change my opinion. I'm still bewildered that the Steelers spent a draft pick - let alone a fourth-rounder - on him.


Like Jones, Dri Archer had been a disappointment, but he had some nice moments in this game. He picked up some long gains and converted a third-and-14 on one occasion. He rushed for 24 yards on four attempts and caught six balls for 33 receiving yards. He did, however, fumble on a punt return.


Rookie receiver Sammie Coates saw a decent amount of action, but didn't do much, catching just one 12-yard pass. Part of that was on Jones, but Coates was guilty of a mental error in the second quarter, stopping early on a route.


Speaking of Steeler rookies making mental blunders, tight end Jesse James single-handedly lost this game for Pittsburgh. James dropped an easy touchdown pass in the second quarter and then proceeded to lose a fumble deep in Minnesota territory one play after his team secured an interception. James had a rough night, but it can only get better from here.


Ryan Shazier played the entire first half, which I thought was a huge mistake on Mike Tomlin's part. Shazier could have easily gotten injured. He didn't, however, and he looked awesome. He was all over the place. Granted, this was mostly against Minnesota's second string, but Shazier looks like he's going to be a star.


Bad news for the Steelers: Kicker Shaun Suisham suffered what potentially looks like a horrible knee injury. Check back for updates.


You can read more about this game in my Live Preseason Blog. One thing I didn't get to mention was that Al Michaels caught a ton of flak on Twitter for making a joke about not remembering where he put his car keys a few minutes after mentioning that one of the Hall of Fame inductees was suffering from short-term memory loss. I found this criticism ridiculous, and it's yet another example of the Twitter community acting like complete idiots. It's not like Michaels made that joke with the intention of hurting that Hall of Fame inductee. It was about something completely different, yet the Twitter morons didn't care, calling Michaels' joke "distasteful." These losers on Twitter, who have nothing better to do than sit and wait for something to get offended by, need to get a life.

Follow me @walterfootball for updates.


2015 Preseason Notes: Week 1 | Week 2 | Week 3 | Week 4
2015 Fantasy Football Stock Pages: Preseason Stock Week 1 | Preseason Stock Week 2 | Preseason Stock Week 3 | Preseason Stock Week 4 | Training Camp Stock







More 2015 Fantasy Football Articles:
Fantasy Football Rankings

2015 Fantasy Football Rankings:
2015 Fantasy Football Rankings: Quarterbacks - 9/10 (Walt)
Chet Gresham's Fantasy Football Quarterback Rankings - 9/4 (Chet)
2015 Fantasy Football Rankings: Running Backs - 9/10 (Walt)
Chet Gresham's Fantasy Football Running Back Rankings - 9/4 (Chet)
2015 Fantasy Football Rankings: Wide Receivers - 9/10 (Walt)
Chet Gresham's Fantasy Football Wide Receiver Rankings - 9/4 (Chet)
2015 Fantasy Football Rankings: Tight Ends - 9/10 (Walt)
Chet Gresham's Fantasy Football Tight End Rankings - 9/4 (Chet)
Chet Gresham's Fantasy Football Flex Rankings - 9/4 (Chet)
2015 Fantasy Football PPR Rankings - 9/4 (Chet)
2015 Fantasy Football Rankings: Defenses - 8/27 (Walt)
2015 Fantasy Football Rankings: Kickers - 8/27 (Walt)
Fantasy Football Rookie Rankings - 5/14 (Walt)
Fantasy Football Rookie Rankings: Dynasty - 5/14 (Walt)



2015 Fantasy Football Mock Drafts:
2015 Fantasy Football Mock Draft Simulator - 9/10 (Walt)
2015 Fantasy Football Mock Draft - 9/3 (Walt)
2015 Fantasy Football Mock Draft - 8/27 (Walt)
2015 Fantasy Football Mock Draft - 8/20 (Walt)
2015 Fantasy Football Mock Draft - 8/13 (Walt)
2015 Fantasy Football Experts Draft - 8/11 (Chet)
2015 Fantasy Football Mock Draft - 8/7 (Walt)
2015 Fantasy Football Mock Draft - 8/6 (Chet)
2015 Fantasy Football Mock Draft - 7/31 (Walt)
2015 Fantasy Football Mock Draft - 7/23 (Walt)
2015 Fantasy Football Mock Draft (2-QB) - 7/15 (Chet)
2015 Fantasy Football Mock Draft (PPR) - 7/6 (Chet)



2015 Fantasy Football Cheat Sheets:
2015 Fantasy Football Cheat Sheet: Top 250 - 9/10 (Walt)
2015 Fantasy Football Cheat Sheet: Top 250 PPR - 9/10 (Walt)
2015 Fantasy Football Cheat Sheet: Top 250 2-QB - 9/10 (Walt)
2015 Fantasy Football Cheat Sheet: Top 250 Touchdown League - 9/10 (Walt)
2015 Fantasy Football Cheat Sheet: Custom - 9/10 (Walt)
2015 Fantasy Football: Dynasty Rankings - 9/10 (Walt)
Chet Gresham's Fantasy Football Top 200 Rankings - 9/4 (Chet)
Chet Gresham's 2015 Fantasy Football Positional Cheat Sheet - 9/4 (Chet)
Chet Gresham's 2015 Fantasy Football Overall Cheat Sheet - 9/4 (Chet)

2015 Fantasy Football Articles:
2015 Fantasy Football Stock Report: Training Camp - 9/10 (Walt)
Fantasy Football Tight End Matchup Chart: Week 1 - 9/9 (Chet)
Fantasy Football Wide Receiver Matchup Chart: Week 1 - 9/8 (Chet)
2015 Fantasy Football Sleepers - 9/8 (Walt)
Fantasy Football Running Back Matchup Chart: Week 1 - 9/7 (Chet)
Fantasy Football Quarterback Matchup Chart: Week 1 - 9/6 (Chet)
2015 NFL Preseason Recap, Fantasy Football Notes - 9/4 (Walt)
2015 Fantasy Football Preseason Stock - 9/4 (Walt)
2015 Fantasy Football Quarterback Targets - 9/4 (Walt)
2015 Fantasy Football Busts - 9/4 (Walt)
2015 Fantasy Football Goal-Line Running Backs - 9/3 (Chet)
2015 Fantasy Football News - 9/1 (Chet)
2015 Fantasy Football: Better Than ADP - 8/31 (Chet)
Daily Fantasy Football: Running Backs - 8/27 (Chet)
2015 Fantasy Football: Late-Round Running Back Fliers - 8/24 (Chet)
2015 Fantasy Football Fallout: Jordy Nelson Injury - 8/24 (Chet)
2015 Fantasy Football Players to Target - 8/22 (Chet)
2015 Fantasy Football Spreadsheets - 8/22 (Walt)
2015 Fantasy Football Round-by-Round Strategy Guide - 8/20 (Walt)
2015 Fantasy Football: The Perfect Draft - 8/20 (Chet)
2015 Fantasy Football Players to Avoid: LeSean McCoy - 8/18 (Chet)
2015 Fantasy Football Values: Wide Receivers - 8/14 (Chet)
Daily Fantasy Football: Wide Receivers - 7/29 (Chet)
2015 Fantasy Football Value Profile: Brian Quick - 7/22 (Walt)
2015 Fantasy Football Value Profile: Eli Manning - 7/17 (Walt)
Daily Fantasy Football: A Primer - 7/10 (Chet)
2015 Fantasy Football Value Profile: Jarvis Landry - 7/7 (Walt)
Fantasy Football Offseason Stock Report: Up - 5/15 (Walt)
Fantasy Football Offseason Stock Report: Down - 5/15 (Walt)
2015 Fantasy Football: First-Round Bust History - 2/17 (Walt)
2015 Fantasy Football: Overdrafted Players - 2/15 (Walt)
2015 Fantasy Football: Running Backs with Most Carries - 2/15 (Walt)






NFL Picks - Jan. 16


2021 NFL Mock Draft - Jan. 13


Fantasy Football Rankings - Jan. 11


2022 NFL Mock Draft - Nov. 15


NFL Power Rankings - Nov. 14


2020 College Football Recruiting Rankings - April 14


2020 NBA Mock Draft - Sept. 27