By Chet Gresham -
@ChetGresham
Follow
@walterfootball
for updates.
Ed. Note:
The season is almost gone, but to help you figure out the last few weeks of the fantasy season - and into your playoffs! - Chet is mapping out team defense rankings for each position and charting them to provide the Remaining Strength of Schedule. Enjoy!
Here is how it comes out: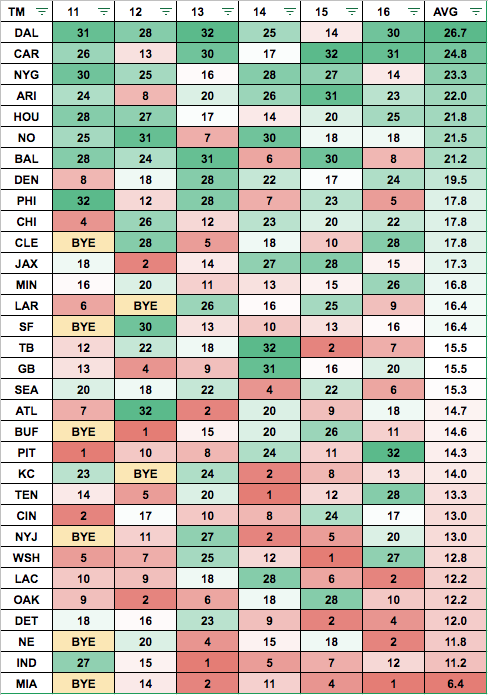 Amari Cooper, WR, Cowboys
Cooper has already taken over as the uncontested No. 1 wide receiver and will get matchups at Atlanta, Washington, New Orleans, Philadelphia, at Indianapolis, and Tampa Bay. Four of his last five games will be at home against weak pass defenses and strong-enough offenses, for the most part, to push the Cowboys to throw more than they want.


D.J. Moore and Devin Funchess, WRs, Panthers
Carolina's wide receivers are tough to predict, as targets are being spread out in a way to keep any one player from breaking out consistently. The good news is that those same receivers finish with a great schedule, and Moore and Funchess should both be fairly easy to acquire at the trade deadline. Carolina's rest of the season schedule starts this week at Detroit, then Seattle, at Tampa Bay, at Cleveland, New Orleans and Atlanta. Moore is the wild card, as his usage has more variability in it, but he's also a threat to do more damage on fewer looks, which has become the norm in Carolina. I'm not breaking the bank for either, but both have upside due to the matchups.

Larry Fitzgerald, WR, Cardinals
Fitzgerald along with David Johnson appear to have gotten a nice boost in work with Byron Leftwich taking over at offensive coordinator. In Week 1, Fitzgerald hit double-digit targets, but hadn't again until Leftwich took over two weeks ago. In those two weeks, Fitzgerald saw 12 and 10 targets, and he caught fourteen of those for 152 yards. He should be able to continue putting up good numbers against Oakland, at L.A. Chargers, at Green Bay, Detroit, at Atlanta and the L.A. Rams.

T.Y. Hilton, WR, Colts
I'm a big fan of Hilton, but right now, his quarterback is spreading the ball around to three tight ends, two running backs and 3-4 wide receivers. Hilton is good enough to rise about the noise, but with that noise comes a pretty tough schedule, as he will take on Tennessee, Miami, at Jacksonville, at Houston, Dallas and the N.Y. Giants. These aren't impossible matchups, but coupled with the lower target numbers of late, I'm not bully on him.


Marvin Jones and Kenny Golladay, WRs, Lions
If Marvin Jones misses any time with his latest injury, Golladay will be a target hog and useful in any matchup, but Jones doesn't look like he'll be out too long. Additionally, when you look at how the Lions have slowed down their offense and have seen it slowed down by the absence of Golden Tate, there isn't much room for error in their passing game. With games against Carolina, Chicago, L.A. Rams, at Arizona, at Buffalo and then Minnesota, I'm really not happy about the upsides of either Jones or Golladay, especially during the fantasy playoffs.
For more recommendations, check out WalterFootball.com's
Fantasy Football Rankings
.
More 2018 Fantasy Football Articles:
Fantasy Football Rankings
2018 Fantasy Football Rankings:
2018 Fantasy Football Rankings: Quarterbacks
- 9/5 (Walt)
Chet Gresham's Fantasy Football Quarterback Rankings
- 8/29 (Chet)
2018 Fantasy Football Rankings: Running Backs
- 9/5 (Walt)
Chet Gresham's Fantasy Football Running Back Rankings
- 8/29 (Chet)
2018 Fantasy Football Rankings: Wide Receivers
- 9/5 (Walt)
Chet Gresham's Fantasy Football Wide Receiver Rankings
- 8/29 (Chet)
2018 Fantasy Football Rankings: Tight Ends
- 9/5 (Walt)
Chet Gresham's Fantasy Football Tight End Rankings
- 8/29 (Chet)
2018 Fantasy Football Rankings: Kickers
- 8/21 (Walt)
2018 Fantasy Football Rankings: Defenses
- 8/21 (Walt)
Fantasy Football Rookie Rankings: Dynasty
- 8/21 (Walt)
Fantasy Football Rookie Rankings: Dynasty
- 5/18 (Chet)
2018 Fantasy Football Mock Drafts:
Fantasy Football Mock Draft
- 9/1 (Walt)
Fantasy Football Mock Draft
- 8/30 (Walt)
Fantasy Football Mock Draft
- 8/27 (Walt)
Fantasy Football PPR Mock Draft
- 8/23 (Walt)
Fantasy Football Mock Draft
- 8/22 (Walt)
Fantasy Football Mock Draft
- 8/16 (Walt)
Fantasy Football PPR Mock Draft
- 8/9 (Walt)
Fantasy Football Mock Draft
- 8/2 (Walt)
Fantasy Football PPR Mock Draft
- 8/1 (Chet)
Fantasy Football PPR Mock Draft
- 7/26 (Walt)
Fantasy Football 2-QB Dynasty Draft
- 5/25 (Chet)
2018 Fantasy Football Cheat Sheets:
2018 Fantasy Football Cheat Sheet: Top 250
- 9/5 (Walt)
2018 Fantasy Football Cheat Sheet: Top 250 PPR
- 9/5 (Walt)
2018 Fantasy Football Cheat Sheet: Top 250 2-QB
- 9/5 (Walt)
2018 Fantasy Football Cheat Sheet: Top 250 Touchdown League
- 9/5 (Walt)
2018 Fantasy Football Cheat Sheet: Custom
- 9/5 (Walt)
2018 Fantasy Football: Dynasty Rankings
- 9/5 (Walt)
2018 Fantasy Football Spreadsheets
- 9/5 (Walt)
2018 Fantasy Football Articles:
2018 Fantasy Football Stock Report: OTAs, Training Camp
- 9/5 (Walt)
2018 Fantasy Football Sleepers
- 9/5 (Walt)
2018 Fantasy Football Busts
- 9/5 (Walt)
2018 Fantasy Football Mid-Round Values
- 9/5 (Walt)
2018 NFL Preseason Game Recaps
- 8/31 (Walt)
2018 Fantasy Football Stock Report: Preseason Games
- 8/31 (Walt)
2018 Fantasy Football Notes
- 8/31 (Chet)
2018 Fantasy Football Quarterback Preseason Targets Tracker
- 8/30 (Walt)
2018 Fantasy Football D/ST Drafting
- 8/28 (Chet)
2018 Fantasy Football ADP Values: Running Backs
- 8/16 (Chet)
2018 Fantasy Football Round-by-Round Strategy Guide
- 8/15 (Walt)
2018 Fantasy Football ADP Values: Quarterbacks
- 8/15 (Chet)
2018 Fantasy Football Tight Ends to Target
- 8/9 (Chet)
2018 Fantasy Football - PPR Draft Strategy: Rounds 1 and 2
- 7/27 (Chet)
2018 Fantasy Football: Doug Baldwin's Value
- 7/25 (Chet)
2018 Fantasy Football: Chris Hogan's Value
- 7/18 (Chet)
2018 Fantasy Football: Alvin Kamara's Value
- 7/16 (Chet)
2018 Fantasy Football Strength of Schedule: Tight Ends
- 7/11 (Chet)
2018 Fantasy Football Strength of Schedule: Wide Receivers
- 7/6 (Chet)
2018 Fantasy Football Strength of Schedule: Running Backs
- 7/5 (Chet)
2018 Fantasy Football Strength of Schedule: Quarterbacks
- 7/4 (Chet)
2018 Fantasy Football Tight Ends Better Than ADP
- 6/29 (Chet)
2018 Fantasy Football Wide Receivers Better Than ADP
- 6/28 (Chet)
2018 Fantasy Football Target Shares
- 6/22 (Chet)
2018 Fantasy Football Wide Receiver Points Per Game
- 6/13 (Chet)
2018 Fantasy Football Mock Draft Simulator
- 6/2
2018 Fantasy Football Value Players
- 5/25 (Chet)
2017 Fantasy Football Quarterback Look-Back
- 1/28 (Walt)
2018 Fantasy Football: Running Backs with the Most Carries
- 1/28 (Walt)
2022 NFL Mock Draft
- May 6
NFL Power Rankings
- April 4
NFL Picks
- Feb. 8
Fantasy Football Rankings
- Jan. 11