By Chet Gresham -
@ChetGresham
Follow
@walterfootball
for updates.
Ed. Note:
The season is almost gone, but to help you figure out the last few weeks of the fantasy season - and into your playoffs! - Chet is mapping out team defense rankings for each position and charting them to provide the Remaining Strength of Schedule. Enjoy!
Here is how it comes out: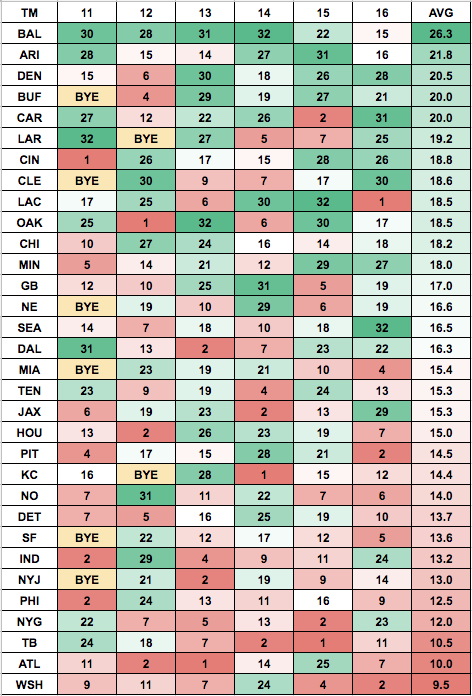 Alex Collins, RB, Ravens
Collins shouldn't be that expensive to wrestle away from another team at the trade deadline, as he has two other running backs who can take work away, but he also has a great schedule to finish the year. He'll take on the Bengals, Raiders, Atlanta, Kansas City, Tampa Bay and the Chargers to finish out the fantasy season. Those are all above-average matchups, and I expect he'll produce above expectations.

David Johnson, RB, Cardinals
Johnson still makes for a good trade candidate, but his value just skyrocketed with a huge game in Kansas City last week. With his updated workload and usage, he should be able to continue putting up good numbers against Oakland, at L.A. Chargers, at Green Bay, Detroit, at Atlanta and the L.A. Rams. The Cardinals' offense isn't the kind to raise players offensively, but Johnson is good enough to put up good numbers on any offense if he's given enough work.

Phillip Lindsay, RB, Broncos
Royce Freeman should return from his ankle injury this week, but that doesn't mean Lindsay loses his lead-back role. It was nice for those who roster Lindsay to get a boost in touches, but Lindsay remains the lead back and has a good schedule at L.A. Chargers, Pittsburgh, at Cincinnati, at San Francisco, Cleveland, and at Oakland. Lindsay has a touchdown in each of his last four games and should remain involved around the goal line despite Freeman's return.

Adrian Peterson, RB, Redskins
Peterson is already behind the eight-ball, as he loses work when his team is behind late in games or behind big early in games due to his lack of receiving work. Still, he has remained a usable standard-league back and has upside due to Washington's plan to run him into the dirt whenever the team has a lead. The trouble to finish of the year is a stout schedule against good run defenses. Peterson gets a murderer's row of matchups, with Houston, at Dallas, at Philadelphia, N.Y. Giants, at Jacksonville, and at Tennessee. If you can trade him for Alex Collins, I'd do it.

Tevin Coleman, RB, Falcons
Coleman's value is better than Peterson's due to his usage in the passing game, but his schedule is something I'm worried about if he's a needed starter down the stretch, as he'll face Dallas, at New Orleans, Baltimore, at Green Bay, Arizona and at Carolina. Arizona is the only good matchup in that group, and the Cardinals have been playing better of late.
For more recommendations, check out WalterFootball.com's
Fantasy Football Rankings
.
More 2018 Fantasy Football Articles:
Fantasy Football Rankings
2018 Fantasy Football Rankings:
2018 Fantasy Football Rankings: Quarterbacks
- 9/5 (Walt)
Chet Gresham's Fantasy Football Quarterback Rankings
- 8/29 (Chet)
2018 Fantasy Football Rankings: Running Backs
- 9/5 (Walt)
Chet Gresham's Fantasy Football Running Back Rankings
- 8/29 (Chet)
2018 Fantasy Football Rankings: Wide Receivers
- 9/5 (Walt)
Chet Gresham's Fantasy Football Wide Receiver Rankings
- 8/29 (Chet)
2018 Fantasy Football Rankings: Tight Ends
- 9/5 (Walt)
Chet Gresham's Fantasy Football Tight End Rankings
- 8/29 (Chet)
2018 Fantasy Football Rankings: Kickers
- 8/21 (Walt)
2018 Fantasy Football Rankings: Defenses
- 8/21 (Walt)
Fantasy Football Rookie Rankings: Dynasty
- 8/21 (Walt)
Fantasy Football Rookie Rankings: Dynasty
- 5/18 (Chet)
2018 Fantasy Football Mock Drafts:
Fantasy Football Mock Draft
- 9/1 (Walt)
Fantasy Football Mock Draft
- 8/30 (Walt)
Fantasy Football Mock Draft
- 8/27 (Walt)
Fantasy Football PPR Mock Draft
- 8/23 (Walt)
Fantasy Football Mock Draft
- 8/22 (Walt)
Fantasy Football Mock Draft
- 8/16 (Walt)
Fantasy Football PPR Mock Draft
- 8/9 (Walt)
Fantasy Football Mock Draft
- 8/2 (Walt)
Fantasy Football PPR Mock Draft
- 8/1 (Chet)
Fantasy Football PPR Mock Draft
- 7/26 (Walt)
Fantasy Football 2-QB Dynasty Draft
- 5/25 (Chet)
2018 Fantasy Football Cheat Sheets:
2018 Fantasy Football Cheat Sheet: Top 250
- 9/5 (Walt)
2018 Fantasy Football Cheat Sheet: Top 250 PPR
- 9/5 (Walt)
2018 Fantasy Football Cheat Sheet: Top 250 2-QB
- 9/5 (Walt)
2018 Fantasy Football Cheat Sheet: Top 250 Touchdown League
- 9/5 (Walt)
2018 Fantasy Football Cheat Sheet: Custom
- 9/5 (Walt)
2018 Fantasy Football: Dynasty Rankings
- 9/5 (Walt)
2018 Fantasy Football Spreadsheets
- 9/5 (Walt)
2018 Fantasy Football Articles:
2018 Fantasy Football Stock Report: OTAs, Training Camp
- 9/5 (Walt)
2018 Fantasy Football Sleepers
- 9/5 (Walt)
2018 Fantasy Football Busts
- 9/5 (Walt)
2018 Fantasy Football Mid-Round Values
- 9/5 (Walt)
2018 NFL Preseason Game Recaps
- 8/31 (Walt)
2018 Fantasy Football Stock Report: Preseason Games
- 8/31 (Walt)
2018 Fantasy Football Notes
- 8/31 (Chet)
2018 Fantasy Football Quarterback Preseason Targets Tracker
- 8/30 (Walt)
2018 Fantasy Football D/ST Drafting
- 8/28 (Chet)
2018 Fantasy Football ADP Values: Running Backs
- 8/16 (Chet)
2018 Fantasy Football Round-by-Round Strategy Guide
- 8/15 (Walt)
2018 Fantasy Football ADP Values: Quarterbacks
- 8/15 (Chet)
2018 Fantasy Football Tight Ends to Target
- 8/9 (Chet)
2018 Fantasy Football - PPR Draft Strategy: Rounds 1 and 2
- 7/27 (Chet)
2018 Fantasy Football: Doug Baldwin's Value
- 7/25 (Chet)
2018 Fantasy Football: Chris Hogan's Value
- 7/18 (Chet)
2018 Fantasy Football: Alvin Kamara's Value
- 7/16 (Chet)
2018 Fantasy Football Strength of Schedule: Tight Ends
- 7/11 (Chet)
2018 Fantasy Football Strength of Schedule: Wide Receivers
- 7/6 (Chet)
2018 Fantasy Football Strength of Schedule: Running Backs
- 7/5 (Chet)
2018 Fantasy Football Strength of Schedule: Quarterbacks
- 7/4 (Chet)
2018 Fantasy Football Tight Ends Better Than ADP
- 6/29 (Chet)
2018 Fantasy Football Wide Receivers Better Than ADP
- 6/28 (Chet)
2018 Fantasy Football Target Shares
- 6/22 (Chet)
2018 Fantasy Football Wide Receiver Points Per Game
- 6/13 (Chet)
2018 Fantasy Football Mock Draft Simulator
- 6/2
2018 Fantasy Football Value Players
- 5/25 (Chet)
2017 Fantasy Football Quarterback Look-Back
- 1/28 (Walt)
2018 Fantasy Football: Running Backs with the Most Carries
- 1/28 (Walt)
2022 NFL Mock Draft
- May 4
NFL Power Rankings
- April 4
NFL Picks
- Feb. 8
Fantasy Football Rankings
- Jan. 11