By Chet Gresham -
@ChetGresham
Follow
@walterfootball
for updates.
Ed. Note:
The season is almost gone, but to help you figure out the last few weeks of the fantasy season - and into your playoffs! - Chet is mapping out team defense rankings for each position and charting them to provide the Remaining Strength of Schedule. Enjoy!
Here is how it comes out: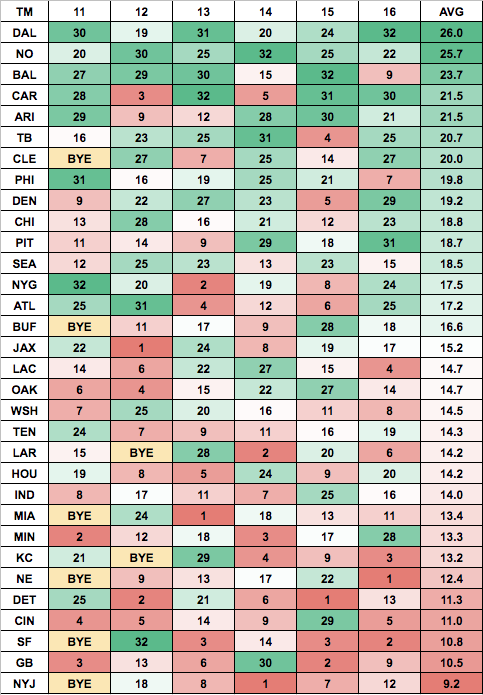 Dak Prescott, QB, Cowboys
He's hard to trust, but has put up decent fantasy games in three of his last four. He notched a rushing touchdown in those three games, his first three scores of the season, yet also put up his two best passing-yardage games in those last three matchups as well, so there are good things happening, and the addition of Amari Cooper isn't going to hurt. And of course, there is the schedule, which is why we are here. To finish off the fantasy season, Prescott will match up at Atlanta, Washington, New Orleans, Philadelphia, at Indianapolis, and Tampa Bay. Four of his last five games will be at home against weak pass defense and strong-enough offenses, for the most part, to push him to do more than hand the ball off to Ezekiel Elliott.

Drew Brees, QB, Saints
Brees' schedule is great, but even if it wasn't, he has been playing too well for it to matter. The good news is that all three of his road games will be in good-weather areas, so don't worry about those too much and collect your fantasy points.



Joe Flacco, Lamar Jackson, Robert Griffin III; QBs, Ravens
Unfortunately, the Ravens have a great passing schedule to finish the season, as they'll face Cincinnati, Oakland, at Atlanta, at Kansas City, Tampa Bay, and at Los Angeles Chargers. I say unfortunately because Joe Flacco is hurt, but we don't know how badly and he hasn't been good enough to take advantage of good matchups as it is. And if Flacco's injury is something that is worse than the Ravens are leading on, we aren't 100 percent sure who his backup would be, but I'd still be surprised if it's not Lamar Jackson. If we knew that Jackson would be the guy for at least a portion of this stretch of great matchups, I'd want to make sure he's on my roster, as his rushing ability coupled with whatever he can get through the air against these weak defenses, should allow his fantasy upside to be great.

Cam Newton, QB, Panthers
Newton has been great this season, but he is coming off a poor game in Pittsburgh and just maybe you could finagle a trade to grab him for his great matchups. His schedule starts this week at Detroit, then Seattle, at Tampa Bay, at Cleveland, New Orleans and Atlanta. The Seahawks could be tough, but he does get them in Carolina, and the Saints and Falcons at home in Weeks 15 and 16 are great for the fantasy playoffs.

Aaron Rodgers, QB, Packers
Rodgers hasn't been putting up the numbers we've wanted, although he was hurt early in the season and had no running game to speak of, but both of those things have changed recently. The question is, can he reach his upside with a tough schedule, at Seattle, at Minnesota, Arizona, Atlanta, at Chicago and at the New York Jets? Atlanta is of course a smash spot at home, and the Jets' pass-defense ranking isn't quite in tune with how they are playing at the moment, but the other matchups aren't pushovers. If Rodgers had been putting up big numbers before this stretch, I wouldn't care about his schedule, but he hasn't, so it is a bit concerning. Would I trade Rodgers for Brees straight up? Yes. Would I trade him for Newton straight up? Maybe. But in the end, he's still Aaron Rodgers and I expect him to be a strong fantasy play in every matchup.
For more recommendations, check out WalterFootball.com's
Fantasy Football Rankings
.
More 2018 Fantasy Football Articles:
Fantasy Football Rankings
2018 Fantasy Football Rankings:
2018 Fantasy Football Rankings: Quarterbacks
- 9/5 (Walt)
Chet Gresham's Fantasy Football Quarterback Rankings
- 8/29 (Chet)
2018 Fantasy Football Rankings: Running Backs
- 9/5 (Walt)
Chet Gresham's Fantasy Football Running Back Rankings
- 8/29 (Chet)
2018 Fantasy Football Rankings: Wide Receivers
- 9/5 (Walt)
Chet Gresham's Fantasy Football Wide Receiver Rankings
- 8/29 (Chet)
2018 Fantasy Football Rankings: Tight Ends
- 9/5 (Walt)
Chet Gresham's Fantasy Football Tight End Rankings
- 8/29 (Chet)
2018 Fantasy Football Rankings: Kickers
- 8/21 (Walt)
2018 Fantasy Football Rankings: Defenses
- 8/21 (Walt)
Fantasy Football Rookie Rankings: Dynasty
- 8/21 (Walt)
Fantasy Football Rookie Rankings: Dynasty
- 5/18 (Chet)
2018 Fantasy Football Mock Drafts:
Fantasy Football Mock Draft
- 9/1 (Walt)
Fantasy Football Mock Draft
- 8/30 (Walt)
Fantasy Football Mock Draft
- 8/27 (Walt)
Fantasy Football PPR Mock Draft
- 8/23 (Walt)
Fantasy Football Mock Draft
- 8/22 (Walt)
Fantasy Football Mock Draft
- 8/16 (Walt)
Fantasy Football PPR Mock Draft
- 8/9 (Walt)
Fantasy Football Mock Draft
- 8/2 (Walt)
Fantasy Football PPR Mock Draft
- 8/1 (Chet)
Fantasy Football PPR Mock Draft
- 7/26 (Walt)
Fantasy Football 2-QB Dynasty Draft
- 5/25 (Chet)
2018 Fantasy Football Cheat Sheets:
2018 Fantasy Football Cheat Sheet: Top 250
- 9/5 (Walt)
2018 Fantasy Football Cheat Sheet: Top 250 PPR
- 9/5 (Walt)
2018 Fantasy Football Cheat Sheet: Top 250 2-QB
- 9/5 (Walt)
2018 Fantasy Football Cheat Sheet: Top 250 Touchdown League
- 9/5 (Walt)
2018 Fantasy Football Cheat Sheet: Custom
- 9/5 (Walt)
2018 Fantasy Football: Dynasty Rankings
- 9/5 (Walt)
2018 Fantasy Football Spreadsheets
- 9/5 (Walt)
2018 Fantasy Football Articles:
2018 Fantasy Football Stock Report: OTAs, Training Camp
- 9/5 (Walt)
2018 Fantasy Football Sleepers
- 9/5 (Walt)
2018 Fantasy Football Busts
- 9/5 (Walt)
2018 Fantasy Football Mid-Round Values
- 9/5 (Walt)
2018 NFL Preseason Game Recaps
- 8/31 (Walt)
2018 Fantasy Football Stock Report: Preseason Games
- 8/31 (Walt)
2018 Fantasy Football Notes
- 8/31 (Chet)
2018 Fantasy Football Quarterback Preseason Targets Tracker
- 8/30 (Walt)
2018 Fantasy Football D/ST Drafting
- 8/28 (Chet)
2018 Fantasy Football ADP Values: Running Backs
- 8/16 (Chet)
2018 Fantasy Football Round-by-Round Strategy Guide
- 8/15 (Walt)
2018 Fantasy Football ADP Values: Quarterbacks
- 8/15 (Chet)
2018 Fantasy Football Tight Ends to Target
- 8/9 (Chet)
2018 Fantasy Football - PPR Draft Strategy: Rounds 1 and 2
- 7/27 (Chet)
2018 Fantasy Football: Doug Baldwin's Value
- 7/25 (Chet)
2018 Fantasy Football: Chris Hogan's Value
- 7/18 (Chet)
2018 Fantasy Football: Alvin Kamara's Value
- 7/16 (Chet)
2018 Fantasy Football Strength of Schedule: Tight Ends
- 7/11 (Chet)
2018 Fantasy Football Strength of Schedule: Wide Receivers
- 7/6 (Chet)
2018 Fantasy Football Strength of Schedule: Running Backs
- 7/5 (Chet)
2018 Fantasy Football Strength of Schedule: Quarterbacks
- 7/4 (Chet)
2018 Fantasy Football Tight Ends Better Than ADP
- 6/29 (Chet)
2018 Fantasy Football Wide Receivers Better Than ADP
- 6/28 (Chet)
2018 Fantasy Football Target Shares
- 6/22 (Chet)
2018 Fantasy Football Wide Receiver Points Per Game
- 6/13 (Chet)
2018 Fantasy Football Mock Draft Simulator
- 6/2
2018 Fantasy Football Value Players
- 5/25 (Chet)
2017 Fantasy Football Quarterback Look-Back
- 1/28 (Walt)
2018 Fantasy Football: Running Backs with the Most Carries
- 1/28 (Walt)
2022 NFL Mock Draft
- May 4
NFL Power Rankings
- April 4
NFL Picks
- Feb. 8
Fantasy Football Rankings
- Jan. 11