**** NOTES FOR EVERY GAME WILL BE UP AS SOON AS I WATCH THEM **** Follow me
@walterfootball
for updates.
2019 Preseason Notes:
Week 1
|
Week 2
|
Week 3
|
Week 4
2019 Fantasy Football Stock Pages:
Preseason Stock Week 1
|
Preseason Stock Week 2
|
Preseason Stock Week 3
|
Training Camp Stock


Steelers 18, Titans 6
Ben Roethlisberger played two drives in this game, meaning he was on the field for two total drives throughout the entire preseason. The first possession went nowhere, thanks in part to a dropped pass and one poor throw, but Roethlisberger was able to improve on the second opportunity, leading his team down the field and into the end zone via a touchdown toss to JuJu Smith-Schuster.

Roethlisberger finished 8-of-13 for 63 yards and a touchdown in his two drives. Despite Antonio Brown's departure, Roethlisberger can be started in all fantasy leagues in favorable matchups.

Here were Roethlisberger's targets:

James Conner: 2
Vance McDonald: 2
Donte Moncrief: 2
Eli Rogers: 1
Jaylen Samuels: 1
JuJu Smith-Schuster: 5 (1 end zone)
Ryan Switzer: 1


I've heard the opinion that JuJu Smith-Schuster won't be great this year because defenses will focus on him more with Antonio Brown gone. For the record, I don't agree with this, and it was nice to see Smith-Schuster validate my belief in him in the third preseason game. Smith-Schuster reeled in four of his five targets for 37 yards and a touchdown in just two possessions. Smith-Schuster has a great chance to be the top fantasy receiver this year.


The battle for the Steelers' No. 2 receiver job is still ongoing. Donte Moncrief started and didn't do anything out of the ordinary, catching both of his targets for 11 yards. Conversely, Washington hauled in a 41-yard bomb from Mason Rudolph. Washington struggled as a rookie last year, but has clearly turned the corner. If the Steelers want to be more explosive, they'll give more snaps to Washington.


Vance McDonald saw two targets in as many drives, but couldn't convert either of them. McDonald has gotten lots of hype this summer, but I'm not really buying it.


James Conner looked great in limited action. He picked up 41 yards on just five carries and caught two passes for 15 receiving yards. Conner is not a great athlete, but he's playing behind a stellar offensive line and is a part of one of the top scoring units in the NFL, so he should be very productive this year.


While the Steelers have a great offense, their defense figures to make a big leap in 2019, thanks to Devin Bush. The 10th-overall pick from the 2019 NFL Draft was tremendous once again. He should be one of the top favorites to win Defensive Rookie of the Year.


Second-year quarterback Mason Rudolph looked solid once again. He was 6-of-9 for 75 yards, one touchdown and an interception. The pick wasn't his fault, as there was a miscommunication, allowing Amani Hooker to come up with the turnover. Rudolph's big play was a 41-yard touchdown bomb to Washington. Rudolph appears to have cemented himself as the No. 2 quarterback on Pittsburgh's roster, and he should be considered a potential viable replacement for Roethlisberger in a few years.


Before we move on to the Titans, let's discuss some of Pittsburgh's other rookies. Cornerback Justin Layne struggled in earlier preseason weeks, and while he wasn't great in this contest, he showed some improvement. He made a terrific hit to cause a pass break-up. Sixth-round linebacker Ulysees Gilbert continued to fly over the field and make plays, while UDFA edge rusher Tuzar Skipper once again caused havoc in the backfield. Grant and Skipper have been big surprises and could both make the final 53-man roster.


While Roethlisberger impressed, Marcus Mariota struggled in the preseason dress rehearsal. He overthrew Corey Davis on his first drive and then took a safety to conclude his second possession, thanks to holding the ball too long. Mariota failed to complete all three of his attempts, though it should be noted that Adam Humphries dropped a pass. Mariota was quickly removed because of Tennessee's offensive line woes. There's a legitimate chance Ryan Tannehill unseats Mariota at some point.

Here were Mariota's targets:

Corey Davis: 1
Adam Humphries: 1


As for Tannehill, he went 6-of-9 for 62 yards, capping off a strong preseason for him. I don't think Tannehill will be able to continue this level of play versus complex defenses in real action, but given how much the injury-prone Mariota has struggled, Tannehill could start at some point in 2019.


Derrick Henry sat out, but I'm still going to give him a stock-down arrow. He wasn't healthy enough to play in this game, and I realized that I haven't penalized him enough for former offensive line coach Mike Munchak's departure. Dion Lewis started instead and couldn't pick up a single rushing yard on two attempts.


Corey Davis saw two targets from both quarterbacks and came up with one catch for 25 yards. Humphries, meanwhile, reeled in one of his two targets for nine yards. He dropped a pass. I'm not a fan of either of these guys, as Tennessee's pace is very slow.


Titans second-round rookie receiver A.J. Brown made his first and only catch of the preseason in this game - and then went on to fumble the ball. He managed to recover it at the very least. Meanwhile, fourth-round rookie safety Amani Hooker intercepted a pass, though it came on a miscommunication.


NFL Preseason Announcers: Cris Collinsworth said that the U.S. women's soccer players are the greatest athletes in the world. I heard that Saquon Barkley, Todd Gurley and Julio Jones were pretty good, but now I know there are better athletes than them.

Follow me @walterfootball for updates.









Chiefs 27, 49ers 17
When I learned that both starting quarterbacks would be playing multiple drives in this matchup, I thought this was the most important game in the third week of the preseason. The Chiefs have the best offense in the NFL, and they're also featuring the top player on my Fantasy Football Sleepers list. The 49ers, meanwhile, were abysmal last week because of Jimmy Garoppolo's poor play, so it was imperative to see if he could rebound because of all the talent in San Francisco's scoring unit.

Beginning with the Chiefs, Patrick Mahomes was virtually flawless in two drives. Mahomes went 8-of-10 for 126 yards and a touchdown. His two incompletions weren't even his fault. The first occurred because Darwin Thompson couldn't get a second foot inbounds, while the second incompletion was a drop by backup tight end Blake Bell. Mahomes' big play was a 62-yard touchdown to Damien Williams in the opening minutes of this contest.

Mahomes is the top fantasy quarterback this year by a mile. No one is remotely close to him, and he's the only player at his position worth taking in the first six rounds of standard, 12-team leagues.

Here were Mahomes' targets:

Blake Bell: 1
Tyreek Hill: 3
Darwin Thompson: 2
Sammy Watkins: 1
Damien Williams: 3


Tyreek Hill saw three targets from Mahomes in the first two drives. He caught all three for 31 yards. Hill is poised for a huge year and is worth a late first-round fantasy pick.


Andy Reid chided Damien Williams earlier in the offseason because he couldn't get healthy. Williams made up for it with a 62-yard receiving touchdown on a wheel route in the preseason dress rehearsal. Williams ended up rushing for 19 yards on five carries, while also catching three passes for 74 receiving yards and the score. Williams has high fantasy bust potential because he has never handled a full workload for a season, and I'm not sure he can last an entire year, but his upside is through the roof.


There was a report earlier in the week that rookie running back Darwin Thompson leapt Carlos Hyde on the depth chart. This was indeed true, as Thompson was the second running back in the game for Kansas City against the 49ers. Thompson saw action with Patrick Mahomes and the first-team offense. He carried the ball just three times for eight yards - in addition to two catches for nine receiving yards - but I see that as a positive because it shows that Andy Reid wants to utilize him in the regular season. Thompson had a couple of nice plays. He made a terrific spin move to avoid a defender after a catch, then pushed through some defenders to pick up six yards on the ground. Some of his negative plays occurred when Mahomes was removed from the game, though he failed to get a second foot inbounds on what should have been another reception.


Rookie receiver Mecole Hardman continued to show excellent acceleration and speed whenever he caught the ball. He secured three of his four targets for 40 yards. However, none of this was with Mahomes. Hardman is a fantasy afterthought right now, but will be worth claiming on the waiver wire if Hill were to suffer an injury.


As for Kansas City's other top rookies, safety Juan Thornhill played well earlier in the preseason, but struggled with some errors in this contest. He has the physical ability, but he needs to improve the mental part of his game. Conversely, third-rounder Khalen Saunders performed better than he did in previous contests.


Moving on to the 49ers, Jimmy Garoppolo played much better at Kansas City than he did on Monday night versus the Broncos, but he made some mistakes. Garoppolo began poorly, throwing way behind Dante Pettis on third down and sailing a high pass toward Marquise Goodwin that was nearly intercepted. However, Garoppolo rebounded after that. He made a nice touch throw to Pettis, then completed a great touch throw to Richie James downfield for a gain of 33. He then heaved a tremendous touchdown pass to Matt Breida for 20 yards. Garoppolo made one last error late in the first half when he fired into triple coverage, but this was definitely a major improvement overall. Garoppolo went 14-of-20 for 188 yards and a touchdown despite not having George Kittle at his disposal.

Here were Garoppolo's targets:

Kendrick Bourne: 2
Matt Breida: 2
Tevin Coleman: 1
Ross Dwelley: 4
Marquise Goodwin: 2
Richie James: 1
Kyle Juszczyk: 2
Deebo Samuel: 2
Dante Pettis: 5 (1 end zone)


Dante Pettis deserves a stock-up arrow for his performance at Kansas City. He caught three passes for 36 yards, but the important thing is the improvement from Jimmy Garoppolo over what we saw last week. Pettis led all San Francisco players with five targets.


Only one player aside from Pettis had more than two touches, and that was tight end Ross Dwelley. You can ignore him, as he was only playing because George Kittle was taking the night off.


While the 49ers passed well, they had trouble establishing the run. Tevin Coleman managed just 19 yards on nine carries, but I'm not going to downgrade his fantasy outlook on this small sample size. I saw nothing from Coleman to indicate that his projections should be dropped.


The 49ers have two talented rookie receivers, but only one is worth discussing because Jalen Hurd didn't play. Second-rounder Deebo Samuel saw action with the starters and caught a 21-yard pass in the middle of the field. Samuel finished with two receptions for 27 yards.


NFL Preseason Announcers: This wasn't the most professional broadcast, as someone's cell phone was ringing when the announcers were talking to begin the game. And if that wasn't bad enough, the color analyst gave us this Emmitt-ism: "Tremendous coverage leaved him open."

Follow me @walterfootball for updates.









Rams 10, Broncos 6
"Sean McVay killed the preseason."

That's what the Rams announcers said at the beginning of this broadcast. And they were right on the money. McVay refused to play any of his starters last year, and it didn't affect the Rams at all, as they began the season with a hot start. This summer, several teams have sat their starters entirely as well, including the Eagles, Bears, Chargers and Colts.

The Broncos copied the Rams' strategy in this game, meaning every starter from both teams sat. This contest was so worthless that both No. 2 quarterbacks sat out as well, though Drew Lock did so because of injury. Conversely, Blake Bortles didn't suit up despite being completely healthy.

As a result, the starting quarterbacks in this matchup were Brandon Allen for the Rams and Kevin Hogan for the Broncos. As I said, this was completely worthless, but I have some notes...


Rams rookie running back Darrell Henderson received plenty of work. He gained 28 yards on 11 carries. Don't worry about the YPC because Henderson had an absurd number of short-yardage opportunities. He failed to convert the first two times because he was dancing too much at the line of scrimmage. Someone on the sidelines must have pulled him aside and suggested for him to be more of a north-south runner because Henderson rushed in that sort of fashion when he converted his next two third-and-1 tries. Henderson also caught a 4-yard pass thrown behind him.


Some notes on Rams defensive rookies: Fourth-rounder Greg Gaines has been stuffing the run well all preseason, and this game wasn't an exception. Meanwhile, seventh-round linebacker Dakota Allen cemented a roster spot with a tremendous performance in this contest. Allen has been very impressive, with the Rams broadcasters mentioning that Wade Phillips was uncharacteristically giddy while talking about him. Allen, who fell in the draft because of off-the-field issues, showed off his blazing speed in this game. He was all over the field and even helped force a turnover on a tipped pass.


As for the Broncos, it was nice to see young tight end Jake Butt catch two passes for 15 yards. It was his first action since tearing his ACL last year. Butt has physical talent, but is now blocked by Noah Fant, and his extensive injury history isn't doing him any favors.


While Dakota Allen was the star of this game defensively, the Broncos have to be excited about their own rookie linebacker Justin Hollins. The edge player demonstrated some quality pass-rushing skills, generating plenty of heat on the opposing quarterback. Hollins is going to provide good depth behind Von Miller and Bradley Chubb.


NFL Preseason Announcers: "The L.A. Collesium has never looked better!"

The Rams announcers chirped about how impressed they were with the L.A. Collesium throughout the telecast. That's probably because there's poop and syringes outside the stadium, so that's why it looks better inside.

Follow me @walterfootball for updates.









Seahawks 23, Chargers 15
While some of the younger quarterbacks sat out this preseason entirely, Russell Wilson played nearly the entire first half of the third exhibition game. Wilson showed no flaws, going 6-of-9 for 73 yards. He displayed his trademark movement in the pocket and fired accurate balls throughout the first two quarters. His best throw was a pretty bomb to Tyler Lockett for 31 yards.

Here were Wilson's targets:

Jaron Brown: 1
Jazz Ferguson: 1
Jacob Hollister: 1
Tyler Lockett: 3
Rashaad Penny: 2
Malik Turner: 1


Tyler Lockett caught two of his three targets in this game, registering 50 yards in the process. I'm a big fan of Lockett this year as a WR2, and nothing that happened in this game changed that.


Chris Carson started this game, but the Seahawks opted not to give him much action. Carson rushed for 23 yards on just three carries. He's well ahead of Rashaad Penny, who gained 22 yards and a touchdown on eight attempts.


The Seahawks are looking for a viable third receiver, and they're hoping one of their young guys steps up. They let undrafted rookie Jazz Ferguson run with the starters, but he couldn't come up with a single reception. Seventh-round rookie John Ursua, who has done well in practice, caught two passes for 52 yards with the backups. Second-round rookie D.K. Metcalf, of course, is nursing an injury.


The Chargers, meanwhile, didn't use Philip Rivers at all, meaning the first time we'll see Rivers this year will be in the regular season. Fortunately for Rivers, he'll be battling a reeling Colts team that just lost its Pro Bowl quarterback to retirement.

Tyrod Taylor started for the Chargers in this contest. He was 6-of-9 for 61 yards, but he made an egregious throw in the second quarter. Taylor had Austin Ekeler wide open downfield for a long touchdown, and when I say "wide open," I mean that no one was within 20 yards of Ekeler, thanks to a blown coverage. Taylor, however, overshot Ekeler by a mile. This was a disappointing play from Taylor, who at least scrambled well, rushing six times for 34 yards.


Speaking of Ekeler, he carried the ball four times for 11 yards in the dress rehearsal, while Justin Jackson gained 13 yards on six attempts. As you might guess, Ekeler was a greater threat in the passing game, as he caught two passes for 22 yards. His stat line should have been much better, but Tyrod Taylor overthrew him for a deep score. It's beginning to look like Ekeler should be drafted early with Melvin Gordon likely to continue his holdout into the regular season.


Keenan Allen sat out, but Hunter Henry and Mike Williams made appearances. Henry secured both of his targets from Taylor for 13 yards, while Williams caught one of two balls thrown to him for 11 yards.


Chargers rookie tackle Trey Pipkins has been atrocious earlier in the preseason, but he performed better in this game on the right side of the offensive line.


Rookie quarterback Easton Stick played well in the preseason opener, but struggled last week. He rebounded for the most part in this contest, leading the team on two scoring drives in the fourth quarter. He made some quality throws, but he missed poorly twice on the final possession. The game concluded when he fired way behind his receiver on fourth down. The target was very wide open over the middle of the field, so the completion would have gone for a big gain. Stick went 12-of-16 for 82 yards and a touchdown.


NFL Preseason Announcers: The Charger announcers discussed Andrew Luck's retirement. One said: "This is a full emission, I was targeting Andrew Luck in my fantasy draft."

I feel sorry for his broadcasting friends, who had to deal with the smell of his full emission.

Follow me @walterfootball for updates.









Saints 28, Jets 18
Drew Brees saw his first action of the preseason. He played just one drive, but looked excellent in limited time. Brees went 4-of-6 for 68 yards and a touchdown, with one of his incompletions being a knocked-down ball by defensive lineman Henry Anderson. Brees made some impressive throws, including one pass where he threaded the needle to connect with Michael Thomas. He ultimately floated a deadly accurate ball to Thomas in the end zone for the score.

Here were Brees' targets:

Garrett Griffin: 1
Alvin Kamara: 3
Michael Thomas: 2 (1 end zone)


Michael Thomas may have signed a new contract, but we're not seeing any signs of regression, based on this very small sample size. Thomas secured both of his catches on the opening drive for 39 yards and a touchdown.


Sean Payton is a great coach, but I don't know why he insists on playing Alvin Kamara every preseason game. Kamara looked great as a receiver - he caught two passes for 29 yards - but he managed just four rushing yards on two carries. Given how brittle running backs are, Payton should not be using Kamara in meaningless action.


Teddy Bridgewater missed a receiver in the end zone on one of his early throws, but caught fire as the night progressed. Bridgewater got into a rhythm and made some spectacular passes right before halftime. Bridgewater finished 15-of-26 for 143 yards in exactly one half of action, minus the opening drive. He has looked like the Bridgewater of old in two of three preseason games, and based on how well Taysom Hill has performed, the Saints could consider trading him to Indianapolis, as I've detailed in the NFL Trade Block page.

Hill, by the way, was excellent once again. He was 8-of-13 for 127 yards. His best throw was a 49-yard bomb which he fit in between two defenders. It's remarkable how much better of a passer Hill has been this preseason compared to last August. I'm becoming more and more convinced that he is a very viable successor for Brees.


The Saints announcers were hyping up undrafted free agent receiver Emmanuel Butler. They said the Saints were "very high" on him. Butler was impressive aside from a drop, catching four of his five targets for 27 yards. He'll be someone to consider on the fantasy waiver wire if the Saints suffer multiple injuries at receiver.


Moving on to the Jets, Sam Darnold had a mostly positive outing. He had a couple of passes that were off the mark, but he made many more better throws. His best pass was a 41-yard bomb to Robby Anderson. Darnold finished 8-of-13 for 97 yards and a touchdown in slightly less than a half of action. Darnold's numbers could have been better, as he drew a couple of pass interference flags against the Saints' defense.

Here were Darnold's targets:

Robby Anderson: 2
Jamison Crowder: 2
Quincy Enunwa: 2 (1 end zone)
Chris Herndon: 1
Ty Montgomery: 5 (1 end zone)
Bilal Powell: 2


Robby Anderson secured both of his targets, collecting 60 yards in the process in less than a half of action. I really like Anderson this year, as the Jets' offense projects highly as a whole.


The Jets announced ahead of time that Le'Veon Bell wouldn't play at all in the preseason, so Ty Montgomery started once again. Montgomery fumbled on his first touch, but was able to rebound after that. Montgomery wasn't great as a runner - eight carries, 21 yards - but he was terrific as a receiver out of the backfield, which should come as no surprise because he's a former wideout. Montgomery caught four passes for 24 receiving yards and a touchdown. Montgomery is entrenched as the Jets' No. 2 back, so if you're into drafting handcuffs - I'm not - Montgomery is a good one to own for Bell.


Quinnen Williams, the No. 3 pick in the 2019 NFL Draft, was a monster in this game. The stat box may not show it, but he terrorized Bridgewater throughout the opening half.


NFL Preseason Announcers: Both announcers had trouble pronouncing Quincy Enunwa, calling him "Quincy Nonya" and "Quincy Onawanawa." At least it wasn't "Quincy Anawanna." We hold you in our hearts.

I also must note that the color analyst had the weirdest laugh ever. It was like, "Heeeeh heeehhh heeeehhh heeeeeh heeeehhh heeeehhhh heeeehhhh heeeehhh heeeehhh."

Follow me @walterfootball for updates.




Bears 27, Colts 17
This game was completely worthless, especially in comparison to the major news that broke on Saturday evening. Andrew Luck, if you haven't heard, has announced his retirement. Here are some links you may find useful:

Quarterbacks the Colts Could Trade for to Replace Andrew Luck
NFL Disaster Ratings: Andrew Luck Retirement
2019 Fantasy Football Stock Report for Andrew Luck's Retirement
Top NFL Free Agent Quarterbacks to Replace Andrew Luck
2020 NFL Draft Quarterback Prospect Rankings for the Colts to Replace Andrew Luck


If you're wondering why this game is worthless, both coaches decided to treat this like a Week 4 preseason game. They called it the "Depth Chart Battle Bowl," according to the Indianapolis announcers. No starters suited up - Jacoby Brissett sat out as well - so we learned absolutely nothing from a fantasy perspective.


With Luck retired and Brissett sitting out, Chad Kelly played most of the game. He went 16-of-21 for 209 yards, one touchdown and an interception. He threw some impressive passes, per usual in the preseason. I'd like to see him in regular-season action, as I imagine things might be different once Kelly sees complex defenses.


I once considered Deon Cain to be a fantasy sleeper, but that's no longer the case in the wake of Luck's retirement. Still, the young receiver had a strong game, catching three of his four targets for 74 yards and a touchdown, which was a 46-yard deep strike from Kelly.


Speaking of young Colts players, second-round edge rusher Ben Banogu had a strong outing. He flooded the Bears' backfield and hit the opposing quarterback on numerous occasions. Fellow second-rounder Rock Ya-Sin didn't play in this game, which could mean the Colts corner will see lots of action during the regular season. Third-round linebacker Bobby Okereke didn't fare as well as Banogu, as he was successfully targeted in coverage.


As for the Bears, the only relevant thing I can find to discuss is that new kicker Eddy Pineiro drilled both of his field goals, including a 58-yard attempt. Where was he when I had a 100/1 wager on the Bears to win the Super Bowl last year!?


Chicago fourth-round receiver Riley Ridley played throughout the first half. He couldn't come up with a single catch, as he was targeted only once. Ridley has been a disappointment thus far.


NFL Preseason Announcers: The Colts color analyst, a man nearing 90, had some interesting things to say:

"Joe Haeg is a three-hole player."

I don't think that's quite accurate, but OK.

"Chad Kelly is "very accuracy."

Thanks, Emmitt.

He also was a crazy homer, perhaps setting the world record for most "us" and "we" mentions in a single broadcast. He even had both in the same sentence: "We have injuries that really put us at a disadvantage!"

Follow me @walterfootball for updates.




Cowboys 34, Texans 0
This was a nightmare of a game for the Texans. Not because they were blown out in a completely one-sided affair, but because of what transpired on their opening offensive drive of the evening.

Lamar Miller was carted off when he received his first touch of the preseason. It's possible that he could be out for the year, so if you're drafting this weekend, you'll want to avoid him at all cost. Miller was already on our Fantasy Football Busts list, so chances are you weren't going to consider him anyway. Still, I wonder if the Texans will sign Jay Ajayi or trade for LeSean McCoy or Melvin Gordon. They need to address the position because they have nothing else at running back besides Duke Johnson.

If Miller getting injured wasn't bad enough, Deshaun Watson took two sacks on the first possession, including one immediately after Miller was carted off that resulted in a fumble. I wondered what would happen if Watson got hurt on the ensuing play, but he luckily came off the field unscathed. The bad news is that Houston's offensive line continues to be the one of the worst blocking groups in the NFL. It was so bad in this game that Watson wasn't even able to attempt a pass.

The Texans removed their starters after this horrible drive, and correctly so. They shouldn't have played in the first place. Some teams haven't even used their starting quarterbacks at all, and I imagine other squads will follow suit. The NFL really needs to cut the number of exhibition games in half.

Here were Watson's targets:

*** None ***


There's no other Texan worth discussing - first-round tackle Tytus Howard didn't even play - so let's move on to Dallas. While the Texans got nothing positive out of using their starters, the Cowboys at least saw some success on two possessions. Dak Prescott failed to complete half of his passes, but he was able to capitalize on a Houston turnover to score a touchdown on a pass to Michael Gallup. Prescott went 2-of-5 for 22 yards and a touchdown.

Here were Prescott's targets:

Randall Cobb: 1
Michael Gallup: 3 (1 end zone)


Michael Gallup saw three targets in limited action, catching one of them for 12 yards. He should be better in his second season, but his stat production will be limited by Dak Prescott's mediocrity.


With Ezekiel Elliott continuing his holdout, Tony Pollard once again started in Dallas' backfield. Pollard looked great yet again, picking up 26 yards on six carries. He also caught two passes for 10 receiving yards. His numbers would have been better had a long reception of his not been wiped out by a block in the back. The NFL season begins for the Cowboys in exactly two weeks, yet Elliott hasn't ended his holdout yet. If you draft Elliott, you must secure Pollard as a handcuff.


Cowboys second-round defensive tackle Trysten Hill had a solid game. He caused disruption in the interior and was in Houston's backfield on numerous occasions.


I can't believe I'm writing this, but the Cowboys' backup quarterbacks were great for once. Between Cooper Rush (15-23, 173 yards) and Mike White (6-9, 56 yards, 1 TD), the ball barely hit the ground.


NFL Preseason Announcers: The Cowboys announcers seem to love their new running back: "Somebody forgot about Tony Pollard! Who could forget about Tony Pollard this preseason!?"

Follow me @walterfootball for updates.




Vikings 20, Cardinals 9
Kyler Murray thrived in his preseason debut and struggled mightily last week, so I was eager to see how he would respond in the dress rehearsal. What we saw was a mixture of both, as Murray made some great plays, but showed some flaws as well.

Murray began slowly, throwing a zero-yard pass on a third-and-5 play and then nearly heaved an interception when safety Jayron Kearse batted down his pass. However, Murray was able to complete a 33-yard bomb to Damiere Byrd down the sideline. Murray got into a rhythm after that, leading the Cardinals to three scoring drives, though all of them concluded with field goals.

Murray finished 14-of-21 for 137 yards, and he scrambled four times for nine rushing yards. I'd say this performance was positive overall, but Murray had some plays where he displayed some poor footwork. That needs to be cleaned up, but at least the clapping nonsense from last week has been resolved.

Here were Murray's targets:

Damiere Byrd: 2
Charles Clay: 2
Larry Fitzgerald: 1
David Johnson: 2
KeeSean Johnson: 3
Christian Kirk: 6 (1 end zone)
Ricky Seals-Jones: 2
Trent Sherfield: 2
Maxx Williams: 2 (1 end zone)


David Johnson rushed for 34 yards on nine carries. It looked like Johnson was trying to run like Le'Veon Bell by being patient, but Arizona's offensive line doesn't provide nearly the sort of blocking that the Steelers' front was capable of. I like Johnson a bit this year, but not nearly as much as many other fantasy analysts, including Matthew Berry, who advised his listeners to use a top-four pick on the Arizona back.


Christian Kirk saw many more targets (6) than Larry Fitzgerald (1), but Fitzgerald didn't look like he played too many snaps, so I wouldn't read too much into it. Kirk was already ahead of Fitzgerald in our fantasy rankings anyway.


Arizona's rookie receivers are worth discussing because they'll be relevant if Fitzgerald of Kirk get hurt. Second-rounder Andy Isabella showed off his blazing speed, getting open way downfield for what should have been a long touchdown, but Brett Hundley overthrew him. Isabella ended up catching one pass for eight yards. Meanwhile, KeeSean Johnson continued to amaze. Johnson, a sixth-round rookie, has been the best of the young Arizona receivers in training camp. Johnson snatched all seven of his targets for 85 yards. I wouldn't roster him in normal leagues, but I'll put in a waiver bid for him if some of the other Cardinal wideouts suffer injuries.


Cardinals second-round rookie cornerback Byron Murphy will have to play well early on because of Patrick Peterson's suspension. Murphy looked great in this game. He broke up some passes and had good coverage on Stefon Diggs.


Moving on to the Vikings, Kirk Cousins - not Kyler Murray - was the quarterback who looked like a rookie in the preseason dress rehearsal. Cousins had an abysmal showing, beginning 1-of-6 for minus-1 yards. He overshot Stefon Diggs on a deep pass and was nearly intercepted on a screen attempt. He was sacked twice. Diggs eventually dropped a pass, and Adam Thielen didn't play, but that doesn't excuse Cousins' poor performance, which ended 3-of-13 for 35 yards in exactly one half of action. Cousins will once again hold his team back, especially in big games.

Here were Cousins' targets:

Ameer Abdullah: 1
Chad Beebe: 3
Stefon Diggs: 4
C.J. Ham: 1
Kyle Rudolph: 1
Brandon Zylstra: 2


Dalvin Cook had the most explosive play of the third preseason game, bursting downfield for an 85-yard touchdown run. Cook was given a couple of great blocks, but he was electric. Cook is undoubtedly talented, and something like this would make me more bullish on him. However, his ADP is going to rise as a result of this play, and the concerns still linger. Cook carries extreme risk because he's very injury-prone. He also doesn't have a very good offensive line in front of him.

A quick note involving Cook, I was very frustrated when seeing this run because I didn't include him in my Draft Kings showdown lineup, which finished 21st in the $2,000 grand-prize contest: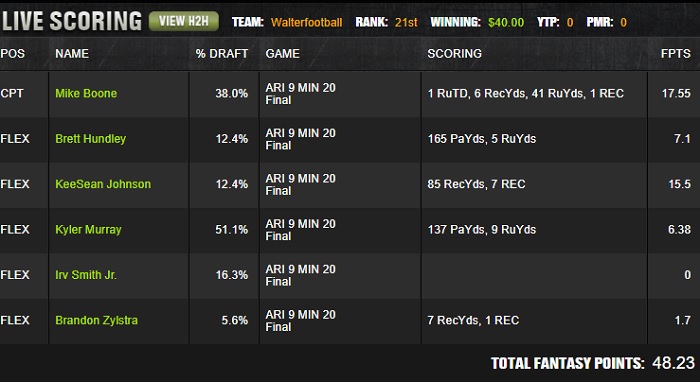 I left him out because of this tweet: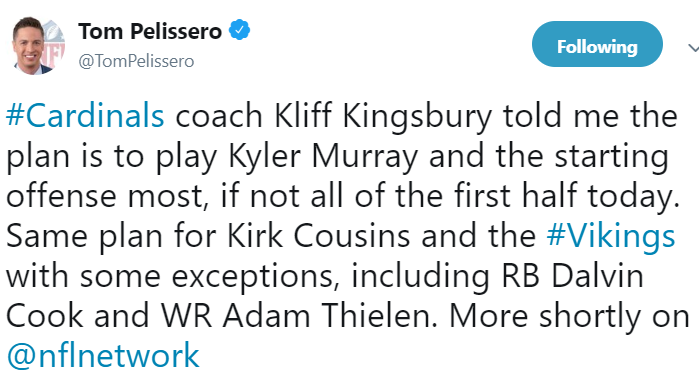 Let's hope we get better injury reporting during the regular season.


As mentioned earlier, Thielen didn't play. Diggs was expected to have a big first half, but he caught just two passes for 28 yards. He dropped a ball, but was the target of a deep pass that could have resulted in a touchdown, but Cousins missed him.


There's a battle for the Vikings' third receiver spot because Laquon Treadwell has been a big disappointment. Chad Beebe is the favorite, but he keeps making mistakes. He was responsible for a pick-six last week, and he didn't improve in this contest. He ran the wrong route on one occasion and then dropped a third-down pass. He saw three targets, yet couldn't come up with a single reception. If Beebe continues to struggle, Brandon Zylstra could take over the job. I like Zylstra, and if the Viking coaching staff feels the same, I would be interested in adding him on the waiver wire if either Theilen or Diggs were to miss time with an injury.


The Vikings have a pair of rookie offensive linemen. Center Garrett Bradbury was guilty of an early hold, but played well otherwise, displaying his great athleticism. Guard Dru Samia was also penalized (false start), but opened some nice running lanes in the second half.


Minnesota traded for kicker Kaare Vedvik from the Ravens a couple of weeks ago because Vedvik looked good in one preseason game. Vedvik missed from 48 and 54 yards in this game. Check out the NFL Trade Grades for that deal.


NFL Preseason Announcers: The color analyst made a confusing statement in this game when he said, "Kliff Kingsbury has been flagged for two false starts." Apparently, Arizona's head coach is also its quarterback.

Meanwhile, the play-by-play guy, who is normally a dude who yells incoherently, shouted at official Walt Anderson at one point, "Walt! Walt! Walt!" This was annoying, not only because he was shrieking at the top of his lungs, but because for a split second, I thought he was yelling at me!

Follow me @walterfootball for updates.




Bills 24, Lions 20
If you want to make an argument about why starters shouldn't play in preseason games, just point to this matchup. Both teams suffered a number of injuries throughout the night. Both of Buffalo's starting cornerbacks, Tre'Davious White and Levi Wallace, were knocked out, but appear to be fine. Frank Gore took a late hit out of bounds and got dinged up, but eventually told the coaching staff that he wanted to re-enter the game. Lions starting linebacker Jarrad Davis and starting center Frank Ragnow weren't as fortunate. Davis was carted off after he took a friendly fire hit in the opening quarter. Ragnow, meanwhile, couldn't put pressure on his right leg after he was helped off the field in the second frame.

I'm not the best lip reader in the world, but I think I saw Matt Patricia say, "Take them out. Take them all out" after Ragnow was helped off. All of Detroit's starters were gone on the next possession.


Conversely, Buffalo's starters played the entire opening half. This includes LeSean McCoy, who was still running the ball in the final minutes of the second quarter. This was a completely nonsensical strategy unless the Bills plan on trading McCoy. Otherwise, it didn't make much sense for McCoy to be handling touches late in the second quarter of a preseason game. I could be wrong, but it looked like the Bills were showcasing McCoy for the other 31 teams in the NFL.


Josh Allen wasn't able to build on his strong performance last week. In fact, he was downright abysmal in this contest. He didn't get to throw the ball very much because of turnovers and penalties, which would explain why he was just 3-of-6 for 49 yards. However, Allen made two horrible mistakes. He threw way behind Cole Beasley on a third down, missing a routine completion. Allen then made an abysmal decision when he threw the ball way across his body while drafting right and backward. The pass was easily intercepted. Fortunately for Allen, a roughing-the-passer penalty bailed him out. Allen should know better than this, and making putrid decisions like this will crush his team in real games.

Here were Allen's targets:

Cole Beasley: 2
John Brown: 3
Robert Foster: 1
Zay Jones: 1


Beasley looked like he was going to be a very reliable target for Allen last week, and I still believe that to be the case. However, Beasley lost a fumble after making a 14-yard reception. I don't expect Beasley to make many mistakes like this in real games.


John Brown led the Bills in targets with three. He caught two of them for 35 yards. He has some big-play potential, but is more of a Draft Kings GPP option than a normal fantasy player.


As mentioned earlier, McCoy handled most of the workload throughout the entire opening half in the preseason dress rehearsal. He rushed for 37 yards on six carries, and those numbers would look better if two runs of his for a collective 23 yards weren't negated by holds. Unlike last year, McCoy looks very spry and energized, so he might have some buy-low potential with no one believing in him anymore. It's just a matter of where he's traded.

As for Buffalo's other running backs, Gore had the aforementioned injury, but had a 27-yard run thanks to a great block before that. Gore gained 57 yards on eight attempts. Devin Singletary, meanwhile, handled a carry right before halftime, scoring a 9-yard touchdown. It may sound bad that Singletary didn't receive much work until very late in the opening half, but that was his only touch of the evening. I think this is a positive sign that the coaching staff values Singletary and plans on using him extensively in the regular season. I ultimately believe LeSean McCoy will be traded, and Singletary will be the starter, with Gore serving as the primary backup.


As for Buffalo's other early selections, Ed Oliver didn't exactly have the dominant performance I was expecting from him. Conversely, second-round lineman Cody Ford blasted open enormous running lanes for his backs throughout the opening half. He's a big reason I love Singletary this year.


Moving on to the Lions, Matthew Stafford was sharp for slightly less than a half of action before Patricia ushered everyone out of the game. Stafford went 12-of-19 for 137 yards and a touchdown. He appeared to throw two other scores, but a possible touchdown to Kenny Golladay got wiped out by a holding penalty. Later, Danny Amendola dropped a pass in the end zone.

Here were Stafford's targets:

Danny Amendola: 4
C.J. Anderson: 2
Kenny Golladay: 1 (1 end zone)
T.J. Hockenson: 4
Jesse James: 2
Kerryon Johnson: 2
Ty Johnson: 1
Marvin Jones: 3 (1 end zone)


First-round rookie tight end T.J. Hockenson had a mixed performance. The good news was that Hockenson made some quality receptions, hauling in three balls for 52 yards. The bad news was that he was guilty of a hold and a drop. Still, Hockenson is one of the many talented, matchup-dependent tight ends you can choose in the double-digit rounds of your fantasy draft.


Golladay ended up seeing one target, but I wouldn't make a big deal out of it. Golladay still projects as a strong WR2. Marvin Jones didn't fare much better; he saw three targets, but secured only one of them for seven yards. Meanwhile, newcomer Danny Amendola reeled in three of his four targets for 30 yards. One catch was an impressive snatch over talented cornerback Tre'Davious White, though he made a mistake by dropping a touchdown. Amendola doesn't have much fantasy value, but he'll be a good real-life player for Stafford if he can stay healthy.


Kerryon Johnson started and rushed for eight yards on four carries. He was quickly removed in favor of C.J. Anderson, who tallied 24 yards on eight attempts. Anderson's best run was a burst of 10 in which he deployed a punishing stiff-arm. I wouldn't draft Anderson, but he'll be a high-priority waiver-wire claim if Johnson gets hurt.


It's a good thing Lions second-round rookie linebacker Jahlani Tavai looked good in this game. The Lions will need to rely on him if Jarrad Davis misses extensive time.


NFL Preseason Announcers: I have nothing. This was a CBS broadcast, so it was done professionally. No one called anyone by their wrong name, which was upsetting.

Follow me @walterfootball for updates.




Buccaneers 13, Browns 12
There were some conflicting reports on whether or not Baker Mayfield wanted to play in this game. The Tampa Bay play-by-play guy said Mayfield didn't want to suit up, while Steve Mariucci said the opposite during the NFL Network halftime show. Mayfield certainly looked like he didn't want to be on the field in Tampa for the preseason dress rehearsal. He was abysmal, as his line of 10-of-26, 72 yards and one interception in a whole half of action was indicative of how poorly he performed.

Mayfield made a high number of awful throws, as he had accuracy issues throughout the evening. For example, he overshot tight end Demetrius Harris in the end zone despite having all the time in the world in the pocket. On another play, Mayfield had someone named Derrick Willies open for a substantial gain, but fired the ball way behind the receiver. These types of passes were seen all night, though his pick wasn't a big deal because he was just trying to make something happen on the final play of the opening half.

It would be incredibly troubling if we hadn't seen a great drive from Mayfield two weeks earlier. Mayfield looked like he showed up to the game intoxicated. Perhaps his visor blinded him. Maybe he went full degenerate and bet on the Buccaneers. Either way, he was horrible, though it should be noted that he threw to scrubs because Odell Beckham Jr. and Jarvis Landry sat out.

Here were Mayfield's targets:

Pharaoh Brown: 1
Demetrius Harris: 4 (2 end zone)
Rashard Higgins: 8 (2 end zone)
Kareem Hunt: 1
D'Ernest Johnson: 1
Jaelen Strong: 8
Derrick Willies: 5


As mentioned earlier, the Browns sat their top receivers. The best wideouts Mayfield had at his disposal were Rashard Higgins and Jaelen Strong. Higgins should be Cleveland's No. 3 receiver this season unless Antonio Callaway impresses in practice after he returns from injury. Higgins caught three of his eight targets for 18 yards and failed to come up with a touchdown despite a pass delivered to him in the end zone in the second quarter. However, Higgins later made a one-handed catch to move the chains and then drew a pass interference flag in the end zone.


In addition to Beckham and Landry, Nick Chubb sat out as well. Kareem Hunt played the entire opening half because he won't be able to suit up until his eight-game suspension is over. Hunt rushed for 13 yards on six carries. His best play was when he leapt over a defender for a gain of seven.


Fifth-round rookie linebacker Mack Wilson had a strong performance in the previous game, but didn't fare as well in this contest. He struggled at times, as he was guilty of overpursuing. Meanwhile, second-round rookie cornerback Greedy Williams came off the bench and was eventually removed from the game with what appeared to be a stinger.


If Cleveland fans want to take a positive away from this game, it can just look at what the defensive line did to Jameis Winston. It was complete domination. The Browns got to Winston twice on the first four drop-backs, with Olivier Vernon and Sheldon Richardson collecting sacks. Winston ended up being sacked six times in the first 21 plays, which is just staggering. I'm not into drafting fantasy defenses early (or at all), but if you do, you may want to consider Cleveland.


Speaking of Winston's poor pass protection, the Buccaneer quarterback is expected by many to have a great season. However, Winston did not perform well in the dress rehearsal. He didn't have a chance, as he was sacked six times in his first 21 plays. Accuracy was also an issue when Winston had time in the pocket. One glaring example of this was when Winston had Breshad Perriman wide open for a deep touchdown. He launched the pass downfield, but it sailed helplessly out of bounds.

Winston finished an underwhelming 9-of-19 for 88 yards. Winston won't face as much pressure in most games, and he'll have Mike Evans at his disposal for a change, but I don't think he's the clear-cut great option in the double-digit rounds that every single publication makes him out to be.

Here were Winston's targets:

Chris Godwin: 6
O.J. Howard: 2
Ronald Jones: 1
Scotty Miller: 4
Dare Ogunbowale: 2
Breshad Perriman: 5


With Evans out, Chris Godwin served as Winston's No. 1 receiver. Godwin saw a team-high six targets and caught four of them for 52 yards. I wish Godwin wasn't getting as much hype as he is so we could get him for more value.


Rookie running back Dare Ogunbowale, whom I have on my Fantasy Football Sleepers page, was clearly behind Peyton Barber (3 carries, 3 yards) and Ronald Jones (4 carries, 8 yards) in this game, but that won't necessarily be the case throughout the regular season. Ogunbowale did some good things as the third runner on the field. He made a man miss on a reception and had a nice blitz pick-up, which is something that Bruce Arians has praised him for. Ogunbowale rushed for 22 yards on seven carries and caught two passes for 19 receiving yards.


I've discussed Buccaneers second-year tight end Tanner Hudson in previous recaps. Hudson continued to make ridiculous plays. He snatched a ball out of the air with one hand on one play, then secured a diving reception. Hudson caught four passes for 49 yards. I feel like Hudson would get playing time on some teams, but he's trapped behind O.J. Howard and Cameron Brate on the depth chart. If a team that needs a tight end makes a trade for Hudson, I would consider adding him to my fantasy roster if I really needed a tight end.


Second-year cornerback Carlton Davis appears as though he's going to make Tampa's secondary much better. Davis seems on the verge of breaking out. He had a great game, breaking up a pass on third down and making things difficult for Mayfield in general. Conversely, first-round linebacker Devin White didn't play all that well. Buccaneer fans had to be watching Josh Allen on Thursday night and wondering why their highly paid general manager didn't select the Kentucky product instead of White.


Kicker Matt Gay performed well in the preseason ahead of this game. It seemed like the Buccaneers may have solved their kicking woes, but Gay whiffed from 37 yards in this contest. However, he made amends for it at the end, hitting the game-winner.


NFL Preseason Announcers: The play-by-play guy called Rashard Higgins "Rashard Hogans." However, he made up for it with the following:

"The Browns were a slight favorite heading into this game, maybe one point, and if you're wondering what the over-under total was, it was 45 or so."

Wow! We've heard announcers mention the spread before, but this was terrific. I hope that one day announcers mention what their picks against the spread were for the game they're discussing.

Follow me @walterfootball for updates.




Redskins 19, Falcons 7
There was a fantasy-relevant injury in the Redskins-Falcons game. Jordan Reed had to exit with a concussion. This was the seventh concussion in Reed's career, so he may have to miss some games. This is a shame, as the oft-injured tight end has endured horrible luck throughout his career.


As for the rest of the Redskins, Case Keenum had a middling performance in the dress rehearsal. Keenum, who played the entire opening half, went 9-of-14 for 101 yards and an effective interception that was ruled a fumble. Keenum was hit as he released the ball, which popped into the arms of an Atlanta defender. Keenum didn't look great, but didn't make any mistakes otherwise. He nearly had a touchdown on a play in which he and rookie receiver Terry McLaurin drew a pass interference penalty in the end zone.

Here were Keenum's targets:

Vernon Davis: 1
Josh Doctson: 1
Derrius Guice: 2
Darvin Kidsy: 2
Terry McLaurin: 2 (1 end zone)
Jordan Reed: 2
Cam Sims: 1
Jeremy Sprinkle: 1
Chris Thompson: 3


Dwayne Haskins played the entire second half of the third preseason game. Haskins' stat line may not look very good - 7-of-13, 74 yards - but he played better than that. One of his receivers dropped a pass on a third-and-4. He later nearly hit Robert Davis for a touchdown, but the receiver couldn't come up with the catch. It was slightly in front of him, but a better receiver probably could have made the play. Haskins' best throw was a terrific back-shoulder throw to Kelvin Harmon for a gain of 21.


Derrius Guice saw his first action since he tore his ACL last August. He had some great highlights against Atlanta. His first run featured a nice cut-back for a gain of seven. He then had a nice stiff-arm to pick up six yards. He later appeared to score a touchdown, but it was nullified by an Ereck Flowers hold. Guice finished with 44 yards on 11 carries. He looked great, but two things are worth noting: First, Adrian Peterson didn't play, and he'll eat into Guice's workload during the season. Second, Washington's offensive line is a mess, so Guice is going to have trouble finding running lanes in most games.


I mentioned earlier that rookie receiver Terry McLaurin drew a pass interference flag in the end zone. McLaurin saw two targets in total, but couldn't come up with a reception.


First-round edge rusher Montez Sweat didn't play very well last week, but rebounded in this contest. Sweat caused some major havoc in the pocket for Matt Ryan, which is obviously promising for Washington's pass rush for the regular season.


Speaking of the Falcons allowing a pass rush, Matt Ryan once again had trouble in the pocket. Ryan didn't see as much pressure this week as he did in the previous game, but there were some problematic moments. Ryan had to throw off his back foot because of pressure on an early third down. He then had to throw the ball away on a third-and-11 because of pressure. Ryan was later nearly picked by Landon Collins on a throw to Calvin Ridley.

Ryan finished 9-of-14 for 74 yards in exactly one half of action. He has endured some poor blocking this preseason, but it's worth noting that he hasn't been able to throw to Julio Jones yet. Jones' presence in the regular season will obviously provide a huge boost.

Here were Ryan's targets:

Christian Blake: 1
Devonta Freeman: 1
Jaeden Graham: 1
Justin Hardy: 1
Brian Hill: 1
Austin Hooper: 2
Calvin Ridley: 2
Mohamed Sanu: 3
Ito Smith: 2


While Jones didn't play, Devonta Freeman was able to suit up. Freeman was on the field for just one drive, however. He picked up three yards on two carries and caught a 6-yard pass. Ito Smith saw lots of work after Freeman left the game. Smith registered 23 yards and a touchdown on five carries.


With Jones out, Mohamed Sanu led the Falcons in targets with three. He reeled in all of those for 23 yards. Ridley, meanwhile, hauled in one of his two targets for nine yards. That's a poor stat line in exactly one half of action, but his stats should improve once Jones returns to draw attention from opposing defenses.


Former Falcons kicker Matt Bryant was trending on Twitter during this game. That's because Giorgio Tavecchio missed from 39. Tavecchio has struggled throughout the preseason, which begs the question why Atlanta moved on from Bryant in the first place.


As mentioned earlier, Atlanta's offensive line struggled once again. Don't blame rookie guard Chris Lindstrom, however. Lindstrom, who has been performing well all preseason, once again put together a strong game. It's scary to imagine how bad the Falcons' blocking would be without him at this point.


NFL Preseason Announcers: The play-by-play guy in this game opened with gem:

"There's a famous saying, you take two step backwards for every one step forwards."

Uhh... what? Isn't it the other way around, or are people really trying to move one net step backward each time?

Follow me @walterfootball for updates.




Raiders 22, Packers 21
This game was absolutely worthless. The NFL scheduled this preseason matchup between the Packers and Raiders in Winnipeg, Canada for some reason. The Winnipeg football stadium, used for CFL games, was not ready for NFL action. The end zones couldn't be used, so the NFL had to shorten the field. As a result, the teams played on an 80-yard field, with the 10-yard line serving as the goal line on each end. There were no kickoffs in this game either, as the teams began their drives from their own 25-yard line.

If that wasn't bad enough, neither team used any significant players. Both squads even held out high-end backups. This matchup resembled a Week 4 preseason game, and I'm not exaggerating. There wasn't much to learn from this contest, but I'll try my best to relay some take-aways for you:


Mike Glennon started and failed to complete half of his passes. He went 4-of-9 for 38 yards. He was fortunate that he didn't throw an interception, as a near-pick of his barely hit the ground. Conversely, Nathan Peterman was far better. Peterman continued to shine under offensive coordinator Greg Olson's guidance, going 23-of-37 for 210 yards and two touchdowns. Peterman made some stellar throws. I still question his ability to read defenses, but he's at least performing well in these meaningless games.


Undrafted rookie receiver Keelan Doss should be able to make the 53-man roster. He was stellar in this game, catching four balls for 52 yards. His highlight play was an 18-yard reception in which he rotated his body to catch a pass thrown behind him. He then landed and tapped both of his feet inbounds right before falling out of play. Doss dropped a pass, so it wasn't all positive, but he has shown enough this August to make the final roster.


DeShone Kizer went 4-of-7 for 24 yards and an interception, which occurred on a Hail Mary. It wasn't all bad for Kizer. He fired a dart to Allen Lazard on a third-and-21, and managed to complete the pass for a first down. However, the officials correctly ruled that the ball scraped the ground, resulting in an incomplete pass.


First-round defensive lineman Rashan Gary flashed a bit in this game, but suffered two injuries in the process. He left the field permanently on the second occasion, but the Packer coaching staff said that he was doing well after the game. Green Bay's other first-round pick, safety Darnell Savage, didn't suit up. Savage has been far better than Gary this preseason, so the Packers were correct in identifying that they didn't need to risk him in this contest.


NFL Preseason Announcers: Matt Millen was Oakland's color analyst in this game, so we had some interesting comments from him in this game:

"He didn't bite on that. He was all over that."

"He did a nice job of controlling the guy in front of him."

"You get that waaayyy too tight inside."

Follow me @walterfootball for updates.




Patriots 10, Panthers 3
The big news surrounding the third preseason game is Cam Newton's injury. Newton's shoulder is OK, but he hurt his foot while trying to evade pressure in the pocket. Newton's tripped on someone's foot, then began scrambling gingerly. He left the field after that play to get X-rays. The good news is that the X-rays came back negative. The bad news is that Newton left the stadium in a walking boot. However, Ian Rapoport reported that Newton's injury "doesn't appear to be serious," so perhaps Newton will be able to play in the opener.

As for Newton's actual performance, it was a nondescript 4-of-6 for 30 yards. I get the sense that the Panthers wanted to use Newton on more drives, but didn't get a chance to do so. You have to wonder why Newton even played in the first place - this first came to mind when he took a big hit from Kyle Van Noy - given that the Eagles, Packers, Raiders and Ravens were among the teams that held out their starting quarterbacks in their so-called dress rehearsals.

Here were Newton's targets:

Christian McCaffrey: 2
D.J. Moore: 1
Greg Olsen: 1
Curtis Samuel: 1


It's even more puzzling as to why Christian McCaffrey took the field. McCaffrey handled four touches; he rushed thrice for 16 yards and caught a 10-yard pass. Seeing star running backs play has been an even scarcer occurrence this preseason, so McCaffrey shouldn't have played.


The Panthers have been searching for a viable backup for McCaffrey, and they may have found one in rookie running back Jordan Scarlett. The Florida product ran well, gaining 24 yards on 10 carries. He had a tough, 8-yard run on one instance. On another, he made a nice cut to pick up 15 yards, but a hold negated the play.


I'd like to provide a detailed report on Carolina's receivers, but Curtis Samuel and D.J. Moore didn't get to do much because Newton wasn't in the game for very long. Samuel caught two passes for 16 yards, while Moore logged just a 3-yard reception.


First-round rookie edge rusher Brian Burns had yet another monstrous performance. He collected two sacks, one of which included a forced fumble. Burns has been a monster, and he'll make Carolina's pass rush so much more potent than it was last year.


I must note that I missed one drive of rookie quarterback Will Grier, as the NFL.com broadcast cut out the first five minutes of the fourth quarter. From what I saw otherwise, Grier didn't look very good. Grier went 4-of-8 for 44 yards, though one incompletion was a drop by Ian Thomas. Grier could have been picked on another attempt, as he sailed a dangerous pass into tight coverage.


I was originally going to begin with the Patriots before Newton's injury because Tom Brady was seeing his first action as a 42-year-old quarterback. Brady certainly didn't look like a 42-year-old. He was precise on most of his throws, going 8-of-12 for 75 yards. Some of his incompletions were issues that rookie receiver Jakobi Meyers had. Meyers dropped a pass and ran the wrong route on another attempt. Brady would have put together a much better performance if he had Julian Edelman at his disposal.

Here were Brady's targets:

Rex Burkhead: 1
Phillip Dorsett: 5
Ryan Izzo: 1
Jakobi Meyers: 3
Ben Watson: 2


Rookie receiver Jakobi Meyers has enjoyed some bright moments this summer, but he took a big step backward in the dress rehearsal. The stat box says otherwise because Meyers caught seven passes for 74 yards, but he really screwed up when Tom Brady was on the field. Brady took a deep shot to Meyers on one occasion, but Meyers stopped running the route for some reason. Meyers then dropped a Brady pass. On another occasion, Brady had Meyers open, but decided not to throw to him, probably because he was fed up with his screw-ups. Meyers, to his credit, rebounded with a couple of diving catches, but Brady was long gone by that point. It's a shame that Meyers struggled, as he had a golden opportunity to establish himself as a fixture in New England's offense.


While Meyers struggled, former first-round receiver Phillip Dorsett had a nice night. Dorsett caught all seven of his targets for 47 yards. Brady simply trusted Dorsett more. Dorsett is not a fantasy option at the moment, but I would put in a waiver claim for him if Edelman were to suffer an injury.


Sony Michel saw his first action since undergoing a knee scope earlier in the offseason. Michel looked great versus the Panthers. He picked up a short-yardage run, then made a great burst with a terrific jump cut, though the play was nullified by a penalty. Still, Michel was terrific, gaining 36 yards on 10 carries. I'm going to move him up my rankings, though I'm still concerned about his ability to last an entire season.


Rookie running back Damien Harris didn't get to see much action because he suffered an injury after a couple of carries. He converted a third-and-1, but had to leave the game shortly afterward.


Rookie quarterback Jarrett Stidham has been enjoying a strong preseason, but his game against Carolina was a mixed performance that had Bill Belichick fuming at times. Stidham began well, as he stepped up in the pocket and found Jakobi Meyers to convert a third-and-12. However, Stidham was flagged for a false start because of a Kyler Murray-esque hand gesture. He then nearly threw two interceptions - he stared down his receiver the first time, then heaved a pass into heavy coverage - and followed those bad passes up by losing a fumble while under heavy pressure. To his credit, however, Stidham was able to rebound. He found Meyers with a precise strike for a substantial gain, made a nice, back-shoulder throw after stepping up in the pocket to avoid pressure, and then delivered a stellar, back-shoulder throw after stepping up in the pocket to avoid pressure once more. The final throw was incomplete, but a pass interference flag was drawn.

Stidham finished 15-of-19 for 134 yards. The stat line looks terrific, but Stidham made some mistakes. Still, he has shown enough to make me believe that he has a chance to be a quality starting quarterback in the future.


Chase Winovich, a third-round Patriots rookie, had an unbelievable performance. He was living in Carolina's backfield, whether it was sacking the quarterback or tackling a runner for a loss. He didn't play in the second half, indicating that Belichick envisions him as a key piece of his defense.


NFL Preseason Announcers: When you hear something like this, what does it sound like?

"Here it comes, OHH OHHHHH OHHHHHHHH!!!!"

If you think this is from a porno, you did not tune into the Patriots-Panthers game, where the Patriot announcers sounded like they were pleasuring themselves whenever watching Brady throw the ball.

Follow me @walterfootball for updates.




Ravens 26, Eagles 15
First things first, we had a small play on Baltimore -5.5 on the NFL Picks page. The Ravens were winning 26-15 with 11:34 remaining in regulation, but the game was called due to lightning. Whining journalists who wanted to meet their deadlines took to Twitter and complained about waiting, so the Eagles saw this and concluded the game prematurely (it stopped storming soon after.) Because of this, Baltimore -5.5 ended up in a non-wager because the game didn't last 55 minutes. I don't know why this rule exists for straight wagers - I get it for totals - but it's a shame that we lost out on winning $100.


As for the actual game, neither Carson Wentz nor Lamar Jackson played. This was an embarrassing look for the NFL, as both quarterbacks sat in the "dress rehearsal." It's time for the NFL to cut the preseason in half. There should only be two preseason games so that each team can play at home once.


The important thing concerning this game for Philadephia was that it allowed Josh McCown to get some reps with his newest team. McCown botched a snap to begin the game, but eventually got into a nice rhythm. He completed some precise passes and made some audibles, which was impressive, given that he just arrived in Philadelphia. McCown finished 17-of-24 for 192 yards and two touchdowns. Given Carson Wentz's injury history, there's a chance McCown will have to make some starts this year, and Eagle fans can at least know that it has a viable backup in the wake of Nick Foles' departure.


Second-round rookie running back Miles Sanders didn't see the field offensively, which is a good sign for his fantasy outlook. Philadelphia's other second-rounder, wide receiver J.J. Arcega-Whiteside, had a monstrous performance, catching eight of his nine targets for 104 yards and a touchdown, which came on a perfectly thrown ball by McCown. Arcega-Whiteside showed some nice hands, particularly on one catch from Cody Kessler, which he made in between defenders. He later reached down to scoop up a low throw and then made a great adjustment on a pass behind him. Arcega-Whiteside doesn't have much fantasy potential this season, as he's currently behind Alshon Jeffery, DeSean Jackson and Nelson Agholor, but it seems as though he has a very bright future.


As for Philadelphia's first-round pick, Andre Dillard had another stellar performance, save for one play in which he committed a blatant hold. He looks ready to be a starting tackle in the NFL, but he'll have to wait a year before Jason Peters leaves.


I can't believe I'm writing this, but I was very impressed with Trace McSorley in the third preseason game. He made a pretty throw in the early going over a couple of defenders, right to Miles Boykin. It should be noted that Boykin dropped the ball, but it was still a great pass. McSorley later dropped the ball into the bucket on a deep shot to Michael Floyd for a touchdown. McSorley's next score was a precise back-shoulder throw.

McSorley finished 19-of-28 for 203 yards and two touchdowns. He had a terrific night, though he was lucky to get away without throwing an interception on one throw in which he had lots of pressure. I wasn't high on McSorley's chances entering the NFL Draft, but he has performed much better than expected.


Rookie running back Justice Hill didn't do much on the ground - seven carries, eight yards - but he made a tremendous spin move to break out of a tackle on one occasion. He'll be much better when teams have to focus on stopping Jackson. The Eagles, conversely, had the luxury of stacking the box against him.


Rookie receiver Miles Boykin dropped a pass, as mentioned earlier, but he also picked up a 44-yard reception, thanks to a broken tackle. Boykin has potential, but he's also displayed hands of stone.


NFL Preseason Announcers: The Eagles broadcast ran a feature on Jordan Howard, which had one puzzling quote from the Philadelphia runner:

"I wanted to play football as a kid, but I was forced to play soccer."

Forced to play soccer? Who forced him to play a certain sport, a communist dictator?

Follow me @walterfootball for updates.




Dolphins 22, Jaguars 7
Nick Foles played in a Jaguars uniform for the first time in his professional career, and the results were mixed. Foles' first couple of drives went nowhere, but he finally was able to spark the offense by drawing a pass interference flag on a pass to Chris Conley. He then made a nice throw to Dede Westbrook on a bootleg to score a touchdown. However, his night ended poorly when he threw an interception, as cornerback Eric Rowe jumped the route.

Foles went 6-of-10 for 48 yards, one touchdown and the interception. One incompletion was dropped. Foles' night would have been fine had it not been for the pick, but it's fairly obvious that the offense, as a whole, is more functional with him under center rather than Blake Bortles.

Here were Foles' targets:

Chris Conley: 1
Leonard Fournette: 3
Dede Westbrook: 7 (1 end zone)


If the preseason dress rehearsal is any indication, Dede Westbrook may catch 100 passes this year. Nick Foles was locked in on Westbrook, throwing to him on seven of his 10 attempts. Westbrook reeled in four of those balls for 29 yards and a touchdown. Foles and Westbrook developed a strong connection in training camp, so it was nice to see the two thrive together in preseason action. Westbrook looks like a strong fantasy WR3 this season.


Leonard Fournette played a healthy amount in this game, which was a mistake. However, Fournette had a strong performance. He rushed for 27 yards on seven carries. He was bottled up on some of his initial attempts, but he gained steam as the first half progressed. Fournette also caught two passes for 19 yards. He would have secured a third reception, but he dropped the ball. I like Fournette to have a bounce-back 2019 campaign.


First-round edge rusher Josh Allen was so dominant in this game that he was trending on Twitter. Allen had some huge tackles for loss and was flying all over the field. On one such TFL, Allen grabbed his ribs in pain, which made me wonder why he was still on the field. Fortunately, no one on the medical staff was examining Allen, so the rib situation is probably not a big deal.


Allen was great, but what about second-round tackle Jawaan Taylor? The Florida product made his preseason debut in this game and looked very good. He had one shaky drive, but was good otherwise. Jacksonville's offensive line needs Taylor to perform on a high level because there are some problems up front.


Sixth-round rookie quarterback Gardner Minshew had a mixed showing in the third week of the preseason. He began poorly by throwing the ball up for grabs in the end zone, and the pass should have been intercepted. He later rebounded with a great back-shoulder pass for 25 yards. His evening didn't end well, however, as he coughed up a fumble.

Minshew went 17-of-27 for 141 yards. He has looked better than expected, but I'm not sure he can be a viable No. 2 quarterback in the NFL just yet.


As for the Dolphins, this was a very rough night for them. They could barely move the ball against Jacksonville's starting defense and barely managed to score when battling the Jaguar backups. Ryan Fitzpatrick, who played into the third quarter, was absolutely terrible. The stats look fine - 13-of-19, 134 yards, one touchdown - but they don't nearly tell the whole story, as a chunk of that came versus the reserves. Fitzpatrick missed an open Preston Williams on a couple of occasions and then heaved a 3-yard pass on a third-and-13. He's the perfect quarterback to accomplish what the Dolphins are planning to do, which is tank for Tua Tagovailoa.

Here were Fitzpatrick's targets:

Kalen Ballage: 3
Isaiah Ford: 2
Mike Gesicki: 3
Nick O'Leary: 3
Kenny Stills: 3
Durham Smythe: 1
Mark Walton: 3
Preston Williams: 2


Josh Rosen entered the game during the second drive of the third quarter. It was immediately noticeable how much better he is than Fitzpatrick. Rosen made a great play when he scrambled out of pressure and heaved an accurate deep pass to his receiver. He ultimately led the team down the field for a touchdown. Granted, this was against Jacksonville's third-stringers, but it's not like Fitzpatrick was better against the backups.

Rosen finished 5-of-7 for 59 yards. He made one poor throw, which sailed over his receiver's head. Still, Rosen should be the starter in Week 1. Not only is he better than Fitzpatrick, he's also younger, so Miami might as well see what it has in him before it drafts Tagovailoa next April.


Preston Williams hit a brick wall. The rookie receiver showed tremendous potential earlier in the preseason, but he couldn't catch a pass in this contest. Don't blame him though, as he got open on a couple of occasions, but Fitzpatrick couldn't connect with him.


Kalen Ballage started with Kenyan Drake injured and struggled to do much of anything. He was limited to just 17 yards on 12 carries. It's evident that Ballage, while athletic, is not a very good runner. Given the severe issues the Dolphins have, Ballage won't be very productive, even if he starts.


First-round rookie defensive tackle Christian Wilkins didn't have a great performance, but he made one outstanding play where he generated some interior penetration, forcing the Jaguars to hold.


NFL Preseason Announcers: This was a FOX broadcast, but we had some pronunciation issues from Joe Buck and Troy Aikman. Buck called Jameis Winston "Jamie-yus" and he also referred to Minkah Fitzpatrick as "Bobby McCain." Aikman, meanwhile, repeatedly called Ryan Fitzpatrick "Ryan Spitzpatrick."

Follow me @walterfootball for updates.




Giants 25, Bengals 23
It seems odd to begin with a rookie quarterback who won't be starting in Week 1 for the preseason dress rehearsal analysis, but Daniel Jones was the primary story of this game. Jones played all but one drive in the opening half and once again looked spectacular.

Jones had some nondescript passes to begin the game, but then caught fire, connecting with Brittan Golden on an accurate deep ball for 35 yards. He then fired a precise deep shot to Darius Slayton, who caught the ball at the 1-yard line. Jones' final pass showed off his accuracy once again, as he perfectly hit Golden to move across midfield. Unfortunately for Jones, time expired in the opening half to ruin what looked like a potential scoring drive.

Jones finished 9-of-11 for 141 yards. He made one bad play in this game when he fumbled after getting strip-sacked. He didn't see the blind-side pass rusher and coughed up the ball. I mentioned last week that Jones had ball-security issues, which is common for a rookie. This is something that is correctable, and based on what we've seen from Jones, I expect him to make the appropriate adjustments as he gains more experience.


Eli Manning played one drive. He completed half of his passes, going 4-of-8 for 41 yards. I don't have anything special to say about Manning. He made some fine throws, but missed on one he should have hit. There was a dropped pass as well. It's a shame Manning is going to start because the Giants would be so much more fun (and better) if Jones were given the nod.

Here were Manning's targets:

Evan Engram: 1
Bennie Fowler: 1
Wayne Gallman: 1
Cody Latimer: 4 (1 end zone)
Russell Shepard: 1


None of the Giants' primary play-makers were on the field for this game, save for Evan Engram, who caught a 9-yard pass. Saquon Barkley predictably sat out, and rightfully so. Wayne Gallman started and rushed for 31 yards on eight carries.


With most of the prevalent Giants sitting out, let's focus on the rookies not named Jones. Dexter Lawrence made one play where he split a double team to pressure the quarterback. Edge rusher Oshane Ximines also put some heat on the opposing passer, getting a sack. Safety Julian Love broke up a pass. First-round cornerback DeAndre Baker didn't play, which might be a good sign for him.


As for the Bengals, Andy Dalton had a strong performance. He went 7-of-10 for 104 yards and a touchdown, with one of his incompletions being a drop. His score was a perfect touch throw to C.J. Uzomah.

Here were Dalton's targets:

Rodney Anderson: 1
Giovani Bernard: 1
Tyler Boyd: 3
Cethan Carter: 1
Auden Tate: 1
C.J. Uzomah: 2 (1 end zone)
Damion Willis: 1


With A.J. Green out, Tyler Boyd served as Cincinnati's No. 1 receiver. He had a lowlight, dropping a pass that would have gone for a 20-yard gain. He then made a bad body-language gesture, which the Bengal announcers chided him for. To Boyd's credit, however, he went to Dalton on the sideline and admitted that he was wrong.


Joe Mixon, like Barkley, didn't play. Instead, he stood on the sideline, wearing a gold chain of the number 28, which matched his jersey number. Giovani Bernard started and didn't do much; he mustered just four yards on three carries. Sixth-round rookie back Rodney Anderson didn't accomplish much on the ground either - eight carries, seven yards - but made one play where he showed off some great moves. He went way low to avoid a defender and then juked other players to pick up a gain of 18 on a reception.


Rookie quarterback Ryan Finley has been enjoying a solid preseason, and that continued against the Giants. Finley once again showed off his strong accuracy, going 14-of-20 for 155 yards. One incompletion was dropped. Finley made a number of precise downfield throws, with one being a completion to Damion Willis that also drew an interference flag. He later hurled a very accurate ball to Cody Core in between three defenders to convert a third-and-12. As I've said before, Finley's floor is a solid No. 2 quarterback in the pros.


Third-round rookie linebacker Germaine Pratt didn't perform very well. He was a step slow at times, including once on a screen that resulted in a substantial gain for the Giants.


NFL Preseason Announcers: There were some weird quotes from the announcers. For instance: "It seems like Eli Manning's passes never hit the ground." Umm... I guess this guy hasn't watched Manning play the past three years.

Later, the Bengals' sideline reporter had this to say to Mixon: "You're wearing your coaching hat, literally!" Literally? You mean there's actually a thing called a "coaching hat?" Is that anything like the Sorting Hat from Harry Potter?

Follow me @walterfootball for updates.


2019 Preseason Notes: Week 1 | Week 2 | Week 3 | Week 4
2019 Fantasy Football Stock Pages: Preseason Stock Week 1 | Preseason Stock Week 2 | Preseason Stock Week 3 | Training Camp Stock







More 2019 Fantasy Football Articles:
Fantasy Football Rankings

2019 Fantasy Football Rankings:
2019 Fantasy Football Rankings: Quarterbacks - 8/26 (Walt)
Chet Gresham's Fantasy Football Quarterback Rankings - 8/12 (Chet)
2019 Fantasy Football Rankings: Running Backs - 9/4 (Walt)
Chet Gresham's Fantasy Football Running Back Rankings - 8/12 (Chet)
2019 Fantasy Football Rankings: Wide Receivers - 9/3 (Walt)
Chet Gresham's Fantasy Football Wide Receiver Rankings - 8/12 (Chet)
2019 Fantasy Football Rankings: Tight Ends - 8/29 (Walt)
Chet Gresham's Fantasy Football Tight End Rankings - 8/12 (Chet)
2019 Fantasy Football Rankings: Kickers - 5/11 (Walt)
2019 Fantasy Football Rankings: Defenses - 5/11 (Walt)
Fantasy Football Rookie Rankings: Dynasty - 8/27 (Walt)



2019 Fantasy Football Mock Drafts:
2019 Fantasy Football Mock Draft - 8/29 (Walt)
2019 Fantasy Football Real Draft - 8/28 (Walt)
2019 Fantasy Football PPR Mock Draft - 8/22 (Walt)
2019 Fantasy Football Mock Draft - 8/15 (Walt)
2019 Fantasy Football PPR Mock Draft - 8/8 (Walt)
2019 Fantasy Football Mock Draft - 8/1 (Walt)
Fantasy Football Experts Draft - 6/23 (Walt)
2019 Fantasy Football Dynasty Rookie Mock Draft - 5/23 (Walt)



2019 Fantasy Football Cheat Sheets:
2019 Fantasy Football Cheat Sheet: Top 250 - 9/4 (Walt)
2019 Fantasy Football Cheat Sheet: Top 250 PPR - 9/4 (Walt)
2019 Fantasy Football Cheat Sheet: Top 250 Half-PPR - 9/4 (Walt)
2019 Fantasy Football Cheat Sheet: Top 250 2-QB - 9/4 (Walt)
2019 Fantasy Football Cheat Sheet: Top 250 Touchdown League - 9/4 (Walt)
2019 Fantasy Football Cheat Sheet: Custom - 9/4 (Walt)
2019 Fantasy Football: Dynasty Rankings - 9/4 (Walt)
2019 Fantasy Football Spreadsheets - 9/4 (Walt)

2019 Fantasy Football Articles:
2019 Fantasy Football Stock Report: OTAs, Training Camp - 9/4 (Walt)
2019 Fantasy Football Sleepers - 9/1 (Walt)
2019 NFL Preseason Game Recaps - 8/30 (Walt)
2019 Fantasy Football Stock Report: Preseason Games - 8/30 (Walt)
2019 Fantasy Football Busts - 8/27 (Walt)
2019 Fantasy Football: Wide Receiver Values - 8/20 (Chet)
2019 Fantasy Football: Running Back Values - 8/13 (Chet)
2019 Fantasy Football: Quarterback Values - 8/8 (Chet)
2019 Fantasy Football Round-by-Round Strategy Guide - 8/7 (Walt)






2021 NFL Mock Draft - March 2


2022 NFL Mock Draft - Feb. 24


NFL Power Rankings - Feb. 11


NFL Picks - Feb. 8


Fantasy Football Rankings - Jan. 11