**** NOTES FOR EVERY GAME WILL BE UP AS SOON AS I WATCH THEM **** Follow me
@walterfootball
for updates.
2019 Preseason Notes:
Week 1
|
Week 2
|
Week 3
|
Week 4
2019 Fantasy Football Stock Pages:
Preseason Stock Week 1
|
Preseason Stock Week 2
|
Preseason Stock Week 3
|
Training Camp Stock


Raiders 14, Rams 3
The Rams didn't use Jared Goff, Todd Gurley or all of their talented receivers. The Raiders didn't dress Derek Carr, Josh Jacobs and the suddenly deranged Antonio Brown. This was a battle between Blake Bortles and Mike Glennon, so it wasn't the most exciting game on the slate.

Bortles failed to complete half of his passes, going 3-of-8 for 50 yards. His best play may have been a 3-yard run to pick up a first down. Meanwhile, Glennon had a strong stat line for a half of action if you ignore one number. Glennon was 17-of-25 for 200 yards and two interceptions. The pair of picks obviously stand out, and they were Glennon's fault for sure. Glennon made poor decisions on those throws. It seems as though Greg Olson, one of the best offensive coordinators in the business, has gotten Glennon to play better, but Glennon needs to improve his decision-making.

Perhaps Olson's best work this offseason has been with Nathan Peterman. Often the butt of jokes as one of the worst quarterbacks to play in the NFL this decade, Peterman actually looked like a quality signal-caller in this contest. He was accurate and made good decisions, though he took a sack because he held on to the ball for too long. Peterman completed 9-of-12 passes for 66 yards and a touchdown. Peterman also had a 50-yard scramble to set up his score to Keelan Doss. If this wasn't a mirage, and Olson has gotten Peterman to become a good NFL signal-caller, Olson will need to be voted into the Hall of Fame.


The most prominent fantasy player on the field was Rams backup running back Darrell Henderson. The third-round rookie gained seven yards out of the shotgun on his first carry, but did nothing after that. Henderson found no running room, finishing with 13 yards on six attempts. He'll need to do more over the next two weeks, or he'll drop in the 2019 Fantasy Football Rankings.


The Raiders kept Jacobs on the sideline in this game, but their other top rookies were on the field. They used Clelin Ferrell extensively in the opening half. Ferrell made a nice tackle to prevent a Rams quarterback from rushing for a first down, but he didn't apply much pressure on the quarterback. Fourth-round rookie Maxx Crosby has been a better pass rusher in training camp, but unfortunately, he broke his hand in this contest.

Elsewhere, first-round safety Johnathan Abram and second-round corner Trayvon Mullen saw action in the opening half. We didn't get to see much from Abram, but Mullen made a great play to break up a pass with a jarring hit.


The Rams also had some intriguing, young players on the field. Second-round rookie safety Taylor Rapp had a great start to his career. He made some great plays in this game, including a pass break-up on third down. Fourth-round defensive tackle Greg Gaines drew a holding call and had some pressures on Peterman. Meanwhile, third-round offensive lineman Bobby Evans didn't fare as well, as he surrendered a sack to Arden Key.


NFL Preseason Announcers: It was nice to see Matt Millen back in the booth. Millen had been dealing with a heart condition, but he looked like he gained his weight back (in a good way) and seemed healthy. Millen cracked some jokes, including one about a slow running back from his playing days: "If you needed one yard, he'd get you one yard. If you needed four yards, he'd get you one yard."

Naturally, Millen had some quotes that went like this: "Clelin Ferrell needs to get a little bit bigger" and "My Raider guys were all over me."

I'd joke about those, but I'm just glad that Millen's health has improved.

Follow me @walterfootball for updates.









49ers 17, Cowboys 9
Dak Prescott has more experience than Jimmy Garoppolo, yet he was the only starting quarterback to play in this game. Prescott was on the field for one drive, leading Dallas deep into San Francisco territory, where the team ultimately hit a field goal. Prescott completed all four of his passes for 23 yards. Not included in this stat line is a drawn pass interference on a downfield shot to Michael Gallup.

Here were Prescott's targets:

Tavon Austin: 1
Michael Gallup: 3


It was nice to see Travis Frederick play in this game. Frederick was diagnosed with an auto-immune disease last year, and it wasn't clear if he'd ever see the field. Well, Frederick has defied the odds. He started and played nine snaps.


Ezekiel Elliott is holding out, but he would not have played in this game anyway. Darius Jackson started in his place, and he picked up 16 yards on six carries. However, Dallas' two rookie runners were more impressive. Tony Pollard had some nice runs where he cut well and showed good vision. He finished with 16 yards on four carries. Meanwhile, Mike Weber made a nice spin move on a run of nine yards. Weber ended up gaining 18 yards on six attempts. If Elliott's holdout continues into the end of August, one of these two rookies will be worth adding at the end of your fantasy draft. I'd prefer Pollard, but Weber could end up being the correct call.


Second-year tight end Dalton Schultz disappointed last year. He continued to struggle, dropping a pass in this game. He ended up catching two passes for 13 yards.


Before moving on to San Francisco, I'd like to touch on Dallas' second-round rookie Trysten Hill. The big defensive tackle did not look good in his debut, getting pushed around by San Francisco's front. On the bright side, we finally saw signs of life from Taco Charlton. The former first-rounder has been a big-time bust thus far, but perhaps he's a late bloomer.


As mentioned earlier, Garoppolo did not see the field. Nick Mullens and C.J. Beathard saw most of the action. Both had positive moments, but each was guilty of an interception. Beathard had the better stat line - 13-of-17, 141 yards, one touchdown, one interception - but he had the luxury of going against weaker defenders.


The 49ers have a pair of rookie receivers, Deebo Samuel and Jalen Hurd, chosen in the second and third rounds, respectively. Samuel led the team in receiving - two catches, 61 yards - and he would've scored a touchdown had Beathard not hurled an underthrown pass downfield. Samuel also picked up 14 yards on an end-around.

Meanwhile, Jalen Hurd had three catches for 31 yards and scored twice against Dallas. He muscled his way into the end zone against two defenders on his first score, then boxed out the defender on his second touchdown. Hurd was very impressive and is worthy enough of late-round fantasy consideration.


Another San Francisco rookie, Dre Greenlaw, also had an impressive debut. Greenlaw was all over the field in this game, and if he continues to play like this, he'll become a starter this season.


NFL Preseason Announcers: The 49ers play-by-play guy called Jon'Vea Johnson "Jon'Vea Jackson." But that wasn't nearly as bad as this:

"This is the final preseason game of the opening weekend, excluding the Hall of Fame Game, which has yet to be played."

Umm... wasn't the Hall of Fame Game played last week, or am I imagining things?

Follow me @walterfootball for updates.




Chiefs 38, Bengals 17
Patrick Mahomes thrilled and scared his fans in his only drive during the Chiefs' preseason opener. Mahomes' first throw was a perfect 36-yard bomb. Mahomes eventually moved into the red zone with more precise balls. On one play, it seemed as though he would slide into the end zone and risk a crushing hit from a defender. You could hear the crowd gasp in horror, but Mahomes decided to slide meekly rather than risk getting hit. This was an intelligent play, as there was no reason for Mahomes to risk his body in a meaningless game. Mahomes laughed after this weak slide and gave a thumbs up to the sideline. Soon after, the Chiefs scored on a Carlos Hyde touchdown.

Mahomes was a perfect 4-of-4 for 66 yards on his sole drive against the Bengals. He looked just as unstoppable as he was last year. He's the top fantasy quarterback by a mile, and he's the only player at the position I'd consider prior to Round 6.

Here were Mahomes' targets:

Travis Kelce: 2
Anthony Sherman: 1
Sammy Watkins: 1
Deon Yelder: 1


Carlos Hyde started and scored a rushing touchdown because of Mahomes' smart decision to slide prior to reaching the goal line. He didn't play after that, giving way to the Chiefs' rookie running back. Darwin Thompson was amazing in his preseason debut. The Utah State product did it all. He made a nice cut-back on a run to open the second quarter. He had a run in which he should've been stopped for no gain, but broke through some defenders to gain eight yards. He leapt over a defender on a rush in the third quarter. And to cap off his evening, he caught a pass and avoided some defenders to reach the end zone. Thompson rushed for 22 yards on five carries to go along with his 29-yard touchdown reception. Thompson was terrific, and he'll continue to be slotted near the top of my Fantasy Football Sleepers page.


Fellow rookie receiver Mecole Hardman had a nice debut. He caught two passes for 31 yards and a touchdown, scoring on a fly sweep. He also drew a pass interference flag and had a nice return. If Tyreek Hill had been suspended, I'd be very excited about Hardman as a fantasy option, but he'll need someone to get injured to be relevant in regular leagues this year. With that in mind, he's worth adding if Hill or Sammy Watkins were to go down.


Before moving on to the Bengals, it's worth noting that Chiefs second-round rookie safety Juan Thornhill had a strong performance in his first NFL preseason game. He made some nice tackles and looks like he'll be a positive contributor as a rookie.


Andy Dalton played one drive in this game, and he was able to lead his team into the end zone. However, he should have thrown a touchdown rather than hand the ball off to his running back in an attempt to get into the end zone. Dalton had a receiver wide open downfield for a potential touchdown earlier on the drive, but Dalton severely underthrew him. The pass was so meekly thrown that it allowed Bashaud Breeland, who was beaten badly on the play, to break up the possible completion.

This was not a big surprise, as Dalton has always lacked appropriate arm strength to be a good starting quarterback in the NFL. Dalton finished with a solid stat line - 7-of-9, 80 yards - but I have to believe that this is probably his final season in Cincinnati, assuming the team is as bad as I think it is.

Here were Dalton's targets:

Tyler Boyd: 4
Cody Core: 1
Josh Malone: 2
Auden Tate: 1
Trayveon Williams: 1


The Bengals are counting on the recently extended Tyler Boyd in the wake of A.J. Green's absence. Boyd caught three passes for 25 yards, but let his team down early in this game. Boyd fumbled his first reception, which was scooped up by Tyrann Mathieu. However, replay review ruled it incomplete on a very questionable reversal.


Joe Mixon and Giovani Bernard sat out, so rookie running back Trayveon Williams started. Williams rushed for five yards on as many carries, but managed to score a touchdown. Williams couldn't find any running room behind Cincinnati's depleted offensive line.


Cincinnati drafted Drew Sample in the second round, and it's unclear why they did that. The rookie tight end struggled mightily in this game; he dropped two passes and was flagged for offensive pass interference. He had some nice blocks, but a second-round tight end needs to be a threat as a receiver.


Rookie quarterback Ryan Finley, chosen in the fourth round, had a tremendous debut to his NFL career until the final drive. He showed great anticipation and accuracy in the second half, nearly completing all of his passes. Finley hit 12 of his first 13 passes and finished 13-of-18 for 109 yards, one touchdown and an interception. Many of his passes were short, but he had some nice intermediate throws, including one where he stepped up in the pocket and found an open player. One ball of Finley's was dropped, but his final throw was picked off. Finley had some pressure around him and stepped weirdly into his errant pass. That said, the Bengals were down 21, so Finley was just trying to make something happen. He thrived overall, so I'm excited to see how he performs in the next three games.


Believe it or not, but there was an overturned pass interference in this game, and unless I missed one, it's the first one to be overturned in the preseason. The official said something like, "There was clear and obvious contact before the ball reached the receiver." What's important was that the official correctly made the change, unlike on the Boyd fumble.


NFL Preseason Announcers: Todd McShay was the sideline reporter in this game. Yes, the Sun Tan Man himself. I couldn't believe it. I don't know if I was more surprised that McShay was working as a sideline reporter during a non-ESPN preseason game, or that he was actually pale for once.

Meanwhile, the play-by-play guy was a bit excited during one sequence:

"The Chiefs stop him before he gets to the first-down marker!"

The problem? The player was two yards past the first-down marker!

Follow me @walterfootball for updates.




Vikings 34, Saints 25
Kirk Cousins and most of the Viking starters were on the field for one drive. Cousins was able to lead his team down the field and into the end zone, thanks to a 34-yard bomb to Adam Thielen, who was ruled down at the 1-yard line. Minnesota was able to capitalize on that play, with Cousins throwing a short touchdown to rookie running back Alexander Mattison.

Cousins completed all four of his passes for 65 yards and a touchdown. He looked sharp, but we'll have to see if his offensive line can hold up during real action.

Here were Cousins' targets:

Stefon Diggs: 1
Alexander Mattison: 1 (1 end zone)
Kyle Rudolph: 2
Adam Thielen: 1 (1 end zone)


While Cousins, Thielen and Stefon Diggs were all on the field, Dalvin Cook sat out, and correctly so. Mattison started and rushed for 30 yards on nine carries. He also caught the aforementioned touchdown. Mattison wasn't overly impressive, especially when compared to fellow young running back Mike Boone, who exploded for a 64-yard touchdown in the fourth quarter. Boone looked great in past preseasons, so this was not a surprise.


Kyle Sloter played quarterback for the Vikings during the majority of the second half. Sloter has enjoyed some excellent preseason performances in the past, and this game was no different. Sloter made some impressive throws, going 6-of-7 for 62 yards and a touchdown. His stat line could've been even better, as he drew a pass interference flag near the end zone.


As for the Saints, Drew Brees didn't suit up, but Alvin Kamara and Michael Thomas played. Kamara inexplicably handled six touches. Sean Payton is a great coach, but I don't know what the hell he was thinking with this decision. He was playing with fire by having Kamara take the field in a meaningless game without his quarterback. Kamara shouldn't even be playing in the preseason, period, so why was he given six touches in the exhibition opener? It made no sense.

At any rate, Kamara rushed for 11 yards on four carries to go along with two catches for 15 receiving yards. He appeared to score a touchdown on the opening drive, but a penalty nullified the score. Latavius Murray, taking the place of Mark Ingram, also was given six touches. He gained 14 yards on three carries while also hauling in all three of his targets for 22 receiving yards.


With Brees out, Teddy Bridgewater played the entire half. Bridgewater hasn't quite looked the same since his horrible knee injury a few years ago, but this was the first time I thought we were seeing the Bridgewater of old. Bridgewater was accurate, connecting on 14-of-19 of his throws for 134 yards and a touchdown. He was every bit as good as those numbers indicate. One of his best throws was when he showed great ball placement on a deep shot right before halftime. It was great to see Bridgewater show flashes of his pre-2017 self. Hopefully this is a trend that continues.


Conversely, Taysom Hill flopped. Hill played the entire second half. His numbers - 8-of-14, 80 yards, one touchdown, one interception - weren't as good. The pick actually wasn't his fault because tight end Dan Arnold bobbled the ball, which popped right into the arms of a Minnesota defender. However, Hill had an open target in the flat in the red zone, but he threw the ball at the receiver's feet. He then tossed a pass late across his body over the middle of the field, and he was lucky his throw wasn't intercepted. Then, Hill failed to hit a target in the flat on a routine pass once again. Hill scrambled well - six rushes, 45 yards - but we all knew he could run. Hill had to prove that his passing skills have improved, but they clearly haven't.


Rookie receiver Lil'Jordan Humphrey fell out of the 2019 NFL Draft. The Saints scooped him up, which is looking like a great move. Humphrey caught a pair of passes for 42 yards, including a 33-yard touchdown in which he made a couple of defenders miss. Humphrey was once seen as a third-round prospect, so it wasn't a surprise to see him shine in his first NFL opportunity.


It was a mixed performance for second-round rookie center Erik McCoy. The Texas A&M product was able to open up some nice running lanes, but he was guilty of surrendering a sack. McCoy needs to play well in a hurry in the wake of Max Unger's retirement.


NFL Preseason Announcers: One of the Saints announcers called Tre'Quan Smith "Simmie Cobbs," but if you think that's bad, the other asked, "Who can the Saints keep to win the National Super Bowl?"

The National Super Bowl, eh? How interesting. Meanwhile, how do you think Roger Goodell felt about NFL Network showing a fan wearing this: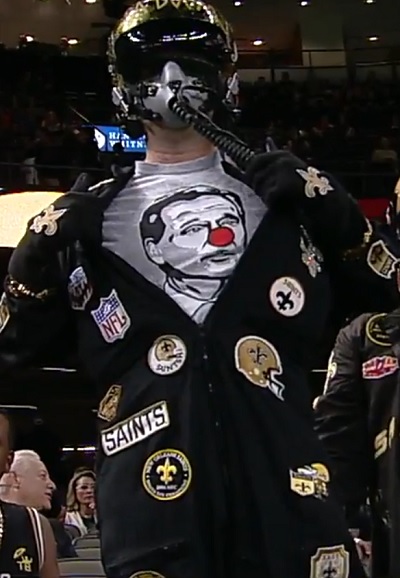 Follow me @walterfootball for updates.









Steelers 30, Buccaneers 28
Jameis Winston started this game and easily moved his team down the field on an opening touchdown drive. Winston overthrew Breshad Perriman on a downfield attempt, but that was his only misfire of the evening. He finished 5-of-6 for 40 yards and a touchdown. Winston looked good, but he did this versus mostly second-stringers, so his performance needs to be taken with a grain of salt.

Here were Winston's targets:

Peyton Barber: 1
Chris Godwin: 2
Ronald Jones: 1
Breshad Perriman: 2


Chris Godwin caught both of his targets for 20 yards, one of which was in the end zone. Godwin is going to be great this year, so it wasn't a surprise to see him so involved in the offense right away.


Peyton Barber and Ronald Jones are engaged in a positional battle, and the two split touches in this game. Barber and Jones both rushed for 18 yards on three and four carries, respectively. Both caught their sole targets. It's unclear who has the advantage right now. If I had to choose, I'd rather have Jones because of the upside, but Barber is the safer choice for now. I'd personally rather not deal with the situation.


Fifth-overall rookie linebacker Devin White didn't get to play very much, but he made his presence felt when he was on the field. He was flying all over the place. Tampa fans should feel great about having him in the middle of their defense. Conversely, second-round rookie cornerback Sean Murphy-Bunting struggled. He was flagged for pass interference once and lined up in the wrong place on another occasion.


Ben Roethlisberger didn't suit up, which allowed Joshua Dobbs to be Pittsburgh's starter. The young quarterback opened the game with a 44-yard bomb to James Washington, but then was lucky to get away with a blunder when he launched an interception on an underthrown pass. Fortunately for Dobbs, the turnover was negated by an illegal-use-of-hands penalty. Dobbs later suffered some bad luck, as he appeared to throw a touchdown to James Washington, but the young receiver had one foot slightly out of bounds. Dobbs finished 5-of-8 for 85 yards.

Pittsburgh's next quarterback, Mason Rudolph, had the same exact completion percentage. He was also 5-of-8, but collected two touchdowns on top of his 91 yards. While the two stat lines were similar, it was clear that Rudolph was the better quarterback.


James Washington didn't do much in his rookie campaign, but he displayed that he could end up being a potent No. 2 receiver for the Steelers this year. Washington began the preseason opener by hauling in a 44-yard bomb from Josh Dobbs. He almost secured a touchdown a bit later, but his left toe was out of bounds. Washington bounced back by securing a back-shoulder touchdown catch from Mason Rudolph. Washington finished with four catches for 84 yards and a score in a half of action. I've had Washington in my Fantasy Football Sleepers list for a while, and I'm now even more bullish on him.


Rookie running back Benny Snell looked sluggish in his NFL debut. He mustered just 26 yards on 13 carries. On one play that could have gone for a long gain, he couldn't get past a cornerback. He then dropped a pass, though the pass was a bit low.


The Steelers traded up for Devin Bush in the 2019 NFL Draft. The early returns look great, as Bush had a tremendous NFL debut. Bush was flying all over the field in pass coverage and was also able to make a tackle for a loss in run support. He's exactly what the Steelers have been missing since Ryan Shazier suffered that horrible injury against the Bengals in December 2017.

While Bush shined, third-round rookie cornerback Justin Layne was atrocious. He was torched in coverage and called for penalties. It's too early to call him a draft bust, but this was not a good start to his career.


NFL Preseason Announcers: It didn't seem like the broadcasters knew the NFL rules, at least in one regard. While the officials were reviewing a sideline catch, the color analyst said, "We need to see where his second knee is." Clearly, he never heard of John Madden's famous saying, "One knee equals two feet."

Follow me @walterfootball for updates.




Patriots 31, Lions 3
Neither Tom Brady nor Matthew Stafford played, so I thought the most interesting thing to watch in this game was the battle between New England's three young receivers. Unless Josh Gordon is reinstated, at least two of N'Keal Harry, Maurice Harris and Jakobi Meyers will need to step up and become viable weapons for Brady.

Harry, the Patriots' first-round rookie, started the game well by making a diving catch along the sideline. He then made a grab over a cornerback, who covered him tightly. Unfortunately, Harry hobbled off the field after that play and wasn't heard from again. Harry finished with the two receptions for 36 yards.

The worst of the three Patriot receivers in the preseason opener was Maurice Harris. The former Redskin generated some buzz earlier in the offseason, but he had a rough outing at Detroit. He caught three passes for 27 yards and a touchdown, but he dropped two balls in the end zone, so his stat line should have been much better. It could be argued that Harris was held on the second drop, but he still could've secured the reception. Bill Belichick could have challenged the non-pass interference call on that play, but he knew better than to waste everyone's time in the preseason.

Jakobi Meyers was the best New England receiver to play at Detroit. He hauled in six of his eight targets for 69 yards and two touchdowns. The Lions had trouble defending him, and Meyers made an impressive reception when he secured a 26-yard gain on a high throw before halftime. Meyers was guilty of one mistake during the evening when he committed an illegal crackback block, but he ended up scoring on the drive anyway. Meyers has been Tom Brady's favorite receiver in training camp, so it was nice to see him carry his positive play into real action.


With Brady out, Brian Hoyer started and played a few drives. Rookie Jarrett Stidham then took over for the rest of the evening. Stidham had an excellent NFL preseason debut, going 14-of-24 for 179 yards and a touchdown. He also had some timely scrambles, picking up 16 rushing yards on four runs.

It's worth noting that Stidham had incredible pass protection on most of his drop-backs, but his numbers could have been better as well because Harris dropped those two touchdowns, both of which were from 29 yards or farther. Stidham also drew a pass interference flag on a deep shot to Dontrelle Inman.

It'll be interesting to see how Stidham fares when he doesn't have all the time in the world to dissect the opposing defense, but this was certainly a nice debut for him.


As for the Lions, none of their regulars played in this game. This includes first-round rookie tight end T.J. Hockenson, which is a good sign for his development.

Meanwhile, some of Detroit's other rookies got a chance to showcase themselves. Second-round linebacker Jahlani Tavai looked good in coverage, but did not play as well in run support. Fifth-round cornerback Amani Oruwariye struggled to cover all evening. It appeared as though he broke up a touchdown at one point, but he should have been flagged for pass interference.


NFL Preseason Announcers: "Some people love him, some people hate him. I'm a guy that love him." "The bigger the pants of a linebacker, the better I look."

Follow me @walterfootball for updates.









Panthers 23, Bears 13
Rookie running back David Montgomery was the star player during the Bears' preseason opener. He didn't start - Mike Davis handled the opening series - but it didn't take very long for Montgomery to take the field. Montgomery picked up 22 receiving yards on a second-and-20 screen, then should've been tackled for a loss, but was able to spin away from a defender to pick up a few yards. Montgomery ultimately scored a touchdown on the drive, thanks to a great stutter step to evade a defender. Montgomery rushed for 16 yards and a touchdown on just three carries, and he also caught three passes for 30 receiving yards. It'll be shocking if Montgomery weren't the starter by the season opener, so given the running talent, receiving ability, great offensive line and opportunity, Montgomery could push to be a top-10 fantasy running back in his first NFL season.


As for Chicago's passing attack, there's not much to say about it. Mitchell Trubisky started and played one series, but he didn't attempt a single pass. It's unclear why Trubisky even suited up, as all he did was hand the ball off to Mike Davis. Chase Daniel and Tyler Bray handled all of the passing duties.


Speaking of Davis, he failed to pick up a third-and-1 on the opening series, as edge rusher Marquis Haynes made a great play to tackle Davis in the backfield.


The Bears traded for Eddy Pineiro from the Raiders earlier in the offseason. The returns aren't promising thus far, as Pineiro was wide left from 48 yards in the second quarter. This predictably drew boos from the crowd. Elliott Fry then had a chance to connect from 43 yards. His kick was right down the middle, prompting a standing ovation.


Cam Newton sat out. Kyle Allen started and did fine, going 7-of-11 for 76 yards. Rookie Will Grier then took the reins and had a mixed performance. He made a horrible throw that was picked off when he started down his receiver for nearly five seconds. However, Grier later made a great back-shoulder throw to pick up nine yards. Grier finished 9-of-16 for 77 yards, a touchdown on a short dump-off to Elijah Holyfield and an interception.


While Holyfield caught a touchdown, the Panther running back who stood out was Reggie Bonnafon. The undrafted free agent from 2018 showed nice pass-catching ability, reeling in four balls for 30 receiving yards. It's possible that Bonnafon could become Carolina's No. 2 running back behind Christian McCaffrey, who did not play in this game.


Panthers first-round edge rusher Brian Burns was a monster in this game, racking up two sacks. He's part of the reason why Carolina's pass rush will be greatly improved this season. Meanwhile, the second-round rookie, offensive tackle Greg Little, had a solid performance.


NFL Preseason Announcers: The play-by-play guy referred to Ravens kicker Justin Tucker as "Justin Tuck." Also, from the redundancy department of redundancy, the Bears color analyst seemed to love one particular word when discussing David Montgomery: "He runs precise routes, and he's very precise, and he does everything with precision."

Follow me @walterfootball for updates.









Ravens 29, Jaguars 0
Lamar Jackson played just a couple of drives in the preseason opener. He initial pass was a great one; it came off an RPO, as Jackson ran out in a bootleg and found a wide-open Chris Moore for a 30-yard gain. However, Jackson's accuracy was spotty after that. The stat box shows that he was 4-of-6 for 59 yards and a touchdown, but he missed Miles Boykin on a routine third-down throw by firing behind his receiver. Jackson was also fortunate that a high pass of his was caught by a receiver he didn't intend the throw for.

Jackson didn't scramble, but that's not indicative of what we'll see during the regular season. The Baltimore announcers even said that we wouldn't see Jackson run in exhibition contests.

Here were Jackson's targets:

Miles Boykin: 2
Hayden Hurst: 1
Chris Moore: 3
Seth Roberts: 1
Willie Snead: 1


Rookie running back Justice Hill played behind Gus Edwards and Kenneth Dixon in the preseason opener, but he looked good when given the opportunity, rushing for 33 yards on 10 carries. Hill's best play came on a reception in the 2-minute drill just prior to halftime. He made a fingertip grab on a pass that was off the mark, then accelerated past defenders to pick up 14 yards.


Another rookie, receiver Miles Boykin, hauled in four of his nine targets for 39 yards. He made a great play on one occasion in the second quarter, successfully stretching the ball beyond the sticks as he was getting tackled on a third-down play.


With Robert Griffin out, rookie quarterback Trace McSorley played most of the game. He showed no signs that he can be a viable quarterback in the NFL, going 9-of-22 for 85 yards and an interception, which occurred because McSorley stared down his receiver. The one telling moment in this contest occurred when McSorley had Michael Floyd wide open downfield for a potential touchdown. McSorley, however, just couldn't muster the arm strength to connect with Floyd.


Nick Foles didn't play, so rookie Gardner Minshew was Jacksonville's starting quarterback. If the score of this game isn't clear on how this game went for Jacksonville, Minshew struggled mightily. Minshew completed half of his passes, going 7-of-14 for only 46 yards. Some of his passes were way off the mark, and he took some hard hits in the pocket because he either held on to the ball too long or bobbled the snap. In fact, I counted three times that Minshew's helmet popped off. Minshew does not look like an NFL quarterback.


The Jaguars also have a rookie running back, and like Justice Hill, Ryquell Armstead led the team in rushing. He picked up 22 yards on eight carries. He played behind Alfred Blue - Leonard Fournette also sat out - but his night ended prematurely because he was evaluated for a concussion.


First-round rookie linebacker Josh Allen had a strong NFL debut. I was hoping to see second-rounder Jawaan Taylor, but Jacksonville kept him out of this game because he banged his knee in practice.


NFL Preseason Announcers: One of the Ravens announcers called Anthony Averett "Anthony Bennett," but the broadcasting crew was good otherwise. Ray Lewis was a guest member in the booth for half of the first quarter, and he was fun to listen to.

Follow me @walterfootball for updates.




Seahawks 22, Broncos 14
Joe Flacco made his debut for the Broncos in this game. It wasn't much of one, as he was on the field for just one drive. He had a chance to score a touchdown, thanks to a long Royce Freeman run that brought him into the red zone, but he overthrew Courtland Sutton for a potential score, prompting a field goal try. Flacco was 3-of-4 for 19 yards, so we didn't really learn anything from this performance.

Here were Flacco's targets:

Royce Freeman: 1
Phillip Lindsay: 1
Tim Patrick: 1
Courtland Sutton: 1 (1 end zone)


Aside from Flacco's opening drive, as well as a couple of possessions from Kevin Hogan, second-round rookie Drew Lock played the entire game. Lock posted some solid numbers - 17-of-28, 180 yards, one touchdown, one interception - but watching him play told a different story than that his numbers.

Lock doesn't seem to have a clue as to what he's doing in the pocket. He often holds on to the ball too long. Doing so resulted in some sacks taken in this contest, including in his own end zone that was ruled a safety. Lock threw off his back foot on several occasions; he fired too low on a third-and-11; and he had a second potential interception - a likely pick-six - dropped.

It wasn't all bad for Lock, as he made some quality throws, but it's evident from his low pocket awareness and poor mechanics that he has a long way to go.


Phillip Lindsay started for the Broncos, and he was able to pick up 10 yards on four carries. However, Royce Freeman had the longest run for the Broncos, gaining 50 yards on a third-and-1 run. Lindsay will get more work than Freeman this year, but Freeman will receive a healthy number of carries each week.


While Lock struggled, two Denver rookies impressed. Second-round guard Dalton Risner played well in this contest, sparking Freeman's 50-yard run, while third-round defensive tackle Dre'Mont Jones dominated once again. Jones put pressure on the quarterback and drew a holding penalty on one occasion.


Russell Wilson didn't play, so Geno Smith and Paxton Lynch each took a half for the Seahawks. Smith wasn't very good. He was just 3-of-9 for 58 yards, and he got away with potential back-to-back interceptions at the end of the opening quarter. He also overthrew a receiver on a deep shot down the sideline.

Lynch, conversely, performed well. Things didn't start too promising, as he threw a pass into the dirt, but he improved from that point forward, misfiring on just three other passes. Lynch was 11-of-15 for 109 yards and a touchdown, and he also rushed for 38 yards and another score. It was a nice revenge moment for Lynch, but looking at the big picture, if he continues to play this well in the preseason, he'll certainly win the No. 2 job behind Wilson, especially in the wake of Smith being banged up.


Second-round rookie receiver D.K. Metcalf saw four targets, but was only able to reel in one of them for eight yards. The catch was a short one, but it was made versus Chris Harris, so that's definitely noteworthy. Metcalf also had another reception, but it was negated by penalty.

I wouldn't say Metcalf had a poor showing, but fellow rookie Jazz Ferguson performed better. Ferguson made some great catches from Lynch, hauling in all four of his targets for 54 yards and a touchdown.


Chris Carson didn't play, allowing Rashaad Penny to start this game. Penny gained 15 rushing yards on six carries, and he also caught a 27-yard pass on third-and-11.


A pair of Seattle rookie defenders thrived in their debut. Second-round safety Marquise Blair and third-round linebacker Cody Barton both had excellent showings. Blair, a hard hitter, was flagged for a helmet-to-helmet hit, but that looked like a bogus penalty to me.


NFL Preseason Announcers: One of the Seahawks announcers called former Seattle edge rusher Cliff Avril a "Seahawks legend." Really? A legend? Avril played five seasons in Seattle and had double-digit sacks once. He was a very good player for the Seahawks, but a legend? Seriously?

Follow me @walterfootball for updates.




Titans 27, Eagles 10
Carson Wentz didn't play, while Marcus Mariota was on the field for just one drive, so the big news stemming from this game is the Nate Sudfeld injury. Sudfeld, taking Nick Foles' place as Wentz's backup, broke his wrist when he braced his fall near halftime. It's a shame for Sudfeld, who was having a nice performance; he was 10-of-18 for 177 yards and a touchdown.

The Eagles will need to find another backup quarterback to play behind Wentz because their current options performed horribly in this game. Noodle-armed Cody Kessler was 3-of-6 for 12 yards. As for fifth-round rookie Clayton Thorson, the Northwestern product was a monstrous disappointment.

Team sources viewed Thorson favorably prior to the 2018 season in which the Wildcat quarterback struggled because of the poor talent around him. I expected Thorson to perform well in this contest, but he was atrocious. His first pass was an underthrown ball to a player in the flat that should've been a routine third-and-1 conversion. Thorson's next drive ended quickly, as he air mailed a ball way over the head of a receiver, allowing a Tennessee defender to come away with an interception. Thorson was nearly picked again after that on another throw that floated over his receiver's head. Things didn't get better for Thorson after that. He threw off his back foot, causing his pass to sail out of bounds. His final attempt was another overthrow, this time on fourth down.

Words can't describe how abysmal Thorson was. He was 2-of-9 for just seven yards and an interception. As mentioned, he could've been picked twice. It's worth noting that Thorson had two passes that were dropped, but he did not look like he belongs in the NFL. Perhaps he'll play better next week, but the Eagles better bring in someone to replace Sudfeld.


Both Jordan Howard and Miles Sanders played. Each had three carries for eight and three yards, respectively. I can understand Howard's light workload - I'm even surprised he even suited up - but why didn't Sanders get more work? This was very confusing.


Dallas Goedert was unstoppable. The Eagles broadcasters even joked, "Sudfeld can throw the ball to Goedert on every play, and Tennessee's first-string defense won't be able to do anything to stop him." Goedert caught three passes for 50 yards. If he weren't blocked by Zach Ertz, he would be a top-five fantasy tight end this year.


I was interested in watching the Eagles' two young offensive tackles, first-rounder Andre Dillard and the ultra-athletic Jordan Mailata, who moved to right tackle. Dillard was terrific, while Mailata didn't do as well. Mailata had some nice plays to open up running lanes, but he was beaten for a sack and looked like he didn't really know what he was doing on some occasions. I wouldn't say Mailata played poorly, but it didn't look like he developed very much from his terrific debut in the preseason last year.


Another Eagles rookie, second-rounder J.J. Arcega-Whiteside, caught two passes for 23 yards. He nearly hauled in a one-handed catch on a deep shot from Sudfeld, but couldn't quite get to the ball.


As mentioned earlier, Mariota played on one drive. He constantly peppered Adam Humphries with targets, as you'll see below. He was unable to lead the Titans to any points, thanks to a failed fourth-down attempt.

Here were Mariota's targets:

Adam Humphries: 6
Darius Jennings: 1


Ryan Tannehill played most of the first half after Mariota exited. Tannehill was very accurate, going 12-of-16 for 130 yards and two touchdowns. His stats could've been much better, as two of his four incompletions were dropped, including a potential score by Taywan Taylor. Tannehill is probably the best backup in the NFL, which is something the Titans needed, given Mariota's awful durability.


With Tennessee's first three draft picks (Jeffery Simmons, A.J. Brown, Nate Davis) out of commission, the team's best rookie in this game was safety Amani Hooker, who performed well with the reserves.


NFL Preseason Announcers: As if Clayton Thorson's night couldn't get any worse, the Eagles' color analyst called him "Clayton Thornton."

Follow me @walterfootball for updates.




Dolphins 34, Falcons 27
No significant Falcon fantasy players participated in this game, so this write-up will focus mostly on the Dolphins, who were watching Ryan Fitzpatrick and Josh Rosen engage in a quarterback competition. Fitzpatrick started, but Rosen may get the nod for next week, based on what occurred in this contest.

Fitzpatrick played two drives, going 2-of-5 for 20 yards. He saw lots of pressure, but was able to do a good job of escaping the pocket. However, he made one ugly pass, throwing behind Kalen Ballage.

Here were Fitzpatrick's targets:

Kalen Ballage: 2
Mike Gesicki: 1
DeVante Parker: 2
Kenny Stills: 1


Rosen was far more impressive. One of his early throws was a completion on an improbable pass that was released as he was getting hit. Color analyst Jason Taylor said Rosen shouldn't have thrown it because he risked an interception, but it was still a pretty play, regardless. Rosen later nearly completed a great back-shoulder pass to Preston Williams, which would've been caught had cornerback Kendall Sheffield not interfered with Williams. Rosen later converted an amazing pass down the sideline to Williams, who made a one-handed catch for 36 yards. He finished his night by fitting in an impossible pass to Allen Hurns for 18 yards.

Rosen made some mistakes. He threw an interception because he stared down his receiver, and he also threw behind Mark Walton in the end zone on a pass that should've been a touchdown. However, Rosen was much better than Fitzpatrick, as he went 13-of-20 for 191 yards and the pick. There's no reason for the Dolphins to start Fitzpatrick, so they might as well give Rosen a chance before they decide to draft Tua Tagovailoa next April.


Preston Williams was the best player on the field for either Miami or Atlanta in the preseason opener. An undrafted rookie, Williams made some breath-taking catches. He secured a reception when a defender was draped all over him. He snared a one-handed grab for 36 yards. He also made a nice adjustment on a back-shoulder throw and then reeled in a great, leaping catch over cornerback Kendall Sheffield. Perhaps the most impressive play saw Williams make a terrific toe-tapping catch along the sideline, which was ruled a reception after replay review. Williams was amazing, tallying four catches for 97 yards. There's a legitimate chance that the 6-foot-5, 218-pound Williams eventually ends up as Miami's No. 1 receiver. He should start sooner rather than later, and he could be relevant in fantasy this year.


As for Miami's current No. 1 receiver, DeVante Parker caught one pass for 14 yards. He also drew an interference flag. I wouldn't read too much into this, but Parker didn't have the best body language in this game. It didn't really look like he wanted to be there, but take that with a grain of salt.


Kenyan Drake started this game and broke a 9-yard run on the first play. He then ran through a tackle to pick up a gain of four yards. Drake ultimately finished with 12 yards on four carries. Meanwhile, Ballage entered the contest on the second possession. Playing with the starters to begin his night, Ballage picked up 23 yards and a touchdown on six attempts. However, he was guilty of a miscommunication with Fitzpatrick.


First-round rookie defensive tackle Christian Wilkins caused some disruption in the trenches. Conversely, third-round guard Michael Deiter had immense struggles throughout the evening.


As for the Falcons, there's not much to discuss. Matt Schaub played half the game, and he then gave way to Matt Simms. Rookie running back Qadree Ollison had a quality run on a touchdown, using his blockers well. Ollison led the team with 41 rushing yards and a touchdown on eight carries.


While first-round guard Chris Lindstrom performed well again, fourth-round rookie cornerback Kendall Sheffield made some mistakes, as referenced earlier in this write-up.


NFL Preseason Announcers: The Dolphins broadcast was not off to a good start in the early going when this exchange happened:

Play-by-Play Guy: "Let's send it down to our sideline reporter!"

Sideline Reporter: "One-two-one-two-one-two-one-two, hee hee."

Play-by-Play Guy: "OK, let's go to the coin toss."

Meanwhile, I enjoyed this quote:

"Josh Rosen is going to play the entire third quarter." - color analyst Bob Griese, at the start of the fourth quarter.

There was also this graphic, displaying the keys to the game: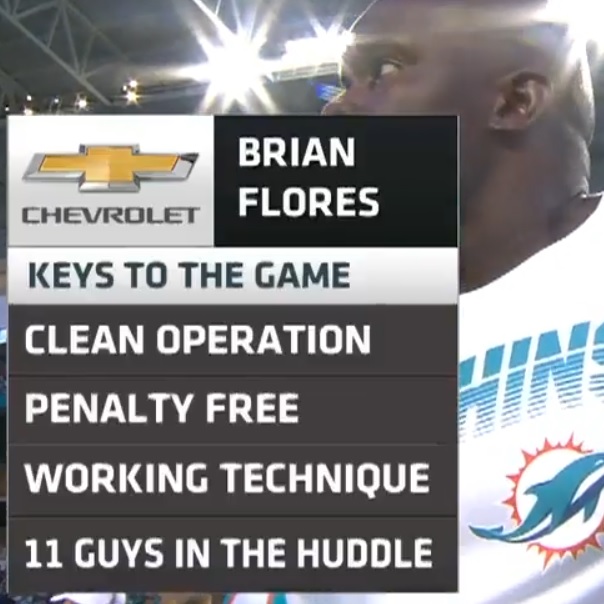 One key to the game is 11 men in the huddle? Isn't that, you know, basic stuff?

Follow me @walterfootball for updates.




Packers 28, Texans 26
The biggest news stemming from the Packers-Texans game was Keke Coutee's ankle injury. The second-year receiver went down in the first half. It was initially seen as a scary injury, but the news has since been encouraging. Hopefully, that continues to be the case, but if you're drafting this weekend, you might want to bump Coutee down a bit.


Outside of the Coutee news, there's nothing to say about this game from a fantasy perspective. Aaron Rodgers, Deshaun Watson and almost all of the other starters sat out. The Packers went with a trio of quarterbacks - DeShone Kizer, Tim Boyle, Manny Wilkins - while Joe Webb played the entire game for the Texans. Kizer was the best of the four signal-callers to play this game, as he went 8-of-13 for 102 yards and a touchdown. Webb posted the most yardage - 25-of-40, 286 yards and one touchdown - but he also tossed two interceptions.


Some of the young Packer receivers are worth discussing. Second-year J'Mon Moore, who has hands made of stone, dropped several passes, including one on fourth down and another in the end zone. He also ran a wrong route on one instance, drawing the ire of Kizer, who yelled at the young receiver. Moore later tried to redeem himself by catching a score, but the damage had already been done. The Packers simply cannot depend on him.

Elsewhere, Jake Kumerow caught two passes for 27 yards. If you don't recall, Kumerow was very impressive in the preseason last year, but missed most of the season with an injury. Kumerow is a good player who should make the roster, and it wouldn't be a surprise if he were to become fantasy-relevant with Rodgers throwing to him.


With Aaron Jones and Jamaal Williams sitting out, Dexter Williams handled most of the touches in the backfield. Dexter Williams had some nice runs, ultimately rushing for 62 yards on 14 carries. He also caught an 18-yard pass. He's someone to remember if Jones were to get injured.


Packer first-round rookies Rashan Gary and Darnell Savage both played, but neither did very much. Gary was on the field longer than Savage, but had an especially quiet night. He couldn't get to Webb. Conversely, second-round guard Elgton Jenkins performed well. He could push for a starting job.


As for the Texans, their rookie lineman played well, too. First-rounder Tytus Howard did a solid job protecting Webb in his preseason debut.


Undrafted rookie running back Karan Higdon led the Texans at the position in rushing with 37 yards on eight carries. He made a good play on special teams, so there's a chance he could make the 53-man roster.


NFL Preseason Announcers: The Green Bay color analyst said the Packers were playing the Titans in this game. Perhaps he was confusing the Houston Texans with the Houston Oilers, who moved to Tennessee and became the Titans. Or, maybe he's just clueless. I'm going with Option B.

Follow me @walterfootball for updates.




Cardinals 17, Chargers 13
All eyes were on Kyler Murray, who played just one drive in this game. I was critical of the Giants using Daniel Jones for just one possession, but Murray, unlike Jones, will be the Week 1 starter, so I think his usage was appropriate in the preseason opener.

The stat box may say that Murray was 6-of-7 for 44 yards, but he was really a perfect 7-of-7, as the sole incompletion occurred when rookie receiver KeeSean Johnson caught a pass after stepping out of bounds, resulting in a penalty. Murray never took a shot downfield, but he released the ball very quickly and accurately on each attempt. Murray looked very comfortable in the pocket and was in command of the offense. I wish we could have seen more of him, but I imagine we'll get that chance over the next couple of weeks.

Here were Murray's targets:

Damiere Byrd: 1
Larry Fitzgerald: 1
David Johnson: 1
KeeSean Johnson: 1
Trent Sherfield: 3


David Johnson was given three touches in this game. He didn't find much on the ground - two carries, four yards - but he was able to log a 14-yard reception. Johnson looked healthy, and Murray will make defenses more honest in defending Johnson.


The Cardinals have three rookie receivers: Andy Isabella, Hakeem Butler and KeeSean Johnson. Two played, with Isabella nursing an injury. Johnson led the way with two catches for 29 yards, and as mentioned, he should've had a third grab, but he stepped out of bounds. Considering that Johnson has been the most impressive of the three in training camp, it's not a surprise that he had better stats than his teammate. Hakeem Butler, meanwhile, made one catch for six yards. Butler was a favorite of many NFL Draft analysts, but he has struggled with drops in camp. Predictably, he dropped another ball in this contest.


There's not much to say about the Chargers, as Philip Rivers, Melvin Gordon and Keenan Allen all sat out (Gordon, of course, is holding out.) Tyrod Taylor started and was an impressive 6-of-6 for 72 yards on two drives. He's clearly one of the best backup quarterbacks in the NFL, but Rivers has never missed a game in his NFL career since taking over for Drew Brees.


The Chargers should've scored twice on those possessions, but Austin Ekeler fumbled shy of the goal line on the first series. It was a rare sour note for Ekeler, who gashed the Cardinals for 40 yards on five carries, while also catching three balls for 29 receiving yards. Justin Jackson later trampled over Arizona defenders into the end zone, which was part of his 5-22-1 stat line. It seems as though Ekeler and Jackson will have some sort of a 60-40 or 65-35 split in Ekeler's favor if Gordon's holdout continues, but that could very depending on the matchup.


A quick note on some of the Charger rookies: First-round defensive tackle Jerry Tillery sat out, but we were able to see third-round offensive tackle Trey Pipkins in action. I'm willing to bet Pipkins wishes he could have been sidelined as well because he was atrocious. Pipkins missed an assignment and got rookie quarterback Easton Stick to nearly throw an interception. He looked like he wasn't ready to play in the NFL whatsoever, which is not something you want to see from a third-round selection.


NFL Preseason Announcers: Cardinals color analyst Ron Wolfley was once again part of the broadcasting team, which made me happy. Wolfley is known for saying some strange things. He gave us these gems this week:

"He'd ride a goat through a stampede!"

"He's like a bowling ball with eyebrows!"

"That was a back-wax job! That hurts! Have you ever gotten a back-wax job!?"

Follow me @walterfootball for updates.




Browns 30, Redskins 10
Freddie Kitchens may not have any head-coaching experience, but I loved what he had planned for the preseason opener. He told Baker Mayfield and the rest of their offense to run a 2-minute drill on the first possession. Kitchens gave the starters two minutes and one timeout to score a touchdown, and this seemed to energize Mayfield and the other offensive players.

Mayfield had to begin near his own 10-yard line because of a penalty on the kickoff. Following an errant pass behind his receiver, Mayfield hit Jaelen Strong to move the chains. The Browns crossed midfield a few plays later, with Mayfield hitting Dontrelle Hilliard with some short passes. Mayfield then fired a touchdown to Rashard Higgins. An excited Mayfield ran toward Higgins and pretended to take pictures of him.

The Browns went 89 yards in 2:13. It wasn't quite two minutes, but to be fair, the clock didn't stop on one play in which a Cleveland player went out of bounds. The Browns also didn't use their timeout, so they easily could have gone 89 yards in two minutes.

Granted, the Redskins weren't quite prepared for this, but it was still very impressive, both in execution and preparation. I loved Kitchens' plan, and I hope to see other coaches incorporate this strategy.

Here were Mayfield's targets:

Nick Chubb: 1
Rashard Higgins: 1
Dontrelle Hilliard: 2
Jaelen Strong: 1
Derrick Willes: 1


Given that the Browns were in the 2-minute drill, Nick Chubb didn't get a chance to do much. He carried the ball just once, but made it count. He was able to burst for a gain of 12 yards, breaking a tackle in the process. Chubb also caught a 14-yard pass. He looked excellent, and he would be a sure-fire first-round pick if it wasn't for Kareem Hunt.


Rashard Higgins had a big game. Aside from catching Mayfield's sole touchdown, he made plays all evening. He caught five passes for 98 yards and the score. Most of this came with and against the backups, but Higgins made a strong case to be the third receiver on the roster.


A quick note on two of Cleveland's rookie defenders: Second-round cornerback Greedy Williams surrendered a touchdown to Case Keenum because he blew a coverage. He and fellow rookie safety Sheldrick Redwine had a miscommunication, allowing a Washington player to break loose downfield. Williams, however, made up for it later by intercepting Dwayne Haskins on an overthrow. Meanwhile, fifth-rounder Mack Wilson had a tremendous showing. He secured a pick-six when he dropped into coverage. He was flying all over the field otherwise. Wilson has been making great plays in training camp, so it's not a surprise that he was so dominant in his preseason debut.


Speaking of Dwayne Haskins, the first-round quarterback had a mixed performance. Haskins began on a high note, rolling out and completing a 27-yard pass to someone named Darvin Kidsy (he's real, I swear.) Following a throw toward the sideline that was a bit too high, Haskins made an accurate pass downfield to Kidsy for 32 yards, but Kidsy lost a fumble to end the drive.

Things got worse for Haskins after that. Haskins never saw linebacker Mack Wilson dropping into coverage, resulting in a pick-six. Haskins then appeared to lose a fumble on his next drop-back, but the officials ruled him down by contact. Haskins made a nice throw on an ensuing drive, putting the ball where only his wideout could grab it, but he then overthrew his receiver, resulting in a Greedy Williams interception. Haskins' final drive concluded when he didn't see a blitzing safety and took a sack as a result.

Haskins finished 8-of-14 for 117 yards and two interceptions. We saw some good things from him, but he demonstrated that he is very raw. He's not ready to start in the NFL, especially with Washington's offensive line being in shambles as a result of Trent Williams' absence. The Redskins had no answer for Myles Garrett when he was on the field, and I imagine they'll have immense trouble with most right defensive ends unless Williams decides to report to the team.


Case Keenum started this game and looked pedestrian. He was 4-of-9 for 60 yards and a touchdown, but struggled outside of his scoring throw, which was the result of the aforementioned miscommunication between Williams and Redwine. Keenum was dismal at times, with the announcers even saying, "Case Keenum throws to ... no one..." on one play. The Redskins won't score many points with Keenum at the helm.

Here were Keenum's targets:

Robert Davis: 2
Darvin Kidsy: 2
Byron Marshall: 1
Samaje Perine: 2
Brian Quick: 1
Trey Quinn: 1
Jeremy Sprinkle: 1


Neither Derrius Guice nor Adrian Peterson played, so the Redskins had to start Samaje Perine, who rushed for 13 yards on six carries.


I was looking forward to seeing Redskins third-round rookie receiver Terry McLaurin, but he played just one snap. No reason was given for this.


NFL Preseason Announcers: These guys frustrated the hell out of me. They never called anyone by name, so I had to look at the depth charts to see who was doing what. Would it kill them to call someone by name!? Also, the play-by-play guy said something like, "Dwayne Haskins still in the game" after three pass attempts from Haskins. I yelled back, "What do you mean still in the game!? He just entered the game!"

Follow me @walterfootball for updates.




Giants 31, Jets 22
I was both impressed and disappointed regarding Daniel Jones' preseason debut. My disappointment stems from the Giants' decision to use him on just one drive in this game. I don't understand why they didn't play him more than that. Of course, after what we witnessed on sole possession, I wanted to see more.

Jones was a perfect 5-of-5. His first pass wasn't anything special, as it was a 2-yard toss to Cody Latimer. Jones was able to hit Golden Tate with a 10-yard slant right after that, and then he followed that up with a nice 31-yard completion to Cody Latimer. Jones then found Bennie Fowler along the sideline for a gain of eight. He saved his best throw for last, fitting a surgical pass to Fowler into the end zone. The ball was perfectly placed to Fowler, who was well covered. It was an amazing throw.

Jones was stellar, throwing for 67 yards and a touchdown on his five attempts. Again, I wanted to see more. The Giants should have let Jones play a few more drives. The only reason I can think of that they would limit Jones is that they didn't want him to upstage Eli Manning too much. The Giants, for some reason, are overly devoted to the decrepit Manning and will likely make him the starter for the opener when it clearly should be Jones.


Speaking of Manning, he played one drive as well. He completed one 3-yard pass.

Here were Manning's targets:

Scott Simonson: 1


Saquon Barkley sat out, so Wayne Gallman started in the backfield and produced 13 yards on five carries. As for the receivers, Golden Tate suited up, but was on the field for two drives before a thunderstorm delay that lasted an hour. Tate snatched his sole target for 11 yards.


The Giants have two other first-round rookies who made their debuts in this game. Dexter Lawrence drew double teams when he was in the game, while DeAndre Baker was whistled for pass interference on one play.


As for the Jets, Sam Darnold played just one drive in the preseason opener. His first throw was a sketchy one, as he had a potential interception dropped by Jabrill Peppers. That, however, was Darnold's only mistake of the evening, as he was able to rebound by leading his team on a 75-yard touchdown drive. Darnold's very next throw was an impressive one, as he stepped up in the pocket to avoid pressure and found Chris Herndon for a long gain. Herndon ran 32 yards, thanks in part to a blown coverage by Julian Love. Darnold finished 4-of-5 for 68 yards and a touchdown. Save for the mistake on his first throw, Darnold looked excellent. I expect his progression to be one of the reasons why the Jets will make a big leap in 2019.

Here were Darnold's targets:

Jamison Crowder: 2 (1 end zone)
Quincy Enunwa: 1
Chris Herndon: 1
Ty Montgomery: 1


Jamison Crowder caught both of his targets for 31 yards and a touchdown. Darnold showed a nice rapport with Crowder. I'd like Crowder in PPR leagues if he weren't so injury-prone.


Le'Veon Bell did not play in this game. Ty Montgomery started and picked up seven yards on two carries. He also caught a 5-yard pass. He played ahead of Elijah McGuire, so it seems as though Montgomery will need to be added during the season if Bell were to get hurt.


Tight end Chris Herndon caught a 32-yard pass in this game. Herndon would be a major sleeper of mine if he weren't suspended for four games. He's another player worth looking into on the waiver wire.


Third-overall pick Quinnen Williams made his debut, but didn't do much. He played just a handful of plays and recorded only one tackle.


NFL Preseason Announcers: "All of the geniuses are going to need erasers!" This was something the color analyst was shouting during the first half. I have no idea what he was referring to, but he sounded like quite the loon.

Follow me @walterfootball for updates.




Bills 24, Colts 16
The Bills were hoping to see some progression from Josh Allen's passing ability in this game. It wasn't a completely positive output, as Allen had a mixed performance in his 2019 preseason debut.

Allen went 6-of-11 for 66 yards to go along with one scramble for eight yards. One of his incompletions was an overthrow toward Zay Jones. He then fired a low pass toward Jones. Conversely, Allen appeared to hit Jones for a touchdown, but the receiver dropped the ball. Jones was hit on the throat on the play and then taken to the locker room after spending five minutes in the medical tent. Jones was evaluated for a concussion, but he was cleared.

Here were Allen's targets:

Cole Beasley: 2
John Brown: 2
Frank Gore: 1
Zay Jones: 5
Andre Roberts: 1
Tommy Sweeney: 1


Devin Singletary saw his first-ever NFL carry on the second drive of the game in the preseason opener. It went for no gain, but Singletary was able to impress on a drive to start the second quarter. It was the Devin Singletary show, as the Bills made a great effort to get the ball to their rookie runner on almost every play. Singletary rushed for 27 yards on nine carries, but the biggest takeaway was that he was used extensively in the passing game. Singletary caught three passes, including one leaping grab on a high throw. Singletary made a 10-yard reception to bring his team into the red zone, but was then removed from the game. Singletary is the top player in my Fantasy Football Sleepers page.


Another rookie, Tyree Jackson, played quarterback for the Bills at the end of the game. Jackson posted an ugly stat line, finishing 2-of-10 for 45 yards. His two completions were a pair of laser throws toward the sideline. He also should've had a 38-yard completion to Robert Foster, but the play was overturned by replay review. That said, Jackson made some poor throws as well, including what should've been a routine short toss to rookie David Sills. The pass inexplicably fluttered behind Sills.


The best Buffalo rookie was Ed Oliver, who nearly sacked Jacoby Brissett on the opening drive. Oliver was being double teamed at times and even pushed back stellar guard Quenton Nelson. Oliver looks like he's going to be a potential Pro Bowler in his first year, but it's obviously a small sample size.


Moving on to the Colts, it was a dismal showing for them because Andrew Luck didn't play. Jacoby Brissett started, but didn't see much action. Third-string quarterback Phillip Walker was awful. He does not look like he belongs in the NFL. The best signal-caller on the field for Indianapolis was Chad Kelly, who went 13-of-19 for 121 yards and a rushing touchdown (53 rushing yards). Kelly should definitely be in front of Walker at this point, and he would make for a great backup if Indianapolis were to trade Brissett.


Marlon Mack also sat out this game. Nyheim Hines started in the backfield, but couldn't find any sort of running room. He was limited to just one yard on six carries.


Devin Funchess played on the opening drive with Brissett. He caught two passes for 21 yards, including a 17-yard reception on a crossing route. The other primary Indianapolis receivers sat out.


NFL Preseason Announcers: The Bills announcers kept referring to passing yards as "air yards." That was mildly annoying, but that was nothing compared to the noises that were heard when the sideline reporter interviewed Josh Allen. I don't know how to describe it, but there was a noise that sounded like someone was trudging through a swamp while Allen was talking. I don't understand what that was all about.

Follow me @walterfootball for updates.




Broncos 14, Falcons 10
No veterans of consequence played in this game, as Matt Ryan, Julio Jones, Devonta Freeman, Joe Flacco, Emmanuel Sanders and Phillip Lindsay watched the backups from the sideline. With that in mind, all eyes were on second-round rookie quarterback Drew Lock, who would be seeing his first action in the pros, albeit in a preseason affair.

To illustrate how Lock performed, I must refer to the well-publicized kidney stone. News broke that Broncos head coach Vic Fangio was passing a kidney stone, yet opted to coach this game anyway. I believe the media got it wrong. I don't think Fangio had the kidney stone. Based on how Lock played, he was certainly the person passing the kidney stone throughout this affair.

Lock was an abomination, but don't take my word for it. Fangio said of Lock, "I was hoping for more" and "he wasn't good enough, except for his scramble."

Fangio wasn't kidding. Lock was 7-of-11, but for only 34 yards. He began by sailing a pass over Noah Fant's head. He then was nearly intercepted on a pass behind his receiver. Lock followed that up with an overthrow toward his wide-open running back down the sideline for what should've been a touchdown. He had a near-pick later that was dropped. All of Lock's completions were of the short variety.

Lock showed absolutely zero pocket awareness, which is something he demonstrated at Missouri. He looked he had zero clue as to what was going on. He took a sack because he held on to the ball too long. He displayed poor footwork when pressured. He was guilty of a delay-of-game penalty. Lock was completely overwhelmed on every snap, and he was outplayed by his counterpart, Kurt Benkert, who was an undrafted free agent a year ago. Even worse, Lock was the worst quarterback in Denver uniform tonight, as Kevin Hogan and Brett Rypien both outplayed him.


First-round rookie tight end Noah Fant didn't do much in the Hall of Fame Game. He saw three targets, but caught just one for seven yards. He dropped a pass and ran a poor route. Fant is a raw rookie and may not contribute much this year.


It wasn't all bleak for the Denver rookies, as defensive tackle Dre'Mont Jones had a dominant evening. He created some major disruption in the interior, both as a run stuffer and a pass rusher. Granted, this was against practice-squad scrubs, but Jones has great talent and should be able to start at some point in his rookie campaign. Jones should have been a first-round pick, but fell to the third frame for some reason.


As for the Falcons, they may have to shop for another quarterback. Matt Schaub is an abomination and does not belong in the NFL anymore. Second-year Kurt Benkert was the most impressive quarterback in this game - 19-of-34, 185 yards, one touchdown - but he injured his toe on a non-contact play. If Benkert is sidelined for a while, Atlanta will have the worst reserve quarterbacking situation in the NFL. They won't win a single game if Matt Ryan goes down, so another signal-caller will need to be signed if Benkert can't be used in relief.


The Falcons have some young running backs on their roster who are battling for roster seeding behind Freeman. Fifth-round rookie Qadree Ollison looked slow and sluggish, mustering just two yards on six carries. Brian Hill, a fifth-rounder from 2017, was much better. He gained 57 yards on 11 carries, and he also caught a receiving touchdown.


Atlanta has a pair of rookie offensive linemen. Kaleb McGary couldn't play because of a heart condition, but guard Chris Lindstrom was excellent in this contest. Barring an unexpected setback, he will be a starting guard in the season opener.

Follow me @walterfootball for updates.


2019 Preseason Notes: Week 1 | Week 2 | Week 3 | Week 4
2019 Fantasy Football Stock Pages: Preseason Stock Week 1 | Preseason Stock Week 2 | Preseason Stock Week 3 | Training Camp Stock







More 2019 Fantasy Football Articles:
Fantasy Football Rankings

2019 Fantasy Football Rankings:
2019 Fantasy Football Rankings: Quarterbacks - 8/26 (Walt)
Chet Gresham's Fantasy Football Quarterback Rankings - 8/12 (Chet)
2019 Fantasy Football Rankings: Running Backs - 9/4 (Walt)
Chet Gresham's Fantasy Football Running Back Rankings - 8/12 (Chet)
2019 Fantasy Football Rankings: Wide Receivers - 9/3 (Walt)
Chet Gresham's Fantasy Football Wide Receiver Rankings - 8/12 (Chet)
2019 Fantasy Football Rankings: Tight Ends - 8/29 (Walt)
Chet Gresham's Fantasy Football Tight End Rankings - 8/12 (Chet)
2019 Fantasy Football Rankings: Kickers - 5/11 (Walt)
2019 Fantasy Football Rankings: Defenses - 5/11 (Walt)
Fantasy Football Rookie Rankings: Dynasty - 8/27 (Walt)



2019 Fantasy Football Mock Drafts:
2019 Fantasy Football Mock Draft - 8/29 (Walt)
2019 Fantasy Football Real Draft - 8/28 (Walt)
2019 Fantasy Football PPR Mock Draft - 8/22 (Walt)
2019 Fantasy Football Mock Draft - 8/15 (Walt)
2019 Fantasy Football PPR Mock Draft - 8/8 (Walt)
2019 Fantasy Football Mock Draft - 8/1 (Walt)
Fantasy Football Experts Draft - 6/23 (Walt)
2019 Fantasy Football Dynasty Rookie Mock Draft - 5/23 (Walt)



2019 Fantasy Football Cheat Sheets:
2019 Fantasy Football Cheat Sheet: Top 250 - 9/4 (Walt)
2019 Fantasy Football Cheat Sheet: Top 250 PPR - 9/4 (Walt)
2019 Fantasy Football Cheat Sheet: Top 250 Half-PPR - 9/4 (Walt)
2019 Fantasy Football Cheat Sheet: Top 250 2-QB - 9/4 (Walt)
2019 Fantasy Football Cheat Sheet: Top 250 Touchdown League - 9/4 (Walt)
2019 Fantasy Football Cheat Sheet: Custom - 9/4 (Walt)
2019 Fantasy Football: Dynasty Rankings - 9/4 (Walt)
2019 Fantasy Football Spreadsheets - 9/4 (Walt)

2019 Fantasy Football Articles:
2019 Fantasy Football Stock Report: OTAs, Training Camp - 9/4 (Walt)
2019 Fantasy Football Sleepers - 9/1 (Walt)
2019 NFL Preseason Game Recaps - 8/30 (Walt)
2019 Fantasy Football Stock Report: Preseason Games - 8/30 (Walt)
2019 Fantasy Football Busts - 8/27 (Walt)
2019 Fantasy Football: Wide Receiver Values - 8/20 (Chet)
2019 Fantasy Football: Running Back Values - 8/13 (Chet)
2019 Fantasy Football: Quarterback Values - 8/8 (Chet)
2019 Fantasy Football Round-by-Round Strategy Guide - 8/7 (Walt)






2021 NFL Mock Draft - March 2


2022 NFL Mock Draft - Feb. 24


NFL Power Rankings - Feb. 11


NFL Picks - Feb. 8


Fantasy Football Rankings - Jan. 11