**** NOTES FOR EVERY GAME WILL BE UP AS SOON AS I WATCH THEM **** Follow me
@walterfootball
for updates.
2019 Preseason Notes:
Week 1
|
Week 2
|
Week 3
|
Week 4
2019 Fantasy Football Stock Pages:
Preseason Stock Week 1
|
Preseason Stock Week 2
|
Preseason Stock Week 3
|
Training Camp Stock


49ers 24, Broncos 15
Joe Flacco played in front of Denver fans for the first time in his Broncos tenure in this game, and he did not disappoint. Flacco's stat line doesn't stand out - 7-of-11, 59 yards - but his deep connection on a deep bomb to Emmanuel Sanders was negated by a Garett Bolles hold. Flacco was accurate throughout the opening quarter, so most will say that things look promising for him at the moment. However, I'm pessimistic because of Flacco's poor durability, but this was a nice home debut for Flacco.

Here were Flacco's targets:

DaeSean Hamilton: 2 (1 end zone)
Noah Fant: 3
Royce Freeman: 1
Phillip Lindsay: 1
Emmanuel Sanders: 3
Courtland Sutton: 2


Emmanuel Sanders played for the first time since his devastating injury from late last year. He looked perfectly healthy, as Joe Flacco went to Sanders immediately. Sanders then made a defender miss on an end-around, rushing for 19 yards on the play. Sanders' final highlight was securing a deep reception from Flacco, but the play was nullified by a penalty. I'm worried about Sanders staying healthy, given the quick turn-around from his injury, but he looked like his former self in this contest.


Phillip Lindsay rushed for 14 yards on five carries. This was a neutral performance for him, but I have to wonder what head coach Vic Fangio was thinking by using Lindsay well into the second quarter. Denver's offense won't be nearly as potent without Lindsay, so I don't understand why Fangio would risk an injury to his talented running back in a meaningless game.


Rookie tight end Noah Fant played with the starters, catching two of his three targets for seven yards. Unfortunately for Fant, he limped off the field with a foot injury. The severity of this malady is unclear at the moment.


Drew Lock took the field after a few drives from Flacco. He performed much better last week than he did in the Hall of Fame Game, so I was eager to see if he could continue to improve. That did not happen, as we saw him regress before leaving the game with a hand injury.

Lock bobbled the first snap from under center, which was not a good look, considering that he always operated out of the shotgun in his goofy college offense. Lock made a nice, early throw in between two defenders to DaeSean Hamilton, but things got worse from that point. He heaved some inaccurate passes and then was nearly picked because he threw off his back foot. Luckily for Lock, the defender dropped the ball. Lock's good fortune ran out, however, as he landed on his throwing hand and had to be taken out of the game for the rest of the night.

Lock finished 7-of-12, but for only 40 yards. Again, he should have been intercepted. Lock regressed from the performance in Seattle, and it's clear that he has a long way to go before he becomes a viable starting quarterback in the NFL.


Moving on to the 49ers, Jimmy Garappolo had a rough night at Denver. Garoppolo was picked off on his second pass by cornerback Isaac Yiadom. Garoppolo was under heavy pressure from Bradley Chubb and irresponsibly just heaved up a ball for grabs. Things continued to trend poorly for Garoppolo, as two of his passes were batted on his first couple of drives. He then had a pick-six that was dropped, as Garoppolo was once again rattled by pressure.

Garoppolo finished 1-of-6 for zero yards and the interception. His sole completion was a dump-off to Matt Breida. If this were just an isolated situation, I wouldn't be too concerned, but reports have indicated that Garoppolo has struggled with interceptions in practice. Garoppolo is not being drafted highly, so we can't call him a potential fantasy draft bust, but it's going to be difficult to justify using anything more than a very late-round pick on him.

Here were Garoppolo's targets:

Matt Breida: 1
Marquise Goodwin: 2
Jordan Matthews: 1
Dante Pettis: 1
Kaden Smith: 1


While Garoppolo struggled, Tevin Coleman had some bright moments. His first run was a gain of 12 yards. Coleman ended up gaining 21 yards on just three attempts. The 49ers block well, so I like Coleman's outlook this year.


San Francisco rookie receivers Deebo Samuel and Jalen Hurd thrived last week, but neither had much of a chance to do anything in this contest, thanks to poor quarterback play. Neither caught a pass, though Samuel had an opportunity to showcase his blazing speed on a 45-yard rush in which he clocked in at 21 mph.


NFL Preseason Announcers: One thing that bothers me more than anything when it comes to football broadcasting is when announcers don't say which receivers/tight ends are being targeted. The ESPN play-by-play guy was guilty of this on numerous occasions in this game. In fact, he barely called anyone by name. He also didn't acknowledge Noah Fant's injury until someone else mentioned it. Booger McFarland, meanwhile, called Jalen Hurd a "Do-it-all guy for Denver."

None of this was a surprise, as ESPN has struggled to find broadcasting talent recently. Their inability to upgrade last year's abysmal announcing team is proof of that.

Follow me @walterfootball for updates.









Vikings 25, Seahawks 19
Unlike the other Sunday affair, both starting quarterbacks played in their second preseason game. Kirk Cousins took the field first and was able to produce three points on two drives. Cousins misfired on just two occasions, but one of the incompletions derailed the opening possession. Cousins sailed a pass over his running back's head, negating what should have been a substantial gain. There was a botched snap on the next play. On the following drive, a clipping penalty ruined a red-zone trip.

Cousins finished 6-of-8 for 68 yards. He had a mostly positive night, but the one poor throw ruined what could have been a great performance.

Here were Cousins' targets:

Stefon Diggs: 1
Alexander Mattison: 1
Kyle Rudolph: 1
Irv Smith Jr.: 1
Adam Thielen: 4


Adam Thielen was fantastic in the second preseason game. He hauled in an over-the-shoulder bomb for 34 yards, beating cornerback Shaq Griffin. He followed that up by drawing a deep pass interference penalty. Thielen ended up with three receptions for 45 yards on just two drives. Thielen has been going later than he should in the fantasy mock drafts I've done this summer, so I imagine I'll end up with him on many of my teams.


Dalvin Cook sat out, so rookie running back Alexander Mattison drew the start. It was a rough night for Mattison until he was able to burst for 22 yards against the second-string defense. Mattison showed good vision on the play, so this result wasn't a complete lost cause. However, he was stuffed on a third-and-1 and then appeared to lose a fumble on the play. However, Minnesota maintained possession because Mattison's forward progress was stopped. Mattison finished with 41 yards on 10 carries.

It's puzzling as to why the Vikings spent a third-round pick on Mattison when they already had Mike Boone on their roster. Boone was impressive once again, rushing for 66 yards on 15 carries.

li> Speaking of wasted resources, I wonder why the Vikings gave Kyle Rudolph a big contract, given Irv Smith Jr.'s performance in this contest. Smith was dynamic, catching all five of his targets for 28 yards and a touchdown. One of the analysts pointed out that Smith was running receiver routes which is very impressive. It's a shame that Smith has to lose targets to Rudolph; otherwise, he would be a viable fantasy player this year.


The Vikings have a pair of rookies on their offensive line, Garrett Bradbury and Dru Samia. Bradbury was responsible for a botched snap in the opening half, which was part of his inconsistent evening. Bradbury looked good at times, but was also pushed around, particularly by defensive tackle Poona Ford. Dru Samia, playing with the second team, was also inconsistent.


As with Cousins, Russell Wilson was on the field for two drives. Wilson looked as great as always, going 6-of-9 for 82 yards. He also scrambled twice for nine rushing yards. He's one of the better values in fantasy drafts.

Here were Wilson's targets:

Jaron Brown: 3
Chris Carson: 2
Tyler Lockett: 4


Tyler Lockett caught three passes for 27 yards in just two drives during the second preseason game. Lockett used to just be a deep threat, but he has emerged as a well-rounded receiver. Lockett projects as a quality WR2 in all fantasy formats.


Jaron Brown was second on the Seahawks in targets from Wilson with three. However, it's unclear if that will translate into the regular season, given that D.K. Metcalf didn't play in this game.


Chris Carson handled almost all of the first-team work. He rushed for 25 yards on just five carries. Rashaad Penny had a touch or two sprinkled in with the first team against the Vikings, but he mostly played with the backups. Penny struggled to find running room all evening, finishing with minus-2 yards on six carries. He's clearly behind Chris Carson, and it doesn't seem as though he's going to pass the veteran anytime soon.


The Seahawks have some young defensive players I wanted to check out, but L.J. Collier and Marquise Blair were both injured. Third-round linebacker Cody Barton had a great outing, however.


Former first-round quarterback Paxton Lynch performed very well last week, but could he do it again? No. Not even close. Lynch was horrible in this game. He spent the entire evening heaving inaccurate passes, and he would've thrown an interception if the defender didn't drop the ball. Lynch went 6-of-15 for 67 yards, and his miserable night concluded with a concussion, as he took a devastating helmet-to-helmet hit.


NFL Preseason Announcers: This was a FOX broadcast, so there weren't going to be mistakes, especially with Charles Davis in the booth. What I want to touch on is a commercial FOX constantly played where some guy sang, "We ready ... we ready ... weee ready, for y'all." Could someone tell this bozo that it's "We are ready?" You need a verb in your sentence, bro.

Follow me @walterfootball for updates.




Saints 19, Chargers 17
What a great matchup. Drew Brees versus Philip Rivers. Does it get much better than that? Wow. Oh, wait, this is the preseason, and neither quarterback played, rendering this yet another worthless exhibition contest. Why do we have four of these again?

Teddy Bridgewater started for the Saints and wasn't very good. He failed to complete half of his passes, going 5-of-12 for 40 yards and an interception. The pick wasn't his fault because the ball bounced off his running back's hands and into the arms of a Charger defender. However, Bridgewater was fortunate to get away with a horrible throw that should've gone the other way. He made the foolish mistake of trying to heave a pass as he was being tackled. Luckily for Bridgewater, the defender dropped the pass. A bit later, Bridgewater fired a pass behind Alvin Kamara.

Bridgewater looked great in the 2019 preseason opener, but regressed in this contest against a defense missing Derwin James. Bridgewater had the luxury of playing with Kamara and most of the Saints' offensive stars, so there's no excuse for him to perform poorly.


Bridgewater was also charged with a fumble, but that wasn't his fault, as second-round rookie center Erik McCoy snapped the ball before Bridgewater was ready. McCoy may have screwed up on that play, but he thrived otherwise.


While Bridgewater struggled, Taysom Hill put together a stellar performance. He had some nice runs - he scrambled four times for 55 rushing yards - but I wanted to see if he improved at all as a passer. Hill ended up passing with flying colors.

Hill didn't begin too well, as he released a low throw, but he turned things around by finding a receiver open in the end zone for a touchdown. He continued to improve from there. On one play, Hill avoided a pass rusher and connected with another teammate in the end zone for a second score. His best throw was a great touch pass that he skied over a defender and into the arms of his receiver, all while under pressure.

Hill finished 11-of-15 for 136 yards and two touchdowns. He was excellent, and I'm beginning to think that he might just have what it takes to succeed Brees when the future Hall of Famer retires - whenever that may be.


I don't understand why Sean Payton had Kamara on the field, but he fed Kamara four carries, which the dynamic back turned into 15 yards. I wrote this last week, but it seems foolish to risk Kamara's health for a completely irrelevant game.


Before moving on to the Chargers, here are some quick notes on Saints rookies: Fourth-round safety Chauncey Gardner-Johnson whiffed on a tackle on special teams, allowing the Chargers to score on a punt return. Wide receiver Lil'Jordan Humphrey hauled in an 18-yard pass from Hill. That's all he did, but he has looked good through two preseason games.


Tyrod Taylor started for the Chargers, then was replaced by Cardale Jones and Easton Stick. Of the three, Stick was the worst quarterback. Stick struggled after thriving last week. He held on to the ball too long in the pocket on numerous occasions, resulting in some violent hits and errant passes. Most of his completions were short tosses, though there was one exception. Stick hurled a pass over a cornerback's head, which went right into the arms of his receiver near the sideline for 31 yards. Unfortunately for Stick, he was effectively pick-sixed - the touchdown was nullified because of penalties - because of an apparent miscommunication with his receiver. Stick finished just 5-of-13 for 62 yards and the interception.


With Melvin Gordon holding out, Austin Ekeler and Justin Jackson split touches with the starters. However, Jackson remained in the game with the backups as well, which could be a sign that Ekeler will be the primary back if Gordon doesn't return to the team. Ekeler rushed for nine yards on three carries, while also catching a 6-yard pass. Jackson, meanwhile, gained 33 yards on eight attempts, but was stuffed on a fourth-and-1 try.


Chargers first-round defensive tackle Jerry Tillery looked great in this game. He blew by an overwhelmed guard very easily to collect a sack. Conversely, third-round tackle Trey Pipkins struggled. He had one nice play in which he opened up a running lane for a 16-yard rush, but he struggled in pass protection. Opposing defensive ends pushed him around way too easily.


NFL Preseason Announcers: This was a CBS broadcast featuring Dan Fouts and Ian Eagle, so there weren't going to be too many mistakes. Fouts, however, forgot the rules of intentional grounding on two separate occasions, which was frustrating. Eagle, meanwhile, had a very funny quip when a particular Charger made a reception: "Catch by Sean Culkin - home alone!"

Follow me @walterfootball for updates.









Texans 30, Lions 23
Deshaun Watson was the sole starting quarterback to play in this game, so let's discuss him first. Watson was on the field for only one drive, but he made it count. He was accurate, hitting 5-of-7 passes for 60 yards and a touchdown. His only misfires were into the end zone amid tight coverage. The Texans announcers said that Watson was in "mid-season form." I'm not a fan of that cliche, but their sentiment was correct.

Here were Watson's targets:

DeAndre Carter: 2
Darren Fells: 1
DeAndre Hopkins: 3 (2 end zone)
Vyncint Smith: 1 (1 end zone)


DeAndre Hopkins caught two of his three targets for 17 yards and a touchdown. It can be argued that he should be the first wide receiver chosen in fantasy drafts, but I have concerns about Watson staying healthy behind his horrible offensive line.


Neither Lamar Miller nor Duke Johnson were on the field, so we can't evaluate Houston's running game. All I know is that it's going to be ugly if both get hurt because Karan Higdon saw action with the first team and didn't fare very well, mustering only 13 yards on seven carries.


It was another rough night for first-round tackle Tytus Howard against the Lions. The new left tackle surrendered a sack and then went into the locker room with some sort of undisclosed injury. I can't believe that the Texans have mismanaged their offensive line this poorly. I'll be surprised if Deshaun Watson doesn't miss games in 2019. It could be argued that the Texans have the worst blocking in the NFL, which is saying something because there are some very poor offensive lines around the league.


There isn't much to say about the Lions from a fantasy perspective, as Josh Johnson and David Fales quarterbacked them the entire game. Fales actually had a quality performance for once, but I wouldn't read much into it.


While Matthew Stafford sat out, Kerryon Johnson at least lined up in the backfield. Johnson didn't do much, however, handling only three carries, which he turned into 16 yards. Johnson looked great and should be a solid fantasy RB2 this year.


Rookie tight end T.J. Hockenson had some bright moments. Hockenson caught a 22-yard pass and made a nice block to open up a running lane for Johnson. Hockenson was flagged for an illegal crack-back block, but the call was bogus because Hockenson didn't even touch the defender.


Fellow Lions rookie Jahlani Tavai also had a strong performance. The linebacker did a good job in run support, shedding blockers effectively.


NFL Preseason Announcers: I know I make fun of preseason announcers frequently, but it's well deserved. Many of them are horrible. However, I'd like to point out great broadcasting when I see it, and this was an example of that. The Texans' telecast did a great job. The announcers were entertaining and provided great insight. I was a fan of how they showcased particular players, namely offensive linemen, at times. For a sequence, they zoned in on how Tytus Howard performed on every single snap, which was very helpful for evaluation.

Follow me @walterfootball for updates.




Cowboys 14, Rams 10
This game was played in Hawaii, so many Rams didn't show up. Quite literally, they remained home - in Los Angeles. Nearly every starter didn't make the trip to Hawaii, as Sean McVay smartly realized that there would be a danger of jet lag and injury.

Jason Garrett, conversely, was not clever enough to realize this. He had Dak Prescott play one drive. Prescott looked great, as he completed all five of his passes for 64 yards, but he was going against a complete second-string defense. Nevertheless, Prescott's 31-yard bomb to Michael Gallup was a thing of beauty. I'm not sure if he could have done this against a team that actually had some starters, but it was promising nonetheless.

Here were Prescott's targets:

Tavon Austin: 1
Randall Cobb: 1
Michael Gallup: 1
Tony Pollard: 2
Jason Witten: 1


Ezekiel Elliott is still holding out, but it's doubtful he would have seen the field anyway. Tony Pollard started in Hawaii and was very impressive. Pollard picked up 42 yards on five carries, scoring a touchdown in the process. The score was special, as Pollard trampled over a defender and ran like a freight train into the end zone. He was going against backups, but Pollard has looked good otherwise. He's worth a late-round flier just in case Elliott misses time in the regular season.


Because Dallas' starters played one drive against a second-string defense, it's difficult to evaluate everyone else. Gallup, as mentioned, hauled in a 31-yard bomb. Randall Cobb reeled in his only target, a reception of seven yards. Jason Witten, meanwhile, also was 1-of-1 for targets with a 10-yard catch.


The Rams' offensive players were also absent, but watching them wasn't a lost cause because we got to see plenty of third-round rookie running back Darrell Henderson. The quick back didn't do much on the ground - six carries, 16 yards - but he was very impressive as a receiver. He caught all six of his targets for 38 receiving yards. One of his catches was an impressive reception on a wheel route. Henderson is going to be a nice receiving option for Jared Goff this year, and he's well worth his ADP because of Todd Gurley's high injury risk and reduced workload.


As for the Rams' defensive players, two rookies stood out. Second-round safety Taylor Rapp made some great plays. He tackled soundly and took great angles to put himself in position to make a stop. Fourth-round nose tackle Greg Gaines stuffed the run well, recording a tackle for a loss.


NFL Preseason Announcers: The broadcast was mostly fine, save for one puzzling quote from the play-by-play guy at the beginning of the game: "The Cowboys are wearing their home whites even though the Rams are the home team!" Why was this even an issue? The Rams, as the home team, wore their home jersey, which is blue. The Cowboys, as a result, wore white, which is what they don at home unless it's Thanksgiving. I don't know why this was even worth addressing, but maybe I'm just making a mountain out of a mole hill.

Follow me @walterfootball for updates.









Steelers 17, Chiefs 7
Patrick Mahomes was brilliant on the opening drive last week despite scaring the fans on a slide near the goal line. Mahomes wasn't as daring in this contest, but he wasn't unstoppable either.

Believe it or not, Mahomes failed to complete half of his passes, going 2-of-5 for only 11 yards. The accuracy just wasn't there, as he overshot Tyreek Hill along the sideline. Still, this was a small sample size, and I doubt Mahomes was overly prepared for this meaningless contest.

Here were Mahomes' targets:

Travis Kelce: 1
Tyreek Hill: 3
Damien Williams: 1


Damien Williams barely played, giving Carlos Hyde a chance to take snaps with the first team. Hyde looked good with a nice run on a cut-back for seven yards, but then fumbled on his next attempt. Hyde is worth a late-round dart throw because Williams is unproven, but I'd prefer Darwin Thompson.

Speaking of the rookie, Darwin Thompson entered the second preseason in the middle of the second quarter. He immediately looked great, breaking a run to the outside to pick up a gain of 14 yards. He then broke out of a Bud Dupree tackle to pick up two yards when he easily could have gone down for a substantial loss. Thompson then followed that up with a nice cut to bounce outside for an 11-yard burst. Thompson finished with 30 yards on four carries. He appears to be the best running back on Kansas City's roster, and he'll remain one of the top players on my 2019 Fantasy Football Sleepers list.


Rookie receiver Mecole Hardman looked good last week, and he followed that up with a performance in which he impressively caught a 17-yard touchdown on a pass thrown behind him. He didn't do anything else, but the score was a great play on his part.


Second-round safety Juan Thornhill continued to impress. He performed well in his debut last week, and he was even better in this contest. He was great in coverage and tackled well. He should be a Week 1 starter.


Moving on to the Steelers, they used most of their starters. This did not include Ben Roethlisberger, however. Mason Rudolph started, and he was able to play along with JuJu Smith-Schuster and James Conner.

Rudolph, however, wasn't all that great. He threw a pass over Smith-Schuster's head and then took a sack because he held on to the ball too long. He did, however, make a great throw to James Washington through a tight window in between multiple defenders. Rudolph was 10-of-15, but for only 77 yards.


Smith-Schuster saw three targets, but couldn't reel in any of them, as Rudolph couldn't connect with him. Conner, meanwhile, muscled his way for 28 yards on six carries. He was expected to play one drive, but Mike Tomlin kept him on the field longer than that.


Some consider Donte Moncrief to be Pittsburgh's No. 2 receiver, and while that may be the case right now, it won't last very long. Moncrief is not very good. He caught one pass for a single yard in this game, but committed a fumble as soon as he touched the ball. Conversely, James Washington was brilliant against the Chiefs. Washington caught a tough pass in between multiple defenders, then hauled in an awesome, leaping sideline grab. He followed that up with a 40-yard reception on a bomb from Joshau Dobbs. Washington led the team in receiving with four receptions for 78 yards. Washington is my favorite sleeper receiver. If the Steelers are aware of how talented he is, he'll receive more snaps than Moncrief.


Another young receiver, Dionte Johnson, made some nice plays in the second half. He secured a diving catch in the end zone for a touchdown, and he nearly had a second score, but the play was wiped out by a shaky offensive pass interference call. Johnson logged three receptions for 46 yards and a touchdown. If the Steelers suffer some injuries at receiver this season, I'll be looking to make a waiver claim for him.


Rookie running back Benny Snell was better by default this week. He gained 16 yards on seven carries. On a third-and-1, he appeared stuffed, but he spun out of a tackle to move the chains.


Talented rookie linebacker Devin Bush did not play in this game. Bush is expected to be a first-round success, unlike Bud Dupree and Artie Burns thus far. However, there's some hope for Dupree and Burns, as they both had terrific performances versus Kansas City. If that can continue into the regular season, the Steelers will have one of the best defenses in the NFL.


NFL Preseason Announcers: I had the misfortune of hearing both broadcasts in this game, as they inexplicably switched at halftime. The Steeler announcers had trouble pronouncing names, calling Mecole Hardman "Michael Hardman" or "Michael Heartman." The Chief broadcasters, conversely, refused to mention any Steeler player by name. Seriously, even if there was a big play, the announcer would say, "Steelers with a big catch," or "Steelers make a big gain." It was the most frustrating thing in the world because I had to constantly look at the depth chart to see which Pittsburgh player was doing what.

Follow me @walterfootball for updates.









Patriots 22, Titans 17
Tom Brady sat out, so let's focus on the Titans to begin this recap. Tennessee's plan was for Marcus Mariota to play two drives, but head coach Mike Vrabel was so displeased with what he saw that he forced the starters to play an extra possession.

I can't exactly blame Vrabel. The first drive was ruined with a sack, as new guard Rodger Saffold was plowed over by a defender, who brought down Mariota. The second possession featured a failed third-down conversion in short yardage. It seemed like the Titans could have gone for a fourth-and-1 in New England territory, but Vrabel put the punting unit on the field because he didn't think his starters deserved a fourth-down opportunity.

Vrabel's decision paid off. The Titans were far more effective on the next drive, as Mariota was able to lead his team down the field and into the end zone, thanks to a deep pass interference penalty.

Mariota finished 6-of-9 for 63 yards and a touchdown. He didn't run at all per the box score, which was smart on his part, as there's no reason to risk his body in meaningless action. That said, Mariota shouldn't have dived into the end zone on a two-point conversion - a play in which he easily could've suffered an injury.

Here were Mariota's targets:

A.J. Brown: 1
Corey Davis: 3
Darius Jennings: 1
Dion Lewis: 1
Jeremy McNichols: 2
Delanie Walker: 2 (1 end zone)


It was nice to see Delanie Walker on the field for the first time since his injury. Walker caught a pass while falling to the ground against the Patriots, indicating that he's fully healthy. Walker later reeled in a touchdown. He finished with two receptions for 26 yards and a score in about a quarter of action.


Corey Davis had a rocky start to this game, dropping a perfect pass that Mariota had to fit into a tight space. Davis, however, made up for that by making a diving catch over the middle of the field for 20 yards. That was his only reception of the night.


Rookie receiver A.J. Brown saw action for the first time in his professional career. His big play was when he drew a deep pass interference flag on a throw from Mariota. Brown, however, didn't do anything else.


Derrick Henry didn't play, so Dion Lewis saw most of the first-team snaps. He began his night with a 9-yard burst that featured a spin and a broken tackle. Lewis was later stuffed on a third-and-1 try, but he made up for it by securing a one-handed catch on a throw behind him. Lewis finished with 16 yards on four carries to go along with a 9-yard reception.


Moving on to the Patriots, most of their key players sat out. Brian Hoyer played for a quarter-and-a-half and then was removed in favor of Jarrett Stidham. The rookie was terrific in the preseason opener, but wasn't as sharp in this contest. He should have thrown a pick-six in the red zone when he telegraphed his throw. Titans rookie safety Amani Hooker made a nice break on the ball, but couldn't secure the pick. Stidham, however, rebounded from that poor decision. He made some nice throws in the second half, including a terrific back-shoulder touchdown in the fourth quarter. Stidham finished 14-of-19 for 193 yards and a touchdown.


Rookie running back Damien Harris started this game and was stuffed on an early third-and-1. He later broke free for a 20-yard gain and nearly scored a touchdown, but was tackled inches shy of the goal line. Harris looked good overall, gaining 80 yards on 14 carries. He also caught four passes for 23 receiving yards. Harris can be drafted late because of Sony Michel's questionable knee.


Fifth-round defensive lineman Byron Cowart has stood out in his first two preseason games. He played well last week and began this game by trampling talented guard Rodger Saffold to sack Mariota. Meanwhile, third-round edge rusher Chase Winovich performed well, too. Winovich applied tons of pressure in this game and also made some impressive tackles in space.


NFL Preseason Announcers: This was an NFL Network crew, yet the play-by-play guy still made a mistake. He called Damien Harris "Dion Lewis," which wouldn't be an egregious error if, you know, they weren't on opposite teams. Then again, I goofed myself when I confused Tyreek Hill and Kareem Hunt, so I can be just as dumb as these guys.

Follow me @walterfootball for updates.




Browns 21, Colts 18
New Browns head coach Freddie Kitchens showed a creative approach to last week's preseason game, putting Baker Mayfield and the rest of the starters in a 2-minute drill to begin the game. I was excited to see what Kitchens had in store for us this week, but I was disappointed. Mayfield and the other starters all sat out. We already knew that Andrew Luck wouldn't play, so this contest was effectively meaningless as far as fantasy is concerned.

Kareem Hunt was the one player of note who took the field for Cleveland. I assume Hunt wouldn't have played if he didn't have to serve his suspension. Hunt was given three carries, which he turned into six yards. He had one tough run in which he ran through a tackle. The Colts fans booed Hunt when he handled his first touch.


Garrett Gilbert quarterbacked the Browns for the entire opening half. He was surprisingly sharp, going 13-of-19 for 151 yards and two touchdowns. Gilbert should be able to make the roster as the third quarterback - if Cleveland decides to keep three players at the position - and eventually become a solid No. 2 in the NFL.


Rashard Higgins continued to make the case that he should be Cleveland's third receiver. Higgins caught all four of his targets for 34 yards. He's been much more dependable than the inconsistent - and currently injured - Antonio Callaway.


Second-round cornerback Greedy Williams missed a tackle in the backfield on one play, allowing the Colts to pick up a substantial gain. He didn't really stand out otherwise, which I guess is not a bad thing.


As for the Colts, many of their starters were on the field, but they were joined by Jacoby Brissett. The backup performed as well as you'd expect in the preseason. He misfired on just two passes, going 8-of-10 for 100 yards and a touchdown. He looked good, navigating the pocket well and throwing precise passes. He also converted a fourth down on a drive that concluded with a touchdown. Brissett did a great job of avoiding a pass rusher to find his target to move the chains.


Eric Ebron led the Colts starters in receiving, as he made two grabs for 28 yards and a touchdown. His first catch was a diving reception to convert a fourth down, and he followed that up with a nice snag in the end zone. Many expect Ebron to take a step backward this year, but he's still expected to be one of the top fantasy tight ends in the NFL as long as Luck is healthy.


Wide receiver Deon Cain missed last season with an injury. He was a sixth-round pick in the 2018 NFL Draft, and he outplayed his status in the second preseason game. Cain was excellent, using his speed to catch seven passes for 80 yards. He made a great reception in traffic and made a man miss to pick up a gain of 38. He later secured a terrific sideline catch, getting both of his feet down before falling out of play. Cain has talent, and there's an opportunity to move up the depth chart. He's a fine late-round flier, as his upside is tremendous if he can play with Andrew Luck during real action.


The Colts have a high number of rookie defenders who saw action in this game. Second-round cornerback Rock Ya-Sin was whistled for an interference penalty because he didn't turn his head around. Second-round edge rusher Ben Banogu had an inconsistent performance, as it didn't seem as though he wasn't using his pass-rushing moves enough. Third-round linebacker Bobby Okereke played on third downs, but wasn't overly impressive. Fifth-round cornerback Marvell Tell played very well. He was flagged for pass interference, but the call was bogus. He was beaten once in coverage, but thrived otherwise.


NFL Preseason Announcers: The Colts play-by-play guy screwed up a fact when he said, "Jacoby Brissett made one start with New England." He was off by one, as Brissett made two starts with the Patriots.

This wasn't the biggest blunder in the world, and quite frankly, it paled in comparison to the color analyst, who was ridiculous. He was the biggest homer of all time, constantly saying "we" and "our" in regard to the Colts. For example, he shouted the following in the first quarter:

"WE STRUGGLED IN ZONE LAST WEEK. WE PLAYED GREAT IN MAN. WE HAVE TO TIGHTEN OUR ZONES!"

Even more egregious, an official threw a flag that nullified a big gain by the Browns. The color analyst shouted in response to the penalty, "GOOD!"

The color analyst later took umbrage with the officials: "I'm telling you, that penalty flag is a 12th man for the Browns tonight!"

Follow me @walterfootball for updates.




Buccaneers 16, Dolphins 14
Josh Rosen has been practicing better of late, so the Dolphins rewarded him with a start over Ryan Fitzpatrick in this game. Rosen did not live up to what he did in practice, however, as he had a sub par performance, at best.

Rosen's best attribute is his accuracy, but that was not apparent in this contest. He missed Isaiah Ford for a touchdown on fourth down and then later threw behind Mike Gesicki. He was later nearly intercepted by cornerback Jamel Dean. Also, Rosen took plenty of sacks. Some weren't his fault, but he held on to the ball too long on some occasions.

Rosen finished 10-of-18 for 102 yards. One incompletion was dropped. The good news for Rosen is that Ryan Fitzpatrick was even worse; he went 3-of-9 for only 20 yards, and he had the same pass-protection issues that Rosen endured.

Here were Rosen's targets:

Brice Butler: 1
Mike Gesicki: 3
Isaiah Ford: 3 (1 end zone)
Durham Smythe: 1
Kenny Stills: 3
Mark Walton: 1
Preston Williams: 6


Undrafted rookie receiver Preston Williams flashed last week. He had a mixed performance this time. He dropped an early pass and was the target of a Rosen throw that should have been intercepted. Conversely, he nearly came down with an acrobatic catch. He hauled in the ball on a tip, but the play was incomplete because Williams' toe was out of bounds after the ball tipped up in the air the first time. Williams ended up catching just one of his six targets for seven yards.


The Dolphins started Mark Walton as their running back against Tampa. This is significant in that they opted to rest Kalen Ballage, indicating that they deem him too important to play in a meaningless game. With Kenyan Drake hurt, Miami doesn't have anything beyond Ballage at the position.


First-round defensive tackle Christian Wilkins had a decent performance. He showed some tremendous strength in the interior of the defensive line, handling the run well. He also hit the quarterback and logged a sack otherwise, though the sack was misleading because Blaine Gabbert effectively walked into Wilkins.


Moving on to the Buccaneers, Jameis Winston played one drive in this game, so we don't have much of a sample size to determine if he's improved under Bruce Arians. However, the one possession wasn't very promising. Winston sailed his first pass over Mike Evans' head and saw heavy pressure otherwise. Winston was 2-of-5 for 24 yards. One of his incompletions was dropped.

Here were Winston's targets:

Cameron Brate: 2
Mike Evans: 1
O.J. Howard: 2


Peyton Barber started this game, but didn't see much work, picking up five yards on two carries. Ronald Jones also saw run with the first team, as he gained seven yards on his two attempts. One of his runs was a tough one that picked up a first down. Given the minimal workload, we didn't learn much about either back in this game.


We don't know if the Buccaneers will utilize a shared workload between two running backs, but we know that their two tight ends will see lots of action. Both O.J. Howard and Cameron Brate were on the field during Winston's drive. Brate hauled in both of his targets for 16 yards, while Howard (1 catch, 16 yards) was responsible for a drop.

Speaking of Buccaneer tight ends, second-year Tanner Hudson had a terrific game. He caught six passes for 93 yards and a touchdown, including a clutch reception to put Tampa in position to hit a game-winning field goal. If Brate's contract weren't so ridiculous, I'd say that Hudson's emergence would give Tampa the luxury of trading Brate.


The Buccaneers have some young defensive players worth discussing. As mentioned earlier, rookie cornerback Jamel Dean dropped an interception. It was a gift, and the drop prompted Buccaneers color analyst Ronde Barber to groan, "Oh, Jamel..." However, Dean played well otherwise and even came up with an interception late in the game when Miami was in the red zone. Meanwhile, 2018 fourth-rounder Jordan Whitehead had a great game. Playing safety, Whitehead flashed out of nowhere on one play to tackle a running back for a loss when it looked like a touchdown could be scored.

As for Devin White, he didn't have as strong of a performance this week than he did in the prior contest, but I wouldn't read too much into that.


NFL Preseason Announcers: The audio and the video were not synced together at one point in this game. For example, at the end of the first quarter, the video showed Blaine Gabbert throwing the pass incomplete on third down. Thirty seconds later, the announcer shouted, "Third down, wide open, but can't hold it!" This eventually fixed itself, but it was incredibly annoying and confusing.

Follow me @walterfootball for updates.




Giants 32, Bears 13
Daniel Jones was on the field for just one drive last week, so I wanted to see more of him in this game. Jones played all but one drive in the opening half versus Chicago, so we were able to get a more extended look of him.

Jones, once again, was terrific. His first pass was an accurate ball to Bennie Fowler for 17 yards. That was a nice throw, and yet it paled in comparison to his next toss, which was a deadly accurate ball to Cody Latimer for a gain of 40 yards. Jones' final pass was a touchdown that featured incredible ball placement. Like last week, he fired a score to a spot in which only his teammate could get his hands on it.

Jones was extremely impressive, save for one aspect. That would be ball security. Jones fumbled twice in this game. He fumbled the snap the first time, then lost the ball later when he was strip-sacked as a result of a breakdown of the right side of his offensive line. Other than that, Jones was great. He finished 11-of-14 for 161 yards and a touchdown, and one of his three incompletions was dropped.


Jones would have made a greater case for him to start the season opener if Eli Manning hadn't performed well. Manning completed all four of his passes for 42 yards and a touchdown on his sole drive. This may have been the worst possible thing to happen to the Giants, as Jones looks like an upgrade over Manning this year.

Here were Manning's targets:

Rhett Ellison: 1
Bennie Fowler: 1
Cody Latimer: 2
Golden Tate: 2


The Giants sat most of their top play-makers, including Saquon Barkley, Sterling Shepard and Evan Engram. Golden Tate played, probably because he'll be suspended the first four games of the season. Tate caught a 5-yard pass and drew a penalty on his other target.


As for New York's other two first-round picks, Dexter Lawrence played in this game, while DeAndre Baker sat out with an injury. Lawrence had an inconsistent night. He was invisible on some drives, and then he would turn things on and begin throwing around opposing offensive linemen.


The Bears, meanwhile, sat all of their starters. They didn't even use their rookie running back, David Montgomery, which is good news for the third-round pick's fantasy outlook.

With Mitchell Trubisky out, Chase Daniel and Tyler Bray each played a half. Daniel was his mediocre self, going 12-of-18 for 103 yards. Bray, meanwhile, spent most of the night taking helpless shots downfield. His accuracy was abysmal, as he finished 6-of-13 for 53 yards.


The Bears have a couple of young receivers in Riley Ridley and Javon Wims. Ridley made some nice catches, hauling in three balls for 19 yards. However, Wims, the lesser known of the two, was better. Wims logged five receptions for 64 yards. His best play, a 29-yarder, featured a nice double move. Both players should be able to make the 53-man roster.


NFL Preseason Announcers: I get the sense that some members of the Giants broadcast were drunk this evening. The color analyst saw a score of "24-0" from the Bills-Panthers game and read it as "24-6." And if that wasn't bad enough, the person in charge of the graphics managed to type this up: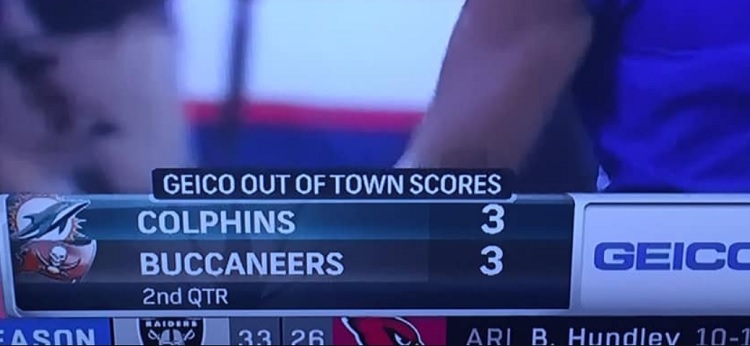 Follow me @walterfootball for updates.




Bills 27, Panthers 14
Cam Newton and most of Carolina's starting offense sat out, so let's begin with the Bills. Josh Allen played a couple of drives against the Panthers and looked tremendous. He had a nice touch pass to tight end Tommy Sweeney for 22 yards in the early going, then made an accurate throw to Sweeney down the same to move inside the 5-yard line. Allen was far more accurate than he was last year, going 9-of-12 for 102 yards. He scrambled just once, but Allen is undoubtedly saving that for real action.

Here were Allen's targets:

Cole Beasley: 5
LeSean McCoy: 3
Devin Singletary: 1
Tommy Sweeney: 2


Allen showed a great rapport with new receiver Cole Beasley. He peppered Beasley with plenty of targets on a couple of drive, throwing the ball to the former Cowboy a whopping five times. Beasley proved to be reliable as always, hauling in all five targets. Beasley may not be a major fantasy factor this season, but he'll be very important for Allen in real life.


LeSean McCoy started this game. He handled four carries, which he turned into six yards and a touchdown. Don't pay attention to the YPC, as McCoy had a couple of short-yardage attempts that skewed that figure. Nevertheless, Devin Singletary is the Buffalo back we should pay attention to. Singletary spelled McCoy and was brilliant as a receiver. He caught three passes for 25 yards, including an impressive, over-the-shoulder grab. I love Singletary this season - he's atop my Fantasy Football Sleepers - and I expect him to see the majority of the touches once McCoy is dealt.


Some good news and bad news regarding the Buffalo rookies not named Singletary. The good news is that Ed Oliver was dominant once again. There was one play in which he was double teamed, and yet he was still able to bat down a pass. Oliver overwhelmed Carolina's offensive line in this game. I still can't believe he fell past No. 4 overall in the 2019 NFL Draft. The bad news is that Cody Ford struggled. The lineman was stationed at right tackle in this contest, and he did not perform well. Ford needs to slide inside to have more success in the NFL.


As mentioned earlier, Newton sat. Kyle Allen started and did not fare well, going 4-of-11 for 32 yards. However, Allen was far better than Will Grier. The West Virginia product had an abysmal showing. The stat line may not show it - 10-of-19, 75 yards - but Grier was atrocious. Most of his completions were short tosses, and that's the good news. Grier telegraphed a pick-six on a play in which he didn't see the defender. He was nearly picked on the next drive. He then sailed a pass over his receiver's head on three consecutive attempts. And if that wasn't bad enough, yet another potential interception was dropped, as Grier telegraphed where he was going to throw. Grier does not look like he belongs in the NFL.


As for a Carolina rookie who has some hope of succeeding in the NFL, tackle Greg Little had some ups and many more downs in this contest. Little did some good things, but was whistled for a hold and a chop block. He played well into the third quarter, so it doesn't seem as though Ron Rivera was satisfied with what he saw from the Ole Miss product.


The Panthers have been looking for a viable backup for McCaffrey, and they may have found their man. Fifth-round rookie Jordan Scarlett ran very well in this game. He had some tough runs and was able to avoid some tacklers. Scarlett finished with 35 yards on eight carries. He also caught a 14-yard pass. It's worth noting that Scarlett would have been chosen earlier in the 2019 NFL Draft if he didn't have off-the-field concerns. I wouldn't select Scarlett in a normal fantasy draft, but I'll be quick to put in a waiver request for him if McCaffrey ends up getting hurt.


Like most people, I'm high on Panthers receiver Curtis Samuel, but the young wideout didn't have a chance to do anything in this game because of the woeful quarterbacking. Samuel was able to secure just one of his three targets for 13 yards. He almost reeled in a back-shoulder throw, but Allen couldn't put the ball where it needed to go.


NFL Preseason Announcers: The play-by-play guy had this to say at the top of the broadcast: "The Panthers, and their Buffalo brothers to the north, have been grinding on each other."

That's, umm, well, not that there's anything wrong with that.

Follow me @walterfootball for updates.




Jets 22, Falcons 10
I have a 100/1 wager on Sam Darnold to win MVP this year, and I was encouraged by his performance against the Falcons. Darnold made some terrific throws in this contest, prompting one of the Atlanta broadcasters to comment, "The ball placement by Darnold is making it impossible for the Falcons to make a play." Darnold's best attempt was a perfect back-shoulder throw to Robby Anderson. Darnold went 5-of-7 for 46 yards in a quarter of action despite not having Le'Veon Bell at his disposal. Darnold seems primed for a big season.

Here were Darnold's targets:

Robby Anderson: 3
Quincy Enunwa: 4 (1 end zone)


Robby Anderson caught all three of his targets for 32 yards against the Falcons. With Sam Darnold looking like he has made a huge leap, Anderson seems set to have a huge season.


With no Bell on the field, Ty Montgomery started. He rewarded the Jets with a touchdown, gaining 36 yards on seven carries in the process. Montgomery looked good, and he'll be worth adding in the event of a Bell injury.


Jets third-round rookie tackle Chuma Edoga started because of an injury to Brandon Shell. He didn't fare very well, surrendering a sack to Vic Beasley.


Quinnen Williams, chosen third overall in the 2019 NFL Draft, didn't do much last week, but his play made a big jump in this contest. Williams absolutely dominated the Falcons' offensive line. Atlanta had no answer for him or the Jets' other defensive linemen. Matt Ryan was constantly swarmed, taking a hit almost every single time he released the ball. Ryan was sacked four times in less than a half of action, thanks to Williams. If this is a sign of things to come, the Jets could have the best defensive line in the NFL, as teams will have immense problems blocking both Quinnen and Leonard Williams.

Speaking of Ryan, he had a rough night. For some reason, head coach Dan Quinn had Ryan play way more than Darnold. Ryan took punishing hit after punishing hit, and I eventually feared for his safety. I thought he was going to get hurt, so it was irresponsible for Quinn to keep him on the field for so long. Ryan's offensive line couldn't protect him whatsoever. Ryan was playing behind his starting front, yet, as mentioned, he was sacked four times and got pressured on almost every drop-back. And if that wasn't bad enough, Ryan endured several drops, including two in the end zone by Brian Hill and Justin Hardy.

Ryan went 10-of-14 for 118 yards in slightly less than a half of action. The stats might not be great, but Ryan had no help. Julio Jones didn't play either, so that certainly must be factored in. However, Atlanta's offensive line looked like a disaster, so the blocking must improve if the Falcons are to return to the playoffs this year.

Here were Ryan's targets:

Christian Blake: 1
Russell Gage: 2
Devin Gray: 1
Justin Hardy: 1 (1 end zone)
Brian Hill: 1 (1 end zone)
Austin Hooper: 3
Calvin Ridley: 2
Mohamed Sanu: 1
Ito Smith: 3


As mentioned, Julio Jones didn't play. Calvin Ridley caught two passes for 28 yards, while Austin Hooper reeled in three receptions for 20 yards. I like both players this year, and I'm frequently mock drafting Hooper as my TE1 in the 12th round.


Devonta Freeman made his return from injury in this game. Freeman started, but handled one carry for two yards. Freeman looks like he's in great shape, so he could be poised for a big season.


Speaking of Atlanta running backs, Qadree Ollison made his case to move up the depth chart in this contest. He rushed for 44 yards on nine carries. Brian Hill (4-12) dropped a touchdown, as discussed earlier.


The Falcons suffered some injuries in this game. Safety Damontae Kazee injured his chest in the early going. Cornerback Kendall Sheffield and wide receiver Russell Gage also had to leave the game.


NFL Preseason Announcers: The Falcons' play-by-play guy opened the broadcast by shouting this atop his lungs: "THE FALCON FANS ARE FIRED UP, WAITING FOR THEIR TEAM TO SOAR!!!"

How "fired up" were the Falcon fans? Just look at the stands behind the play-by-play guy:





Wow, I bet they can't wait for their team to soar!



Follow me @walterfootball for updates.




Bengals 23, Redskins 13
This game featured two early-round quarterbacks, so I was looking forward to watching it. It turned out to be a mess, however, as it ravaged by penalties and four missed kicks. There were 12 penalties in the first 10 minutes of the game, including three by Bengals tight end C.J. Uzomah. The Redskins, meanwhile, were guilty of multiple personal fouls, and at one point, it seemed as though Josh Norman would get kicked off the field for making contact with an official.


All eyes were on Dwayne Haskins, as I was eager to see if he could improve upon his poor debut. Haskins threw a bit too high on an early downfield shot against Cincinnati, but then managed to hit Robert Davis with a perfect 55-yard bomb despite being pressured. It was a beautiful throw. Unfortunately for Haskins, he had trouble maintaining drives after that. It didn't help that a pass of his was dropped and that the officials flagged rookie Kelvin Harmon with one of the worst offensive pass interferences you'll ever see, but Haskins' accuracy diminished overall. He was also guilty of a lost fumble on a strip-sack. Haskins ended up completing just half of his passes, going 7-of-14 for 114 yards, one touchdown and a lost fumble.


We've seen nothing to prove that Haskins deserves the starting job over Case Keenum. The veteran wasn't very good either, however, as his completion percentage was even worse. Keenum was 3-of-7 for 52 yards. However, he wasn't as bad as those stats indicate because a pass of his was dropped, while a touchdown pass to someone named Steve Sims was wiped out by offensive pass interference. Conversely, Keenum could have been intercepted on a deflection, but the potential pick was dropped as well.

Here were Keenum's targets:

Vernon Davis: 2
Josh Doctson: 1
Brian Quick: 2
Steven Sims: 2
Jeremy Sprinkle: 1


Derrius Guice is injured, so Adrian Peterson started Washington's second preseason game. Peterson looked great, gaining 31 yards on four carries. He looked like a spry 25-year-old, which is something Redskins sideline reporter and former Washingtonr running back Clinton Portis agreed with. "Adrian Peterson is probably in better shape than everyone else on the field," Portis said. I'm not high on Washington this year because of its offensive line, but Peterson is going too late in drafts and can be obtained for value.


I touched on this earlier, but Redskins rookie receiver Kelvin Harmon was flagged for the worst offensive pass interference call I've ever seen. Harmon reached back for an underthrown pass, yet was flagged. The Redskins' color analyst assumed the penalty was on the defender, but when the official announced offensive interference, the color analyst shrieked, "What!?" Jay Gruden then challenged the call, yet it stood for some unknown reason. This is something you'll have to see for yourselves. If the replay system can't overturn something like this, there's no point in having replay review.


A note on a couple of other Washington rookies: First-rounder Montez Sweat didn't do much in this game. He started, but wasn't a factor. Meanwhile, receiver Terry McLaurin didn't play. This is frustrating, but I suppose it's a good sign that the Redskins don't want to use him in the preseason.


As for the Bengals, if you look at the box score, you may see that Andy Dalton threw a pick-six. This wasn't completely his fault, as a pass of his was deflected at the line of scrimmage. Monte Nicholson caught the ricochet and ran 96 yards the other way. This was Dalton's only red-zone appearance, as he couldn't move the chains on his other drive because of a barrage of penalties. Dalton finished 5-of-9 for only 36 yards and the interception.

Here were Dalton's targets:

Giovani Bernard: 1
Tyler Boyd: 1
Tyler Eifert: 1 (1 end zone)
Josh Malone: 2
Auden Tate: 1
C.J. Uzomah: 1
Trayveon Williams: 2


Joe Mixon also had an underwhelming stat line, with his sole carry going for three yards. However, Mixon should've posted better stats, as a 15-yard run of his was negated by a hold.


Rookie tight end Drew Sample had a nice game, catching two passes for 15 yards and a touchdown, which was a short toss from his backup quarterback. He displayed some nice hands and could be fantasy relevant when Tyler Eifert suffers an injury. Conversely, fellow rookie Germaine Pratt, a third-round linebacker, displayed poor hands when he dropped a potential interception.


Ryan Finley moved ahead of Jeff Driskel behind Andy Dalton, and deservedly so. Finley rewarded the coaching staff with a strong performance. He completed most of his passes, going 20-of-25 for 150 yards and two touchdowns. Finley didn't take many shots downfield, but he was very accurate. He did a good job of stepping up in the pocket and delivering precise throws. It looked like he just had a great feel for the game, and he was guilty of only a couple of bad passes. I wrote this prior to the 2019 NFL Draft, but I see Finley as a less-mobile Alex Smith. Finley even threw way short of the first-down marker on third down in this game, much like Smith used to do all the time. I could see Finley being a great backup in the NFL for a long time, and I don't think it's crazy to predict that he'll be a starter at some point.


NFL Preseason Announcers: The Redskins receiving corps is so bad that the pre-game show displayed highlights of the Washington wideouts drawing pass interference. That's just sad. Meanwhile, the color analyst called Vernon Davis "Vernon Jordan."

Follow me @walterfootball for updates.




Raiders 33, Cardinals 26
Kyler Murray effectively completed every pass in his debut last week, so I was excited to see how he would fare with more snaps. Unfortunately, Murray regressed and had some fundamental issues that he'll need to overcome prior to the season opener.

Murray was responsible for a pair of false starts. There was an issue with his clapping motion, which begs the question, why doesn't he just yell, "Hike!?" This could end up being a problem if Murray doesn't adjust.

As for Murray's passing, that was an issue in this game as well. Murray failed to complete half of his attempts against the Raiders, going 3-of-8 for only 12 yards. He began by throwing behind Larry Fitzgerald, though he was chased by Clelin Ferrell at the time. He overshot Christian Kirk. He then sailed a pass over Fitzgerald's head and followed that up by doing the same to Kirk once again. Murray finally made a nice connection on a back-shoulder throw to KeeSean Johnson, but Johnson was flagged for offensive pass interference. Murray finished his night by taking a safety on a blitz from Lamarcus Joyner. Murray didn't see him.

Murray was far worse in this game than he was in his debut. It didn't look like he was prepared for the blitz. Head coach Kliff Kingsbury needs to fix this aspect of his offense, and he needs to make the appropriate adjustment to Murray's clapping motion; or discard it all together.

Here were Murray's targets:

Larry Fitzgerald: 2
David Johnson: 1
KeeSean Johnson: 2
Christian Kirk: 3


David Johnson started, but didn't have much running room. He was limited to six yards on four carries. His best play was a tremendous blitz pick-up.


KeeSean Johnson has been the best of Arizona's three rookie receivers. He caught the most passes of the group, snatching three balls for 23 yards, though he was flagged for the aforementioned pass interference. Andy Isabella converted just one of his four targets, but he made it count, securing a 59-yard touchdown in the second half despite a defender being draped all over him. Hakeem Butler was once again a non-factor. Butler was a favorite of Twitter draft analysts, but there's a reason why he plummeted in the 2019 NFL Draft.


Moving on to the Raiders, Derek Carr didn't play nearly as much as Murray. Carr threw just two passes, but completed both of them. One was a perfect fade down the sideline to Tyrell Williams for 27 yards.

Here were Carr's targets:

Ryan Grant: 1
Tyrell Williams: 1


Josh Jacobs was given four carries in this game. He looked great, picking up 21 yards. He had a tough, 6-yard run on his first play, then made a nice cut to pick up eight yards.


As for the two other Raider rookies, safety Johnathan Abram had an impressive run stop at the line of scrimmage, tackling David Johnson for no gain. Clelin Ferrell, meanwhile, was much better this week in terms of pressuring the quarterback, but he was flagged for illegal hands twice.


Both of Oakland's rookie receivers played well. Hunter Renfrow secured both of his targets for 26 yards. Keelan Doss did most of his damage later on, though he managed to haul in all five of his targets for 38 yards. I'd guess Doss will make the 53-man roster as of right now.


Raiders backup quarterback Mike Glennon played so well that he was trending on Twitter for a while. He didn't begin well, missing a wide-open player in the end zone, but he followed that up with a perfect 53-yard touchdown bomb, then made a terrific fade pass to a tight end in the end zone. Glennon went 11-of-14 for 175 yards and two touchdowns. Meanwhile, Nathan Peterman also played well, completing all eight of his passes for 41 yards. Jon Gruden used Peterman in the read-option frequently in the second half.


NFL Preseason Announcers: This was an ESPN broadcast, which was naturally very lackluster. Booger McFarland said the following of Murray: "You have to put this little man in space." Little man in space sounds like a cartoon I used to watch when I was a kid, so thanks for the memories, Booger.

Follow me @walterfootball for updates.




Ravens 26, Packers 13
Aaron Rodgers missed this game due to "back tightness," meaning we'll concentrate on the Ravens, who played Lamar Jackson. The second-year quarterback dazzled with a great running play in this game, but his passing was once again lackluster.

Jackson had a target open to start the game, but decided to throw the ball to a covered player down the sideline instead. The pass fell incomplete as a result. Jackson then nearly threw an interception, but the Green Bay defender dropped the pass. This wasn't all on Jackson because Miles Boykin didn't come back to the ball, but it still wasn't a good throw. Jackson followed that up by firing behind Hayden Hurst.

Jackson finished 6-of-10 for 58 yards. He also had what appeared to be a great touchdown run, which featured a hurdle, but the play was negated by an illegal blind-side block. That, however, doesn't matter. We know Jackson is a dynamic athlete. He needs to evolve as a passer, and he hasn't showed any signs of that through two preseason games.

Here were Jackson's targets:

Miles Boykin: 1
Nick Boyle: 3
Kenneth Dixon: 1
Hayden Hurst: 2
Chris Moore: 1
Willie Snead: 2


Mark Ingram started this game and predictably didn't see much work. He was given four carries, but he turned those into 18 yards. I love Ingram's outlook this year.


Justice Hill was the fourth running back to see the field for the Ravens in their second preseason game, but Baltimore is going to have trouble keeping its dynamic rookie off the field. Hill looked great in this contest, rushing for 49 yards and a touchdown on 10 carries. His score was a short-yardage run in the third quarter. His longest rush, a gain of 14, featured a nice cut and great explosion. Hill will continue to be one of my top Fantasy Football Sleepers.


Baltimore's second quarterback in this game was rookie Trace McSorley. The Penn State product did some positive things in this contest. He threw a perfect 23-yard touchdown on a slant to Chris Moore. He also had a nice pass down the seam. However, McSorley also heaved an interception, which was way off the mark, and he had a potential pick-six that was dropped. McSorley finished 7-of-12 for only 36 yards, one touchdown and a pick.


Ravens rookie receiver Miles Boykin had a rough night. He nearly caused an interception on a Lamar Jackson pass because he didn't come back to the ball, and he also dropped a pass. Boykin failed to reel in all three of his targets.


With no Rodgers or Aaron Jones for the Packers, we can focus on their rookies:

- Positives: Darnell Savage looked like a stud. He was extremely fast and was flying all over the field. He exited with the other starters, indicating that his role is secure with the first team.

- Negatives: Unlike Savage, Rashan Gary played with the backups. He showed absolutely nothing for the second consecutive week. Meanwhile, second-round guard Elgton Jenkins was flagged for two holds, though one of the penalties was questionable. As for sixth-round rookie running back Dexter Williams, he mustered just five yards on three carries, and he dropped a pass.


Jake Kumerow is one non-rookie worth noting on Green Bay's roster. Kumerow saw action along with starters Davante Adams and Geronimo Allison. Kumerow caught three passes for 52 yards. He looked good except for one instance in which he dropped a ball. I like Kumerow, and I'm excited to see what he can accomplish with Rodgers during real action.


NFL Preseason Announcers: The announcer at the top of the broadcast shouted, "Jackson can run, but have you seen him throw this year!?!??!"

Umm... yes. We have. And it hasn't been great, so calm down.

The actual telecast wasn't very good. Ray Lewis wasn't around to save the two broadcasters, who spent two minutes discussing Brandon Carr's social media feed.

Follow me @walterfootball for updates.




Eagles 24, Jaguars 10
This was a waste of a preseason game as far as fantasy football is concerned because both Carson Wentz and Nick Foles sat out. Based on how coaches are now commonly sitting starting quarterbacks in Week 2, it would be safe for the NFL to cut down the number of exhibition games to three, or maybe even two.

We did learn something from this game, however, and that would be that Miles Sanders started ahead of Jordan Howard in the second preseason contest. Both Sanders and Howard played, so it's not like the latter sat out like his quarterback. Sanders was the primary runner, while Howard handled short-yardage work. Sanders had some nice runs, opening with a burst of 12 yards, thanks to a great block. He later carried some defenders on a gain of 16 yards. Sanders finished with 31 yards on five attempts. It's unclear if the Eagles will keep Sanders ahead of Jordan, but I would rather have the rookie on my fantasy roster than the former Bear.


With Wentz out, the Eagles planned on going with Cody Kessler and Clayton Thorson as their quarterbacks. Kessler, however, suffered a concussion early in the game, forcing Philadelphia to use Thorson for most of the evening. Thorson was atrocious last week, but he played much better in this contest. Thorson's night began with some jitters, as he dropped a snap and nearly took a safety, but he rebounded with a nice, back-shoulder throw down the field, though the ball was ultimately dropped. Thorson then fired a 38-yard touchdown, though the pass was a bit underthrown. Luckily for Thorson, the cornerback was badly beaten, so it didn't matter.

Thorson continued to throw well, firing a nice pass on a slant in between two defenders to convert a first down. He then drew a couple of pass interferences, including one in the end zone. He had some bad moments late as well, however; he took a sack because he held the ball too long in the pocket, and he had an interception bounce off a receiver's hands.

Thorson finished 16-of-26 for 175 yards, one touchdown and an interception. He showed some major improvement this week, but still has a long way to go.


Rookie left tackle Andre Dillard played well last week, but he didn't fare so well in this contest, as he was responsible for Kessler's concussion. Conversely, Jordan Mailata, who didn't perform well a week ago, was rock solid in this game, aside from one play early in the evening.


Second-round rookie receiver J.J. Arcega-Whiteside caught only two passes for 20 yards. I used the word "only" because he saw seven targets, but don't blame him for that poor efficiency. Arcega-Whiteside ran some nice routes, but Thorson couldn't connect with him.


Moving on to the Jaguars, rookie quarterback Gardner Minshew played most of the game. He had a decent showing, going 19-of-29 for 202 yards.

Minshew made some nice passes in the early part of the evening, including one down the seam to his tight end. He then tossed a pretty ball downfield, but it was dropped. One of his better throws was when he hit a receiver in between two defenders down the sideline for a gain of 20 yards. He also should've thrown a touchdown, but a score of his was called back because of two penalties.

Minshew, however, made some mistakes. He was strip-sacked on one occasion, and he also took a sack in the red zone because he held the ball too long. Still, this was a sound performance from the rookie.


There's really not much else to say about the Jaguars, as several of their key rookies sat out. Josh Allen looked great in limited action.


NFL Preseason Announcers: There was a ridiculous exchange between the two announcers in this game. Here's how it went:

Color Analyst: They're going the wrong way!

Play-by-Play Guy: Yes, they are.

Color Analyst: You're sup- you're sup- you're sup- you're sup- you're supposed to say, how do you know where they're going?

Play-by-Play Guy: OK.

Color Analyst: It's from Planes, Trains and Automobiles!

Play-by-Play Guy: Then, the quote should have been, "You're going the wrong way."

Color Analyst: Well- uhh- someone was going the- uhh- wrong way!

Follow me @walterfootball for updates.


2019 Preseason Notes: Week 1 | Week 2 | Week 3 | Week 4
2019 Fantasy Football Stock Pages: Preseason Stock Week 1 | Preseason Stock Week 2 | Preseason Stock Week 3 | Training Camp Stock







More 2019 Fantasy Football Articles:
Fantasy Football Rankings

2019 Fantasy Football Rankings:
2019 Fantasy Football Rankings: Quarterbacks - 8/26 (Walt)
Chet Gresham's Fantasy Football Quarterback Rankings - 8/12 (Chet)
2019 Fantasy Football Rankings: Running Backs - 9/4 (Walt)
Chet Gresham's Fantasy Football Running Back Rankings - 8/12 (Chet)
2019 Fantasy Football Rankings: Wide Receivers - 9/3 (Walt)
Chet Gresham's Fantasy Football Wide Receiver Rankings - 8/12 (Chet)
2019 Fantasy Football Rankings: Tight Ends - 8/29 (Walt)
Chet Gresham's Fantasy Football Tight End Rankings - 8/12 (Chet)
2019 Fantasy Football Rankings: Kickers - 5/11 (Walt)
2019 Fantasy Football Rankings: Defenses - 5/11 (Walt)
Fantasy Football Rookie Rankings: Dynasty - 8/27 (Walt)



2019 Fantasy Football Mock Drafts:
2019 Fantasy Football Mock Draft - 8/29 (Walt)
2019 Fantasy Football Real Draft - 8/28 (Walt)
2019 Fantasy Football PPR Mock Draft - 8/22 (Walt)
2019 Fantasy Football Mock Draft - 8/15 (Walt)
2019 Fantasy Football PPR Mock Draft - 8/8 (Walt)
2019 Fantasy Football Mock Draft - 8/1 (Walt)
Fantasy Football Experts Draft - 6/23 (Walt)
2019 Fantasy Football Dynasty Rookie Mock Draft - 5/23 (Walt)



2019 Fantasy Football Cheat Sheets:
2019 Fantasy Football Cheat Sheet: Top 250 - 9/4 (Walt)
2019 Fantasy Football Cheat Sheet: Top 250 PPR - 9/4 (Walt)
2019 Fantasy Football Cheat Sheet: Top 250 Half-PPR - 9/4 (Walt)
2019 Fantasy Football Cheat Sheet: Top 250 2-QB - 9/4 (Walt)
2019 Fantasy Football Cheat Sheet: Top 250 Touchdown League - 9/4 (Walt)
2019 Fantasy Football Cheat Sheet: Custom - 9/4 (Walt)
2019 Fantasy Football: Dynasty Rankings - 9/4 (Walt)
2019 Fantasy Football Spreadsheets - 9/4 (Walt)

2019 Fantasy Football Articles:
2019 Fantasy Football Stock Report: OTAs, Training Camp - 9/4 (Walt)
2019 Fantasy Football Sleepers - 9/1 (Walt)
2019 NFL Preseason Game Recaps - 8/30 (Walt)
2019 Fantasy Football Stock Report: Preseason Games - 8/30 (Walt)
2019 Fantasy Football Busts - 8/27 (Walt)
2019 Fantasy Football: Wide Receiver Values - 8/20 (Chet)
2019 Fantasy Football: Running Back Values - 8/13 (Chet)
2019 Fantasy Football: Quarterback Values - 8/8 (Chet)
2019 Fantasy Football Round-by-Round Strategy Guide - 8/7 (Walt)






NFL Picks - Jan. 17


2021 NFL Mock Draft - Jan. 13


Fantasy Football Rankings - Jan. 11


2022 NFL Mock Draft - Nov. 15


NFL Power Rankings - Nov. 14


2020 College Football Recruiting Rankings - April 14


2020 NBA Mock Draft - Sept. 27