Aug. 28, 2019.
This is a real 2019 Fantasy Football Draft I took part in on Tuesday. I've been in this league since 2007. I won the championship last year, which is why I'm drafting 12th.
This league has standard scoring, starting two running backs, two receivers and a flex. This league also has a one-player keeper corresponding to the right before they were drafted. That's how I was able to get Patrick Mahomes in the 10th round. Here are the keepers in this league: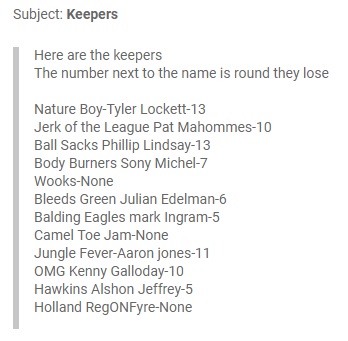 Outside of my keeper, the best values on this list are Tyler Lockett, Phillip Lindsay and Aaron Jones. The two worst values are Alshon Jeffery and Julian Edelman.
At any rate, here's the draft: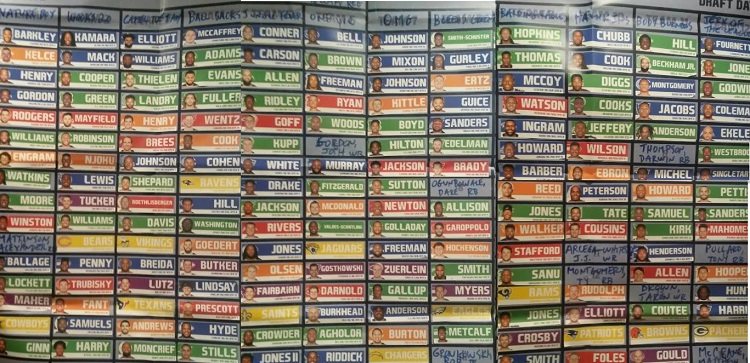 MY PICKS, ROUNDS 1-2: I thought for a second that Nick Chubb would fall to me at the bottom of Round 1, but that didn't happen. I then wanted Tyreek Hill to pair with Patrick Mahomes, but Body Burner is one of the best drafters in this league - I beat him in the finals last year - so he snatched Hill away from me.
Leonard Fournette and Julio Jones are a nice tandem. I recommend drafting as many running backs and receivers as possible, given how thin those positions are.
BEST PICKS, ROUNDS 1-2: Chubb and Hill are my favorite picks, if you didn't guess.
WORST PICKS, ROUNDS 1-2: Ezekiel Elliott is too great of a risk at No. 3, and the other running backs around that area are just as good, so he's not worth it. James Conner at No. 5 was a worse pick, as he's just not as talented as the other 11 players in the opening round. He was chosen too early.
Antonio Brown was the worst pick in these two rounds. He could easily quit on his new team when the Raiders begin 2-7 or so.
MY PICKS, ROUNDS 3-4: Another running back-receiver tandem. I'm happy to pair my top two backs and receivers with Mahomes.
BEST PICKS, ROUNDS 3-4: I was oping for Stefon Diggs and David Montgomery, but the two guys who had the best picks in Rounds 1-2 stole my preferred players again. Adam Thielen and Devonta Freeman also provided great value for when they were chosen.
WORST PICKS, ROUNDS 3-4: LeSean McCoy in Round 3 is nuts. McCoy may not be the starting running back in Buffalo for very long, and he looked done last year.

Elsewhere, Matt Ryan was an insane reach in the fourth round. There is no reason to take a quarterback this early, and Ryan isn't even one of the top players at his position.

MY PICKS, ROUNDS 5-6: See what I mean about running backs and receivers being thin? I'm not in love with Austin Ekeler in the fifth round, but I can use him as a flex until Melvin Gordon calls off his holdout. Dede Westbrook, meanwhile, could catch 100 passes this year from Nick Foles, but I wish I could have gotten him in the seventh round. Considering that several people were using my draft sheet (see the Darwin Thompson pick), there was no way Westbrook was returning to me at 7.12.

BEST PICKS, ROUNDS 5-6: I was hoping for Robby Anderson and Robert Woods would fall to me. I'm fine with Westbrook, but those are two receivers I would have preferred.

WORST PICKS, ROUNDS 5-6: Every quarterback in the fifth round. Running back and receiver are way too thin to use a pick on a signal-caller that early.





MY PICKS, ROUNDS 7-8: My wife asked me, "Did you get everyone you wanted at the draft?" I replied, "No, I only got one of my sleepers because several people use my cheat sheets." Her response: "You should block them from using Walter Football."

I love Devin Singletary, but he was not falling to me in Round 9, so I had to get him here. Dante Pettis, meanwhile, seems like he could be a terrific WR4.

BEST PICKS, ROUNDS 7-8: I guess I have to do it. Dare O'Gun, Bow & Ale! You should be able to get him much later in your draft, but he could be this year's Phillip Lindsay.

WORST PICKS, ROUNDS 7-8: During the draft, I joked about famous, but old players being the harbinger of kicker picks to come. Once all the studs are off the board, clueless drafters will select old guys they've heard of before like Larry Fitzgerald and Adrian Peterson, and once all of them are gone, the kicker and defense picks will come. Don't take washed-up old players.

Oh, and please do not take a defense in the eighth round either, especially a defense that lost three of its better players in the offseason.

MY PICKS, ROUNDS 9-10: Patrick Mahomes was my keeper, so the only real pick I had in this range was Emmanuel Sanders. The Denver receiver looks healthy and will have the best quarterback throwing to him since Peyton Manning in 2014.

BEST PICKS, ROUNDS 9-10: Sanders was a fine choice, but I was hoping Geronimo Allison would fall to me. James Washington was also a great sleeper choice.

WORST PICKS, ROUNDS 9-10: How many times do I need to say it? Don't take a defense or a kicker in the first 10 rounds. Not under any circumstances. Not even if you're held at gunpoint and are told to do so.





MY PICKS, ROUNDS 11-12: Meh, why not? Tony Pollard could start eight or so games this year if Ezekiel Elliott doesn't report until the deadline, and if so, I'll have an extra RB2 on my roster. Meanwhile, Tony Hooper in the 12th round is proof that you can wait on tight ends.

BEST PICKS, ROUNDS 11-12: How was Darrell Henderson available in the 11th round? I was going to take him for sure, but Body Burner made another great pick. Kalen Ballage and Matt Breida seem like nice sleeper picks as well.

WORST PICKS, ROUNDS 11-12: Soooo many kickers! WHY!? Kickers are so random. Just take one in the final round, or if you don't have to, don't pick one at all.

MY PICKS, ROUNDS 13-14: I'm not crazy about Kareem Hunt at his ADP (8.10), but he's a steal in the 13th round. I like Damien Harris in the 14th frame. He's on my Fantasy Football Sleepers page.

BEST PICKS, ROUNDS 13-14: C.J. Anderson could be a big producer down the stretch if Kerryon Johnson gets hurt, so I like the upside.

WORST PICKS, ROUNDS 13-14: Kickers and defenses as usual. Rex Burkhead also seems like a wasted pick because he may not make the final roster.

MY PICKS, ROUNDS 15-16: I normally don't draft a defense or a kicker, opting to swing for the fences with upside players instead. Unfortunately, our commissioner forced us into selecting a defense and a kicker. To stick it to the commissioner, I drafted a kicker who's not currently in the NFL. Matthew McCrane was the Steelers' backup kicker last year, so he should be in ESPN's database. If not, meh.

BEST PICKS, ROUNDS 15-16: High-upside picks include: Jaylen Samuels, Donre Moncrief, Ronald Jones.

WORST PICKS, ROUNDS 15-16: Low-upside picks include: Nick Foles and Theo Riddick. Actually, anyone who didn't take a kicker and a defense with their final two picks deserves the worst selection here because that means they went with a kicker and a defense earlier.






My Fantasy Team:

QB - Patrick Mahomes, Chiefs (12)
RB - Leonard Fournette, Jaguars (10)
RB - Tevin Coleman, 49ers (4)
WR - Julio Jones, Falcons (9)
WR - Chris Godwin, Buccaneers (7)
TE - Austin Hooper, Falcons (9)
FLEX - Austin Ekeler, RB, Chargers (12)
K - Matthew McCrane, K, Steelers
DEF - Packers Defense

BN - Dede Westbrook, WR, Jaguars (10)
BN - Devin Singletary, RB, Bills (6)
BN - Dante Pettis, WR, 49ers (4)
BN - Emmanuel Sanders, WR, Broncos (10)
BN - Tony Pollard, RB, Cowboys (8)
BN - Kareem Hunt, RB, CHiefs (12)
BN - Damien Harris, RB, Patriots (10)

I don't like that my top receiver and tight end are on the same team, but Austin Hooper was a 12th-round pick, so it's not a huge deal. I otherwise like my team. I think I'm strong everywhere except for maybe tight end. I'd say my depth at running back and receiver makes up for that.









More 2019 Fantasy Football Articles:
Fantasy Football Rankings

2019 Fantasy Football Rankings:
2019 Fantasy Football Rankings: Quarterbacks - 8/26 (Walt)
Chet Gresham's Fantasy Football Quarterback Rankings - 8/12 (Chet)
2019 Fantasy Football Rankings: Running Backs - 9/4 (Walt)
Chet Gresham's Fantasy Football Running Back Rankings - 8/12 (Chet)
2019 Fantasy Football Rankings: Wide Receivers - 9/3 (Walt)
Chet Gresham's Fantasy Football Wide Receiver Rankings - 8/12 (Chet)
2019 Fantasy Football Rankings: Tight Ends - 8/29 (Walt)
Chet Gresham's Fantasy Football Tight End Rankings - 8/12 (Chet)
2019 Fantasy Football Rankings: Kickers - 5/11 (Walt)
2019 Fantasy Football Rankings: Defenses - 5/11 (Walt)
Fantasy Football Rookie Rankings: Dynasty - 8/27 (Walt)



2019 Fantasy Football Mock Drafts:
2019 Fantasy Football Mock Draft - 8/29 (Walt)
2019 Fantasy Football Real Draft - 8/28 (Walt)
2019 Fantasy Football PPR Mock Draft - 8/22 (Walt)
2019 Fantasy Football Mock Draft - 8/15 (Walt)
2019 Fantasy Football PPR Mock Draft - 8/8 (Walt)
2019 Fantasy Football Mock Draft - 8/1 (Walt)
Fantasy Football Experts Draft - 6/23 (Walt)
2019 Fantasy Football Dynasty Rookie Mock Draft - 5/23 (Walt)



2019 Fantasy Football Cheat Sheets:
2019 Fantasy Football Cheat Sheet: Top 250 - 9/4 (Walt)
2019 Fantasy Football Cheat Sheet: Top 250 PPR - 9/4 (Walt)
2019 Fantasy Football Cheat Sheet: Top 250 Half-PPR - 9/4 (Walt)
2019 Fantasy Football Cheat Sheet: Top 250 2-QB - 9/4 (Walt)
2019 Fantasy Football Cheat Sheet: Top 250 Touchdown League - 9/4 (Walt)
2019 Fantasy Football Cheat Sheet: Custom - 9/4 (Walt)
2019 Fantasy Football: Dynasty Rankings - 9/4 (Walt)
2019 Fantasy Football Spreadsheets - 9/4 (Walt)

2019 Fantasy Football Articles:
2019 Fantasy Football Stock Report: OTAs, Training Camp - 9/4 (Walt)
2019 Fantasy Football Sleepers - 9/1 (Walt)
2019 NFL Preseason Game Recaps - 8/30 (Walt)
2019 Fantasy Football Stock Report: Preseason Games - 8/30 (Walt)
2019 Fantasy Football Busts - 8/27 (Walt)
2019 Fantasy Football: Wide Receiver Values - 8/20 (Chet)
2019 Fantasy Football: Running Back Values - 8/13 (Chet)
2019 Fantasy Football: Quarterback Values - 8/8 (Chet)
2019 Fantasy Football Round-by-Round Strategy Guide - 8/7 (Walt)






2021 NFL Mock Draft - April 20


2022 NFL Mock Draft - April 14


NFL Power Rankings - April 4


NFL Picks - Feb. 8


Fantasy Football Rankings - Jan. 11