**** NOTES FOR EVERY GAME WILL BE UP AS SOON AS I WATCH THEM **** Follow me
@walterfootball
for updates.
2019 Preseason Notes:
Week 1
|
Week 2
|
Week 3
|
Week 4
2019 Fantasy Football Stock Pages:
Preseason Stock Week 1
|
Preseason Stock Week 2
|
Preseason Stock Week 3
|
Training Camp Stock
These Preseason Week 4 recaps won't be nearly as detailed as those in the previous three weeks because barely any players of significance suit up. However, there are some important rookies worth noting, so I'll discuss them.


Buccaneers 17, Cowboys 15
The Cowboys' great sideline reporter noted prior to kickoff that Tony Pollard would not play in this game because he's "being treated like the No. 1 back." Alfred Morris didn't play either, so we saw plenty of Jordan Chunna and Mike Weber. Even though Weber was drafted and Chunn is an undrafted free agent from 2018, the Dallas announcers - much more on them later - were very impressed with Chunn and predicted him to make the 53-man roster. Chunn didn't do much as a runner - three yards, two carries - but he showed some quality receiving ability. Weber struggled to run as well, picking up only seven yards on five attempts. Weber also thrived as a receiver, hauling in three balls for 33 yards.


As for Dallas' quarterbacks, we didn't see Cooper Rush, so we can assume his roster spot is safe. Mike White started and was just mediocre, going 14-of-26 for 132 yards.


Cowboys second-round rookie defensive tackle Trysten Hill has not impressed this summer. He played in this game and continued to fail to make an impact. Hill will almost certainly make the 53-man roster based solely on his potential and previous draft standing, but he hasn't done anything to deserve it. Undrafted rookie defensive tackle Daniel Wise has been better.


As for the Buccaneers, quarterback Ryan Griffin completed all but two of his passes, going 9-of-11 for 92 yards and one touchdown. Unfortunately for Griffin, his two incompletions were both ugly interceptions. Once Griffin was done, Vincent Testaverde, son of long-time NFL quarterback Vinny Testaverde, stepped in under center. The younger Testaverde struggled (4-8, 41 yards, INT), but it was still cool to see a Testaverde in a Buccaneer jersey once again.


It was disappointing to see that Tampa used Dare Ogunbowale extensively in this game. A mega sleeper, Ogunbowale was given eight carries, which he turned into just nine yards. However, he caught two passes for 17 receiving yards. I'd be discouraged by this if it wasn't already announced that Ogunbowale would be Tampa's third-down back this year. Still, I don't know why Bruce Arians risked injury with O'Gun, Bow & Ale.


Tampa tight end Tanner Hudson has been one of the best producers at his position this preseason, and he continued to thrive. He caught two passes for 19 yards and a touchdown.


The Buccaneers used two second-day picks on cornerbacks in the 2019 NFL Draft, Sean Murphy-Bunting and Jamel Dean. Both played in this game, but both struggled. The Cowboys made sure to pick on Dean, who was penalized a couple of times.


NFL Preseason Announcers: Emmitt Smith was a color analyst in this game. Let me repeat that for you if it hasn't sunk in. EMMITT SMITH WAS A COLOR ANALYST IN THIS GAME!!!

Michael Irvin was as well, and it was apparent that he wasn't in the right frame of mind when he said this:

"These offensive line, there's a lot of 'em who haven't gotten a whole lot of playing time, get their legs and their mouth wetted for football."

I have no idea what that means, but enough of Irvin. We're here for the Emmitt-isms. There are several of them, and they are wonderful! Here they are:

"Healthy is the biggest key in getting out of the preseason right now." - Emmitt talking about the Cowboys' defense, which wasn't using any of its starters.

"Everybody already know we can win with you."

"This is what Rob is gonna talk about when he get back into the film study."

"When you watch mediocrisy, it is very disappointing."

"A young ball club need leaders like yourself."

"The linebacker get caught up inside. He did not do what Rob Melonelli been teaching these guys."

"You have to have the mindset that we're back to square zero!"

Mediocrisy! Rob Melonelli! Square zero! Good lord, I missed Emmitt being on TV. Here are more Emmitt Smith Quotes.

Follow me @walterfootball for updates.









Ravens 20, Redskins 7
Dwayne Haskins won't start Week 1, so we were able to see plenty of him in the preseason finale. Haskins played the entire opening half and performed very well. Haskins put together a touchdown drive in the opening quarter with accurate throws, completing seven of his first nine passes. He ultimately found a receiver in the end zone while rolling out on a bootleg. Haskins finished 10-of-17 for 104 yards and a touchdown, and his stat line would have been much better had he not endured three drops. This was the best Haskins has looked all preseason.


Haskins wasn't the only rookie quarterback who saw extensive action. Trace McSorley played slightly more than a half. The Penn State product has improved each preseason game, and the trend continued in this contest. McSorley threw precise passes while unleashing balls quickly. He went 15-of-27 for 171 yards and a touchdown. He made just one mistake, as a potential pick-six of his was thrown late to a receiver running an out route. Redskins color analyst Joe Theismann said he was a fan of how McSorley was throwing the ball, calling him a "quick loader."


The Ravens were eager to showcase 2018 fourth-round receiver Jaleel Scott. The New Mexico State product caught six of his 10 targets for 87 yards and a touchdown. Given how bad Baltimore's receiving corps is, Scott could see some action in the regular season.


This year's fourth-round pick was guard Ben Powers, but he had a rough night. He was flagged for two holding penalties.


NFL Preseason Announcers: I'd like to give Redskins sideline reporter Clinton Portis some credit for providing me with a laugh. When interviewing Vernon Davis, he opened, "You're entering your 30th season in the NFL..."

Follow me @walterfootball for updates.




Jets 6, Eagles 0
Most significant players sat in this game, and that includes Philadelphia's first-round pick, Andre Dillard, even though Dillard will not be starting to begin the year. The Jets countered by not playing Quinnen Williams, and understandably so.


Clayton Thorson was the player I was most excited to watch in this contest. Thorson was a decorated quarterback at Northwestern, but struggled thus far in the preseason. Thorson ended up having his worst performance to date. He had an early interception where he telegraphed a pass, allowing Marcus Cooper to jump the route. Thorson then bounced a pass on a simple checkdown; held the ball too long and took a sack; had a running back in the flat and overshot him by a mile; sailed what should've been a 3-yard completion way over his receiver's head; skipped what should've been a 3-yard completion to his running back; and fired way behind his receiver on fourth down.

Thorson finished 12-of-26 for only 84 yards and an interception. He was one of the worst quarterbacks I've ever seen on any level. His teammates were so disgusted by his play that they were shaking their heads. I don't know what happened to Thorson, but there's no reason he shouldn't be completing routine passes. Missing one or two of them is bad enough, but it seems as though he either bounces or air-mails every short toss. It seems like he's a major head case. That's the only explanation I have. Regardless, it'll be a complete shock if he makes the 53-man roster.


The most prominent player on the field for the Jets was third-round edge rusher Jachai Polite. Like Thorson, Polite struggled earlier in the preseason and failed to improve. Polite was basically a ghost on the field. He did absolutely nothing. It's too soon to give up on him, but the Jets can't count on him to do anything this year.


While Polite is failing, fifth-round linebacker Blake Cashman has played well for the Jets. Cashman made a number of plays, including a forced fumble, and he recorded close to double-digit tackles.


NFL Preseason Announcers: The Eagles' sideline reporter said that DeSean Jackson will definitely play in Week 1, so we'll see how accurate he is.

As for the Eagles' running backs, Philadelphia's broadcast displayed this graphic: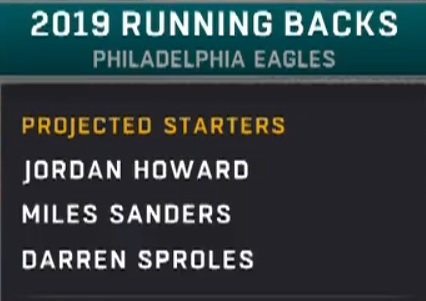 Wow, THREE starting running backs? How in the world are the Eagles going to accomplish that?

Follow me @walterfootball for updates.









Broncos 20, Cardinals 7
It should surprise no one that Kyler Murray didn't play. Brett Hundley wasn't on the field for very long either. Instead, Arizona mostly used Charles Kanoff and Drew Anderson at quarterback, so it was understandably difficult for them to move the ball.


The Arizona quarterbacks seemed to prefer throwing to KeeSean Johnson. The Cardinals have three rookie receivers, with one being injured right now (Hakeem Butler.) As for the remaining two, Johnson has been better than Andy Isabella this summer, and that continued in this game. Johnson converted all four of his targets for 19 yards, while Isabella secured just one of four passes tossed to him for six yards. Johnson looks very good, and so it wouldn't surprise me if he became a viable target for Murray at some point this year.


It's a shame that Drew Lock is injured; otherwise, he probably would have played the majority of the snaps for the Broncos. Instead, we saw Kevin Hgan and Brett Rypien, and neither was anything to write home about.


The best Bronco on the field was fifth-round rookie edge rusher Justin Hollins. He made a great play in the first quarter, chasing a scrambling Hundley down from behind on third down before the Arizona quarterback could run past the chains. Hollins later recorded a sack. Meanwhile, fellow edge rusher Malik Reed, an undrafted rookie free agent, notched two sacks. With Hollins and Reed on the roster, the Broncos have an insane amount of depth behind Von Miller and Bradley Chubb.


NFL Preseason Announcers: Nothing egregious here, but the play-by-play guy must be a natural college football broadcaster because he called KeeSean Johnson a "true freshman."

Follow me @walterfootball for updates.









Seahawks 17, Raiders 15
Three weeks ago, I wrote about Paxton Lynch's performance against the Broncos in the preseason opener. Lynch thrived in the revenge game, looking much better than Seattle's other backup quarterback, Geno Smith. Well, things haven't gone as well for Lynch since. He has gotten progressively worse each week, and he was atrocious in the exhibition finale. Lynch looked like he had no idea what was going on in the pocket. He fired inaccurate balls throughout the second half, and he nearly got some of his receivers' heads taken off with his irresponsible throws. Lynch was 1-of-7 for only four yards, a stat line that details how awful he was.

Smith, conversely, was much better. He fired just seven passes, completing four of them, but accumulated 107 yards and two touchdowns. Smith's first score was a 39-yard bomb. Given how awful Lynch was, Smith almost has to be Seattle's No. 2 quarterback this year.


Seahawks sixth-round rookie running back Travis Homer impressed. He rushed for 69 yards on seven carries. He displayed quick feet and constantly kept his legs moving after contact.


Seattle third-round linebacker Cody Barton played a strong game. He showed great awareness on one play to ruin a promising screen pass. He was flagged for a helmet-to-helmet hit as well, which was not a surprise. Meanwhile, fifth-round rookie linebacker Ben Burr-Kirven was all over the field, making 12 tackles. He also collected a sack.


Moving on to the Raiders, Mike Glennon and Nathan Peterman shared the snaps. Glennon had just a couple of ugly passes, but finished 9-of-13 for 78 yards. Peterman, meanwhile, continued to dominate in the preseason box score. He was 20-of-27 for 158 yards. That said, he had some trouble with pressure, and he was lucky not to throw an interception when he fired a pass into triple coverage.


Undrafted rookie receiver Keelan Doss continued to thrive. Doss has been enjoying a great preseason, and that continued in this contest. Doss caught six of his 12 targets for 63 yards. His stat line would have been much better if his quarterbacks didn't fire a few inaccurate balls his way.

Follow me @walterfootball for updates.




Falcons 31, Jaguars 12
Before watching this game, I looked at the box score and saw that Jaguars rookie quarterback Gardner Minshew went 11-of-26 for 79 yards. I was eager to criticize him because of how horrific that stat line looked, so I was disappointed to see that Minshew didn't perform as poorly as the numbers indicate.

Minshew's completion percentage was atrocious because of all the drops. A whopping seven of Minshew's passes were dropped, four of which were by some guy named Tyre Brady. Another player had the ball doink off his face mask. It was an embarrassing showing by the Jaguar wide receiver reserves.

That said, I can't exactly say Minshew played well. Actually, Minshew was very fortunate in this game despite the drops. He was nearly picked in the early going because he held the ball too long and got hit as he released a pass as a result. Later, Minshew fired a pass behind a receiver on a slant, then heaved a pick-six when he stared down his receiver for what seemed like five seconds. Luckily for Minshew, the turnover was wiped out by a defensive hold.


Jaguars rookie running back Ryquell Armstead had a strong showing He rushed for 40 yards on six carries, with his longest run being a strong, 32-yard burst. Armstead also had a nice run after the catch to pick up a first down, then made a man miss to accumulate 12 receiving yards on a play, but a penalty negated it.


The Falcons were also using a rookie running back, as fifth-rounder Qadree Ollison had some tough runs. He picked up 51 yards and a touchdown on 14 carries. He also looked good catching the ball when he logged two receptions for 13 receiving yards.


NFL Preseason Announcers: The Jaguars had a sleepy broadcast: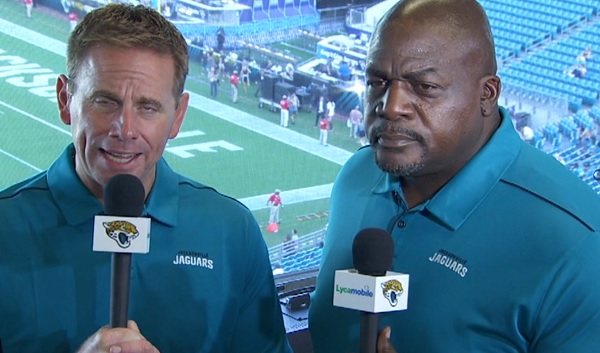 The guy on the left didn't look all there, while the guy on the right never once looked at the camera, opting instead to stare at something else instead.

To brighten things up, here's a shot from the Jaguars' pool:





Ignore some of the seemingly attractive women for a second. Look at the guy on the left. Why is he wearing that obscenely bright shirt in the pool?

Follow me @walterfootball for updates.









Dolphins 16, Saints 13
Unlike many of the new head coaches, Sean Payton takes the preseason seriously. He used Alvin Kamara well into the second quarter of one game, for crying out loud, so I was looking forward to this matchup because we would be bound to see both Teddy Bridgewater and Taysom Hill extensively. As it turns out, both played exactly one half.

Bridgewater began the evening by tossing many checkdowns. It's like he didn't even bother looking downfield, but he eventually fired a deep pass to Lil'Jordan Humphrey, which went for 43 yards. Bridgewater finished 9-of-13 for 83 yards and a touchdown. One incompletion was dropped. Bridgewater didn't go downfield very much in this contest, but he has enjoyed a strong preseason. He looks like his former self, though it's a small sample size.

Taysom Hill played the entire second half, and he was terrific. Hill was very accurate, completing his first eight passes. His first two incompletions were both dropped, including one that would've been a gain of 20 yards, and another one that may have gone for a touchdown. Hill finished 13-of-17 for 100 yards, and he also scrambled five times for 35 rushing yards. He did a good job of navigating the pocket and delivering precise strikes. It's truly remarkable what Sean Payton has done with Hill. He looks like a viable replacement for Drew Brees in the future.


The Saints have been high on undrafted rookie receiver Emmanuel Butler, who has enjoyed some quality preseason performances. Butler caught two passes for 20 yards and a touchdown in this contest. It'll be interesting to see if Butler makes an impact during the regular season.


Saints second-round rookie center Erik McCoy was the only starting offensive lineman dressed in this game, but he didn't play. This was a wise move by Payton, as Brees will need McCoy in the wake of Max Unger's retirement.


New Orleans fourth-round safety Chauncey Gardner-Johnson played well in the preseason finale, dishing out some fierce hits. I'm still shocked that Gardner-Johnson made it past the second round of the 2019 NFL Draft.


As for the Dolphins, they named Ryan Fitzpatrick the starter for the season opener, which is a great strategy if they want to lose intentionally. Curiously, Josh Rosen didn't play either. It was all Jake Rudock, who had a great performance, going 22-of-29 for 229 yards and a touchdown.


The Dolphins used a pair of young running backs primarily. Mark Walton had a tough, 14-yard run to open the game, finishing with 52 yards on 12 carries. Myles Gaskin also played well, gaining 48 yards on eight attempts. It might be difficult for him to make the final roster, as he hasn't shown much otherwise.


NFL Preseason Announcers: One of the Saints color analysts said the following: "Ryan Fitzpatrick and Josh Rosen seem to be on street clothes."

On street clothes? So, they grabbed some street clothes, laid them down and stood on them? Why would they do that?

Follow me @walterfootball for updates.




Chargers 27, 49ers 24
The Chargers and 49ers followed the pattern of most teams in the fourth week of the preseason as far as only using their third- and fourth-string quarterbacks. The Chargers sat Philip Rivers and Tyrod Taylor, opting to go exclusively with Cardale Jones and Easton Stick.

If there was any question as to which quarterback would be the better No. 3 option, it was answered in this contest. Jones did well, going 10-of-16 for 149 yards to go along with 26 rushing yards and a touchdown on the ground. Meanwhile, Easton Stick was putrid. He completed half of his passes, going 3-of-6 for 22 yards. He also threw two interceptions. The first pick was heaved into double coverage. A defensive back undercut the second interception.


The 49ers announcers said that the Chargers were "pleased" with third-round rookie Trey Pipkins, but I don't understand how this can be remotely accurate. Pipkins has been atrocious in the preseason, and that continued in this game. Pipkins was beaten several times versus the 49ers despite playing against practice squad players.


It's not a good sign for a first-round pick to play in the fourth preseason game. Defensive tackle Jerry Tillery was asked to start this contest, but made the most out of it by generating some interior pressure in the early stages of the evening.


As for the 49ers, they sat Nick Mullens and used C.J. Beathard in the first half, which is not good for the former Iowa quarterback. Beathard was mediocre, but I couldn't imagine him making the 53-man roster regardless.


The San Francisco announcers noted that Jeff Wilson Jr. had a great opportunity to make the roster in the wake of Jerick McKinnon's setback. Wilson played in this game and thrived, rushing for 100 yards and a touchdown on 20 carries.


Second-round rookie receiver Deebo Samuel played in the first half, catching both of his targets for 16 yards. Samuel is worth a late-round pick because of his upside, but he also has a low floor this year.


NFL Preseason Announcers: One of the 49er announcers called Artavis Scott "Artavis Campbell." Meanwhile, one of them said the following about another player:

"He's short, quick and thick, I love saying that about that guy."

And no, if you're wondering, that was not Matt Millen.

Follow me @walterfootball for updates.




Titans 19, Bears 15
When the Bears' play-by-play guy called this the "Second-Annual Tyler Bray Extravaganza" prior to kickoff, I knew this game would be worthless. The Bears, of course, haven't used Mitchell Trubisky at all in the preseason, so they weren't going to start now. They didn't even give Chase Daniel any snaps, opting to go with their third-string quarterback instead.

As for the Titans, they treated this contest similarly. Ryan Tannehill wasn't used, so Logan Woodside took every snap. I was hoping we'd see some Woodside passes to A.J. Brown, but the second-round rookie didn't suit up either.

I really don't know what else to say here. Almost every player who took action in this contest will be cut this weekend, so let's just move on with our lives.


NFL Preseason Announcers: Former Dolphins head coach Dave Wannstedt gave us this brilliant insight in the first quarter: "I'm lookin' at da bubble players because they're da players on da bubble."

Wow, with that sort of brilliant analysis how did Wannstedt ever fail as a head coach?

Wannstedt wasn't done: "Can a quarterback learn to make quick decisions in practice? Ahhhhh dunnooo!"

So, not only did Wannstedt ask himself a question; he failed to answer it!

Follow me @walterfootball for updates.




Rams 22, Texans 10
This was perhaps the most worthless game in the most meaningless week of the NFL year. The Rams didn't even play any of their starters in the second and third preseason games, so we weren't going to see anyone of significance in this contest. Darrell Henderson didn't even suit up.

The Texans, meanwhile, lost Lamar Miller to a season-ending knee injury last week. They weren't going to risk anyone, so we got to watch Joe Webb play for most of the evening.


One thing worth mentioning is that two players who could take Miller's early-down job are Karan Higdon and Damarea Crockett. Higdon started and rushed for 25 yards on eight carries. He also caught two passes. Crockett, meanwhile, mustered 14 yards on seven carries.

Neither guy seems like a viable option to replace Miller, so I imagine the Texans will either sign Jay Ajayi or trade for Melvin Gordon or LeSean McCoy.


We were able to see second-round cornerback Lonnie Johnson play in this game. Johnson took the field because he previously missed action. Johnson looked good, and I could see him being a positive contributor during the regular season.


NFL Preseason Announcers: The color analyst of this game said something strange: "A popular saying in the streets, incorrect pressure will make a pipe bust!"

Umm... do people in the streets really say this? Can I go to North Philly, shout, "Incorrect pressure will make a pipe bust!" and instantly fit in?

Follow me @walterfootball for updates.




Packers 27, Chiefs 20
I was curious to see if the Packers would use first-round rookie Rashan Gary tonight. Gary has struggled all preseason, so it wouldn't have surprised me if new head coach Matt LaFleur determined that Gary needed more snaps. Gary didn't play, meaning he had the same impact as if he happened to play.


A Packer rookie who happened to suit up was third-round tight end Jace Sternberger. I had some hopes for Sternberger this year, given Jimmy Graham's regression, but Sternberger was carted off the field just before halftime. It's unclear if this is a season-ending injury.


There's not much else to say about the Packers, or even the Chiefs, for that matter. The most significant thing regarding Kansas City is that Carlos Hyde started, while Darwin Thompson didn't play. Thompson has clinched the No. 2 running back job, while Hyde's usage in this game indicates that he may not survive final cuts.


While Thompson is a Kansas City rookie who has excelled, third-round nose tackle Khalen Saunders has struggled. Saunders hasn't shown much this preseason, including this game, and there's a chance he ends up on the practice squad.

Follow me @walterfootball for updates.




Giants 31, Patriots 29
The Giants refuse to move on from Eli Manning, so we'll have to wait for Daniel Jones to make a start in the regular season. Jones, however, played one drive in this contest. Jones has been terrific all preseason, and that was once again the case versus New England. Jones completed all four of his passes for 47 yards. His best throw was a terrific fade to Golden Tate for 23 yards. The Giants really should trade or bench Manning in favor of Jones, as they'll likely be better with the rookie.


The Giants' other prominent rookies, including DeAndre Baker, Dexter Lawrence and Oshane Ximines, all sat out, so let's move on to the Patriots, who had Julian Edelman and Josh Gordon on the field for the entire first quarter. You read that correctly. Edelman and Gordon were forced into playing the entire opening frame because they missed so much time with injuries throughout the rest of the preseason. Edelman caught a 20-yard pass, while Josh Gordon hauled in two receptions for 30 yards. Gordon also drew an interference flag.

Edelman and Gordon weren't the only veteran New England receivers to see action. Demaryius Thomas was also on the field in the preseason finale, and he played for the entire first half. I didn't know what to expect from Thomas, but he looked like he could be productive this season. He reeled in seven of his eight targets for 87 yards and two touchdowns. I don't think it's crazy to think that Thomas could be a decent fantasy option this year. If Rob Gronkowski doesn't return, Tom Brady will be looking for a dependable, large target in the end zone, and Thomas could fill that void.


It was nice for Jarrett Stidham that he was able to play with such decorated receivers. Stidham had a mixed performance. He began poorly by throwing late into the end zone and then was picked because he held the ball too long, allowing a defender to hit him, causing the ball to pop into the air. Stidham then fumbled on a botched exchange with Demaryius Thomas on an end-around. Stidham rebounded, however, firing a great back-shoulder touchdown to Thomas. He then hit Thomas with an equally impressive back-shoulder strike on a deep route.

Stidham, who played the entire game, went 18-of-28 for 225 yards, two touchdowns and an interception. He has made several mistakes this preseason, but he's had way more positive moments than negative ones. I'm looking forward to seeing him next summer after a year of development under Bill Belichick and Josh McDaniels.


Jakobi Meyers has really faded as the summer has progressed. He began training camp by being Tom Brady's favorite receiver, but he didn't do much in the preseason finale. He caught one pass for 28 yards, and he was also guilty of a drop. With Josh Gordon reinstated, and Demaryius Thomas looking healthy, Meyers has no re-draft fantasy value.


I was wondering if we would see third-round edge rusher Chase Winovich tonight. We did not, which is an indication that Winovich will see extensive playing time with the Patriots, and it's very well deserved.


NFL Preseason Announcers: There was proof that one of the color analysts wasn't listening to the play-by-play guy. When the latter asked, "Who needs to show well to make the final roster?" One of the color analysts replied, "Let's talk about Julian Edelman, who is going to play tonight."

Meanwhile, this was a typical Patriots broadcast where they got analysis from someone at Bob's Discount Furniture: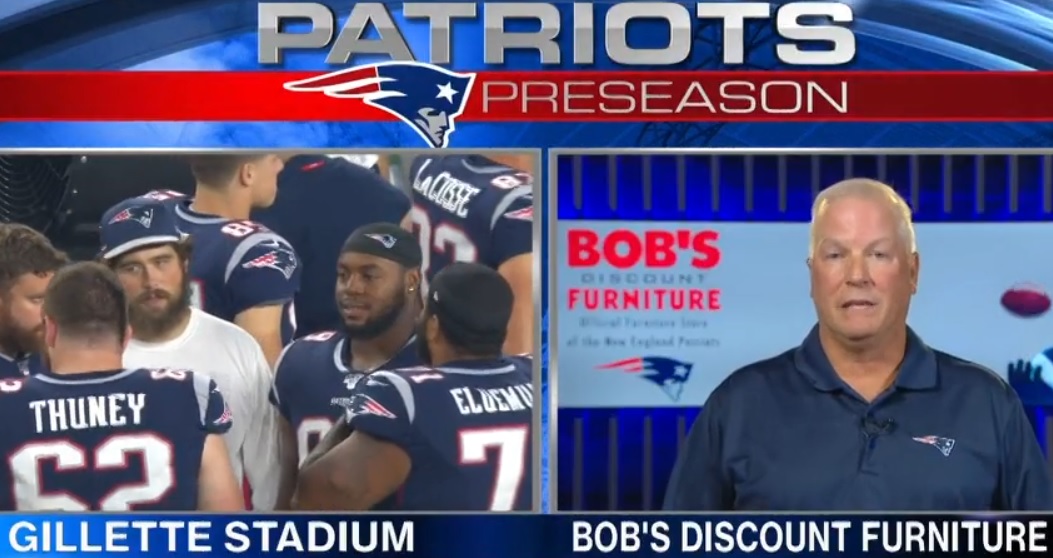 I ask this every year, but why does the Patriots broadcast think people care about what some couch salesman has to say about jersey colors?

Follow me @walterfootball for updates.




Browns 20, Lions 16
A couple of Cleveland defenders impressed in this game. First was defensive tackle Devaroe Lawrence, who practically lived in Detroit's backfield in the first quarter. The Lions couldn't block him whatsoever, prompting the announcers to comment how impressive he's been this summer. It would be surprising if he didn't make the 53-man roster. If he's cut, any team that needs a top-notch backup defensive tackle should be interested.

Elsewhere, rookie linebacker Mack Wilson performed very well. Wilson was flying all over the field, making great plays. Wilson had some bad moments this summer, but he's mostly performed very well and should have a significant role in Cleveland's defense.


As for the Lions, fifth-round rookie cornerback Amani Oruwaryie made a great play to break up a pass early in this contest, but had to leave the game early with an undisclosed injury.


The Lions got rid of David Fales, allowing Tom Savage and Josh Johnson to split action in this contest. Johnson was predictably better, as Savage has not shown any signs that he can even be a viable backup quarterback in the NFL.


NFL Preseason Announcers: What the Browns color analyst drove me nuts: "The special teams position is a position the Browns need to address." OK, the Browns need to get better on special teams, but special teams is not a position!

Follow me @walterfootball for updates.




Colts 13, Bengals 6
Parris Campbell was the most prominent player to suit up in this game. Campbell missed earlier preseason action, but was able to get extensive playing time in this contest. Campbell looked great, as he secured three of his four targets for 42 yards. The lone misfire was an underthrown pass deep downfield. There was one play in which Campbell caught a short toss and zoomed right by helpless Cincinnati defenders for a gain of 31 yards. It was a great display of his skill set. Unfortunately, Campbell has moved into fantasy oblivion because of Andrew Luck's retirement.


Speaking of Luck, the Colts have brought in some potential backups for Jacoby Brissett. However, I believe Chad Kelly can be the No. 2 signal-caller on this team. Kelly has played mostly well this preseason, and that continued in this contest. He went 13-of-16 for 138 yards and an interception, while also scrambling thrice for 20 rushing yards and a score on the ground. Kelly was very accurate throughout the evening, save for one play in which he lobbed up a lazy-looking deep shot that was picked because it was underthrown.


Colts rookie defensive back Marvell Tell had a great showing. He broke up three passes, including one in the end zone where he leapt out of nowhere to knock the ball away that seemed like it would result in a touchdown.


It was telling that Bengals fourth-round rookie quarterback Ryan Finley didn't play in this game. Finley has performed well all preseason, so he should be locked in as Cincinnati's No. 2 quarterback. Instead, someone named Jacob Dolegala played the entire night for Cincinnati. The announcers talked up Dolegala, but he tossed mostly meager checkdowns.


There's some sad news to report, and it's that Bengals sixth-round rookie running back Rodney Anderson suffered a knee injury. Anderson missed his entire 2018 collegiate campaign because of a knee, so it sucks that this issue is going to cause him to miss more time.


NFL Preseason Announcers: The Bengal announcers spent 20 minutes talking about how what Andrew Luck did wasn't a selfish move. I might have been interested in hearing about this if the narrative hadn't been so exhausted during the week.

Something I found interesting was that Solomon Wilcots, the Bengals sideline reporter, said the following: "The NFL is considering moving the final two preseason games into the regular season and playing 18 preseason games."

Follow me @walterfootball for updates.




Bills 27, Vikings 23
I can't believe the Vikings lost this game. They were up 23-6 in the fourth quarter, and it seemed as though Mike Zimmer's pristine preseason record would improve to 21-4. Instead, the Bills put together a tremendous comeback, aided by a punt return for a touchdown. This punt was made by new Vikings kicker Kaare Vedvik, who also whiffed from 37 yards earlier in the evening. The Vedvik trade was incredibly stupid, and you can read my archived analysis in the NFL Trade Grades page.


The Vikings were able to establish a 23-6 lead, thanks to the arm of Kyle Sloter. Curiously, Sloter played more than a half of this game and then was supplanted by Jake Browning, and yet Sean Mannion didn't take the field. If this is a sign that Minnesota has opted to keep Mannion over Sloter, this is a huge mistake. Sloter is a far superior quarterback compared to the inept Mannion.

Sloter, the Tom Brady of the preseason, carved up Buffalo's defense, going 16-of-24 for 163 yards, one touchdown and an interception. He was terrific all evening, save for the pick, which he telegraphed. Sloter seems like he would be one of the best backup quarterbacks in the NFL. That is something Mannion is not.


I'd like to discuss the major rookies with you, but none of them played in this game. That even includes those not chosen in the opening round like Cody Ford, Devin Singletary, Alexander Mattison and Irv Smith Jr.


While Mattison didn't play, Mike Boone and Ameer Abdullah rotated drives for the Vikings in the first half. Abdullah scored a touchdown on a reception, but Boone looked better overall. He had a great 17-yard run to begin the evening.


For the Bills, quarterback Tyree Jackson played the entire game. The undrafted rookie went 22-of-33 for 175 yards and a touchdown. He also scrambled eight times for 78 rushing yards and a second score. Jackson began the evening very poorly, losing the ball on a strip-sack, tossing lots of checkdowns and failing to see open receivers. However, he caught fire in the fourth quarter, albeit against the deepest of Minnesota's backups.


NFL Preseason Announcers: The Bills announcers, like the Steeler broadcasters below, made a huge deal about this utterly meaningless game: "This is the first time the Bills can be undefeated since 1966!" Congrats, guys. You did it.

Follow me @walterfootball for updates.




Panthers 25, Steelers 19
Panthers third-round rookie quarterback Will Grier entered the game midway through the quarter and played into the third frame. His stats look solid - 11-of-18, 189 yards, one touchdown and an interception - but those numbers don't tell the whole story. Grier's longest completion was a 54-yard pass, but that was a short toss on a skinny post, and the receiver did all of the work. Grier had some nice completions, including his touchdown pass where his receiver easily beat rookie cornerback Justin Layne, but Grier made many more mistakes. He was responsible for three turnovers, two of which were fumbles that were the result of Grier holding the ball too long in the pocket. One lost fumble was returned for a 97-yard touchdown. Ron Rivera's expression was priceless. He looked like he was thinking, "Why do I have to coach this bum?"

The announcers questioned Grier as well. When Grier threw an ugly interception, one of the broadcasters said, "Sometimes, I wonder what he sees back there." Grier did not do well overall once again, and it's fair to wonder if he's even going to make the 53-man roster.


Steelers rookie running back Benny Snell, much like Layne, has not shown anything this preseason, and that continued to be the case in this contest. Snell was limited to 12 yards on eight carries.


Another Steeler rookie, Devin Bush, was on the field to begin the game. I have no idea what Mike Tomlin was thinking by using Bush in the most meaningless game of the year. Bush looked good in limited action. Fortunately for Pittsburgh, he did not get hurt.


Steeler quarterbacks Mason Rudolph and Joshua Dobbs split the first half. Rudolph has been markedly better this August, and that continued to be the case in this game. Rudolph was the only Pittsburgh signal-caller able to move the chains, going 7-of-11 for 125 yards and a touchdown. Dobbs, who was 3-of-5 for 21 yards, should have thrown an interception on a horrendous pass hurled late across his body.
Pittsburgh rookie receiver Diontae Johnson caught only one pass for 12 yards, but he made it count. He made a great reception along the sideline. I'm bullish on his future, though he likely won't do much this season.


NFL Preseason Announcers: I really don't have much to say regarding the announcers outside of them being overly enthusiastic. The play-by-play guy shouted at kickoff, "This team is ready to play!" That's quite the declaration for the most meaningless game of the year.

Follow me @walterfootball for updates.


2019 Preseason Notes: Week 1 | Week 2 | Week 3 | Week 4
2019 Fantasy Football Stock Pages: Preseason Stock Week 1 | Preseason Stock Week 2 | Preseason Stock Week 3 | Training Camp Stock







More 2019 Fantasy Football Articles:
Fantasy Football Rankings

2019 Fantasy Football Rankings:
2019 Fantasy Football Rankings: Quarterbacks - 8/26 (Walt)
Chet Gresham's Fantasy Football Quarterback Rankings - 8/12 (Chet)
2019 Fantasy Football Rankings: Running Backs - 9/4 (Walt)
Chet Gresham's Fantasy Football Running Back Rankings - 8/12 (Chet)
2019 Fantasy Football Rankings: Wide Receivers - 9/3 (Walt)
Chet Gresham's Fantasy Football Wide Receiver Rankings - 8/12 (Chet)
2019 Fantasy Football Rankings: Tight Ends - 8/29 (Walt)
Chet Gresham's Fantasy Football Tight End Rankings - 8/12 (Chet)
2019 Fantasy Football Rankings: Kickers - 5/11 (Walt)
2019 Fantasy Football Rankings: Defenses - 5/11 (Walt)
Fantasy Football Rookie Rankings: Dynasty - 8/27 (Walt)



2019 Fantasy Football Mock Drafts:
2019 Fantasy Football Mock Draft - 8/29 (Walt)
2019 Fantasy Football Real Draft - 8/28 (Walt)
2019 Fantasy Football PPR Mock Draft - 8/22 (Walt)
2019 Fantasy Football Mock Draft - 8/15 (Walt)
2019 Fantasy Football PPR Mock Draft - 8/8 (Walt)
2019 Fantasy Football Mock Draft - 8/1 (Walt)
Fantasy Football Experts Draft - 6/23 (Walt)
2019 Fantasy Football Dynasty Rookie Mock Draft - 5/23 (Walt)



2019 Fantasy Football Cheat Sheets:
2019 Fantasy Football Cheat Sheet: Top 250 - 9/4 (Walt)
2019 Fantasy Football Cheat Sheet: Top 250 PPR - 9/4 (Walt)
2019 Fantasy Football Cheat Sheet: Top 250 Half-PPR - 9/4 (Walt)
2019 Fantasy Football Cheat Sheet: Top 250 2-QB - 9/4 (Walt)
2019 Fantasy Football Cheat Sheet: Top 250 Touchdown League - 9/4 (Walt)
2019 Fantasy Football Cheat Sheet: Custom - 9/4 (Walt)
2019 Fantasy Football: Dynasty Rankings - 9/4 (Walt)
2019 Fantasy Football Spreadsheets - 9/4 (Walt)

2019 Fantasy Football Articles:
2019 Fantasy Football Stock Report: OTAs, Training Camp - 9/4 (Walt)
2019 Fantasy Football Sleepers - 9/1 (Walt)
2019 NFL Preseason Game Recaps - 8/30 (Walt)
2019 Fantasy Football Stock Report: Preseason Games - 8/30 (Walt)
2019 Fantasy Football Busts - 8/27 (Walt)
2019 Fantasy Football: Wide Receiver Values - 8/20 (Chet)
2019 Fantasy Football: Running Back Values - 8/13 (Chet)
2019 Fantasy Football: Quarterback Values - 8/8 (Chet)
2019 Fantasy Football Round-by-Round Strategy Guide - 8/7 (Walt)






2021 NFL Mock Draft - March 2


2022 NFL Mock Draft - Feb. 24


NFL Power Rankings - Feb. 11


NFL Picks - Feb. 8


Fantasy Football Rankings - Jan. 11