NFL Trolling - October 2015
NFL Trolling:
Sept. 2015
|
Oct. 2015
|
Dec. 2015
Sept. 2014
|
Oct. 2014
|
Nov. 2014
|
Dec. 2014
Sept. 2013
|
Oct. 2013
|
Nov. 2013
|
Dec. 2013
|
Playoffs
Sept. 2012
|
Oct. 2012
|
Nov. 2012
|
Dec. 2012
|
Jan. 2013
This is a compilation of my trolling attempts on NFL.com that I've posted on my
NFL Picks
and
NFL Power Rankings
pages. Follow me on Twitter
@walterfootball
for contest updates.
I used to love making fun of GameCenter comments. The people on there were such idiots. There were even perverts like Aaron3619, who always asked chicks for their pictures so that he could carry them around. I planned to mess with Aaron3619 as a fake user named TexasGirl1234, but NFL.com shut down its GameCenter and implemented Facebook comments instead. This enraged me, so get revenge, I made a fake Facebook account named Mario Migelini to troll people. Other readers followed suit and made fake accounts of their own.
---
Week 14 Trolling:
I used to save my trolling escapades for this space, but I've been banned from posting on ESPN boards as Mario Migelini by the facist douches who are in charge of policing Facebook posts. Fortunately, others are still trolling. Or at least I think so. Facebook friend Luke T. found a couple of posts that look like they were made by trolls. Here's the first: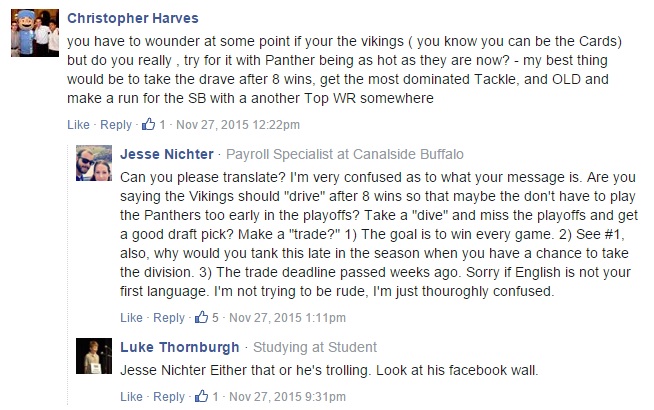 What the hell? How can the Vikings be the Cards? And what the hell is "take a drave?" Is that supposed to be "take a drive?" "Take a dive?" And why the hell would the Vikings take a drave/drive/dive?
Oh, and what is an OLD? Outside Linedacker? Or just a player who's old? I'm befuddled here.
Here's another (possible) troll post: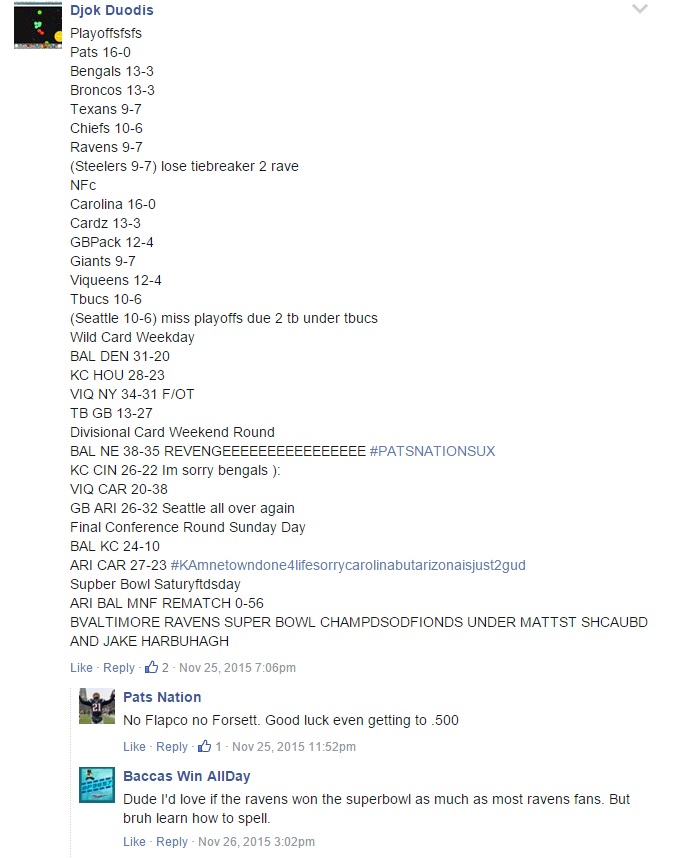 This was before the Ravens were dealt their eighth loss, so 9-7 was technically possible. Super improbable, but technically possible, I suppose.
I love how he billed the Cardinals-Ravens as a "Monday Night Football Rematch." He might be one of the few people who remembers that game. Ah, well. Djok Duodis may not be the brightest football fan, but I at least admire his devotion to "Jake Harbuhagh."
Follow me on Twitter
@walterfootball
for contest updates.
NFL Trolling:
Sept. 2015
|
Oct. 2015
|
Dec. 2015
Sept. 2014
|
Oct. 2014
|
Nov. 2014
|
Dec. 2014
Sept. 2013
|
Oct. 2013
|
Nov. 2013
|
Dec. 2013
|
Playoffs
Sept. 2012
|
Oct. 2012
|
Nov. 2012
|
Dec. 2012
|
Jan. 2013
2022 NFL Mock Draft
- April 14
2021 NFL Mock Draft
- April 13
NFL Power Rankings
- April 4
NFL Picks
- Feb. 8
Fantasy Football Rankings
- Jan. 11