NFL Trolling - September 2015
NFL Trolling:
Sept. 2015
|
Oct. 2015
|
Dec. 2015
Sept. 2014
|
Oct. 2014
|
Nov. 2014
|
Dec. 2014
Sept. 2013
|
Oct. 2013
|
Nov. 2013
|
Dec. 2013
|
Playoffs
Sept. 2012
|
Oct. 2012
|
Nov. 2012
|
Dec. 2012
|
Jan. 2013
This is a compilation of my trolling attempts on NFL.com that I've posted on my
NFL Picks
and
NFL Power Rankings
pages. Follow me on Twitter
@walterfootball
for contest updates.
I used to love making fun of GameCenter comments. The people on there were such idiots. There were even perverts like Aaron3619, who always asked chicks for their pictures so that he could carry them around. I planned to mess with Aaron3619 as a fake user named TexasGirl1234, but NFL.com shut down its GameCenter and implemented Facebook comments instead. This enraged me, so get revenge, I made a fake Facebook account named Mario Migelini to troll people. Other readers followed suit and made fake accounts of their own.
---
Week 4 Trolling:
Much like Pete Carroll, Mario Migelini was pissed off about the officials in Green Bay: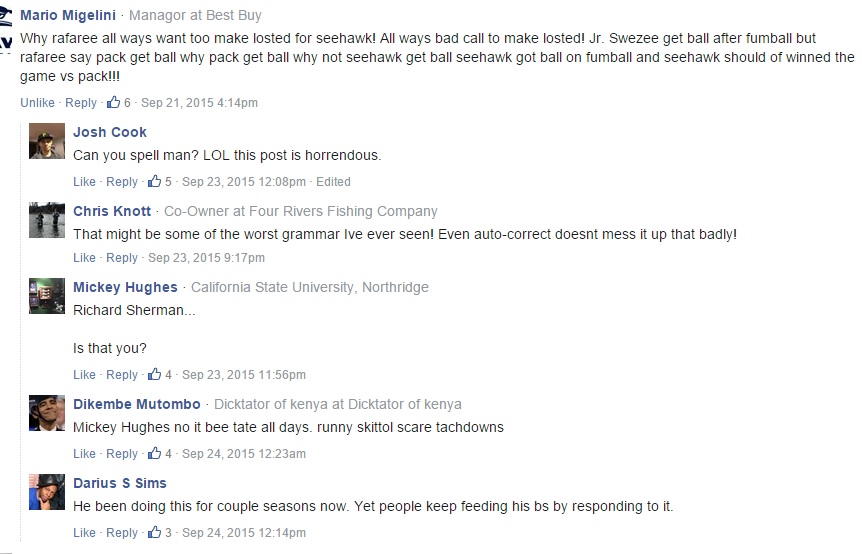 How can you say this post is horrendous, Josh Cook? This post is pretty epic, if I do say so myself.
Here were even more posts from the same thread: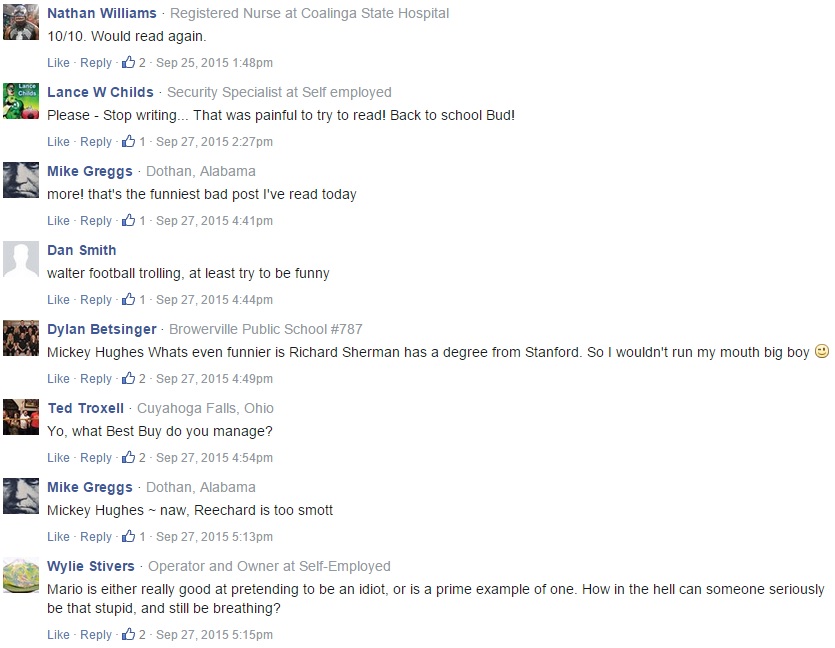 I have to say, I'm pretty encouraged by everyone saying that this is the best thing they've read. Except for that douche Dan Smith. Looks like someone has a nice chunk of sand in his vag.
And, even more posts from the same thread: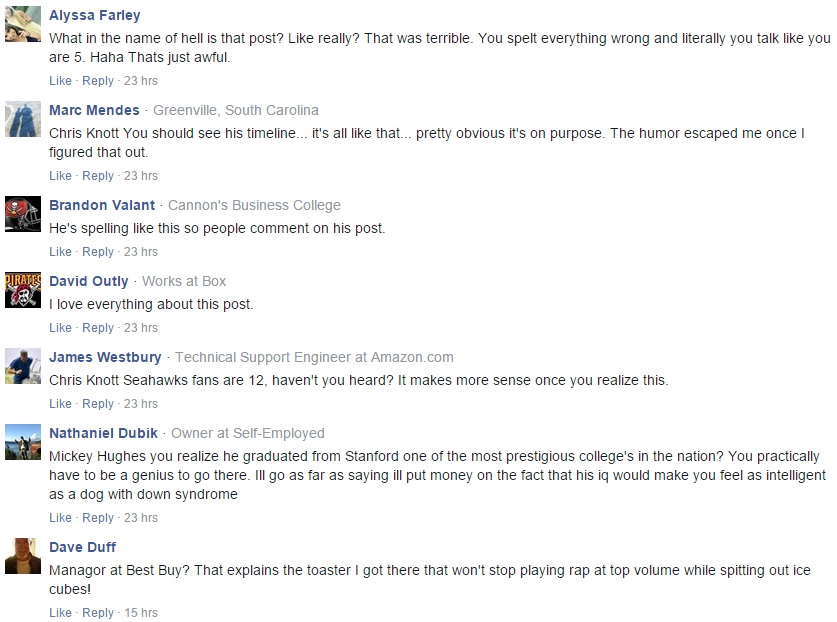 Alyssa is super uptight. Chill out, babe. And Marc, come on, man, why wouldn't Mario's timeline be the same way? Logic, bro, logic.
Here's another thread: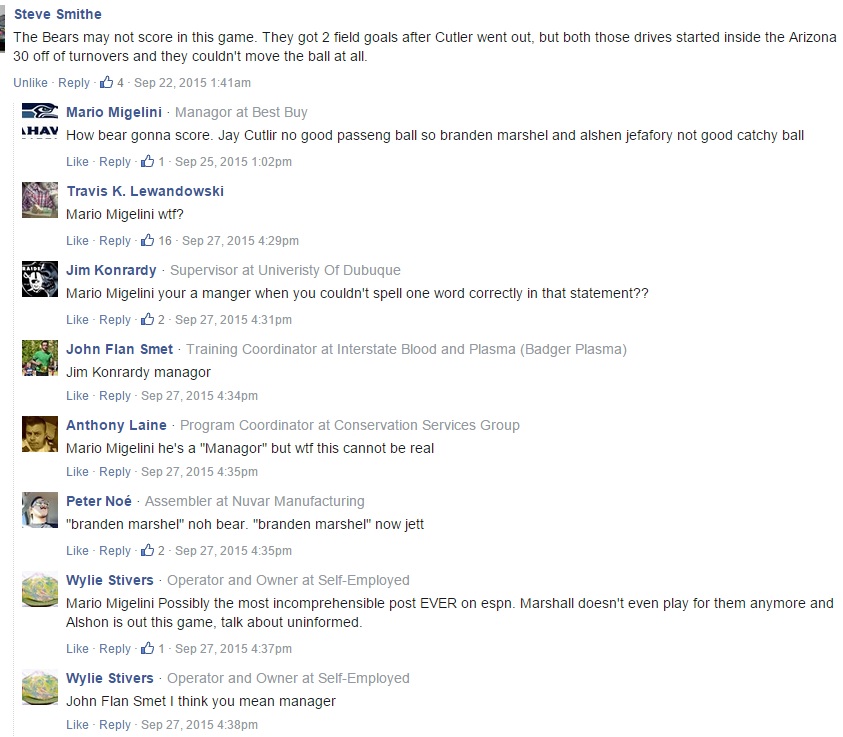 Jim Konrady, Mario spelled "how" and score" and "good" correct. Stop hating. He can spell some things correctly!
And more from this thread: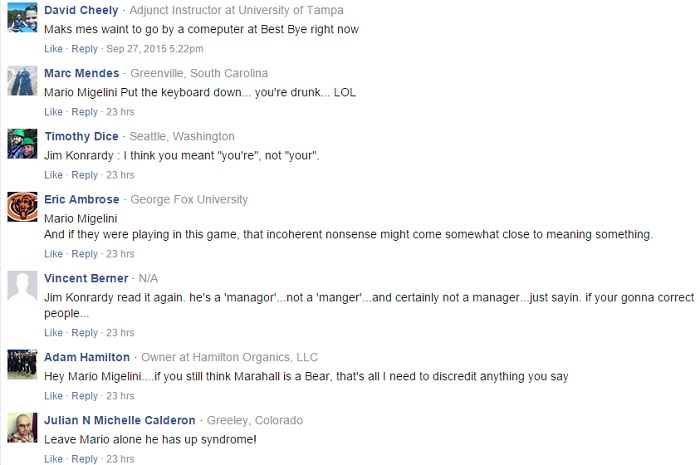 I love how Adam Hamilton needed my statement about Brandon Marshall to discredit me. As if "managor" or the other incorrect spellings weren't enough.
Week 3 Trolling:
This was an awesome thread in the Seahawks-Packers ESPN Conversation page: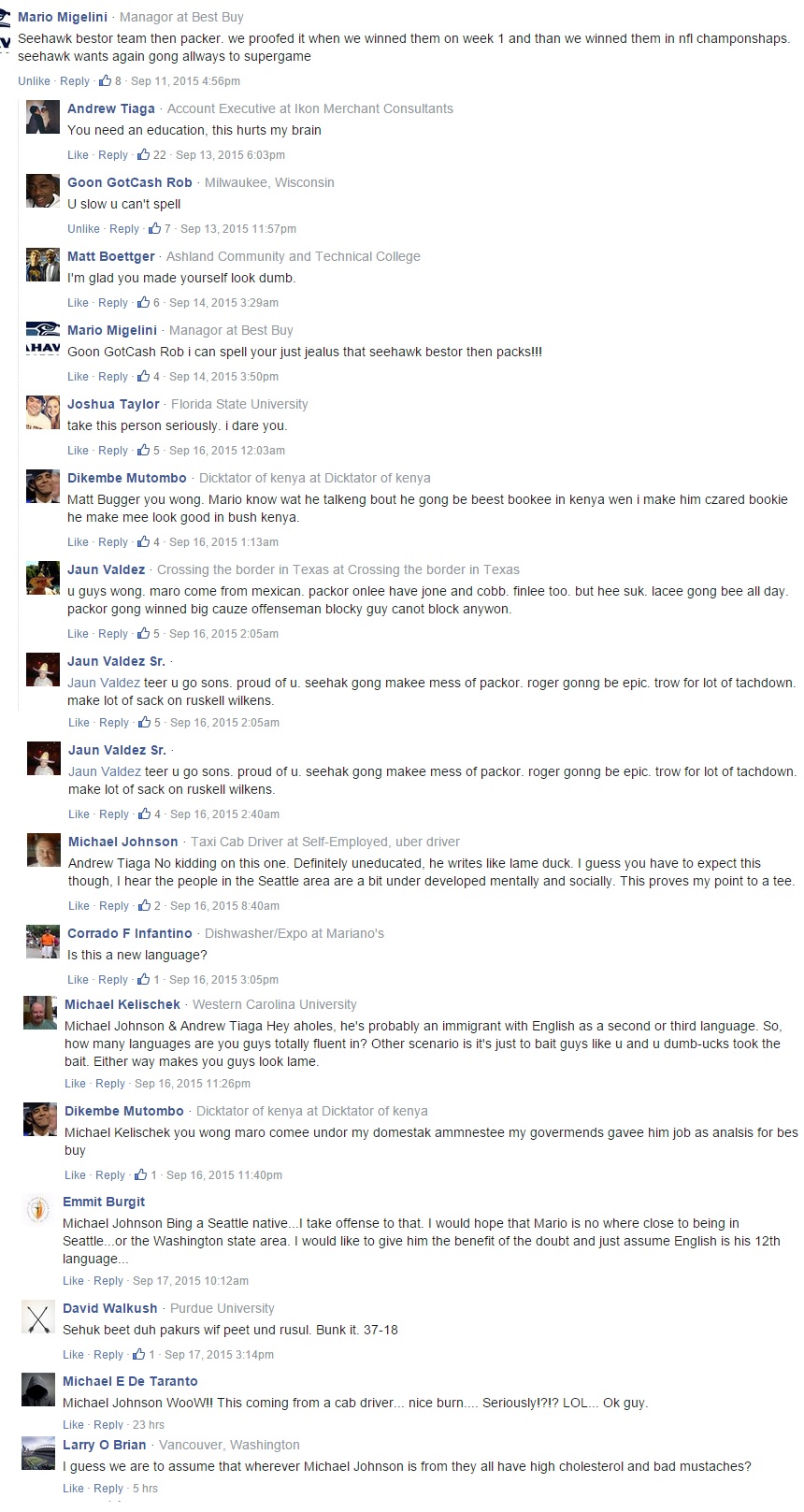 I love it when Michael Kelischek stand up for me and say that it's OK that I type like an idiot because I'm an immigrant. Thanks for defending me, Mike!
Here were even more posts from the same thread: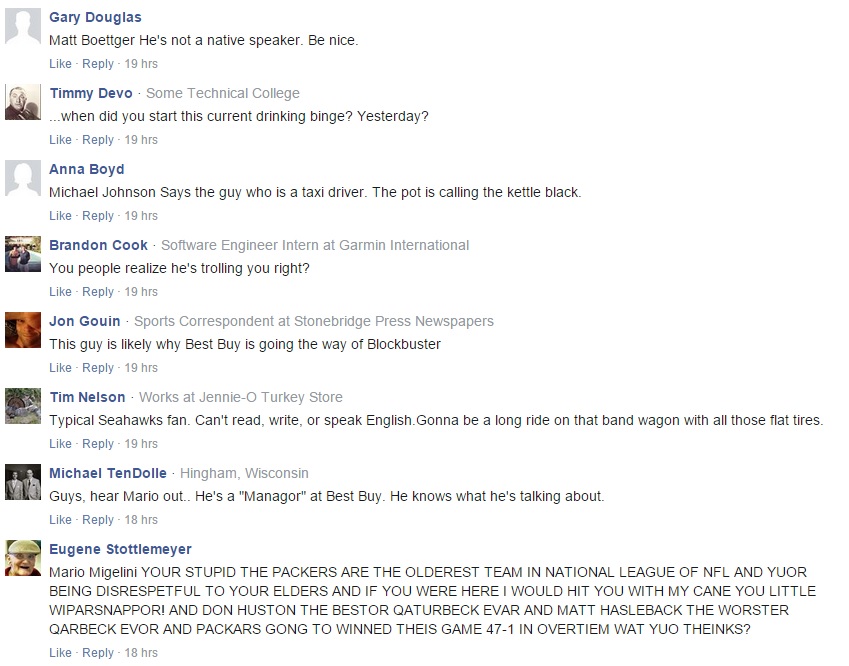 Seeing people say that Best Buy is declining puts a smile on my face. Best Buy used to be a great store, but the s***ty employees who don't give a damn will be its downfall.
Here's another thread: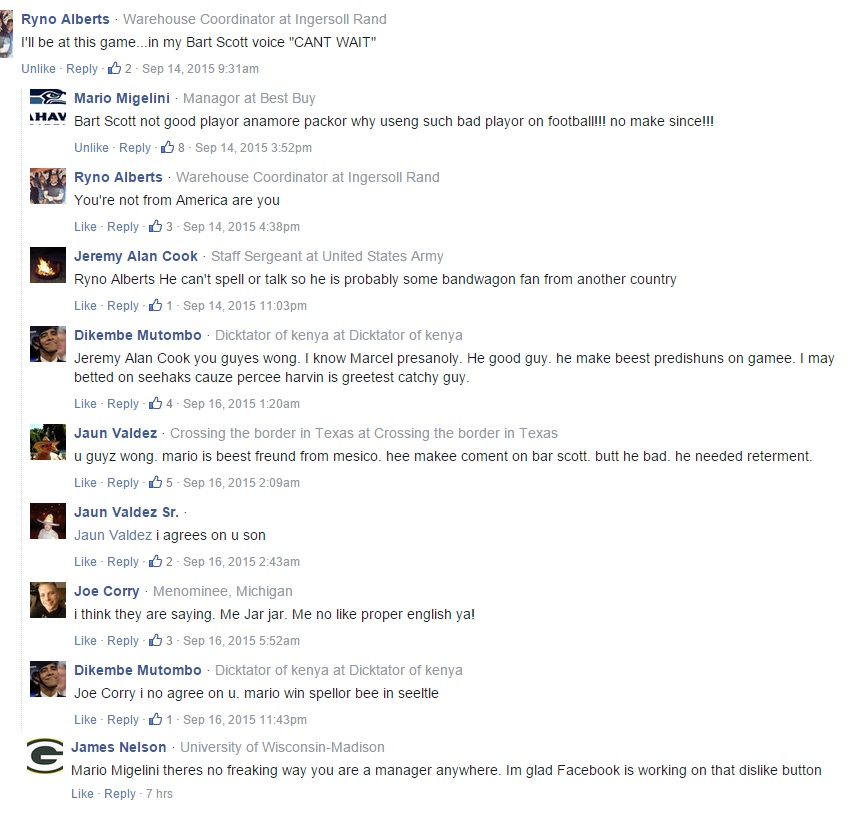 I also love it when the other immigrants join me. And what's up with Ryno's post? Of course Mario isn't. What's the point of asking that? Why would he assume someone posting is from America?
Here's a short one: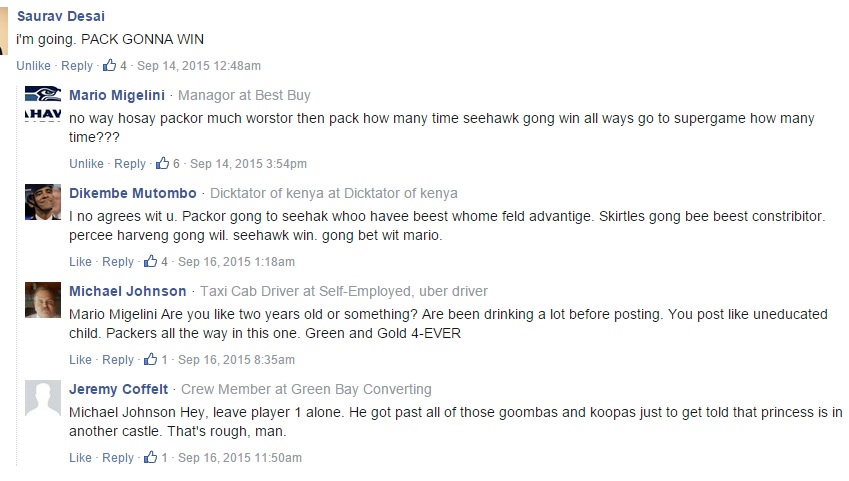 I post like an uneducated child? OK? What does an educated child post like, and why does Michael Johnson know this? Been hanging around Jared Fogle lately?
More immigrants: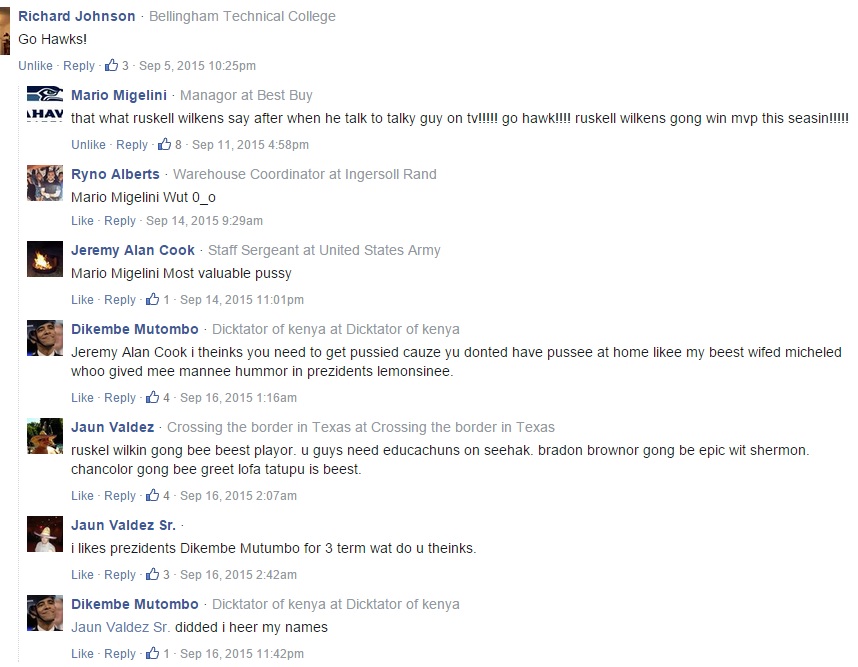 I can't wait until so many immigrants flood ESPN's conversations and take all the posts. Then, Donald Trump can yell at us and call all of us rapists. Good times.
Week 2 Trolling:
Lots of successful trolling with Mario this week, with the help of some of the other trolls who have bombarded the ESPN boards: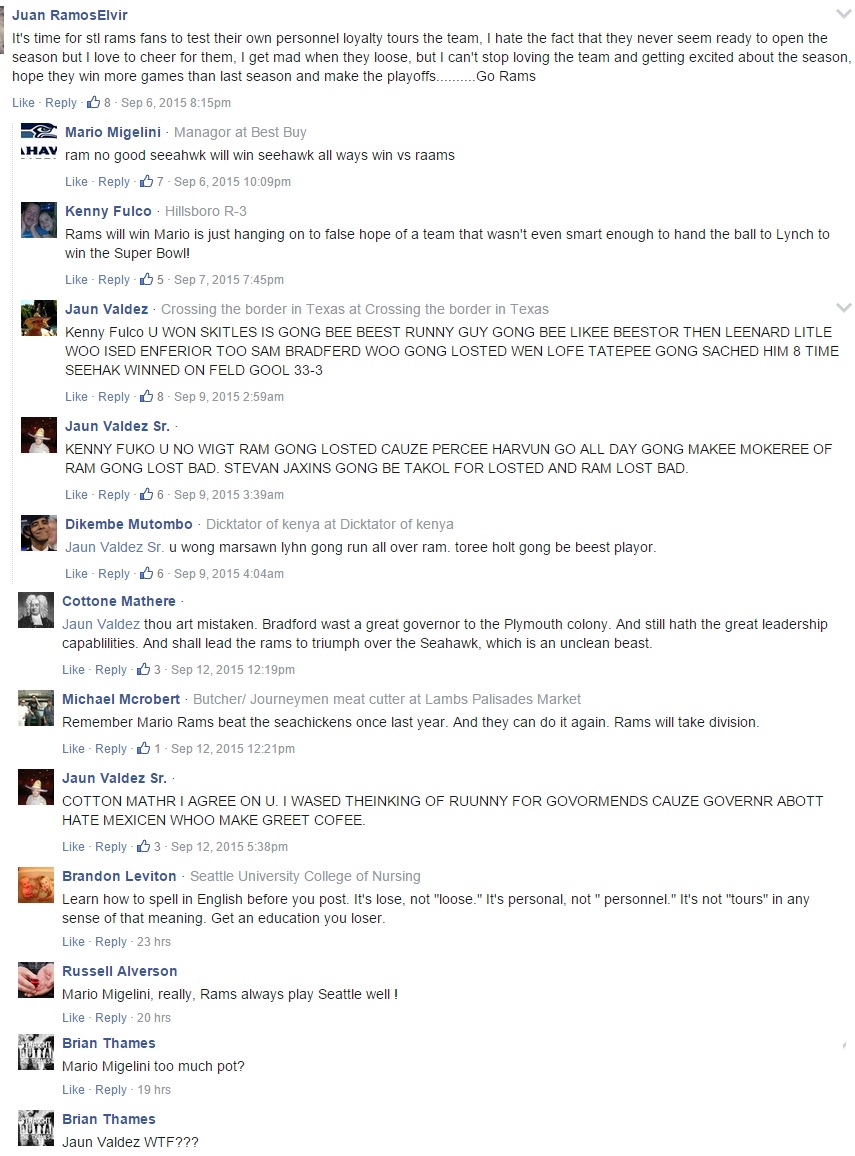 I find it hilarious that the Brandon Leviton person was criticizing the spelling of the only non-troller in the thread.
This was an epic thread: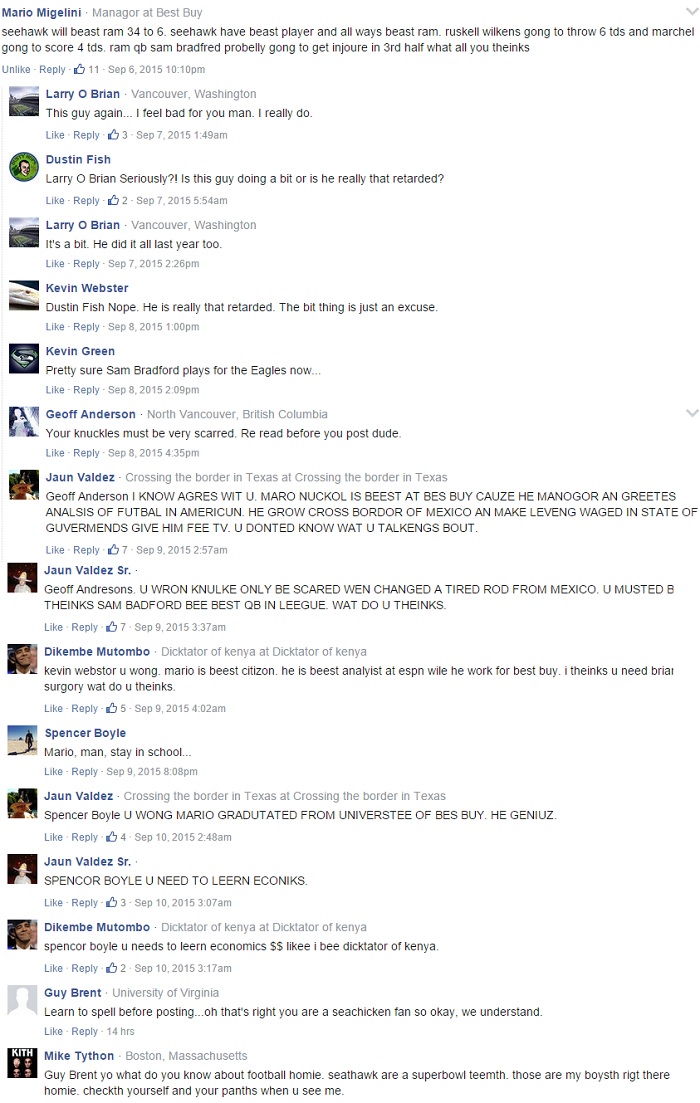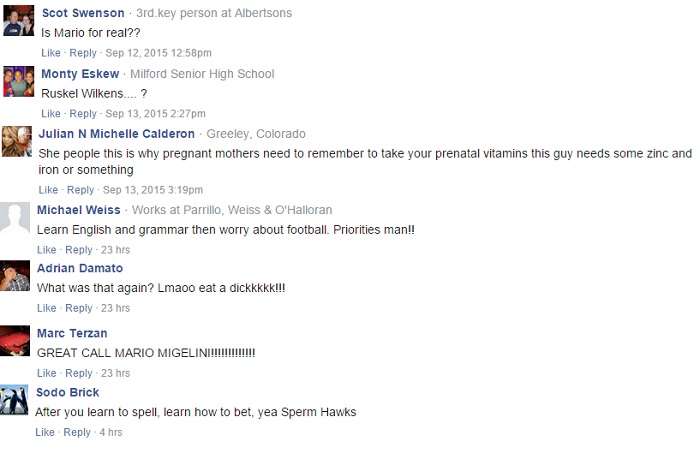 Sooo many great reactions. We even had some a**hole posting as Julian N Michelle Calderon - a dual account, wtf??? - who is trying to tell people how to raise their children and birth their babies. I hate people like this.
Here's something from Jaun Valdez Sr. and Jr: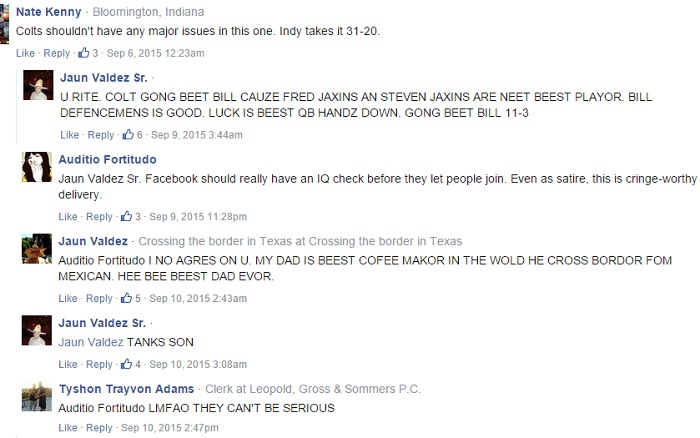 I love how Tyshon isn't quite sure if these people are for real, so he has to post a half-question in caps.
One more: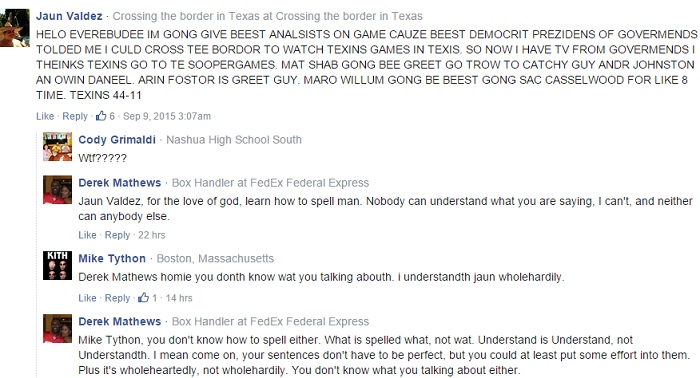 I love people who believe that they belong in the Spell Check Police. Calm down, Derek. Some people are just stupid and don't know how to spell anything.
---
Week 1 Trolling:
I only have a couple examples of trolling this week because ESPN deleted all of their posts from August. I made just a couple afterward: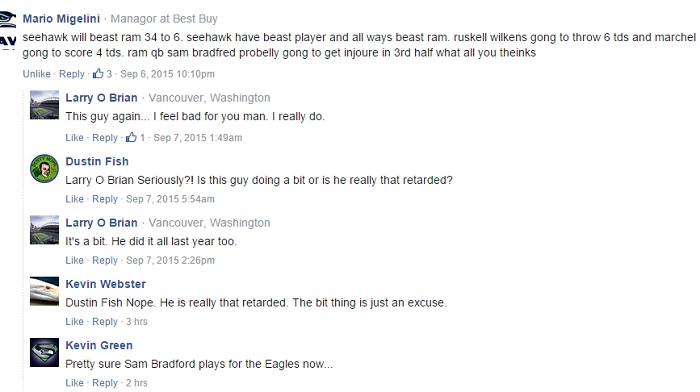 I love how people actually believe I'm some stupid person who can't spell everything right. Someone named Kevin Green is even trying to correct me. Hilarious.
Here's the only other response I received: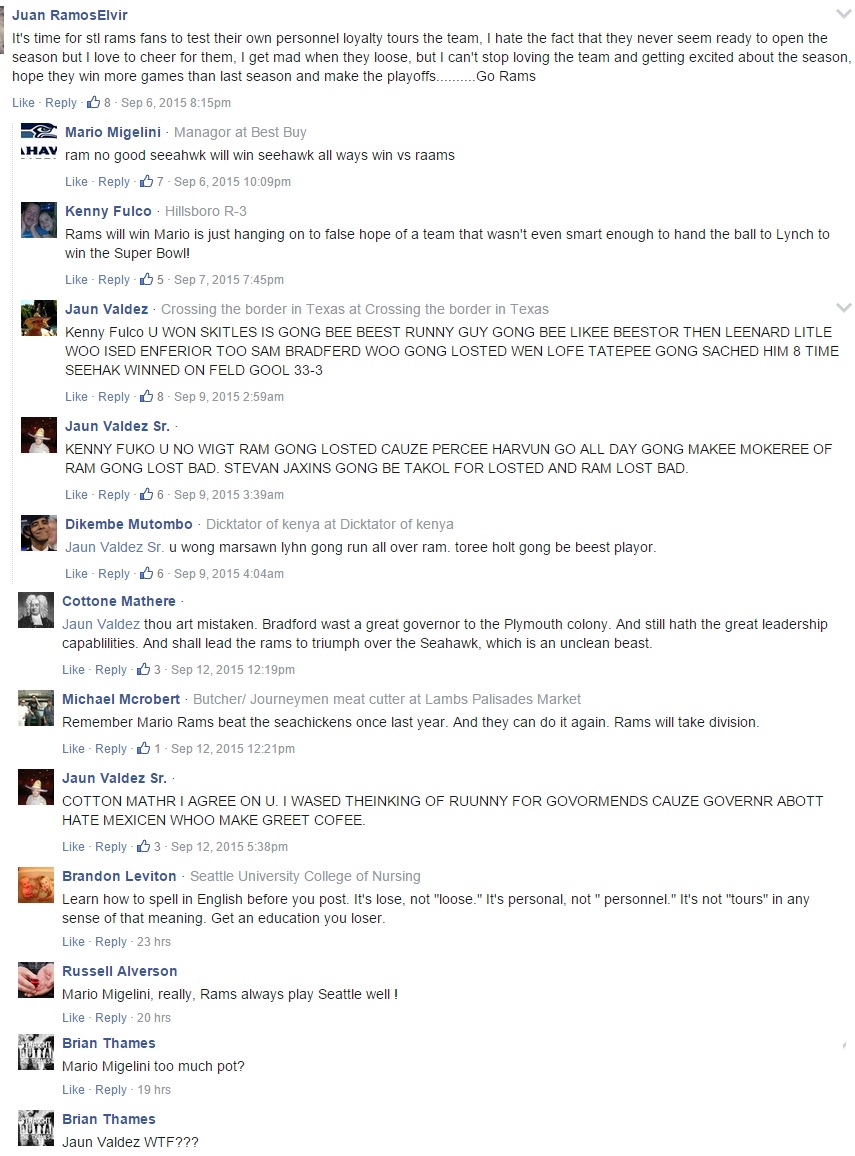 Yeah, a bit disappointing, but now that ESPN won't be deleting its crap, I think I might have better luck next week.
Follow me on Twitter
@walterfootball
for contest updates.
NFL Trolling:
Sept. 2015
|
Oct. 2015
|
Dec. 2015
Sept. 2014
|
Oct. 2014
|
Nov. 2014
|
Dec. 2014
Sept. 2013
|
Oct. 2013
|
Nov. 2013
|
Dec. 2013
|
Playoffs
Sept. 2012
|
Oct. 2012
|
Nov. 2012
|
Dec. 2012
|
Jan. 2013
2021 NFL Mock Draft
- March 2
2022 NFL Mock Draft
- Feb. 24
NFL Power Rankings
- Feb. 11
NFL Picks
- Feb. 8
Fantasy Football Rankings
- Jan. 11