NFL Trolling - October 2015
NFL Trolling:
Sept. 2015
|
Oct. 2015
|
Dec. 2015
Sept. 2014
|
Oct. 2014
|
Nov. 2014
|
Dec. 2014
Sept. 2013
|
Oct. 2013
|
Nov. 2013
|
Dec. 2013
|
Playoffs
Sept. 2012
|
Oct. 2012
|
Nov. 2012
|
Dec. 2012
|
Jan. 2013
This is a compilation of my trolling attempts on NFL.com that I've posted on my
NFL Picks
and
NFL Power Rankings
pages. Follow me on Twitter
@walterfootball
for contest updates.
I used to love making fun of GameCenter comments. The people on there were such idiots. There were even perverts like Aaron3619, who always asked chicks for their pictures so that he could carry them around. I planned to mess with Aaron3619 as a fake user named TexasGirl1234, but NFL.com shut down its GameCenter and implemented Facebook comments instead. This enraged me, so get revenge, I made a fake Facebook account named Mario Migelini to troll people. Other readers followed suit and made fake accounts of their own.
---
Week 8 Trolling:
I unfortunately don't have much this week. This thread was entertaining, however: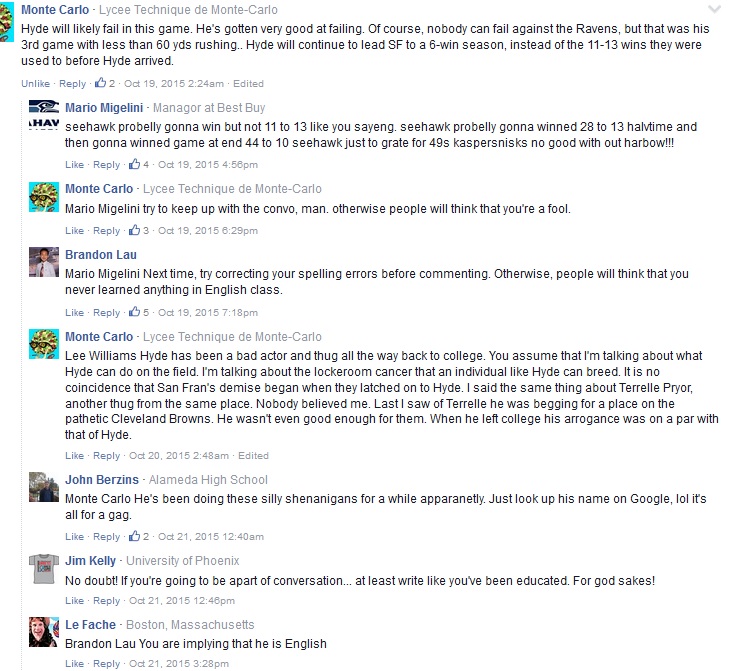 I love how multiple people think that Mario is concerned about people thinking he's a fool.
Here's the other thread: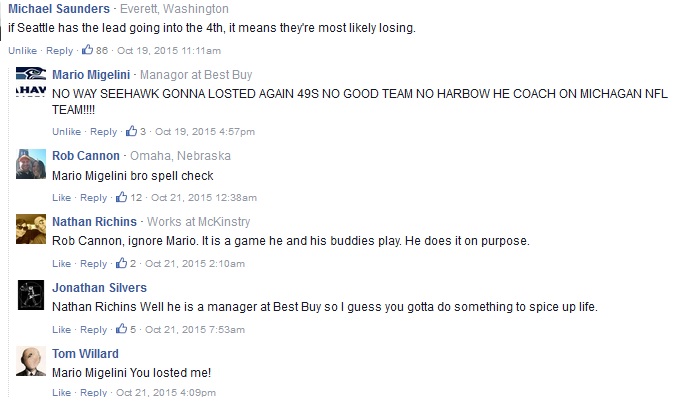 I actually learned recently that Best Buy managers make about $100,000, so people better respect Mario and his money! Oh, and Nathan Richins, shut up. Just take the sand out of your vag and let us have our fun.
Week 7 Trolling:
I'll start with another short post again: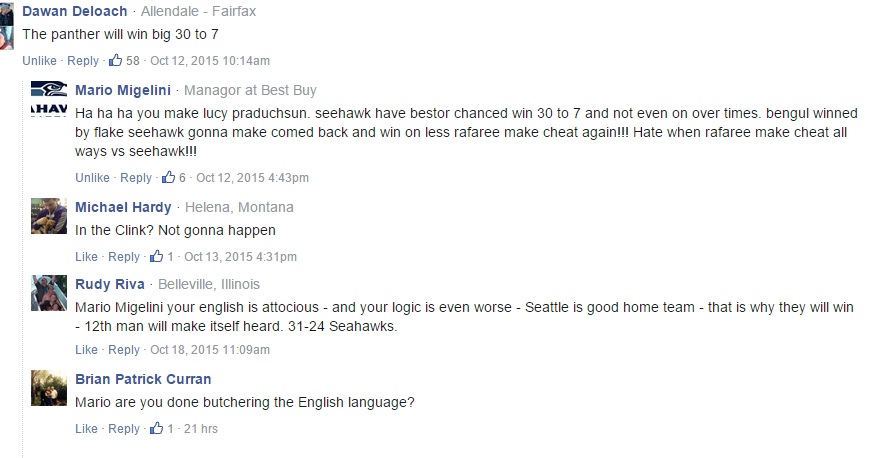 Done butchering the English language? Who do you think I am, Emmitt Smith and whomever he hired to tweet for him?
Time to lay some knowledge down: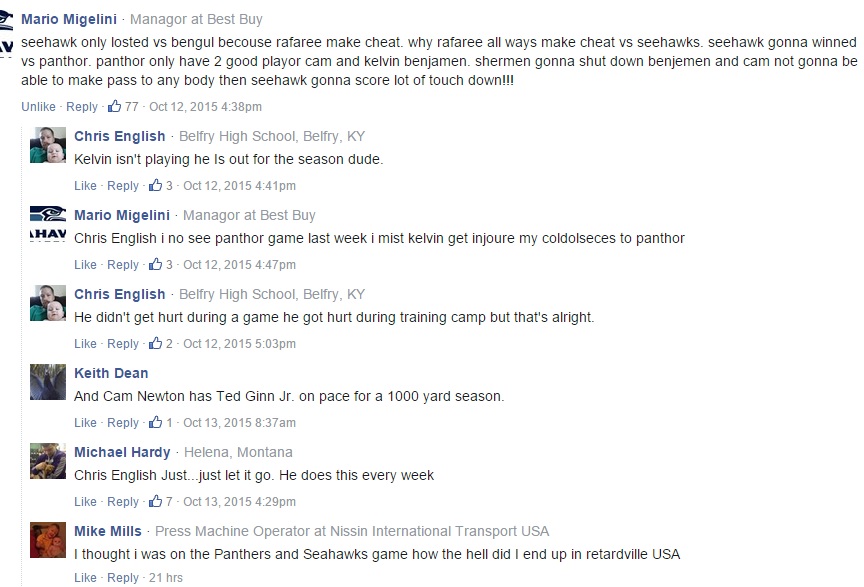 I was hoping for more replies to this, given that I faked seeing Kelvin Benjamin getting hurt in a game this season when he never actually played. Sand in the vag alert on Michael Hardy, by the way.
English isn't my only issue here. Let's see if you can catch the math flaws: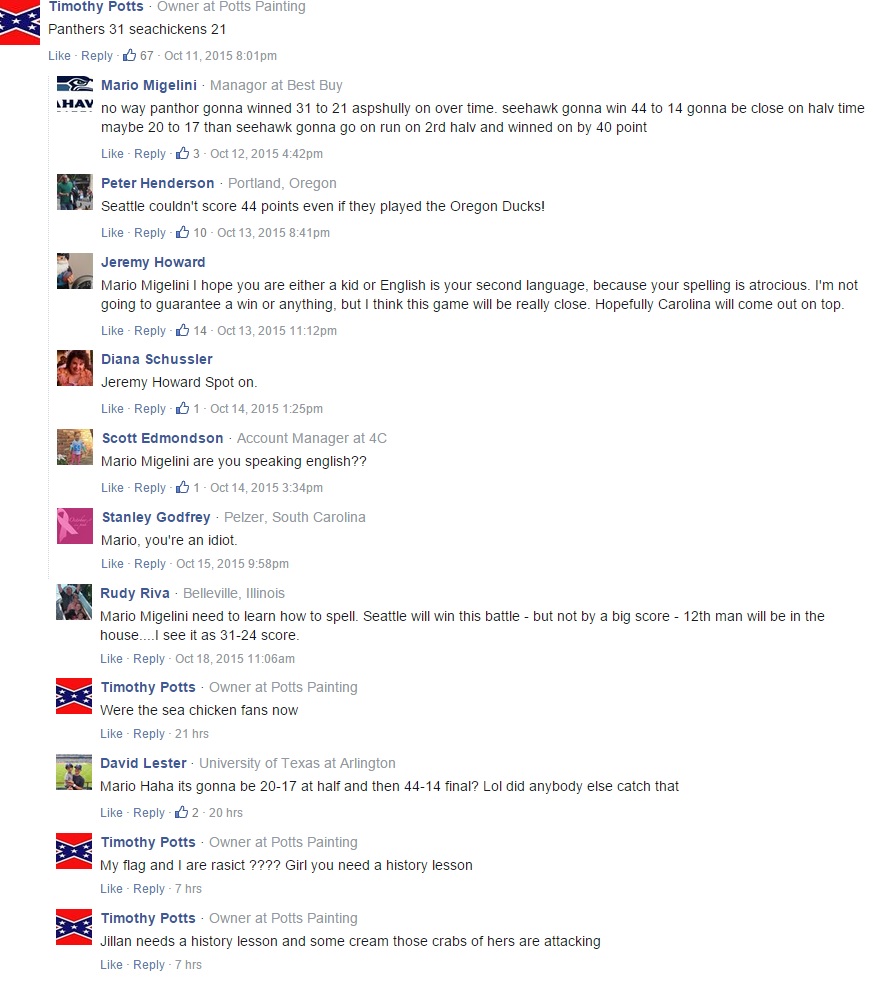 Two mistakes: A 44-14 result isn't a 40-point margin, but that one's obvious. David Lester, surprisingly, was the only one to point it out. I had the Seahawks going from 20-17 to 44-14, so they somehow would erase three of Carolina's points. I may do something like this next week.
By the way, I loved the exchanges with Timothy Potts. Like me, he's probably trolling everyone. In another thread, he talked about how the confederate states are "sleeping giant." Taylor called me out as well here: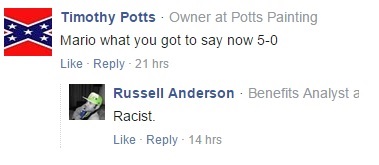 I love how he had to validate both himself and his prediction by calling out a fake, trolling Seahawk fan.
Week 6 Trolling:
A short post to begin: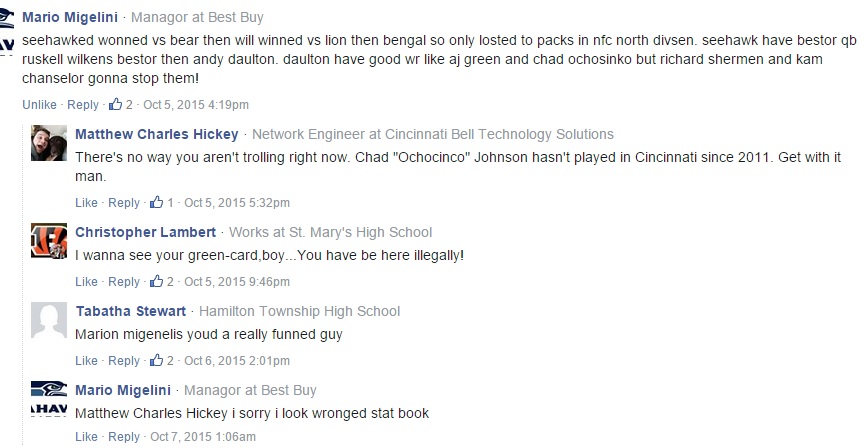 I have to be here illegally because I can't spell and I don't know Chad Ochocinco has been retired since 2011? Someone needs their privilege checked!
Here's another one where I don't recognize that Ochocinco has been retired: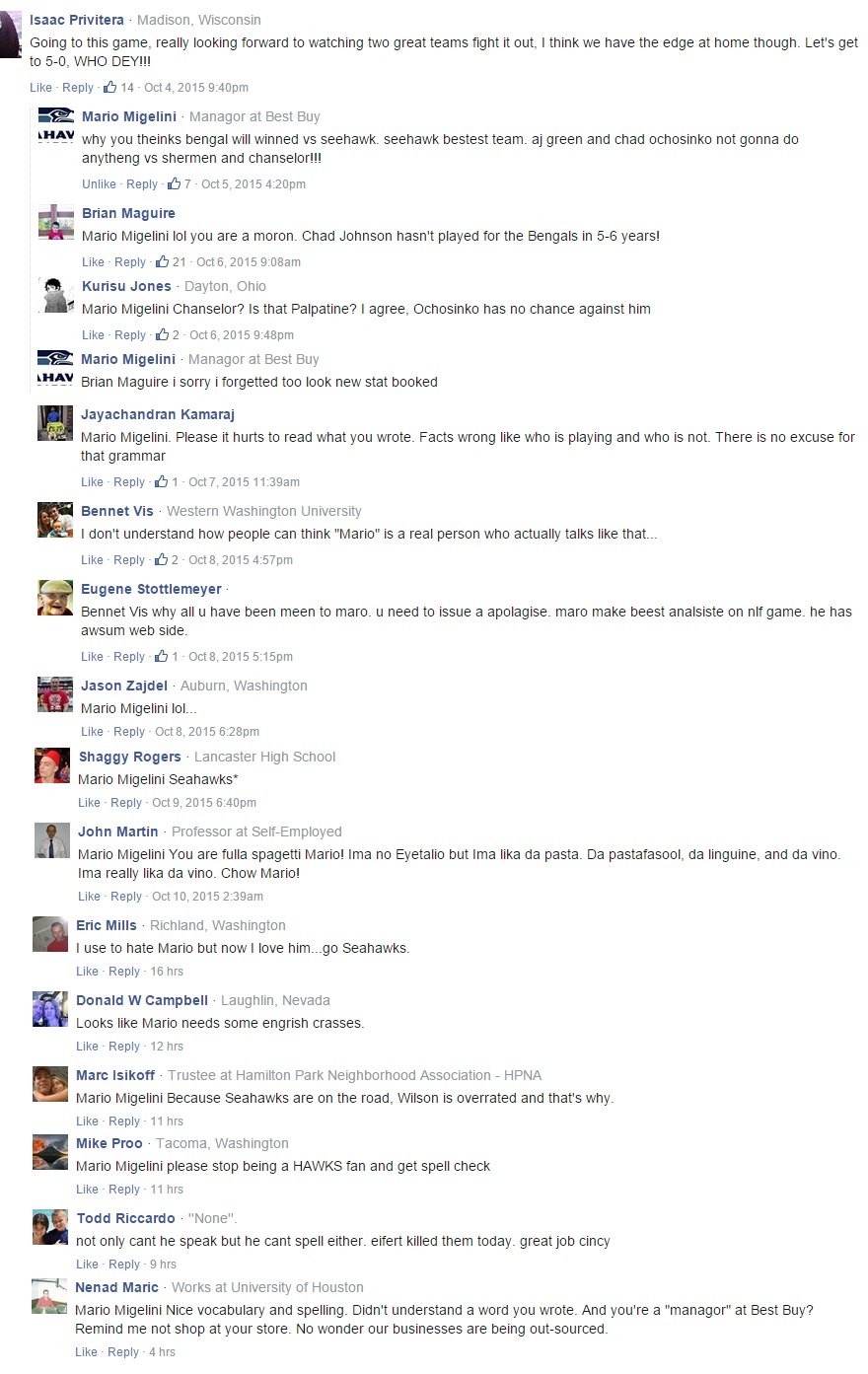 Happy about Nenad's post at the end. I'm always up to do whatever I can do to destroy Best Buy, which has become an abomination of a store.
I argue about the projected score here: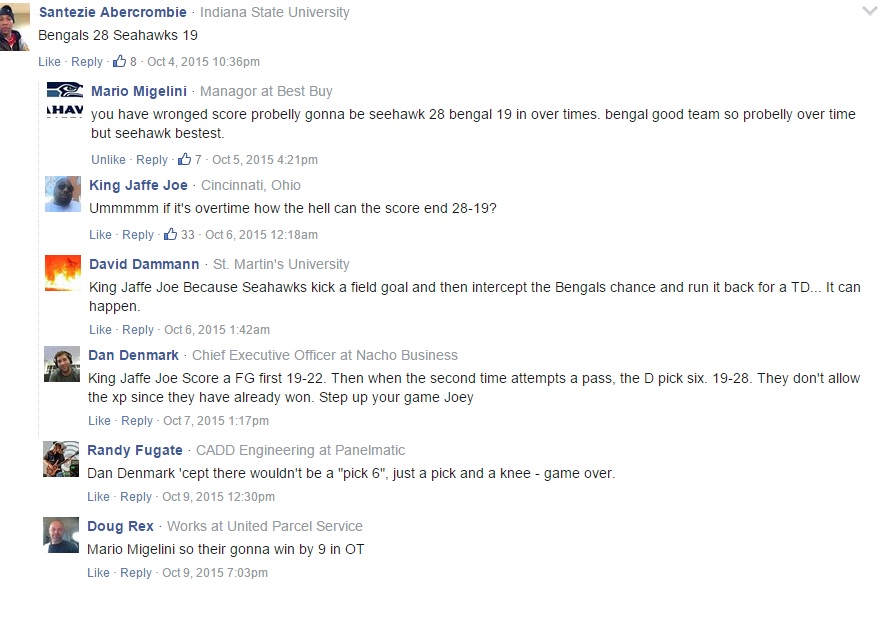 I love how I pretended to screw up, but actually got something right. And yeah, King Jaffe Joe, step up your game. You can't be proven wrong by Mario Migelini.
Here's my assertion that the "Seehawks" have hearts of "the champeon:"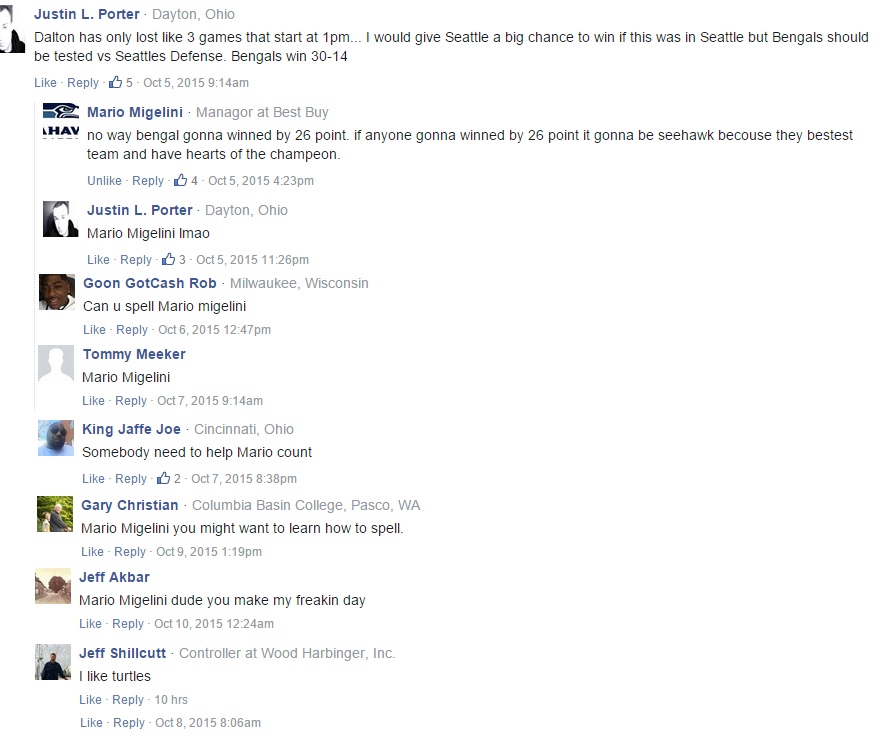 Again, King Jaffe Joe, what are you talking about? What does counting have to do with anything?
Week 5 Trolling:
There's a ton going on here: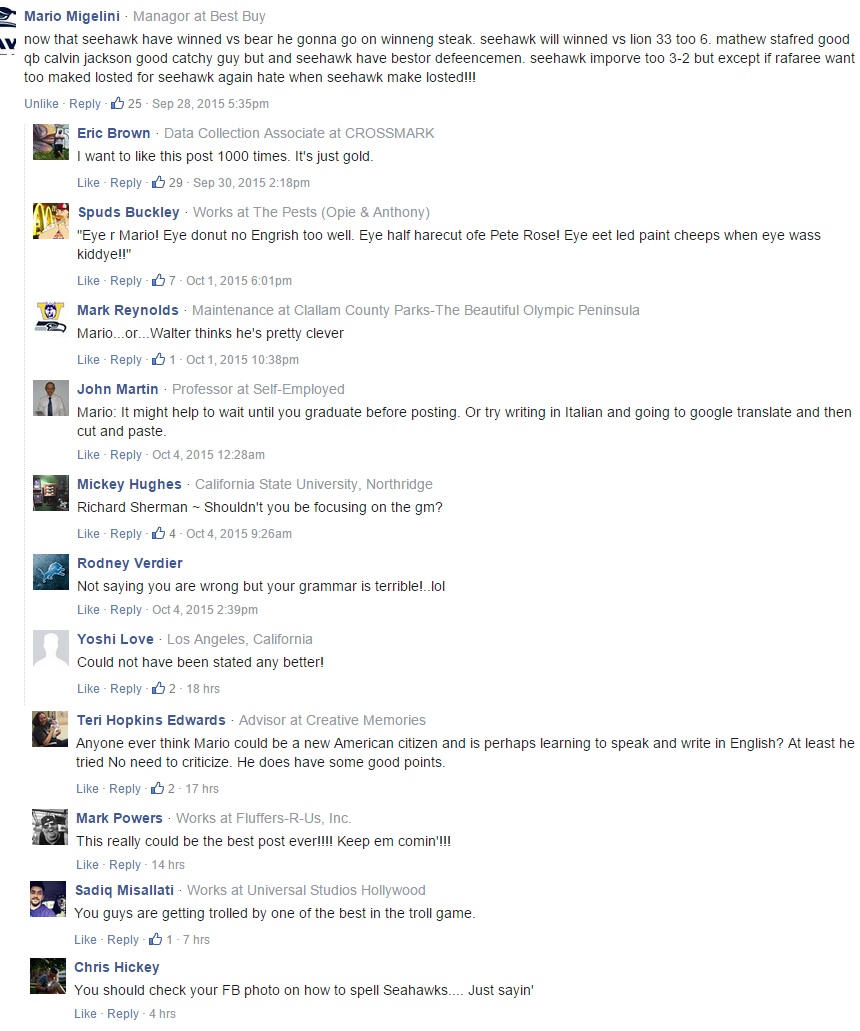 So much to say about the people here:
Mark Reynolds has sand in his vag and doesn't understand humor. But yes, Mark, I do think I'm pretty clever.
John Martin actually makes me want to try an Italian translator one of these weeks. I'll do it if he pops up again.
Thanks, Teri! Glad I made some good points, and I appreciate you noticing that I'm trying!
And a real thanks to Mark Powers and Sadiq Misallati. It's great to know that I'm one of the best in the troll game.
Here's one more post: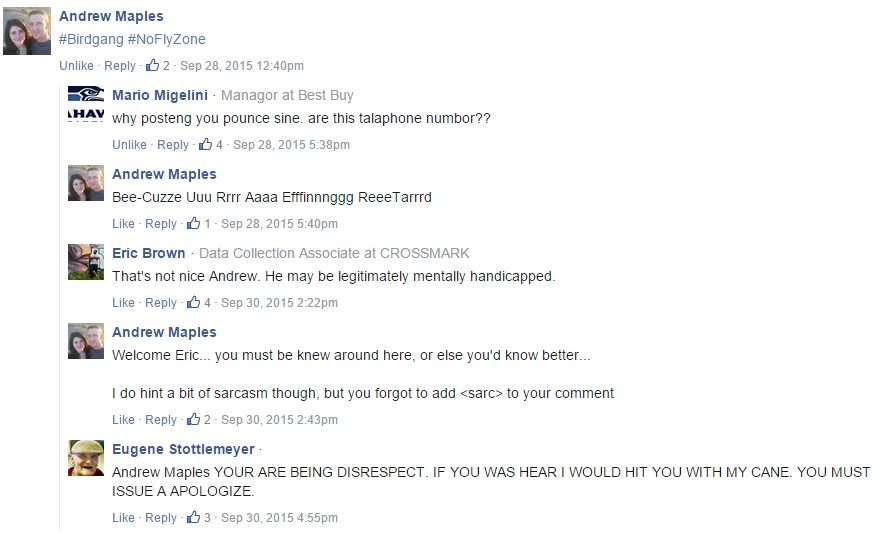 Yeah, Andrew Maples! Listen to Eric Brown. It's not nice to make fun of someone who is legitimately mentally handicapped!
Follow me on Twitter
@walterfootball
for contest updates.
NFL Trolling:
Sept. 2015
|
Oct. 2015
|
Dec. 2015
Sept. 2014
|
Oct. 2014
|
Nov. 2014
|
Dec. 2014
Sept. 2013
|
Oct. 2013
|
Nov. 2013
|
Dec. 2013
|
Playoffs
Sept. 2012
|
Oct. 2012
|
Nov. 2012
|
Dec. 2012
|
Jan. 2013
2022 NFL Mock Draft
- April 14
2021 NFL Mock Draft
- April 13
NFL Power Rankings
- April 4
NFL Picks
- Feb. 8
Fantasy Football Rankings
- Jan. 11