July 26, 2013.
This is a 2013 Fantasy Football Mock Draft (12 teams, 2-QB format) I took part in with 11 other members of the forum. As usual, I'll have analysis of my picks, as well as the best and worst selections from each two rounds. In a new addition this year, David Wipperman (forum member Ragnarok, a.k.a. Rags) will break down the best and worst teams from the mock draft.
Just a heads up that we have 2013 Fantasy Football Mock Drafts every Wednesday evening. Check out the
fantasy mock draft thread
for details.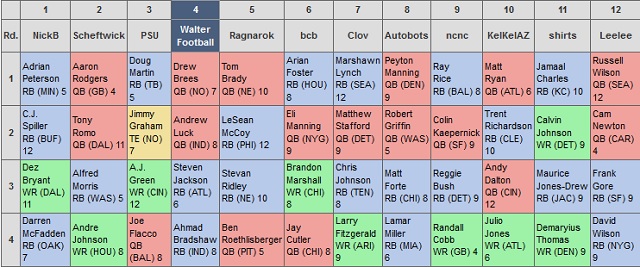 MY PICKS, ROUNDS 1-2: I'm not going to mess around in a two-quarterback format. Getting a pair of legitimate top-10 fantasy quarterbacks is huge because one team will be starting the No. 24 fantasy signal-caller on a weekly basis. Quarterbacks generate the most points, so this gives me a huge advantage over some of the teams in the league.
BEST PICKS, ROUNDS 1-2: I loved Leelee's back-to-back selections of Russell Wilson and Cam Newton, which prompted her to scream "racists!" because she had taken the only black quarterbacks at that point. I'm also a fan of Colin Kaepernick, Matthew Stafford and Tony Romo in Round 2 for obvious reasons.
WORST PICKS, ROUNDS 1-2: I was trying to figure out whom I would take once PSU drafted Drew Brees - but he didn't. I don't get the Doug Martin pick at all in a 2-QB format. NickB and Shirts also didn't draft a quarterbacks, but they were both instantly on auto-draft for some reason. I won't discuss their picks going forward.
MY PICKS, ROUNDS 3-4: Considering I went quarterbacks in Rounds 1-2, I don't think a starting running back group of Steven Jackson and Ahmad Bradshaw is that bad. In fact, that's a pretty decent tandem in a regular league.
BEST PICKS, ROUNDS 3-4: Alfred Morris and Lamar Miller were both great selections, as I was prepared to take both of them. I also love the value with Chris Johnson, Frank Gore, Julio Jones and Larry Fitzgerald.
WORST PICKS, ROUNDS 3-4: I don't hate any picks in these two rounds. If I had to list something though, it would be ncnc going Reggie Bush despite not having a QB2. I feel like Jay Cutler, Ben Roethlisberger or Joe Flacco would have been more valuable to him. Perhaps he'll come up with something in Round 5...
MY PICKS, ROUNDS 5-6: I had to go with a receiver in Round 5. Roddy White isn't a bad WR1 considering I waited to long to address the position. I then followed that up with Andre Brown, who will score all of the touchdowns in New York this season.
BEST PICKS, ROUNDS 5-6: PSU broke my heart when he snagged Victor Cruz just one pick before me. I had him queued up and everything. There were a number of other solid picks, including Jordy Nelson, James Jones, Eric Decker and Chris Ivory. I strongly considered the latter in the sixth round.
WORST PICKS, ROUNDS 5-6: Ragnarok keeps picking Rob Gronkowski in our drafts. Maybe he knows something I don't, but I think Gronk is too much of a risk to go this early. Perhaps it'll pay off.
I don't like BCB's two picks, as both have severe injury issues - Hakeem Nicks especially. Nicks isn't running at full speed in training camp yet, as I noted in this week's
2013 Fantasy Football Stock Report
.
MY PICKS, ROUNDS 7-8: I'm filling out my starting lineup with these two picks. Cecil Shorts is going way later than he should in most fantasy mocks. He's the real deal. Dennis Pitta, meanwhile, is a middling starting fantasy tight end.
BEST PICKS, ROUNDS 7-8: Rags keeps picking Antonio Brown in our fantasy mocks. I knew it was coming, and I like the pick. Eddie Lacy and Danario Alexander are two other good selections. Both have tremendous upside if they can stay healthy. They're worth the risk in Round 8.
WORST PICKS, ROUNDS 7-8: Mike Wallace and Rashard Mendenhall are two of my
Fantasy Football Busts
who are being taken too early here. Wallace hasn't clicked yet with Ryan Tannehill, while Mendenhall could very easily lose his job by October.
MY PICKS, ROUNDS 9-10: Johnathan Franklin could receive most of the touches in Green Bay, so he's a high-upside pick in the ninth round. I'm also a fan of Lance Moore. He always has the potential to put together a big week with Drew Brees throwing the ball to him.
BEST PICKS, ROUNDS 9-10: Josh Gordon won't be able to start until Week 3 for Rags, but he has WR2 potential once he gets going. He's pretty talented and should be a big producer in his second season.
Marcel Reece and Zac Stacy were two other very good selections. Both figure to have prominent roles for their respective teams this year.
WORST PICKS, ROUNDS 9-10: I didn't like quite a few picks in these two rounds, but the worst selection, excluding Shirts' QBDK, belongs to PSU for Jonathan Stewart. ESPN's Pat Yasinskas reported that Stewart won't be practicing until late into training camp. Stewart is once again dealing with his usual injuries. Avoid him unless he drops into like Round 12 or something.
MY PICKS, ROUNDS 11-12: I told Leelee, a Bills' fan, "prepare to laugh" just prior to making my 12th-round selection. E.J. Manuel will probably flop, but he'll pick up rushing yardage at least. Besides, I looked it up, and Manuel will battle the Dolphins and Saints in the two weeks that Drew Brees and Andrew Luck have byes. He should be able to do well against those defenses.
Oh, and then there's Bernard Pierce, who becomes an automatic RB1 if Ray Rice goes down. I'll just hold on to him.
BEST PICKS, ROUNDS 11-12: There are four high-upside picks I really like: Denarius Moore (a true No. 1 receiver), Knowshon Moreno (the favorite to receive the important touches in Denver), Alshon Jeffery (has really dedicated himself to working out this offseason) and Joseph Randle (DeMarco Murray is bound to get injured).
WORST PICKS, ROUNDS 11-12: Everything pretty much makes sense here. I don't hate any pick, save for NickB's selection of Bryce Brown. Brown may not even be the second running back in Philadelphia. Oh, wait, I forgot I wasn't going to make fun of NickB's choices. Whoops.

MY PICKS, ROUNDS 13-15: Some receiving depth, followed by my No. 1 kicker and a defense that will battle the pathetic Jaguars in Week 1.
BEST PICKS, ROUNDS 13-15: If I didn't need another wideout, I probably would've chosen Pierre Thomas. I also like Ryan Broyles, LaMichael James and Brian Hartline as upside picks.
WORST PICKS, ROUNDS 13-15: Look carefully. One name should stick out. Skip Bayless must be going nuts about... Julian Edelman! No, wait... not him... Havard Rugland! No... but... why the hell would anyone draft Havard Rugland?
My Fantasy Team:
QB - Drew Brees, Saints
QB - Andrew Luck, Colts
RB - Steven Jackson, Rams
RB - Ahmad Bradshaw, Colts
WR - Roddy White, Falcons
WR - Cecil Shorts, Jaguars
RB/WR - Andre Brown, Giants RB
TE - Dennis Pitta, Ravens
K - Phil Dawson, 49ers
DEF - Chiefs Defense
BN - Johnathan Franklin RB
BN - Lance Moore, Saints WR
BN - Bernard Pierce, Ravens RB
BN - E.J. Manuel, Bills QB
BN - Kendall Wright, Titans WR
I have the best quarterback combination in the league, which gives me a big edge because that position scores the most points. I'm also solid at running back. As I said earlier, a Steven Jackson-Ahmad Bradshaw combination would be fine for standard leagues. Receiver is my weakest area, but it's also the easiest position to upgrade on the waiver wire. Besides, I think I can win with Roddy White and Cecil Shorts as my starters.
Best and Worst Fantasy Teams:
By David Wipperman (Rags)
This week, we will be looking at my favorite and least favorite teams in a 2-QB league. As you know by now, I will be judging these teams based on value, personal preference, and how I feel these players will do in a standard format. You will see that all three teams below adapted different strategies in handling this draft, which led to some interesting results. So starting with my least-favorite team ...
Least-Favorite Team:
Team PSU -
Doug Martin, Jimmy Graham, A.J. Green, Joe Flacco, Victor Cruz, Montee Ball, Sam Bradford, DeSean Jackson, Jonathan Stewart, DeAndre Hopkins, Nick Foles, Justin Blackmon, Christian Ponder, New England Defense, Justin Tucker
Let me start out by saying that I discounted Teams NickB and Shirts due to them autodrafting. So PSU is my least favorite team that actively drafted. That said, it's still not a bad team.
My major issue was waiting as long as PSU did to take a quarterback. While that did allow him to take three studs in Martin, Graham, and Green, I don't trust Flacco to give you QB1 value over an entire season. I think Cruz will be a fantasy WR1, it was the two picks following that pushed this team down for me. Not only do I not trust any of the Denver running backs to give you anything consistent, but Bradford hasn't exactly been a fantasy stud either.
The rest of this team isn't very impressive, as I'm not a fan of Jackson or Stewart this year. Hopkins and Foles have upside, but Blackmon's suspension and Ponder's mediocrity don't add much to this team. Bottom line, I feel that PSU waited too long to take his first quarterback and way too long to grab his RB2 to make this team a contender.
Other Least Favorites -
NickB, Shirts
Favorite Team:
Autobots -
Peyton Manning, Robert Griffin III, Matt Forte, Lamar Miller, Jordy Nelson, Danny Amendola, Mike Wallace, Eddie Lacy, Kenny Britt, Alex Smith, Greg Olsen, Jordan Cameron, DeAngelo Williams, St. Louis Defense, Garret Hartley
This is the second strategy implemented in the 2-QB format; back-to-back quarterbacks to start. This allowed Autobots to essentially take the best player available from that point on and it worked out quite well.
Manning and Griffin are both the focal points of their offenses and should put up great seasons barring injury (the only concern I have). From there, Autobots was able to grab two running backs who should get 300-plus touches, and my love for Lamar Miller is well-documented. Nelson, Amendola and Wallace are all solid picks with upside and would allow the team to play matchups.
I also like the late-round picks that Autobots made. Lacy and Britt could each prove to be steals, while Alex Smith gives you a functional, if unspectacular, bye-week quarterback. I love Olsen and Cameron as the TEs as both are capable of putting up a big week, especially Cameron, whom I've been trying to grab in a number of leagues.
Other Favorites -
Clov, Leelee
Team Ragnarok -
Tom Brady, LeSean McCoy, Stevan Ridley, Ben Roethlisberger, Rob Gronkowski, Torrey Smith, Antonio Brown, Matt Schaub, Josh Gordon, Zac Stacy, Denarius Moore, Vick Ballard, Cincinnati Defemse, Tyler Eifert, Matt Bryant
My strategy for this draft was a bit different from the previous two. I chose to grab one quarterback early and see who slid to Rounds 4 or 5 after the initial huge run on quarterbacks.
I don't think I need to explain my Brady pick, and I loved being able to grab McCoy and Ridley to give me a great starting nucleus. I was thrilled to see that Roethlisberger was still available when it got to Round 4, as his value there is fantastic compared to some of the quarterbacks taken much earlier. My next three picks filled out my starting lineup with Gronkowski, Smith and Brown. I love connecting quarterbacks with their favorite target and I was able to do that with Gronkowski and Brown.
For my reserves, I wanted to make sure I got a solid quarterback to fill in if necessary, which Schaub provides. My next three choices are some of my favorite mid-to-late round sleepers. Gordon and Moore are both excellent deep threats, while I still expect Stacy to win the running back battle in St. Louis. One back I haven't spoken about yet this year is Ballard. He showed some definite flashes last year, and when Bradshaw gets his annual injury, he could be a nice fill-in. Eifert was my final positional player who simply serves as an upside reserve in case Gronkowski has more injury issues.
More 2013 Fantasy Football Articles:
2013 Fantasy Football: Home
2013 Fantasy Football Rankings:
2013 Fantasy Football Rankings: Quarterbacks
- 9/1 (Walt)
2013 Fantasy Football Rankings: RUNNING BACKS
- 9/4 (Walt)
2013 Fantasy Football Rankings: Wide Receivers
- 9/4 (Walt)
2013 Fantasy Football Rankings: Tight Ends
- 9/2 (Walt)
2013 Fantasy Football Rankings: Defenses
- 6/3 (Walt)
2013 Fantasy Football Rankings: Kickers
- 6/3 (Walt)
2013 Fantasy Football Auction Values
- 4/24 (Walt)
2013 Fantasy Football Rookie Rankings
- 5/5 (Walt)
2013 Fantasy Football Rookie Rankings: Dynasty
- 8/28 (Walt)
2013 Fantasy Football Season Features:
Week 17 Fantasy Football Rankings
- 12/26 (Walt)
Week 17 Fantasy Football Rankings: PPR
- 12/26 (Walt)
Week 17 Fantasy Football Injury Reports
- 12/26 (Walt)
Week 17 Fantasy Football Start Em, Sit Em
- 12/26 (Walt)
Fantasy Football Add/Drop: Week 15
- 12/9 (Walt)
Week 14 Fantasy Football Start Em, Sit Em
- 12/8 (Walt)
2013 Fantasy Football Fan Duel Picks
- 11/22 (Walt)
FanDuel FanDuel $15,000 Contest
- 11/22
FanDuel Exclusive Offer to WalterFootball.com Readers
- 8/24
FanDuel Week 1 $500 Freeroll
- 8/24
2013 Fantasy Football Cheat Sheets (Printable Option):
2013 Fantasy Football Cheat Sheet: Traditional Scoring
- 9/4 (Walt)
2013 Fantasy Football Cheat Sheet: PPR Scoring
- 9/4 (Walt)
2013 Fantasy Football Cheat Sheet: Touchdown Scoring
- 9/4 (Walt)
2013 Fantasy Football Cheat Sheet: 2-QB Format
- 9/4 (Walt)
2013 Fantasy Football Downloadable Spreadsheets
- 9/2 (Walt)
2013 Fantasy Football Mock Drafts:
2013 Fantasy Football Mock Draft: 12-team, 3-WR, Flex
- 9/2 (Walt)
2013 Fantasy Football Mock Draft: 12-team, PPR
- 8/29 (Walt)
2013 Fantasy Football Mock Draft: 12-team, Standard
- 8/22 (Walt)
2013 Fantasy Football Mock Draft: 12-team, Dynasty
- 8/15 (Walt)
2013 Fantasy Football Mock Draft: 14-team, PPR
- 8/8 (Walt)
2013 Fantasy Football Mock Draft: 3-WR
- 8/1 (Walt)
2013 Fantasy Football Mock Draft: 2-QB
- 7/26 (Walt)
2013 Fantasy Football Mock Draft: 14-teamer
- 7/19 (Walt)
2013 Fantasy Football Mock Draft: PPR
- 7/11 (Walt)
2013 Fantasy Football Mock Draft: Standard
- 6/29 (Walt)
2013 Fantasy Football Mock Draft: Four-Man Mock
- 6/13 (Walt)
2013 Fantasy Football Articles:
2013 Fantasy Football Stock Report: Training Camp
- 9/4 (Walt)
2013 Fantasy Football Preseason Stock
- 8/30 (Walt)
2013 NFL Preseason Recap, Fantasy Football Notes
- 8/30 (Walt)
2013 Fantasy Football Quarterback Targets
- 8/30 (Walt)
2013 Fantasy Football Sleepers
- 8/28 (Walt)
2013 Fantasy Football Busts
- 8/28 (Walt)
2013 ESPN Fantasy Football Magazine: 10 Reasons Not to Buy It
- 8/21 (Walt)
2013 Fantasy Football IDP Tips
- 8/17 (Walt)
2013 Fantasy Football Round-by-Round Strategy
- 8/16 (Walt)
2013 Fantasy Football Draft Boards for Sale
- 6/13
2013 Fantasy Football All-Value Team
- 6/9 (Walt)
2013 Fantasy Football Hot Finishers
- 4/24 (Walt)
2013 Fantasy Football Stock Report: Quarterbacks
- 4/24 (Walt)
2013 Fantasy Football Stock Report: Running Backs
- 4/24 (Walt)
2013 Fantasy Football Stock Report: Wide Receivers
- 4/24 (Walt)
2013 Fantasy Football: Overdrafted Players
- 2/17 (Walt)
2013 Fantasy Football: First-Round Bust History
- 2/17 (Walt)
Running Backs with Most Carries
- 2/17 (Walt)
Fantasy Football Rankings
- Aug. 12
2021 NFL Mock Draft
- July 30
2022 NFL Mock Draft
- May 13
2020 College Football Recruiting Rankings
- April 14
NFL Power Rankings
- April 5
NFL Picks
- Feb. 2
2020 NBA Mock Draft
- Sept. 27