Aug. 1, 2013.
This is a 2013 Fantasy Football Mock Draft (12 teams, 3-WR format) I took part in with 11 other members of the forum. As usual, I'll have analysis of my picks, as well as the best and worst selections from each two rounds. In a new addition this year, David Wipperman (forum member Ragnarok, a.k.a. Rags) will break down the best and worst teams from the mock draft.
Just a heads up that we have 2013 Fantasy Football Mock Drafts every Wednesday evening. Check out the
fantasy mock draft thread
for details.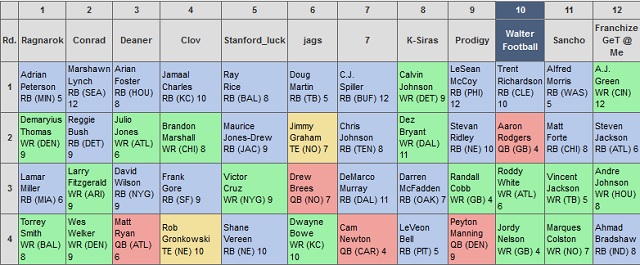 MY PICKS, ROUNDS 1-2: I've bashed Trent Richardson picks earlier, but as I noted in my
2013 Fantasy Football Running Back Rankings
, I moved Richardson up because he hasn't shown any signs of his injuries during training camp.
I was debating between Aaron Rodgers, Jimmy Graham and one of the receivers, but settled for the former because he's the safest pick. Your team is doomed to fail if your first two picks bust, so I wanted to make sure I selected a sure thing.
BEST PICKS, ROUNDS 1-2: Considering this is a 3-WR format, Clov's pick of Brandon Marshall is a steal. Maurice Jones-Drew is also a good value choice in the middle of Round 2.
WORST PICKS, ROUNDS 1-2: Everyone did a solid job of drafting because I don't hate any of the picks. If anything, Matt Forte was chosen a bit too early, but I wouldn't call that a bad selection.
MY PICKS, ROUNDS 3-4: This is a 3-WR format, so I almost had to go back-to-back wideouts in Rounds 3 and 4. I feel like Roddy White and Jordy Nelson form a decent pair.
BEST PICKS, ROUNDS 3-4: I desperately wanted Larry Fitzgerald and Victor Cruz to fall to me. I also was looking at Andre Johnson as a Round 4 possibility.
For non-receiver selections, Frank Gore and Drew Brees provide great value in the middle of Round 3.
WORST PICKS, ROUNDS 3-4: I'm not a fan of Torrey Smith because he's pretty inconsistent. However, there are two picks I dislike more: DeMarco Murray and Darren McFadden. Both are injury-prone bums who won't stay healthy.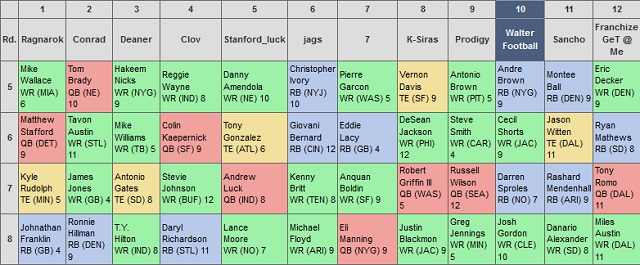 MY PICKS, ROUNDS 5-6: I looked at Andre Brown in the fourth round, so I obviously wasn't going to let him slide past 5.10. He's going to handle all of the goal-line duties and will receive a portion of the regular carries. Cecil Shorts, meanwhile, was my No. 2 receiver available. The first was James Jones, but I already had Jordy Nelson. I want to do a research article looking at top fantasy wideouts from the same team and determine whether it's a bad idea to draft both. I imagine it is, but perhaps I'll be surprised by the results.
BEST PICKS, ROUNDS 5-6: The quarterbacks, as usual, were steals. Eric Decker was as well; I planned on grabbing him at 6.03. I also considered Tony Gonzalez.
WORST PICKS, ROUNDS 5-6: I hate the Mike Wallace pick. Wallace and Ryan Tannehill have yet to click in training camp, which is no surprise considering Wallace chased money. Hakeem Nicks was also a poor selection because he's injured.
Other bad choices include DeSean Jackson (always overrated) and Tavon Austin (too early for a rookie receiver).
MY PICKS, ROUNDS 7-8: I was pretty surprised Darren Sproles was still available at 7.10. He's not as effective in standard leagues, but he's still a steal this late. Josh Gordon, meanwhile, can be started in Week 3 and beyond. He's my fourth receiver, so I can wait two weeks.
BEST PICKS, ROUNDS 7-8: Considering that I wanted James Jones at 6.03, Conrad made a great selection at 7.02. I also liked Danario Alexander, Lance Moore and Johnathan Franklin.
Oh, and of course, all of the Round 7 quarterbacks were steals.
WORST PICKS, ROUNDS 7-8: It'll be surprising if Rashard Mendenhall holds on to his job, so I wouldn't touch him in the first 10 rounds. Also, Justin Blackmon is suspended and injured, so taking him in Round 8 is a reach.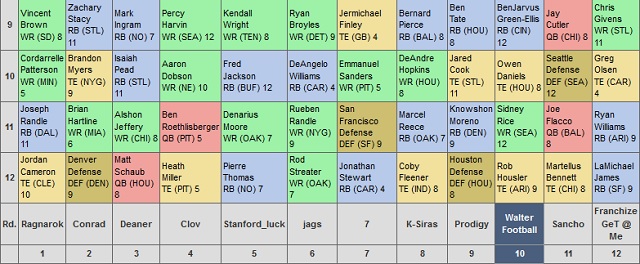 MY PICKS, ROUNDS 9-10: Say what you want about BenJarvus Green-Ellis, but he's a starting running back. Those are rare to find in Round 9. Owen Daniels is my starting tight end.
BEST PICKS, ROUNDS 9-10: Prodigy broke my heart by selecting Ben Tate. I had Tate queued up and everything. Bernard Pierce and Zac Stacy also provide plenty of upside.
WORST PICKS, ROUNDS 9-10: Percy Harvin is the worst pick. As noted in the
2013 Fantasy Football Stock Report
page, the earliest Harvin will be back is December. Round 9 is way too early for him. I also think Sancho reached for a defense.
MY PICKS, ROUNDS 11-12: I need to move Sidney Rice up my
2013 Fantasy Football Wide Receiver Rankings
. He's actually healthy for once, and with Percy Harvin out until December, he'll serve as Russell Wilson's No. 1 wideout.
Owen Daniels is shaky as a TE1, so I wanted a backup with upside.
BEST PICKS, ROUNDS 11-12: Franchize GeT @ Me joked that I was going to take Slowshon at 11.10. He was right; Prodigy broke my heart yet again. However, I wanted Marcel Reece even more.
Denarius Moore and Alshon Jeffery are two other picks I liked. One is a real No. 1 wideout, while the other has lots of upside.
WORST PICKS, ROUNDS 11-12: I moved Joseph Randle down in my stock page this week because Lance Dunbar "zoomed past" him. And speaking of Dunbar...

MY PICKS, ROUNDS 13-15: I wanted Philip Rivers or Ryan Tannehill as my backup quarterback. Once they were gone, I went defense and kicker as I searched which available quarterback had the better matchup in Week 4 (Aaron Rodgers' bye). I came up with either Alex Smith or Geno Smith, but I figured I could just pick up a signal-caller like that when the time comes. I'd rather take Dunbar, who will start in Dallas when DeMarco Murray goes down.
BEST PICKS, ROUNDS 13-15: It's all about upside in the final three rounds. I'd say Rivers, Tannehill, Zach Ertz and Dwayne Allen fit the bill there.
WORST PICKS, ROUNDS 13-15: Someone who offers no upside is Brandon LaFell. If this were a real league, LaFell would be cut after Week 1 and would sit on the waiver wire for quite a while.
My Fantasy Team:
QB - Aaron Rodgers, Packers
RB - Trent Richardson, Browns
RB - Andre Brown, Giants
WR - Roddy White, Falcons
WR - Jordy Nelson, Packers
WR - Cecil Shorts, Jaguars
TE - Owen Daniels, Texans
K - Phil Dawson, 49ers
DEF - Patriots Defense
BN - Darren Sproles, Saints RB
BN - Josh Gordon, Browns WR
BN - BenJarvus Green-Ellis RB
BN - Sidney Rice, Seahawks WR
BN - Rob Housler, Cardinals TE
BN - Lance Dunbar, Cowboys RB
This team is pretty balanced, save for the tight end position. I'm solid, but not strong at running back and receiver. I feel like I have good depth, especially with the former. Darren Sproles is a hell of a RB3 to have considering I drafted him in Round 7, so I can easily start him in the event of an injury to Trent Richarson and Andre Brown. I also like my wideouts, though like I said, I'll have to do some research to figure out if I should've drafted James Jones over Cecil Shorts.
Best and Worst Fantasy Teams:
By David Wipperman (Rags)
Once again, I will be taking a look at my favorite and least favorite teams from this week's fantasy football mock draft. I will be judging these teams based on value, personal preference, and how I feel these players will do in a 3-WR standard format. So starting with my least favorite team ...
Least-Favorite Team:
Team 7 -
C.J. Spiller, Chris Johnson, DeMarco Murray, Cam Newton, Pierre Garcon, Eddie Lacy, Anquan Boldin, Eli Manning, Jermichael Finley, Emmanuel Sanders, San Francisco DEF, Jonathan Stewart, Darrius Heyward-Bey, Blair Walsh, Michael Vick
This team started out well with Spiller, Johnson and Newton all being very good-to-great fantasy options. However, it's all downhill from there. Team 7 took two backup running backs quickly, which doesn't help as much in a 3-WR league, especially when you likely can't count on Murray for a fair part of the season. 7's first wide out was Garcon, who could have a nice year but also presents a big injury concern. I personally feel like people are forgetting about Boldin's unremarkable regular season last year, and he is being drafted too high even with Crabtree going down.
Eli is a good backup quarterback, but I don't like the value there when Team 7 still didn't have a third wide receiver. Finley has been looking very good in training camp, but I have seen way too much of his inconsistency to ever be a fan. Team 7 finally took its third wide out in Sanders, who could turn into a decent option but not someone I would want to rely on weekly, while their only other receiver is Heyward-Bey, whose career has been plagued by drops. I do like the Stewart pick as someone in Carolina will have to run the ball and I trust him more than DeAngelo Williams. Vick was honestly a wasted pick as I doubt he starts all year and Team 7 already had two signal-callers.
Other Least-Favorites -
jags, Stanford_luck
Favorite Team:
Team Prodigy -
LeSean McCoy, Stevan Ridley, Randall Cobb, Peyton Manning, Antonio Brown, Steve Smith, Russell Wilson, Greg Jennings, Ben Tate, Jared Cook, Knowshon Moreno, Houston DEF, Dwayne Allen, Mike Gillislee, Brian Quick
I really like how this team started out. LeSean and Ridley are both bellcow backs who will get a ton of touches, while we can expect Manning to put up big points, too. I prefer Cobb in PPR, but he will still get you plenty of points in a standard league as well. I have spoken before of how much I like Brown going into this year, while Smith will continue to be Cam Newton's top wide out. Cook is a boom-or-bust type of player, but it wouldn't surprise me if Jeff Fisher made the effort to get him involved in the offense.
I don't know if I would have taken Wilson that high already having Manning, but Wilson is an amazing backup, if not trade bait for later in the season. Tate and Gillislee are both likely to be the top handcuffs for Foster and Miller, while Moreno is a solid choice because no one knows who will end up being the top back in Denver. I personally feel like Allen is being underrated, despite being a superior blocker, so I like the value there. Greg Jennings will be an excellent bye-week fill-in as Ponder should look to him frequently. However, I do feel like Quick was a bit of a wasted pick.
Other Favorites -
Clov, Conrad
Team Ragnarok -
Adrian Peterson, Demaryius Thomas, Lamar Miller, Torrey Smith, Mike Wallace, Matthew Stafford, Kyle Rudolph, Johnathan Franklin, Vincent Brown, Cordarrelle Patterson, Joseph Randle, Jordan Cameron, Cincinnati DEF, Justin Tucker, Danny Woodhead
I've been working the middle rounds of the draft frequently, so I decided to go first for this draft. Peterson is a no-brainer while Demaryius has top-five wide receiver potential. I have written frequently of my love of Lamar Miller in the past few weeks and I made sure to grab him to be my RB2. With my next two picks, I filled out my wide out group with Smith and Wallace, both of whom will be the most targeted players on their respective teams. I really like Stafford as a fantasy quarterback because you know the Lions will throw a ton, while Rudolph is Ponder's favorite red-zone target.
The rest of my picks were all guys who I believe offer nice upside this season. Franklin will get his chances this season as the Packers third-down back and Randle is someone to watch this preseason. He had an excellent day in training camp today and has a shot to start when Murray inevitably gets hurt. Like Randle, Patterson has been very impressive this camp, and the Vikings will make the extra effort to get the ball in his hands. Brown, if he can stay healthy (and it's a big if), will be Rivers' go-to guy and could really explode in fantasy value. I've spoken often of how much I like Cameron in a Norv Turner offense while Woodhead, like Randle, offers upside for when Mathews gets hurt again.
More 2013 Fantasy Football Articles:
2013 Fantasy Football: Home
2013 Fantasy Football Rankings:
2013 Fantasy Football Rankings: Quarterbacks
- 9/1 (Walt)
2013 Fantasy Football Rankings: RUNNING BACKS
- 9/4 (Walt)
2013 Fantasy Football Rankings: Wide Receivers
- 9/4 (Walt)
2013 Fantasy Football Rankings: Tight Ends
- 9/2 (Walt)
2013 Fantasy Football Rankings: Defenses
- 6/3 (Walt)
2013 Fantasy Football Rankings: Kickers
- 6/3 (Walt)
2013 Fantasy Football Auction Values
- 4/24 (Walt)
2013 Fantasy Football Rookie Rankings
- 5/5 (Walt)
2013 Fantasy Football Rookie Rankings: Dynasty
- 8/28 (Walt)
2013 Fantasy Football Season Features:
Week 17 Fantasy Football Rankings
- 12/26 (Walt)
Week 17 Fantasy Football Rankings: PPR
- 12/26 (Walt)
Week 17 Fantasy Football Injury Reports
- 12/26 (Walt)
Week 17 Fantasy Football Start Em, Sit Em
- 12/26 (Walt)
Fantasy Football Add/Drop: Week 15
- 12/9 (Walt)
Week 14 Fantasy Football Start Em, Sit Em
- 12/8 (Walt)
2013 Fantasy Football Fan Duel Picks
- 11/22 (Walt)
FanDuel FanDuel $15,000 Contest
- 11/22
FanDuel Exclusive Offer to WalterFootball.com Readers
- 8/24
FanDuel Week 1 $500 Freeroll
- 8/24
2013 Fantasy Football Cheat Sheets (Printable Option):
2013 Fantasy Football Cheat Sheet: Traditional Scoring
- 9/4 (Walt)
2013 Fantasy Football Cheat Sheet: PPR Scoring
- 9/4 (Walt)
2013 Fantasy Football Cheat Sheet: Touchdown Scoring
- 9/4 (Walt)
2013 Fantasy Football Cheat Sheet: 2-QB Format
- 9/4 (Walt)
2013 Fantasy Football Downloadable Spreadsheets
- 9/2 (Walt)
2013 Fantasy Football Mock Drafts:
2013 Fantasy Football Mock Draft: 12-team, 3-WR, Flex
- 9/2 (Walt)
2013 Fantasy Football Mock Draft: 12-team, PPR
- 8/29 (Walt)
2013 Fantasy Football Mock Draft: 12-team, Standard
- 8/22 (Walt)
2013 Fantasy Football Mock Draft: 12-team, Dynasty
- 8/15 (Walt)
2013 Fantasy Football Mock Draft: 14-team, PPR
- 8/8 (Walt)
2013 Fantasy Football Mock Draft: 3-WR
- 8/1 (Walt)
2013 Fantasy Football Mock Draft: 2-QB
- 7/26 (Walt)
2013 Fantasy Football Mock Draft: 14-teamer
- 7/19 (Walt)
2013 Fantasy Football Mock Draft: PPR
- 7/11 (Walt)
2013 Fantasy Football Mock Draft: Standard
- 6/29 (Walt)
2013 Fantasy Football Mock Draft: Four-Man Mock
- 6/13 (Walt)
2013 Fantasy Football Articles:
2013 Fantasy Football Stock Report: Training Camp
- 9/4 (Walt)
2013 Fantasy Football Preseason Stock
- 8/30 (Walt)
2013 NFL Preseason Recap, Fantasy Football Notes
- 8/30 (Walt)
2013 Fantasy Football Quarterback Targets
- 8/30 (Walt)
2013 Fantasy Football Sleepers
- 8/28 (Walt)
2013 Fantasy Football Busts
- 8/28 (Walt)
2013 ESPN Fantasy Football Magazine: 10 Reasons Not to Buy It
- 8/21 (Walt)
2013 Fantasy Football IDP Tips
- 8/17 (Walt)
2013 Fantasy Football Round-by-Round Strategy
- 8/16 (Walt)
2013 Fantasy Football Draft Boards for Sale
- 6/13
2013 Fantasy Football All-Value Team
- 6/9 (Walt)
2013 Fantasy Football Hot Finishers
- 4/24 (Walt)
2013 Fantasy Football Stock Report: Quarterbacks
- 4/24 (Walt)
2013 Fantasy Football Stock Report: Running Backs
- 4/24 (Walt)
2013 Fantasy Football Stock Report: Wide Receivers
- 4/24 (Walt)
2013 Fantasy Football: Overdrafted Players
- 2/17 (Walt)
2013 Fantasy Football: First-Round Bust History
- 2/17 (Walt)
Running Backs with Most Carries
- 2/17 (Walt)
Fantasy Football Rankings
- Aug. 5
2021 NFL Mock Draft
- July 30
2022 NFL Mock Draft
- May 13
2020 College Football Recruiting Rankings
- April 14
NFL Power Rankings
- April 5
NFL Picks
- Feb. 2
2020 NBA Mock Draft
- Sept. 27