My friends over at
FantasySportsTrophies.com
are offering customizable fantasy football draft boards for the 2013 season. They are fully customizable!!! Your Leage Name... Your Private Message and your league logo or photo. Right on the board!
The Draft kit includes a large one-piece fantasy football draft board and a complete set of pre-printed player labels (2013 draftees included) color coded by position. When a player is selected, simply peel off his label and stick it on the draft board. The draft kit also includes a marker pen and removable wall-mounting tabs.
New for 2013 are LARGE PRINT labels that can be seen from anyplace in a room. The labels are also listed alphabetically by player name so that they are easy to locate during the draft.
Check them out at
FantasySportsTrophies.com
. Here's an example: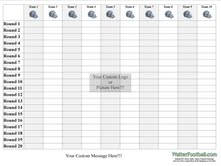 Fully customizable!
More 2013 Fantasy Football Articles:
2013 Fantasy Football: Home
2013 Fantasy Football Rankings:
2013 Fantasy Football Rankings: Quarterbacks
- 9/1 (Walt)
2013 Fantasy Football Rankings: RUNNING BACKS
- 9/4 (Walt)
2013 Fantasy Football Rankings: Wide Receivers
- 9/4 (Walt)
2013 Fantasy Football Rankings: Tight Ends
- 9/2 (Walt)
2013 Fantasy Football Rankings: Defenses
- 6/3 (Walt)
2013 Fantasy Football Rankings: Kickers
- 6/3 (Walt)
2013 Fantasy Football Auction Values
- 4/24 (Walt)
2013 Fantasy Football Rookie Rankings
- 5/5 (Walt)
2013 Fantasy Football Rookie Rankings: Dynasty
- 8/28 (Walt)
2013 Fantasy Football Season Features:
Week 17 Fantasy Football Rankings
- 12/26 (Walt)
Week 17 Fantasy Football Rankings: PPR
- 12/26 (Walt)
Week 17 Fantasy Football Injury Reports
- 12/26 (Walt)
Week 17 Fantasy Football Start Em, Sit Em
- 12/26 (Walt)
Fantasy Football Add/Drop: Week 15
- 12/9 (Walt)
Week 14 Fantasy Football Start Em, Sit Em
- 12/8 (Walt)
2013 Fantasy Football Fan Duel Picks
- 11/22 (Walt)
FanDuel FanDuel $15,000 Contest
- 11/22
FanDuel Exclusive Offer to WalterFootball.com Readers
- 8/24
FanDuel Week 1 $500 Freeroll
- 8/24
2013 Fantasy Football Cheat Sheets (Printable Option):
2013 Fantasy Football Cheat Sheet: Traditional Scoring
- 9/4 (Walt)
2013 Fantasy Football Cheat Sheet: PPR Scoring
- 9/4 (Walt)
2013 Fantasy Football Cheat Sheet: Touchdown Scoring
- 9/4 (Walt)
2013 Fantasy Football Cheat Sheet: 2-QB Format
- 9/4 (Walt)
2013 Fantasy Football Downloadable Spreadsheets
- 9/2 (Walt)
2013 Fantasy Football Mock Drafts:
2013 Fantasy Football Mock Draft: 12-team, 3-WR, Flex
- 9/2 (Walt)
2013 Fantasy Football Mock Draft: 12-team, PPR
- 8/29 (Walt)
2013 Fantasy Football Mock Draft: 12-team, Standard
- 8/22 (Walt)
2013 Fantasy Football Mock Draft: 12-team, Dynasty
- 8/15 (Walt)
2013 Fantasy Football Mock Draft: 14-team, PPR
- 8/8 (Walt)
2013 Fantasy Football Mock Draft: 3-WR
- 8/1 (Walt)
2013 Fantasy Football Mock Draft: 2-QB
- 7/26 (Walt)
2013 Fantasy Football Mock Draft: 14-teamer
- 7/19 (Walt)
2013 Fantasy Football Mock Draft: PPR
- 7/11 (Walt)
2013 Fantasy Football Mock Draft: Standard
- 6/29 (Walt)
2013 Fantasy Football Mock Draft: Four-Man Mock
- 6/13 (Walt)
2013 Fantasy Football Articles:
2013 Fantasy Football Stock Report: Training Camp
- 9/4 (Walt)
2013 Fantasy Football Preseason Stock
- 8/30 (Walt)
2013 NFL Preseason Recap, Fantasy Football Notes
- 8/30 (Walt)
2013 Fantasy Football Quarterback Targets
- 8/30 (Walt)
2013 Fantasy Football Sleepers
- 8/28 (Walt)
2013 Fantasy Football Busts
- 8/28 (Walt)
2013 ESPN Fantasy Football Magazine: 10 Reasons Not to Buy It
- 8/21 (Walt)
2013 Fantasy Football IDP Tips
- 8/17 (Walt)
2013 Fantasy Football Round-by-Round Strategy
- 8/16 (Walt)
2013 Fantasy Football Draft Boards for Sale
- 6/13
2013 Fantasy Football All-Value Team
- 6/9 (Walt)
2013 Fantasy Football Hot Finishers
- 4/24 (Walt)
2013 Fantasy Football Stock Report: Quarterbacks
- 4/24 (Walt)
2013 Fantasy Football Stock Report: Running Backs
- 4/24 (Walt)
2013 Fantasy Football Stock Report: Wide Receivers
- 4/24 (Walt)
2013 Fantasy Football: Overdrafted Players
- 2/17 (Walt)
2013 Fantasy Football: First-Round Bust History
- 2/17 (Walt)
Running Backs with Most Carries
- 2/17 (Walt)
Fantasy Football Rankings
- Aug. 5
2021 NFL Mock Draft
- July 30
2022 NFL Mock Draft
- May 13
2020 College Football Recruiting Rankings
- April 14
NFL Power Rankings
- April 5
NFL Picks
- Feb. 2
2020 NBA Mock Draft
- Sept. 27