Aug. 22, 2013.
This is a 2013 Fantasy Football Mock Draft (12 teams, standard format) I took part in with 11 other members of the forum. As usual, I'll have analysis of my picks, as well as the best and worst selections from each two rounds. In a new addition this year, David Wipperman (forum member Ragnarok, a.k.a. Rags) will break down the best and worst teams from the mock draft.
Just a heads up that we have 2013 Fantasy Football Mock Drafts every Wednesday evening. Check out the
fantasy mock draft thread
for details.
MY PICKS, ROUNDS 1-2: I was going Ray Rice in the first round, so my other choice was much more difficult. It was down to Matt Forte, Jimmy Graham or Aaron Rodgers. Based on the tight end and quarterback I would ultimately maintain, I'd say I made the right move.
BEST PICKS, ROUNDS 1-2: I obviously have to praise the Graham and Rodgers selections. I was also hoping for Chris Johnson to fall to me at 2.04, but that was not happening.
WORST PICKS, ROUNDS 1-2: The only poor pick that stands out is Roddy White at 2.11. White is the kind of player you want to get at the end of the third round. I feel like Nas should've gone with Rodgers or a running back with this pick and then obtained White at 3.02 if he really wanted him.
MY PICKS, ROUNDS 3-4: Eddie Lacy will be my flex (besides, I obviously need a decent running back for Week 8). I was going to pick Demaryius Thomas and Victor Cruz at 3.09, but Rags and Clov snatched them off the board. Thus, I didn't really have a choice, as Lacy was my top player available.
I'm happy with Tom Brady in the fourth round. He's had an unbelievable preseason; he's definitely in F-U mode right now in an attempt to prove to everyone that he can win without his tight ends. Brady would be a consensus second-round fantasy pick if the running back and receiver positions weren't so thin this year.
BEST PICKS, ROUNDS 3-4: Once again, I need to mention the players I was hoping to land (Thomas, Cruz). If Brady didn't fall to me in the fourth, I would've taken Peyton Manning. Maurice Jones-Drew and Danny Amendola were good choices as well.
WORST PICKS, ROUNDS 3-4: Lamar Miller sticks out as the worst pick because he may not be Miami's starting running back. I also wasn't a fan of Rob Gronkowski. I think there's just too much of a risk to use a fourth-rounder on him.
MY PICKS, ROUNDS 5-6: I was a bit surprised to see Tony Gonzalez available in the fifth round. I had him ranked higher than any available receiver in my
Fantasy Football Cheat Sheets
. As for Round 6, I had to go with a wideout. Having James Jones as my WR1 isn't ideal, but I'm pretty strong everywhere else, so I'll live with it.
BEST PICKS, ROUNDS 5-6: As always, the quarterbacks in these two rounds provide great value. Robert Griffin appears to be healthy and ready for Week 1, so Nas may have obtained the biggest steal.
WORST PICKS, ROUNDS 5-6: One pick should stick out. Le'Veon Bell is out until Week 6 at the very earliest. However, Clov made me promise to mention that he has a job, so he hadn't heard about Bell's Lisfranc injury until people pointed it out to him during the mock.
Another selection I didn't like was Chris Ivory. I discussed the whole Ivory-Bilal Powell dynamic in my
NFL Preseason Recaps
. If you're too lazy to click over, the Jets seem to be favoring Powell; he started the second preseason game and was featured in some direct-snap packages.
MY PICKS, ROUNDS 7-8: BCB screwed me over by taking one of my top
fantasy football sleepers
, Cecil Shorts, one pick before I was up. My initial plan was to go Shorts in the seventh and Josh Gordon in the eighth. Gordon has WR2 potential, but he'll be out the first two weeks. Thus, I needed a dependable veteran to play there for the first two games. Once Shorts was gone, I planned to pick Stevie Johnson, but I didn't see Token acquire him because someone called me. I couldn't find Johnson on the list, and the clock was ticking down. That would explain Tavon Austin.
Meh... maybe the Austin selection will work out. He was targeted a bunch of times in the Rams' most recent exhibition game...
BEST PICKS, ROUNDS 7-8: BCB in the seventh, for obvious reasons. I also loved Rags' Andrew Luck choice. Prodigy stands out because he went back-to-back signal-callers, but I don't think that's such a bad idea. He's guaranteed QB1 production every week by platooning them.
Some other picks I liked were Andre Brown (he'll get the goal-line touches this year), as well as Ben Tate and Bernard Pierce. I was hoping either would fall to me at 9.09, but Awful Waffle and Claymores (Charlie Campbell's team) broke my heart.
WORST PICKS, ROUNDS 7-8: Greg Jennings isn't going to do much in Minnesota, and I think Golden Tate was picked a bit too early, so I didn't like either of Bug's choices. I'm also against the DeAngelo Williams pick. I've owned both of the Panther running backs in some of my leagues over the past two seasons, and I've never been happy about it.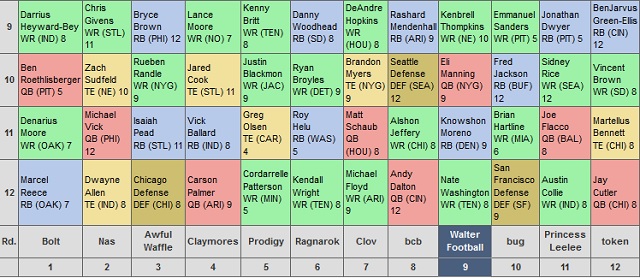 MY PICKS, ROUNDS 9-10: I'm just panicking here. I was going to settle for Chris Givens, Lance Moore or Kenny Britt, but they all were snatched off the board. Whatever. Kenbrell Thompkins could have WR3 potential this season.
Eli Manning in the 10th because it's always important to have a solid backup quarterback. That position produces the most points in fantasy, so you need a strong reserve just in case your starter goes down.
BEST PICKS, ROUNDS 9-10: Once again, I need to praise the guys who took my targeted players (Nas, Charlie, Prodigy). Rags (Danny Woodhead) and Leelee (Jonathan Dwyer) also snatched some players I was coveting.
WORST PICKS, ROUNDS 9-10: Darrius Heyward-Bey can be a nifty late-round flier, but he's a reach in Round 9. I'm also not a fan of the Brandon Myers selection because he and Eli Manning simply haven't clicked yet. Worst of all, however, is BCB's decision to pick a defense. You all know what I think about that.
MY PICKS, ROUNDS 11-12: Two sleepers. With Montee Ball blowing it in pass protection and Ronnie Hillman fumbling his job away, Knowshon Moreno strengthened his claim to get most of the touches. As for Nate Washington, Jake Locker has thrown to him more than any other receiver, as seen on the
Fantasy Football Quarterback Targets
page.
BEST PICKS, ROUNDS 11-12: Some other high-upside players include Denarius Moore, Alshon Jeffery, Michael Floyd and Marcel Reece. Kendall Wright isn't on my sleepers page, but he could emerge as Tennessee's No. 1 wideout.
WORST PICKS, ROUNDS 11-12: Nothing really sticks out here. Perhaps Nas should've gone with a more reliable tight end like Owen Daniels until Zach Sudfield proves that he can be started.

MY PICKS, ROUNDS 13-15: Bilal Powell is another player on my sleepers page. As mentioned earlier, the Jets' coaches seem to have a plan for him. He'll at least split the carries with Chris Ivory. After that, my No. 1 kicker and a defense that plays the pathetic Raiders in Week 1.
BEST PICKS, ROUNDS 13-15: Bug made a similar pick to mine in Daniel Thomas, who could start ahead of Lamar Miller. Other high-upside selections include Tyler Eifert, LaMichael James, Markus Wheaton and Joseph Randle (though I would've gone with Lance Dunbar instead).
WORST PICKS, ROUNDS 13-15: Mikel Leshoure seems to be the third-string running back in Detroit, so I'm not a fan of that choice. Elsewhere, Keenan Allen and Aaron Dobson are two rookies I wouldn't trust. Allen has speed, health and fumbling issues, while Dobson is playing behind Kenbrell Thompkins. And if you're wondering, Leelee is just trolling with Tim Tebow. She actually wanted Pat White, but FFC didn't have him listed.
My Fantasy Team:
QB - Tom Brady, Patriots
RB - Ray Rice, RB, Ravens
RB - Matt Forte, RB, Bears
WR - James Jones, Packers
WR - Josh Gordon, Browns
RB/WR - Eddie Lacy, Packers
TE - Tony Gonzalez, Falcons
K - Phil Dawson, 49ers
DEF - Colts Defense
BN - Tavon Austin, Rams WR
BN - Kenbrell Thompkins, Patriots WR
BN - Eli Manning, Giants QB
BN - Knowshon Moreno, Broncos RB
BN - Nate Washington, Titans WR
BN - Bilal Powell, Jets RB
My team is stacked at quarterback, running back and tight end. In constructing my roster this way, however, I sacrificed the receiver position. My WR2 will be solid, but he won't be on the field until Week 3. I'll have to roll the dice with Kenbrell Thompkins, Tavon Austin or Nate Washington and hope one of them steps up the first two weeks.
I'm OK with being weak at receiver though for two reasons: 1) The position doesn't produce as many points as quarterback and running back; 2) Wideouts are easier to find on the waiver wire than any other regular position. If Tom Brady, Ray Rice, Matt Forte, Eddie Lacy and Tony Gonzalez all hold up, it won't be a big deal because I'll be able to bolster my receiving depth along the way.
Best and Worst Fantasy Teams:
By David Wipperman (Rags)
Once again, I will be taking a look at my favorite and least favorite teams from this week's fantasy football mock draft. I will be judging these teams based on value, personal preference, and how I feel these players will do in a 12-team standard format. So starting with my least favorite team ...
Least-Favorite Team:
Team Clov -
Arian Foster, Brandon Marshall, Victor Cruz, Marques Colston, Le'Veon Bell, Matthew Stafford, Antonio Gates, DeAngelo Williams, DeAndre Hopkins, Brandon Myers, Matt Schaub, Michael Floyd, St. Louis Defense, Greg Zuerlein, Joseph Randle
Everybody drafted pretty well this week, so I have to be a bit nitpicky here. Clov has a very good wide receiver group with Marshall, Cruz and Colston all being consistent contributors. Likewise, Matthew Stafford is going to give you excellent production all season.
However, the rest of Clov's starters may prove to be an issue. Arian didn't have the best yards per carry last year and has been hampered all preseason with calf and back problems. I do have to give Clov a bit of a pass with Bell since he didn't know the extent of Bell's injury, but it's still not the best pick. I don't think I need to go into detail on Gates' injury history, assuming he can still move even when healthy.
Clov only took two other backs in DeAngelo Williams, yet another injury risk, and Joseph Randle, who may see very little playing time. Calling Clov's running back situation dire would be an understatement. I'm not a big fan of Myers, Clov's backup for Gates, as Myers has barely been targeted by Eli Manning at all this preseason. Clov did take two good upside wide outs with Hopkins or Floyd; each havs the potential to put up WR3-level stats. Schaub is a solid backup if not very exciting. I love the quarterback and wide receiver situation Clov has, but the rest of his starters have massive injury risks that can't be ignored.
Other Least-Favorites -
token, bolt
Favorite Team:
Team Prodigy -
Doug Martin, Jimmy Graham, Reggie Bush, Lamar Miller, Dwayne Bowe, Jordy Nelson, Russell Wilson, Tony Romo, Kenny Britt, Justin Blackmon, Greg Olsen, Cordarrelle Patterson, Michael Bush, Mikel Leshoure, Percy Harvin
Doug Martin is a stud and will get a ton of carries this year. In my mind, he is one of the safest picks this year. Reggie Bush will get a ton of seven-man boxes due to the Lions' run game, and while I am a bit concerned about the supposed time share in Miami, there is no reason that Lamar doesn't get the vast majority of the carries.
I am partial to waiting on a tight end, if you are going to take one early, it has to be Graham. I think Bowe is being underrated going into this season as he (sadly) has the best quarterback he has ever had to work with. Nelson is having some injury issues right now, but Prodigy took care of this issue later. Russell Wilson in the Round 7 is highway robbery. There's really no other way to put it. I'd recommend staying away from quarterbacks until Rounds 5-7.
One pick I wasn't a big fan of was Romo. Back-to-back signal-callers makes little sense to me. As I mentioned earlier, Nelson is starting out the season hurt, but Prodigy covered himself by getting Britt, who is actually healthy now. Blackmon and Paterson are both solid upside choices, especially once Blackmon gets back from his suspension. The Harvin pick is fine in the 15th round as he could maybe be back in time to help you in the playoffs. Greg Olsen is someone I think could be a sleeper as Cam Newton has little else to throw to. I wasn't a big fan of the Michael Bush or Leshoure picks, but this late it isn't the biggest concern.
Other Favorites -
Nas, bcb
Team Ragnarok -
C.J. Spiller, Julio Jones, Demaryius Thomas, Giovani Bernard, DeSean Jackson, Chris Ivory, Andrew Luck, Jordan Cameron, Danny Woodhead, Ryan Broyles, Roy Helu, Kendall Wright, Cincinatti Defense, Stephen Gostkowski, Sam Bradford
Spiller is one of my favorite backs this year as Buffalo head coach Dough Marrone will make sure he gets a huge workload. With my next two picks, I somehow managed to grab Julio Jones and Demaryius Thomas, both of whom I believe will be top-5 wide receivers. DeSean Jackson looks revitalized and in Chip Kelly's run-heavy offense, he will get his shots downfield. Bernard looked amazing this past weekend, and while Ivory has injury concerns, if he can stay healthy, he will be s steal. As with Russell Wilson earlier, Luck this late is a steal; another reason I recommend waiting on a QB. By now, no one should be surprised I grabbed Cameron as my tight end, especially as he looks to be the Browns' top red-zone target.
With Ryan Mathews being a huge injury risk, Woodhead is a very solid guy to pick up later as a handcuff who will see plenty of playing time. Using the same mindset, I grabbed Helu as he has been named the No. 2 in Washington. Broyles and Wright are both guys I like a bit more in PPR leagues, but each looks to receive plenty of targets this season. Bradford is simply a solid backup with some upside as he may actually have solid targets and a decent offensive line this year.
I've enjoyed writing for y'all so far and Walter has asked me to continue going into the season. I plan on doing thoughts on the previous week (even potentially not-entirely-sober ones), my three gut-bets of the week and some of my favorite fantasy players for the upcoming week. If there is anything else you would like to see written about or asked about, I will be happy to take any suggestions into consideration. Thanks!
More 2013 Fantasy Football Articles:
2013 Fantasy Football: Home
2013 Fantasy Football Rankings:
2013 Fantasy Football Rankings: Quarterbacks
- 9/1 (Walt)
2013 Fantasy Football Rankings: RUNNING BACKS
- 9/4 (Walt)
2013 Fantasy Football Rankings: Wide Receivers
- 9/4 (Walt)
2013 Fantasy Football Rankings: Tight Ends
- 9/2 (Walt)
2013 Fantasy Football Rankings: Defenses
- 6/3 (Walt)
2013 Fantasy Football Rankings: Kickers
- 6/3 (Walt)
2013 Fantasy Football Auction Values
- 4/24 (Walt)
2013 Fantasy Football Rookie Rankings
- 5/5 (Walt)
2013 Fantasy Football Rookie Rankings: Dynasty
- 8/28 (Walt)
2013 Fantasy Football Season Features:
Week 17 Fantasy Football Rankings
- 12/26 (Walt)
Week 17 Fantasy Football Rankings: PPR
- 12/26 (Walt)
Week 17 Fantasy Football Injury Reports
- 12/26 (Walt)
Week 17 Fantasy Football Start Em, Sit Em
- 12/26 (Walt)
Fantasy Football Add/Drop: Week 15
- 12/9 (Walt)
Week 14 Fantasy Football Start Em, Sit Em
- 12/8 (Walt)
2013 Fantasy Football Fan Duel Picks
- 11/22 (Walt)
FanDuel FanDuel $15,000 Contest
- 11/22
FanDuel Exclusive Offer to WalterFootball.com Readers
- 8/24
FanDuel Week 1 $500 Freeroll
- 8/24
2013 Fantasy Football Cheat Sheets (Printable Option):
2013 Fantasy Football Cheat Sheet: Traditional Scoring
- 9/4 (Walt)
2013 Fantasy Football Cheat Sheet: PPR Scoring
- 9/4 (Walt)
2013 Fantasy Football Cheat Sheet: Touchdown Scoring
- 9/4 (Walt)
2013 Fantasy Football Cheat Sheet: 2-QB Format
- 9/4 (Walt)
2013 Fantasy Football Downloadable Spreadsheets
- 9/2 (Walt)
2013 Fantasy Football Mock Drafts:
2013 Fantasy Football Mock Draft: 12-team, 3-WR, Flex
- 9/2 (Walt)
2013 Fantasy Football Mock Draft: 12-team, PPR
- 8/29 (Walt)
2013 Fantasy Football Mock Draft: 12-team, Standard
- 8/22 (Walt)
2013 Fantasy Football Mock Draft: 12-team, Dynasty
- 8/15 (Walt)
2013 Fantasy Football Mock Draft: 14-team, PPR
- 8/8 (Walt)
2013 Fantasy Football Mock Draft: 3-WR
- 8/1 (Walt)
2013 Fantasy Football Mock Draft: 2-QB
- 7/26 (Walt)
2013 Fantasy Football Mock Draft: 14-teamer
- 7/19 (Walt)
2013 Fantasy Football Mock Draft: PPR
- 7/11 (Walt)
2013 Fantasy Football Mock Draft: Standard
- 6/29 (Walt)
2013 Fantasy Football Mock Draft: Four-Man Mock
- 6/13 (Walt)
2013 Fantasy Football Articles:
2013 Fantasy Football Stock Report: Training Camp
- 9/4 (Walt)
2013 Fantasy Football Preseason Stock
- 8/30 (Walt)
2013 NFL Preseason Recap, Fantasy Football Notes
- 8/30 (Walt)
2013 Fantasy Football Quarterback Targets
- 8/30 (Walt)
2013 Fantasy Football Sleepers
- 8/28 (Walt)
2013 Fantasy Football Busts
- 8/28 (Walt)
2013 ESPN Fantasy Football Magazine: 10 Reasons Not to Buy It
- 8/21 (Walt)
2013 Fantasy Football IDP Tips
- 8/17 (Walt)
2013 Fantasy Football Round-by-Round Strategy
- 8/16 (Walt)
2013 Fantasy Football Draft Boards for Sale
- 6/13
2013 Fantasy Football All-Value Team
- 6/9 (Walt)
2013 Fantasy Football Hot Finishers
- 4/24 (Walt)
2013 Fantasy Football Stock Report: Quarterbacks
- 4/24 (Walt)
2013 Fantasy Football Stock Report: Running Backs
- 4/24 (Walt)
2013 Fantasy Football Stock Report: Wide Receivers
- 4/24 (Walt)
2013 Fantasy Football: Overdrafted Players
- 2/17 (Walt)
2013 Fantasy Football: First-Round Bust History
- 2/17 (Walt)
Running Backs with Most Carries
- 2/17 (Walt)
Fantasy Football Rankings
- Aug. 5
2021 NFL Mock Draft
- July 30
2022 NFL Mock Draft
- May 13
2020 College Football Recruiting Rankings
- April 14
NFL Power Rankings
- April 5
NFL Picks
- Feb. 2
2020 NBA Mock Draft
- Sept. 27