July 11, 2013.
This is a 2013 Fantasy Football Mock Draft (PPR FORMAT) I took part in with 11 other members of the forum. As usual, I'll have analysis of my picks, as well as the best and worst selections from each two rounds. In a new addition this year, David Wipperman (forum member Ragnarok, a.k.a. Rags) will break down the best and worst teams from the mock draft.
Just a heads up that we have 2013 Fantasy Football Mock Drafts every Wednesday evening. Check out the
fantasy mock draft thread
for details.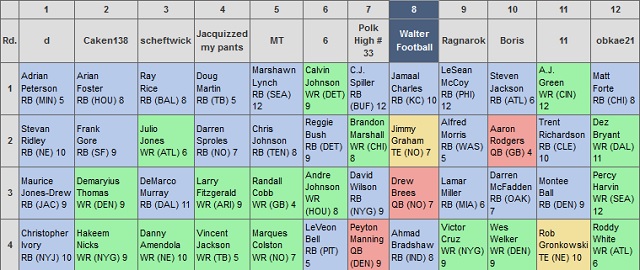 MY PICKS, ROUNDS 1-2: I loved both of these picks. I couldn't believe Jamaal Charles was available at 1.08. I considered Reggie Bush at 2.05, but wondered what my team would look like if I didn't go RB-RB, which is what I did in my previous
Fantasy Football Mock Draft
. I actually prefer Jimmy Graham over Bush because I know he's a sure thing. I'm pretty confident my top two picks won't bust.
BEST PICKS, ROUNDS 1-2: I obviously have to give "6" some credit for drafting Bush after me. I also thought that Chris Johnson was a good pick at 2.08.
WORST PICKS, ROUNDS 1-2: I'm not crazy about Stevan Ridley in the second round of a PPR mock. He won't catch many passes this year. That's the only pick I didn't really like in the first two rounds.
MY PICKS, ROUNDS 3-4: I feel like I have three sure-fire, bust-proof studs on my team with Jamaal Charles, Jimmy Graham and now Drew Brees. If Brees and Graham stay healthy, they'll be dominant, especially in a pairing like this.
I had some receivers ranked ahead of Ahmad Bradshaw in my
Fantasy Football Cheat Sheet
, but I didn't want to wait until the fifth round to take my RB2.
BEST PICKS, ROUNDS 3-4: Maurice Jones-Drew in the third round is a steal. I was going to have a difficult time deciding between Brees, Demaryius Thomas, Larry Fitzgerald and David Wilson, so those selections deserve mention here. I also wanted to grab either Wes Welker or Victor Cruz at 4.05.
WORST PICKS, ROUNDS 3-4: I'm not a fan of DeMarco Murray in the third. He's just going to get hurt. Montee Ball and Rob Gronkowski are even worse picks, but Team 11 timed out, so the computer was picking for him. Also, I don't see why Team D went RB-RB-RB-RB. That doesn't seem like a promising strategy. Why not grab a quarterback at 4.12 (or 5.01)?
MY PICKS, ROUNDS 5-6: "I had to go WR-WR considering I had none going into the fifth round. Considering I waited so long, I don't think my top two wideouts are all that bad."
I wrote this in my previous mock, but it applies again, so I'll keep it here.
BEST PICKS, ROUNDS 5-6: Getting Tom Brady in the fifth round seems a bit ridiculous. Meanwhile, I was hoping Shane Vereen would come back to me in the sixth round. He could be a PPR machine this season because the Patriots have no other alternatives.
WORST PICKS, ROUNDS 5-6: I'm going to ignore Team 11 because he wasn't drafting. The other worst picks were Tavon Austin (I wouldn't trust a rookie wideout this early), BenJarvus Green-Ellis (Giovani Bernard will eat into his touches) and Eddie Lacy (I'd rather have Johnathan Franklin in a PPR format).
MY PICKS, ROUNDS 7-8: I'm fan of Cecil Shorts, so I like getting him in the seventh round as a flex option. Marcel Reece... you know what's coming...
As my friend and forum mod Injured Reserve always says, "I've always had a lot of success drafting Darren McFadden's backup." I repeat it because it's so true.
BEST PICKS, ROUNDS 7-8: The quarterback values are ridiculous. Matt Ryan and Colin Kaepernick in the seventh? Robert Griffin and Russell Wilson in the eighth? That's pretty disgusting.
WORST PICKS, ROUNDS 7-8: A couple of crap running backs here. Rashard Mendenhall probably won't be the starter for very long in Arizona. As for Mark Ingram, I'd rather have Pierre Thomas in a PPR format.
MY PICKS, ROUNDS 9-10: I know I have Drew Brees, but Andrew Luck is just way too damn talented to pass up in the ninth round. As for Knowshon Moreno, there's a very good chance he'll lead the Bronco running backs in touches because John Fox prefers veteran players in his backfield.
BEST PICKS, ROUNDS 9-10: Like Luck, Tony Romo is great value at the end of the ninth round. Zac Stacy and Johnathan Franklin were also very nice selections, as they could each start for their respective teams.
WORST PICKS, ROUNDS 9-10: Defenses in Round 10? An injured Jonathan Stewart? Blegh.
I think Team D really messed up by going with Jared Cook over Luck or Romo. I'd actually rather have Antonio Gates or Owen Daniels than Cook, so he could have gotten a comparable tight end in the 10th. Instead, he'll have to settle for Eli Manning as his starting signal-caller. Manning is 13th in my
2013 Fantasy Football Quarterback Rankings
, so Luck would have been much better.
MY PICKS, ROUNDS 11-12: Maybe Frank Gore will get hurt. Maybe Michael Floyd will make a leap in his second season with a legitimate quarterback. Just taking chances here.
BEST PICKS, ROUNDS 11-12: Kenny Britt would've been my pick had he made it to me at 11.08. I also considered Alshon Jeffery in the 12th round, so I was hoping he'd make it back to me again.
WORST PICKS, ROUNDS 11-12: I think Team D should have followed up Eli Manning with another quarterback in the 12th. Perhaps Ryan Tannehill or Joe Flacco in an attempt to play matchups. Manning is his only quarterback.
As for actual picks, I think you have to go for upside in Round 12 or later. I don't see Shonn Greene as someone who has any sort of upside. He's garbage.

MY PICKS, ROUNDS 13-15: An extra receiver with some PPR upside, followed by my kicker and defense.
BEST PICKS, ROUNDS 13-15: I was really hoping I could get Ryan Broyles at 13.08. I also had Martellus Bennett and Brandon Myers in my queue, but I wasn't too interested in landing a backup tight end behind Jimmy Graham.
WORST PICKS, ROUNDS 13-15: I don't see why Scheftwick needs both QB Dog Killer and Andy Dalton as backups. Also, shame on the FFC computer for not moving Mike Goodson down in its rankings following his legal issues.
My Fantasy Team:
QB - Drew Brees, Saints
RB - Jamaal Charles, Chiefs
RB - Ahmad Bradshaw, Colts
WR - Eric Decker, Broncos
WR - James Jones, Packers
RB/WR - Cecil Shorts, Jaguars WR
TE - Jimmy Graham, Saints
K - Phil Dawson, Browns
DEF -
BN - Marcel Reece, Raiders RB
BN - Andrew Luck, Colts QB
BN - Knowshon Moreno, Broncos RB
BN - LaMichael James, 49ers RB
BN - Michael Floyd, Cardinals WR
BN - Chris Givens, Rams WR
My two weak areas are receiver and running back depth. However, my wideouts aren't that bad, while everyone (except Team D) will have issues with the latter. Elsewhere, I feel like I compiled a team full of bust-proof studs. Jamaal Charles, Drew Brees and Jimmy Graham should be able to carry me without any issues.
Best and Worst Fantasy Teams:
By David Wipperman (Rags)
Once again, I will be taking a look at my favorite and least favorite teams from this week's fantasy football mock draft. I will be judging these teams based on value, personal preference, and how I feel these players will do in a PPR format. So starting with my least favorite team...
Least Favorite Team:
Boris -
Steven Jackson, Aaron Rodgers, Darren McFadden, Wes Welker, BenJarvus Green-Ellis, Antonio Brown, Jermichael Finley, Miles Austin, Jonathan Stewart, Antonio Gates, DeAngelo Williams, Houston DEF, Joe Flacco, Blair Walsh, Sidney Rice
I really don't like much of anything about this team. Jackson has a ton of wear and tear and McFadden simply can't stay healthy. Green-Ellis is useless in a PPR format while I can't commit to either Jonathan Stewart or DeAngelo Williams. Rodgers is of course a beast who can carry a team some weeks, but I don't feel like even he will be enough with this team. Welker is always a PPR stud and Antonio Brown has some boom potential; however, I don't trust either Austin or Rice to give you anything consistent. The combination of a subpar WR corps and a group of RBs I'm really not a fan of makes this my worst of the week.
Other Least Favorites -
Honestly, everyone did pretty good this week so I don't have many other teams I don't like.
Favorite Team:
Jacquizzed my pants -
Doug Martin, Darren Sproles, Larry Fitzgerald, Vincent Jackson, Matthew Stafford, Torrey Smith, Greg Olsen, Pierre Thomas, Lance Moore, Mikel Leshoure, Mike Williams, Alshon Jeffery, Ryan Broyles, Tampa Bay DEF, Sebastian Janikowski
I love the starting combo of Doug Martin and Darren Sproles, and while I like Pierre Thomas more than most, I would have liked to see a bit more RB depth. What Jacquizzed my team lacks in RB depth, the roster more than makes up for in WR depth. Fitzgerald and Jackson are a lethal combo in any format while Smith can go off in any week. I'm a big fan of Lance Moore in a PPR system and think Broyles could be a great sleeper in PPR. We all know that Stafford is going to get his great stats in a pass-first offense, while I wouldn't be surprised to see Olsen have a great year as a go-to guy for Cam Newton. Overall, I think this team gives a good balance of consistent PPR players while having players capable of going off in any given week.
Runners Ups - Caken138, Polk High No. 33
One thing that I do want to add this week is a bit about my team and why I chose the players I did.
Team Ragnarok -
LeSean McCoy, Alfred Morris, Lamar Miller, Victor Cruz, Vernon Davis, Dwayne Bowe, Greg Jennings, Russell Wilson, Zac Stacy, Kendall Wright, Denarius Moore, Denver DEF, Stepfan Taylor, Martellus Bennett, Justin Tucker
I think that getting McCoy that late in a PPR format is a steal. He is a consistent performer you can build a team around. We all saw what Alfred Morris is capable of even though he doesn't catch many passes, and Lamar Miller is my favorite breakout candidate for this season. Stacy and Taylor are two RBs capable of getting a lot of playing time, if not starting, so I love them for depth purposes.
I don't feel that I need to explain why Cruz in PPR is always good, and while Bowe and Jennings may not be the best for PPR, both should give consistent play. Kendall Wright is another guy I love as a PPR sleeper because I believe Locker will turn to him frequently, while Moore provides solid depth. I was thrilled to get Russell Wilson as late as I did as I see no reason he suffers a sophomore slump. We have all heard the reports of Davis playing more WR this year and with Crabtree out, he should be Kaepernick's primary target.
Hope y'all enjoyed and feel free to message me here or on Facebook with your thoughts.
More 2013 Fantasy Football Articles:
2013 Fantasy Football: Home
2013 Fantasy Football Rankings:
2013 Fantasy Football Rankings: Quarterbacks
- 9/1 (Walt)
2013 Fantasy Football Rankings: RUNNING BACKS
- 9/4 (Walt)
2013 Fantasy Football Rankings: Wide Receivers
- 9/4 (Walt)
2013 Fantasy Football Rankings: Tight Ends
- 9/2 (Walt)
2013 Fantasy Football Rankings: Defenses
- 6/3 (Walt)
2013 Fantasy Football Rankings: Kickers
- 6/3 (Walt)
2013 Fantasy Football Auction Values
- 4/24 (Walt)
2013 Fantasy Football Rookie Rankings
- 5/5 (Walt)
2013 Fantasy Football Rookie Rankings: Dynasty
- 8/28 (Walt)
2013 Fantasy Football Season Features:
Week 17 Fantasy Football Rankings
- 12/26 (Walt)
Week 17 Fantasy Football Rankings: PPR
- 12/26 (Walt)
Week 17 Fantasy Football Injury Reports
- 12/26 (Walt)
Week 17 Fantasy Football Start Em, Sit Em
- 12/26 (Walt)
Fantasy Football Add/Drop: Week 15
- 12/9 (Walt)
Week 14 Fantasy Football Start Em, Sit Em
- 12/8 (Walt)
2013 Fantasy Football Fan Duel Picks
- 11/22 (Walt)
FanDuel FanDuel $15,000 Contest
- 11/22
FanDuel Exclusive Offer to WalterFootball.com Readers
- 8/24
FanDuel Week 1 $500 Freeroll
- 8/24
2013 Fantasy Football Cheat Sheets (Printable Option):
2013 Fantasy Football Cheat Sheet: Traditional Scoring
- 9/4 (Walt)
2013 Fantasy Football Cheat Sheet: PPR Scoring
- 9/4 (Walt)
2013 Fantasy Football Cheat Sheet: Touchdown Scoring
- 9/4 (Walt)
2013 Fantasy Football Cheat Sheet: 2-QB Format
- 9/4 (Walt)
2013 Fantasy Football Downloadable Spreadsheets
- 9/2 (Walt)
2013 Fantasy Football Mock Drafts:
2013 Fantasy Football Mock Draft: 12-team, 3-WR, Flex
- 9/2 (Walt)
2013 Fantasy Football Mock Draft: 12-team, PPR
- 8/29 (Walt)
2013 Fantasy Football Mock Draft: 12-team, Standard
- 8/22 (Walt)
2013 Fantasy Football Mock Draft: 12-team, Dynasty
- 8/15 (Walt)
2013 Fantasy Football Mock Draft: 14-team, PPR
- 8/8 (Walt)
2013 Fantasy Football Mock Draft: 3-WR
- 8/1 (Walt)
2013 Fantasy Football Mock Draft: 2-QB
- 7/26 (Walt)
2013 Fantasy Football Mock Draft: 14-teamer
- 7/19 (Walt)
2013 Fantasy Football Mock Draft: PPR
- 7/11 (Walt)
2013 Fantasy Football Mock Draft: Standard
- 6/29 (Walt)
2013 Fantasy Football Mock Draft: Four-Man Mock
- 6/13 (Walt)
2013 Fantasy Football Articles:
2013 Fantasy Football Stock Report: Training Camp
- 9/4 (Walt)
2013 Fantasy Football Preseason Stock
- 8/30 (Walt)
2013 NFL Preseason Recap, Fantasy Football Notes
- 8/30 (Walt)
2013 Fantasy Football Quarterback Targets
- 8/30 (Walt)
2013 Fantasy Football Sleepers
- 8/28 (Walt)
2013 Fantasy Football Busts
- 8/28 (Walt)
2013 ESPN Fantasy Football Magazine: 10 Reasons Not to Buy It
- 8/21 (Walt)
2013 Fantasy Football IDP Tips
- 8/17 (Walt)
2013 Fantasy Football Round-by-Round Strategy
- 8/16 (Walt)
2013 Fantasy Football Draft Boards for Sale
- 6/13
2013 Fantasy Football All-Value Team
- 6/9 (Walt)
2013 Fantasy Football Hot Finishers
- 4/24 (Walt)
2013 Fantasy Football Stock Report: Quarterbacks
- 4/24 (Walt)
2013 Fantasy Football Stock Report: Running Backs
- 4/24 (Walt)
2013 Fantasy Football Stock Report: Wide Receivers
- 4/24 (Walt)
2013 Fantasy Football: Overdrafted Players
- 2/17 (Walt)
2013 Fantasy Football: First-Round Bust History
- 2/17 (Walt)
Running Backs with Most Carries
- 2/17 (Walt)
Fantasy Football Rankings
- Aug. 5
2021 NFL Mock Draft
- July 30
2022 NFL Mock Draft
- May 13
2020 College Football Recruiting Rankings
- April 14
NFL Power Rankings
- April 5
NFL Picks
- Feb. 2
2020 NBA Mock Draft
- Sept. 27